There's no better way to explore the picturesque seaside town of Howth than by hiking along one of its many trails. And lucky for you, the Howth Cliff Walk is one of the most scenic in all of Dublin.
Tucked away in the northern suburbs of Dublin is the quaint town of Howth, a hidden gem just waiting to be discovered.
Just a short train or bus ride from the city centre, Howth is the perfect place to escape the hustle and bustle of the city and get back to nature.
Howth is renowned for its stunning cliff walks, with breathtaking views of the Irish Sea and Dublin Bay. And if you're looking for a challenging hike with incredible views, the Howth Cliff Walk is definitely for you.
My personal favourite thing to do in Howth is wake up early and head out on the Howth Head walk. It's a great way to start the day!
Whether you're a beginner or an experienced hiker, there's a hike in Howth to suit you. Let's delve a little deeper into some of the best Howth trails.
Here is the complete guide to the Howth Cliff Walks.
About The Howth Cliffs
The Howth Cliffs are a natural wonder that never ceases to amaze me. There's something about their stark beauty and unyielding presence that always leaves me in awe.
Rising up to 171 meters above the Irish Sea on the east coast of Ireland, the cliffs are located around 18km from Dublin city centre and are easily accessible, making Howth a great day trip from Dublin. But more on how to get to the cliffs later on in this post.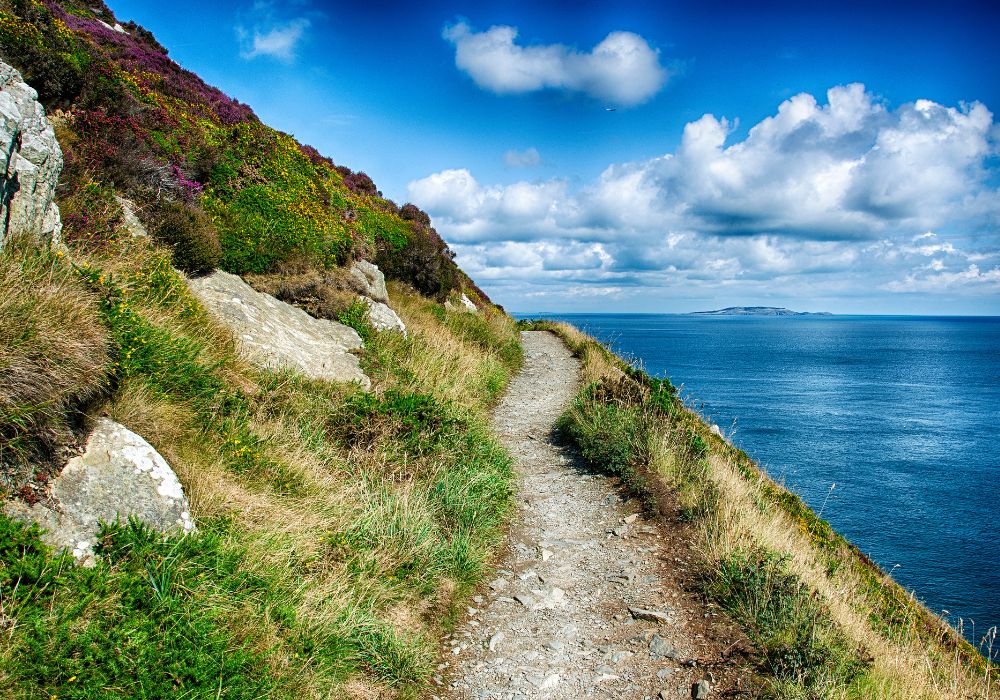 Howth's coastline is extremely rugged and diverse, with steep sea cliffs, sheltered coves and hidden beaches. The peninsula is made up of a number of different rock types include granite, sandstone and limestone.
Interestingly, Howth Head was once its own island, however it's now connected to the mainland by a thin sandy bridge known as a tombolo.
The cliffs are a haven for birdwatchers, as they're home to one of the largest seabird colonies in Ireland. You can spot anything from kittiwakes and guillemots to skylarks and razorbills on your hike.
5 Best Howth Cliff Walk Routes
Four of the 5 best Howth cliff walk routes have alternative colour-coded names. These are:
The Purple Route – also known as the Howth Bog of the Frog Circular
The Green Route – also known as the Howth Cliff Loop
The Red Route – also known as the Black Linn Loop
The Blue Route – also known as the Tramline Loop
The last route is the Howth Head Walk.
This Howth cliff walk map shows a route for each of these trails, as well as some additional hikes around Howth. Simply hover over each one and it will highlight the route to take.
1. Howth Bog of the Frogs Circular (The Purple Route)
This is the longest route along the Howth cliff walk. At 17km, it will take you up to 5 hours to complete the trail.
The terrain is marshy and rocky in areas and, for that reason, this route is more suited to experienced hikers.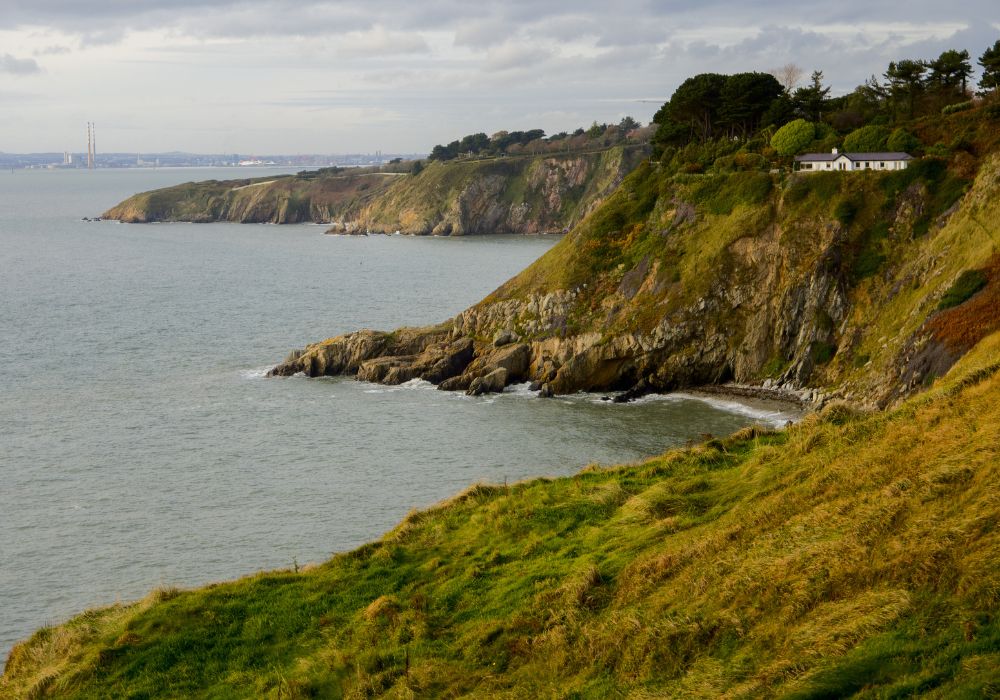 The trail starts and finishes in Howth village, at the DART station, taking you out along the coast past Balscadden Bay Beach, Howth Head, Baily Lighthouse and the 'hidden beach'.
There are plenty of points to take in the scenic coastal surroundings along the way on this Howth cliff walk.
2. Howth Cliff Loop (The Green Route)
The Howth cliff loop begins at the same spot as the Purple Route (start at the DART station and continue on to Howth Head).
You'll continue on to Howth Summit car park where you'll have the opportunity to relax and enjoy the views or even have a picnic if you're clever enough to have brought one.
Hikers especially love the interesting flora and fauna that can be spotted on this route. Gorse, heather and bracken abound, while you might even be lucky enough to spot a hare or two.
This moderate route is ideal for families of hikers. And I highly recommend hitting The Dog House Blue's Tea Room Restaurant when you get back to the village for a post hike refuel.
3. The Black Linn Loop (The Red Route)
Starting again at the DART station in Howth village, this cliff walk separates from the other routes above once you pass Howth Summit.
From there, you'll head back to the village further inland via Ben of Howth and Greenhallows Qarrues.
If you're walking during spring, you'll be treated so a spectacular display or purple wildflowers.
Another moderately challenging route, this 8km trail will take you approximately 2.5 hours to complete.
4. The Tramline Loop (The Blue Route)
This Howth loop walk, as the name suggests, takes you on a hike along the old tramline back to Howth village.
Again, you'll begin this trail at the same point in the village and follow as far as Howth Summit. That's where you'll separate from the other routes.
This route is a moderate 7km trail that takes around 2 hours to hike. There are some steep and narrow sections in places, with loose rocky terrain.
The lush vegetation and wildflowers along this trail make it a firm favourite with nature lovers.
5. Howth Head Walk
If you're looking for an easy and leisurely Howth walk, this is your best bet.
As I mentioned earlier, this is my favourite Howth cliff walk to do. That's mostly because it's short and sweet, but also has the benefits of some of the most incredible views.
Starting at Howth market on Harbour Road, head east and walk past St. Mary's Abbey, Balscadden Bay Beach and Tara Hall. The loop of 5km should take you a little over an hour – and that's with stopping to admire the views of Howth and Ireland's Eye.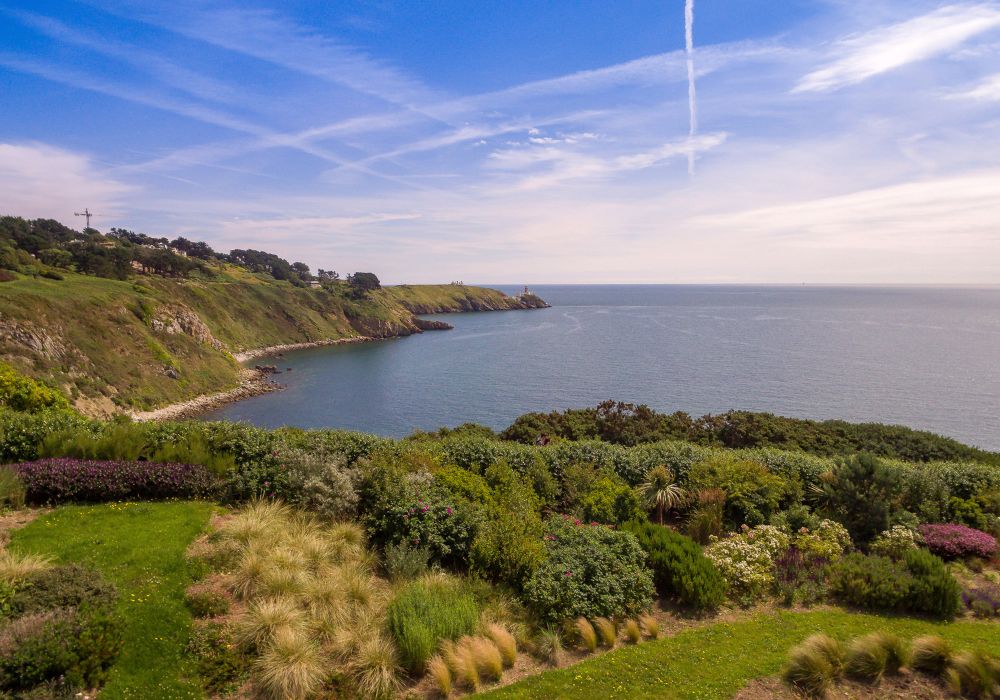 It's an easy hike for all levels, but if you wanted to extend it, keep walking past Howth Head as far as Baily Lighthouse, a further 3km south.
On your way back, stop by Póg Cafe ('póg' means 'kiss' in Irish!) for some of the best pancakes in Dublin.
Best Howth Cliff Walks With a Guide
If you're not an experienced hiker, or if you just don't fancy going on a hike by yourself, I highly recommend joining one of the group tours offering treks around Howth.
You'll often learn so much more about the area when you're with a local guide than if you were on your own, and there's a lot of history surrounding Howth that's fascinating to hear about.
1. Coastal Hike with Howth Adventures
This guided hike offers a unique experience, as you'll get to visit Howth medieval castle, trek through wooded forests and stroll down the pier, as well as get up close and personal with the cliffs.
The guide's dog, Loki, makes for a fun hiking companion along the way, as you listen to old stories about the area.
This hike is perfect for beginners, as long as you have some level of general fitness as you'll be walking for around 3 hours.
This is the most affordable guided hike in the area, at just €29. Click here to book your tour.
2. Time Trek Howth
Take a hike through time and follow in the footsteps of ancient Celts and Druids on this guided cliff walk tour in Howth.
Listen to stories of Irish mythology, the Viking invasion, the Battle of Howth, all while taking in the stunning views of the sea, cliffs and Ireland's Eye.
This is a moderate hike of around 12km and will take approximately 4 hours to complete. It's not suitable for complete beginners due to it's intermediate level of difficulty.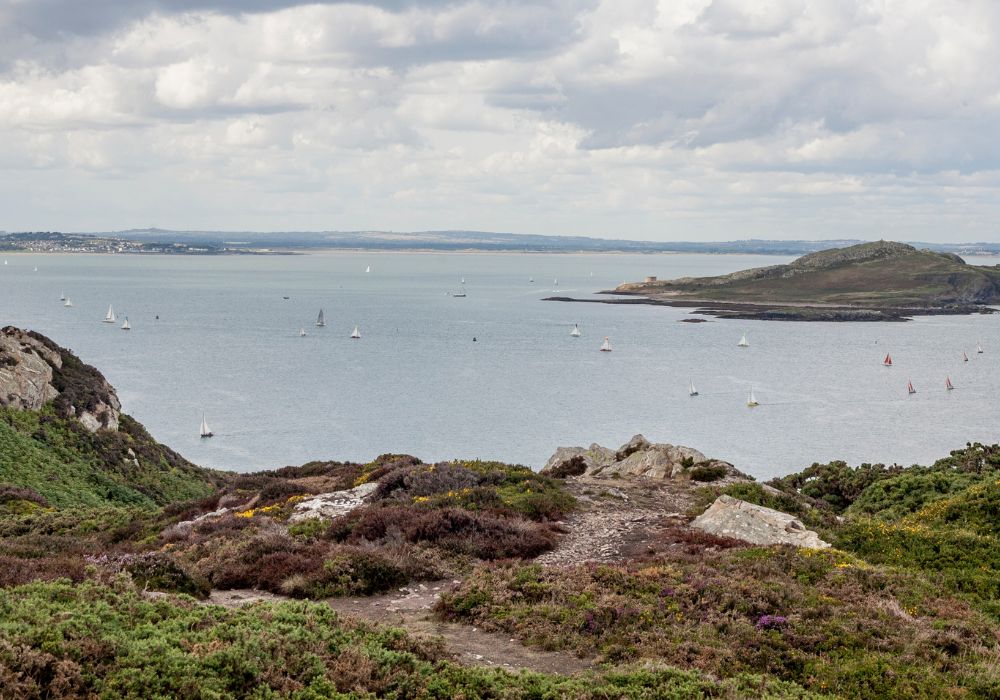 Time Trek Howth is priced at €49 per person and is sure to be an unforgettable experience – check out more about this tour here.
3. Dublin Coastal Hike & Pints with Mark & Missy
What's a hike if it doesn't involve stopping for pints afterwards?
This Howth cliff walk guided tour is unique, in that, not only do you get to explore the coast in all its glory, but you'll also learn the rich history and culture of the area – from Norman and Viking invasions to its UNESCO protected biosphere – along the way.
My favourite part of this hike is getting to follow Missy, the guide's playful dog, as she bounds along the trails.
After the tour, head back to one of Howth's old Irish pubs in the village and settle in with a couple of pints for some more tales and folklore.
This award-winning tour costs €43 – book it here.
4. Panoramic E-Bike Tour Howth
Sometimes you just need to take it easy and enjoy the views without putting in too much effort That's where this e-bike tour of Howth comes in.
You'll zip around the back roads to many of the town's popular attractions, such as Howth Castle and the harbour, before ending up at the top of Howth Head where you'll be rewarded with panoramic views of the bay.
The cost of this highly rated tour is €59 – find out more here.
How to Get to the Howth Walking Trails from Dublin
Howth is very easy to get to from Dublin city centre, no matter what form of transport you're using.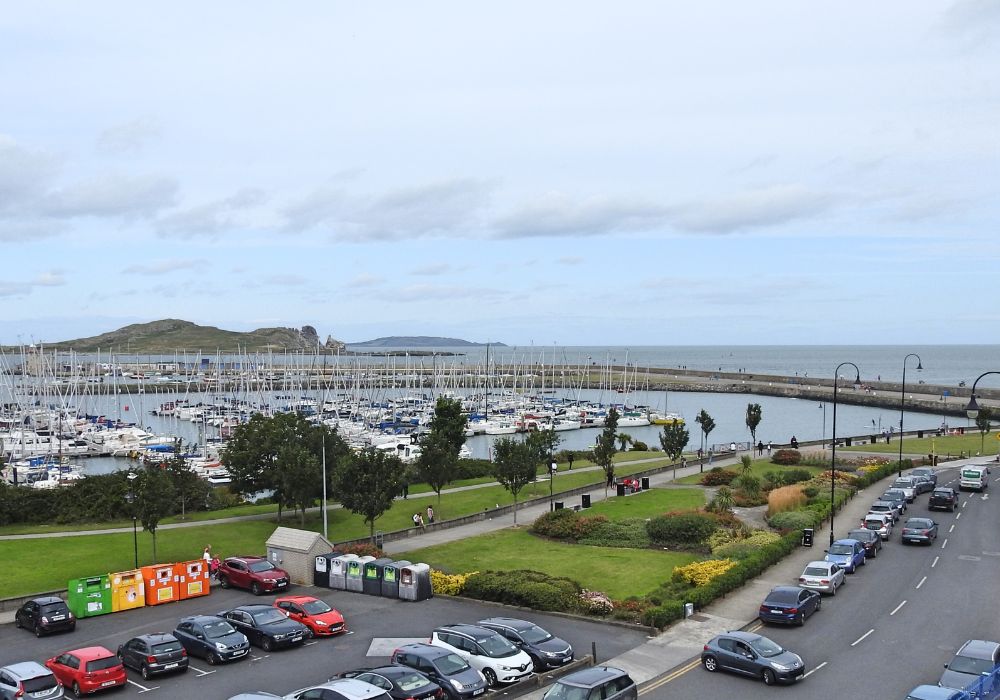 By Train
The easiest way to get to Howth from Dublin is by taking the DART (Dublin Area Rapid Transport).
This train takes you on a picturesque 30 minute ride and leaves Connolly Station in Dublin city centre every 10-30 minutes (depending on the time of day).
A day return will cost you €5 and you can find a full timetable here.
By Bus
Alternatively, you can take the H3 bus from Busáras to Howth. This journey will take approximately 50 minutes, but factor in extra time during rush hour city traffic.
Be sure to have the exact change of €1.70 each way to pay for the bus (or a Leap Card) as you won't get any change back. Check out the bus timetable here.
By Taxi
This is the quickest way to get to Howth, but it will set you back around €28 each way, so it's not the most budget-friendly option.
There are plenty of taxi ranks in Dublin city centre, or you can order one directly to your location using the FreeNow app.
By Car
If you're planning on driving to Howth, there are a number of car parks in the area.
The prices vary, depending on how long you're staying, but you can expect to pay between €2 and €4 per hour. Some car parks offer free parking for the first two hours.
Is the Howth Cliff Walk Dangerous?
Hiking along the edge of a cliff comes with its fair share of risks, but as long as you take some basic precautions, you'll be fine.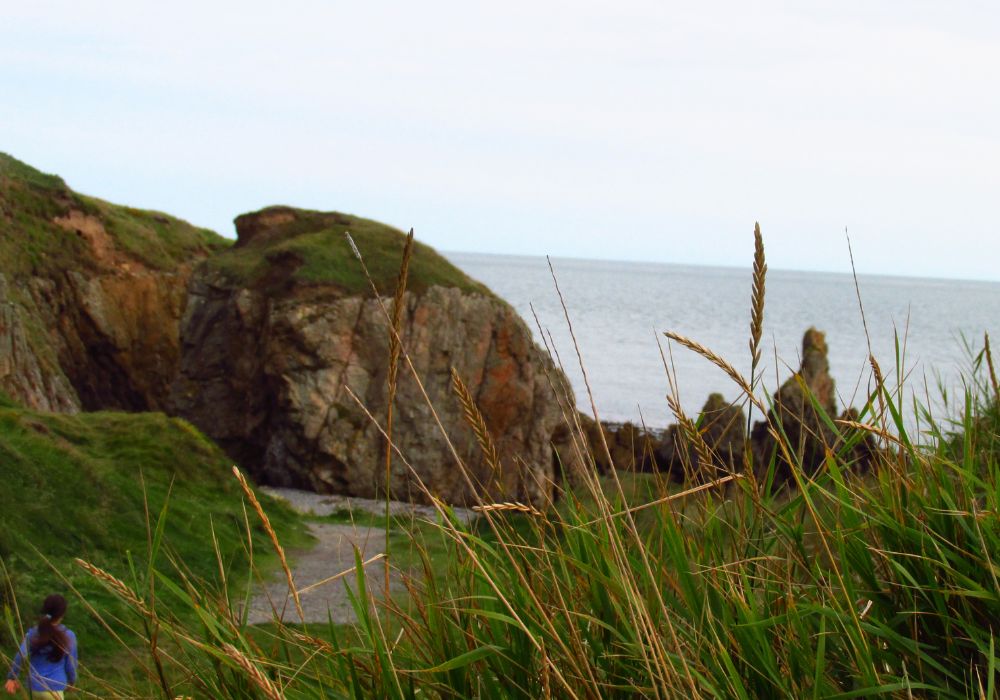 The weather: Ireland's weather isn't great at the best of times and paths can become extremely slippery when wet. Couple that with strong gusts of wind and the fact that you may be on the cliff's edge, this could be a recipe for disaster.
Make sure to check the weather forecast before you set out and be mindful of changing conditions while you're on the trail.
The terrain: Some of the walks are more challenging than others, with steep inclines and rocky paths. If you're not used to hiking, or if you have issues with balance, I suggest bringing hiking poles with you, especially on some of the more challenging routes.
Personal safety: Even if you're an experienced hiker, it's always best to hike with a friend or group. That way, if anything happens, there's someone to sound the alarm.
If you are hiking alone, make sure you have a fully charged phone with you in case of an emergency and let someone know your planned route and expected return time.
What to Wear and Bring for the Howth Trails
I always recommend being prepared for all eventualities when it comes to hiking. Whether it's the weather, dehydration, getting lost or an injury, it's better to be safe than sorry.
What to wear:
Hiking boots or walking shoes with a good grip.
Layers of clothing that you can take off/put on as the weather changes.
A waterproof jacket.
A hat and sunglasses (that sun can pop out at any time).
A scarf or bandana to protect your face from the wind.
What to bring:
A fully charged phone.
A map of the area just in case you get lost.
Plenty of water
Snacks (if you're like me and can't go two hours without nibbling!).
A small first aid kit.
Sunscreen.
When to Hike the Howth Coastal Trails
Howth is a year round hiking spot but, in my opinion, the best time to hike is in the spring or autumn.
While you're likely to get the best weather during the summer, you'll also find some of the paths get crowded with locals and tourists alike.
In the autumn, the leaves are changing colour and there's a nip in the air that makes the experience all the more invigorating. And I've been lucky with the weather during these off-peak times (although you can never fully trust the Irish weather!).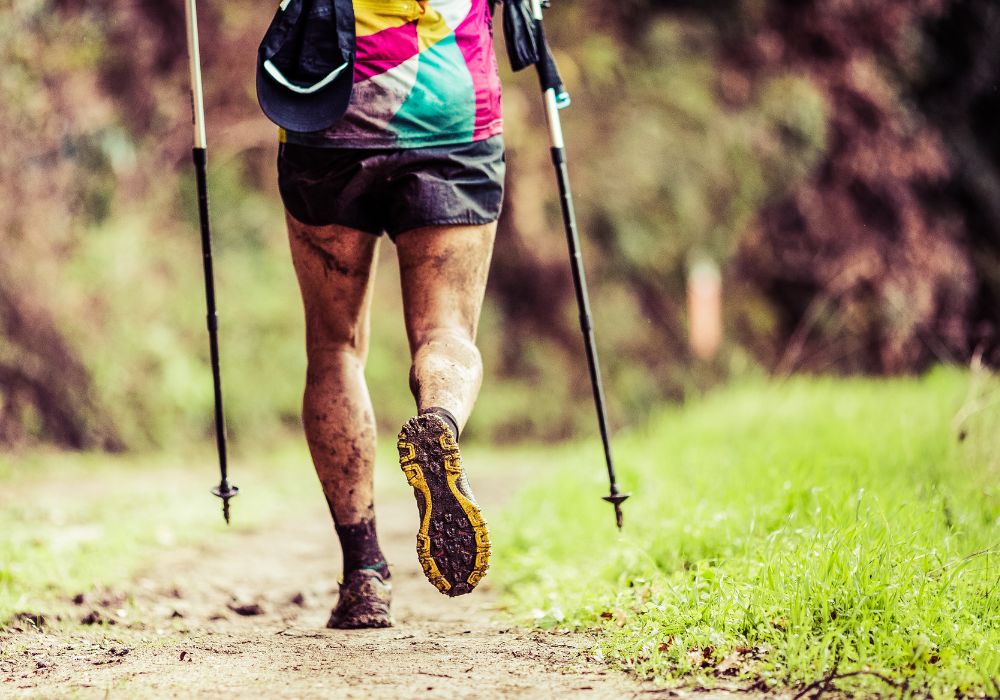 That being said, I've hiked in Howth in all seasons and, weather aside, it's always beautiful.
In terms of the best time of day to go hiking, my preference is always first thing in the morning, especially if you're planning a longer route.
But, if an early start isn't your thing, don't worry – Howth is just as beautiful in the evening light. In fact, I also recommend doing a Howth Summit walk at sunset for some truly spectacular photos of the colours in the sky.
Top Tips for the Howth Cliff Walk
Tip 1: I know I keep banging on about it, but the weather in Ireland is so unpredictable. So my number one tip is to check the forecast before you set out and be prepared for all eventualities.
Tip 2: Savour it, take your time on the walk and really take in the views. This is one of the best things about hiking – it gives you time to appreciate the simple things in life.
Tip 3: If you're travelling with your furry friends, bring them along too! Dogs are welcome on all routes as long as they're kept on a leash.
Tip 4: If it's a nice day, pack a picnic to bring with you. Lunch with a view like no other.
FAQs About the Howth Cliff Walk
Here are some answers to commonly asked questions about the Howth coastal walk.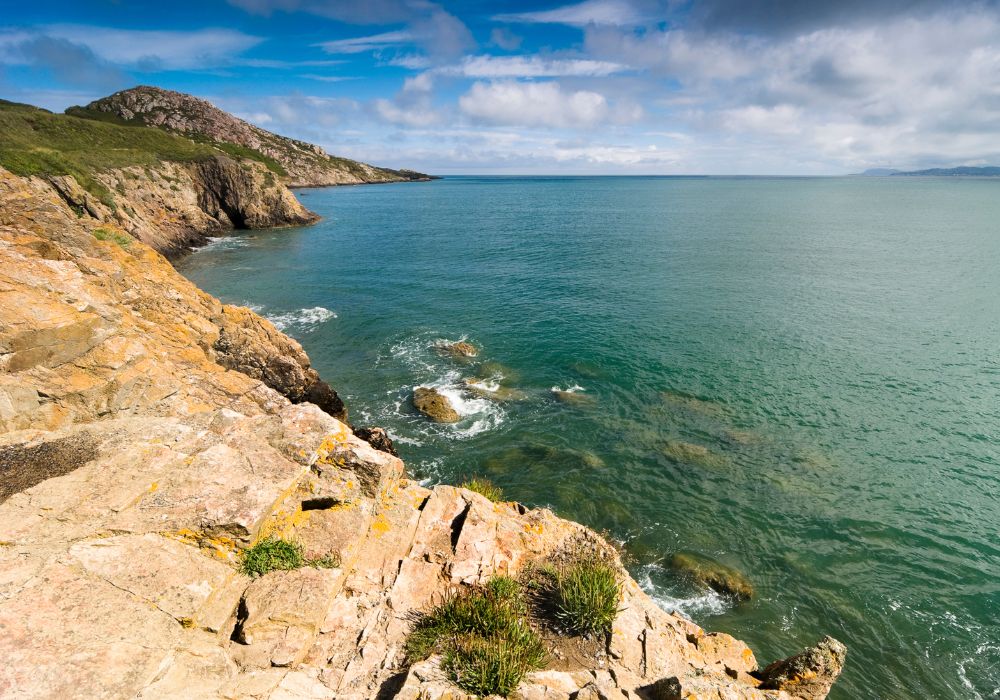 1. How long does it take to walk the Howth cliff walk?
This all depends on which route you take, but it will take you anything from 1 hour to 5 hours to walk the Howth cliff walks.
2. How difficult is the Howth cliff walk?
Most of the trails along the Howth cliff walk are easy to moderate levels of difficulty. There are some routes with steep inclines that may be challenging for beginners, but overall, these walks are not too strenuous.
3. How long is the Howth cliff path?
The Howth cliff path is 6km and will take you approximately 2 hours to complete.
4. Is the cliff walk free?
Yes, all trails on the Howth cliff walk are free (unless you choose a guided hike).
5. Is there parking at the Howth cliff walk?
While there is no dedicated parking for the Howth cliff walk, there is plenty of parking in the vicinity of Howth Harbour. See this map for more information on Howth parking.
In Conclusion
If you're looking for a breathtaking walk with stunning views, the Howth Cliff Walk trails are the perfect spot.
Whether you're after a leisurely stroll, a more challenging Howth hike or even a bike around the cliffs, you'll be spoilt for choice.