When Normans invaded Ireland hundreds and hundreds of years ago, they took with them a new style of building that ensured fortification against possible enemies that may try to attack.
The buildings that these Normans left behind is still felt with 35,000 castles standing in Ireland today — and with many castles in Dublin you can easily visit, it would be a shame not to tick a few off your bucket list.
Although I would say that Kilkenny Castle is the best castle in Ireland (a judgment that has nothing at all to do with me living a stone's throw away from Kilkenny Castle), I would also argue that Dublin also has some of the most beautiful and magical castles that Ireland has to offer.
So let's have a look at what are, in my opinion, the best castles in Dublin.
Heading south after Dublin? Check out some of these historic Cork castles and manor houses that you can actually sleep in!
10 Castles in Dublin That Are Easy To Visit
1. Dublin Castle
It would be almost blasphemous for me to make a "Best Castles in Dublin" list without including Dublin Castle. Right in the heart of the city, the castle was originally built in 1204 as a residence for the British monarch's Irish representative.
From then on until 1922, Dublin Castle has served as the seat of British rule in Ireland. Today, the castle is an important government complex and has been visited by historical figures like Benjamin Franklin, Queen Victoria, and John F Kennedy.
It is also where the president of Ireland is sworn in every seven years. Daily guided tours of the interior are available, and you can also visit the castle gardens as well as the Chester Beatty Library located within the complex. Even if you're just visiting for a weekend, make sure to add Dublin Castle to your list.
We actually included the Chester Beatty Library and the Dubh Linn Gardens in our list of the Best Free Things to do in Dublin.

2. Howth Castle
This castle has an amazing legend attached to it. Apparently, the infamous Irish pirate Gráinne O'Malley once attempted to visit the 8th Baron of Howth but was turned away as the family were in the middle of their dinner.
The pirate took offense to this and kidnapped the Baron's grandson and heir. She only returned the boy when it was promised that the gates will remain open to her and her descendants.
They also had to set an extra place at every meal, a promise that is still held by the baron's descendants. During the summer months, you can avail of Howth Castle's guided tours that may be combined with cookery classes and golf. As it sits right on the coast, it's one of the best views you'll get from any castle in Dublin.
3. Malahide Castle
Malahide Castle dates back to the 12th century when a knight called Richard Talbot was granted "the lands and harbour of Malahide." Since then, it has seen quite a bloody history over the years.
The most notable was during the Battle of the Boyne, when 14 members of the family were killed, having just eaten breakfast together. For these reasons, it's known as one of the most haunted places in Ireland.
These days, guided tours of the castle are available, as well as a fairy tale and a walled garden perfect for a family day out. The grounds of the castle are also a concert venue, where The Arctic Monkeys, Radiohead and Neil Young have performed.

4. Swords Castle
Swords Castle offers 800 years of history, starting back from when it was built in the 13th century. It is now in the middle of being restored, but visitors can still tour it and see its interiors.
For me, the highlights are the chapel as well as the banquet room. The grounds also make for a delightful stroll, especially during the summer months. The castle even hosts events at times, perfect for families with small children. Not a lot of tourists know about this little gem (yet), so it's the perfect place to relax and de-stress!
5. Ardgillan Castle
This spectacular castle dates back to the 18th century and offers magnificent views of the Irish Sea, Barnageera Beach and Balbriggan.
Ardgillan Castle is said to be haunted by the ghost of the "Lady's Stairs," which is said to be the ghost of Lady Langford. This doesn't stop this Dublin castle offering a variety of activities. Visitors can go on a guided tour of the castle or check out their traditional Irish tearoom. You can also wander around the castle gardens or the fairy tree trail that will surely entertain young ones.

6. Rathfarnham Castle
Rathfarnham Castle is the earliest known example of a fortified house in Ireland. Originally built around 1583, the castle has been owned largely by the Loftus family, and now serves as the Office of Public Works.
Guided tours of the castle are still available, and afterwards, you can relax at the Stuart and Chambers tearooms or check out an exhibition, which is currently Tread Softly, a work of celebrated Irish artist Michelle Rogers.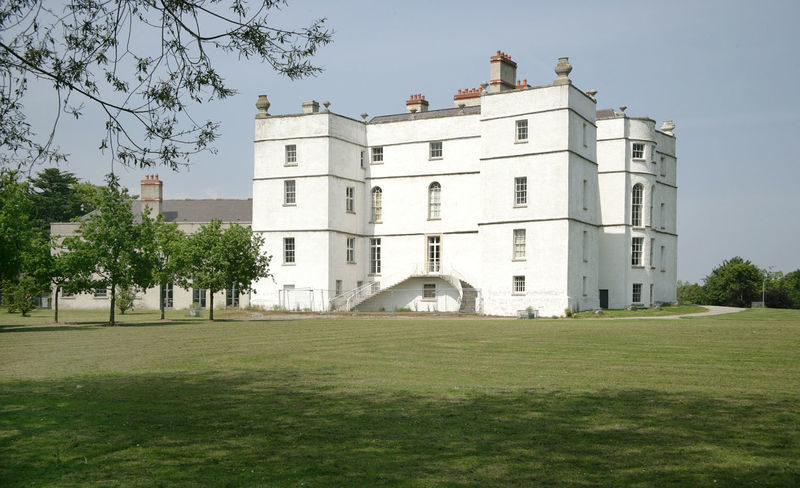 7. Dalkey Castle
When it comes to visitor engagement, none of the other castles on this list can top Dalkey Castle. They take their guided tours to the next level with costumed actors who pretend to be archers, cooks, and coin minters. There is even a barber/ surgeon!
In Dalkey, you will be able to relive history and even participate in it by minting your own coins or having a sip of the mead that the cook will offer. You will also be able to explore the church and graveyard which dates back to 700 AD or the Writer's Gallery which celebrates the works of 45 writers including James Joyce, Bono, Samuel Beckett, and Maeve Binchy.
8. Drimnagh Castle
Drimnagh Castle is the only moated castle in Ireland and boasts over 700 years of history. It fell into disuse and disrepair in the 1960s only to be rediscovered thirty years later, and from then on the restoration of this hidden gem began.
The castle has been open to the public since 1996 and has been offering guided tours since. Like the Swords Castle, this is one of the most secret castles in Dublin, and so a visit will grant you an exclusive, crowd-free tour. You can even hire the castle for weddings and other functions!
9. Clontarf Castle
If you feel like not only visiting a castle but staying in one, Clontarf Castle is perfect for you. It was built in 1174 with the purpose of protecting Dublin, the walls of this castle have seen lordships come and go, and the rise and fall of empires and kingdoms.
Today, it's an incredible four-star hotel dedicated to making any visitor feel like royalty! It's the only castle in Dublin that you can stay in, and we mentioned this castle in our list of Best Castle Hotels in Ireland.
10. Newgrange
Ok, this isn't a castle, but if you're interested in old buildings in Ireland, you might want to check out Newgrange. This ancient structure outdates all of these castles by thousands of years, and even predates the pyramids and Stonehenge. Click here to learn more about it.
Now You Know The Best Castles in Dublin!
No trip to Dublin would be complete without visiting a castle or two…or three. And with so many that are easily accessible from the capital, there's no reason not to check some of them out. Enjoy your trip.
Like This Article? Pin it!