One of the many reasons people come to Ireland to see is our amazing collection of historical castles. They dot the countryside, and if you are driving around Ireland, keep an eye out for small brown signs that will point you to Irish castles that won't feature in any guidebook! Nearly everyone will visit at least one castle (or seven) while visiting Ireland, but how many people can say that they actually STAYED in one of the beautiful castle hotels in Ireland?
Castles hotels are the perfect place to stay, with large luxurious rooms, amazing gardens and, of course, the stunning exterior of a castle! Castle hotels in Ireland are pretty common, and many Irish students find summer work here, as they are obviously an amazing location for weddings. In fact, I worked at one of the castles in this list when I was younger, and I recently returned and stayed there!
If you've always dreamed of staying in one of the magical castle hotels in Ireland but thought your bank balance couldn't cope, you're in for a pleasant surprise. Some castles are similar in price to regular hotels, and many offer self catered cottages within the grounds of the castle, so you can wander the grounds all day and retire to your own cottage at night. Now, Let's dig into some of my favourites…
Magical Castle Hotels in Ireland
1. Castle Leslie, Co.Monaghan
Let's start with the castle that I teased with in the introduction! Castle Leslie in County Monaghan is where I had a summer job way back in 2010, but I revisited this amazing Irish castle hotel recently and stayed the night. The castle itself is quirky and each room has its own theme. You can choose to stay in rooms with names like The Blue Room, The Red Room, Eagle's Nest, Desmond's Room, and The Nursery. You won't be short of things to do here either; walking the grounds, eating at the amazing restaurant or even taking a horse ride through the grounds are all options available to you! If you needed another reason to stay here, just look at the pictures!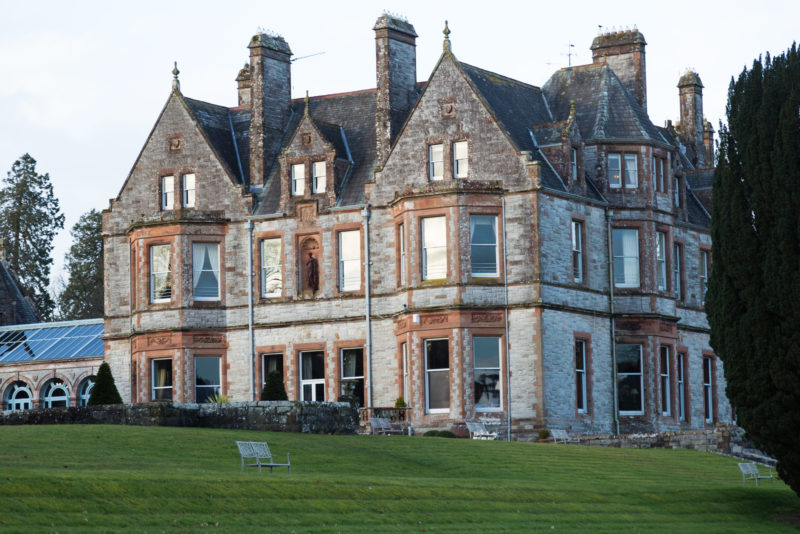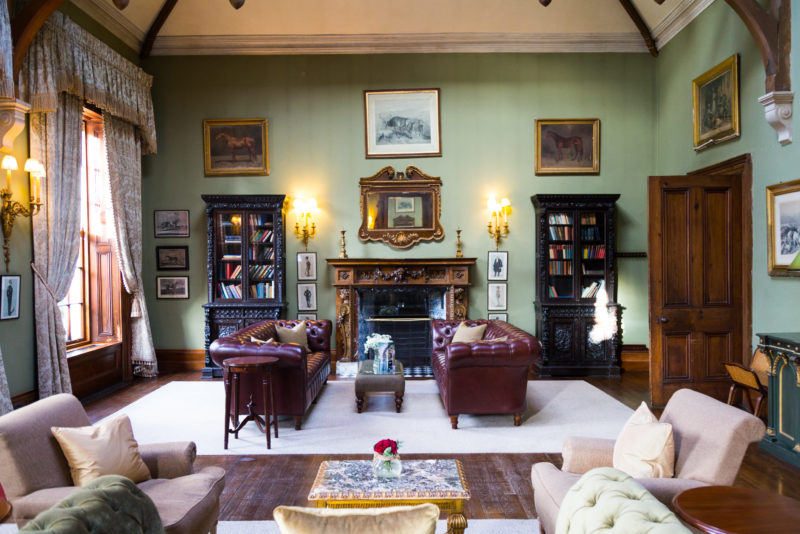 2. Lough Cutra Castle, Co Galway
Less than one hour south of Galway City, Lough Cutra Castle is a great place to get off the beaten trail of the Wild Atlantic Way and take in the green countryside that Ireland is so famous for. This castle was designed by John Nash, who was involved in building Buckingham Palace, so you know it's going to be pretty! The grounds of the castle holds several old churches and monasteries, with some of the small islands in the lake having small alters. It is rumoured that St. Patrick himself passed through here, getting rid of snakes and spreading Christianity.
3. Waterford Castle Hotel, County Waterford
If staying in a castle isn't enough, how about staying in a castle on a private island?! Waterford Castle is only accessible with their private car ferry and you'll be secluded on their 310 acre island! Waterford is maybe one of the most underrated places in Ireland, and the castle is close to the seaside town of Tramore, and this castle is a perfect base to explore Ireland's Ancient East; the east coast's equivalent of the Wild Atlantic Way! While you're here, why not enjoy a spot of Afternoon tea, I mean, what else do you do in an Irish Castle? This is definitely one of the most unique castle hotels in Ireland!
4. Adare Manor, County Limerick
If it's complete luxury you're after, then Adare Manor is the place for you. This 5 star castle hotel boasts everything a king and queen could hope for; a stunning building, lavish interior, a golf course, huge estate to take leisurely strolls, and even the quaint village of Adare outside the gates. This castle was recently bought by JP McManus, a famous Irish horse trainer, and he has renovated this ancient Irish castle with seemingly no expense spared. This is the way to live, and an absolutely beautiful place to stay!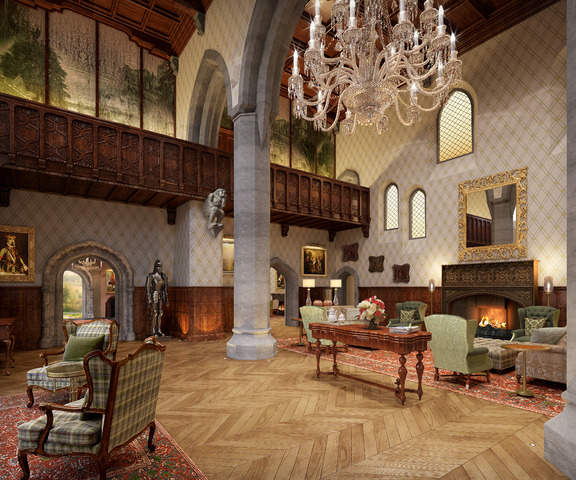 5. Ashford Castle, County Mayo
If you're looking for a castle with the WOW factor, then this is it. Sitting on the border between County Mayo and County Galway, you'll be treated to stunning views and absolute peace and serenity. Ashford Castle was founded way back in 1228, so it's not short on history, including the fact that many of the actors in the famous 1951 classic movie "The Quiet Man" stayed here! If this Irish Castle is good enough for the likes of John Wayne and Maureen O'Hara, then it's good enough for us! It's also being voted Best Hotel in the World, so they must be doing something right!
6. Lisheen Castle, Tipperary
Staying in a castle is all well and good, but how about staying in your very own PRIVATE castle? Lisheen Castle can be completely yours… so long as you can afford the $1300 per-night price tag. This may sound outrageous, but this castle does sleep 16 people, which works out to about $80 a night per person! Get talking to your friends and you can call this castle home for a weekend. Dreamy!
Tipperary is also home to one of Ireland's most famous Castles, The Rock of Cashel. It's only half an hour away from Lisheen, so you can pay a visit to your new neighbours if you deign to leave your castle!
7. Clontarf Castle Hotel, County Dublin
If you're not planning to venture far from Dublin on your trip, or you're looking for a place 20 minutes from the airport, then Clontarf Castle might be for you. The castle sits on a large estate where you can stretch your legs and take in the fresh Dublin Bay air. The great thing about this Irish castle is that you can feel like you're miles away from city life, but you're actually only a short 15-minute bus ride to the city centre, although once you check in, there's no guarantee that you'll ever leave!
8. Cabra Castle, County Cavan
Sitting almost at a halfway point between Dublin and Belfast, Cabra Castle is a perfect location to relax in, and take in the Irish countryside. This castle is especially great for those who love to play golf, with the castle boasting a stunning 9-hole course. Cavan is an area that is rarely explored by tourists, but it has some of the most stunning uncorrupted scenery in Ireland. While you're in Cavan, you can see if you can get a reservation in Irish chef Nevin Maguire's McNean House & Restaurant for some of the best food in Ireland.
9. Ballynahinch Castle, County Galway
Maybe my favourite place in the entire world is Connemara in the West of Ireland. The mix of the rugged landscape, the native Irish speakers, and the freshest of air all combine to make Connemara easily one of the most memorable places in the world. If you want to make your stay just a little more memorable, you might want to check out Ballynahinch Castle. The views of the 12 Bens mountain range and the river meandering by make this Irish Castle just a little special.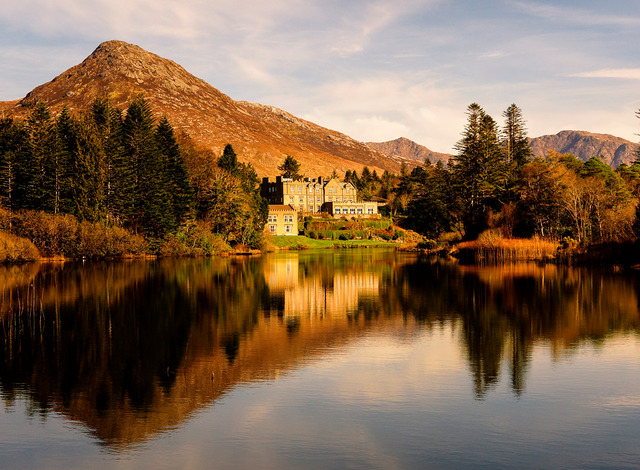 10. Ballyseede Castle Co. Kerry
Kerry is known as The Kingdom here in Ireland, so if you're going to stay in a castle anywhere, it makes sense for it to be this one! This four-star hotel is on the famous Ring of Kerry, so it makes for an ideal location to tour one of the most beautiful places in the world! If you are thinking about visiting Kerry, be sure to check out our guide on what to do when you're in Kerry.
Like This Article? Pin it!