The Open Championship returned to Royal Portrush Golf Club in 2019 for the first time since 1951 and it was apt that the winner was an Irishman, Shane Lowry.
The Dunluce course has held many national competitions previously, and the 2019 Open took two holes from the neighbouring Valley course to create today's layout.
I played there at the beginning of my trip around Ireland and thoroughly enjoyed the course.
Here it goes, the complete guide to golfing Royal Portrush Golf Club
This Royal Portrush Golf Club review concentrates on the Dunluce course which is the one available for visitors.
Golfing at Royal Portrush Golf Club is a privilege and those wanting a further round before moving on can also play the Valley course. This is one of the best golf courses in Ireland, and this guide will give you all the information you need before playing a round.
Royal Portrush Golf Club Ranking
Royal Portrush Golf Club regularly appears at the top of course rankings in the UK and has worldwide recognition as a real links gem. It is located in a small Ulster resort northeast of Belfast — this is one of the best courses in Northern Ireland.
About Royal Portrush Golf Club
Golf began here in 1888 over 9 holes, and a year later there was 18. As early as 1892, the first championship was held here, the Irish Amateur Championship and over the years more than 50 national championships have been held here.
Harry Colt designed the Dunluce in 1929 with subsequent changes a result of the loss of land. What golfers see today is a true masterpiece using the natural terrain to challenge the best.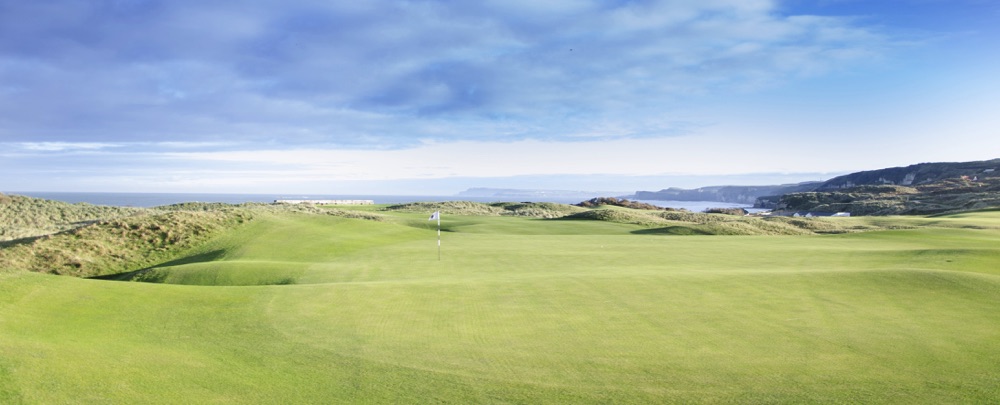 The Greens and Fairways
At 7317 yards off the back tees, Royal Portrush Dunluce tests the very best. It winds through and over greens with lovely views of the Irish Sea between shots but remember to keep your head down when actually playing a shot, concentrating on the job in hand.
The fairways run fast in dry weather and even during winter, the sand-based land drains well. The greens can be deceptive so concentrate on the line you see and commit to it.
Reviews of Royal Portrush Golf Club regularly identify the fact that the greens are often protected by hillocks of rough rather than sand bunkers.
Scorecard
Hole 1 Hughies (Stroke Index 11) 416 yards Par 4 has bushes on one side and out of bounds on the other so it demands an accurate drive.
Hole 2 Giants Grave (SI 5) 572 yards Par 5 is the first of a number of absolute classic holes on a section of the course that gives the best views.
Hole 3 Islay (SI 17) 174 yards Par 3 is named after the Scottish island that can be seen on a clear day.
Hole 4 Fred Daly's (SI 1) 479 yards Par 4 deserves its Stroke Index 1 rating.
Hole 5 White Rocks (SI 17) 382 yards Par 4 is not long but it is a dogleg so decide how much of the rough you can cross from the elevated tee.
Hole 6 Harry Colt's (SI 7) 189 yards Par 3 recognises the designer of the course, providing a good chance of par if you are accurate.
Hole 7 Curran Point (SI 3) 590 yards Par 5 is uphill and gets its name from the beach that it runs parallel to and was originally part of the Valley course.
Hole 8 Dunluce (SI 13) 430 yards Par 4 turns back, named after the ancient Dunluce castle, the ruins remain in the other Valley course hole that replaced the original 17th and 18th that I played years ago.
Hole 9 Tavern (SI 9) 431 yards Par 4 is a plain finish to the revised front nine with the challenging back nine to follow.
Hole 10 Himalayas (SI 12) 458 yards Par 4 was formerly the 8th before the course revision with its name identifying the challenge awaiting.
Hole 11 PG Stevenson's (SI 8) 475 yards Par 5 was formerly Stroke Index 1, the 7th, so to play it now as Stroke Index 8 can tell you how hard some of these later holes are to handicap golfers.
Hole 12 Dhu Varren (SI 4) 530 yards Par 5 continues the direction back towards the clubhouse, an average length Par 5.
Hole 13 Feather Bed (SI 18) 191 yards Par 3 is a short hole heading away again for the next three holes.
Hole 14 Causeway (SI 2) 470 yards Par 4 is long and difficult, playing vastly different depending on the wind direction.
Hole 15 Skerries (SI 14) 418 yards Par 4 is the last hole before the turn for home.
Hole 16 Calamity Corner (SI 6) 235 yards Par 3 crosses a deep ravine so gather your strength, swing, and hope as I did and got a par.
Hole 17 Purgatory (SI 16) 405 yards Par 4 is the first of two final Par 4s of average length but are you getting tired by now?
Hole 18 Babbington's (SI 10) 473 yards Par 4 made an excellent finishing hole in the Open when originally it was the 16th.
Total: 7317 yards Par 72
Code Of Conduct at Royal Portrush Golf Club
Royal Portrush Golf Club has a dress code for both the course and the clubhouse. Shirts must have collars and sports shirts are not acceptable.
Tracksuits and untailored trousers and shorts are not permitted. Trainers are not allowed but metal or soft spiked golf shoes are both acceptable.
All golfers are expected to repair pitch marks and replace divots. Slow play is frowned upon and a match should give way if it falls behind.
Trainers, golf shoes and shorts can be worn in the clubhouse except in the Babbington and Dining Rooms. Caps are not allowed in the clubhouse.
The Facilities
Mobile phones are banned from the course and can only be used for internet access in the clubhouse.
Meals can be ordered in advance with snacks also available seven days a week.
Green Fees and Rentals
The current high season rate is £240 per round, £390 for 36 holes.
April & October £150 and winter is £90 a round except on Saturdays when there is no availability.
There are specific times each day when visitors may be able to get a tee-time. Other than on Wednesdays and Fridays, afternoons are generally available.
Male visitors should have a maximum handicap of 18 and female visitors 24.
Royal Portrush Golf Club shop can arrange for club hire at £40 per round, electric GPS trolleys at £20 and ordinary trolleys at £5. Buggies are not available.
Caddies are available although not compulsory. They are self-employed and must be paid directly. The fees plus gratuity are as follows: elite £55, senior £45, trainee £35 and fore-caddie per group £80.
Book a tee-time by emailing here, or calling: 028 7082 2311. Finally, find the Royal Portrush Golf Club on the map, here.
Enjoy a Round at Royal Portrush Golf Club
Handicap golfers are not expected to play from the back tees. The white course is 6705 yards and the green tees 6476 which is the average length for Par 72 members' course.
The wind direction can make the course a completely different challenge from one day to the next. No matter which day you visit you will enjoy the Dunluce.