Be it a dreaded early morning flight or arriving late at night, sleeping in Dublin airport is often an easy option to save a few euros.
While there are, of course, airport hotels which are the best option for sleeping next to the airport if you can afford it, there are lots of other options inside the airport itself for budget travellers.
The Dublin Airport is located about 30 minutes outside of Dublin, but with many budget airlines departing early from the airport, some travellers opt to spend the night at the Dublin Airport.
This is a great way to save money on a night's stay, and so you don't have to get up so early to travel from Dublin centre to the airport.
With so many free things to do in Dublin, it would be a shame to waste money before your flight out. Sleep in Dublin Airport with help from this guide.
In this guide to sleeping in Dublin Airport, we'll answer all your questions!
Dublin Airport Hotels
Your first option for sleeping in Dublin Airport is to check into the airport hotel. There are actually 3 or 4 hotels right next to the airport but the Clayton Hotel, at €99, was the cheapest option we could find.
Some other good Dublin Airport Hotels include:
While the hotel options near the hotel aren't as plentiful as the other places to stay in the Dublin center, they're fine for getting a good night's sleep near Dublin Airport.
If you're on a tight budget, you don't have to spend money on a room and can chill out at the airport for a few extra hours!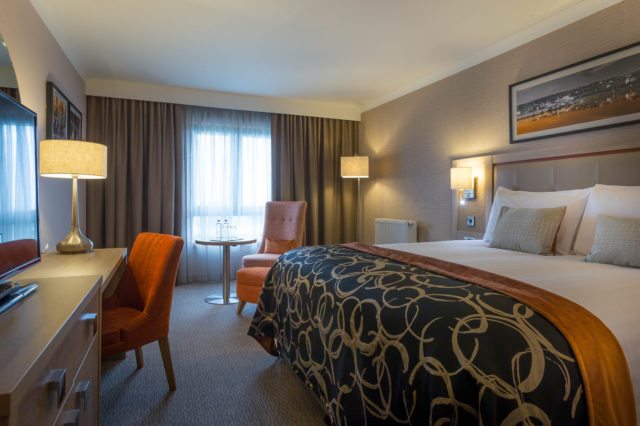 Dublin Airport Sleep Pods
Three years ago Dublin Airport Authorities installed these super-futuristic sleep pods in Terminal 1 (which are located after you pass through security).
Apparently these seating and sleeping pods were partly inspired by the Disney/Pixar movie 'Up', as it sort of recreates the colourful balloons in the movie.
The pods are only accessible if you are flying OUT of Dublin Airport, so are perfect for a quick nap before boarding an early morning flight with the dreaded Ryanair. These rest zones are one of the reasons we love Dublin Airport!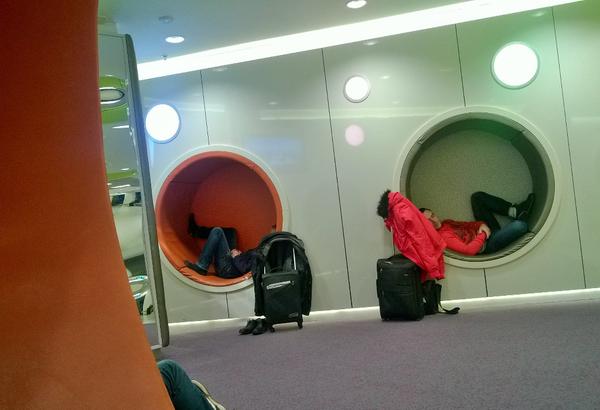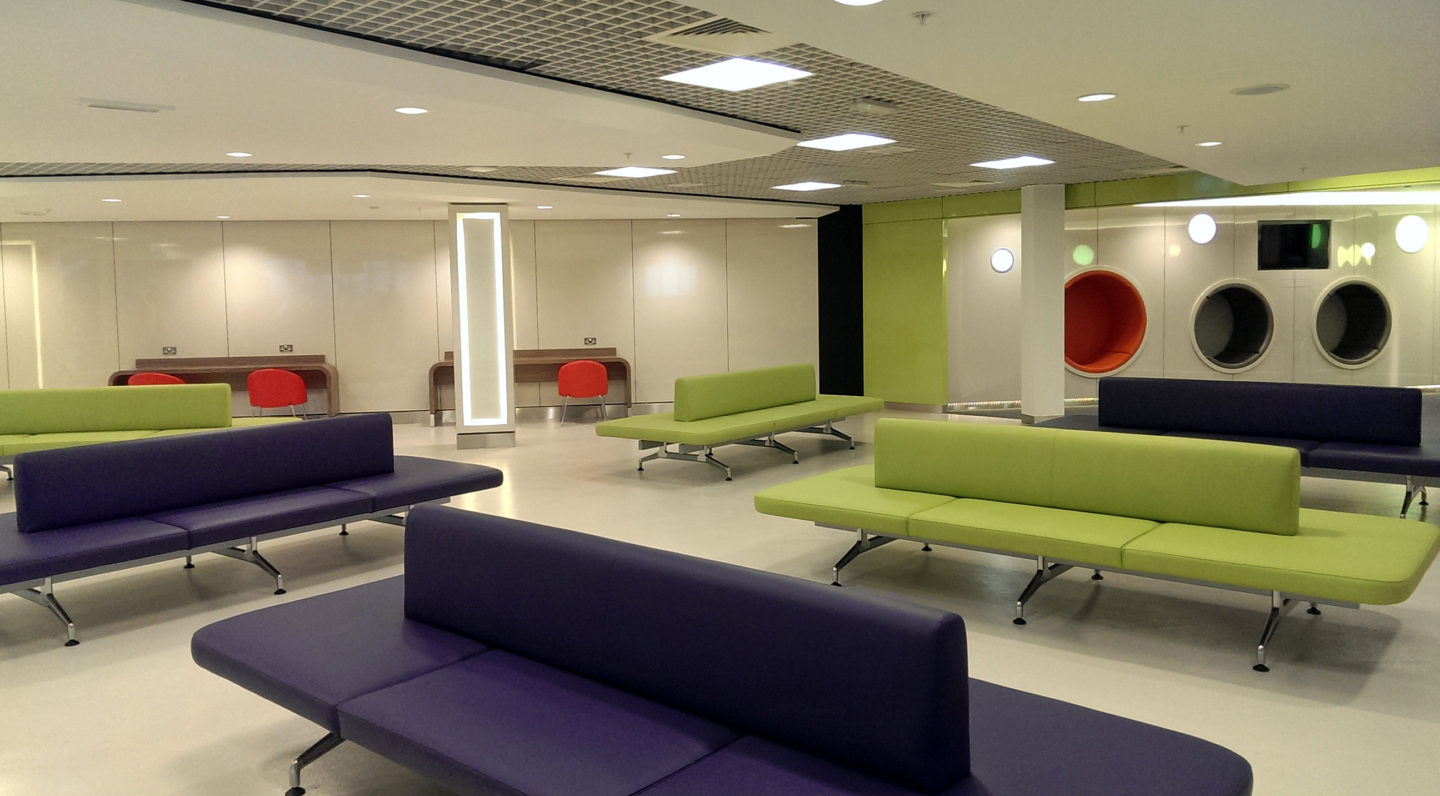 Where to Sleep Before You Check-In
As is the case for many travellers, you arrive on the last bus to the airport at around midnight and have 5 or 6 hours to kill before you can check-in or go through security to departures.
So, where can you sleep?
If you go upstairs to where the McDonalds is, there are quite a lot of cushioned benches and seats. Lots of the cafes close at night time and people snuggle up on the couches and get a few hours rest.
There are also some very comfortable chairs in the Oak Café Bar in Terminal 2 which are great to sleep in if you can get two together!
There is also a prayer room in Terminal 2 which we've been told many people are allowed to sleep in during the wee hours of the morning when it's not been used.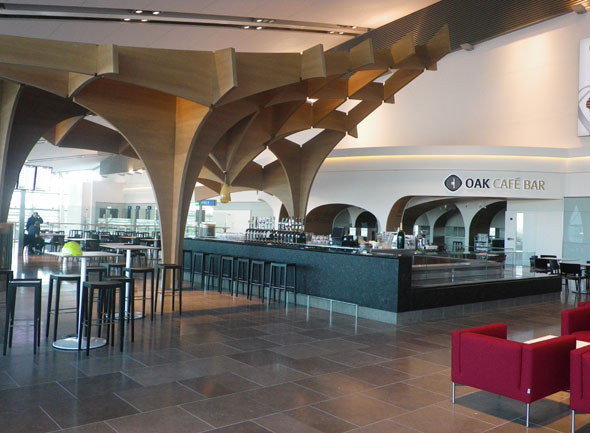 Dublin Airport Opening Hours
The airport is open 24 hours a day, 364 days a year. They only close for one 24 hour period, and that's on Christmas Day. However, many restaurants, cafes and shops close in the evening and reopen around 6am or 7am in the morning.
☞ SEE ALSO: Visiting Malahide Castle – A Guide for Travellers
Showers in Dublin Airport
Unfortunately, there are no public showers at Dublin Airport. The only showers in the airport or located in Terminal inside an Executive Lounge. This means you must have a Priority Pass or some sort of frequent flier lounge access to take a shower.
Wifi At Dublin Airport
With time to kill at the airport, you'll most likely want to know if there is free wifi at Dublin Airport — you're in luck! Yes, there is free wifi here, just connect to "Dublin Airport Free Wifi" and you're good to go.
☞ SEE ALSO: Christmas in Dublin – How to Get The Most Out of This Magical City
Food and Drink at the Dublin Airport
There are a few options for eating and drinking at the airport, but each of the restaurants and cafes have different opening hours. Of course, the airport won't be where you find the cheapest pint or meal in Dublin, but it's good to know there are options available.
Burger King in Terminal 1 opens at 4:00am and closes at 8:30pm, at its Terminal 2 location, it's open from 4:00am to 9:00pm. Cafe Bar in Terminal 1 is open from 4:00am until the last flight of the day. Cafe Nero opens from 5:00am and closes at 11:00pm.
There are free water fill stations throughout the airport, so make sure to bring a reusable bottle.
☞ SEE ALSO: Top 5 Music Venues in Dublin
Tips For Sleeping in Dublin Airport
It can be quite cold, so if you're travelling with a sleeping bag you'll want to use that. If you're heading out to a warm destination we recommend bringing a jacket anyway as you'll need something to keep warm overnight.
If you arrive too early in the evening, the airport will still be too busy, and if you arrive too late, all the best seats and couches will be taken! We think arriving around 11pm is optimal for getting a few hours kip before an early morning flight.
Do you have any tips, queries or questions about sleeping in Dublin Airport? Leave a comment!
Like This Article? Pin it!