Arriving in Ireland can be a pretty stressful time if you're not sure how you're going to get from Dublin Airport to Dublin City centre. Depending on your budget, there are several ways to do it when you land into the Emerald Isle's biggest airport.
Dublin travel is fun, but you have to get into the city first before you can enjoy all that it has to offer.
Here's How To Get From Dublin Airport To The City Centre
The Independent: Car Rental
Renting a car is undoubtedly one of the best ways to see Ireland, especially if you're looking to explore Ireland's Ancient East or the Wild Atlantic Way.
Renting a car is surprisingly cheap, and if there are a 3-4 of you, it will be most likely cheaper than taking buses and trains around the country.
However if you are planning on spending a few days in Dublin, and your accommodation doesn't include parking, consider getting a bus or taxi and only renting a car when you're ready to leave the capital.
Your best bet when renting a car is to go through a rental comparison site such as Expedia.com.
If you are planning on renting a car here, we've put together an amazing bucket list itinerary on the Wild Atlantic Way. Click that link to see some of the millions of options you can see on this stunning island!
The Easiest Way: Take a Taxi
A short taxi ride will get you into the Dublin city centre, and cost between €20 and €30. Even if you're staying on the south side of the city, a taxi fare probably won't go over €40.
Most Ubers (or the Irish version FreeNow) aren't allowed to come into the arrivals area, so if you call an Uber or any other online taxi, you'll have to walk out a bit away from the terminal to the pickup areas, and it's all a bit annoying. It's easier to just grab a taxi from the rank.
There's no difference in fare for taxis or ordering one through an app since they're all classified as taxis in Ireland. The only thing to be wary of is that most taxi drivers won't accept card payments. If you're going to get a taxi in Ireland, expect to pay with cash!
Taxi From Terminal 1:
As soon as you come out the front door of the airport, turn right and you'll see the line of taxis.
Taxi From Terminal 2:
When you come out into the main airport hall, keep straight and walk over the footbridge and at the end take the escalator on the right. This leaves you right at the taxis.
To check out roughly how much it's going to cost, you can use this handy fare calculator. This doesn't take traffic into account, but it's still a good rough guide.
The Cheapest: Number 16 Dublin Bus
This bus route is what an optimist would call a great way to see areas of the city that you wouldn't normally see. A person with a map of the route the bus takes would question the sobriety of the driver. A budget traveller would see that this bus only costs €3.30
To be fair, if you're not in a hurry, this bus is perfectly fine. It does go through some of the rougher areas of Dublin, but really nothing to be alarmed by.
There is limited baggage storage space, and it is downstairs right beside the door, so if you have valuables or are a paranoid person, this may not be the option for you. This method of getting from Dublin Airport to Dublin City centre is really for those looking to save. It's almost a third of the price of the express bus options, so it really is worth it if you have the time!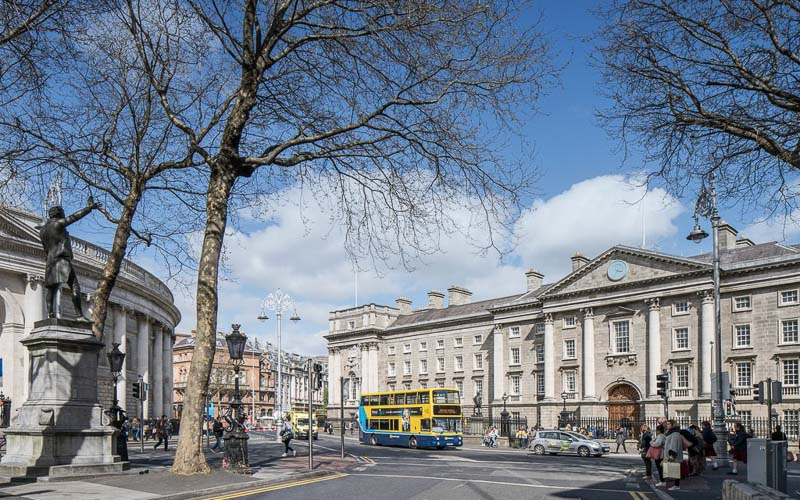 Paying Your Fare on Dublin Bus
The trick with any Dublin Bus is that they don't accept notes or Credit card, so you'll either have to have a fist of exact change, or a Leap Card with enough credit on it, which is cheaper than paying in cash, only setting you back € 2.50.
If you're going to City Centre, you can get off this bus just north of the river on O'Connell street, or just south of the river across from the Central Bank.
Have a look to see where your accommodation is before you get on this bus so you know where to get off. Pro-tip. All Dublin Buses have free wifi on the bus, so you'll have no problem figuring out where you are!
Dublin bus has a fare calculator online, but much like the Dublin bus itself, it can be difficult to figure out and frustrating. If you do manage to work your way around it, it is useful. You can calculate your fares HERE
The Happy Middle: Express Bus Services
Luckily there are 2 other options for travellers who don't want to go all around Dublin, but don't want to fork out for a taxi. There are two options for express buses, both around the same price!
Dublin Bus Express
Dublin Bus have their 747 and 757 Airlink Express that is €7 one way, or €12 return or €6 and €11.50 if you book online. The bus is a lot more direct than the #16, but still takes a little meandering route that might be useful to you, because it goes through the city a little.
It starts service at 5.45 am and the last bus from the airport is at 12.30 am, running every 10 or 15 minutes.
They also have a great option to combine their return Airport ticket with a 48-hour Hop-on, hop-off bus ticket for Dublin. The return ticket to Dublin Airport is valid for three months too, so it should keep you going! You can buy that ticket HERE
Aircoach
The Aircoach is also €6 one way, €10 return and runs every 15 minutes apart from between midnight and 3.30am, when it's every 30 minutes.
This bus is the most direct bus to the city centre and a great balance between budget and speed. They're very easy to find, in Terminal 1 you come out the door and you'll see their trademark blue buses and a kiosk where you can buy your ticket, and great news, you don't need exact change!
You can also book your ticket online, but it usually isn't necessary, unless you're in a large group.
Their bus will drop you off on O' Connell street or across the bridge outside Trinity College and it terminates the route on the very Southside of the city, so again, check where your accommodation is before getting on the bus!
With all the buses, you should double-check with the driver that you're on the Dublin City Centre bus, as Aircoach and the national bus company, Bus Éireann, offer routes all over Ireland.
Like This Article? Pin it!