With a weekend in Dublin, you'll be able to listen to trad music, explore historical sites, dine on tasty food, and meet friendly people. Read on for my 2 days in Dublin itinerary!
James Joyce, one of Ireland's best writers, penned the famous Ulysses and gave the literary world Dubliners. In his selected letters, he talks of Ireland and wrote: "When I die, Dublin will be written on my heart."
That's the kind of mark a city like Dublin leaves on you. Joyce was from Dublin so, of course, it might not feel the same for a tourist spending just a weekend in Dublin, but you never know until you go!
I spent 2 days in Dublin right after I'd finished my English Literature degree at University, so I have fond memories of celebrations in Dublin City at a peak time of literary appreciation in my life.
Weekend in Dublin
Dublin is a city I'd love to revisit to explore even more, but I definitely think you can see the best of Dublin with just a weekend. If you have longer, I suggest more like 5 days in Dublin but don't worry, with 2 days, you'll be able to see and do a lot. Only have a quick 24-hour layover in Dublin? Learn what to see and do with a day in Dublin in this post.
Day 1 in Dublin
Your first day in Dublin includes lots of walking and learning so there's nothing better than a full Irish breakfast to fuel your energy. An Irish Breakfast includes bacon, sausage, beans, egg, black pudding, mushrooms and tea or coffee.
But, don't worry if you don't eat meat, there are many vegetarian and vegan restaurants and dishes in Dublin.
In Ireland, a typical Irish Breakfast it will come with Irish soda bread, differentiating from a full English breakfast otherwise it's pretty much the same.
Yes, baked beans belong at breakfast. It's a staple part of breakfast in Ireland and the UK and we love it!
Here is where I want to give you the best advice for your Dublin weekend trip and visiting anywhere in Ireland or talking to Irish people.
Ireland is not part of the United Kingdom. Irish people are not British and while there are similarities, it can be offensive to assume this. There are distinct differences between Irish Culture and British Culture.
Therefore, when you start your day with breakfast, make sure it's an Irish breakfast you ask for.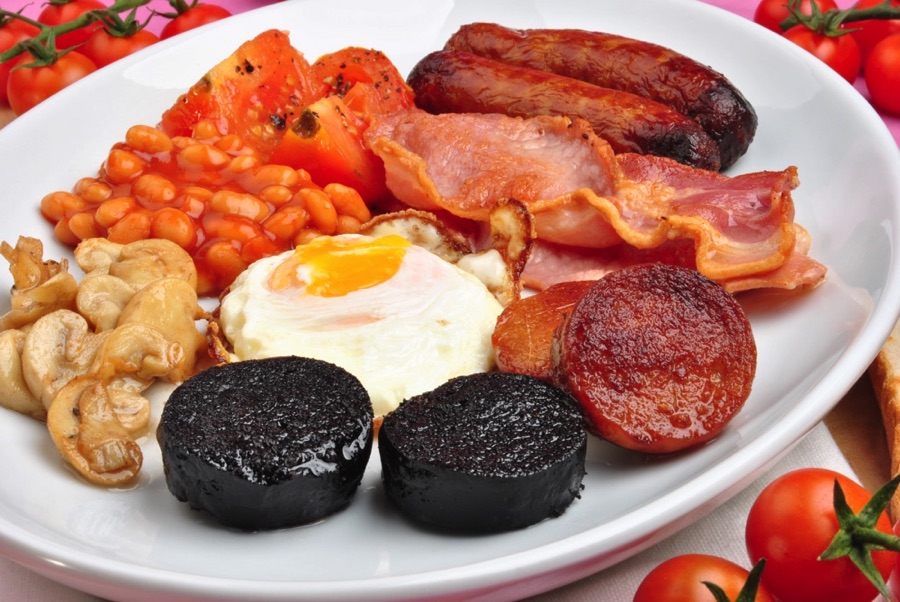 Morning
If you're staying around Temple Bar, you have various options for an Irish fry-up breakfast. I recommend Old Mill restaurant where you can get the works for just €10. Considering the restaurant is located in central Temple Bar, this price is very reasonable (and the food makes it worth every cent).
For a real Irish coffee (coffee with Baileys or Jamesons), or just a normal coffee, head to The Temple Bar. This is also a chance to see the famous pub of the neighbourhood's namesake. On entering, snap a picture of the red building for your collection.
Staying on this side of the River Liffey, walk to Grafton Street. Your first stop on Grafton is the Molly Malone statue. 'Molly Malone' is a well-known Irish song so the statue is based on a fictional fishmonger in 'Dublin's fair city'.
Or is it?
There are myths that the song was based on a real-life fishmonger called Molly but there isn't evidence to back this claim. Still, it's a great statue to visit and comes in handy because you'll hear this song being played by live musicians on your weekend in Dublin!
Stay on Grafton Street for some shopping (or window shopping as this is an expensive street) and ensure you find a supermarket in the area. It's always fun to look around a supermarket abroad and browse the aisles, comparing the shelves to the ones at home. Pick your favourite goodies for a picnic this afternoon.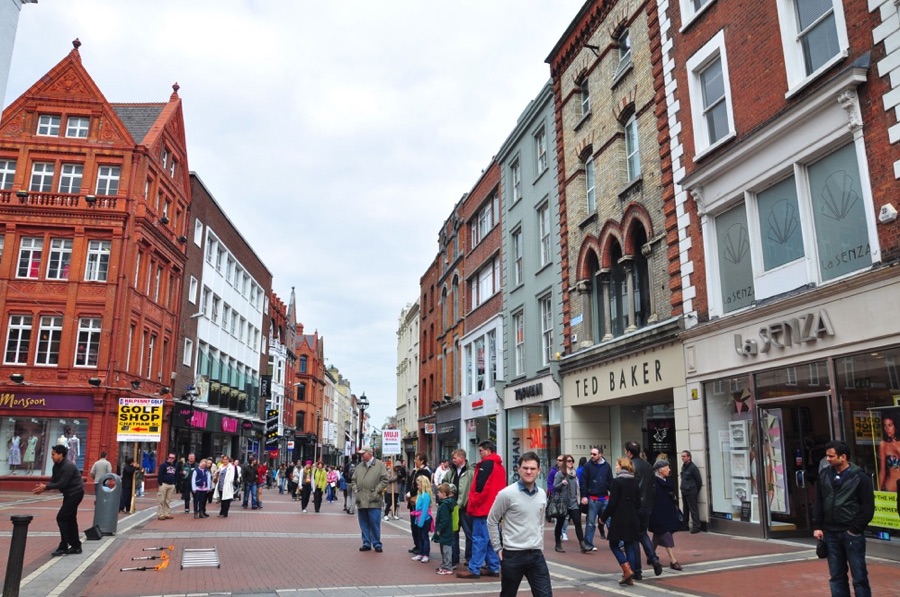 Afternoon
St. Stephen's Green is the perfect spot near Grafton Street for an afternoon picnic. Enjoy nature in this gorgeous park with your personalised lunch. Take a book, download a podcast or just enjoy your surroundings in silence.
St. Stephen's Green is a short walk away from the next stop: Trinity College.
Trinity College is the number one ranked university in Ireland and a great place to explore because of its grand architecture. Just walking around, you can admire the buildings or take a guided tour to learn about the campus history and enter the Old Library Exhibition as well as the Book of Kells.
The Book of Kells is a manuscript believed to be from 800 AD and the world's most famous medieval book! It's a sight to see because of its illustration such as Celtic knots and symbolises the power of learning.
Whatever you decide, the Book of Kells is unmissable on your Dublin weekend trip.
Finishing your first day of activities brings you to Dublin Castle for some history after a stroll from Trinity College.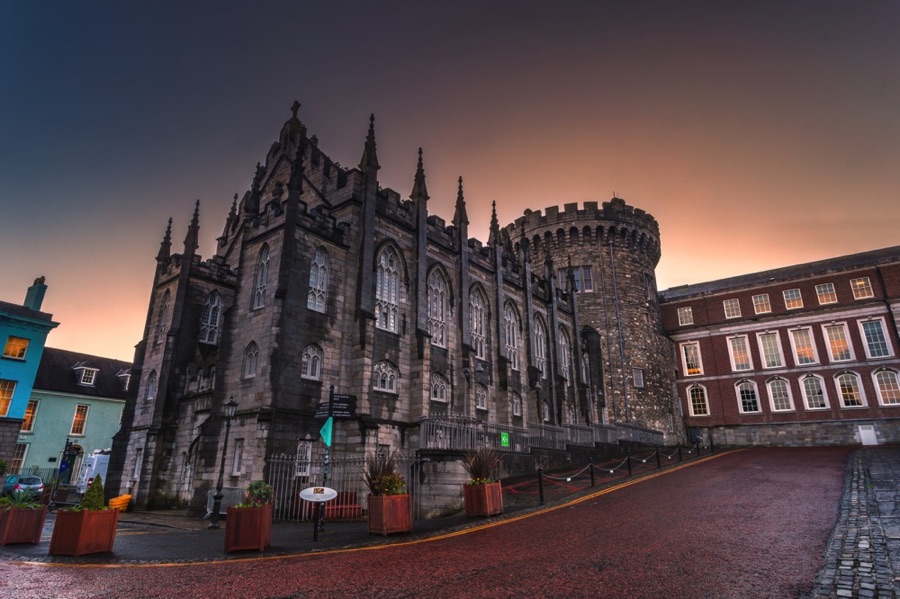 Visiting the large castle will cost you €8 admission for a self-guided tour and you're given a brochure to help you around the grounds. Alternatively, you can pay €12 for a 60-minute guided tour.
There are three areas to explore within the grounds: The State Apartments, Medieval Undercroft and Chapel Royal. Check out their website for any exhibitions, tours or pop-up museums happening during your 2 days in Dublin.
The easiest way to see the Book of Kells, Europe's largest library and Dublin Castle is to join a small group tour. You can visit all of these sites, with an English-speaking guide and skip-the-line access to each highlight. Click here to learn more about the tour.
By now, you'll have noticed that Dublin is a walkable city and there's no need to spend money on public transport if you're visiting Dublin in 2 days. While walking the streets of Dublin, take in your surroundings and look out for any posters/signs for unique events happening that weekend.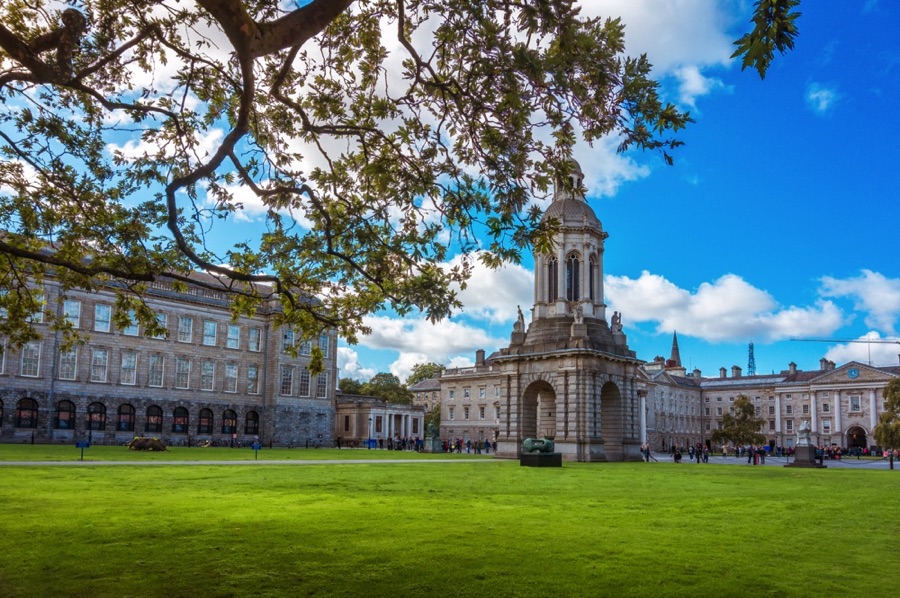 Evening
As evening falls, make your way back to your accommodation in Temple Bar and get ready to end your first day in Dublin, remaining on the South of River Liffey before exploring the North of the river tomorrow.
For dinner, head to La Caverna for an Italian dining experience in an 18th-century vault cellar room. One of the best parts of a busy capital city like Dublin is that they have great cuisine from other parts of the world too. Afterwards, though, it's time to experience more Irish culture in the form of drinks and live music.
If you've visited popular cities around the world, I guarantee there was an Irish bar somewhere. To name a few, I've been to Irish pubs in Berlin, Melbourne and Chiang Mai. But, none of them compares to the real deal!
On both nights in Dublin, find out if there are any events happening at the renowned Button Factory but first start off at Quays.
Quays is an Irish bar in the heart of the Temple Bar area, jam-packed on the weekends full of locals and tourists enjoying drinks and craic. There are so many unique and fun pubs in Dublin.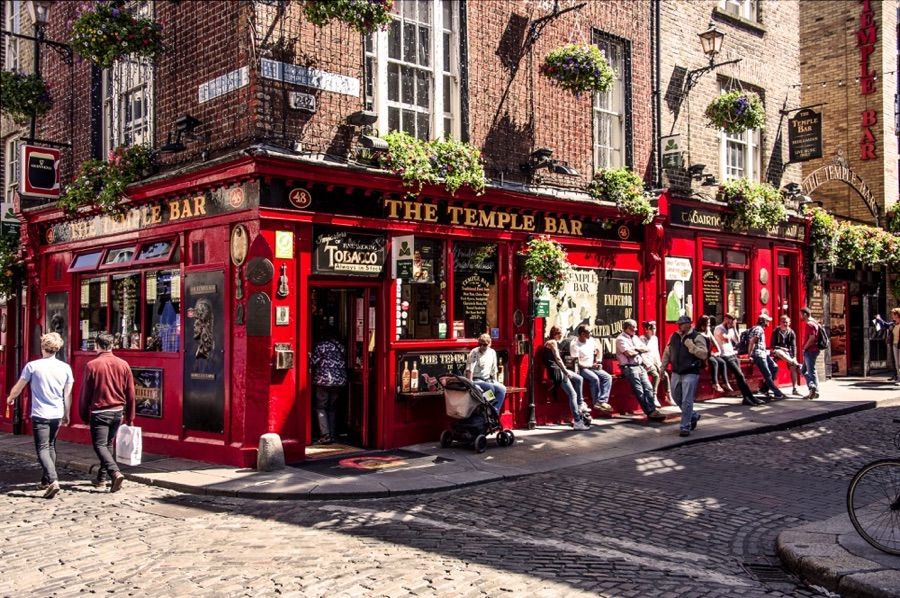 Note: Craic is a word meaning good time, laughs or fun in Ireland and many Irish people I've met have dropped this word into conversations. You might even take it back with you! Check out this post: 40 Irish Slang Phrases You Need to Know.
Whether you're seeing Dublin in 2 days or 2 hours, you cannot visit without trying a Guinness. It's an acquired taste but essential to have at least one pint. I tried my first Guinness at Quays before moving on to the Irish cider called Magners.
This is where I experienced my first encounter with a local and realised how friendly the Irish are. My friends and I chatted with this local for a while before they bought us all our next round of drinks before they went home. They wanted nothing in return, just the kindness of a stranger.
When the night is done, stop by BóBós Burgers (open until 4 am on weekends) for a late-night snack before hitting the sack for an early morning to explore more of Dublin tomorrow.
☞ SEE ALSO: A Guide to Spotting the Phoenix Park Deer in Dubin
Day 2 in Dublin
Hopefully, you had a good sleep on your first night and woke up fresh for another day of exploration! The second day of your Dublin weekend trip will be mostly on the North of the River Liffey trying Irish dishes, visiting museums and ending with a party.
Start the day early with another Irish breakfast or for something a bit lighter, try the latest trend taking Europe by storm: Brunch! Brunch has evolved into the best new thing to do when visiting any city and Dublin is no different. Find some great brunch spots here, or, better yet, ask your accommodation to give you some great suggestions.
Morning
The first stop of the day is none other than the Guinness Storehouse. It opens at 9.30am so be sure to get there for one of the first tours of the day. Visiting the storehouse in the morning is likely to be less busy because most people would visit for a Guinness later in the day before they continue their drinking into the night.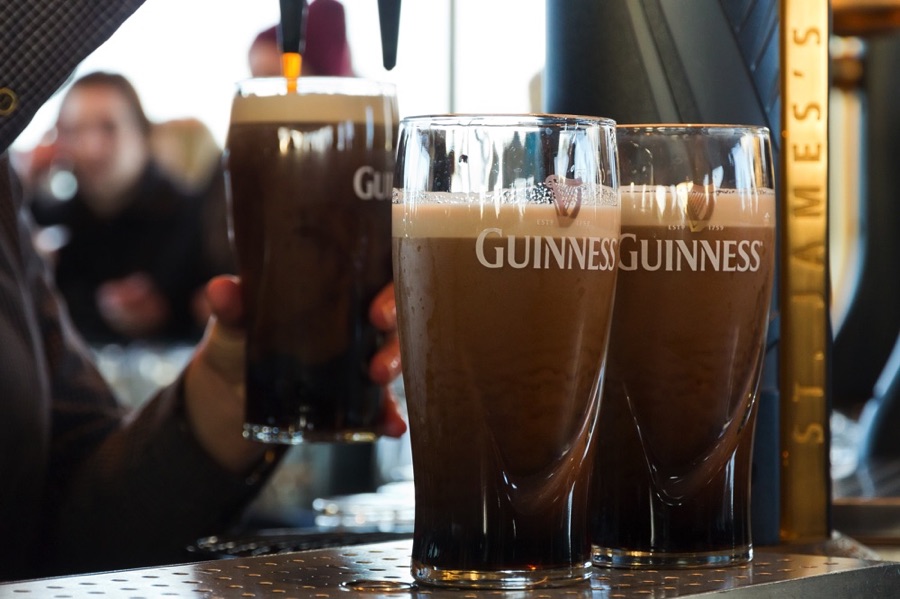 There are seven floors of experiences here, including Gravity Bar with 360-degree views of Dublin. Tickets can be purchased here and include access to the Guinness Storehouse, learning all about Guinness (including how to perfectly pour a glass), and a pint of the black stuff at the end! Remember to bring your ID (the drinking age in Ireland is 18).
If whiskey is more your thing and you'd prefer something other than Guinness, you could always opt for the Jameson Distillery tour, with tasting. See Also: Jameson Distillery Dublin Tour – Ireland's Best Selling Whiskey
Once the tour has ended, it's time to soak up some of that booze.
☞ SEE ALSO: Guide to Finding the Cheapest Pints in Dublin
Afternoon
For lunch, you need to find a locally-made Irish Stew. It's a homely meal and the best in Wintertime to warm you up. It usually contains lamb, potatoes and vegetables in a soup but finding a vegetarian option will be no problem. Finish it with some crusty bread dipped in.
A popular place to try the stew is Gallaghers Boxty House. Another local dish to try would be their namesake Boxty. Boxty is basically a potato pancake and served savoury, not sweet.
Walk off your lunch by heading toward the Ha'Penny Bridge to cross to the other side of the river. The Ha'Penny Bridge cast-iron bridge is symbolic in Dublin and a great photo opportunity.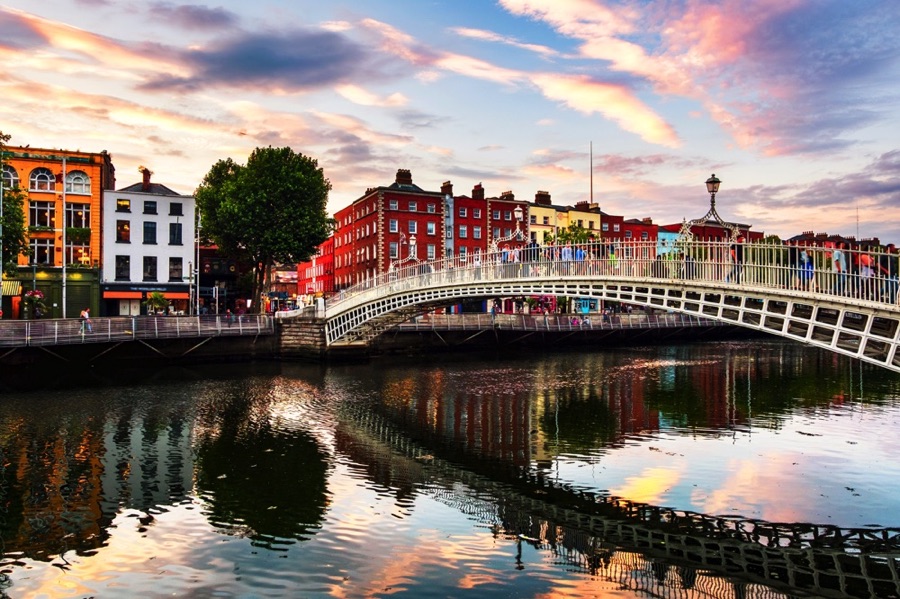 This afternoon's activity takes you to another museum and remaining in the literary theme, this museum is none other than the Dublin Writers Museum. It celebrates the history of famous authors such as Oscar Wilde, WB Yeats and Samuel Beckett among others.
Entrance to the museum is €7.50. You'll find memorabilia and artefacts surrounding famous works such as Dracula by Bram Stoker!
Late Afternoon
Your final activity of seeing Dublin in 2 days requires some walking and exploring at your own pace. Visiting many cities around the world includes seeing street art and Dublin is no different.
Street artists' beliefs, frustrations, politics, love, pride and more are all painted on the very streets they live. Society is slowly moving from perceiving this as vandalism/graffiti to art and expression.
Your options to find the art would be: Longwood Avenue (for David Attenborough mural), Love Lane (near Temple Bar), Liberty Lane or visit the Jam Art Factory. Wandering around in search of street art is one of the best free things to do in Dublin.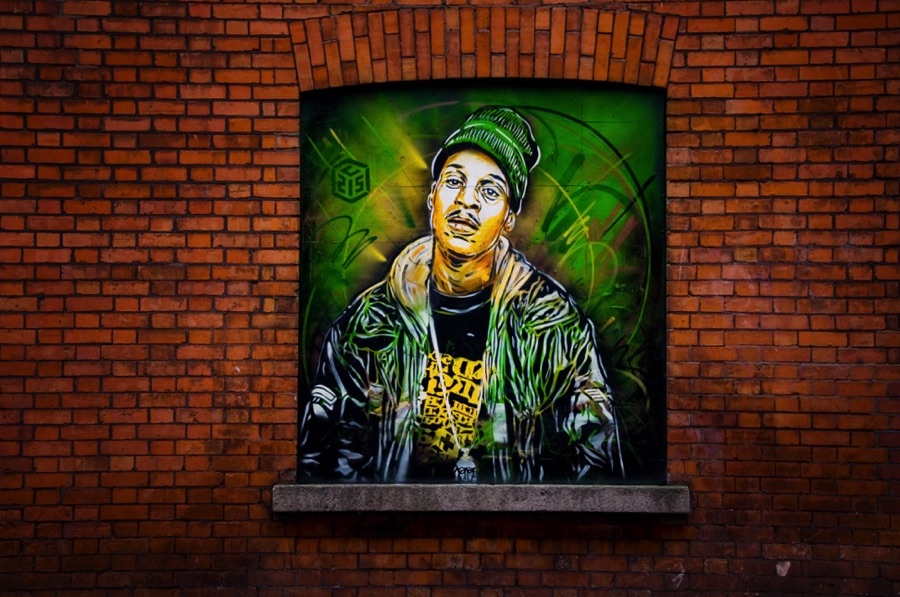 Evening
When the sun goes down on your second day and final day in Dublin, head to Oliver St. John Gogarty Temple Bar and Restaurant for live music. You will definitely hear renditions of Molly Malone and Galway Girl which will be memorable for your weekend in Dublin as well as covers and original songs.
If you want to continue your night out in Dublin, carry on at Harcourt Street for student drink deals. I recommend visiting Dicey's for budget prices, a huge garden area, and some great throwback tunes.
Getting To Dublin
Visiting Dublin is easier than ever if you're travelling by air because of its large international airport, welcoming flights from all over the world. Dublin is also a common layover city when travelling between North America and Europe.
Dublin City Centre is around 10km from Dublin International Airport and there are a few options for getting there:
Bus into the city using Airlink is the cheapest option as it costs just €7 for a one-way trip if booked online here.
A taxi will set you back around €25 but if you're travelling with a few people this may work out cheaper if you share.
You could always use a car rental company but with only 2 days in Dublin, you probably won't be going on any day trips, and having your own wheels inside the city is unnecessary.
Alternatively, you can reach Dublin by boat from mainland United Kingdom or by bus if you're coming from other parts of Ireland or Northern Ireland.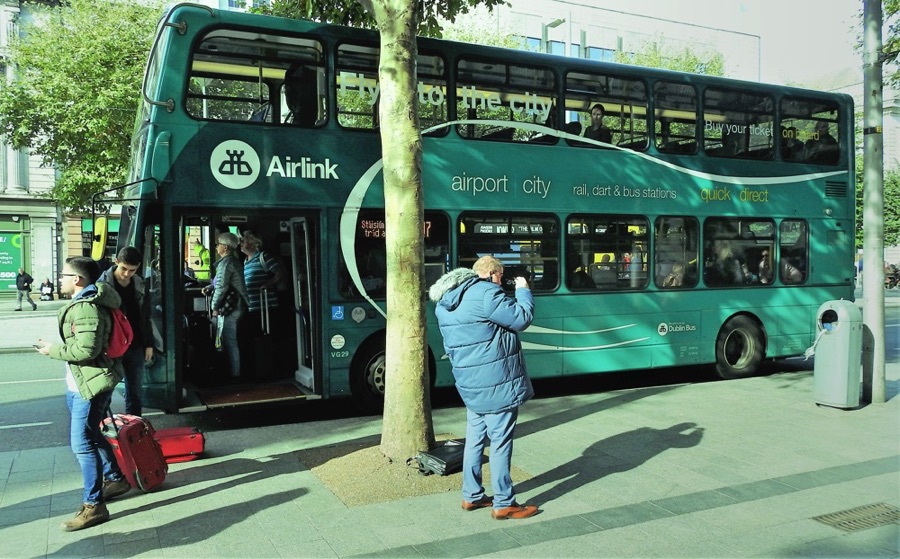 Where to Stay For a Weekend in Dublin
Dublin is a huge city with great local transport options so wherever you stay, it won't be hard to get to tourist attractions. If you're seeing Dublin in 2 days, however, I recommend staying in central Temple Bar area.
Temple Bar is extremely well located if you're looking for local encounters, best eateries and Irish pubs as well as within walking distance to the main attractions listed on this weekend in Dublin itinerary.
For a full breakdown of the best areas and accommodations in Dublin, don't miss our in-depth article.
Hostels in Dublin
The number one accommodation I can recommend in Temple Bar area is Oliver St. John Gogarty Hostel. I stayed here on my weekend in Dublin and it was one of the cleanest and convenient hostels I've stayed in as well as friendly, helpful staff and ideally located next to a restaurant you have to visit on your trip to Dublin!
For a list of all hostels in Dublin, click here to see the latest prices and reviews on Booking.com.
Hotels in Dublin
For a hotel option, I recommend staying in a highly-reviewed place called The Merchant House. It was built in 1720 and renovated in 2005 so is ideal for any history lovers out there. My favourite thing about this hotel is that the rooms are named after famous Irish writers such as the creator of Dracula, Bram Stoker.
Lastly, there's Dublin Citi Hotel of Temple Bar which is probably the best location because it's sort of in the middle of the attractions listed in this post and won't be loud because it's not as close to the pubs/live music as Oliver St. John Gogarty is.
For a list of all highly-rated hotels in Dublin, click here to see the latest prices and reviews on Booking.com.
Note: Accommodation can rise in price especially if you plan to visit Dublin on a special occasion such as St. Patrick's Day (March 17th).
For a tip about accommodation in Dublin, avoid staying in low-budget, low-reviewed hostels and hotels. Before moving into Oliver St. John Gogarty, I stayed in a budget hostel and didn't have a positive experience.
Dublin is an expensive city, and if you go for a low-end accommodation, you'll probably be disappointed — by location, quality and experience. Since you just have 2 days in Dublin, trust me, it's worth the splurge!
Insider Tips For a Dublin Weekend Trip
When staying in hostels, look out for notice boards or ask reception if there are any free walking tours happening.
Although the walking tours are free to join, you can leave a tip for your guide at the end of the tour.
Carry spare change around with you because public toilets usually cost around 50 cents.
In public toilets, there may be someone selling necessities such as deodorant, chewing gum, paper towels, etc. These are not free items so spare change may come in handy again.
Don't be alarmed by street/road signs when you see just Irish words, the English is usually underneath it.
Not every Irish person says 'Top Of The Morning To Ya" so refrain from assuming this of every local you meet.
On that note, don't insult them by mentioning other Irish stereotypes.
A common phrase used in Dublin is 'grand' meaning great and it's grand when you hear a local saying this to you or even better, describing you as a grand person.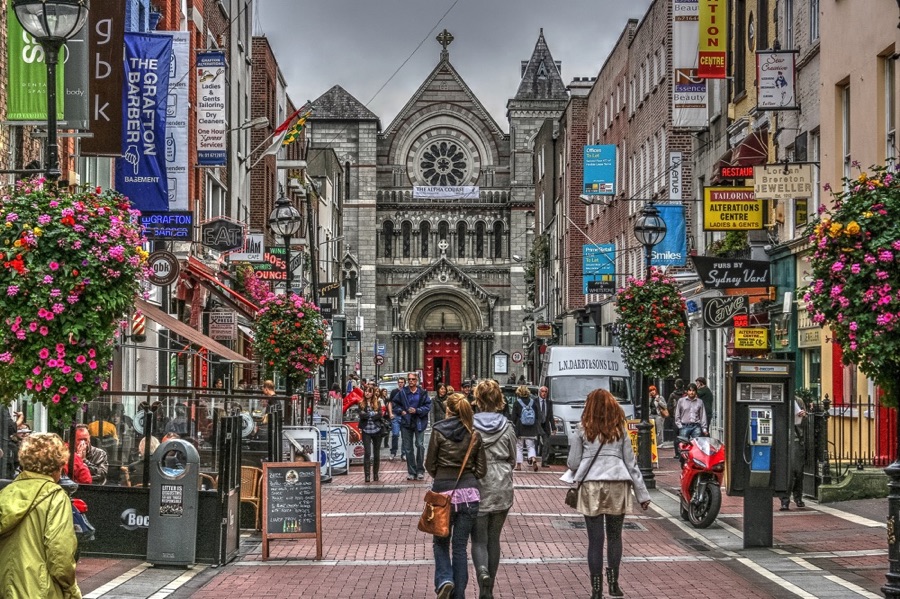 Now You Know How to Spend 2 Days in Dublin
The cobbled paths of Dublin are meant to be walked on to explore the sights, the Irish coffee wouldn't exist without being consumed in Ireland itself, and as a land of literary inspiration, it'd be a shame not to find your creativity when in Dublin's fair city.
Ireland's capital holds a rich history, it's the home of legendary Irish writers, the birthplace of Guinness and holds the best craic around. Not to mention, if you're feeling active, there's some great golfing and hiking nearby! After spending a weekend in Dublin, it might just leave writing on your heart too.
Want more Dublin posts?
Images in this article are courtesy of Shutterstock — a top website for finding royalty-free images and videos.
Like This Article? Pin it!