Dublin Travel: A Guide To Visiting The City
Dublin travel offers something for everyone; history, culture, sports and great nightlife. This Dublin guide will reveal why Ireland's Capital is so special.
Ireland is known as '"The Emerald Isle" which may give you a clue about the climate which does include rainfall, but fear not! When you visit Dublin, you can find plenty to do on a rainy day.
Cities such as Dublin have plenty to offer right around the year. It can be pre-Christmas shopping, the 6 Nations Rugby Internationals in the spring, or early summer through to autumn when the climate is at its best — you choose! Here's what you can expect at different times of the year in Dublin: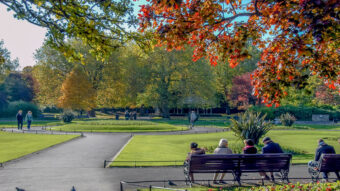 The months of April and May and then the weeks from mid-September until the end of October are mild with fewer crowds around at the major attractions.
Children are at school so it is a time when fewer families will be seen.
You can expect rain but no more than you would get anywhere in Northern Europe. Prices are slightly lower than peak season. This is also a great time for hiking around Dublin.
November begins the off-season and that remains the case until Easter.
It can be chilly with temperatures at 4/5°C but if you are prepared with warm clothing, then it's no problem, and an umbrella can keep you dry when it rains.
Everything is open during this time and prices are at their lowest, especially in the New Year. Travelling to Dublin in the winter is perfectly fine.
Where you decide to stay in Dublin will be based on your personal interests, the duration of stay, and the costs involved.
If you're planning to visit for the weekend, you may want to be in the action. Whereas if you're planning a longer holiday, you may choose a quieter area. 
Here are four neighbourhoods that are popular with travellers to Dublin.
Temple Bar is the busiest neighbourhood in Dublin,  located in the heart of the city close to the River Liffey and Trinity College. Those seeking the best nightlife in Dublin head to Temple Bar where there are plenty of bars and restaurants.
Its popularity means that it is more expensive than some outlying neighbourhoods in Dublin. Galleries and culture centres are also found here.
There are many popular places to stay in Dublin, but this is the most notable neighbourhood for tourists.
This suburb in the south of Dublin earned the nickname "Little Jerusalem" because it provided a haven for Jews from Eastern Europe late in the 19th Century.
In recent years, its boutiques, restaurants and galleries have made it one of Dublin's trendiest neighbourhoods. It is still only 15 minutes walk from the centre and speaking of walks, the Grand Canal offers the opportunity for a pleasant stroll.
The nightlife is good and staying in a hotel like the Dean puts you right on the doorstep.
If you want to be central yet experience local life, Smithfield is for you. It is located between Temple Bar and Phoenix Park and most of the action revolves around the former market square.
In recent years, the cafes and restaurants along the cobbled streets have attracted more and more customers and closing time is late. There are plenty of food stalls allowing you to eat as you go as well.
Bow Street Distillery gives you the chance to sample Jameson's and you will have only a short distance to walk if you stay at the relatively inexpensive Generator Hotel which attracts a younger crowd.
This area was Viking territory many centuries ago and like many other city renovation projects around Europe, it is now a commercial hub with modern architecture. There are plenty of entertainment options as well.
The River Liffey meets the Grand and Royal Canals here, and if you wish you can hire a kayak for a different perspective of the city.
There are plenty of accommodation choices here and of course, many places to grab a pint!
Dublin travel offers something for everyone. Those simply wanting a city weekend break may just seek a comfortable hotel, nice restaurant and the nightlife of Temple Bar. While those on a longer trip to Dublin may want to do some day trips further afield.
This country loves its sport with rugby, football and golf in Ireland being popular spectator sports. 
There are museums aplenty, visits available to breweries and distilleries while Dublin's architecture merits a whole weekend's investigation.
Whatever your personal interests, you should try to see these 3 highlights during your visit to Dublin:
Dublin Castle dates back to the early 13th Century and was home to British Rule for 700 years until Irish independence in 1922. Located in what is now Dame Street in Dublin 2 on what was formerly an ancient Viking settlement, it was destroyed by fire in 1684.
An impressive palace was built to replace it and today it's used for the inauguration of all Ireland's Presidents. If you book a guided tour, you are likely to head to The Brazen Head, the oldest pub in Dublin, as well.
This cathedral was a wooden Viking church when constructed in 1030.
Romanesque and Gothic additions were added over the centuries before major renovation work in the second half of the 19th Century during Queen Victoria's reign.
The Cathedral Choir has existed since 1493 and continues to sing to this day.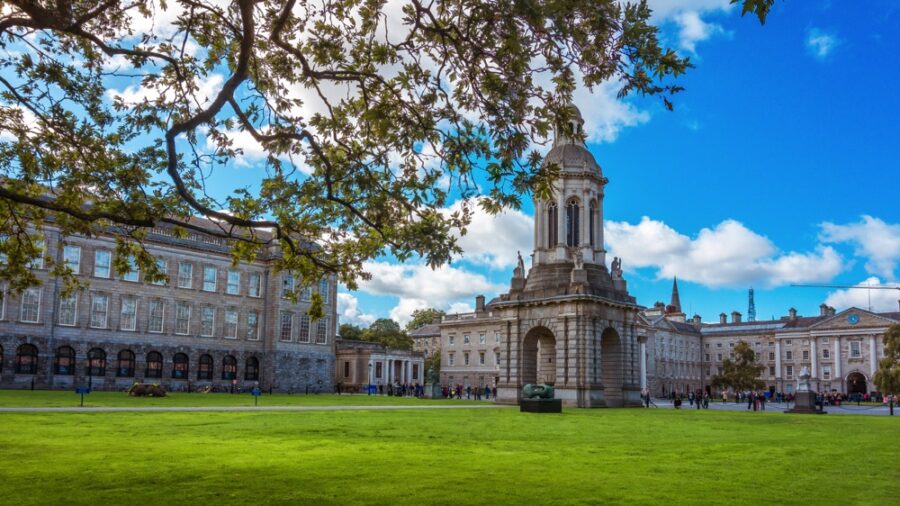 Book of Kells, Trinity College
The 9th-century manuscript detailing the life of Jesus Christ is the most important document in Ireland and is housed in Trinity College. Written on calfskin, the colouring is spectacular with the use of pigments like red lead, copper and lapis lazuli. It's about  $17 to tour Trinity and see the Book of Kells in the Old Library. A great way to combine the Dublin Castle with a visit to the Book of Kells is to
join this popular tour
.
Whether you're interested in a history walking tour, a foodie excursion or getting your drink on, there's a tour in Dublin for you. Here are 3 initial ideas: 
City Hop-On, Hop-Off City Tour
One of the best ways to familiarise yourself with any new city is to take a bus tour that goes around its major attractions. Afterwards, you can spend more time at those things that you found interesting. The Dublin bus tours come will validity up to 3 days with a single day costing $25 and 3 days just a few dollars more. This is a great introduction to Dublin.
Click here
to learn more and reserve tickets.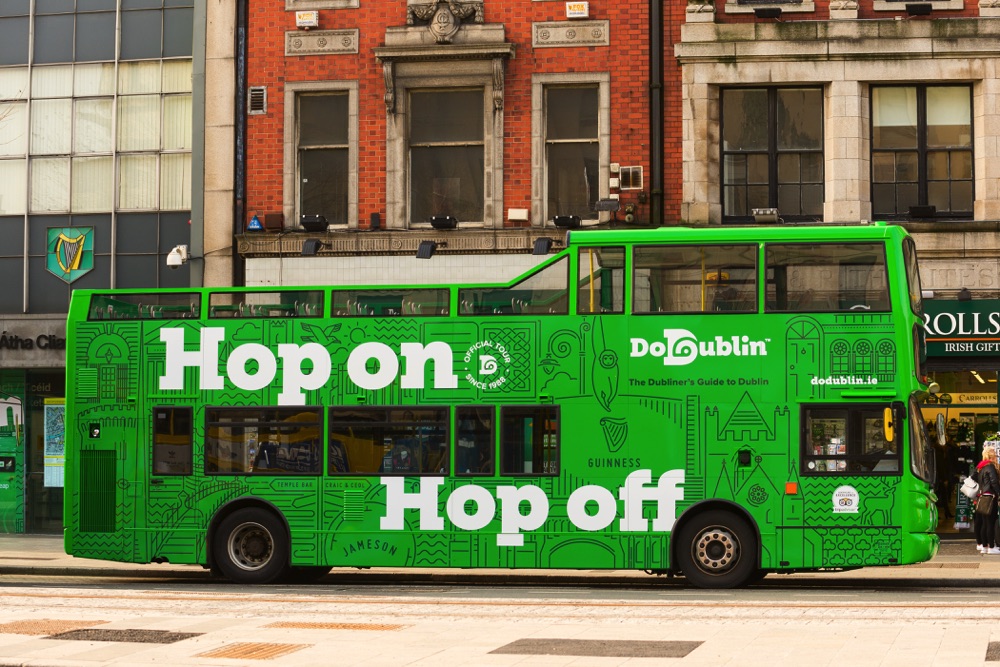 No Dublin trip is complete without a visit to the famous
Guinness headquarters
. You can actually get a combined ticket for Guinness and the city tour for $75, valid for 2 days. An additional attraction of the Storehouse (besides sampling!) is the great views you will get over the city.
Click here
to learn more and reserve tickets.
Afternoon Tea on a Vintage Bus
Enjoy
afternoon tea
 and snacks while you cruise around the city in a fully restored double-decker bus from the 1960's. As you explore the city on the unique vintage bus, tour guides will share their favorite Dublin stories and historical information. You'll get to relax with a delicious assortment of sandwiches, scones, and desserts while sipping on tea or coffee.
Click here
for details.
BEST DAY TRIPS FROM DUBLIN
Dublin travel within the city is easy, while there are numerous tours of different lengths to take you out of the city, while having you back in time for dinner on the same day. In each case, it's easy to arrange pick-up and travel will be by comfortable coach.
Game of Thrones & Giants' Causeway
Any fan of  'Game of Thrones,' should pick this tour to see some of the locations made famous by this popular series.
The Giants' Causeway on the Ulster northeast coast is spectacular in itself before even considering "GOT."
This is a fairly long but fascinating day as well. Leaving Dublin and heading north over the border, Dark Hedges is the first thing on the itinerary before going to Ballintoy Harbour, where plenty of the series is shot.
Click here to learn more about the highly-rated tour.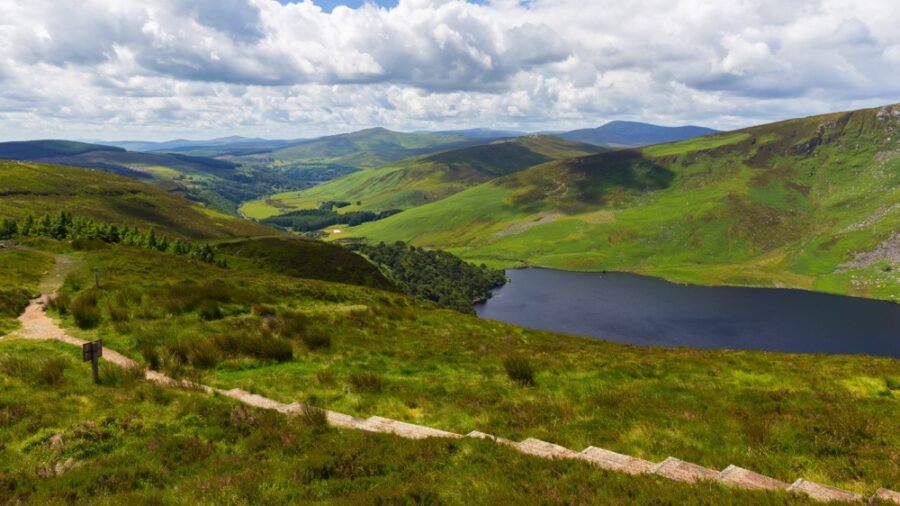 Going in the opposite direction out of Dublin, County Wicklow deserves its description as '"wild." There are several pickup points in central Dublin before you move off down the coast, enjoying the great sea views.
Sally Gap and the Wicklow Mountains National Park, with its heath and bogs, Lough Tay, where some of  Mel Gibson's 'Braveheart' was filmed provide interest all the way until a refreshment stop.
The glacial valley of Glendalough, famous for its wildlife, history and archaeology follows.
At $40, this tour is excellent value. Click here for details and to reserve your spot.
"The gift of the gab" is something that the Irish have become known for, and the one word that covers that talent is "blarney."
Blarney Castle is just one of the treats on the route through Tipperary and Kildare.
Kiss the Blarney Stone at the top of its tower and see whether it affects you or not!
Other attractions on this tour as well as the journey itself, are Cahir Castle on an island in the river and the Rock of Cashel making the $74 price a bargain. Click here for details and to reserve your spot.
Like most capital cities in the world, a wide range of cuisine is available for those who look for it. There is certainly no problem in finding a good restaurant in all parts of Dublin but regular travellers often look for something traditional in the city they are visiting.
The Irish diet is plain yet with good flavours. The well-known dishes reflect the largely rural life lived by the Irish over generations and the climate which means that warm and filling food was a mother's priority for the family.
This warming dish is made with lamb or mutton and root vegetables, homegrown across rural Ireland still today. Potatoes will always be there despite some variations from place to place.
You will find Irish Stew on pub and cafe menus as well as in good quality places wanting to offer customers a flavour of Ireland. It's a relatively inexpensive dish other than in top quality restaurants.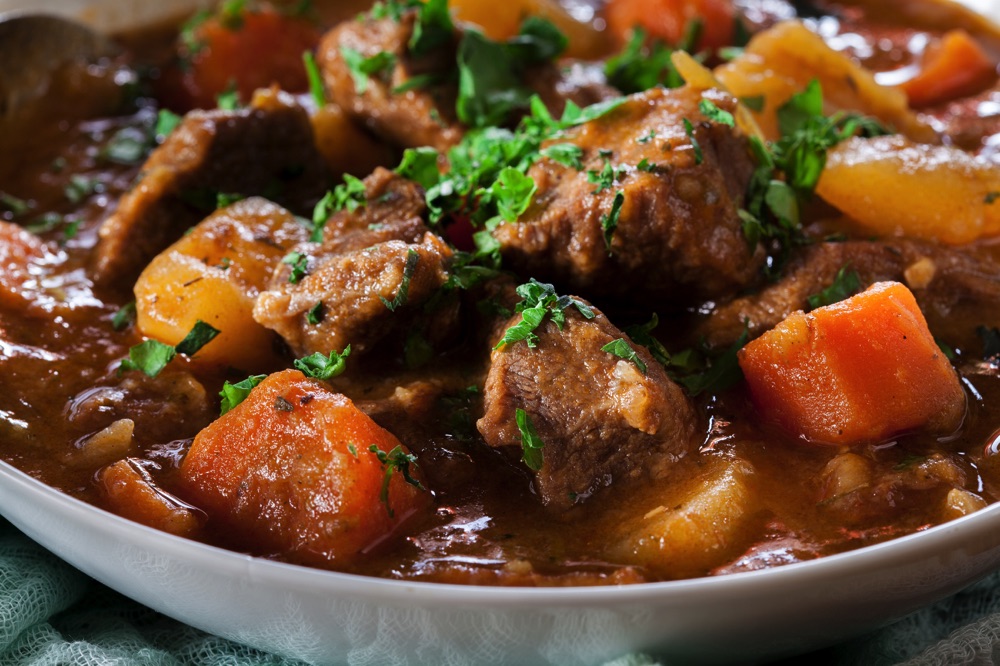 Another simple and traditional main course that you will be able to eat in many places in Dublin is based upon potatoes. Colcannon mixes onions and green leaf vegetable such as chard or cabbage in a mash using butter and milk.
Champ is similar and originates up in the North. This simple but filling dish is served with boiled ham or sausages. If you are on a budget, you will find this a cheap alternative to a fancy restaurant.
This dish is still common in households and makes use of leftovers from a joint or uses thickly cut sausages or ham. Vegetables and sometimes barley is added to give bulk to the dish and salt and pepper are the only definite spices used.
Coddle is comfort food traditionally associated with Dublin and is mentioned in the works of James Joyce. It's a special favourite on a cold winter's day, regularly eaten with bread.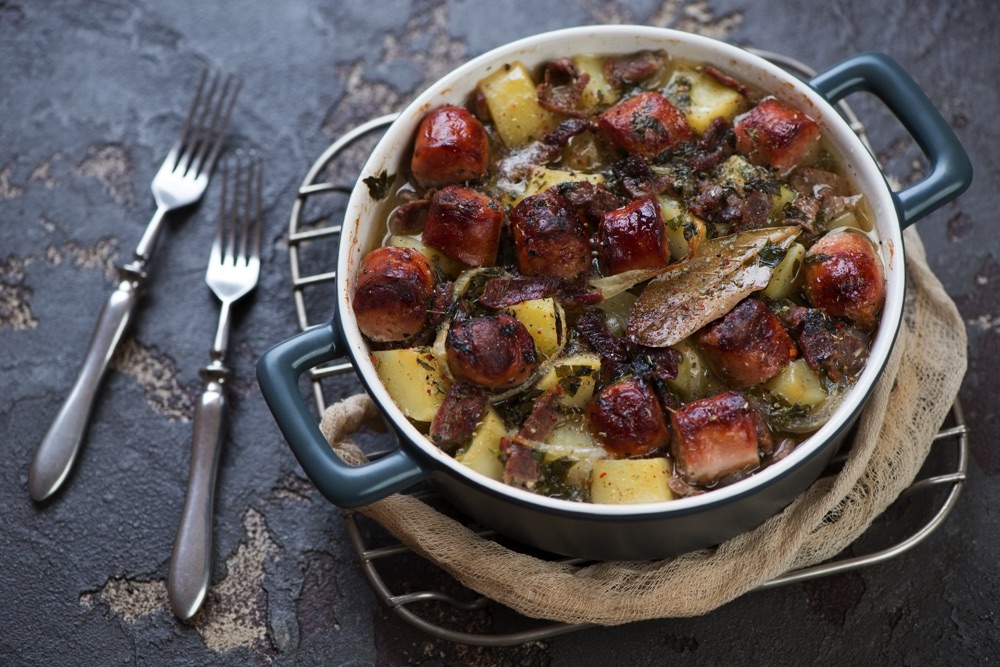 Best Restaurants in Dublin
Delahunt: This traditional restaurant in Camden Street, Portobello, Dublin 2 maintains a great atmosphere in Victorian surroundings.

Typical of what is on offer is a 4-course menu, two choices for each course, at $62 per person.
Local produce is at the forefront of this restaurant with broth, cod, lamb and ice cream an example of what you can savour. 
 Etto: This single star Michelin establishment is excellent value, arguably just mid-range in price. You will find it in Merrion Row in St. Peter's.
Recommended for vegetarians as well, you will find a wide-ranging menu with emphasis placed on sourcing local produce, whether meat, fish or vegetables.
Herb Street: Found in Dublin's Docklands, this is a modern cafe with daily specials on a blackboard.
It's not expensive with imaginative desserts at $4 while the appetizing prawn pil pil with garlic and chilli at $10 is a great way to start a meal.
There is a brunch menu for those wanting something substantial at lunchtime.
Most travellers to Dublin visit pubs for a Guinness or three while they are in the city. Many line Dublin's streets and offer a great atmosphere, even when there is no music playing. You will enjoy any pub, but here are 3 great options in different areas of Dublin. 
John F. Kennedy had a Guinness here when he visited Dublin all those years ago. 
This Dockland's pub has been serving drink since the mid-1850s and retains the name of its original owner.
It also retains its original local feel which is a great attribute in these modern days. Click here to find it on the map.
This traditional pub in Merrion Row, St. Peter's has live Irish folk music every night and be prepared to find it busy, but welcoming. It was where the Dubliners first started performing over half a century ago.
It was a grocery store back in the 18th century but has been a pub since the mid-1930s. Click here to find it on the map.
Temple Bar is a hugely popular district for visitors wanting to do a pub crawl. This bar in Fleet Street is perhaps the most famous in the neighbourhood.
It was built in the late 19th century but has been in the Aherne family for over 70 years. Music lovers head here with the skylight an interesting feature during the daytime. Click here to find it on the map.
One of the main reasons to travel Dublin is the atmosphere that live music creates. Even small pubs may have some Irish players performing in the evening while larger venues attract well-known musicians who find Dublin crowds very receptive to their performances!
Here are 3 live music venues to visit when travelling in Dublin to see what they are showcasing while you are there.
This venue in Thomas Street opened in 1998 and since then it has established itself as a real favourite. It seats just over 1,000 while standing only allows 1,500 into the venue.
Even with crowds of that size, there is a nice intimacy to the venue, a great atmosphere with pricing that is very reasonable. Vicar Street has also headlined stand up comedy acts as well as music.
The Grand Social in Liffey Street Lower, Northside is regularly nominated for the National Venue of the Year.
Its calendar includes a great range of musical acts and top DJs. The roof beer garden is great — unless it rains! Every week there is an indoor market which sells everything from retro furniture to vinyl records.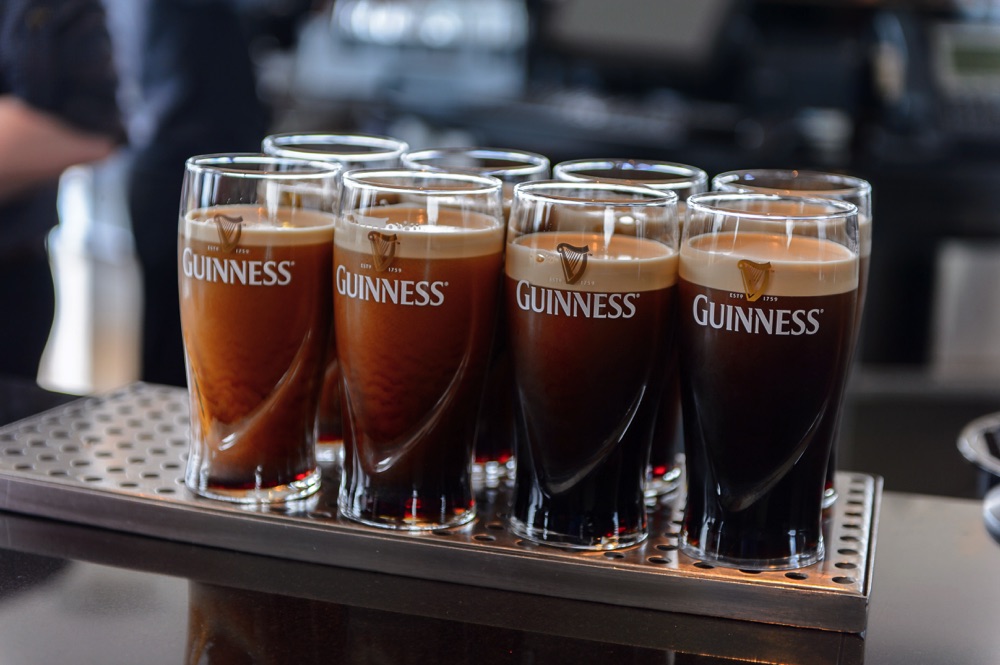 Head to Wexford Street and you will find a famous music venue that has hosted many international stars in its time. Whelan's is also one of the best places to enjoy the atmosphere that Irish music engenders while drinking a pint of the "black stuff", Guinness.
There is always something being celebrated in Dublin, even in the low season. They range from entertainment to religious and cultural events. Here are 3 you won't want to miss.
St. Patrick's Day is celebrated worldwide, but nowhere more than in Dublin. The Patron Saint's Day is in March and Dublin's celebrations last five days.
There is a program of events throughout the city every day involving not only plenty of music but literature, art, poetry and food. A busy time in Dublin means prices might rise a little and accommodation needs to be booked well in advance.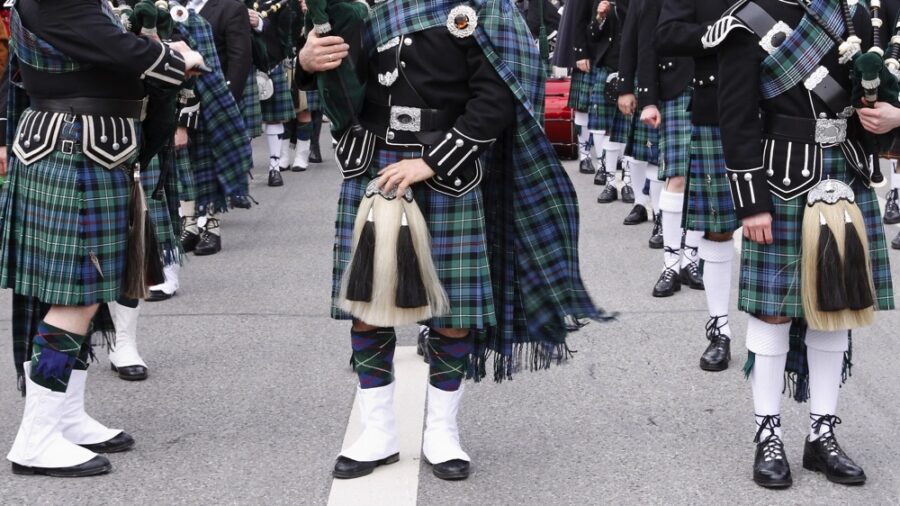 This festival over 10 days towards the end of May also comes before the peak season arrives in Dublin.
The program of events during those days is published well in advance.
There is something for everyone with the host of free workshops very popular.
September sees the Fringe Festival as the main event for visitors to enjoy outside the city's permanent attractions. Over two weeks, visitors can enjoy a number of different events with the program worth reading before you head to Dublin specifically to attend.
Those interested in art and culture will love these two weeks. On average, 30,000 attend each year.
Travelling in Dublin is simple even if the roads can be busy. Taxis are plentiful, the bus service is comprehensive while you can walk or cycle at minimal or no cost.
Travel Dublin and its streets on foot unless the weather is poor — this is a great way to save some cash.
In terms of accommodation, there is plenty of choice for every budget, from hostels up to sheer luxury. You don't need to spend lots of money on food and drink unless you want to.
Public transport, walking, meals on the go, and free attractions mean you can live on $50 a day as long as you shop around for a hostel bed or stay at Croke Park.
As soon as you want a 3-star hotel, you add significantly to the cost of staying in Dublin and even though you can eat well in many cafes, hotels will take up half of your daily budget.
A luxury weekend in Dublin does not come cheap with top restaurants charging for the quality, taxis costly when the traffic is slow and your hotel anything for $200 per night upwards.
Unless your visit to Dublin is at the start of a self-drive holiday in Ireland, forget the idea of driving around Dublin. It is no different from other cities in terms of busy roads and you are unlikely to be familiar with them.
Public transport is fine while taxis are readily available.
There are hazards in all cities, especially in those that attract a significant number of visitors unfamiliar with the streets. As long as you keep on your guard, you should avoid any problems in Dublin, even in the busy nighttime streets.
There are some neighbourhoods in Dublin that tourists should avoid but none have any attractions that would take them there in the first place.
It's recommended to stay away from the areas of Finglas, Clondalkin, Ballymun and Ballyfermot.
Anyone planning travel in Dublin should make themselves familiar with local travel advice when they visit. Hotels will happily add to that advice if necessary when you check-in.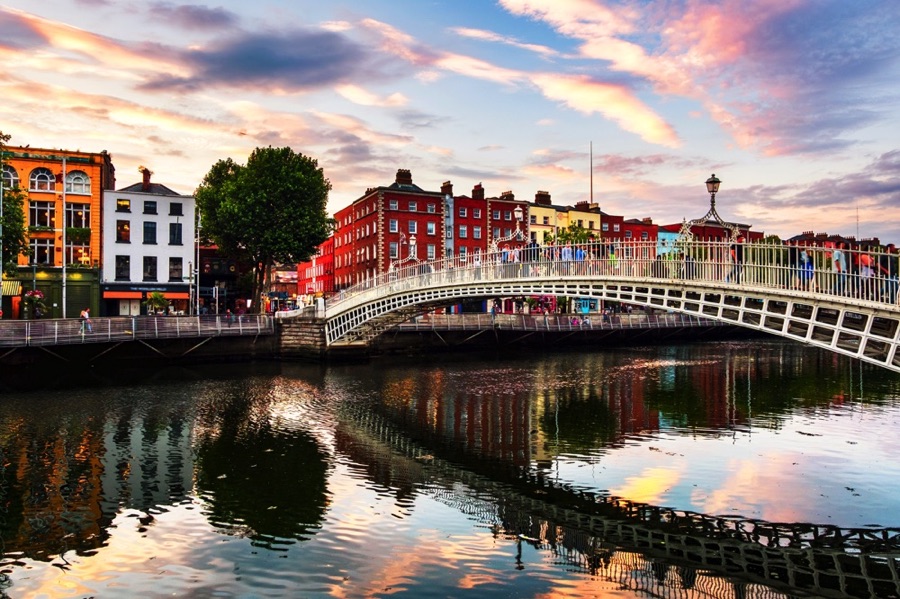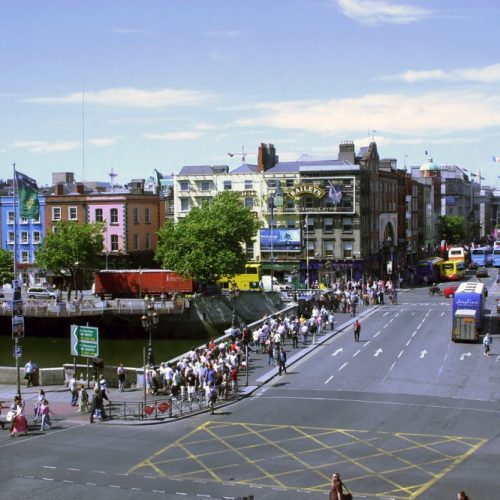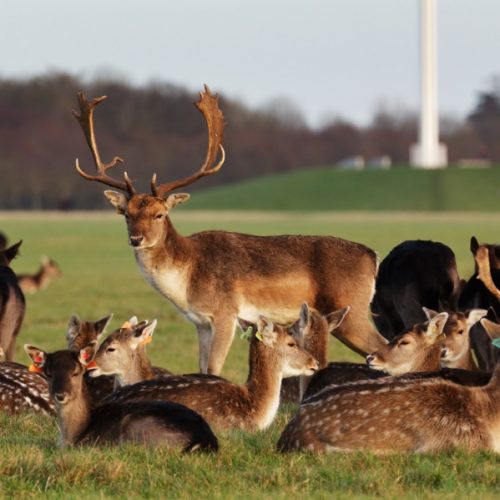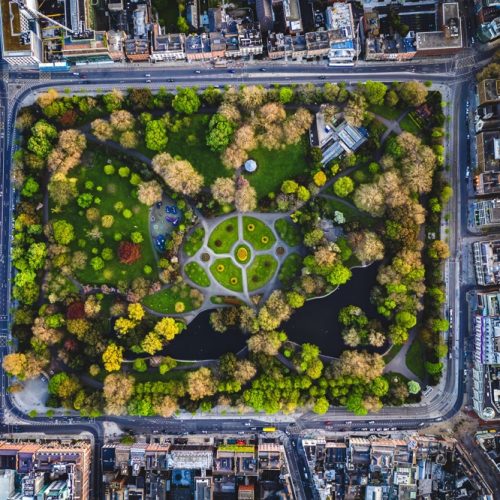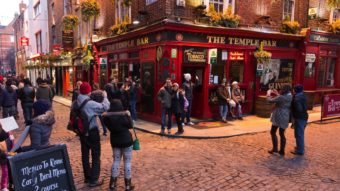 Dublin
With a weekend in Dublin, you'll be able to listen to trad music, explore historical sites, dine on tasty food, and meet friendly people. Read
Read More »