Irish people are very lucky to have a lot of clean beaches in Dublin which are only a short distance from the city centre. Wherever you look, you can find a beautiful beach. When the sun shines and the weather is gorgeous out, you don't have to go all the way over to the west coast to bask in the sun!
Or if the weather isn't good you could check out our list of Free Things To Do In Dublin. It's a city packed full of art, culture and beauty.
Here's our list of some of the best beaches Dublin has to offer and the best way to get to them if you're travelling from the city centre.
1. Velvet Strand | Portmarnock
Velvet Strand Beach is a popular beach for kite surfers and windsurfers but it is also a lovely place to soak up the sun when the weather is warm out.
This beach is known for being one of the most beautiful beaches in Dublin and very close to the city centre. The beach stretches out for over 5 kilometres and it is the perfect place to check out on a sunny day.
There are also a lot of dunes near the beach which are a lot of fun to explore if you have any young ones. The beach was also awarded blue flag status in 2018, meaning that it is one of the cleanest beaches around.
Getting there: You can grab the 32 or 42 bus from Talbot Street in Dublin and will be at the beach in 30 minutes.
Dining: Check out McHughs Wine and Dine Portmarnock for some delicious food and drink. It is only a short walk from the beach and is extremely popular with the locals.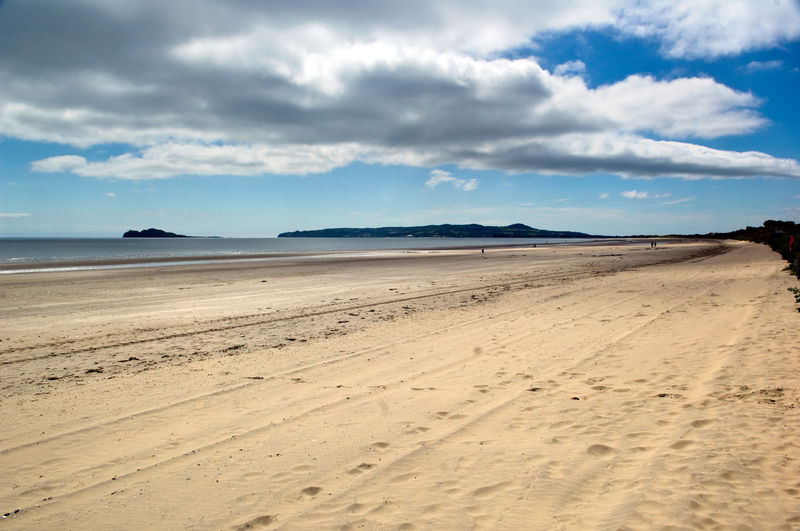 2. Donabate Beach | Donabate
Donabate beach is a beautiful little beach that is exactly what you are looking for if you want a quieter beach. From the beach, you can see some gorgeous views of Lambay Island, Howth Head and Malahide. It's a very safe beach and well worth a visit!
Getting there: You can jump on the train at Tara Street Station in the city centre and then head north until you get off at the Donabate Stop. It should take about 37 minutes.
Dining: The Tower Bar and Bistro at The Waterside Hotel offers some delicious food coupled with some gorgeous views of the Irish coast… Do not miss it!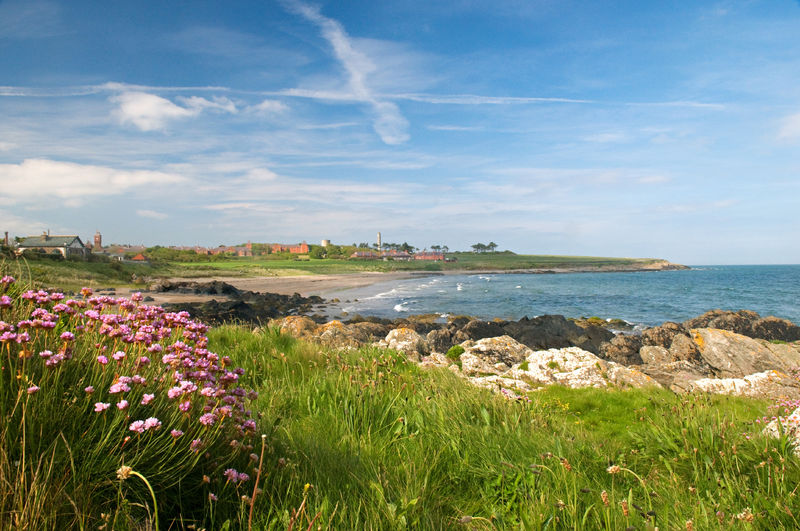 3. Dollymount Strand | Raheny
This beach is incredibly close to Dublin City and is very popular with locals and tourists alike. It is a part of Bull Island which is a man-made island that was built over 200 years ago to cope with silt deposits at the mouth of the River Liffey.
Dollymont Strand is a beautiful place to lay out and watch the world go by. The island is a sanctuary for flora and fauna and is a lot of fun to explore. Just make sure to bring all you need with you as there are very few amenities on the island.
Getting there: Take the 130 bus from Abbey Street and get off when you see the wooden bridge, you can't miss it! It should take about 20 minutes from the city centre.
Dining: Happy Out is a lovely little cafe on the island which offers some really delicious coffee and toasted sandwiches and of course, beautiful views. It's is well worth a stop during your stay at the beach.
4. Sandymount Strand | Sandymount
Sandymount Strand is a stretch of beach on the south side of Dublin city which is equally as beautiful as its northside counterparts.
When the tide is out the beach is absolutely huge and offers some gorgeous views of Dublin Bay. There is a lot of see and plenty of walking and exploring to be done if you are the restless type! Poolbeg Lighthouse is about a 30-minute walk from the beach and is one of the most Easterly points of Dublin.
Getting there: On O'Connell Street, you can jump on the 1 bus and it will get you there in about 15 minutes.
Dining: Mulligans is a sports pub that is only a short walk from the beach and offers some delicious main courses — especially if you are a seafood fan! They also have a fantastic range of cocktails which are well worth stopping in for.
5. North And South Beach | Rush
As a child, Rush was a place we would visit every summer and it has a very special place in my heart. The two beaches are huge and the town of Rush itself is absolutely beautiful and the perfect place to spend a sunny afternoon.
If you really want to get away from the city, then this is the place to go.
Getting there: The 33 bus travels from Lower Abbey St to Rush and it will take you about an hour.
Dining: The Harbour Bar in Rush is probably the nicest pub in the whole town. The menu is fantastic with some very creative and imaginative dishes to choose from and the pub itself is wonderfully quaint. We would highly recommend their seafood pie.
6. Brittas Bay South Beach | Wicklow
This one is a bit out there… Ok, it's way out there! This beach is a whopping 90-minute drive from Dublin City but we just have to have it on our list as an honourable mention.
It gets very popular when the sun shines but it's easy to see why. Brittas Bay South Beach is a blue-flag beach that has it all; pristine waters, white beaches and some great, big dunes to explore. You can truly be surrounded by nature out here… and hundreds of other beachgoers!
Getting there: As it's about 90 minutes from the city centre we'd recommend getting here by car.
Dining: Jack White's Inn in Brittas Bay is the quintessential Irish Pub that offers excellent value for money and is the perfect place to stop in after a long day lounging in front of the sun.
Enjoy The Best Beaches Dublin Has to Offer
When people think of visiting Dublin, beaches don't typically come to mind. But, if you're visiting in the summer months it's worth taking a few hours out of your day to explore one of the many sandy stretches nearby. Did we leave any out? Let us know in the comments!
Like This Article? Pin it!