Ireland is a country worth visiting all year round so trying to narrow down the best time to visit Ireland will often depend on your itinerary and budget.
Regardless of whether you are interested in dramatic landscapes, traditional music, fantastic outdoor activities, vibrant cities or picturesque little villages, Ireland has something to offer you whenever you travel!
Ireland is a very green country, thanks in part to its plentiful rainfall throughout the year. Some months, such as April, generally tend to have less rain, but it's realistic to expect some wet weather during your trip — it is Ireland after all!
As a native of Ireland who has explored this fabulous country in all seasons, I can give you an insider's view of when to go to Ireland.
Here it goes. The best time to visit Ireland!
Peak Season (June – August)
In Ireland, the peak season is during the summer months of June, July and August.
While Ireland is not particularly known for its good weather, during these months the weather generally tends to be settled and not too wet.
The long summer days are also a great advantage at this time of year.
From about mid-June, the tourist season starts to get quite busy. Roughly 11 million tourists travel to Ireland each year, with the majority of them visiting between June and early September.
Ireland is a popular destination not only for overseas travellers, but domestic tourists as well. Keep this in mind when you are planning your accommodation and itinerary.
Prices for airfares and accommodation are usually highest during this season.
Even though it is a small island, there is plenty of room for everyone!
One general travel tip for these busier months is to visit popular tourist attractions, such as the Cliffs of Moher in County Clare or Glendalough in County Wicklow, as early or as late in the day as possible. This way, you avoid the majority of the crowds.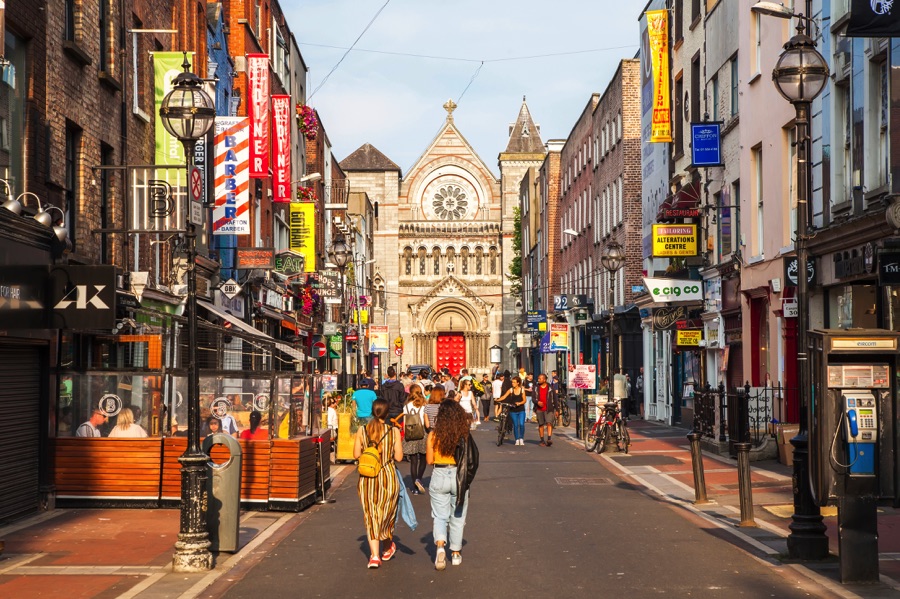 Shoulder Season (April – May, September – October)
In my opinion, this is definitely the best time to go to Ireland and I recommend travelling to the Emerald Isle during either April, May, September to about mid-October.
The weather during these months is often pleasant, although not as warm as during the summer months.
There is also plenty of daylight at this time of year, which is a major plus for sightseeing and activities.
When to travel to Ireland during shoulder season depends largely on personal preference, but I would recommend May as being all-round the best month to travel to Ireland.
Many tourists travel to Ireland during the peak season and miss out on the benefits of the shoulder season.
Not only are the prices at this time of year usually lower than during the peak season, but there are also fewer tourists, shorter queues for the bigger attractions and less traffic on the narrow country roads.
During the shoulder season months, there are several big festivals that draw visitors to the cities and small towns around Ireland including Fleadh Nua, the traditional music and dance festival in Ennis at the end of May, and the Galway Races in September.
Off-Season (November – March)
An off-season holiday in Ireland during the months of November through to about March certainly has financial benefits. There is a good likelihood of bargains on airfare and accommodation — if you're on a budget, the offseason is the best time to visit Ireland for sure.
One thing to keep in mind is that the days are short with only 7.5 hours of daylight in December and the weather is often very mixed and wintery.
There are benefits of travelling during the winter months though: One highlight is seeing the Northern Lights in Ireland. This can be a memorable and beautiful spectacle.
When the weather is poor, there are many excellent indoor attractions on offer that will keep all kinds of tourists entertained.
In Dublin there are many things to do when it's raining, including the Guinness Storehouse, EPIC The Irish Emigration Museum and the National Gallery of Ireland, just to mention a few.
The numerous museums, castles and distilleries spread around the rest of the country are also very worth visiting, each giving unique insights into Irish culture and heritage.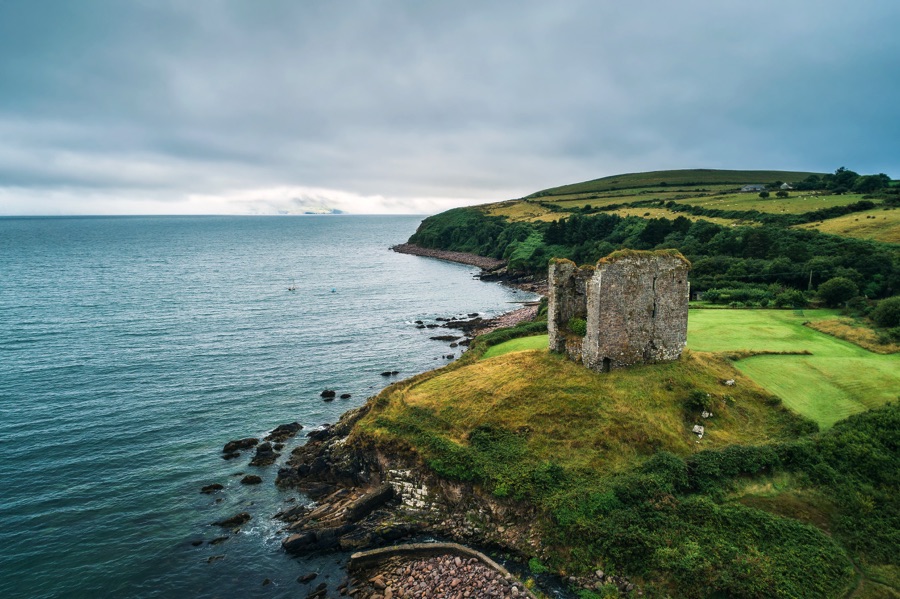 If you are trying to plan when to visit Ireland, it is worth mentioning that the days around Christmas, New Year and St. Patrick's Day (March 17th) are not considered to be offseason.
Prices and demand for flights and hotels rise accordingly during these times.
Best Time To Visit Ireland For Beaches
The best time to go to Ireland for beaches is in the summer if you want to take part in any water activities.
In Ireland the water temperature reaches a maximum of about 18 °C (64 °F) during the summer months. Be prepared to feel cold in the water all year round!
Personally, I love to walk on Irish beaches during winter. The wild rugged landscape, crashing waves and usually empty beaches are stunningly beautiful.
Stradbally beach on the Dingle Peninsula or Inchydoney Beach in County Cork are perfect for a winter saunter!
Best Time To Travel to Ireland For Cities
If you are planning a city break, then the best time to visit Ireland is during the shoulder season of April, May, September and early October.
In spring, the parks in the cities burst into life. In autumn, these parks filled with colourful foliage are the perfect escape from a bustling city!
Fewer tourists, shorter queues, better prices and often good weather are the main advantages of visiting Irish cities during this time.
Best Time To Go to Ireland For Cheap Prices
If you are trying to decide when to go to Ireland based on your budget, then off-season is definitely the best option. January and February are probably the best months to avail of cheap holidays in Ireland.
If you plan on spending most of your holiday sightseeing and visiting indoor attractions, then this time of year might be best for you. The lively music in the pubs will keep any boredom at bay!
The weather in January and February is generally wet and wintery and the days are still quite short, so outdoor activities in your itinerary should be kept to a minimum during this time.
The Overall Best Time To Visit Ireland
May is the best time to visit Ireland.
This month experiences many of the advantages of summer months, such as warmer weather and the days are longer.
You are also likely to encounter slightly cheaper prices, better availability of accommodation and of course, fewer tourists. This makes visiting major attractions much more enjoyable.
For those of you interested in hiking, May is also the best time to travel to Ireland. There are many scenic walks and strenuous hikes around Glendalough in Wicklow National Park, which are well worth checking out at this time of year.
It is possible to visit Glendalough as a day trip from Dublin, making it the perfect short escape from the capital city.
One special area to visit during the month of May is the Burren in County Clare. This unusual limestone landscape is a UNESCO GEO Site and is well known for its biodiversity, especially its superb spring flowering species.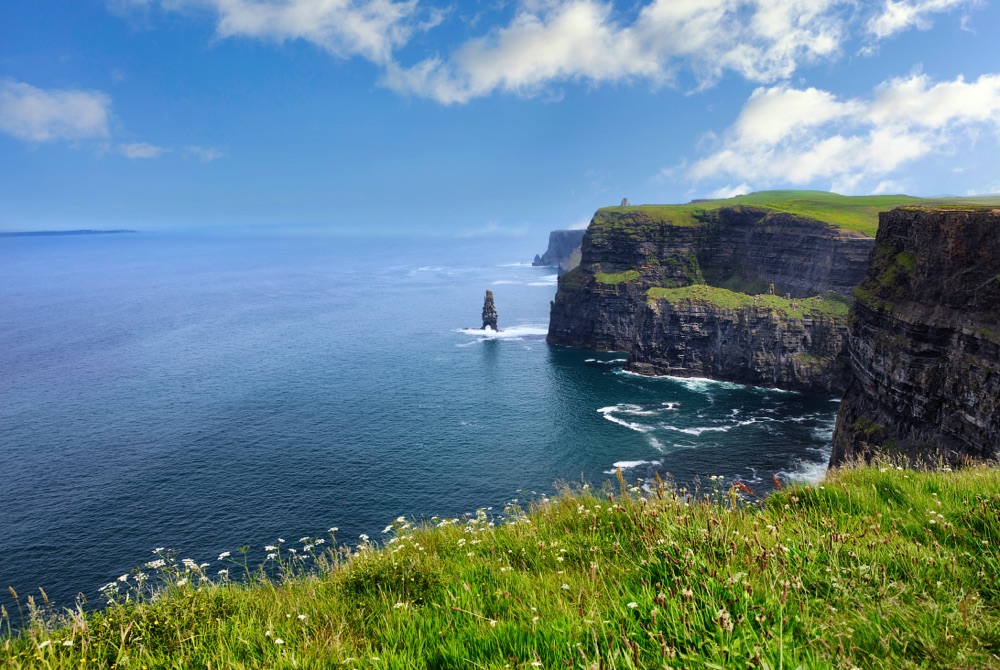 Ireland by Month
Ireland in January
You can expect wintery weather in Ireland in January. The temperatures are low, about 2-8 °C (36-46 °F) so make sure you wrap up warm with plenty of layers.
Plan city breaks and indoor attractions for your holiday in Ireland in January.
Ireland in February
Ireland in February is quite similar to January weatherwise with plenty of rain and wind. Occasionally, there might be some snow during this month, but it is usually just a light sprinkling that does not stay on the ground for very long.
As it is off-season, there might be some good discounts in Ireland in February regarding hotels and car rentals.
Ireland in March
Temperatures tend to rise slightly in Ireland in March, but the weather can be very unpredictable. Generally, the weather improves a bit later in the month.
Around March 17th, the St. Patrick's Day celebrations take place all over the country. People travel to Ireland in March from all over the world to attend these festivities.
Ireland in April
Spring is in the air in Ireland in April. The weather is still mixed but tends to consist of showers rather than constant rain. Temperatures are also continuing to increase with the average temperatures of about 4-12 °C (39-54 °F).
Ireland in April is a lovely time of year to explore nature with many spring flowers to be seen in the parks.
Ireland in May
May is probably the best time to visit the country. The temperatures are cool, but pleasant 7-15 °C (45-59 °F) and the number of daylight hours is still increasing.
Several festivals take place in Ireland in May such as the Burren Slow Food Festival, which focuses on sustainability.
Ireland in June
Long summer evenings and warm temperatures 10-18 °C (50-64 °F) characterise Ireland in June. It is the perfect month for outdoor activities and road trips, so try to plan your itinerary accordingly.
Don't miss out on the highly entertaining James Joyce Bloomsday Celebrations in Dublin around June 16th! It is one of the main events in Ireland in June.
Ireland in July
The peak tourist season is well underway in Ireland in July. The weather is generally good with average temperatures of about 12-20 °C (54-68 °F) to be expected.
School children have holidays in Ireland in July, so be aware of more domestic tourists and book your accommodation in advance.
Ireland in August
The temperatures in Ireland in August are still considered warm, but the light in the evenings fades noticeably earlier by about mid-August.
Ireland in August is a popular time for road trips and there can be busy tourist traffic on some of the smaller country roads, such as the on the Ring of Kerry.
Ireland in September
Ireland in September heralds the real start of autumn. The days are a little cooler, but generally still very pleasant 10-17 °C (50-63 °F). The evenings can be chilly, so pack an extra layer or two if you plan on being outside.
Road trips in Ireland in September can be especially rewarding as the landscape starts to change to more autumn colours.
Ireland in October
Ireland in October can be hit or miss. Early October can still have nice weather, but generally, the temperatures drop 7-14 °C (45-57 °F) and the amount of rain increases across the country during this month.
Halloween is a popular celebration in Ireland in October. The origins of the festival date back to the Celtic festival of "Samhain", which means the end of summer and the beginning of harvest season. Learn more about the weather in October in our post here.
Ireland in November
Ireland in November is cool 4-10° C (39-50 °F), often quite wet and the days are reasonably short.
You can sample the beginning of the Christmas atmosphere in Ireland in November. Towards the end of the month, Christmas markets and decorations can be seen throughout the country. Plus, there are some great festivals this month. Learn more about the weather in November in our post here.
Ireland in December
The short days and cool weather (3-8 °C or 37-46 °F) in Ireland in December are perfect for exploring the pub and restaurant scene.
Rarely will you experience a white Christmas in Ireland in December, but it is not beyond the realms of possibility. Enjoy the many Christmas and New Year celebrations that take place in all of the main cities in Ireland around this time. Learn more about the weather in December in our post here.
Now You Know When To Visit Ireland
Ireland has unpredictable weather and the chances are that you may well encounter rain at some point during your holiday. Plan ahead and bring suitable waterproof clothes with you.
This will make your holiday a lot more enjoyable!
Depending on your itinerary, you can pick the best time to go to Ireland that will suit you. If you plan on being inside most of the time, then the weather is not going to impact your plans all that much.
However, if you plan a lot of outdoor activities, such as hiking and surfing, then you should be a bit more selective regarding the time of year that you travel.
Ireland provides tourists with a diverse variety of attractions, sights, festivals and activities all year round. One of the main challenges is trying to limit what can fit into your holiday! Either way, I am sure that you will have a fabulous time in Ireland!
Photos in this article are courtesy of Shutterstock.com, a website for sourcing royalty-free images and video clips.
Like This Article? Pin it!