Dublin is a beautiful city to visit throughout the year but there is something special about visiting Dublin during Christmas. Irish people may not be as religious as they once were but they still absolutely love all things related to Christmas.
If you're spending Christmas in Dublin then you have come to the right place. In this article, we will give you some recommendations for the best things to do in Dublin at Christmas. So let's get the ball rolling!
1. Check Out The Lights on Grafton Street
Grafton Street is probably the most well-known streets in Ireland and no visit to our country is complete without traversing the length of the street.
There are always people performing up and down Grafton and you could easily spend an afternoon listening to the talented musicians who are playing for the shoppers passing by.
My favourite performer is the young man who plays the uilleann pipes, which are an Irish instrument similar to the bagpipes.
During the winter period, Grafton Street becomes absolutely magical when they switch on the lights which stretch up and down the length of the street. If you plan on visiting Ireland in December be sure to check out our article about the weather in Ireland in December so you'll know what to pack.
In 2019, some Irish people were annoyed when they unveiled the lights which read 'Welcome to the Grafton Quarter'. They didn't like the street being referred to as a quarter. It'll always be Grafton Street to us!
2. Grab a Snack in the Powerscourt Shopping Centre
The Powerscourt Shopping Centre is only a stone's throw from Grafton Street and they like to go all out at Christmastime. It's a wonderfully cozy shopping centre where you can do some high-end shopping and also grab some delicious food.
The Shopping Centre was once the townhouse of Richard Wingfield who was a member of the Irish house of lords back in the mid-1700s. When he left, the Irish government bought it and it has been a shopping center now for a long time.
It's very intimate and the Victorian architecture is hard to miss. There is a great range of shops and restaurants and is definitely one to add to the list.
3. Drink in the Christmas Spirit at The Temple Bar
Just for those out of the loop, Temple Bar is a region in Dublin that most tourists like to check out… There are hundreds of pubs to choose from that are usually blasting out live music.
The Temple Bar is one pub that is in Temple Bar area and the epicenter of the whole area.
We have a love/hate relationship with the famous pub, The Temple Bar. It is definitely one of the most expensive and touristy pubs in Dublin and there are times when you won't actually find any Irish people in the pub!
A pint of Guinness here costs something in the region of €6.50 which is a good bit higher than the average cost which is around €5.45.
That being said, they really do go all out for the Christmas season and the interior is hard to beat on a cold, winter night in Dublin.
The pub is always completely chock-a-block full of people and the Christmas decorations are EVERYWHERE. The ceiling is covered in lights and tinsel. It's definitely something you have to experience when you spend Christmas in Dublin.
4. Warm-up With a Hot Chocolate in Butlers
There is nothing better on a cold day in the city than to heat up with a hot chocolate. In Dublin, there are loads to choose from. Brother Hubbard on Capel Street has an incredibly rich, hot chocolate that is hard to beat. For us though, we love anything in Butlers Chocolate Cafe.
Butlers is an Irish-owned chocolate company that was founded in Dublin over 85 years ago. Around ten years ago they opened up their own chocolate cafes which are hugely popular around Dublin.
Whenever you get a drink you also get a piece of chocolate as part of the deal… It's a nice bit of icing on the cake! The white chocolate hot chocolate is incredibly delicious and one that is always recommended.
5. Get Into The Christmas Spirit with a Hot Toddy
A hot toddy or a hot whiskey as it's called in Ireland is the perfect alcoholic option for those cold winter evenings. Irish people firmly believe in the medicinal properties of this drink, especially if you have a cold and need a decongestant.
The most basic recipe for a hot whiskey is: Whiskey, hot water, sugar, and a lemon wedge with 3-4 cloves stuck in it. The cloves give it a bit of a spicy kick and when they're stuck in the lemon that prevents you from actually swallowing it.
Other recipes include using tea, honey, cinnamon and anise so if you want to get creative you certainly can!
You can get a hot toddy virtually everywhere when you travel in Dublin and some places have their own take on the drink. We'd recommend heading into Kehoes which is an old Victorian pub in Dublin that is very cozy in the wintertime.
6. Go On a Walking Tour of Dublin
If you don't mind walking around in the crisp winter weather, a walking tour is another great way to spend an afternoon. Over the past few years, Airbnb has branched out from offering accommodation and now also facilitates experiences around the world.
Our own Oisin from Your Irish Adventure runs a tour called Pubs and Pictures which is a tour that checks out some of the more unique pubs in the city while sampling some local Irish beers.
We also love Patrick's Hidden tours of Dublin. He is a tour guide with decades of experience living in the city and will have loads of interesting tidbits of information at his fingertips. Did you know that you can check out Napolean's solid gold toothbrush which somehow made its way to Dublin City?
There are loads of Dublin tours to choose from; history tours, craft beer tours, whiskey tours, architecture tours… The list is endless! If you want to go a little further then check out our article about some of the best Day Trips from Dublin that you can do.
7. Have A Pint of Guinness in O'Donoghues
There's no way you can spend a few days in Dublin and not have a pint of the Black Stuff, aka, a pint of Guinness.
The great thing about Irish pubs is that most of them have a fire lit in each room. So when you come in out of the cold, you can warm up by the fire while you wait for your pint to settle.
We picked O'Donoghues because it is really cosy, has traditional Irish music playing every weekend and they have a great tasting pint of Guinness. What more could you want?!
8. Attempt the 12 Pubs of Christmas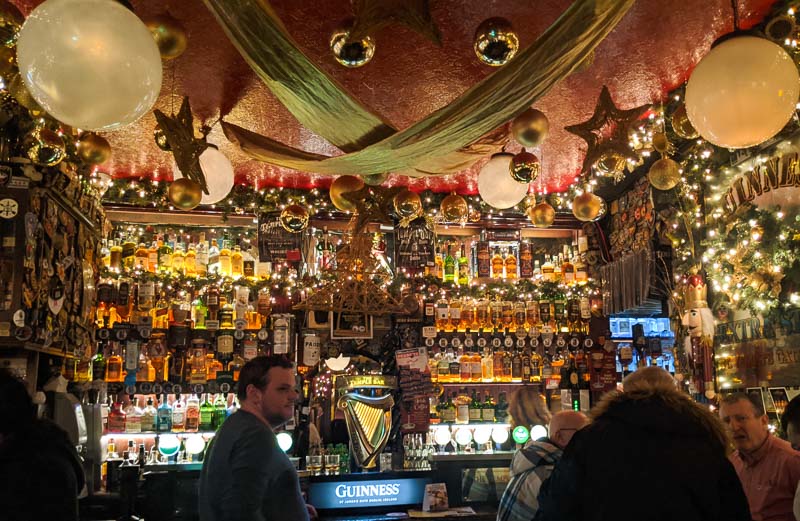 The 12 pubs of Christmas is a worldwide event that sees groups of friends try and make it to 12 pubs before the night is out. Locals in Ireland love to attempt to complete this arduous task but few can actually make it to the end.
There's an extra layer that some people like to add to this which involves having different rules in each pub. For example, you can only drink with your non-dominant hand in one pub.
There's also a rule where you can't swear at all in another pub or that you have to speak with a different accent!
Our favourite is the 'best friend rule' where you have to hold hands with someone throughout the entire time you're in the pub. This is especially devious around the 4th or 5th pub when people will need to use the bathroom!
There are loads of pubs to choose from but you can't go wrong starting on Georges Street where there are many on offer.
9. Go Ice Skating
If you want to go ice skating in Dublin, you will have to travel a bit away from the city center. They sometimes have an ice skating rink in Smithfield, Dublin but this is not guaranteed every year.
We would recommend checking out Dundrum on Ice, which is a rink in Dundrum Town Center. It would take you about 30 minutes to get there from the City Center if you are travelling via public transport.
The Dundrum Shopping Center is situated near the ice rink and is the perfect place to stop by and grab a bite to eat after skating the day away.
10. Shop At The Christmas Markets
Ok, so the Christmas shopping in Dublin may not be on par with the likes of Germany's Christmas markets, but there are still some great things on offer.
Search for unique, handmade gifts — crafts, jewelry, toys, and food.
Farmleigh House in Phoenix Park sets up shop and turns into a food market, plus there's music and lights here as well. From December 12 – 23, you'll find the "12 days of Christmas" Market at Dublin's Docklands with food, gifts and mulled wine on offer! This is the largest in the city.
Enjoy Spending Christmas in Dublin
I hope you enjoyed our list! As always the best way to see any city is to put the phone down and start walking and see where it brings you. There is no doubt you will find a beautiful, hidden place on your own Irish Adventure. If you think we've left anything out, please let us know.
Like This Article? Pin it!