Neverending friendliness and hearty hospitality are just part of Irish nature. We've all heard this before, but Ireland really is the happiest country in the world, and combined with some unique places to stay, Galway city (and the surrounding area) is the perfect vacation spot!
Here we look at the best Airbnbs in Galway and some of the most beautiful and quirky apartments, cottages, and castles you can book into for the night — in the city centre, and the county itself.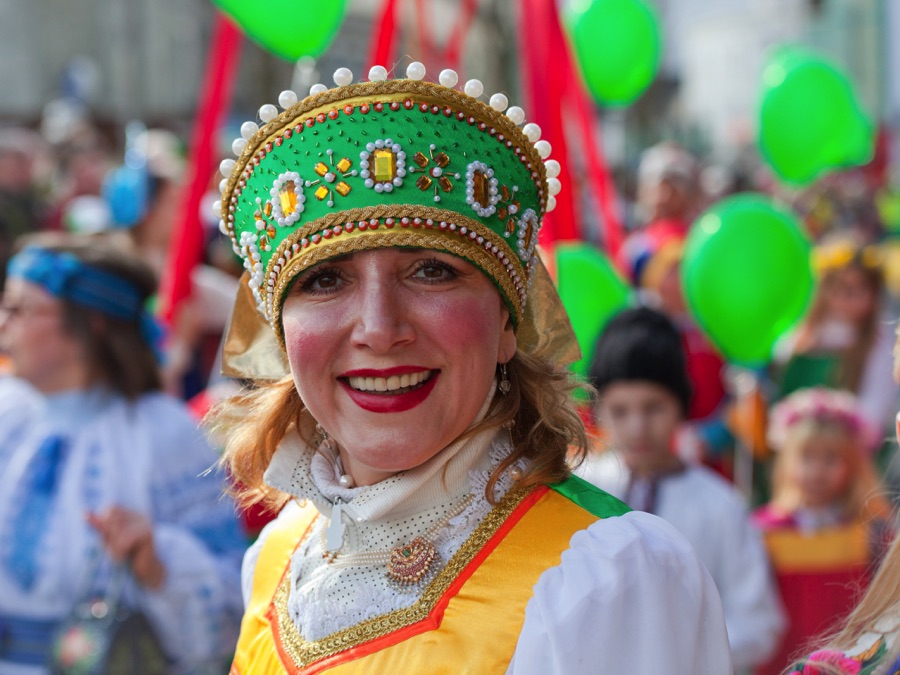 What better place to spend a holiday than in Galway, where the people are known for their hospitality and there are numerous things to see and do to keep you busy. Galway is one of the best places to visit in Ireland for good reason.
To learn more about where to stay in Galway, have a look at this article which lists the best neighbourhoods for tourists. To get right into it, CLICK HERE to jump the page to the list of best Airbnbs in Galway.
In this article, we list the top Airbnbs in Galway and some inspiration for your Ireland trip.
Staying in an Airbnb in Galway City Centre
☞ BEST Airbnb in Galway City Center: the Luxury Penthouse — amazing views and excellent location.
From castles, cathedrals, and museums to sipping a steamy hot drink in the beautifully bohemian Kirwan's Lane; the city center is an obvious starting point on your trip to Galway.
There is so much to do in the city center. If history and architecture excite you, then I definitely recommend starting your trip off by getting acquainted with the rich history that Galway has to offer.
Galway City Museum is home to exhibitions that explore the aspects of the history and heritage of Galway City. It's situated just behind the very famous Spanish Arch – which you'll learn all about at the museum, but basically, it's a part of the medieval city walls as well as a local landmark.
While in the city center be sure to check out St. Nicholas' Church. It's open all day. Just beyond the church gates, you can go explore the busy Saturday market.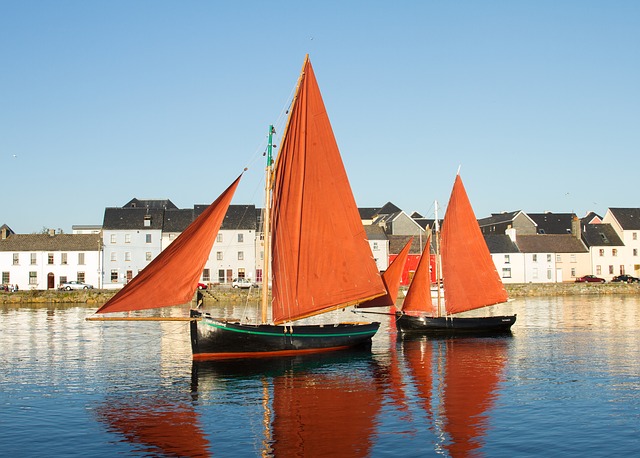 Strolling down Shop Street, Galway's main shopping street is a must. Old brick buildings, plenty of pubs, and talented street performers.
You'll walk past Galway's best-preserved ancient building — Lynch's Castle, which was once home to the most powerful family in Galway. Now home to a branch of Irish Banks. There are plenty of other castles near Galway, Ireland too.
Just a quick walk over Bridge Street and you'll find yourself on Nuns Island, home to the Galway Cathedral. The last stone cathedral of its kind constructed in western Europe.
The city center has SO many fun pubs and bars, and a few nightclubs too, there's a great nightlife scene here. Any type of night out is possible, from a quiet catch-up with friends to traditional Irish music, singing, and storytelling — or even a night out dancing!
There are numerous fun things to see and do in Galway. Start your trip in the city itself, then move on to explore more of County Galway.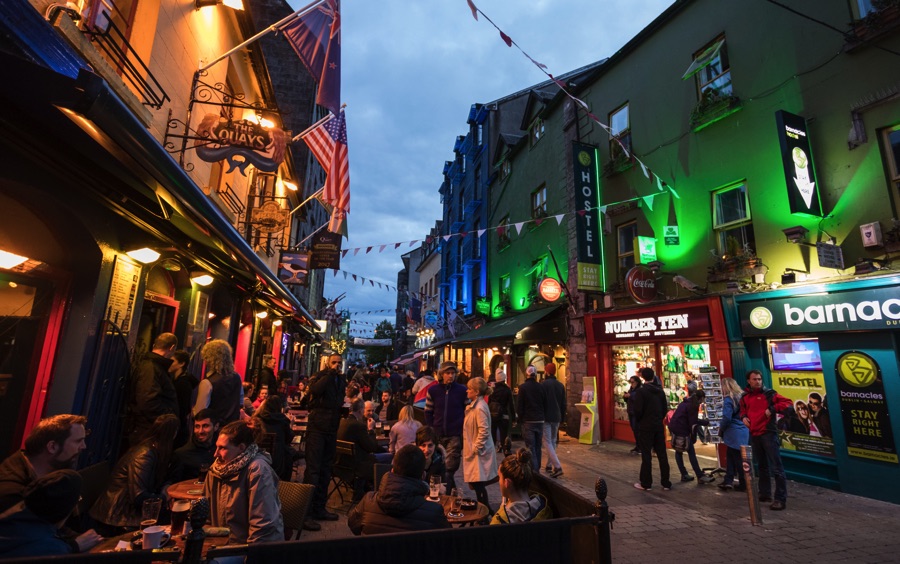 5 Best Airbnbs in Galway City Centre
It's important to note that Galway Airbnbs book up really fast. This is one of the most popular destinations to see in Ireland, so make sure to book ahead.
Click here to search for all stays in County Galway, and click here to search for all Airbnb stays in Galway City. Read on for our best Airbnb Galway city centre recommendations.
1. Airbnb Galway City Centre: Furbo Suite – beautiful river view
Not only is the view of the sea and river from this apartment stunning, but the building itself is quite unique — it's a rebuilt grain mill. The property is set on the River Corrib, and actually, the river runs directly under the apartment.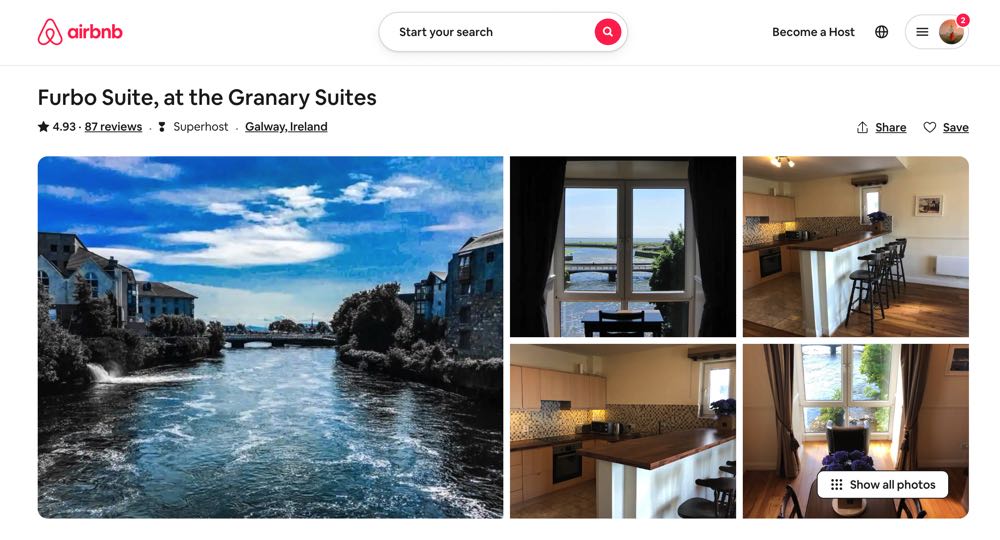 Located in the heart of the city center, this place is all about location
This two-bedroom, two-bathroom apartment offers incredible views of the river and sea, plus all the amenities you could want such as laundry, dishwasher, wifi, and TV.
Everything is within walking distance here and Superhost Irene will give you some local insider tips and advice when you check-in. Click here to learn more about this beautiful Airbnb apartment in Galway.
2. Galway City Centre Penthouse – luxury and rooftop terrace
Enjoy a spectacular 360-degree view of Galway City from the two huge terraces at this penthouse property! The view and natural lighting from the floor-to-ceiling windows are incredible. This truly is a special apartment.
Apart from the most amazing views and outdoor eating area, this two-bedroom penthouse offers high-end furniture, all the amenities you could need, a well-stocked kitchen, flatscreen TVs, free parking, and much more.
The location is excellent as well — this Airbnb in Galway is in the heart of the city, surrounded by the canals, and just steps to the bustling Latin Quarter. You'll be close to all of the action, yet enjoy a quiet night's sleep.
It's no wonder why this penthouse is so highly rated! Click here to find out more about this amazing Galway Airbnb.
3. Luxury Studio – near the Spanish Arches
This renovated studio apartment couldn't be more central. Literally outside your window are the Spanish Arches, with Quay Street being just a short stroll away.
In this clean and cozy studio, you'll find a comfortable queen bed, a TV with Netflix, wifi, and a kitchen table as well. There's not a full kitchen, but there is a fridge, microwave, kettle, and toaster — dishes and cutlery are included.
Considering that Galway City is home to lots of fun pubs, bars, and restaurants, there's no point in cooking at your apartment anyways! Go out and enjoy the food and good times. Check out this highly-rated Airbnb Galway City apartment here.
4. Galway's Westend 1 Bed Apartment – 5 minutes to the centre
Located in a very safe building, this apartment in the Westend is clean, bright and spacious. The living area offers a fireplace, comfortable couch, and TV with Netflix.
The kitchen is fully equipped with everything you would need for a short or long stay in Galway. You'll find an oven, hob, extractor fan, washer machine/dryer, microwave, fridge/freezer, and all the cooking utensils you will need.
The one-bedroom, one-bathroom apartment has a double bed with quality linen and fresh towels, a wardrobe, vanity, large mirror, and a safe.
The location of this Airbnb in Galway is amazing! While it's not exactly in the centre, it's just a 5-minute walk to the Spanish Arch. Plus, since it's located in the Westend, it's very near to pubs, restaurants, bars, convenience stores, grocery stores, hairdressers, and more.
Click here to learn more about this spacious Airbnb in Galway City.
5. City Centre Townhouse – great for groups and families
If you're looking for a central Airbnb in Galway that's a good fit for a group of friends or family, have a look at this townhouse. With 4 bedrooms, it's a perfect size.
This newly renovated 2-level townhouse offers a stocked kitchen, living room with a large couch, dishwasher, free parking, and more. One bedroom is a queen bed, two of them are double beds, and the fourth is a single.
The central townhouse is located just steps from famous pubs, live music venues, the Spanish Arch, museums, and Quay Street. The location couldn't be more perfect. Find out more about this super central Airbnb in Galway here.
Staying in an Airbnb in Salthill, Galway
Who says you have to stay in one place? The city of Galway is a must-do for sure, but what about the little gems a bit further out of the city centre?
Salthill is a seaside area in the city of Galway, Ireland. It attracts many tourists all year round, for good reason. There is a 2 km long promenade – locally known as the Prom – overlooking Galway Bay with bars, restaurants, and hotels.
Blackrock Beach is home to the famous Blackrock Diving Tower — jumping off the tower is really fun! A popular beach for walking, swimming, and relaxing is Salthill Beach (which is a blue flag beach).
If you're just spending a weekend in Galway, you'll probably want to stay more central, but if you have more time, Salthill is a great option.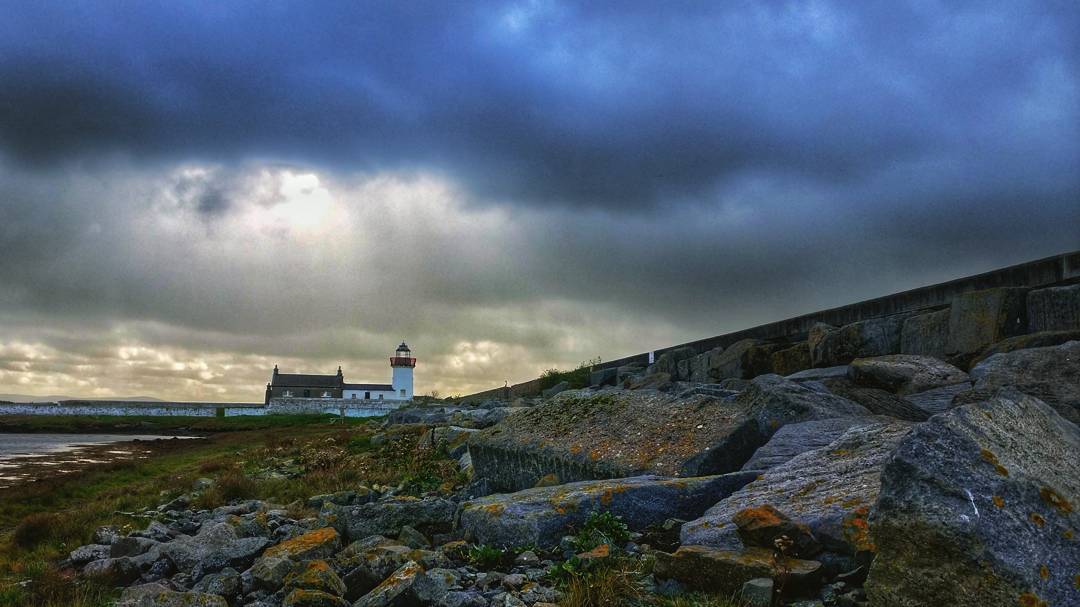 Best Airbnbs in Salthill, Galway:
While there are quite a few options, here are a few of our favourites. Click here to search for more options in Salthill.
1. Airbnb Galway Salthill Private Room – quaint bed and breakfast
If you're looking for the more typical bed and breakfast experience, staying at "Superhost" Ann's home is for you. Start each morning with a wonderful breakfast prepared by Ann herself before setting off to enjoy your day.
The private room is comfortable and clean and offers a private ensuite bathroom. There's also a lovely yard where you can enjoy a cup of tea.
This private Airbnb room is located just a few minutes from the Salthill promenade and is an easy walk to Galway City (or you can take a short bus ride).
Staying in a private room is a great option if you're looking for affordable Airbnbs in Galway. Plus, you'll have a more personal interaction with the host. Click here to learn more.
2. Salthill Village Apartment: Sea-Estaesta Suite
This 1 bedroom apartment in the heart of Salthill Village overlooks the Salthill promenade with panoramic views across Galway Bay & The Clare Hills. The location is absolutely fantastic.
The apartment consists of an open plan kitchen and dining room, one-bedroom, and one bathroom. You will also have the entire apartment to yourself!
The living and dining area has a large pull-out sofa-bed, additional chairs, a coffee table, a TV, and a breakfast table which cleverly extends out if required (the more the merrier!). The bedroom has one double bed and ample wardrobe space.
Salthill is the ideal hub for day trips to Connemara and The Aran Islands. And what better way to experience this beautiful little neighbourhood than in a seaside suite?!
Click here to book this perfectly located apartment in Salthill, Galway
Airbnb Castles in Galway You Can Stay In
Galway is home to so many castles, and castle-hopping could make for a great day trip. You're sure to get some amazing pictures and you'll really enjoy the uniqueness of each and every single castle.
The best part? Some of the castles are actually available to book on Airbnb! If you're looking for that fairytale stay just outside of Galway City, check out Cahercastle just outside Craughwell.
This is one of the most popular Airbnb places to stay, not only in Galway, but in all of Europe.
*4.95 out of 5 stars from 1,400+ reviews
Price: approx €150 per night. What a deal!
Click here to book the Airbnb Galway Castle Stay.
Spending a night (or a few) in a castle is exciting. And if you're looking for more Airbnb castle stays, you can check out these magical castles in Ireland to stay the night.
Here are some of our favourite castles near Galway that you can visit:
Menlo Castle: a great little trip, it's cool to see the castle ruins and walk in and around it. You can even drive to the opposite side of the lake afterward to get a better view.
Oranmore Castle: you'll see this castle from Tesco's. The location of the castle is pretty since it stands near the water.
Clifden Castle: a lovely old ruin, this 18th-century castle with a gothic style is a must-see.
Bunowen Castle: so very majestic, this one is off the beaten path but very worth it.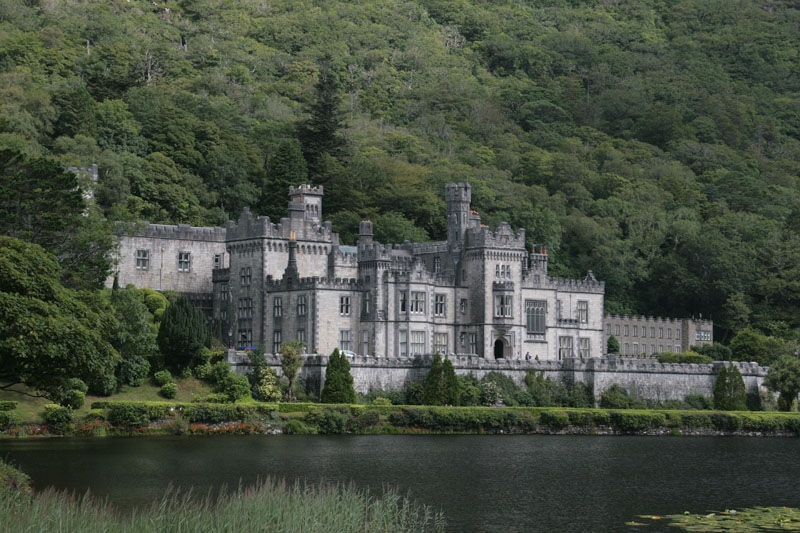 Airbnb Galway: Exploring The Aran Island of Inishmore
The Aran Islands are located just off Galway, and a true Irish experience awaits you for sure!
A setting of Celtic churches with historical significance including World Heritage site Dun Aonghasa (set on a dramatic 300 ft cliff edge) will have you culturally obsessed throughout your stay.
The Aran Islands are a fantastic choice for a special getaway.
The island of Inishmore (meaning the big island), is true to its name and is one of the most popular tourist destinations in Ireland. With over 50 different monuments of Christian, pre-Christian and Celtic mythological heritage – enjoying the scenery here comes easy.
Renting a bike for the day, and exploring the island that way, is definitely the way to go for anyone looking to get the most out of their experience on the island.
The Aran Islands will creep into your heart and leave you wanting more — every time. Well deserving of its spot on the list of magical places to visit in Ireland, you should consider visiting this beauty for sure.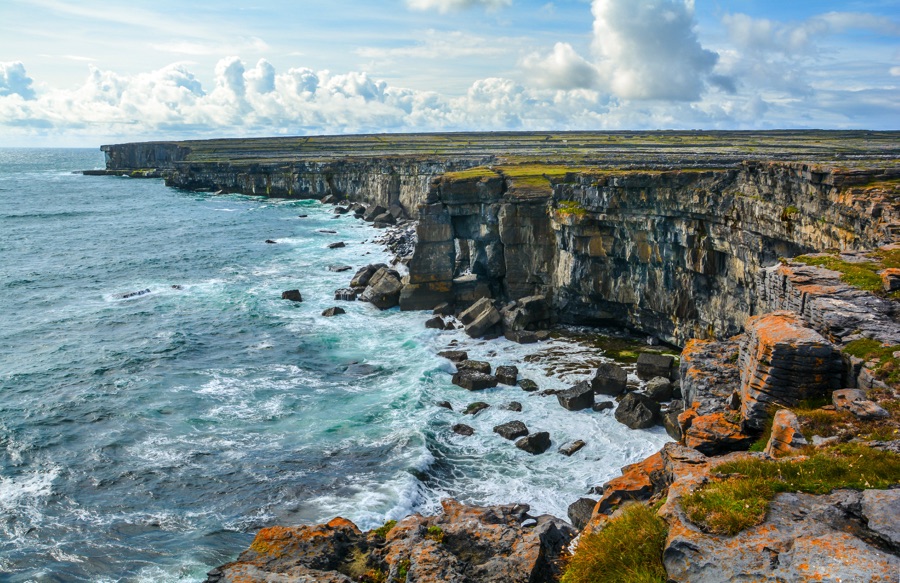 Ferries to the Aran Islands are available from Rossaveal (leaving Galway city) all year and from Doolin (Cliffs of Moher) from April to October. Learn more about visiting the Aran Islands in our travel guide, here.
Here Are Our Top Airbnb Picks in Inishmore, Galway:
The Aran islands make for an adventurous trip to Ireland. Make sure to time your visit to have the best weather for visiting here. A couple of our top picks are below, click here to see more options for Inishmore Airbnbs.
1. Peaceful and Tranquil Self-Catering 6 Sleeper
Airbnb Ireland has yet another really cool spot. Excellent location, quiet, cozy and perfect for an island getaway! This self-Catering chalet is located off the beaten track in a unique little spot with lovely ocean views.
This is the ideal base for guests hoping to explore the historical and beautiful sites this island has to offer.
Tranquility is combined with a scenic and hilly location, and quaint grassy country lanes. This one will appeal to the avid hiker, walker, and explorer.
This 6- sleeper cottage is fully kitted out with everything you need: kitchen, lounge, dining room, fireplace (for those cozy nights), and a TV. With ample space, you'll never feel cramped here.
This gem is only a 3- minute walk to the shore, which is safe for swimming. Looking around, you will also notice that there are fabulous walks — in every direction! There are also really nice places to eat in the evenings, with frequent live music.
Rated *4.84 out of 5 stars from 130+ reviews
Click here to book this peaceful island getaway on Airbnb
2. Aran Thatch Cottage
This Airbnb Galway stay has room for 4 guests in the 2 bedroom home that was built in 1844! It's a traditional, authentic, whitewashed Famine thatch cottage, situated on 2 acres of (mainly) stone.
The home is situated very central on Inishmore island with uninterrupted views overlooking Galway Bay.
You're about a 30-minute walk from the cottage to Kilronan (which is the main village), or if you rent a bike for €10 per person for a day, then you can get around much faster.
The Aran Islands attract visitors from all over the world who are interested in the history, the views, the language, the people and the craic! Visit the island in this comfortable cottage and enjoy your island stay.
Rated *4.89 out of 5 stars from 69 reviews
Price: Approximately €175 per night
Click here to book this thatched cottage Airbnb stay
3. Self Catering Home Away From Home
This is the perfect spot for couples, families, and those who want to just chill out. Gorgeous panoramic views of the Dún Aonghasa Fort, Connemara, and rugged island landscape can be seen from every window — you may never want to leave the accommodation!
The home was built and decorated by the owners themselves and they've put a lot of love and care into it. Here, you're just a 50-minute walk to the town of Kilronan or 15 minutes by bike.
There are 3 bedrooms, one of which is ensuite, and 2 bathrooms in this spotlessly clean home.
The home is located in the middle of Inishmore Island and has spectacular sunset and sunrise views. It's a great base for exploring nearby Dún Aonghasa Fort, worm hole, seal colony, swans, and 7 churches.
Rated *5.0 out of 5 stars from 60+ reviews
Price is approximately €150 per night
Click here to book this Aran Islands Galway Airbnb
Enjoy Your Airbnb Stay in Galway!
From seaside walkways lined with history, culture, and beauty to Irish pubs filled with pints and friendly faces — Galway will not disappoint, and will only leave you wanting more.
With so many places to stay in Galway, you are absolutely spoilt for choice! I hope this article gave you some inspiration for your trip. Happy travels.
Want More Galway Posts?! Here are our best:
Like This Article? Pin it!