Galway is an exciting city that needs to be on your Ireland travel itinerary. There are so many great things to do in Galway (and epic day trips), it really is a destination that has something for everyone.
Listen to live music, watch some street theatre, or spend an afternoon in a busy pub — there are so many fun pubs in Galway! If you're not into music or performances, head to one of the many historical sites, markets, or amazing restaurants.
The college city of Galway (in the county of the same name) is the largest city on the West Coast and is arguably the centre of the Wild Atlantic Way.
If you're planning an Irish west coast road trip, this guide will help you plan the things to do, and places to visit, during your stopover in Galway City — which truly is one of the top places to go in Ireland!
Here's a list of the top 25 fun things to do in Galway City you won't want to miss.
1. Visit the Spanish Arches
Built in 1584, The Front Wall (Ceann an Bhalla) was used to protect ships docked at the nearby quays of Galway, but today, there are only two arches left from the medieval city walls.
These 500-year-old arches (the Spanish Arch and the Caoċ Arch) are now a place where the young people of Galway sit and drink in the sun! This area is also one of the best places to stay in Galway during your holiday.
While it's illegal to drink outside in Ireland, usually the Gardai turn the other cheek and allow it — if you are respectful.
On a sunny day in Galway, this is the spot to be — with a beer in hand, while watching buskers perform, and kayakers gliding by on the river.
Speaking of sun, there are 232 rainy days on average in the city every year, so make sure you appreciate the sunny days when you travel Galway!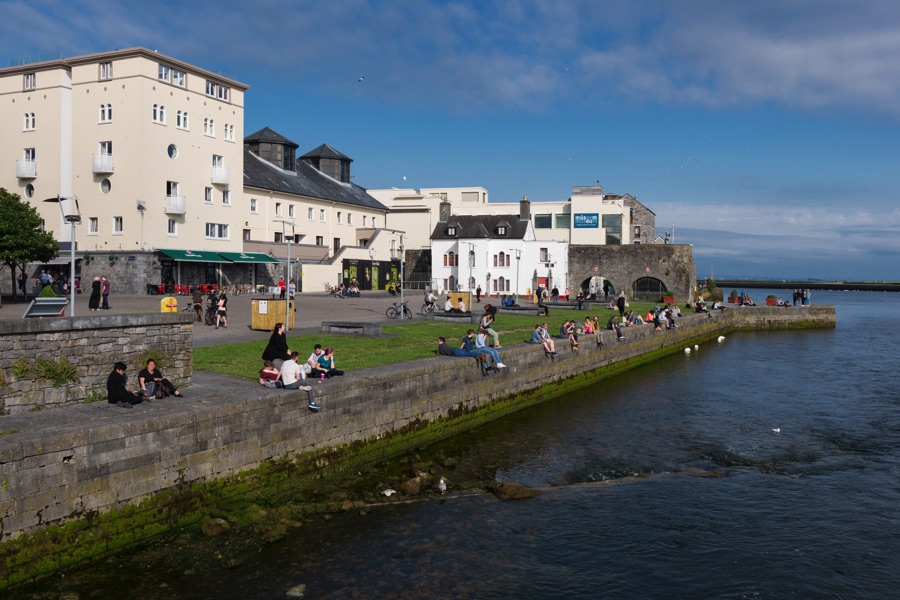 2. Join a Walking Tour
Walking tours are a great way to learn about the destination you're visiting. Wander around the city of Galway with a small group while learning about the history of the city, and Ireland as a whole.
This is a great way to get orientated with the city, while learning some interesting anecdotes, myths and legends along the way.
Europe is filled with these walking tours, and Ireland is no exception. Sign up for the walking tour here, it's one of the best things to do in Galway when you first arrive — whether you're visiting for a weekend, or longer.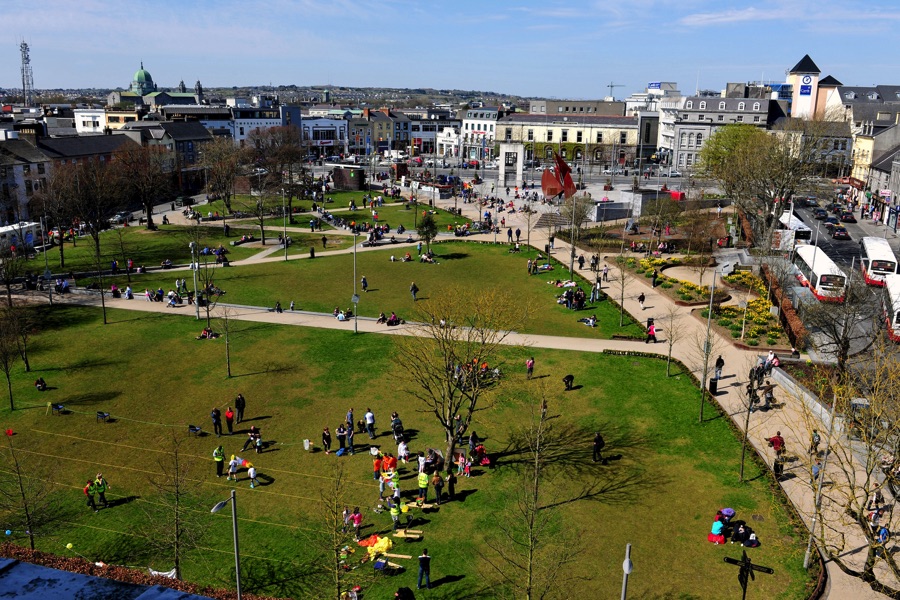 Another option is the free walking tour which runs at 11:00am each day. Click here to sign up and secure your spot. While it's free to join, the groups can be large and the tours are based on tips.
At the end, if you were happy with the tour, give your guide a tip (around €10 is the going rate).
3. Get A Hair Cut at One of The Oldest Barbers in Ireland
As you know, Ireland is a historical country. There are many shops, restaurants and pubs that have been around for quite a while…and barbers! Healy's Barber has been in operation since 1939.
This isn't a fancy hairdresser with all the thrills and spills, but it's great for a quick snip to get you looking sharp for your holiday photos.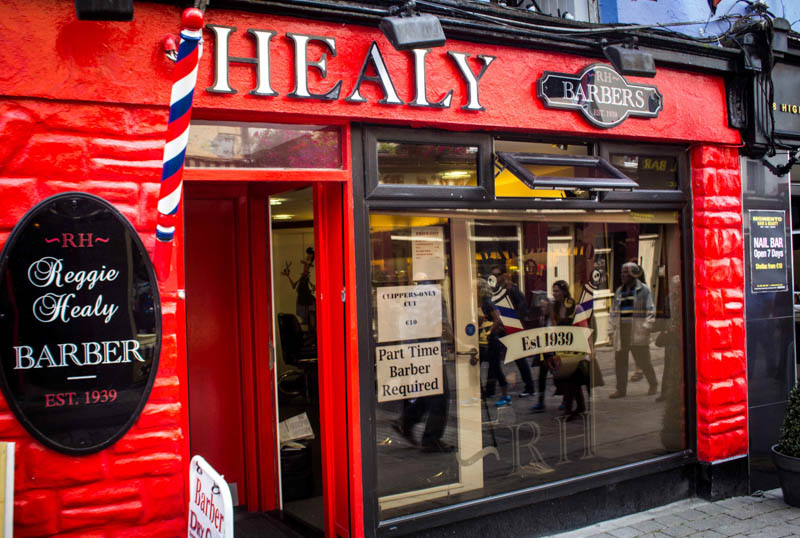 4. Dine at The Quay Street Kitchen
If you want to eat in a bustling location where you can sit outside and watch the vibrant city pass by, then The Quay Street Kitchen is for you.
Expect tasty favourites such as chicken burgers, fresh Irish mussels, and lamb shank. Plus, some unique Moroccan dishes, spiced bean burger, and tasty tofu and halloumi.
While those all sounded great, I opted for the sirloin with a side of truffle mac and cheese — it was one of the best meals I've had.
This cozy restaurant sources its beef from Ireland, and all meals are made to order. The menu also changes based on seasonality, with mains at around 15 euros. Click here to find the Quay Street Kitchen on the map. ,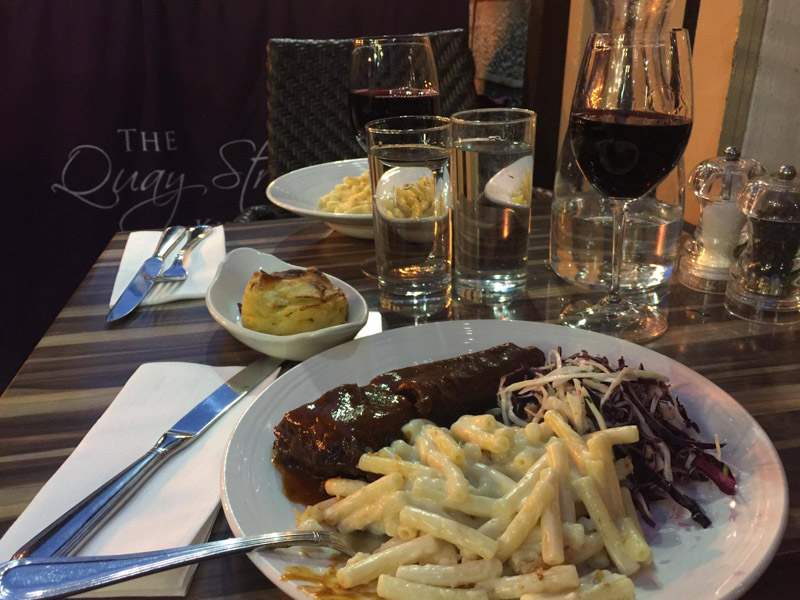 5. Visit the Galway Cathedral
This renaissance style, Roman catholic cathedral may be unassuming on the outside, but the interior is stunning. With its mosaics, stained glass and marble flooring, it's much more picturesque than its grey exterior.
Unlike most cathedrals in Europe, this one was completed in 1965, making it much more modern. Plus, you'll find a mosaic dedicated to US president, John F. Kennedy, who personally visited during the building of the cathedral.
Unless you would like to participate in mass, visitors are only allowed outside of those times. While it's technically free to enter, they request a €2 donation. You can find the cathedral on the map, here.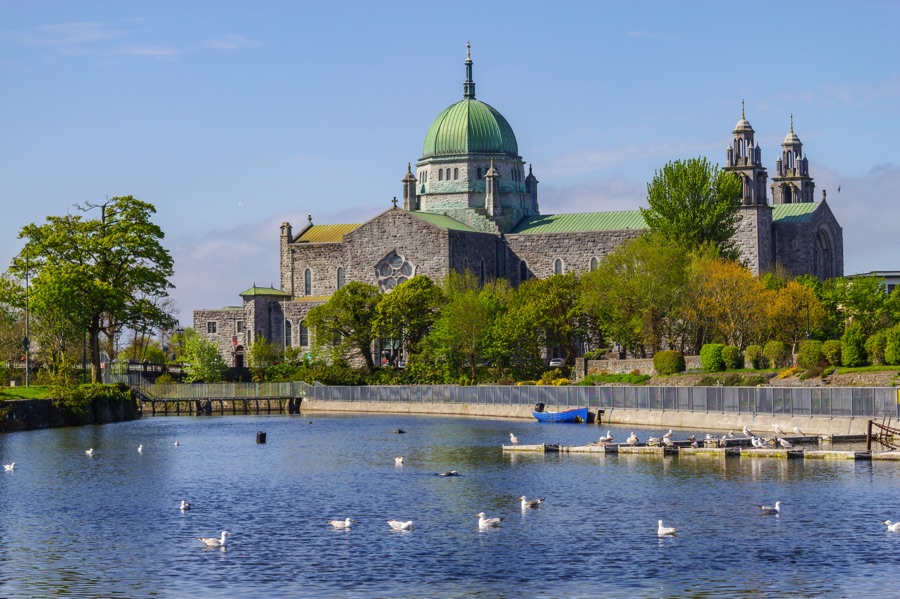 6. Hang Out in the Latin Quarter
The Latin Quarter is the cultural center of Galway, and is an area of the city that you'll fall in love with. It's a place where wandering down the cobblestone streets leads you to a great restaurant, pub, arthouse, theatre or boutique shop.
The main street in the Latin Quarter is Quay Lane, Shop Street and High Street (these 3 are all one road), spend some time here and enjoy the music-filled vibe. A visit here is one of the best things to do in Galway for couples.
I actually went up and down about five times — there was too much to see and enjoy. I couldn't get enough of all of the amazing street performances. The Latin Quarter is lively both day and night, don't miss it! Find it on the map, here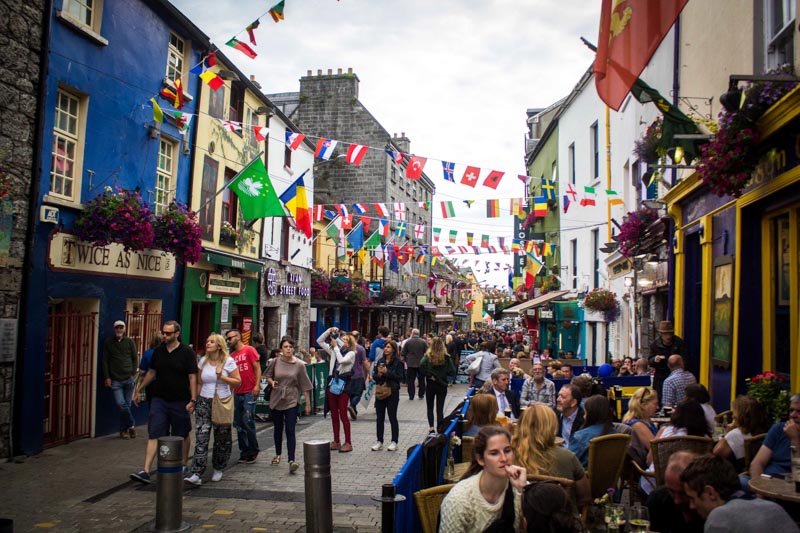 7. Visit An Púcán
An Púcán is a fantastic bar for a big crowd. It has live music and a massive beer garden out back which is perfect to dance the night away in this lovely pub.
It's a great pub to visit if you are a sports fan as they usually will have a match on the big screen in the garden out the back. During the summer when the Gaelic Football and Hurling leagues kick-off, this place is hopping!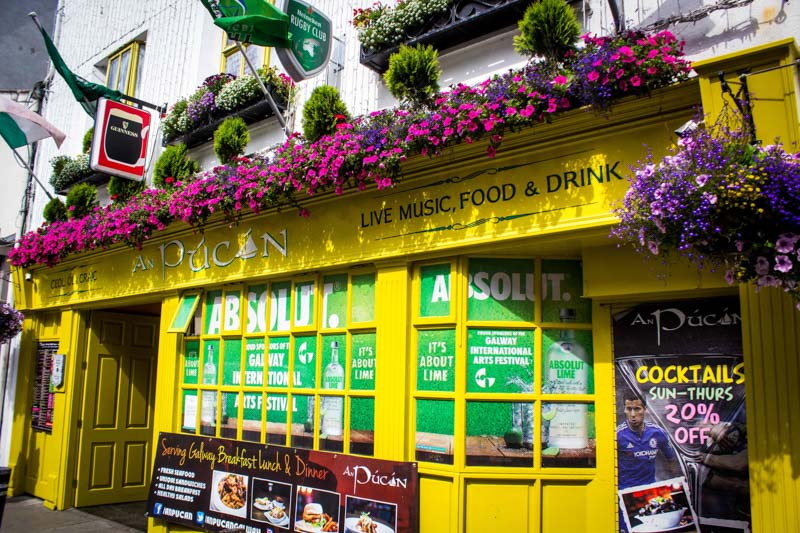 8. Visit Charlie Byrne's Bookshop
Charlie Byrne's is one of Ireland's most famous independent bookshops and has well over 100,000 books available for you to buy — which are found in the labyrinth of aisles and rooms.
Look for some classics, new novels, travel guides, books about travel — basically, any sort of book you can think of!
If you're looking for free things to do in Galway (especially when it's raining), this is a good bet.
Charlie Byrne's Bookshop also won the best bookshop in Ireland back in 2014. It's a must-see if you need a good book during your trip. Click here to find the bookshop on the map.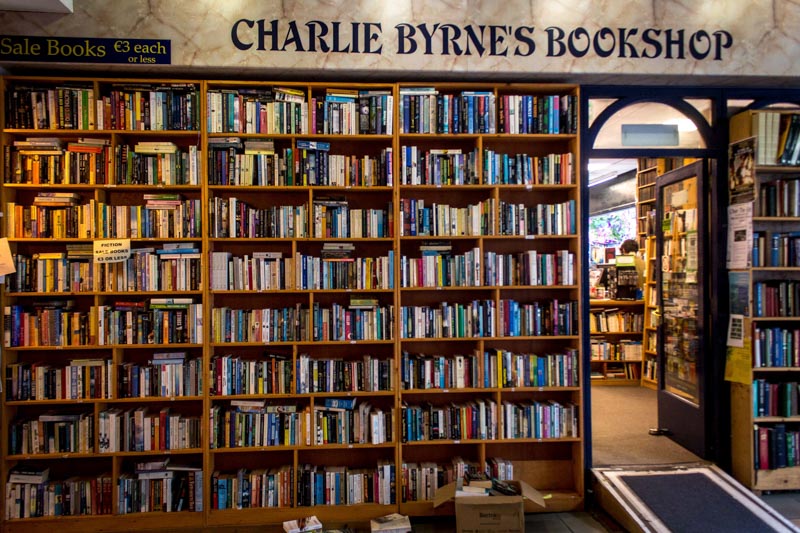 9. Stock Up on Picnic Food at McCambridge's
McCambridge's is a household name in Galway and offers a range of luxury foods and vegetables. I couldn't tear myself away from the stunning cheese section but there is much more to choose from here.
They also have a lovely cafe upstairs that is well worth a visit.
Since there's so much to do and see in Galway, is a great place to pick up some bits for lunch if you don't want to sit down in a restaurant or pub for a few hours. Grab a pile of cheese, some meats, and bread and get going again!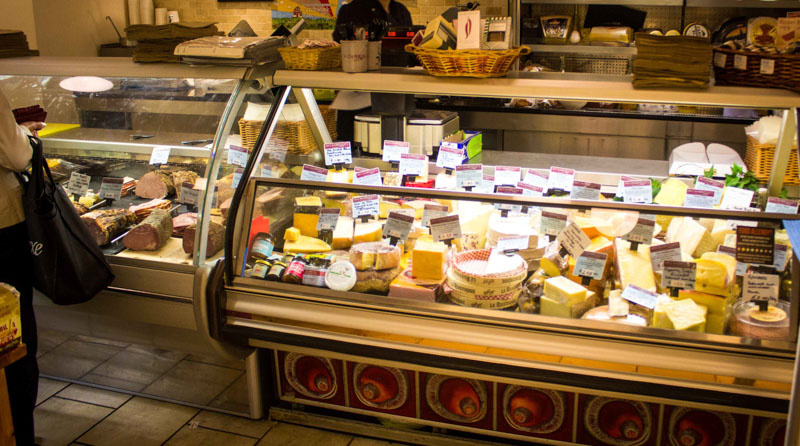 10. Join a Food Tour
Food and travel go hand in hand. There's no better way to interact with locals while learning about their culture than by sharing a good meal. Irish food is hearty and tasty, and Galway is one of the best places in the country to sample authentic, traditional food.
Dine on stews, cheeses, and seafood, as well as Irish coffee and Guinness. Have a look at this walking and food tour, it's one of the best things to do in Galway for foodies.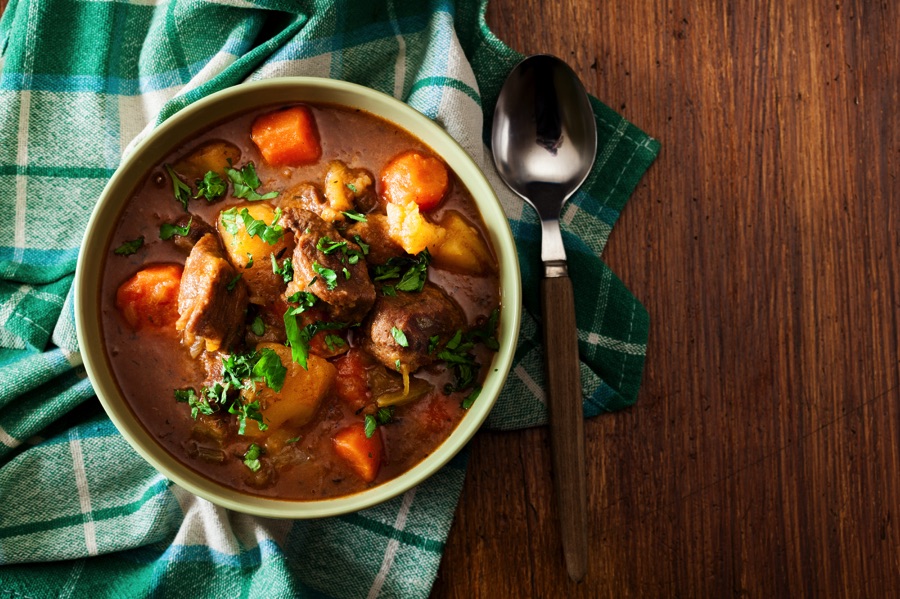 11. Go To a Gig in The Roisin Dubh
The Roisin is almost a right of passage for Irish people. It is a great venue for a dance in the dark with some friends. I've been to a headphone disco there before and have also seen a few bands perform.
It is one of the most famous venues in Galway city, and actually, many bands will play there and nowhere else.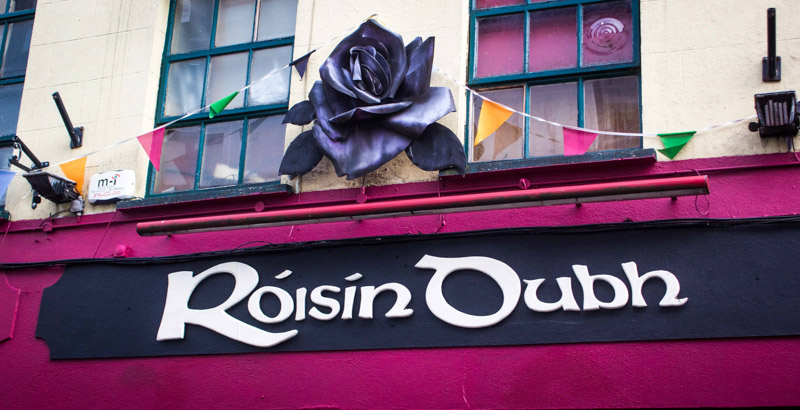 12. Eat Midnight Chip in Vinnies
Directly across from The Roisin Dubh is a little chipper called Vinnies. This place is absolutely perfect for when you stumble out of the Roisin after a couple of pints and want a delicious salt and vinegar flavour sensation! This is one of the best things to do in Galway after a night of drinking.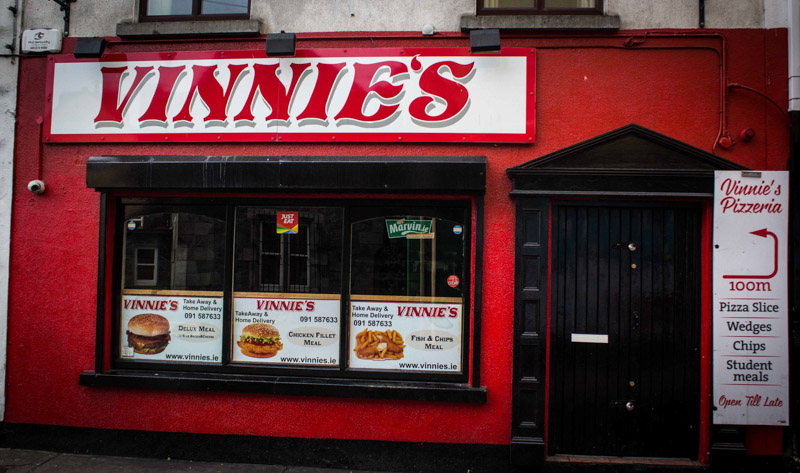 13. Experience a Festival
There's always something going on in Galway! No matter what you're interested in, there's most likely a festival for you. Most of the festivals happen during the summer months (June – September), but St. Paddy's Day is a big one in March.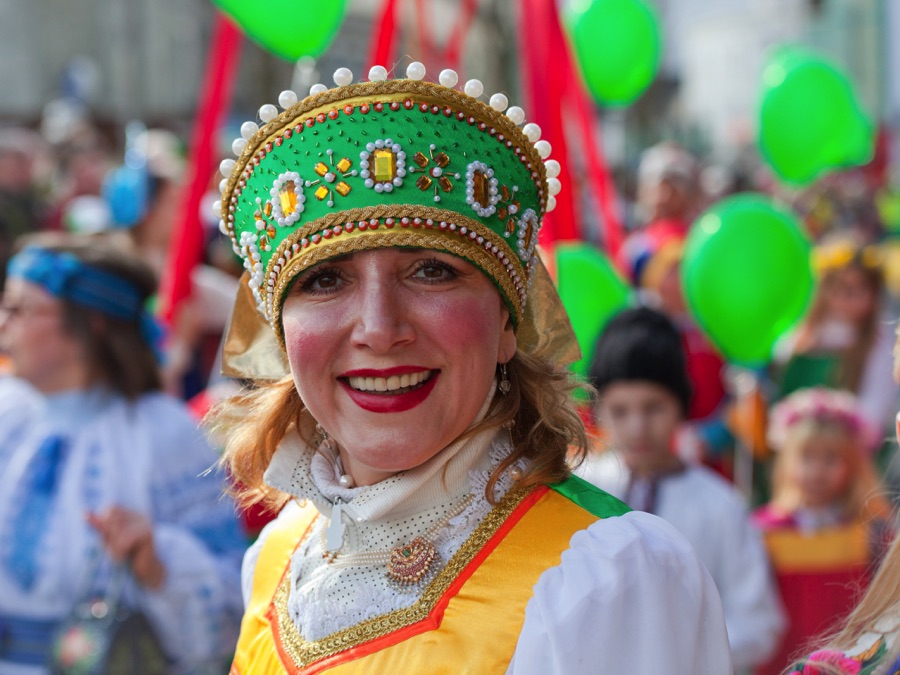 Here are a few other Galway festivals you won't want to miss:
1. Galway Film Fleadh: founded in 1989, this film festival is on in July and showcases documentaries, shorts, masterclasses and more.
2. Galway Races: if you're into horse racing, you won't want to miss this festival at the end of August.
3. Galway Oyster Festival: this is the oldest oyster festival in the world and is one of the best things to do in Galway if you're a seafood lover! Enjoy entertainment, shucking contests, food stalls and much more. This festival is in September.
Speaking of oysters…
14. Eat Your Weight in Oysters
Learn all about oysters in this fun, informative (and tasty) tour. The family will teach you everything you need to know before shucking and eating the oysters. Wash it all down with a perfectly paired glass of wine while sitting around a family-style table. If you're into oysters, don't miss this 1.5 hour "Shuck Off" tour!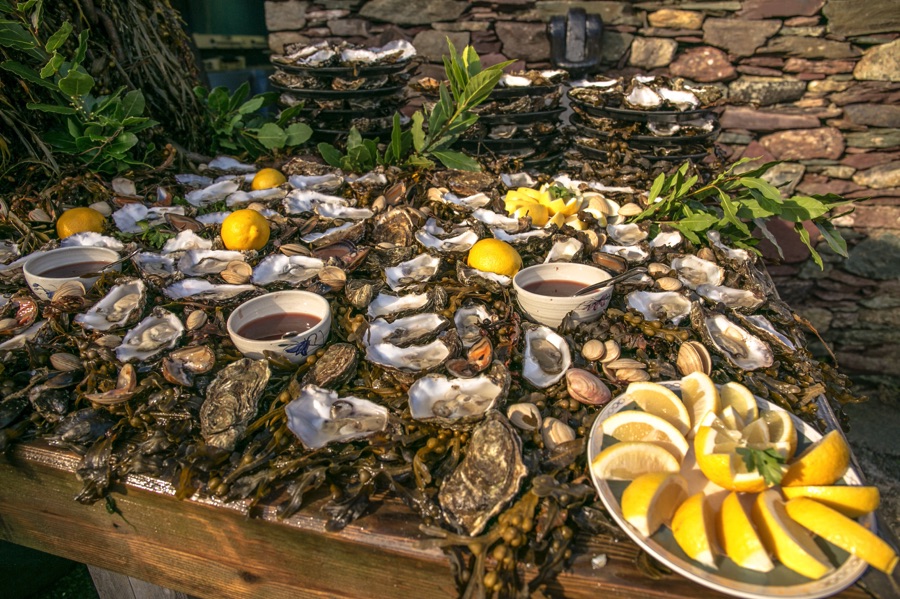 15. Eat at Kai
Kai is a very unique restaurant in Galway where you never know what to expect when you go, except that you will be eating excellent quality food. Their menu changes every other day. They have a phenomenal wine selection as well and Kai is regarded by many as one of the best restaurants in the city.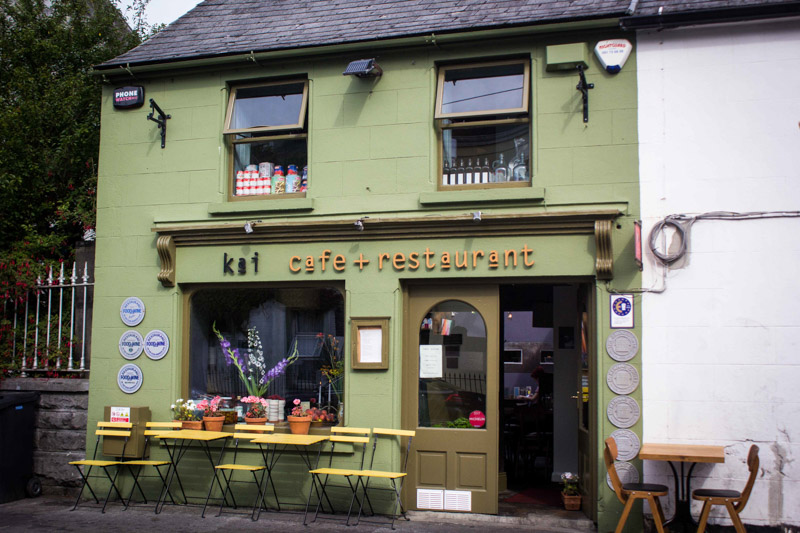 16. Eat Pizza and Drink Beer in Monroes
Monroe's is another music venue in the city (in Ireland, nearly every pub is a music venue!) They have live music seven nights a week and their pizzas are HUGE and delicious… They also have a fantastic selection of beers too.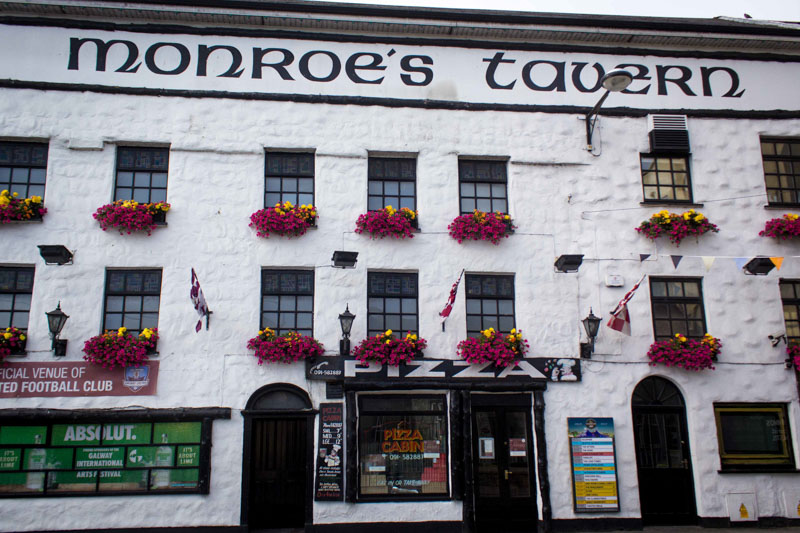 17. Drink The Best Guinness in Galway at Tigh Neachtain (Naughton's Bar)
This pub has the best Guinness in the city. Trust me, I've sampled a lot of them. Come for the pint, it's worth it. The pub is split into a number of small rooms and in winter you can guarantee that a warm fire will be burning away in the corner of each room. It's an incredibly cozy little spot.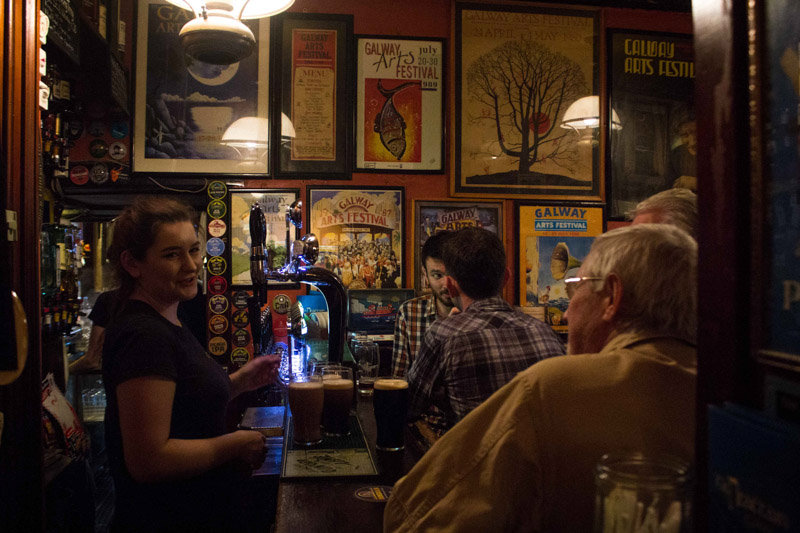 18. Enjoy The Buskers
Galway has the best buskers in the country! They are fantastic, artistic, creative and a credit to the city. Expect to find musicians, break-dancers, theatre performances, Irish dancers, and more.
The group pictured here were probably my favourite during my trip to Galway. They played some gorgeous jazz and Spanish guitar mixes that really got the crowd going.
19. Tour a Distillery and Taste Gin & Poitín
Ireland is known for its Guinness beer and whiskey, but what about gin and poitín?! What is poitín you ask? Well, it's a traditional distilled beverage that was first made by Irish monks, ranging from 40% – 90% alcohol. Basically, it's legal moonshine.
Join this tour at the Micil Distillery with a 6th generation poitín distiller, whose family has been making poitín for 170 years here in Galway. On top of that, you'll get to sample their award-winning gin, which uses local botanicals. Click here to learn more about this distillery tour.
20. Check Out The "Long Walk"
You would be forgiven for thinking that the Long Walk is just that, a long walk. However, this is a waterfront area is quite short, but is one of the top places to visit in Galway! Passing through the Spanish Arches, you'll see colourful residential homes lining the bay. Saunter along here and take a moment to enjoy the sea life, and the sunset.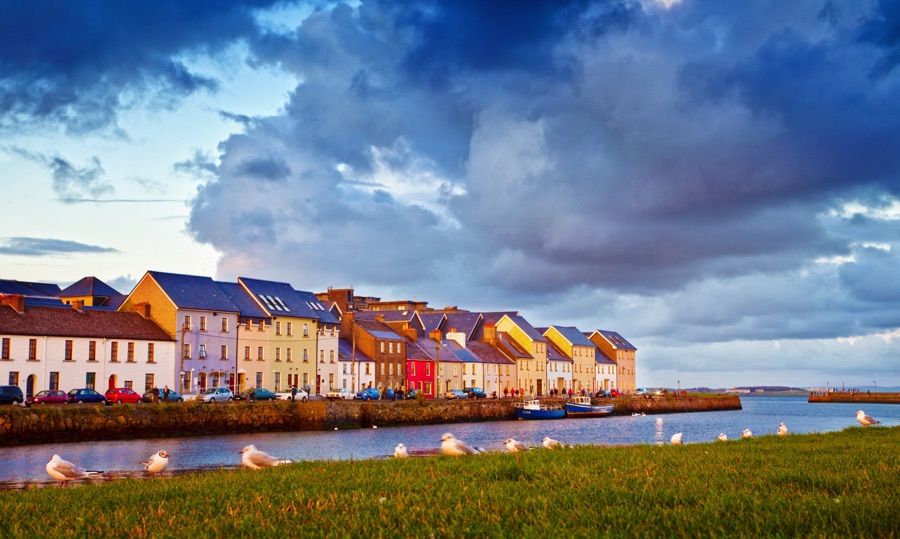 21. Explore Galway's Many Canals
Rivers and canals act as the veins of Galway, and in fact, one of Europe's shortest rivers (the Corrib) runs through the city. It's just 6 kilometers long but is a powerful force. If you're feeling up to it, you can actually go kayaking on this river.
If not, wandering alongside the Corrib or one of the many canals is a great way to enjoy some quiet downtime after all of the action around the city. The canals are definitely the most peaceful places to visit in Galway City.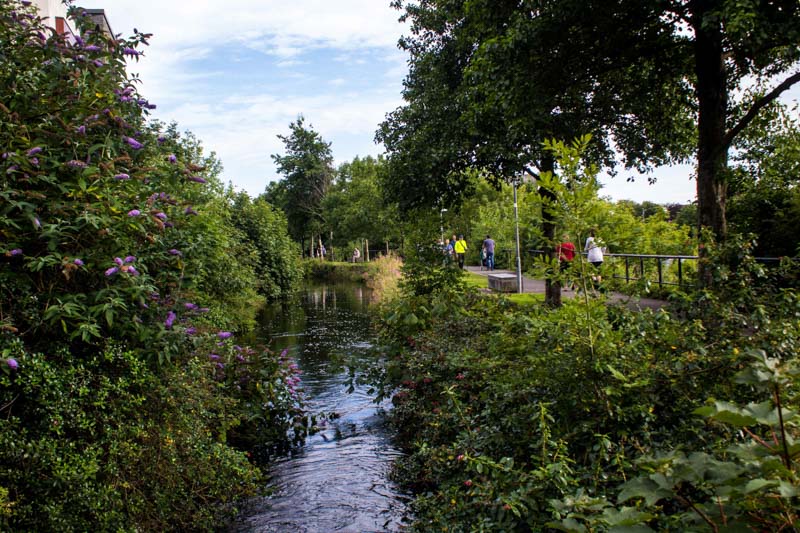 22. Visit the National University of Ireland in Galway
NUI Galway is a very magical place. It's a cross between modern-day Galway and something out of a Harry Potter set. This university is simply stunning, particularly when the vines climbing up the exterior turn from green to red. Click here to find the university on the map.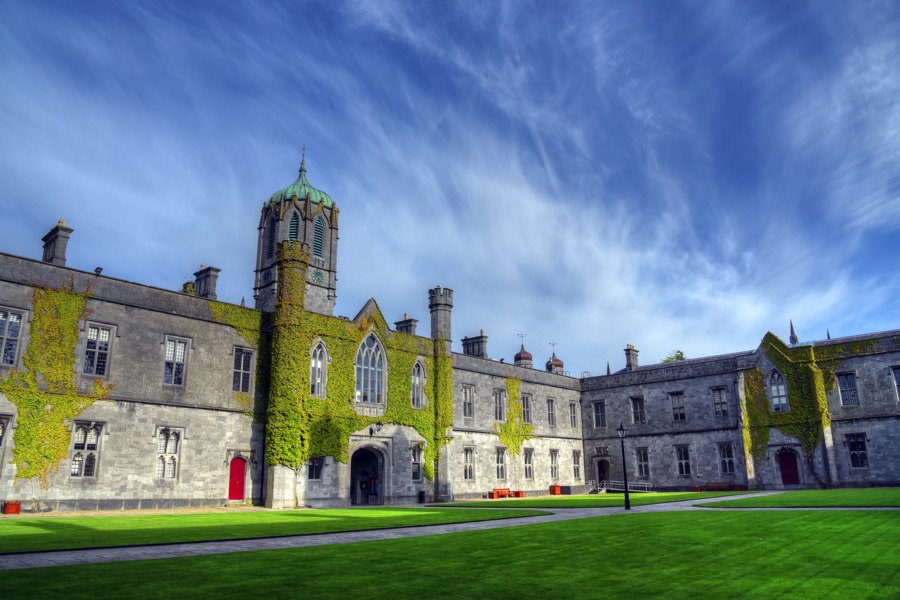 23. Join a Cooking Class
If you ever wanted to try your hand at a bit of baking or cooking, Galway is a great place to try. There's a local woman running two cooking tours out of her lovely home, or her cafe. Learn how to make Irish Stew, or Irish Scones — two of the best Irish foods.
Why not learn how to make both?! This is one of the top things to do in Galway for foodies.
Growing up on a farm, the chef is knowledgable and passionate about food and is an excellent teacher. Classes are held either at her home (about 30 minutes from Galway center) or her cafe in Oranmore, which is about 25 minutes from the center.
If you have your own wheels, you can have the class in her home, but otherwise, public transport can bring you to the cafe.
To learn more about the Irish Stew cooking class, click here. For more information on making homemade scones, click here.
24. Jump off Salthill Pier
This is one not to be missed out on. When the tide is high and the weather is warm the people of Galway flock to jump off this pier. It is incredibly exhilarating and a beautiful thing to watch or take part in (I know which one I'm doing). If you're visiting Galway in the summer, this is a great place to visit.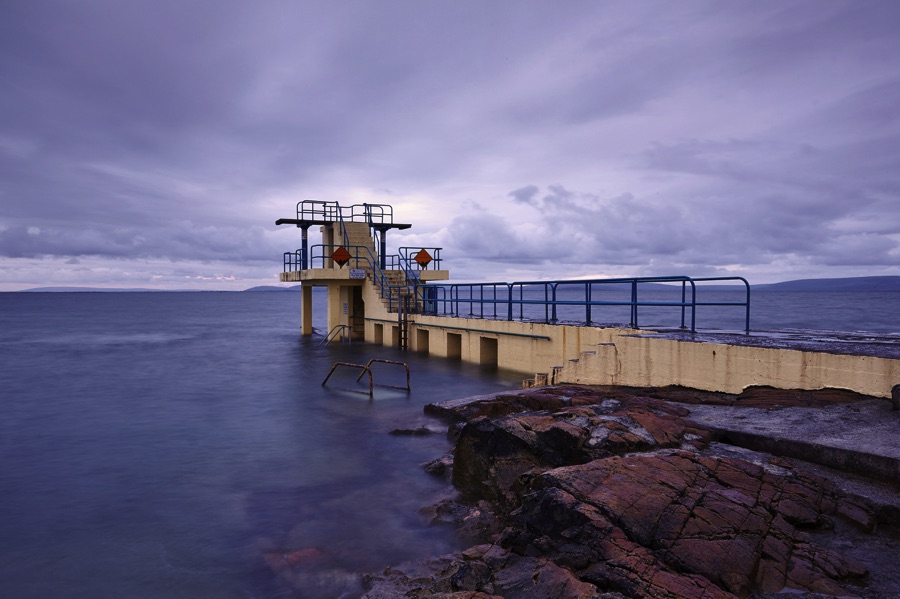 25. Visit The Galway City Museum
The Galway City Museum is a wonderful way to look into the past of such a historical city. Many different exhibitions are run throughout the year, spread out over 3 floors.
Learn about archaeology, history and sea science of Galway, plus see the weapons and armor that Irish people used back in ancient Ireland. This is one of the best free things to do in Galway.
The Galway City Museum is open Tuesday to Saturday from 10:00 to 17:00 and from Easter to the end of September on Sundays from 12:00 – 17:00. Click here to find the museum on the map.
BONUS!
There are just too many activities to do in Galway to list only 25. Here are two more fun things you won't want to miss.
26. Catch a Rugby Game
Although Galway isn't the traditional home of rugby in Ireland, the provincial team Connacht have had great success in the past few years.
The stadium is called the Showgrounds, which has been home to the rugby team since the 1920s. You can walk to the Showgrounds from the city center, making it a perfect way to spend an evening in Galway. Click here for the game schedule and to purchase tickets.
27. Visit the Aran Islands
If time permits, a day trip to the Aran Islands makes for a great addition to your Galway itinerary. These 3 stunning islands offer a glimpse into Ireland's past, with it being one of the only places where the residents still speak the traditional Irish language (Gaeilge).
Rent a bike, or take a tour and explore all of the many sites and ruins on the islands….and of course, the pubs.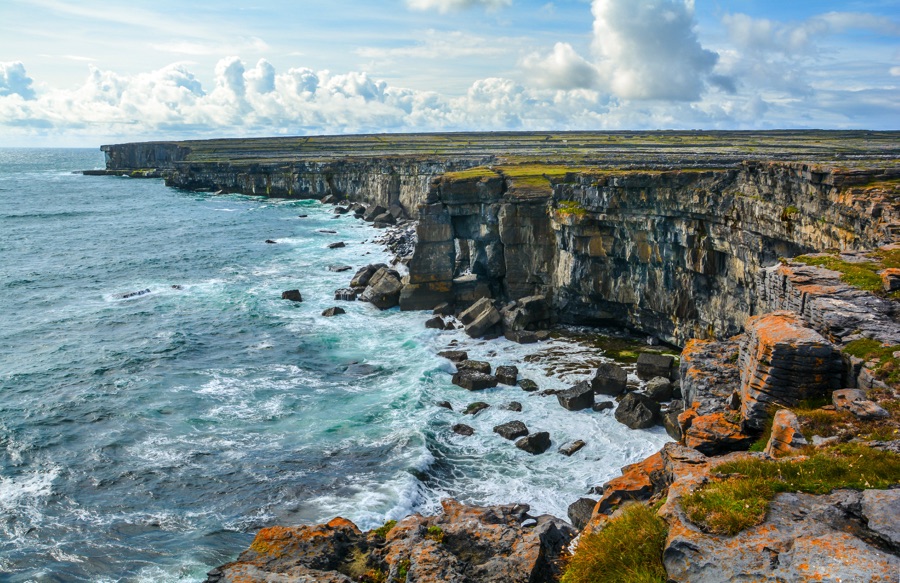 To get here from Galway, the easiest way would be to join a day trip tour. There are numerous companies to choose from but click here for a highly rated tour.
Other options for visiting the Aran Islands include booking a bus/ferry combination ticket, driving to the port and then walking on the ferry, or flying to the islands.
Check out The Aran Island Ferries website or go to their office just off Eyre Square right beside the train and bus station. A day trip to the Aran Islands is one of the best things to do in Galway.
To learn more, check out our detailed post on visiting the Aran Islands.
Now You Know What To Do in Galway City
It's no wonder Lonely Planet listed Galway as one of the top 20 destinations in 2020, or that it was listed as the Cultural Capital of Europe for 2020!
There are numerous things to do in Galway to keep you busy for a few days. If you have the time, spend longer and soak up the local atmosphere here on the west coast — it's some of the best.

Want More Galway Posts? Here are our best:
Some images in this post are courtesy of Shutterstock.com – a website for finding beautiful royalty-free images and videos.
Like This Article? Pin it!