Planning a Wild Atlantic Way Itinerary can be very hard. There is so much to choose from it can be overwhelming to narrow down your options. The Wild Atlantic Way is one of the most stunning coastal drives in all of Europe and this guide will show you how to get the absolute most out of your trip.
Here's an interactive map of the route we'll be taking:
The Southernmost part of the route begins in Kinsale, Dingle and then travels 1,553 miles up along the coast until coming to an end near the northernmost tip of the country. It would take weeks to see all of the 2,500 attractions, so we've picked some of our favourite destinations and locations along the way!
We know how difficult it is to come over to Ireland and you may want to squeeze a lot into a little but make sure to not spend each night in a different hotel. At least once or twice along the way make sure to spend two nights somewhere so you can wake up in the morning and not have to pack up and go on to another hotel, that can get draining and you'll miss the chance to enjoy the gentle pace of life that Irish people are known for.
Also remember that you may be very tired/jetlagged after the long plane ride so sometimes it's better to stay the night somewhere closer, such as Dublin, before setting off on a 3 – 4-hour drive to the west coast.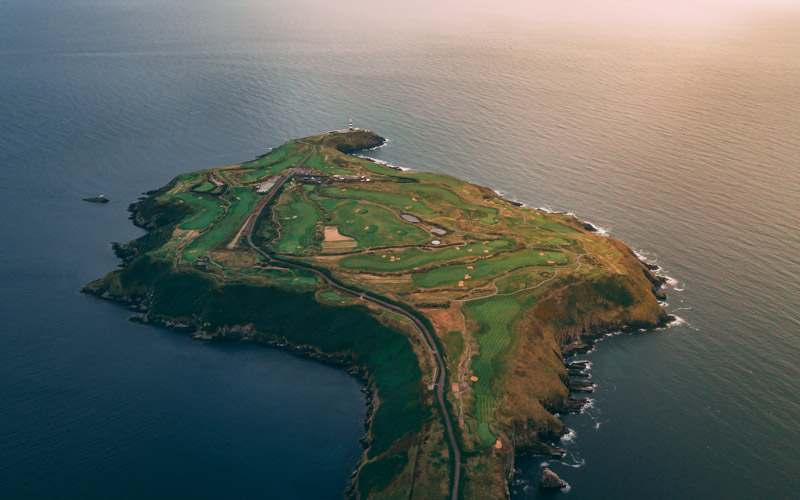 Wild Atlantic Way Itinerary
Day 1: Dublin to Kinsale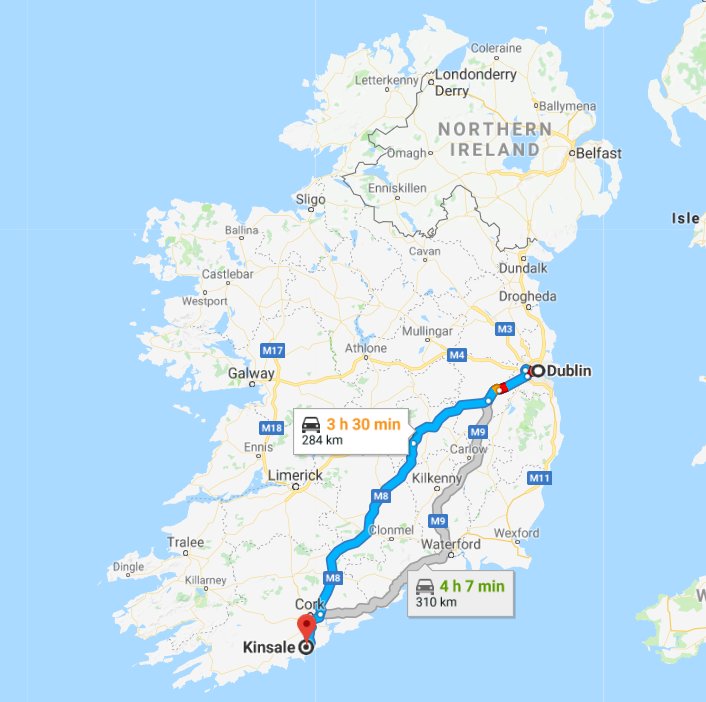 If you're not too tired you can make the drive from Dublin to Kinsale in a minimum of 3 and a half hours. The drive is long and a bit boring as it follows the motorway almost all the way, but at least it's quick!
It will all be worth it once you get to Kinsale because it is one of the most BEAUTIFUL towns in all of Ireland! It is the perfect introduction to the Wild Atlantic Way. This is Charles Fort, which is a 300-year old fort that is one of the most beautiful star forts in all of Ireland and is located in Kinsale.
As well as Charles Fort, there is a huge amount of things to do in Kinsale. James Fort is another really interesting fort that is worth checking out. If you are golf fan then you absolutely have to check out Old Head Golf Links, it is a golf course that is jutting out into the ocean and is one of the most prestigious courses in Ireland if not the world! If golf isn't your thing you can still drive out here and visit the lighthouse. It's an incredibly beautiful neck of the woods.
When it comes to food and drink, Kinsale town has a lot to offer. If you want to try something completely unique then you should pop into Kinsale Mead Co. There you can get a tour of their distillery and then taste honey wine, which is what the ancient Vikings used to drink.
Food & Drink
If you want to see what the micro-brewery scene is like in Ireland then Blacks Brewery is definitely one to check out, they offer brewery tours and beer tasting and it is an experience not to be missed!
If you want to get some delicious food then Finn's Table is a great choice. They do some delicious, hearty Irish seafood and are famous for their surf and turf as well as their lamb dishes.
If you're looking for a nice pint of Guinness and a warm cosy fire then you should pop into The Spaniard or Daltons, they are two excellent choices for those looking for some traditional Irish music. Click here to see our full list of The Best Pubs in Kinsale.
Accommodation in Kinsale
There are loads of great options to choose from but our pick would have to be Trident Hotel. It's only a short walk from the town centre and sits out on looking out over the waterfront… It's gorgeous!
Day 2: Kinsale to Killarney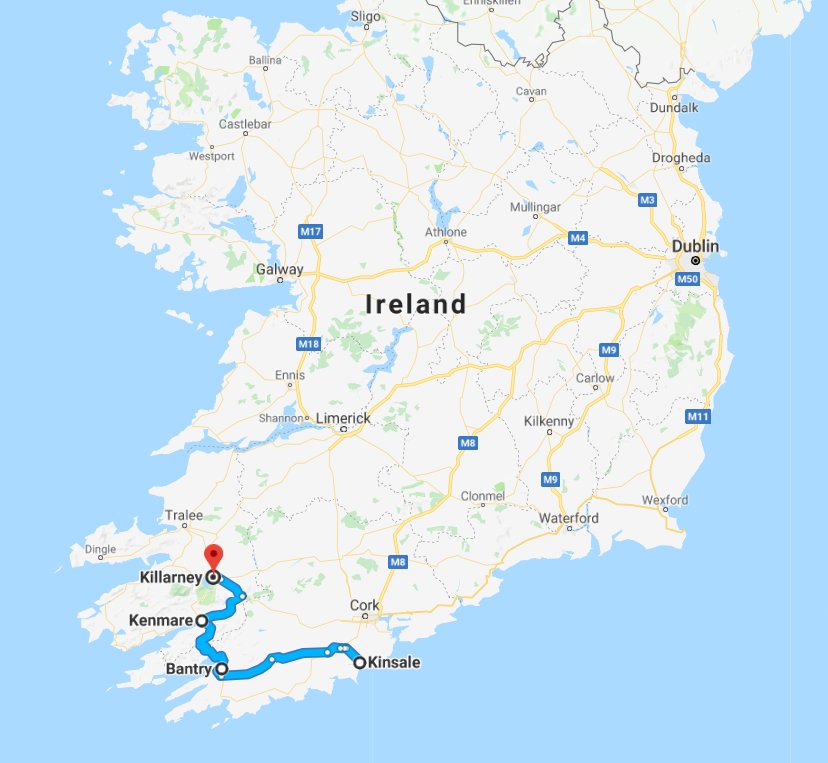 You've just had your first full day and now life on the road can truly begin.
Here's where we start chopping up the route a bit, doing the entire Wild Atlantic Way could take weeks and we want you to get the most out of your week or two here.
This drive takes you from Kinsale to Killarney and is where you will start to really see some gorgeous scenery. This route passes through the town of Bantry and Kenmare which are two beautiful seaside towns that will make for lovely driving.
Bantry is famous for its Bantry Bay Mussels so we highly recommend you stop there and taste them! The drive to Killarney takes about 3 hours, though it can be shortened if you skip Bantry and Kenmare.
Killarney is an excellent town to spend two nights in because it is one of the most scenic places in Ireland and there is a lot to do. The Killarney National Park is right on your doorstep and it is where you can find the Gap of Dunloe. It is absolutely gorgeous, check it out:
You can walk it, drive it or even pass through it in a horse-and-cart… So take your pick!
As well as that Muckross Abbey a 600-year old abbey that is one of the oldest in the country and it is absolutely stunning. Muckross House is also right beside the abbey and is very beautiful. If you're a fan of Downton Abbey then you'll love Muckross house.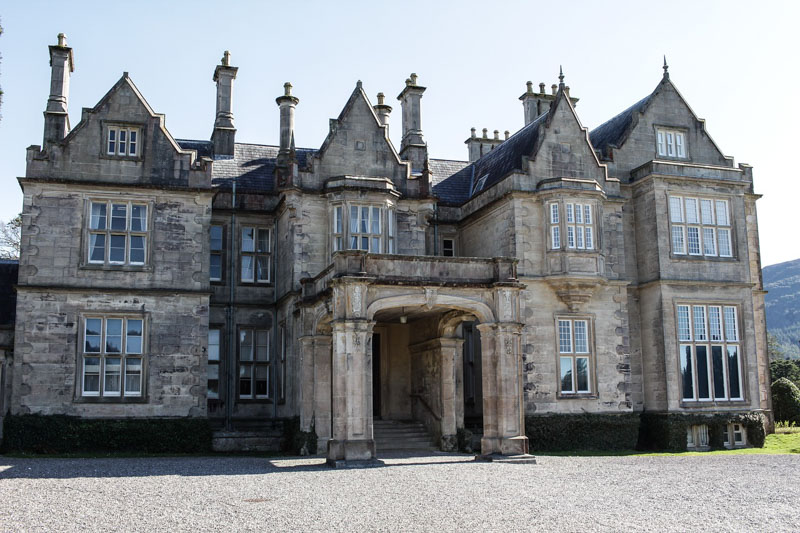 Food & Drink
Killarney is a great place to try some traditional Irish Food and Boxty is probably our biggest example of that. Boxty is a type of potato pancake that Irish people used to eat all the time. Bricin is a restaurant that serves boxty in Killarney and it is incredibly delicious! As well as that they have a lovely menu and the restaurant has an excellent reputation for serving top-quality food.
Another great option is Cronin's Restaurant. They offer some delicious hearty meals and their shepherd's pie is absolutely wonderful!
Accommodation
The Ross Hotel in Killarney is the perfect hotel to spend a couple of nights. The interior is modern and funky and the staff are incredibly friendly. It's also located in the heart of Killarney town so the walk home from the pub will be easy!
Day 3: Killarney to Valentia Island then onto Tralee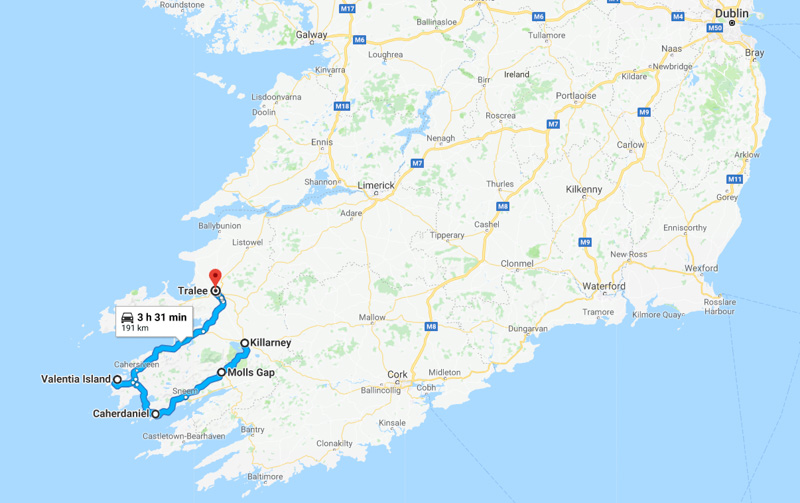 This may just be one of the most beautiful driving days yet so savour it, just make sure to hit the road early.
Leaving Killarney town, you will drive through Killarney National Park and over Moll's Gap. Killarney National Park is definitely one of our favourite drives in Ireland.
After exiting Killarney National Park you will reconnect with the Wild Atlantic Way Route and then you'll drive along some stunning coastline until you reach the town of Caherdaniel. Just before you enter Caherdaniel be sure to check out Staigue Stone Fort, which is one of the best examples of an ancient Irish ring fort that you can find in Ireland.
From Caherdaniel you will then follow the coast around to Valentia Island which is one of the westernmost points in Ireland. It is an island you can drive over to and there is a whole lot to do here. You could check out the Fogher Cliffs, Ireland's only sub-tropical garden at Glanleam House or even check out the ancient tetrapod footprints (we prefer calling them dinosaur footprints even if it isn't exactly correct). There's also O'Sheas 'pub' which is a fake pub that was built for a Guinness advertisement then abandoned and left to the ages.
After Valentia, you will then continue along the Wild Atlantic Way to the town of Tralee to spend the night. Tralee is a gorgeous town and will be a sight for sore eyes after the day's drive. Tralee is a beautiful, historical town that is the perfect place to spend a night or two.
Food & Drink
There's plenty to see and do along the way so there is no doubt you will be ready for a good hearty meal when you arrive in Tralee. One of the most popular restaurants around is CROI restaurant. They serve some delicious, locally produced food and are very well known for beautiful presentation when it comes to their food. Definitely one to check out!
If you're looking to enjoy some traditional Irish music, then you must stop by Kirby's Brogue Inn. It's a gorgeous pub that has live music nearly every night of the week. Be sure to check their schedule before heading along though! Also, traditional Irish music works a bit differently than live music in other countries. Usually, the musicians arrive bit by bit. So around 9.30 pm one musician may arrive and start playing and then gradually more and more people will arrive to play along. If you stop here make sure to try their traditional cottage pie, it's delicious!
Accommodation
If you don't mind staying a couple of miles away from Tralee then we would always recommend staying at Ballyseede Castle. It is a gorgeous hotel filled with an old-world charm and the staff there will treat you like absolute royalty.
If you would prefer to be more centrally located in the town and within walking distance of a pub the have a look at The Ashe Hotel. It's a fantastic hotel with exceptional service and gorgeous rooms and right in the heart of Tralee.
Tralee is the perfect town to spend two nights in because you could spend an entire day exploring the Dingle Peninsula as well which is incredibly beautiful.
Day 4: Tralee to Galway via The Cliffs of Moher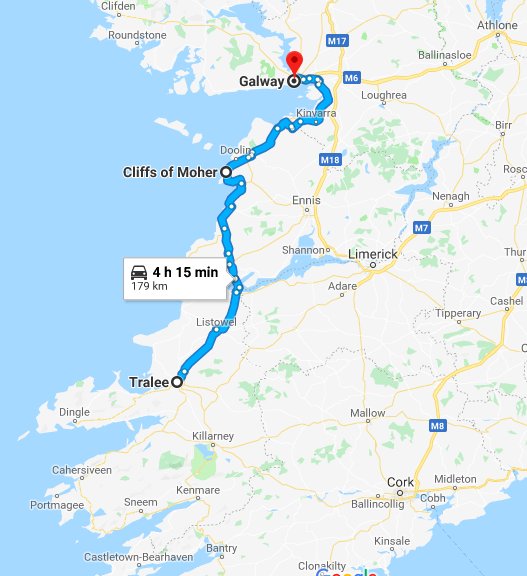 This is another long drive so it definitely would be good to take a break from driving in Tralee for a day or two!
There are two ways to drive from Tralee to the Cliffs of Moher. One involves cutting into the country and driving on motorways for a while through Limerick. It's a lot less pretty!
Hence why we recommend taking the ferry from Tarbert across to Killimer. You can drive your car on the ferry, the journey only takes 20 minutes and it is a lot more beautiful than driving on the motorway. Tickets cost in the region of €16 and the ferry usually leaves every hour. You can find out more information about the ferry here.
Once you get off the ferry the cliffs are only an hour away in the car. Don't forget to check the weather before you go (or just look out your window). If it's too cloudy you won't be able to see anything from the cliffs which is no fun!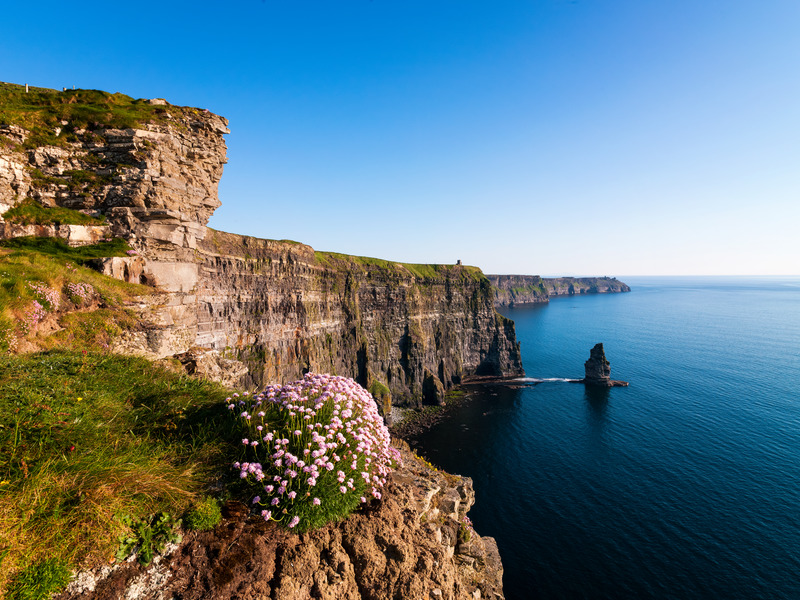 If you're looking for a spot of lunch along the way make sure to stop into Doolin which is one of our favourite towns in Ireland and right beside the cliffs.
You will then continue up the coast towards Galway City. Be sure to stop and check out the beautiful Dungaire Castle along the way. It's a beautiful 16th-century castle and right beside the road so it makes for a quick stop. They also do castle banquets in the summertime which are meant to be AMAZING!
From the Cliffs to Galway City, it is only a 1 hour and 30-minute drive. Galway city is one of the most beautiful, colourful and vibrant cities in Ireland so you should definitely spend the night here and check out the food and nightlife.
Food & Drink
We have written extensively about things to do in Galway before but when it comes to food and drink you will be spoilt for choice. If you are a big tea person then you have to pop into The Secret Garden to check out their delightful selection of teas.
Kai is one of our favourite restaurants in Galway and has a fantastically creative menu which changes every day. It's also a great spot for veggies too.
Our favourite pint of Guinness in Galway can be found in Naughton's Bar which is a lovely cosy bar and a perfect example of the quintessential Irish pub.
Accommodation
If you're looking to stay in one of the most luxurious hotels in the country, then Ashford Castle is the way to go. It's about 20 miles away from Galway city but really is worth the drive.
If you want to stay in and around Galway City then you have plenty of lovely options. The Harbour Hotel has a great reputation and is a lovely option. As well as that the Park House Hotel is right in the middle of the city and extremely popular with guests.
Day 5: Galway to Clifden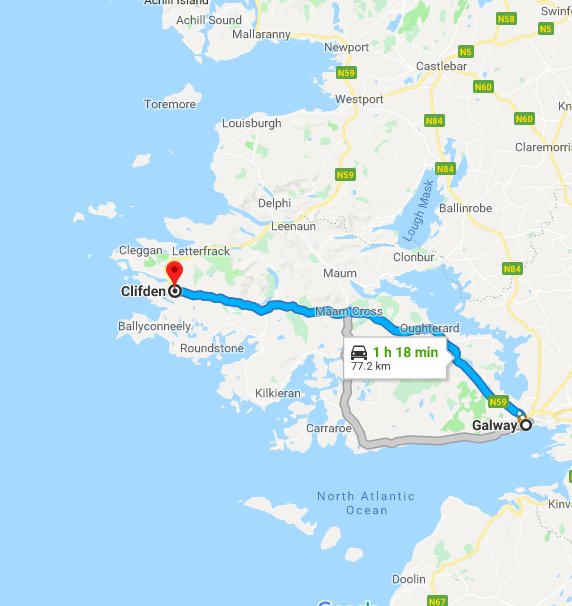 This is a relatively short driving day but by far one of the most beautiful drives in the country. This drive takes you out Galway City and west into the region of Connemara. It is a beautiful region that offers some spectacular scenery along the way. Also if you want to check out the fascinating Glengowla Mines you could stop on the way and take a tour.
Clifden is the biggest town in Connemara and there is plenty to do once you arrive there. There is a lot of history in the area including some beautiful castles, old houses from the famine era and mountain hiking. Be sure to check out Clifden Castle and drive the lovely Sky Road while you're here. They are quite the treat.
Food & Drink
Clifden is a great town for food and drink, there are lots of options all within a relatively small area. Our favourite chowder in Ireland can be found at E.J Kings.
Mitchell's restaurant is the perfect place to check out if you want to try more authentic Irish food (especially the seafood!). They also put a very interesting spin on the traditional dish of bacon and cabbage which is delicious!
Lowry's bar has an excellent pint of Guinness and there is usually live music there most nights of the week.
Accommodation
When it comes to accommodation in Clifden, one of our favourite spots is the Abbeyglen Hotel. This is certainly one of the more quirkier hotels on our list and it's hard to beat. In the evenings you can relax in their lounge and Brian, the owner will have everyone singing songs late into the night. It's an incredibly unique hotel and only a 10-minute walk from Clifden town.
Ballynahinch Castle is a bit further away but an incredibly luxurious option if you're looking to explore Connemara in style.
If you want to stay in the town of Clifden then be sure to check out Clifden Station House, it's another great option.
Day 5: Clifden to Westport
This is a relatively short day's drive but it is not to be missed! Especially if you follow the slightly longer route through the jaw-dropping Doolough Valley. It's a valley To get to the valley you take the first left turn after the town of Leenaun and you will find yourself in a magical valley.
If you're looking for a challenge then this day would be a perfect day to climb Croagh Patrick, one of Ireland's most famous mountains. Every year, Irish people go on a pilgrimage up the mountain barefoot but we would definitely recommend wearing shoes!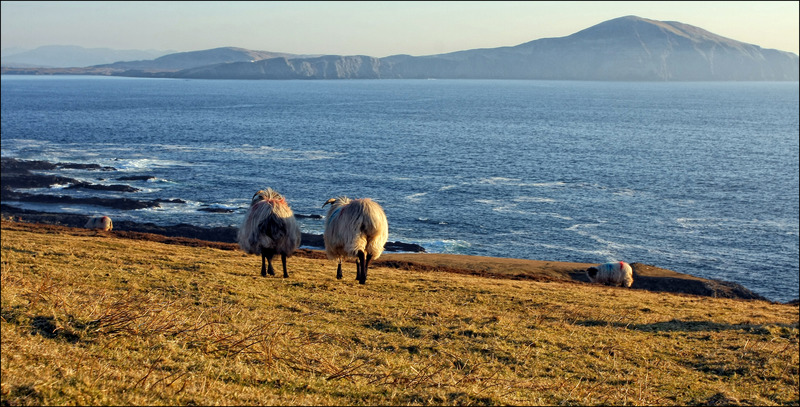 It is right beside Westport and the hike up and back will take about 3-4 hours, depending on how fast you go. The view from the top is absolutely spectacular and you can see for miles and miles in every direction.
Food & Drink
Westport is a beautiful old Irish town and you will find that there is plenty to keep you occupied once you arrive. If you're looking for some old-fashioned pubs with an authentic Irish feel then make sure to have a drink in The Porterhouse or Matt Molloy's.
If you want to try some of the local food then The Black Truffle is extremely popular with the locals. The Tavern Bar and Restaurant is a lovely place to stop into which is located at the base of Croagh Patrick.
Accommodation
The Wyatt Hotel is smack bang in the middle of Westport and the perfect base camp for your time in Mayo. The customer service there is top notch, the rooms are spacious and the food is lovely.
If you're looking for something a little cosier, then be sure to check out Augusta Lodge, a very friendly B and B owned by Stephanie and David. There will be some delicious food served here so be sure to bring your appetite!
Day 6: Westport to Donegal town
We are approaching the end of our Wild Atlantic Way itinerary but don't worry; there is so much to do up in Donegal you could spend weeks there and only see half of it and there is a whole lot to do along the way while driving there.
You could even add on an extra day and head over to Achill Island which is only a short distance west of Westport. This drive will see you passing by one of Ireland's most spectacular tabletop mountains, Benbulben. That whole area is a photographers paradise and you should definitely stop by and check out Glencar Waterfall which is just past Sligo town. It is also very close to the grave of W. B Yeats, one of Ireland's most famous poets.
The Gleniff Horseshoe is an absolutely beautiful little valley that offers some lovely hiking and beautiful photo ops so be sure to check it out! It's also where you can find Ireland's Highest Cave.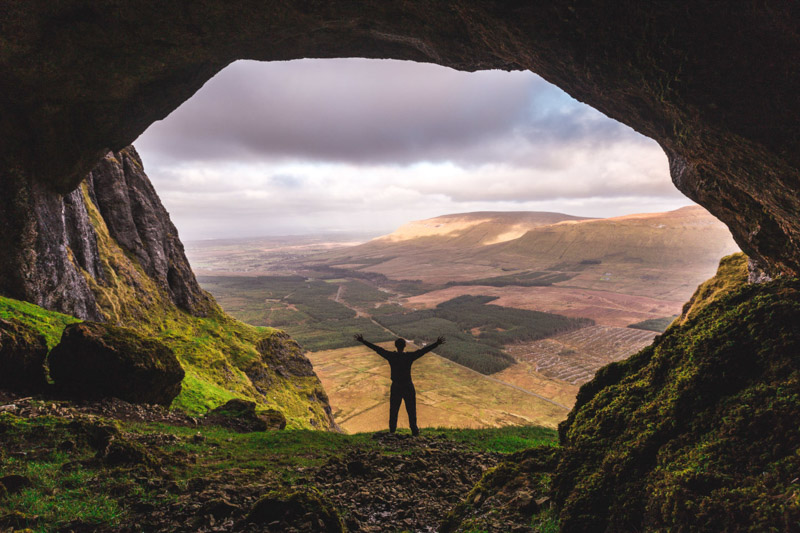 After all this excitement you are now in the county of Donegal where there is so much to see and do so let's hope you have energy left after your time spent along the Wild Atlantic Way.
Everyone knows about the Cliffs of Moher but few realise that you can find some of the biggest sea cliffs in Europe in Donegal. The roads are so small that the tour buses can't get out to the Slieve League Cliffs… but you can! The area is still in the process of opening up to tourism so if you want to see some stunning cliffs while avoiding the crowds then these are the cliffs for you.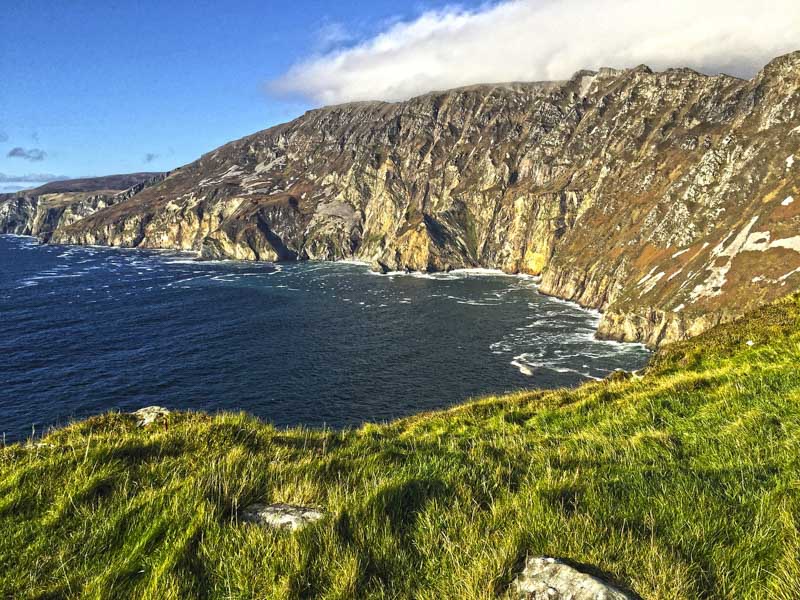 Food & Drink
As usual, you will be spoilt for choice when it comes to dining in Donegal town. The Restaurant at Harvey's Point is definitely the place to try out if you want to finish your trip in style. They have a wonderful array of food and a fantastic tasting menu.
If you want to try something a bit different then be sure to check out Chandpur Indian restaurant, it has a wonderful reputation as being one of the best Indian restaurants in the county and is definitely something different to try while in Ireland.
If you're looking to get a seafood fix then head on over to The Salmon Inn which is the perfect spot to enjoy a gorgeous view coupled with some delicious, fresh food… Not to be missed!
Accommodation
Lough Eske Castle would be one of the best hotels in Ireland and could be a grand way to celebrate the end of your trip. It is very popular and fills up fast, so book early!
We already mentioned their restaurant but Harvey's Point Hotel is also a lovely hotel that looks out over Lough Eske.
If you're looking for something in the heart of Donegal town, then the aptly named Central Hotel is the place to go.
Day 7: Donegal to Dublin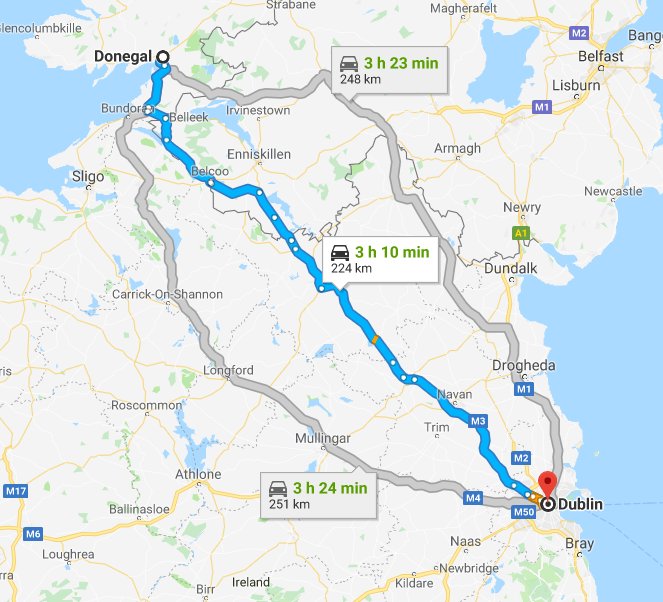 This is the end of the trip folks, though you definitely could continue up north to check out the beauty of the Causeway Coast. The drive back to Dublin should take over about three hours.
To conclude, we hope you have found this itinerary useful but it is important to remember the following bits:
Driving every day is no fun, make sure to space out your time and have a few relaxing days.
It is YOUR adventure, so don't be afraid to adjust the trip so that it suits you best. Don't be afraid to skip a town, or drive a shorter route. There are plenty of places where you can add a day or take one away on your route.
There is a lot to see around Ireland and hundreds of castles to visit so your Wild Atlantic Way trip does not have to be the last trip you make over here.
So enjoy your trip and we hope you have the best possible time exploring the rugged beauty that is the Wild Atlantic Way.
Like This Article? Pin it!