What do you think are the most beautiful towns in Ireland? There are some towns in Ireland that have an uncanny ability to capture the hearts of people all around the world.  They are steeped in the history and lore of the Irish people and jam-packed full of beautiful pubs, rustic homes and a whole lot of craic.
Sure, you can head along to a big city but sometimes the best place to spend some time is in a small town where you will be welcomed like a local and you can explore at a different pace. My family and I have been going to the same town, Clifden, for over 15 years now and we are still surprised by what we find there.
We've decided to compile a list of some of the most beautiful towns and villages in Ireland based on our experiences in these wonderful places… Get ready to make some new additions to your bucket list!
Here are the most beautiful towns to visit in Ireland.
Manorhamilton, Leitrim
Leitrim is a very small county in Ireland that packs a huge punch. One town that is absolutely filled with culture and beauty is Manorhamilton. It is a quaint Irish town with a couple of shops, a few small pubs and a castle of course… This is Ireland after all!
We spent a couple of days in Manorhamilton and found the people to be so incredibly friendly. Heraghty's Bar was great craic and had some amazing live music.
If you're looking for something a bit different there's an old couple in the village who basically turned their living room into a pub and run it like a pub, even though it feels like you're in their home! It's called Connolly's Pub and is run by Joe and Ita Connolly and it is well worth a visit.
Roundstone, Galway
Roundstone is a small, seaside village on the far west coast of Galway in the region of Connemara. It is a tiny little town that is located in one of the most beautiful locations in Ireland. The shops and pubs look out across the Atlantic ocean and on a sunny day, it's hard to imagine being somewhere better! If you're looking for a delicious pint of Guinness then check out King's Bar. It's run by some absolutely lovely people and is a place you'll find many of the locals like to go for a pint. O'Dowds Seafood Bar is a fantastic choice if you're looking for some delicious food and they make the best tuna toasties around!
If you want to learn about the history of Ireland's most famous instrument, the Bodhran drum, then you have to visit Roundstone Music and Crafts. It is run by Malachy Kearns and there you can see Malachy making the drums in his workshop. He makes them from scratch and they are absolutely excellent quality and well worth a purchase.
As well as that there is a beautiful beach called Dog's Bay just outside the village and a mountain called 'Erisbeag' which offers some stunning views of the surrounding countryside… You definitely won't run out of things to do in Roundstone!
Looking for things to do in Galway City?  We've got you covered!
Clonakilty, Cork
If there was an award for the most colourful town in Ireland then we would have to give it to Clonakilty. Situated down on the Southern tip of Ireland, Clonakilty is a hugely popular town to visit for locals and tourists alike. Just in 2017, it won the Tidy Towns award which is an award given out to the most beautiful small towns in the country and it's not hard to see why it won.
It's won a heap of other awards and is known for being a popular tourist hub… Every night the pubs are filled with music and dancing and summer is a great time to visit this gorgeous town because there are so many interesting events on.
The Fernhill House Hotel has a reputation for being one of the best wedding venues in the county. As well as that they have a beautiful restaurant and is well worth a visit if you are in the area. Scannell's Bar is also a great choice if you're looking to have a pint and some delicious food while exploring the area. They have a great beer garden too which is perfect if you want to soak up the (rarely seen) Irish sun!
Skerries, Dublin
It's hard to believe that you are still in the county of Dublin when arriving at Skerries. It is a coastal town about 30 minutes drive north of the city centre and it is a town that moves at a completely different pace to the rest of the city.
It is the perfect location for a day trip if you are staying in Dublin city and want to get out beside the sea in the evening There are some absolutely delicious bars and restaurants… and one very famous TINY ice cream shop.
Skerries also has it's very own windmill and some lovely beaches to explore. Blue Bar is definitely one of the most popular restaurants in the town. Situated down on the pier you can enjoy your freshly caught seafood while watching the boats coming and going.
Storm in a Teacup is a TINY ice cream shop that is one of the most popular places around. They offer delicious, artisanal ice creams and crepes. On a sunny day, the queues can be HUGE so get here early if you want to try their delicious sweets. Skerries is not to be missed!
Ardara, Donegal
Ardara is a town that completely took us by surprise. We spent New Year's eve of 2017 there and the town absolutely blew us away. If you're looking to see quintessential, rural Ireland then Ardara is the place to go.
It is a wonderfully quaint town that has some of the most friendly people we have ever had the pleasure to meet. It is also situated beside a Gaeltacht area which is one of the rare places in Ireland where you can hear people speaking the Irish language. You are also very close to the Slieve League mountains which rival the beauty of the Cliffs of Moher but get a fraction of the tourists… It's perfect!
Back in the town, our favourite bar was definitely Nancys… It is a very traditional bar that has been owned by the same family for nearly 200 years!
The bar is split up into a number of cosy little rooms and the place is nicely filled on most weekends. The walls are adorned with remnants of Ireland's past and the food (especially the seafood) is delicious… Well worth a visit!
Lismore, Waterford
Lismore is a very picturesque town in Waterford and definitely worth a trip if you are in the area. From fishing, hiking and exploring old castles…Lismore has it all!
Ballyrafter County House Hotel is a lovely choice if you want to step into the past and relax. There are some gorgeous views and Joe and Noreen will make you feel completely relaxed and at home.
If you're looking for some delicious food then Foley's On The Mall is known for being one of the best restaurants around… So be sure to pop in and grab some lunch or have a meal!
Doolin, Clare
If you plan on visiting the Cliffs of Moher during your time in Ireland then Doolin is the perfect place to stop by. It is only 15 minutes away from the cliffs themselves and a great place to stop and spend the night.
We are HUGE fans of McGann's pub in Doolin… They have some really delicious items on the menu including an Irish Stew and Lamb Shank, I'm getting hungry just thinking about them! They're also very famous for the quality of their fish and chips, not to be missed!
Accommodation-wise there are not many options but Ballinalacken Castle Country House is one of the best options around. You can even see the cliffs from the hotel! We've also included Doolin in our top reasons to visit Co Clare and others claim it to be one of the top places to visit in Ireland.
Westport, Mayo
Westport is a fairly big town on the west coast and definitely one of the most beautiful towns around. Looking out over the scenic Clew Bay, Westport is a great option if you fancy a bit of hiking. Croagh Patrick is a very popular mountain to hike in Ireland and can be found in Westport… Beware though, this hike is not for the faint of heart!
In the town itself, you absolutely need to check out The Pantry and Corkscrew as it's one of the most popular restaurants around. They have some delicious food and an excellent wine list. It's not to be missed!
Kenmare, Kerry
Kenmare is the perfect base camp to explore the rest of the county. It is a stunning town, filled with loads of bars and restaurants to explore.
We stayed down there during a huge snowfall and ended up snowed in and looking out at the gorgeous view. Here's what we woke up to each morning:
To check out the Airbnb we stayed in, click here.
[Click here to get your free €35 credit if it's yours first time signing up]
In the town, there is a lot to see and do. We fell madly in love with The Mews Restaurant. The local food was absolutely delicious and the restaurant itself is wonderfully quaint.
If you're visiting Kenmare, then make sure to check out Molly Gallivan's Cottage & Traditional Farm which is a 200-year-old cottage that runs as a farm and visitor centre.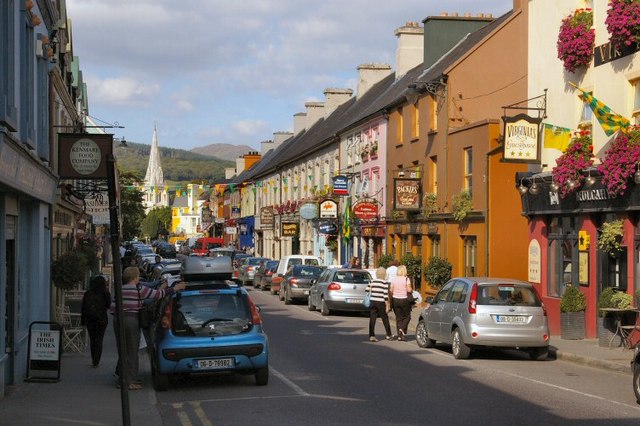 And that's a wrap! We did leave two very lovely towns out of the list but that's because we have already written in-depth about them in the past.
Check out our Clifden Travel Guide or if you are staying on the east coast, then there is a lot to do in Carlingford.
Like This Article? Pin it!