If you're looking to go hiking in Dublin then you have a lot of great options to choose from a short distance from the city. One of the most beautiful places in Ireland has to be in the area of Glendalough in lovely County Wicklow.
Tourists and locals alike come to try out all the different walks in Glendalough and is an ideal place to make a day trip there from Dublin.
Glendalough is a stunning part of Ireland that has an incredibly rich and vivid history that you can still see the remnants of today.
It is the site of an early medieval monastic site that dates back to the 12th and 13th centuries. You can also find an ancient round tower there that the monks would hide in to stay safe from attacking Vikings!
Best Walks in Glendalough
I've been to Glendalough dozens of times and absolutely love exploring the natural beauty to be found there. It's a lovely place to go for some leisurely strolls but if you're looking for a nice long hike you can find it here too.
Of all the walks in Glendalough, The Spinc and Glenealo Valley is definitely my favourite. The hike winds high up around the Upper Lake and loops back to your original starting point. It offers some absolutely gorgeous views along the way. Most of the route also has a path made out of old railway sleepers that offers excellent grip, even in wet conditions.
The hike is about 9 kilometres/ 5.5 miles long so make sure to get there early to give you plenty of time to complete the walk. We've done it in about three and a half hours but if you want to really enjoy it give yourself five so you can stop for lunch and explore anything you come across.
The first part of the hike will definitely get the blood pumping as it involved a lot of steps up the mountain, you will pass by the beautiful Pollanas's Waterfall along the way which should hopefully take your mind off all the steps! Have a look:
We once went for a dip in the water there and it is absolutely FREEZING so we definitely wouldn't recommend it!
The hike then takes you up along the ridge of a mountain and this is where some of the best views are. This part is quite steep and there are some sheer drops so make sure to stay on the path.
You then pass through a bog and then as you loop around you will come across an old mining village, then a forest before arriving back at your starting point.
If the hike is a bit too long for you then we recommend checking out the Glendalough Visitor Centre and you can find some shorter hikes and walks in the area.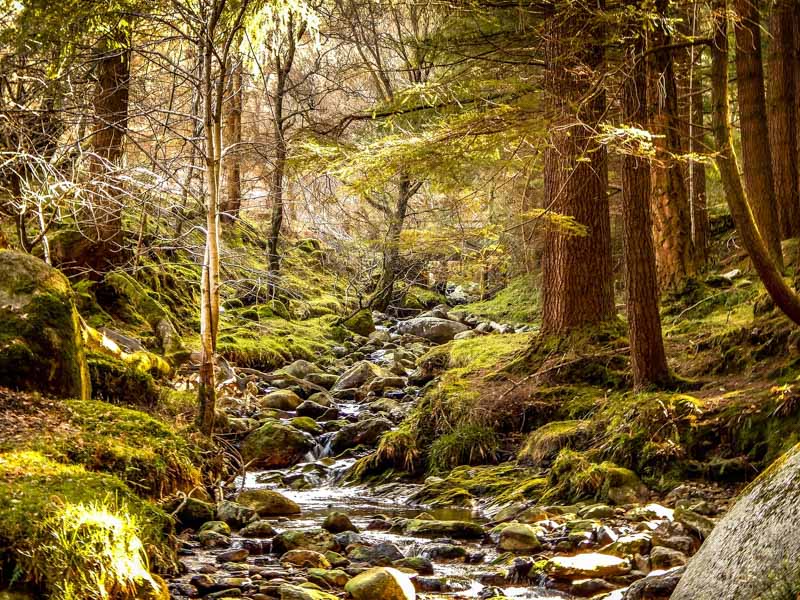 Parking in Glendalough
You can park right beside the visitor centre at the Glendalough Upper Lake. This is not the first car park you see beside the hotel when driving into Glendalough, you follow the road until you literally can't go any further and the car park will be on your left.
The cost of parking is €4 and you can leave your car there all day. It can get completely full in the summertime but there is another car park further back if the main one is full.
Getting to Glendalough from Dublin
If you are driving then the journey takes just over an hour. You follow Dublin's motorway, the M50 all the way to the end and then follow regional roads until you arrive at Glendalough.
If you want a more scenic drive you can also pass over the Wicklow mountains which adds about 30 minutes to the drive but offers some excellent views.
If you aren't driving there are a number of tour operators that offer day trips to Glendalough. If you want to take public transport then you can take St Kevins Bus Services but be warned, the last bus back to Dublin is at 16:30
Don't forget to check out our list of the Best Hikes in Ireland if you want some inspiration to be active in Ireland.
Like This Article? Pin it!