Situated right in the middle of Ireland's most famous driving route, the Wild Atlantic Way, County Clare is a destination with so much to offer the visitor.
While many pass right through with only the Cliffs of Moher on their checklist, this culturally rich county with breathtaking landscapes, unique hotels, and mouth-watering food has a lot to offer the visitor that sticks around a little longer.
Here's our pick of the top things to do in Clare – one of the best places to visit in Ireland.
28 Unique Things To Do in Clare
1. Stay in an 18th century Manor House
If you plan to spend a few days exploring the West coast then why not splash out and check yourself into Gregan's Castle, a stunning 18th century Manor House.
The hotel is a member of Ireland's Blue Book, a collection of some of the best hotels and country homes in Ireland. With beautifully kept gardens, a friendly horse and donkey who you can visit, a resident cat called Lady and some of the most delicious food you'll get this side of the Shannon.
Wake up to a spectacular view of the Burren, enjoy a breakfast made with only locally sourced produce, then hop in your car and follow the Wild Atlantic Way south to discover some unrivaled ocean views.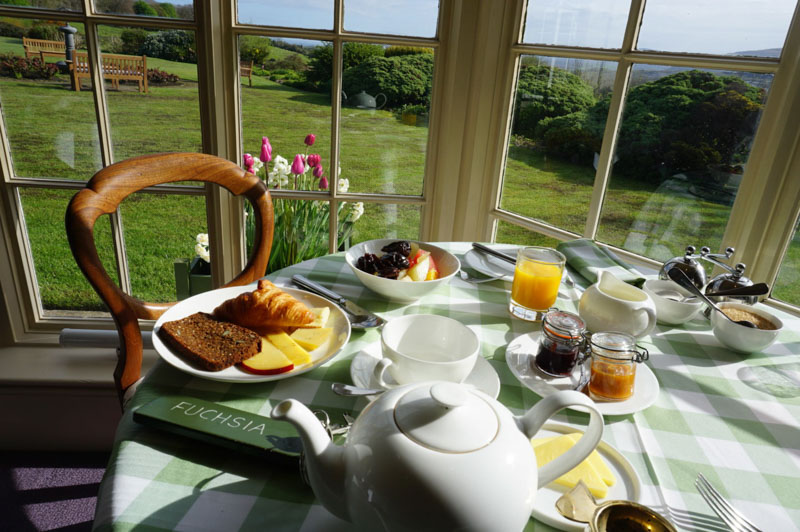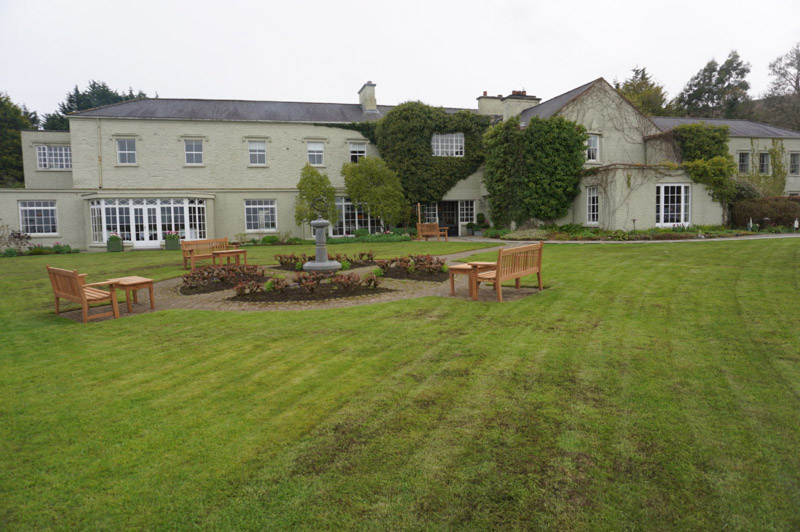 2. Tour The Burren Perfumery
The Burren Perfumery was by far the biggest surprise when visiting Clare. I had been told it was a little gem hidden away in the depths of the Burren but what I found was pure bliss.
It is Ireland's first ever perfumery and remains one of the most captivating. All scents are inspired by the local landscapes and you can even do a tour to see where the perfume, lotions, or candles are made, all on-site.
There is also the most precious pink tea room, with organic locally, sourced produce and some delicious baked goods and seasonal drinks such as Elderflower Cordial. Even if it's FAR out of your way, this needs to be on your Wild Atlantic Way itinerary! More info and directions on their website.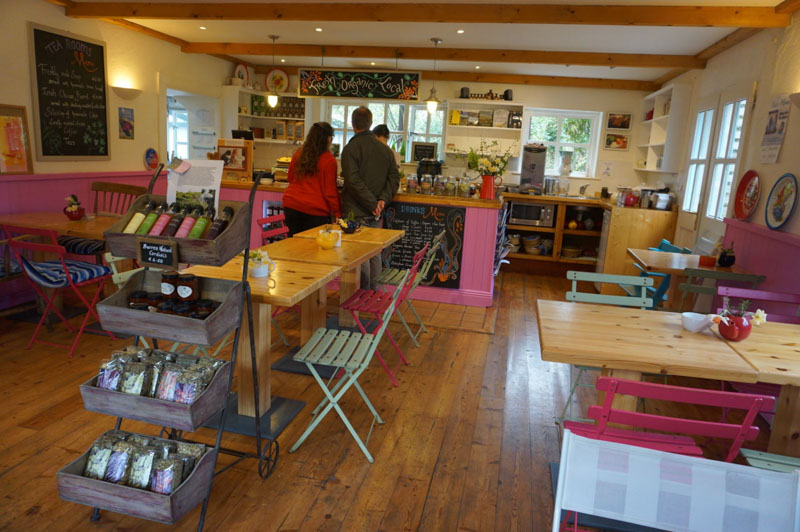 3. Taste some Flaggy Shore Oysters
Even if you're not an Oyster fiend, meeting the hilarious and charismatic Gerry from Redbank Food Company in New Quay is a unique experience.
There's a website called Traveling Spoon that you can sign up to, that offers unique culinary experiences all over Ireland.
Doing a tour of Gerry's Oyster production centre, learning how to harvest, purify, and then, of course, eat oysters, is one of the tours you can sign up to and is, in my opinion, a MUST!
Paired with some tabasco sauce and maybe a nice glass of Sauvignon Blanc and you'll be loving Ireland and its people!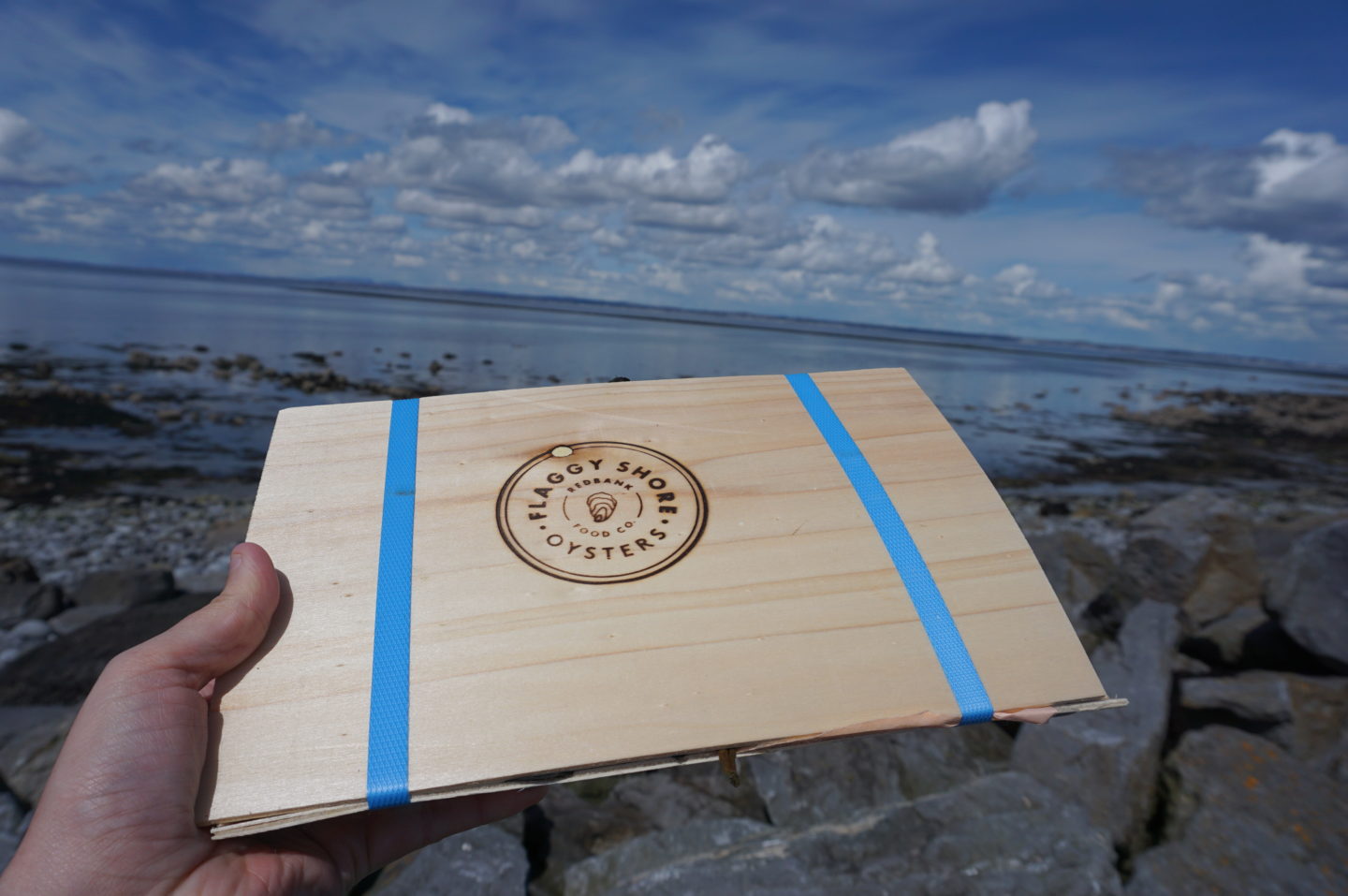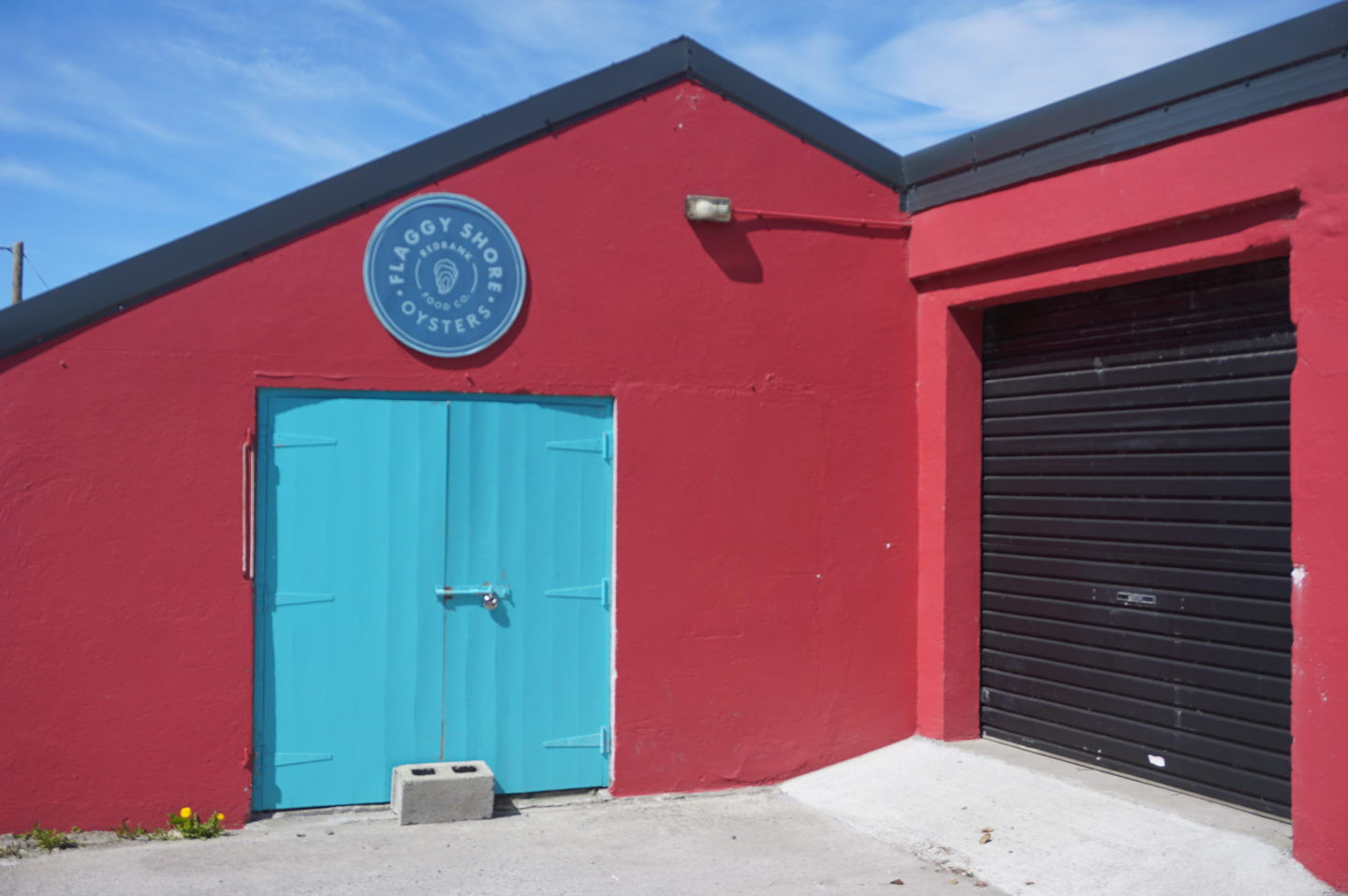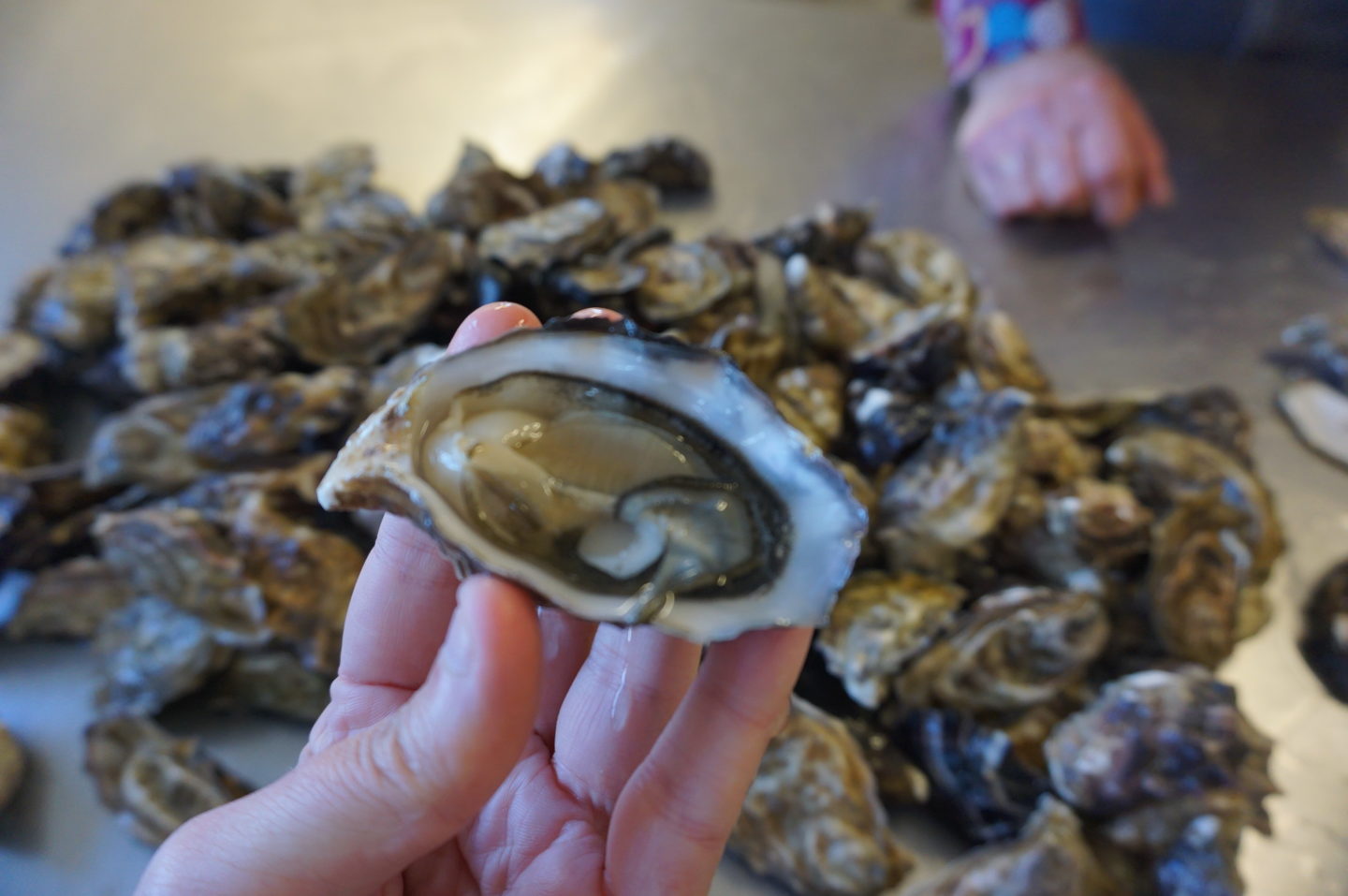 4. Lisdoonvarna Matchmaking festival
One of the most unusual festivals in Ireland and definitely one of the most unusual things to do in Clare, the Lisdoonvarna Matchmaking Festival is a month-long celebration in September.
It takes place in the small but lively village of Lisdoonvarna, famous for its live music sessions and the legendary Willy Daly, Ireland's most successful matchmaker!
Whether your single, or married, every weekend of September there is fun and mayhem to be had on this small west Clare village.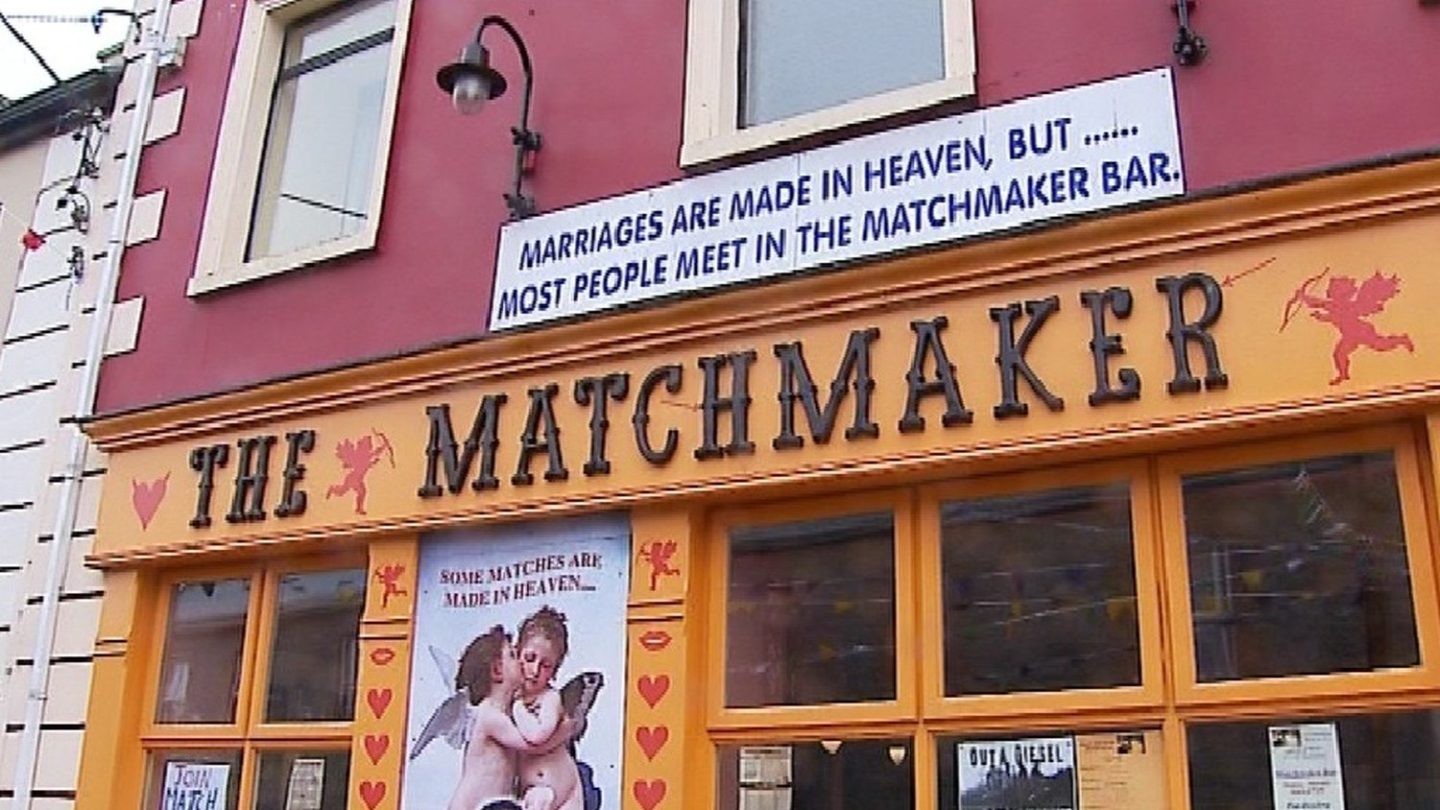 5. Visit The Doolin Chocolate Shop
When passing through Doolin village, be it walking to the Cliffs of Moher or on your way to take a boat trip, be sure to pay a visit to the tiny Doolin Chocolate Shop close to the pier.
Their dark chocolate rocky road was to die for and it's a great place to buy some edible souvenirs to take home with you. If you can resist the temptation to eat them!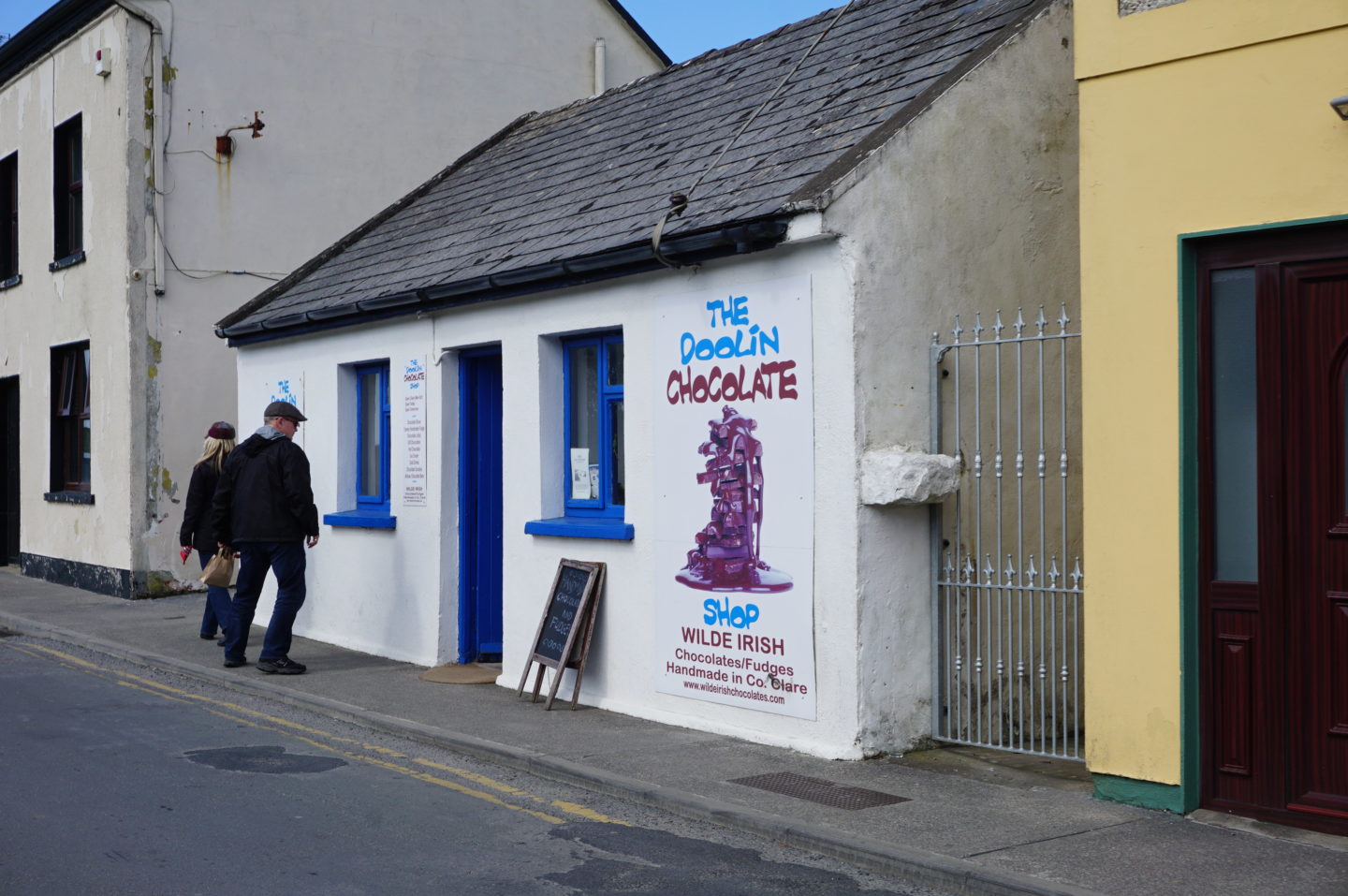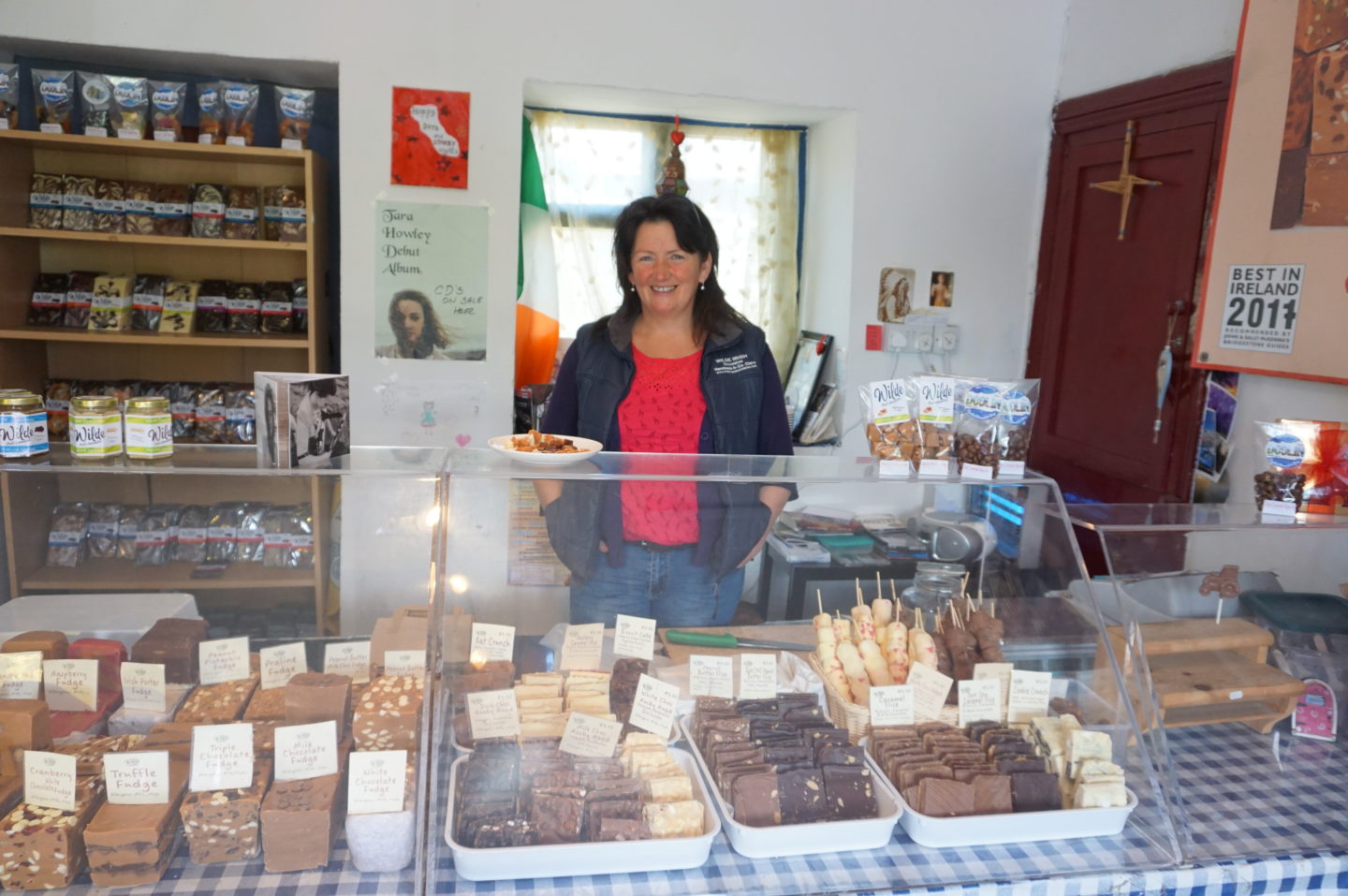 6. Taste some farm to table cuisine
County Clare is quite famous for its high-quality produce and cuisine, so much so that it's often listed as one of the best food trails in Ireland.
One place that has mastered the "farm to table" concept is Moy House Hotel in Lahinch. All food served in their small (but luxurious!) 9 bedroom hotel is sourced from their own farm just 2km up the road.
They make their own bacon, sausages and black puddings – served with a smile and a view for breakfast, and their evening Five Course Tasting Menu is an experience you will not be forgetting.
Think wild garlic risotto, soup with Cashel Blue Cheese melted on top or freshly caught Hake, brought straight in from local fishermen that morning.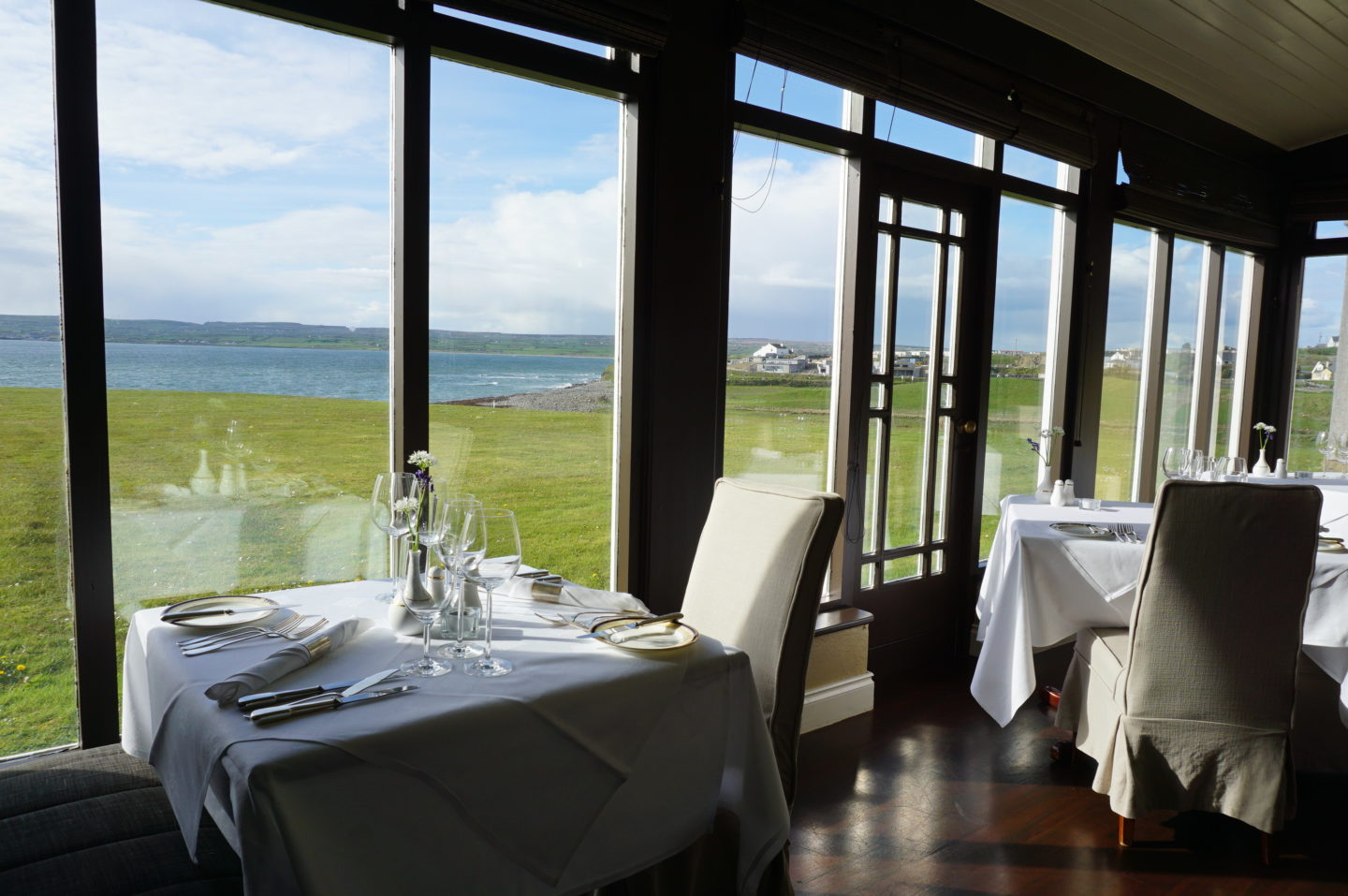 7. Walk The Burren Way
You can't travel to Clare without visiting The Burren National Park, the county's most famous asset. The best way to see of much of this unique landscape is to get out of your car, put on some sturdy shoes and walk on two feet across one of the largest karst limestone landscapes in Europe – and one of the best hikes in Ireland.
There are all sorts of trails through this harsh and rugged landscape, which can at times feel like you're walking on another planet. And actually, there's some great fly fishing in this area as well.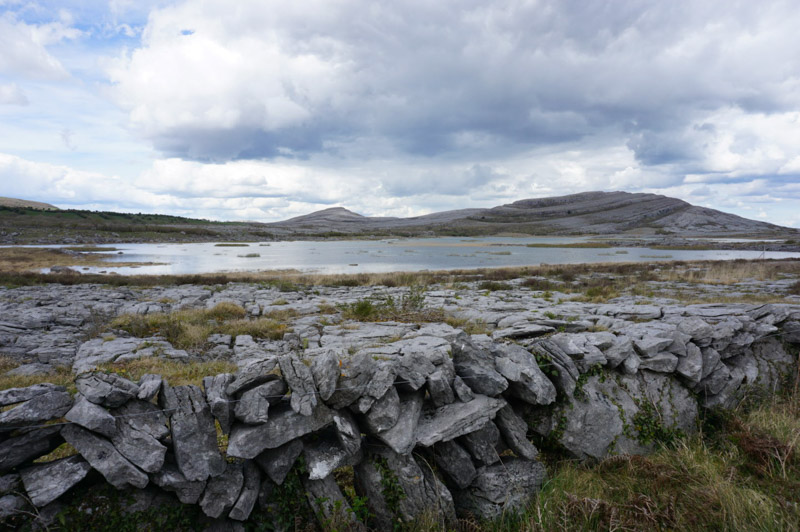 8. Visit the Russell Gallery in New Quay
If you're looking for a quick place to stop for a bite to eat, in a beautiful location, then the Russell Gallery in New Quay is ideal. Overlooking the calm bay, with outdoor seating and a great selection of fine arts and gifts to feast your eyes on, it's a great place to stop by in the afternoon, especially if it's sunny.
It a great place to pick up a unique piece of art by a local painter to take home with you and treasure forever!
9. Visit The Cliffs of Moher
No matter how many times I visit the Cliffs of Moher, they never cease to impress me. I find that depending on what time of day, and what time of year, you visit, the mood, colours, and scenery at the cliffs changes too.
Be sure to walk as far as you can at either end of the cliffs to take in the panoramic view of the cliffs with O Brien's Tower. You can even hike the whole way back to Doolin, but be sure to wear the correct footwear and don't get too near the edge as it can be slippery and there's a lot of erosion!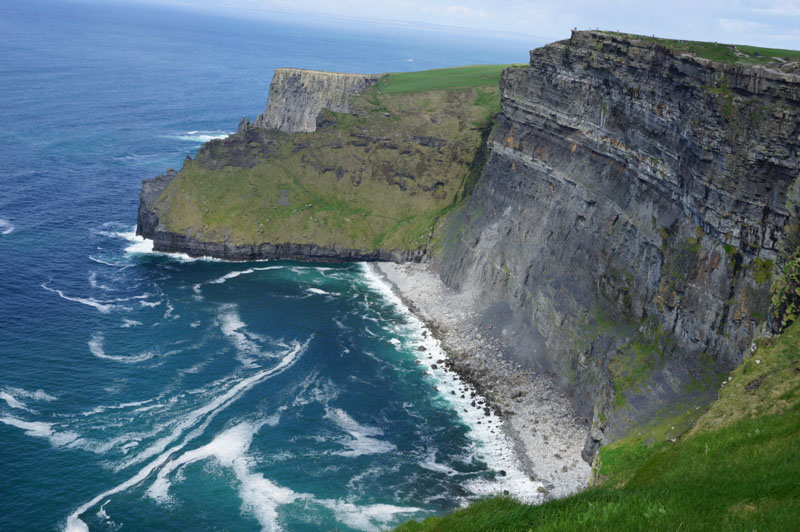 10. Go surfing in Lahinch
There are a few top spots to go surfing in Ireland, and all of them are along the famous Wild Atlantic Way. While it's definitely a toss-up between Bundoran in Donegal and Lahinch, I have to say I love Lahinch just a teeny tiny bit more.
It's amazing for beginners, the beach is right in the town and there are so many great pubs, restaurants and other attractions nearby to check out once you're done surfing for the day. Sign up for lessons from the John McCarthy Surf School here.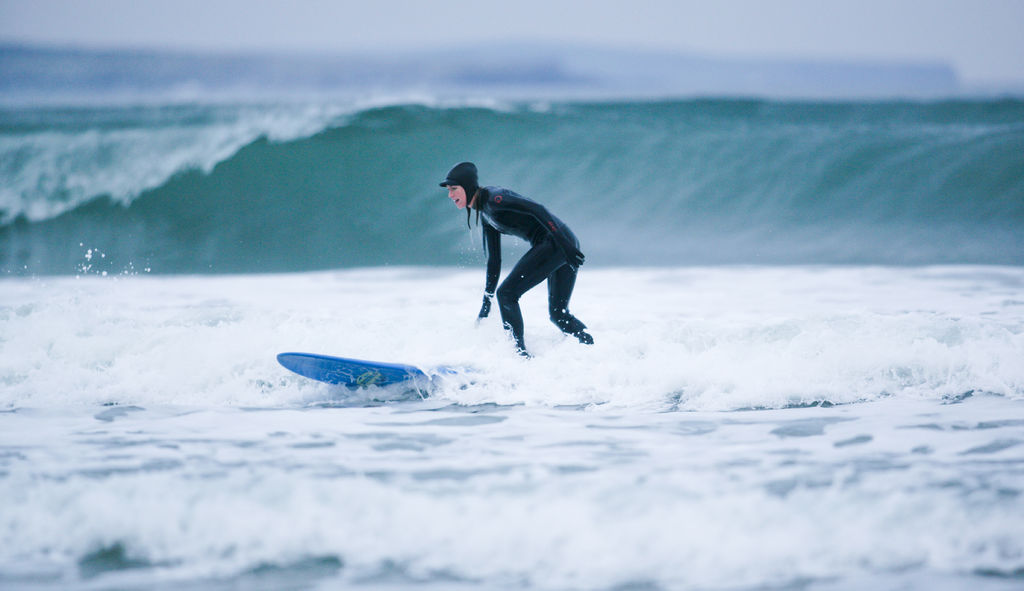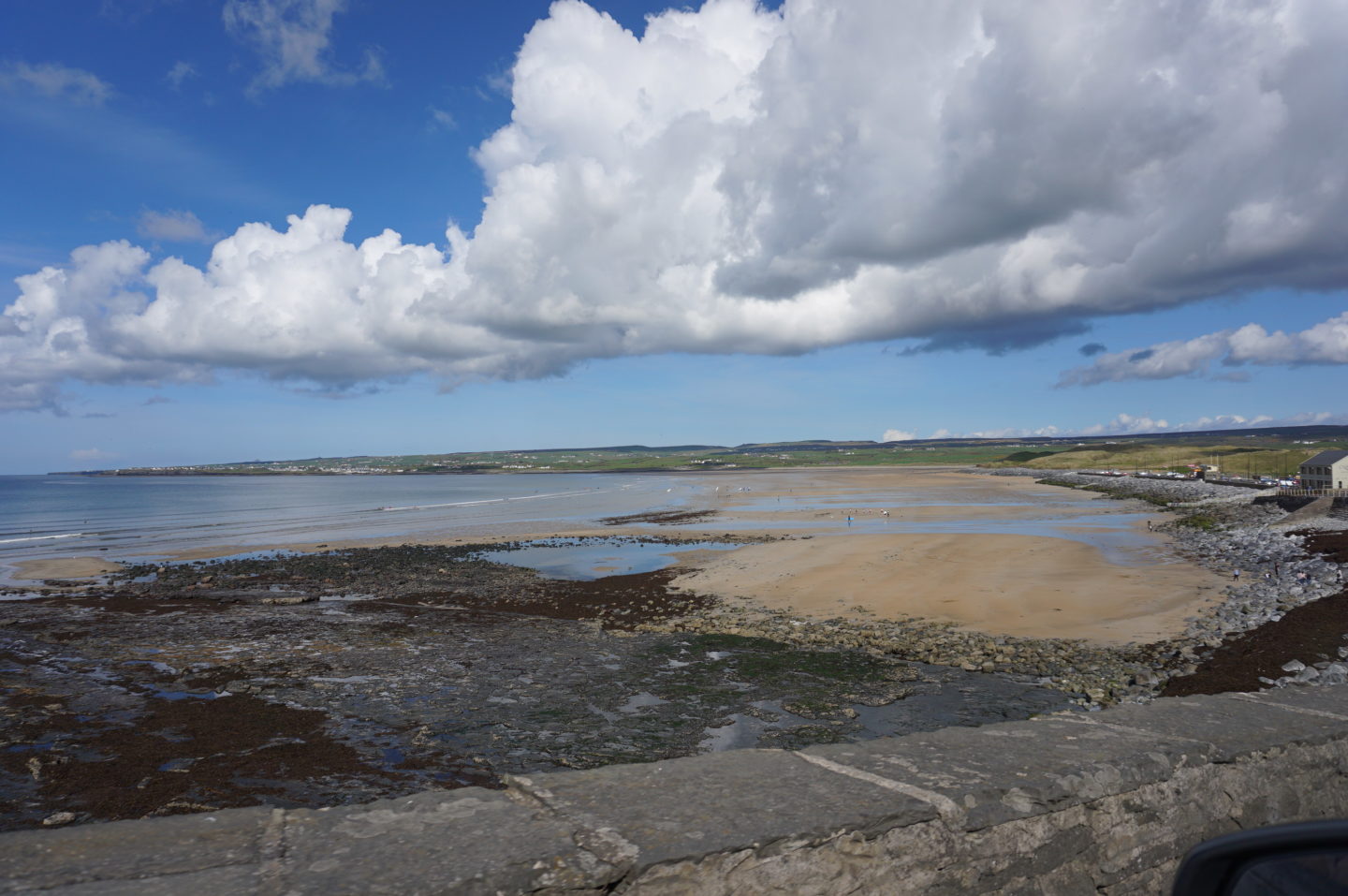 11. Take a trip to the Aran Islands
If you want to experience the best of rural Ireland and be transported back in time, then a day trip to the Aran Islands is a must. There are regular ferries from Doolin Pier across to Inis Mor (big island) and you can spend a few hours touring the island on foot or by bike before hopping on the ferry back to the mainland.
Cycle past rocky fields, intricately built stone walls that criss-cross the wild terrain, cute cafes and lively pubs, friendly donkeys and spectacular cliffs. This is the Ireland of your dreams.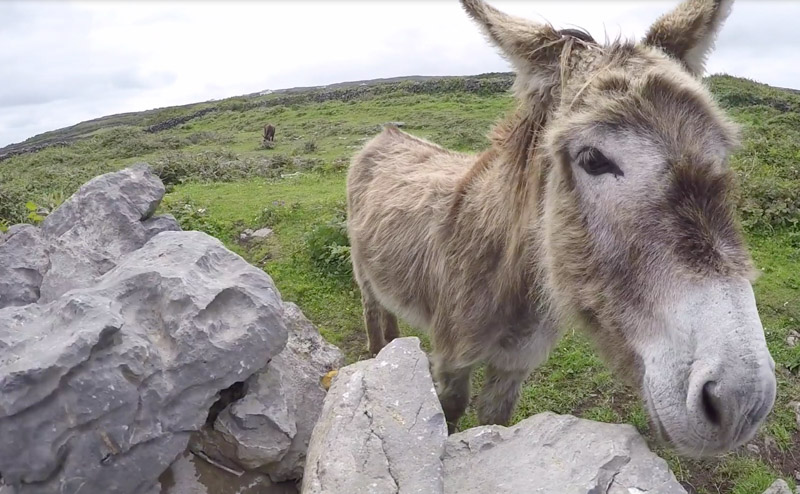 12. Ice cream with a view at Linalla Cafe
Is there anything better than enjoying a nice big scoop of ice-cream, which watching the cows that supplied the milk grazing happily in the field next door?! You can't get much fresher than this, and the view that goes with it must make Linnalla Ice-Cream cafe one of the best in Ireland!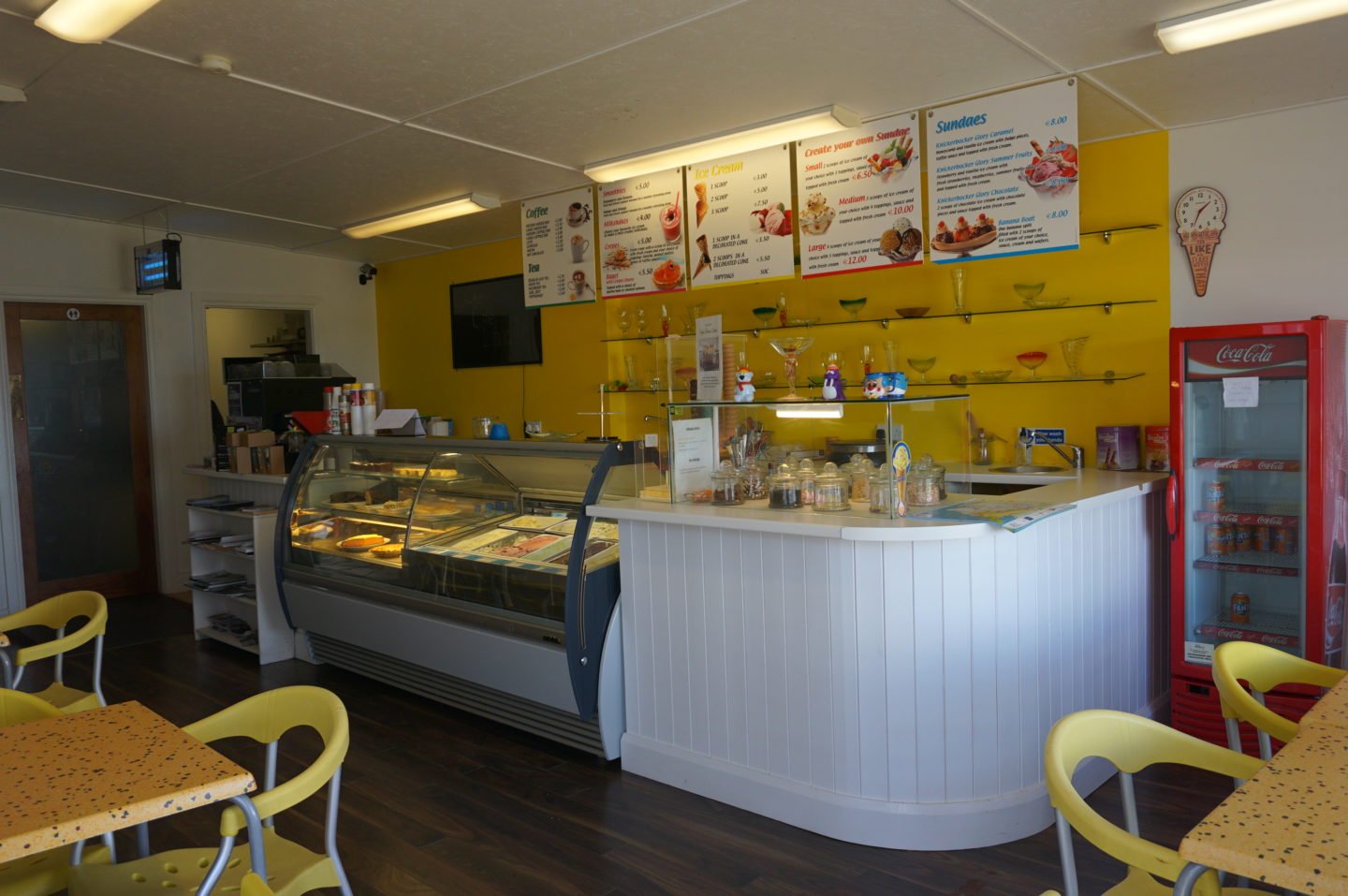 13. Stop for a pint at Egan's in Liscannor
A great place to stop for a pint and a chat with the locals is Egan's pub in Liscannor. It's a popular place to drop in after visiting the Cliffs of Moher, and many hikers stop off for a quick break if walking the route from Lahinch to Doolin. Full of character with friendly staff, expect a true Irish welcome.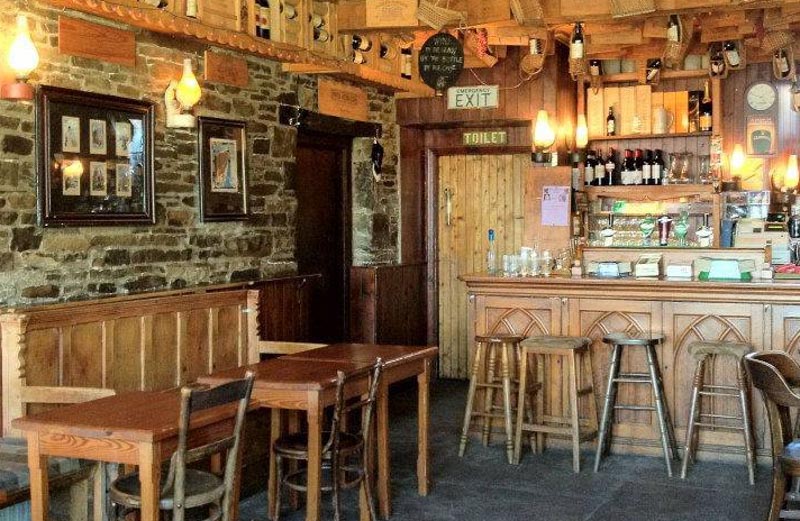 14. Coffee with a view at Moher Cottage
Just down the road from the Cliffs of Moher Visitor Centre is the unassuming Moher Cottage, a small cafe and coffee shop which landed the much-coveted title of "Best coffee in Ireland" last year.
While the coffee in undeniably good, it's the insane view (especially on a sunny day) that makes sitting outside Moher Cottage with a hot cup truly unforgettable.
15. Drive the Loop Head Peninsula
The drive out to the Loop Head Lighthouse is one of the most beautiful stretches of coastline along the Wild Atlantic Way. The lighthouse itself is over 350 years old, and stands tall at the end of the peninsula.
This region has been voted "best place to holiday in Ireland" and is full of fun activities for all the family should you plan to stick around for a few days. The cliffs out by Kilbaha are spectacular and you must also visit the picturesque villages of Kilkee and Riverside.
**Read our short guide to driving in Ireland if you're driving here for the first time!**
16. Visit the incredible Aillwee Cave
One of the top tourist attractions in County Clare, Aillwee Cave is a must-visit destination when touring the west coast. An incredibly intricate cave system inside the karst landscape of the Burren, it's a fascinating place to visit for both young and old.
Also on site is the incredible Birds of Prey Centre, home to fantastic team of bird enthusiasts (my friend's sister is one of them!) who have been educating and entertaining visitors with dynamic flying displays for 10 years. Visitors can interact with these beautiful birds, which include Eagles, Falcons and Hawks.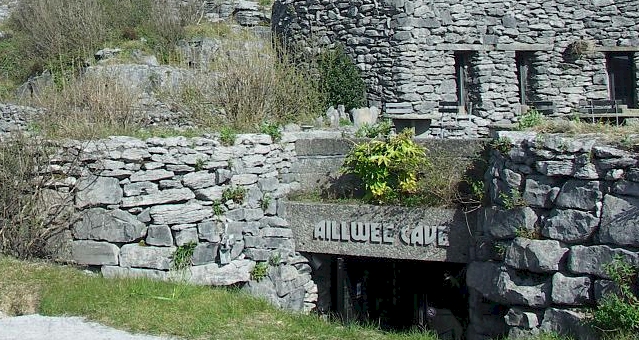 17. Take a walk on Fanore Beach
One of the best beaches in Clare if not one of the most beautiful along Ireland's spectacular Wild Atlantic Way, Fanore Beach is a great place for a long walk, a picnic or a swim if you're feeling extra brave! Stop off for a pint, or a warming cup of tea, in the brightly painted O'Donohue's Pub.
18. Learn the story of Liscannor Stone
Every time I travel to Clare with my Mum, she spends the entire car journey oohing and ahhing over Liscannor Stone. She thinks it's the best thing since sliced bread, and I'm sure she would use it all over our house and garden if she has the chance.
While you will see this beautiful stonework all over the county, be sure to call into their showroom in Liscannor to learn the story of Ireland's most famous stone.
19. Call for tea at Father Ted's House
Who knew a show about life in Ireland, or Irish priests to be more specific, would be loved by people from all over the word? Father Ted is very much a household name in Ireland, and the opportunity to go for tea in Father Ted's country house in County Clare should not be missed!
Glanquin Farmhouse is the famous house from the show, and the owners have opened it up to people passing by in desperate need of a cup of tea! You can pop in for the full Father Ted experience, with adults paying €10 and children paying €8 for the full shebang.
20. Eat at Ireland's only Michelin Star Pub
Did you know Wild Honey Inn, in Lisdoonvarna, is home to Ireland's only Michelin Star Pub? Well, now you do!
This stunning 19th century Inn, run by Chef Aidan McGrath and his wife Kate, is by far one of the top places to eat in County Clare. Serving up the best food the Burren has to offer, including locally sourced cheese, delicious smoked salmon and of course traditional (and freshly baked) brown bread.
Their breakfast is one of the best in Ireland, so you might as well stay the night and wake up to a meal you won't be forgetting anytime soon! Don't miss these other amazing foods in Ireland on your travels!
21. Admire Kilfenora Cathedral
Visiting Kilfenora Cathedral is by far one of the most unique things to do in Clare. You might just think it's another old Irish church (I know, we have so many!) but this place is truly special.
Dating back to 1189, the Kilfenora Cathedral is a medieval cathedral home to many of Ireland's most important high crosses.
In order to protect the most important high cross, the "Doorty Cross" from the elements, an artist came up with an idea to build a glass roof over the cathedral, to protect the building and the crosses underneath.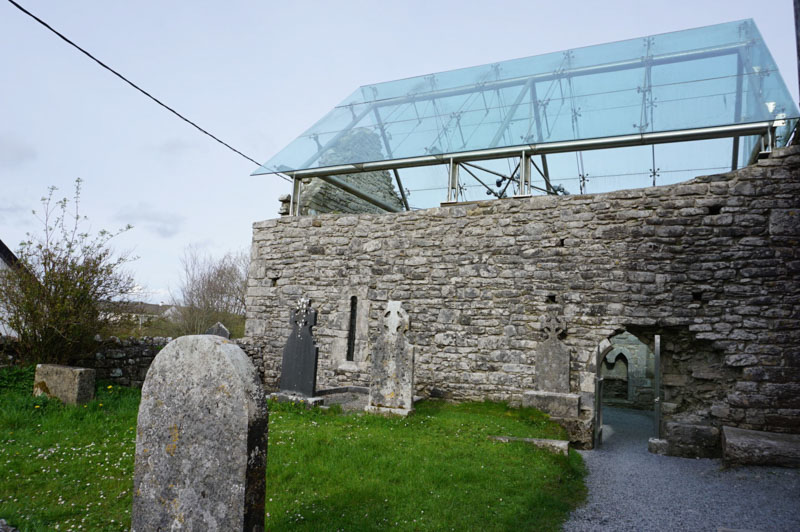 22. Eat at the Stonecutters Kitchen
The Stonecutters Kitchen is a warm and welcoming family-run restaurant in Doolin. It's located inside a 100-year-old stone cottage, which adds to the endless charm and makes it a very unique place to eat.
The perfect spot for lunch en route to the Cliffs of Moher, they serve up some delicious fish and vegetarian dishes (there's meat too, of course) and their desserts and the foodie stuff dreams are made of! Go for the Banoffee Pie, you won't regret it.
23. Visit Ireland's Smallest Microbrewery
One of the best Gastro Pubs in County Clare, The Roadside Tavern outside of Lisdoonvarna is a great place to go for some drinks and live music sessions.
They have trad music every night of the week during the summer and there is also a small brewery on site, said the to the smallest in Ireland and voted one of the best by Lonely Planet!
Be sure to try a pint of their delicious Burren Gold, or a pint of Burren Black if you're more of a stout fan!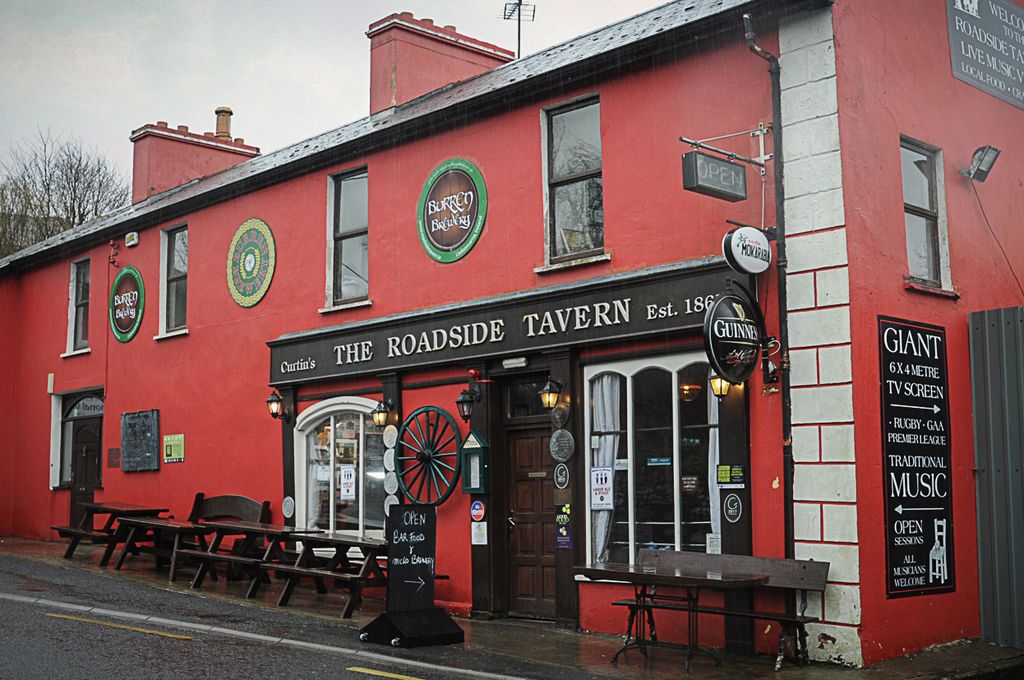 24. Trad session at Gus O'Connors in Doolin
Every time I go to Doolin, I leave wishing I had stayed longer. While it really is the tiniest little village, there is always fun to be had! I usually check in to one of the pretty hostels outside of the village and then spend my evenings tapping my feet along to the live music at Gus O' Connors Pub, which has live sessions 363 days a year!
The pub is almost 100 years old and is brimming with character…and characters! Well worth a visit.
25. Go Kayaking on Lough Derg
If you want to get active and get out on the water while in Clare, then I suggest going slightly inland to beautiful Lough Derg. It's an adventure-lovers paradise with a whole range of fun outdoor activities on offer.
Get in touch with Lough Derg Water Sports if you fancy spending a few hours kayaking or canoeing across the lake – they even organize group trips for hens and stags! Becky and Reuben are super friendly and easy-going and will ensure you have a memorable time on the water.
26. Photograph the stunning Ennistymon Falls
I only discovered the gorgeous town of Ennistymon last weekend. I'm a few hundred years behind the rest of Clare, it seems! This picturesque and historic town, slightly inland from the coast road, is famous for the mighty waterfall that runs right through the centre of town.
It's a popular fishing spot and is also home to the beautiful Falls Hotel and Spa, a 4-star hotel with a spectacular view of the waterfall and town.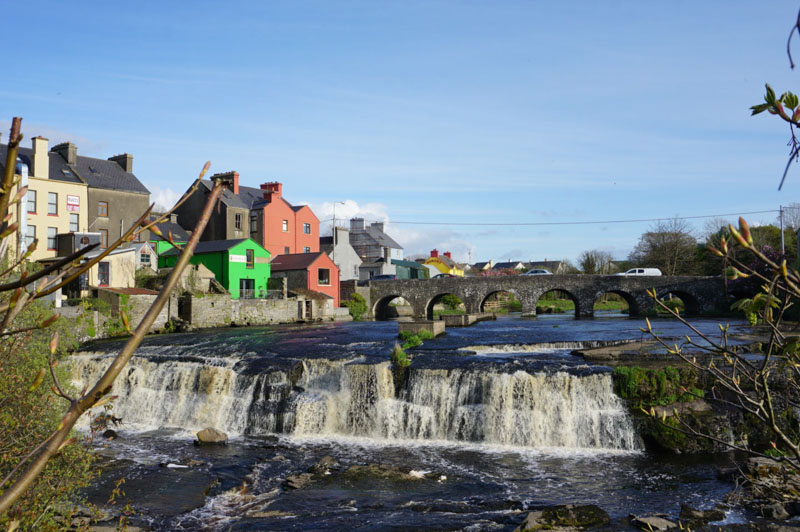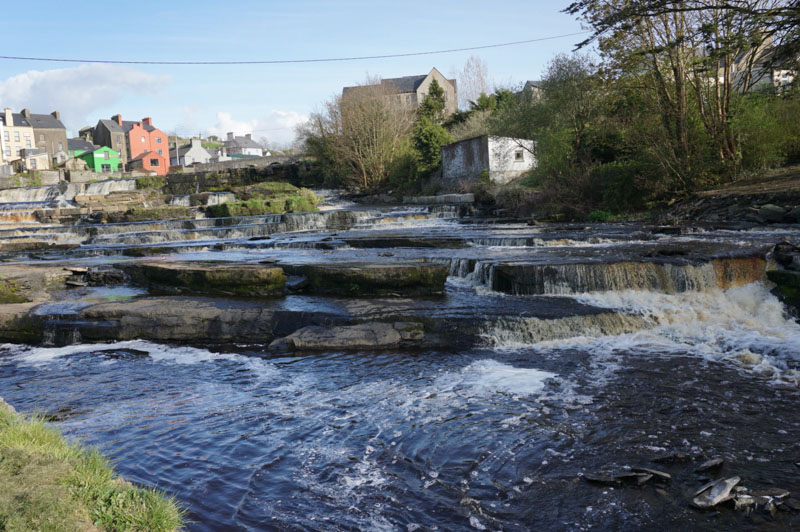 27. Taste some salmon at the Burren Smokehouse
While we've already mentioned some top foodie hideouts in Clare, the Burren Smokehouse simply had to be added to this list. Here you will taste some of the best smoked salmon in the world (I'm not kidding!), salmon that is exported to top restaurants all over the world.
As well as learning how the salmon is smoked, and of course tasting it, there are lots of gourmet products and crafts that can be purchased to take home with you. Owned by Birgitta & Peter Curtin, the same family that runs The Roadside Tavern, you're sure to get a true Irish welcome.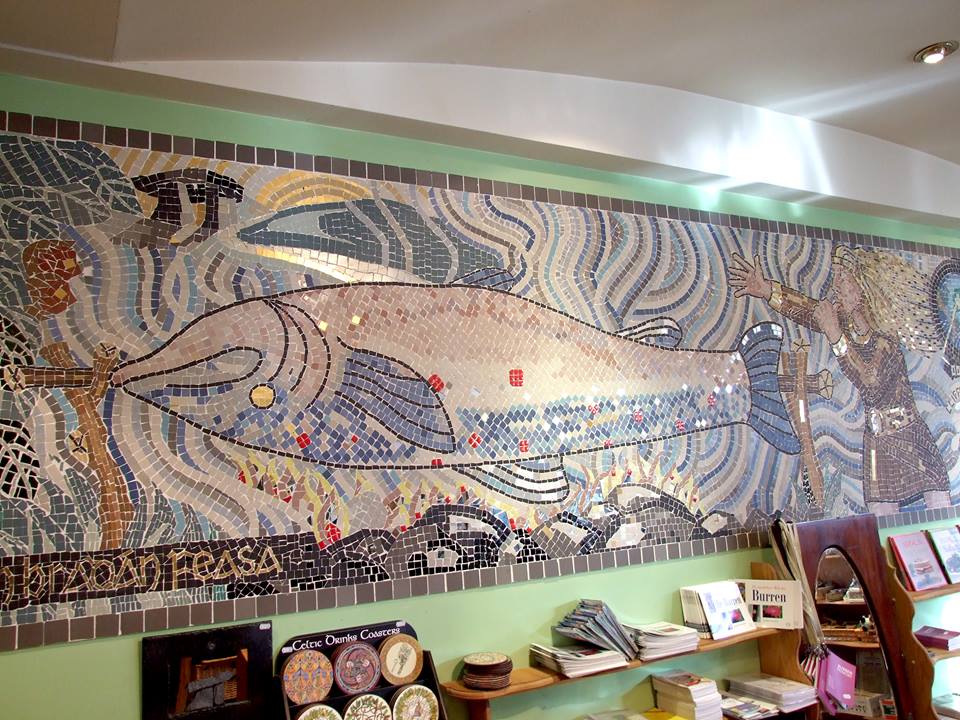 28. Attend a banquet at Bunratty Castle
Last on our list of top things to do in Clare is to attend a once-in-a-lifetime banquet at Bunratty Castle. Unlike many Irish castles, this one is not a hotel, but you can visit and have a feast you won't forget.
If being welcomed by the Earl's Butler, listening to medieval music, toasting a glass of wine and honey mead, while feasting inside a 15th-century castle sounds like your cup of tea, then book your place.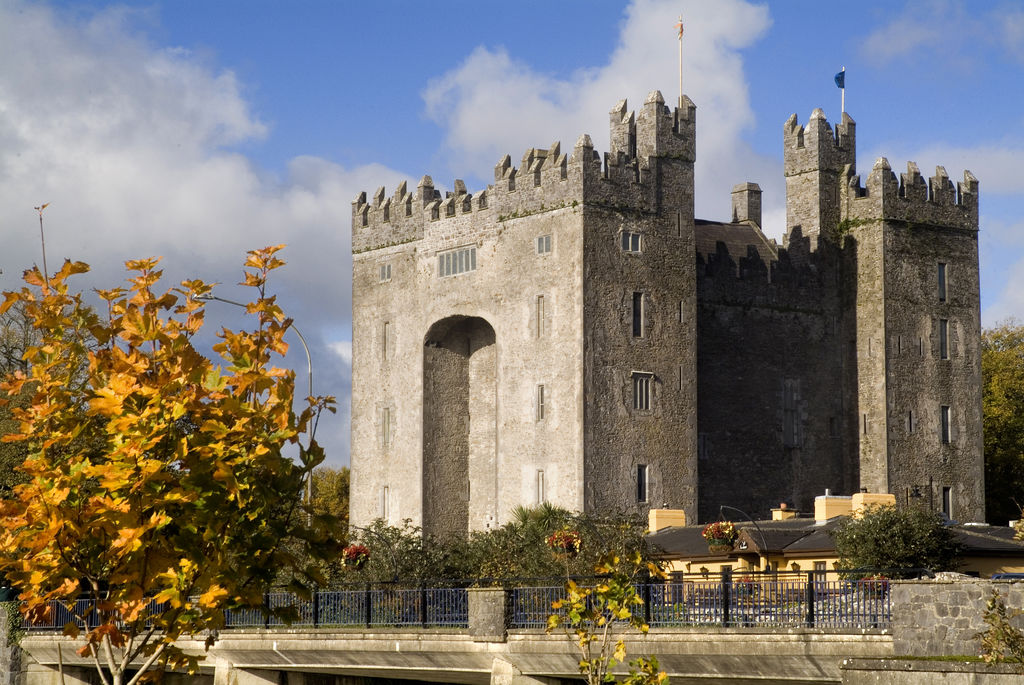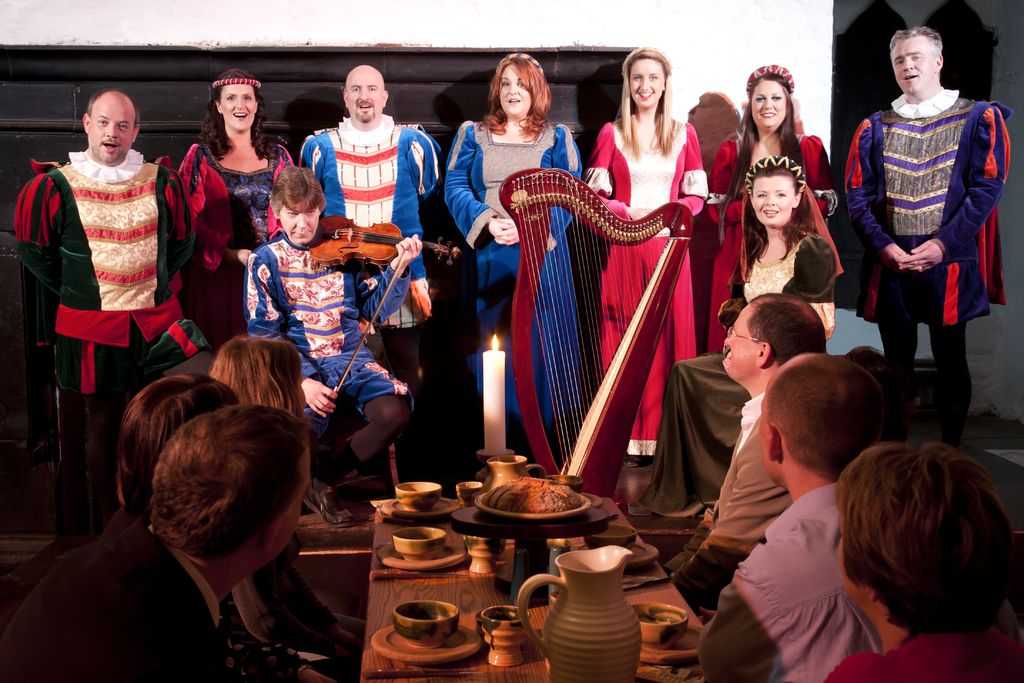 Now you know what to do in Clare!
No matter what type of traveller you are, you'll find something you enjoy in County Clare. Pack your bags and get ready to enjoy a stunning part of the country filled with tasty food experiences, dramatic landscapes, and of course, welcoming people.
Like This Article? Pin it!