Even though Afternoon Tea is quintessentially British, Ireland was part of the British Empire for long enough to learn a few things about it and make it our own.
For birthdays, anniversaries, and everything in between, Afternoon Tea in Ireland is the most decadent thing you can do on your trip!
It's not the kind of experience you have every day, but if you're looking for something romantic, or to splurge, then enjoying a luxurious, traditional Afternoon Tea is a great option.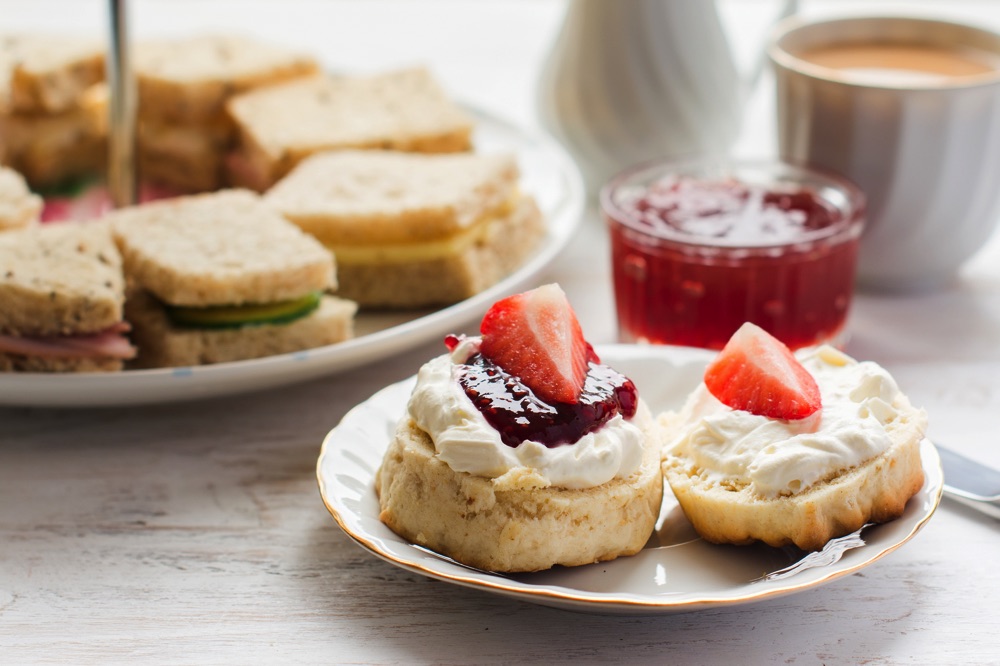 Here are 10 of the best places you can enjoy a spot of Afternoon Tea in Ireland.
(Note, make sure you book in advance, especially on the weekends).
1. Adare Manor, Limerick
One of the shining jewels of Limerick, Adare Manor is easily one of the best places to get Afternoon Tea in Ireland. As much as Afternoon Tea is about eating, it's just as much about the elegant ambiance, and Adare Manor has that in spades.
This tea will set you back €62 ($69) for adults and €32 ($35) for kids, but it's definitely an experience you will speak about for years. You can go all out and even stay the night in this amazing place! Learn more and visit the menu here.
2. The Merrion Hotel, Dublin
Right in the heart of Dublin City Centre, the Merrion Hotel is the height of elegance in Ireland. They are famous for their Afternoon Tea and looking at this photo, you can see why.
The fact that they call it the Afternoon Art Tea should give you a hint as to how seriously they take it. Whether you're spending a weekend, or a week in Dublin, add an Afternoon Tea at The Merrion Hotel to your itinerary.
The location in the centre of Dublin, the incredibly attentive staff, and the sheer quality of the food here are the reason you'll pay €55 ($61) per person or €67.50 ($75) with a glass of bubbly. This is a two-hour experience you won't want to miss.
3. Kilronan Castle, Co. Roscommon
The complete opposite of The Merrion location-wise, this hotel couldn't be more secluded!
Sitting on the edge of Lough Meelagh. Their website describes the castle and its location as "taken straight from a fairytale" and I'm inclined to agree. This is a beautiful place to enjoy tea in Ireland.
They also have some amazing options, with Traditional Afternoon Tea costing €35 ($39) per person. This is excellent value! Afternoon tea is served daily at Kilronan Castle from 1:30pm – 5:00pm. This is one of the more affordable Afternoon Tea options in Ireland.
You can find Kilronan Castle on the map here and see the Afternoon Tea menu here.
4. The K Club, Co. Kildare
Fans of golf will recognize this name as the venue of the 2006 Ryder Cup, but the K club is also one of the best places to have Afternoon Tea in Ireland.
Just outside Dublin in County Kildare, take in the fresh air and enjoy the peace and quiet.
Afternoon Tea at the K Club is served daily from 1.30pm – 4.30pm for a minimum of 2 people. The price is €50 ($55) per person, or if you'd prefer to splash out, €70 ($78) per person with a glass of Laurent Perrier Champagne.
Find the K Club on the map here and the Afternoon Tea menu here. Also, you can book a stay in the hotel — combine golf, Afternoon Tea, and a beautiful stay.
5. Waterford Castle Hotel, Co. Waterford
How does having Afternoon Tea outside a castle in the Sunny South-East of Ireland sound? Well here in Waterford, you can do just that!
Classic three-tier plates served up by the amazing staff in Waterford Castle really is a once-in-a-lifetime experience. If the weather doesn't cooperate, you'll still find yourself in one of the best castle hotels in Ireland.
Afternoon Tea is served from 1:00pm – 3:00pm at Waterford Castle Hotel. This is also another of the more reasonable places to get Afternoon Tea in Ireland at €35 per person.
We also featured this hotel as one of the best Castles to stay in while you're visiting Ireland, so you can really feel like royalty here. Find Waterford Castle Hotel on the map here, and see the Afternoon Tea menu here.
6. Castlemartyr Resort, Co. Cork
Quite possibly the most luxurious and decadent Afternoon Tea on this list. Don't miss it on your trip to Cork!
In keeping with the traditional style, here you can expect gorgeous china, vintage teapots, and tasty food all served in a picturesque setting.
The Lady Fitzgerald Afternoon Tea at Castlemartyr Resort was named after one of Castlemartyr's previous owners, and a visit here is the perfect way to spend the afternoon.
To get your tastebuds going, here's a teaser of some of the tasty treats on offer at this Irish Afternoon Tea:
Sandwiches with chicken, salmon, quail's egg or caviar, a tier of freshly baked scones with clotted cream and jam, flakey pastry desserts, and much more.
Afternoon Tea at Castlemartyr Resort is served in the restaurant of the manor house from 1.30pm to 2.30pm Wednesday to Sunday, Afternoon Tea is €72 ($80) for two people, or €90 ($100) for Sparkling Afternoon Tea, with a glass of prosecco per person (based on two adults).
7. Ballynahinch Castle Hotel, Connemara, Co. Galway
This is one of the more traditional Afternoon Teas in Ireland, which showcases seasonal produce of the area.
There's even a "master tea blender" here!
Foraged herbs and loose leaves are combined to create some awesome tea blends, including the signature black tea made with juniper berries, horsetail & oat straw.
While the tea itself is amazing, the sandwiches complement it perfectly — crayfish, dill & cucumber on sourdough, egg & watercress on Irish soda bread, and Connemara lamb with mint yogurt dressing on sourdough.
To round off your perfect Afternoon Tea, divulge in sweet scones with clotted cream and jam, rose and raspberry macaroons, berry tartlet, or chocolate mousse!
The setting by the river is divine, and so is the menu itself.
Reservations are essential. The Afternoon Tea at Ballynahinch Castle Hotel is on Saturdays from 1:30pm. to 3 pm and costs €30 ($33) per person or €40 ($45) with a glass of prosecco or €45 ($50) with a glass of Champagne.
8. The Brehon Hotel, Co. Kerry
Located in Killarney, enjoying an Afternoon Tea here is one of the top things to do in County Kerry. Even if you just have a couple of days in Killarney, make sure to stop in here.
Overlooking the Killarney National Park, the setting of the Brehon Hotel couldn't be more perfect.
Sip on traditional loose leaf black tea, or opt for an infusion of elderflower, camomile, peppermint, or honey. For food, expect unique selections such as duck liver pate, tortilla with guacamole, chicken with wholegrain mustard, smoked salmon with cottage cheese, and of course, scones!
If you have littles with you, they also offer a kid's Afternoon Tea.
There's a wide variety of savory and sweet items on the menu here. Tea is served daily from 2:00pm – 5:00pm, with traditional Afternoon Tea costing €28 ($31) per person, or you can add a glass of Prosecco to make it €36 ($40) per person.
Find the menu here, and the Brehon Hotel on the map here.
9. The Westbury Hotel, Dublin
Afternoon Tea at the Westbury Hotel is a must, it's a Dublin institution!
Sip and dine in an elegant setting with views of popular Grafton Street. Sit on comfortable chairs, or cozy up near the fireplace.
This may not be the cheapest Afternoon Tea in Ireland, but it's one of the most luxurious for sure. You'll save a few euros by opting to go for the weekday tea, rather than at the weekend.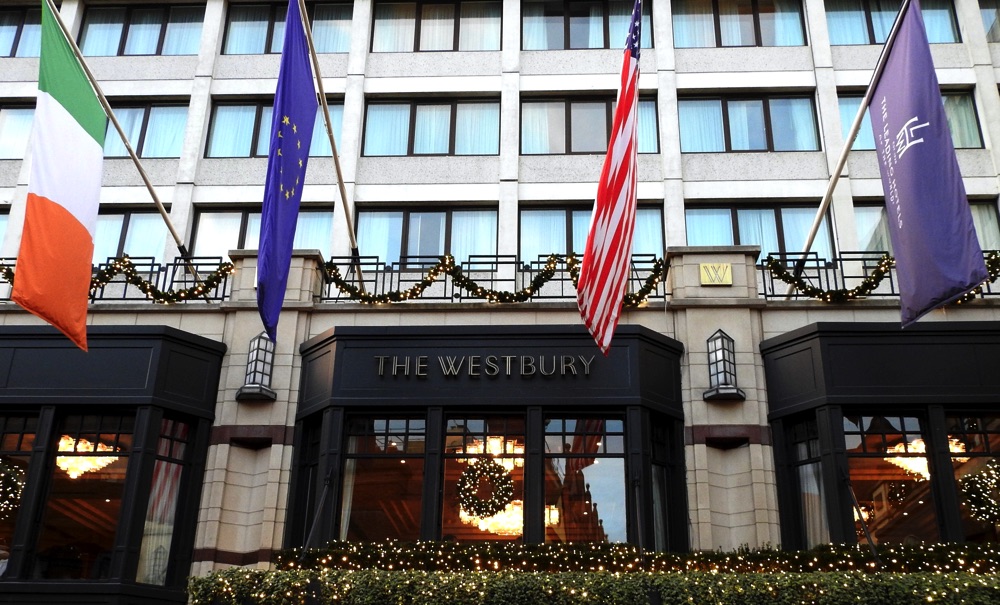 The decadent tiered platters include yummy bites such as Truffle Chicken Salad on Mini Brioche Roll, Dill Cured Salmon, Pickled Cucumber & Cream Cheese on Multigrain Bread and Ham & Tomato Relish on Malt Harvest.
Of course, scones and pastries feature prominently on the menu as well.
Afternoon Tea is served at the Westbury daily between 12.00pm and 4.30pm. During the week, the cost is from €60 ($67) per person. Reservations are recommended. Find the menu here and the Westbury on the map here.
10. Afternoon Tea on The Go!
Would you rather enjoy your tea and sweets while on the move?!
Well, Vintage Tea Tours is a highly-rated company that offers Afternoon Tea in a vintage, restored, double-decker 1960s bus.
You'll hear stories about Dublin and Ireland while your hosts drive you around the city in style — enjoying tasty sandwiches, scones, desserts, and tea along the way.
Click here to learn more about this unique tea tour in Dublin.
What is Afternoon Tea?
Afternoon tea is a British food tradition that became fashionable in the early 19th century. Thanks to the Duchess of Bedford, Anna, (who became hungry between her lunch and dinner times), Afternoon Tea was created for the wealthy as a snack period between lunch and dinner.
Sitting down for an afternoon treat of tea, sandwiches, scones, and cake around 4:00 pm became very popular. These days, it's more of a treat and for tourists, a special experience in Ireland.
Enjoy your tea experience in Ireland
Now you know some of the best places to have Afternoon Tea in Ireland — whether indoors, outdoors, or on the move, there's a tea style for you.
Like This Article? Pin it!