While many people haven't even heard of Waterford, this overlooked area of Ireland is (in my opinion), one of the top places to visit in the country. There are numerous things to do in Waterford to keep you busy.
Waterford is known as the Déise (pronounced "Day-sha") County, named after the ancient Celtic tribe who settled here years ago. Dating back to the start of the 10th century, the city itself is Ireland's oldest — yes, this area is steeped in history!
There is so much to do and see in the sunny southeast of Ireland, I thought it was time to put together a list of essential things to do in Waterford for your next visit — complete with some food and accommodation suggestions.
Here we go! 15 unique things to do in Waterford, Ireland
1. Visit The Viking Triangle
As the oldest city in Ireland, Waterford doesn't lack in history. All the way back to the Déise, through the Vikings and the English settlers, Waterford has seen it all.
The city is an intricate tapestry of history, which is evident at The Viking Triangle in Waterford City. Small winding sidestreets lead you from Reginald's Tower on the old city walls to the stunning Bishop's Palace and finally to Christchurch Cathedral where the famous Strongbow got married to Aoife MacMurrough. Make sure you stop off to see the bronze statue of them outside the Cathedral!
📍 Address: Click here for directions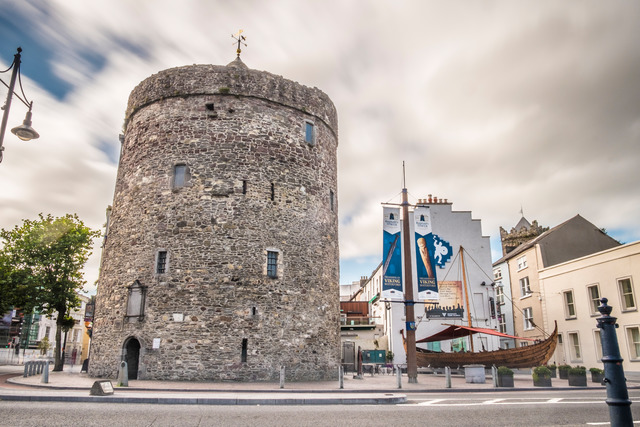 2. Check Out The House of Waterford Crystal
Right beside the Bishop's Palace is the home of Ireland's most famous crystal. Here you can witness the intricate, mesmerizing process of crystal blowing. Get a unique behind-the-scenes look at how the expert craftsmen create some of the world's most stunning crystal objects.
During the 1-hour tour, you'll learn the history of crystal making in Waterford, get a look at the factory, and see the steps of making crystal items — from molding and blowing, to cutting and engraving. Tickets are just €15 per person and can be booked in advance, here. This is one of the things to do in Waterford that everyone can enjoy.
📍 Address: 28 The Mall, Waterford, Ireland
🕰 Hours: Monday – Saturday 9:00am – 5:00pm, Sunday 11:00am – 5:00pm
🎟 Tickets: Available Online
3. Join a Walking Tour
There's no better way to get to know the ins and outs of a destination than by joining a walking tour. This is one of the best things to do in Waterford when you first arrive, as you'll be able to get orientated and get your bearings in the city.
Local guide Jack Burtchaell has been running tours in Waterford for the past 25 years! He's knowledgeable and has won numerous accolades.
The walking tours are just 1 hour long and run from mid-March to mid-October, with 4 time slots each day. Departing from the Waterford Tourist Office at 11:45 am and 1:45 pm, and from Granville Hotel at noon and 2:00 pm. There's no need to make a reservation, just show up! Click here for more details.
4. Learn About The Street Art (one of the more unique things to do in Waterford)
There's a wonderful international street art project in Waterford called the "Waterford Walls". Join the founder of that project as you wander around the city learning about the regeneration of public spaces with large, bright, beautiful artwork!
There are over 100 pieces of street art in the city for everyone to enjoy. Join this street art experience and learn the stories behind the murals and about the artists themselves.
5. Be a Viking For The Day
Waterford is filled with a history that includes the Vikings, Normans, and Celtic Tribes. The county is trying to preserve that history and heritage, through education and social programs — for both locals and tourists.
At the Irish National Heritage Park (which is in the next county over, Wexford), you can become a Viking for a day! Don their traditional clothing (armor included), and learn about the way of the Viking. The guides provide history through comedy and action — this is one of the best things to do in Waterford for the whole family!
The Irish National Heritage Park is non-profit, with your entrance fee going directly back into the social impact company. Click here to learn more and to book this unique experience.
It's a 1-hour 10-minute drive from Waterford City to the Irish National Heritage Park. For a unique experience, rather than drive the whole route, depart from Passage East and hop on the car ferry across the River Barrow to reach Ballyhack. From there, drive the rest of the way. Learn more about the ferry departures here.
📍 Address: Ferrycarrig, Co. Wexford
6. Go Kayaking
Take a short day trip to Hook Peninsula and join the team at The Irish Experience for an epic day of paddling on the ocean! This eco-conscious company will get you kitted out, before setting out for a fun day of paddling.
Explore caves, hidden beaches, rocky cliffs and more — this is a great way to see the coastline. For those who are looking for a more active, adventurous holiday, a day of kayaking is one of the best things to do. Click here to learn more about the trip.
7. Eat Your Way Around Waterford on a Food Tour
What better way to learn about the best places to eat than on a food tour! The Urban Fox Tapas Trail takes you around Waterford while sampling meals paired with drinks along the way. In between bites, you'll learn some history and stories about the medieval city and the county of Waterford from your expert guide.
This foodie tour is a lot of fun for groups, couples, or solo travellers. To learn more about this fun evening, click here.
8. Head to Dunmore East Adventure Centre
Just about half an hour away from Waterford city is the little coastal town of Dunmore East. This is a great place to visit, and while it's just a little bit outside of Waterford City, it's easy to get here. Either take your own wheels or hop on the bus.
At Dunmore Adventure, you can get active in the water — go swimming, kayaking, sailing, canoeing, stand up paddleboarding, or play on their huge inflatable water park! These are some of the best Waterford activities you can do during the summer. And, it's a great place for families (both children and adults).
📍 Address: The Harbour, Dunmore East, Co. Waterford, Ireland
🕰 Hours: Opening times depend on the season. Click here for details.
9. Go Surfing
Although you don't often get the huge swells that the West of Ireland gets, the surf in Tramore is great for beginners — 3 to 6 foot waves are pretty common and are a lot of fun to learn on.
You can rent a board and go out on the waves yourself, or go with a surf school like Tramore Surf Shop and Surf School. Actually, this surfing spot is where all of us here at Your Irish Adventure met each other! Clearly a great way to make friends!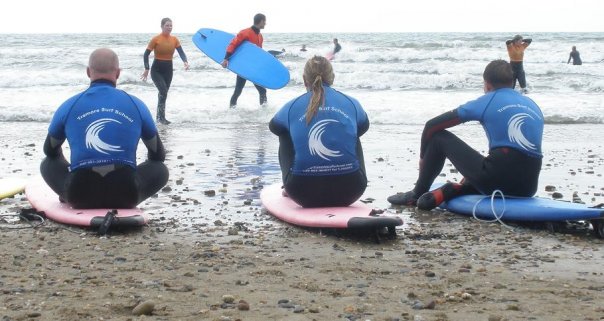 10. Brave the Guillamene Diving Board
Since you're in Tramore, take a quick trip out to the Guillamene diving board and throw yourself into the chilly Atlantic Ocean! The diving board takes you out over the rocky cliffs, so you can jump in safely. The board was broken a few years ago by 5 people standing on it at once, so remember, only one at a time.
It's still pretty high up though, so be careful. This isn't a great spot for young kids, but fine for everyone else. If you're not into jumping off the diving board, this is still a beautiful spot to go for a dip. Note: there's a "Men Only" sign, which is just a relic from the past when this was a bathing place for men only. These days, of course, women are welcome.
📍 Address: Newtown, Co. Waterford, Ireland
11. Visit Tramore Beach
With all this activity in Tramore, you might want to do something a little more relaxing. Enjoy a long walk on the Tramore Beach — you'll need to make sure you do this when the tide is out, or you'll be getting more than a little wet.
Reward yourself with some Fish and Chips from Dooley's on the Prom, one of the best "chippers" in Waterford. Enjoy all of the salty goodness after the salty air.
📍 Address: Tramore West, Tramore, Co. Waterford, Ireland
12. Hike the Coumshingaun Loop
If you're really looking to work up a sweat, have a look at hiking up and around Coumshingaun lough. This is one of my favourite hikes in Ireland, and one of the best things to do in Waterford. This hike is only half an hour away from Waterford City, so it's the ideal day trip.
Park at the bottom and begin your walk through a small forest at the base of the lake, before beginning your ascent to the top. The trail does a loop around Coumshingaun Lake, and it took me about 5 hours including lots of photo breaks! Make sure to wear appropriate clothing and footwear for this one, and pack some snacks and water. Learn more about the hike in my post, here.
📍 Address: R676, Kilclooney, Co. Waterford, Ireland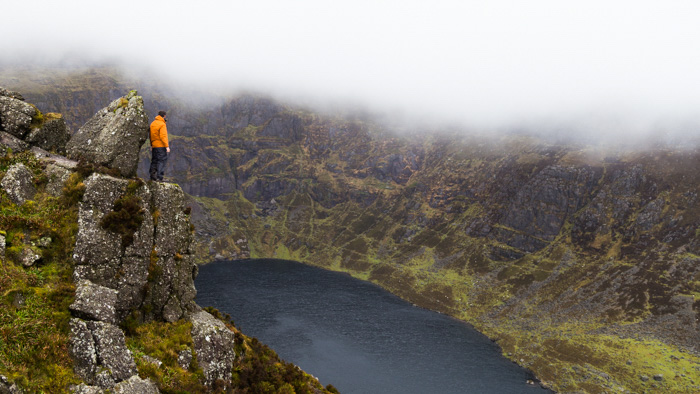 13. Walk Along the Copper Coast
The Copper Coast gets its name from the old copper mines in the area, but the views here are stunning. There are 3 great walks in the Copper Coast Geopark to choose from, but one of the best is The Coastal Mining Trail, which is an hour and a half loop.
This loop has amazing views of the crumbling remains of the mining industry, and you can also drop into the old Engine House Complex and learn about how the once-thriving mining industry worked.
📍 Address: Knockmahon, Bunmahon, Co. Waterford (about 30 minutes from Waterford City)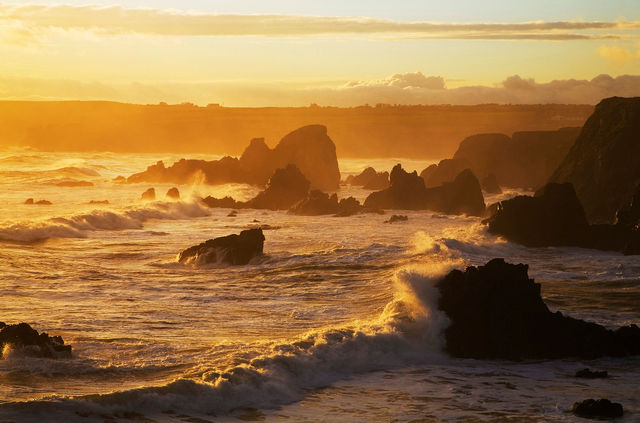 14. Visit Dungarvan Town
This cute little town is well worth the 40-minute drive from Waterford City. Dungarvan has an amazing array of craft shops and cafes to get lost in. If you're looking to bring home some unique craft souvenirs, try The Beach House Gallery for some really amazing stuff you won't find anywhere else.
📍 Address: Dungarvan, County Waterford, Ireland
15. Wander (or Cycle) Along The Waterford Greenway
Greenways are popping up all over Ireland, and it's one of the best things! Old, disused railway lines are being paved and opened to the public for cycling and walking.
This Waterford Greenway is 46km (29miles) of beautiful, flat road that takes you through an amazing 400-meter long tunnel, over a stunning viaduct, and along Waterford's amazing coastline. This is one of the top free things to do in Waterford, don't miss it.
You can rent bikes for only €20 and electric bikes for €40 from Waterford Greenway tours and Bike Hire. They also run a shuttle bus, so you can do as much or as little of the Greenway as you like. Make sure you stop in at the Coach House for lunch and drop back in time to visit O'Mahony's sweet shop. You won't get a more traditional Irish experience anywhere!
You'll find other greenways in Carlingford and another one out in Achill Island. And, much like the one in Waterford, these are perfect for some gentle exercise.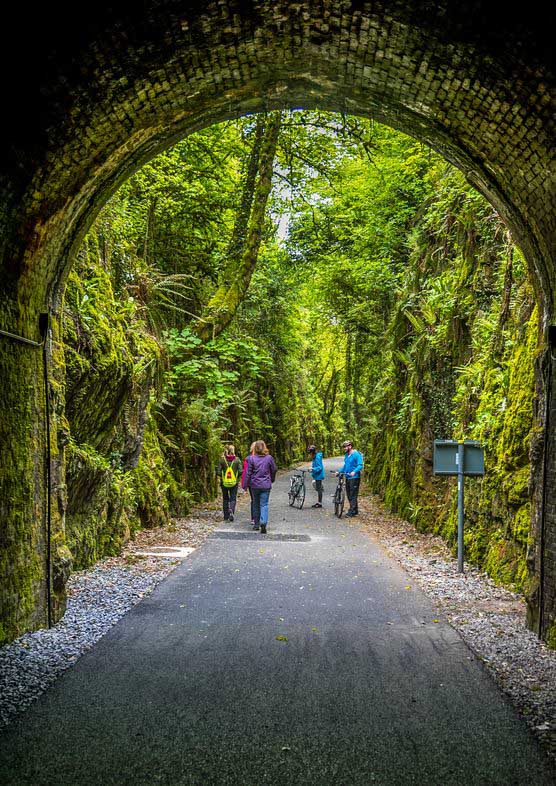 Best Places to Eat in Waterford
Alright, let's get into my favourite part of exploring a new place, the food! Waterford has an amazing mix of local and international food, here's my guide to the best places to eat in Waterford.
1. Blaa
The pride and joy of The Déise, the Blaa is unique to Waterford. Much like Champagne, which can only be called Champagne if it is made in the Champagne region of France, a floury bun can only be called a Blaa if it is made in Waterford.
There are lots of places claiming to make the best Blaas in Waterford, but in my experience, the Blaas from Hickey's Bakery in Waterford City make the best ones.
Get in early in the day when they're freshly made and warm. Crunchy on the outside, soft and doughy on the inside, and covered with a dusting of flour on top. Butter them up and put in some fried rashers (Irish bacon) or local O'Reilly's sausages. Sure you couldn't beat it with a stick.
No. 9 Cafe (great breakfast spot)
Breakfast is the most important meal of the day, so why not kick it off in style in the No.9 Cafe right in the heart of Waterford? These guys are open all day, but their breakfast is simply amazing. Just look at this mix of food you can get! All breakfasts are around €9 a plate — and worth every euro.
📍 Address: 9 Barronstrand St, Waterford, Ireland
🕰 Hours: Monday – Thursday 9:00am – 5:00pm. Friday and Saturday 9:00am to 5:30pm. Sunday 11:30am to 4:30pm
Momo (a great place for lunch)
A great lunch spot in Waterford is Momo, which is especially great for those who are vegans, gluten-free, and dairy-free. Meat eaters, don't be put off, you can still get your fix, and parents will be equally delighted that the kids menu is only €11.50 for three courses! The food is tasty and well presented.
📍 Address: 47 Patrick St, Waterford
🕰 Hours: Tuesday – Thursday noon – 9:00pm, Friday and Saturday noon – 10:00pm, Sunday 1:00pm – 8:00pm, Monday closed
Bodega (a great place for dinner)
There are some great restaurants in Waterford, but poke your head into Bodega for some Mediterranean/European style dishes made with local ingredients. Wash it all down with a glass of fine wine. If you're looking for incredible value, check out their early-bird menu for €28 for 3 courses!
📍 Address: 54 John St, Waterford
🕰 Hours: Monday – Saturday 5:00pm – 10:00pm
Blackfriars Cafe (for a nice cup of coffee)
Although we are a nation famous for our love of tea, we've caught up with the world of great coffee. There are big chains here like Starbucks, Costa, and Insomnia, but nothing will ever come close to small, local coffee shops.
The best coffee shop in Waterford is Blackfriars Cafe. Not content with simply pouring water through coffee grinds, these guys have made coffee an art. You won't be disappointed.
📍 Address: 4 Blackfriars, Waterford
🕰 Hours: Monday – Saturday, 8:00am – 4:00pm
Jaybees Petrol Station (for ice cream!)
You didn't think you could come to the Sunny South East of Ireland and not get an Ice Cream, did you? Well in Ireland, we have a wonderful thing called a 99. It's soft-serve ice cream, poured into a cone, and usually covered with raspberry or chocolate syrup.
The best 99 I ever had in Waterford was served in Jaybees' petrol station. It's run and owned by a group of Amish-Mennonites who have lived just outside Tramore since 1992.
Yes, you read that right, Irish Amish!
They're not as strict as many Amish Communities, they even have a Facebook page, but they tend to focus on more traditional ways of living. Their ice cream and freshly made scones are a testament to this. This is one of the best places to visit in Waterford, make sure you drop in.
📍 Address: R684, Dunmore Road, Co. Waterford
🕰 Hours: Monday – Saturday, 8:00am – 7:00pm
Waterford Castle (for afternoon tea)
If you're looking to be a little bit fancy, you need to visit Waterford Castle for Afternoon Tea. It's one of the most reasonable places to get Afternoon Tea in Ireland, at only €60 for two.
In fact, we included Waterford Castle in our article about the best places to get Afternoon Tea. You can also stay at this castle, which is on its own private island and is amazing to explore!
📍 Address: The Island, Ballinakill, Co. Waterford
Where to Stay in Waterford
Whether you stay in Waterford city center, or a little bit outside, getting around Waterford is easy if you have your own car. You're never too far from the action! Here are some great options for your stay:
18th Century Barn – why not stay somewhere historic and unique?! This beautifully converted barn has a country-style feel to it, with an open plan, cozy stove, and resident dog! Breakfast is included in the stay. Read reviews, check the latest price, and book on Airbnb.
Riverside Apartment – located on the peaceful river, but walking distance to the center, this apartment with a king-sized bed is a good option. Just a 2 minute walk to Waterford Crystal and just 10 minutes by bike to the Greenway. The balcony has awesome views of the river! Read reviews, check the latest price, and book here on Airbnb.
Dooley's Hotel – if you'd rather stay in a traditional hotel rather than a barn or an apartment, Dooley's is a great choice! With its stellar location, comfortable rooms and tasty food, this is one of the top hotel picks in Waterford City. Read reviews, check the latest price and book here on Booking.com.
Enjoy All The Fun Things To Do in Waterford!
There you have it. Our complete guide of places to see and things to do in Waterford. This part of Ireland is a place we could return to again and again (and we do!). From nature and history to adventures and food — there's a little something for everyone in Waterford. Have we missed anything? Please let us know and we'll check it out next time we're down!
Like This Article? Pin it!