Belfast is a city that is filled to the brim with wonderful bars, delicious food and a rich sense of history. There's plenty to do but if you're tight on time, here's our list of the best things to do in Belfast you won't want to miss.
This list has something for everyone, whether you're an intrepid explorer, history buff, or a connoisseur of fine cuisine, there are numerous things to do in Belfast to keep you busy. This is one of the best places to go in Ireland, don't miss it.
Here's our list of the top 27 fun things to do in Belfast to help you plan your trip!
Where to Eat in Belfast
Let's start off with all the incredible food options, and believe me, Belfast has a ton of amazing food — both Irish cuisine and international!
1. Have a Drink at The Most Bombed Hotel in Europe
Stepping off the plane, train or whatever mode of transport got you to the cold but lovely city of Belfast, you might just need a strong drink to brace yourself for the exploring that lies ahead. So why not treat yourself to a pint at the Europa hotel, located in the heart of the city centre?
World-famous for being the most bombed hotel in Europe, the Europa has hosted a variety of VIP guests, including former US President, Bill Clinton. Thankfully the hotel hasn't been attacked since 1994, so you should be safe while you enjoy your drink.
With its city centre location and famous history, this hotel is always busy, so if you want to stay here, make sure you book well in advance.
2. Get Your Fill at St. George's Food Market
If you really want to get a feel for weekend mornings in Belfast, visit St. George's Food Market — a favourite of the locals here. St. George's is Belfast's only surviving Victorian indoor market, featuring local food staples, flowers, fish, crafts and much more.
I would highly recommend going for breakfast and trying the famous Belly-Buster Belfast Bap. It does exactly what it says on the tin and the beauty of it is that you can carry it around the market with you if you're in a bit of a hurry!
The market is open from Friday – Sunday and is located on May Street, right around the corner from Belfast City Hall. Click here for directions.
3. Grab a Sandwich at the West Gourmet Sandwich Bar
Now, being fed to the bursting point isn't everyone's cup of tea (or so I've heard, I've never experienced it personally). So if you're just looking for a light lunch then West Gourmet Sandwich Bar is the place to go.
Situated on Castle Street, it won't take you long to find. The variety of creative sandwich combinations are all freshly made to order, and even the fussiest of eaters would be hard pushed to find something on the menu they don't like.
They have a huge range of healthy food, and their salads are amazing. Stop by between Monday – Friday from 9:30am to 2:30pm and enjoy a bite to eat.
📍 Address: 41, North City Business Centre, Duncairn Gardens, Belfast
4. Have a Stylish Lunch at Harlem Café
For breakfast/lunch in style, I would recommend the Harlem Café nestled close to the Ulster Hall. With a reasonably priced, eclectic menu and great food made fresh daily, customers get to enjoy the delights on offer against a backdrop of antique décor.
📍 Address: 34 Bedford St, Belfast
5. Milkshakes at Maggie May's
For the best milkshakes in town Maggie May's is the place to be at. Located beside Queen's University Belfast, the café is a favourite amongst students and local residents alike. Top picks would have to be the Chocolate Fudge Brownie and Kinder Bueno milkshakes.
Their breakfasts are absolutely HUGE here too, I'm not sure I've ever finished a full plate. It's a great place to cure a hangover from the night before.
📍 Address: 50 Botanic Ave, Belfast
6. Coffee Break in Established Coffee
Now if you're just looking for a good coffee then Established Coffee, located near St. Anne's Cathedral will give you just that. With a great minimalist vibe it is a good wee stopover if you're tired from all that exploring!
📍 Address: 54 Hill St, Belfast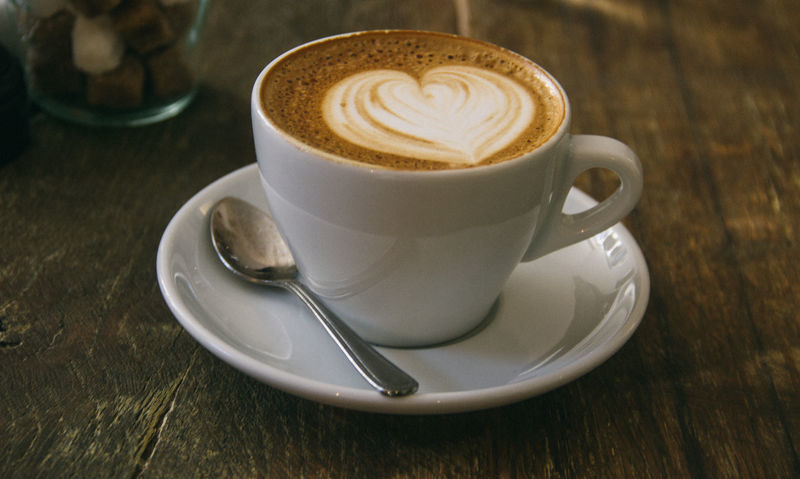 7. Coffee With an Honest Twist at The Dock
Maybe the most unique café in Belfast would have to be The Dock. Located in the Titanic Quarter of the city, this café operates a pay how you feel policy.
There is no set menu so what you see is what you get and customers pay what they think the food is worth. It might seem like a strange concept but works well for this bustling little café.
The Dock is home to so many different groups in Belfast, it's almost like a little community centre, and just dropping by here is easily one of the best things to do in Belfast.
📍 Address: 2K Queens Rd, Belfast
8. Dinner Spots in Belfast
Moving on to dinner, the possibilities are endless. Belfast City centre is home to an array of independent restaurants with menus that will leave your taste buds craving for more.
To list a few, Whites Tavern delivers top-quality traditional pub food, Made in Belfast offers a funky décor surrounding and a locally sourced menu, and the Mourne Seafood Bar has in my opinion, the best fish and chips in the city.
If you want to dine in true opulent style, I would highly recommend Berts Jazz Bar, at the five star Merchant Hotel. I know what you're thinking, the alarm bells have started ringing and you fear that it is going to cost you an arm and a leg! But, from 5-10pm, Sunday – Thursday and for the 6pm sitting only on a Friday, there is a set menu and you can have two courses for £19.95 or three for £22.95.
With an extensive cocktail menu and a live jazz band seven nights a week, it could be the perfect way to round off your trip to Belfast. We also spoke about the Merchant Hotel in our post about the best places to stay in Belfast, I mean, just look at this place!
Top Things To Do in Belfast
Apart from food, you'll want to check out these fun attractions in Belfast.
9. Board a Ship Used During WWI
The HMS Caroline is a decommissioned British Warship that was first launched back in 1914. That makes it over a hundred years old! The ship is one of the last three surviving Royal Navy warships from the war.
During the first World War, she was stationed up above Scotland, in the Orkney Islands and then during WWII, the ship was stationary in Belfast harbour, where she acted as the headquarters for the Royal Navy.
In 2016, the ship was transformed into a museum and opened to the public. Click here for tickets, which includes an audio guide.
📍 Address: Alexandra Dock, Queens Rd, Belfast
10. The Political Taxi Tour
The Troubles were a long and violent part of Belfast's past. Most people travelling to Belfast have no idea what happened and why the war was waged.
The best possible way to learn this is on the popular Political Taxi Tour. These tours are run by individuals who lived through this violence and have a personal connection to the past. It's an absolutely unmissable experience. Click here to learn more and to reserve your spot.
11. Take a Trip to Scrabo Tower
Scrabo Tower is what is known as a folly, which is something that was built with no particular purpose. It's not exactly in Belfast but rather 30 minutes north, in Newtownards.
There, it rises up 540 feet above sea level and looks out over the Irish sea. It is also very photogenic and makes for some beautiful photos!
📍 Address: 203A Scrabo Rd, Newtownards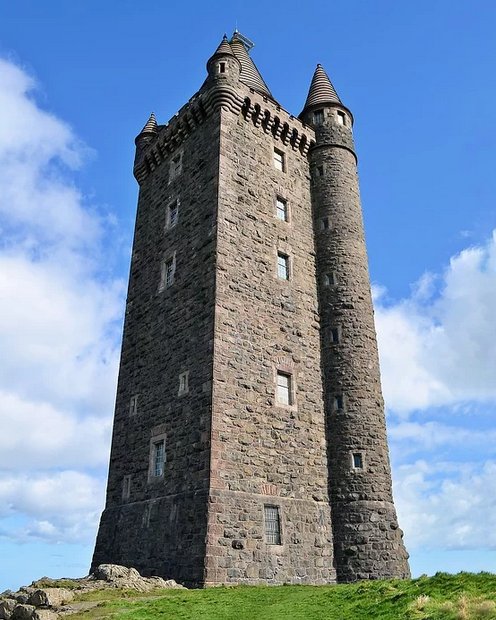 12. Visit The Titanic Museum
Really, you cannot come to Belfast, the birthplace of the Titanic, and not visit the Titanic Quarter area of the city! This is one of the city's best attractions.
The Titanic Museum boasts nine mesmerising interactive galleries, and even a slow roller-coaster type ride to take you through exhibits. You will get lost in a sea of wonder as you uncover the true legend of Titanic. Reserve your entrance ticket here.
📍 Address: 1 Olympic Way, Queen's Road, Belfast
🕰 Hours: Monday – Sunday, 10:00am to 5:0opm
🎟 Click here to purchase your entrance ticket online
14. Learn Belfast's History in Crumlin Road Gaol
It is no secret that Northern Ireland has had a troubled past, but if you really want to find out the nitty-gritty of some of Northern Ireland's most notorious criminals; then the Crumlin Road Gaol is the place for you. 'The Crum" as it's affectionately known in Belfast, is Northern Ireland's last remaining Victorian-era prison.
The prison was home to over 25,000 inmates in its day — 17 of whom were hanged for their crimes. And if you're not afraid of things that go bump in the night, then I would highly recommend doing the paranormal tour, to search for the lost souls who are believed to haunt the prison. The entrance fee with a guide will set you back just €13.
📍 Address: 53-55 Crumlin Rd, Belfast
🕰 Hours: Monday – Sunday, 10:00am to 5:00pm
🎟 Tickets: Click here to purchase tickets online
15. Lie Out in The Sun at City Hall
Northern Ireland isn't known for getting a lot of sunshine. That's why it needs to be appreciated when it happens! The grassy area at City Hall is the perfect spot to lay out and enjoy the glorious weather.
📍 Address: Click here for directions
16. Visit the Northern Irish Parliament
The Northern Irish Assembly (also known as Stormont) is another impressive building that you can visit. The government resumed sitting there in 2020 and now you can get inside for a tour.
This is one of the best free things to do in Belfast if you want to learn about the political history of Northern Ireland.
📍 Address: Ballymiscaw Rd, Stormont, Belfast
🕰 Hours: Monday – Friday, 9:00am to 4:00pm
17. View The Murals All Over The City
Murals dating back to the Troubles can be found all over Belfast and especially in some of the areas most affected by the violence. Most of the murals are found on the Peace Wall, which you can walk to from the centre of Belfast to the Wall that separates the Shankhill Road and Falls Road communities.
Every mural tells a story and relates back to a group or faction. While wandering around and admiring the artwork is something you can do on your own, I recommend joining the taxi tour that I mentioned above so you know what it is you're looking at.
This photo is honouring a member of the Red Hand Commandos who died. The Commandos were a Unionist paramilitary group.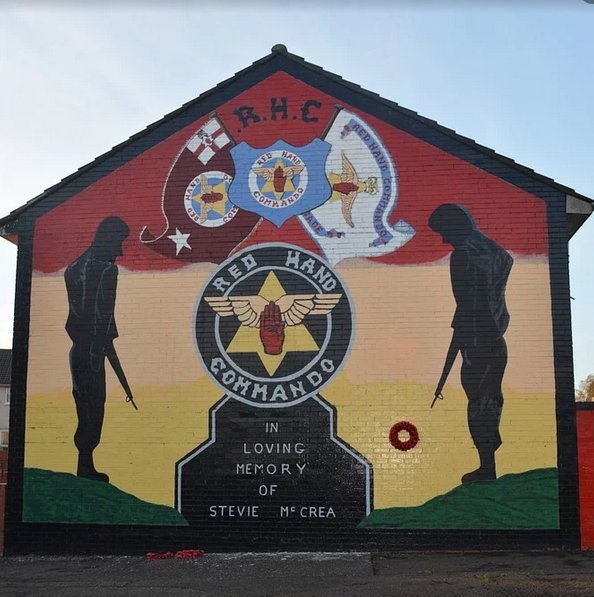 18. See a Real Egyptian Mummy
If you're on a budget and want to find out not just more about this part of Ireland, but the entire globe, then The Ulster Museum is a must. The museum is absolutely free and busting full of colourful exhibits from the industrial revolution to the troubles — it is even home to our very own Egyptian Mummy.
📍 Address: Ulster Museum, Belfast
🕰 Hours: Monday – Saturday, 10:00am to 5:00pm. Closed Sunday
19. Explore the Stunning Botanic Gardens
Next door to the museum is Belfast's Botanic Gardens, which is home to a magnificent tropical ravine. The building dates back to 1887 and houses plants that are over 100 years old. It might not be for everyone, but definitely a sight to behold!
If you get a sunny day in Belfast, this is the place to go. The park is lovely for a walk around, and it's right beside Queen's University.
📍 Address: College Park, Botanic Avenue, Belfast
🕰 Hours: Sunday – Monday, 7:30am to 4:30pm
20. Castles and Hikes on Cave Hill
If you are into nature trails then Cavehill Country Park located in North Belfast will give you hours of fun. The park is home to Cavehill Adventurous Playground, archaeological sites, Belfast Castle, a visitor's centre, eco trails and walking routes.
I have to say that it's worth getting to the top of what locals call Napoleon's Nose, to see the most breathtaking views of the city. If you're interested in hiking up Cave Hill, we have a description of the hike in our article about the Best Hikes in Ireland.
📍 Address: Click here for directions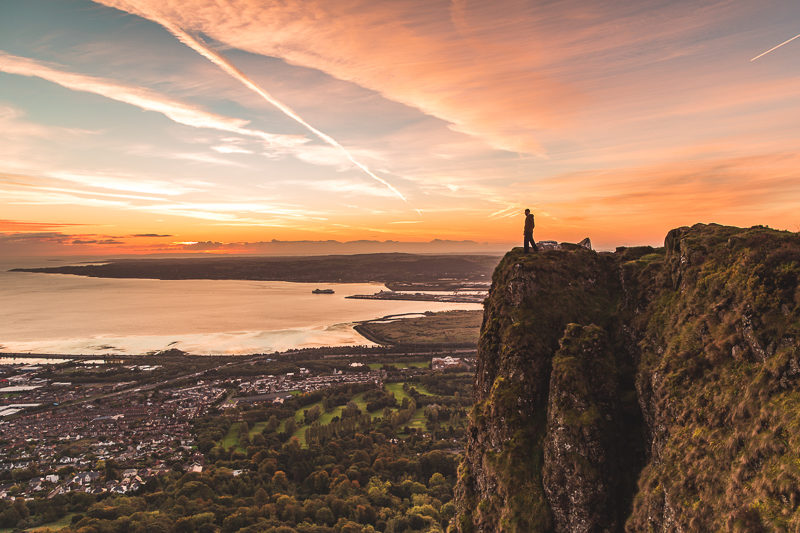 21. Best Bus Tours in Belfast
If you're only in the city for a few days and want to soak up as much as you can, then Belfast City Sight Seeing bus tours would be ideal for a mini-break. The tours offer Belfast's finest landmarks, from colourful wall murals located in interface parts of the city to parliament buildings.
BONUS FEATURE: tickets last for 48-hours, so you can use the hop-on, hop-off service and explore to your heart's content.
🎟 Tickets: Click here to purchase your sightseeing bus tickets online.
Best Places To Drink in Belfast
Nightlife in Belfast can be whatever you want it to be, from a quiet drink to singing with drag queens. So the remainder of my list is dedicated to giving you tip-offs for the best night out in the city.
22. Cathedral Pub Crawl
To start, any pub crawl should really begin in the Cathedral Quarter of the city. Known as the home of art in Belfast there are many wonderfully quaint bars to choose from. It is also worth just taking a stroll through the cobbled streets of the quarter during the day, to fully appreciate the pieces of art on display.
You can't really go wrong with any bar in this area, but The Duke of York is easily one of the best pubs in Belfast. You may not get a seat inside, but you'll want to be outside on the amazing cobblestone street anyway! If you're looking for even more recommendations, have a look at this article about the best pubs in Belfast!
23. Karaoke and Cabaret in Union Street Bar
If you want bang for your buck and drag is your style, then give Union Street Bar a try. Located inside of an old shoe factory, Union Street is home to outrageously funny entertainment, nightly.
With happy hour from 7-9pm Sunday-Friday and 9:30-10:30 on Saturday's, selected drinks are only £2:50, what could go wrong? If you're game I would suggest the Trudy Scrumptious show on Monday nights for karaoke and cabaret. They also have one of the most impressive collections of gin in Belfast. Do you need any more reasons?
24. Dance the Night Away in Limelight
One of my favourite clubs in Belfast would have to be the Limelight. It never fails to give you a good night and with three different rooms, there is something for everyone's taste in music.
Limelight One will give you a chance to bop about to everything from 80's classics to modern dance anthems, whereas, Limelight Two is home to Rock and Roll. If the madness gets too much, you can always catch your breath and a top up, in Katy's Bar which separates the two rooms.
25. Fly into Cuckoos
For more of a student vibe, I would definitely recommend Cuckoos. A bar, club and arcade all rolled into one, it is a fun, chilled night for groups of friends to hang out.
Cocktails are reasonably priced and served in jam jars, because why not? (Also from experience bar staff do not frown upon the ping pong tables being used for beer-pong!)
26. Set up in The Perch Rooftop
So if you have gotten this far down the list you have probably realised that Belfast is great at finding new ways to reuse old buildings and The Perch does not disappoint. It's in an old Victorian warehouse, just around the corner from Great Victoria Street (the main train station the city centre.) It offers great pizza and amazing cocktails, perfect for a liquid lunch!
27. Victorian Pints in the Crown Liquor Saloon
The last thing to do in my list would be to suggest stepping back in time and having a drink in the Crown Liquor Saloon. Said to be the most famous pub in Belfast, the Crown Bar is owned by the National Trust who have preserved the unique Victorian architecture of the building.
Enjoy All The Things To Do in Belfast!
Just remember that this is only a short list of the brilliant things to do in Belfast. So get out there and get exploring. Oh – and remember a raincoat!
If you're just in Belfast for a quick trip, have a look at our guide to a weekend in Belfast, or if you're on a budget, have a look at our guide to the Top Free Things to do in Belfast.
Like This Article? Pin it!