Potatoes anyone? Admit it. That thought is likely the first thing that leapt into your mind when you read the title and thought about what to eat in Ireland.
If you didn't think of potatoes, then I'm guessing bacon and cabbage are what came to mind.
I'm pleased to say that after living in Ireland for nearly ten years, I've never once eaten bacon and cabbage and very rarely see the dish on menus outside of the highly touristy part of Dublin.
Based on personal experience, I can resoundingly say that Irish cuisine is so much more than the stereotypes of Irish food would suggest.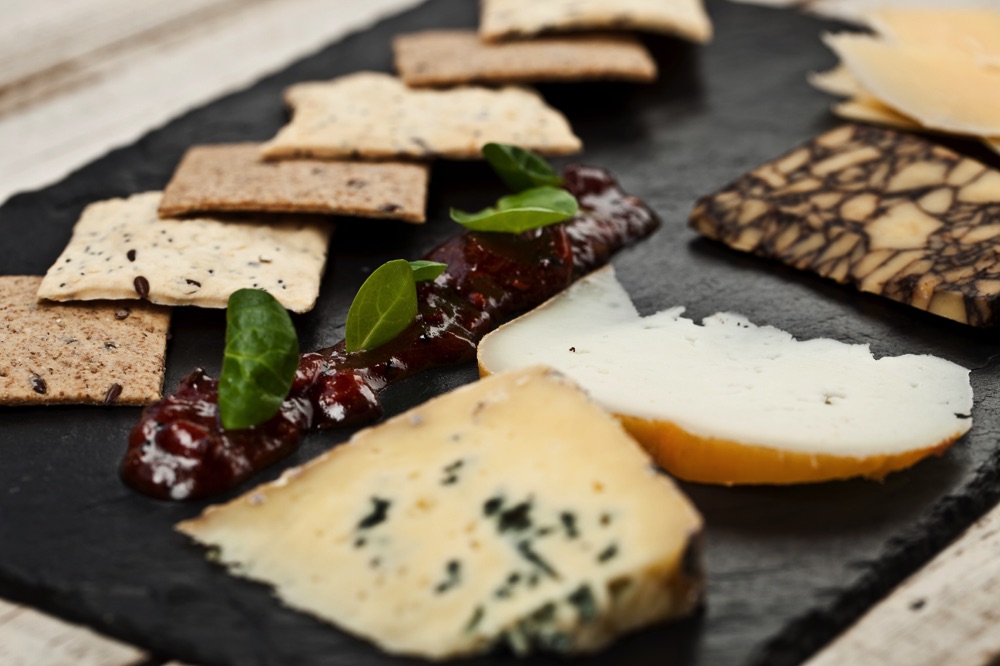 Irish cuisine includes dishes that are as rich, hearty, and comforting as you might expect. However, you'll also find delicate dishes bursting with local Irish flavors delivered from farm to table.
The best food in Ireland can be accessed via a wide range of experiences. From a no-frills, late-night visit to the chipper to Michelin-starred dining, let's delve into some of the best dishes in Ireland.
Ireland Food Culture and History
Irish food has flown under the radar on the world food stage for decades if not centuries.
In the 19th century, Ireland was a poor country with a monotonous diet that relied heavily on the potato crop which flourished in the small plots of land that were subdivided among the sons in a family with each passing generation.
The system fell apart in dramatic and tragic fashion when the potato blight hit and the Great Famine befell Ireland in the 1840s.
Historically, people ate to live rather than live to eat as we do today.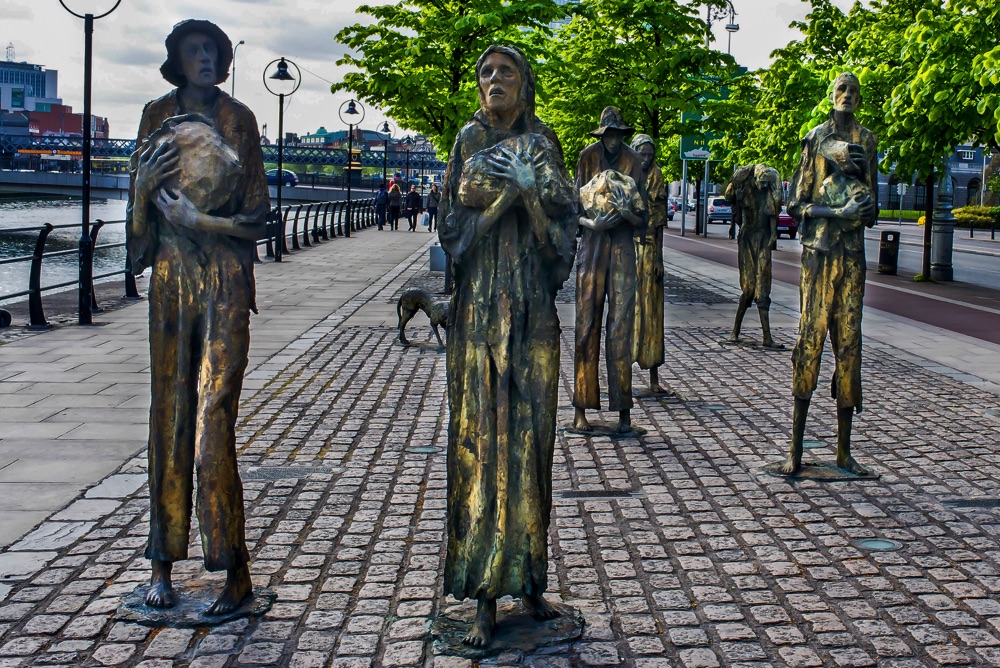 Fortunately, Ireland has undergone a food renaissance in the last 20 years embracing a deep history of farming and fresh ingredients to feed an ever more discerning population.
Ireland has all the building blocks of a great food culture including fresh milk to make butter and cheese, farm-fresh eggs, Spring lamb, tender beef, and amazing seafood.
Ireland has historically been a very 'meat and potatoes' food culture but that has changed in recent years with vegetarian restaurants like homey Cornucopia in Dublin and upscale Cafe Paradiso in Cork City leading the charge.
More recently, the economic boom, also known as the Celtic Tiger, has led to people from all over Europe and the world moving to Ireland.
These immigrants and expats in Ireland have brought their own food culture with them leading to a fusion of cuisines and a greater diversity of foods and flavors to try under the banner of what to eat in Ireland.
10 Must-Try Foods in Ireland
While there are many amazing foods to try during your trip to Ireland, these are the 10 best. If you're looking to do some cooking at home when you return from a trip to Ireland, have a look at these traditional Irish recipes, but with a modern twist.
1. A Full Irish Breakfast
Start the day right with a Full Irish breakfast. Found throughout the country and rumored to be one of the world's best hangover cures, this fry-up sticks with you.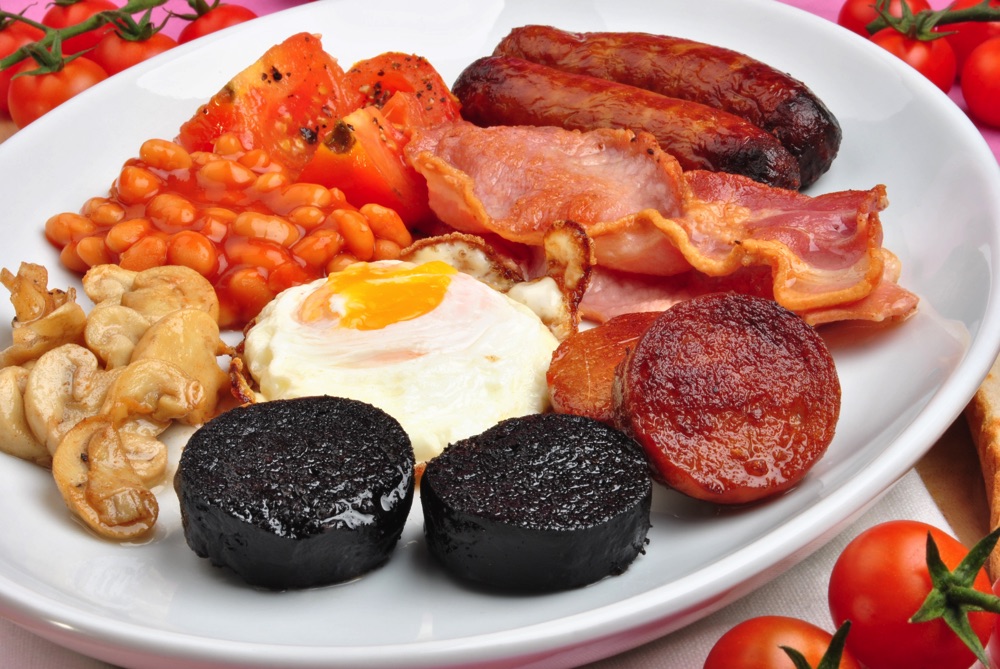 A Full Irish comes with eggs (typically fried but can be scrambled), bacon and sausage, mushrooms, and tomatoes. Of course, no Irish breakfast is complete without a side of black or white pudding (or better yet, both!)
Full disclosure: black pudding is blood sausage.
While that may make you feel a bit squeamish (I know that's how I felt when I first moved to Ireland), I recommend being open-minded and giving it a try for a rich and salty addition to your brekkie.
White pudding is similar to black pudding without the blood.
Clonakilty in West Cork is the most famous place in Ireland for black and white pudding. The best Full Irish breakfasts I've had have been served at B&Bs throughout the country for that homemade touch.
2. Carvery at the Pub
No, Ireland doesn't celebrate Thanksgiving as Americans do, but you can still get the equivalent of an American Thanksgiving dinner at least every Sunday and often all week long.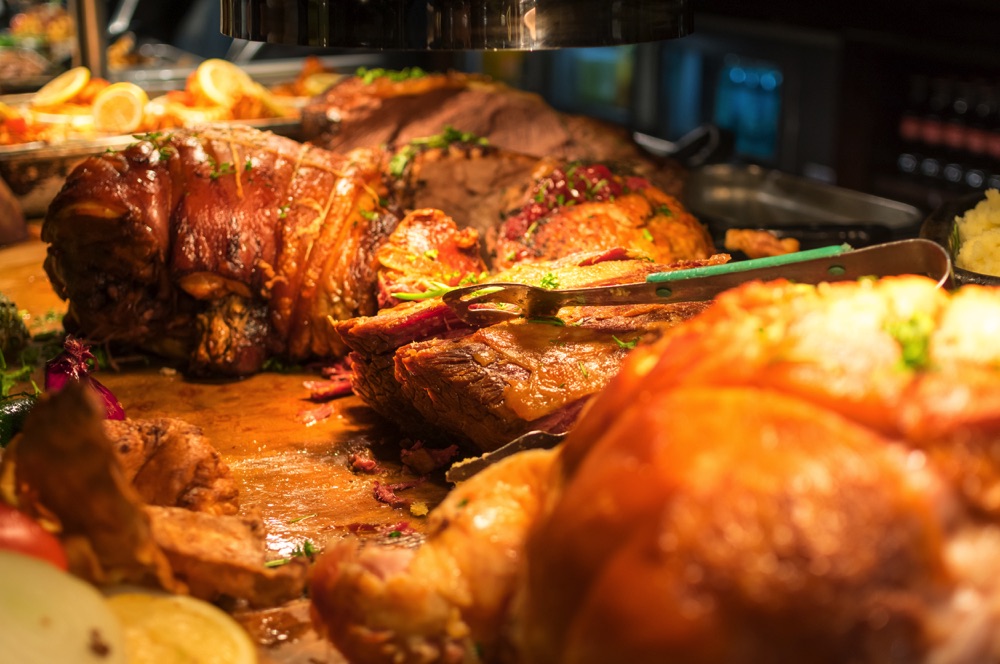 Served up at pubs around Ireland, carvery is super-popular for Sunday lunch with family.
Grab a tray and walk past the carvery station where the chef is waiting to slice the meat and serve you. Choose from turkey, ham, roast beef, or even fish and then pick your sides.
Sides typically include at least three kinds of potatoes including mash, roasted, and fried potatoes. Cabbage, carrots, and other vegetables are also typically included along with a bit of a breadcrumb-based stuffing. You can even add a little cranberry sauce on the side.
Take your heaping plate and order a pint of Guinness to wash it all down.
All in, a carvery will set you back as little as 20 EUR per person including a pint or two.
The great thing about an Irish carvery is that you can basically skip breakfast and dinner and still feel satisfied all day long.
3. Steamed Mussels
Ireland is a maritime country with the Atlantic Ocean in the west and the Irish Sea in the east lapping our shores. This means that Ireland is perfectly set-up for fantastic seafood.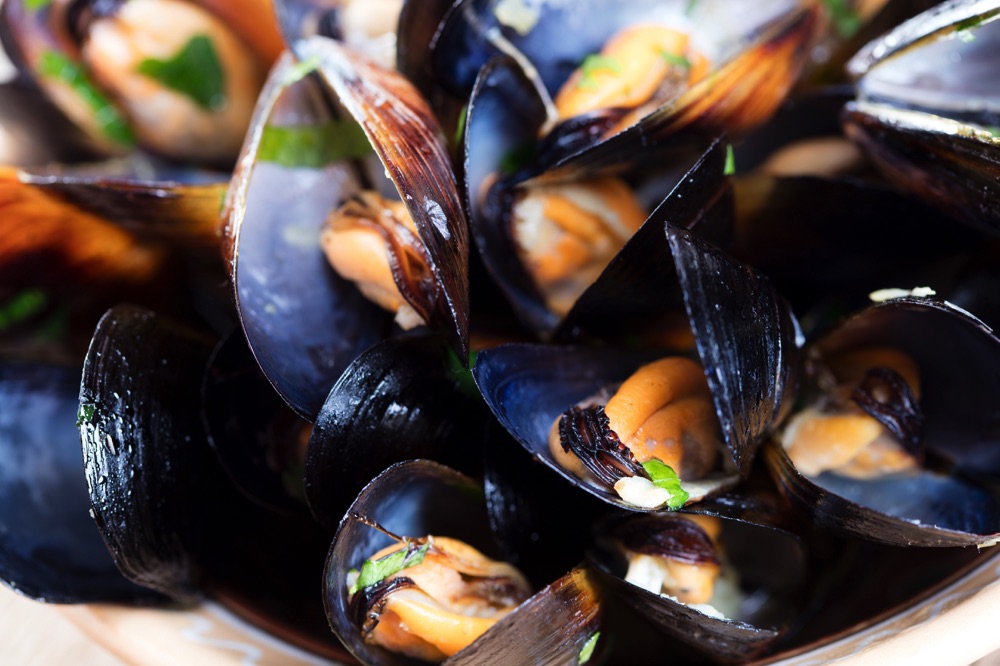 A pot of mussels is one of the best Irish dishes of all time.
Mussels come straight from the sea and onto the table with very little processing in between. Just saute Irish mussels in garlic or other light flavor and then steam them up.
Eat your first mussel with a fork designed for this purpose and then use the shell like a pair of tweezers to harvest the remaining mussels from their shells.
Light and full of flavor, mussels are fantastic for people who are watching their figures.
Order mussels from the seafood restaurants along the harbour in Howth which is just up the coast north of Dublin.
Alternatively, order mussels along the seaside on the Dingle Peninsula or when driving the Ring of Kerry.
Tom Crean's Fish and Wine in Kenmare offers mussels with a side of adventure. Learn about Ireland's connection to daring Antarctic exploration while enjoying some of the freshest seafood on the planet.
4. Oysters Fresh from the Sea
Fresh oysters is another advantage of Ireland's location along the sea. Pair raw Irish oysters with a glass of Prosecco or champagne for a romantic appetizer.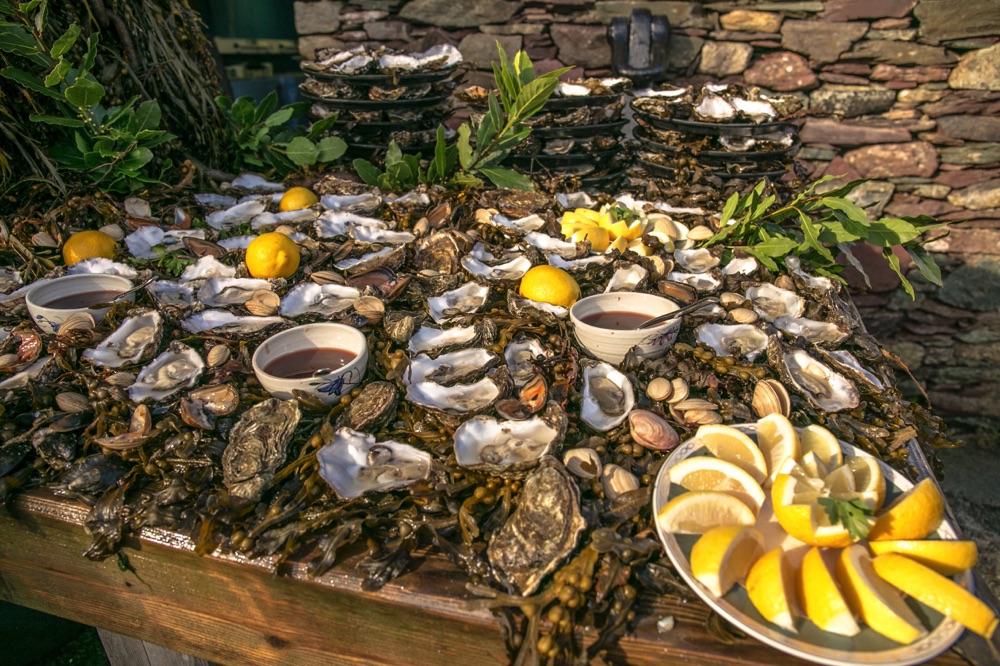 You'll find the best oysters in Ireland out west in Sligo and this is one of the key reasons Sligo is one of Ireland's best-kept foodie secrets.
Wild Atlantic Oyster serves the ultimate Ireland street food via The Oyster Cart.
Eat oysters shucked on the spot for your enjoyment. All oysters need are a squeeze of fresh lemon and a pinch of salt before sending them down the hatch.
If you're just looking for a little snack, oysters are a bargain at 2 to 3 EUR each. The price adds up though if you want to make oysters into a meal.
5. Boxty
Whenever visitors ask me what to eat in Ireland, I inevitably say boxty — a traditional Irish potato pancake.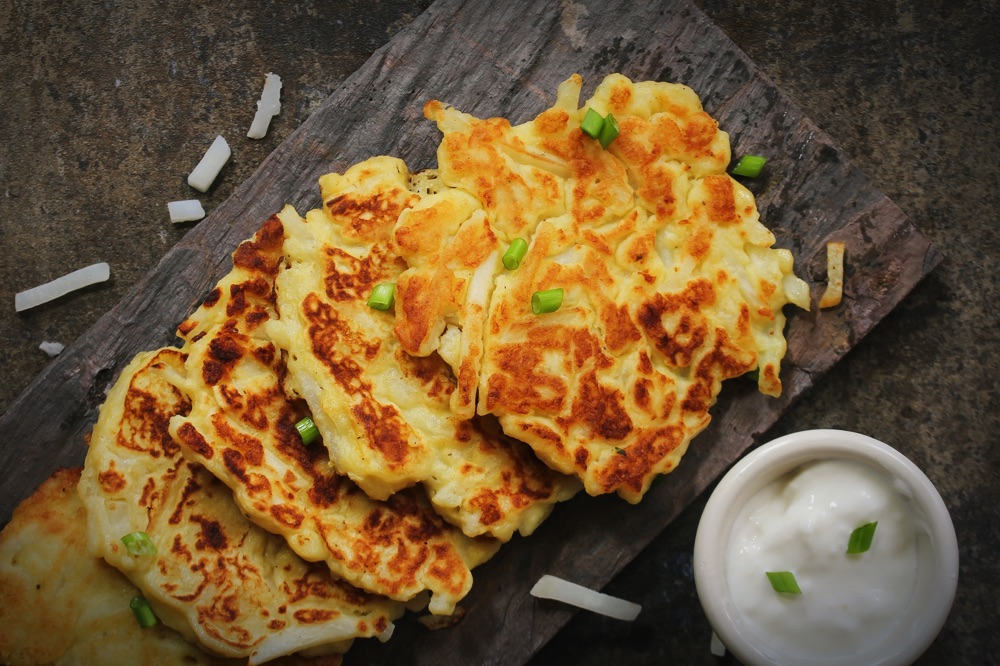 Gallagher's Boxty House may be situated in Dublin's touristy Temple Bar but their Irish potato pancakes are the real deal.
Served with various meats and creamy sauces, boxty is a filling Irish dinner.
Boxty as a main course for dinner will cost you between 20 and 25 EUR depending on what your accompaniments are.
This is one of my favorite Ireland meals because you can take it in so many directions and it's different every time.
6. Afternoon Tea
Irish scones are the perfect vehicle for clotted cream, jam, and lemon curd.
You'll often find scones at breakfast but scones are even better when served as part of a traditional and elegant Irish Afternoon Tea service.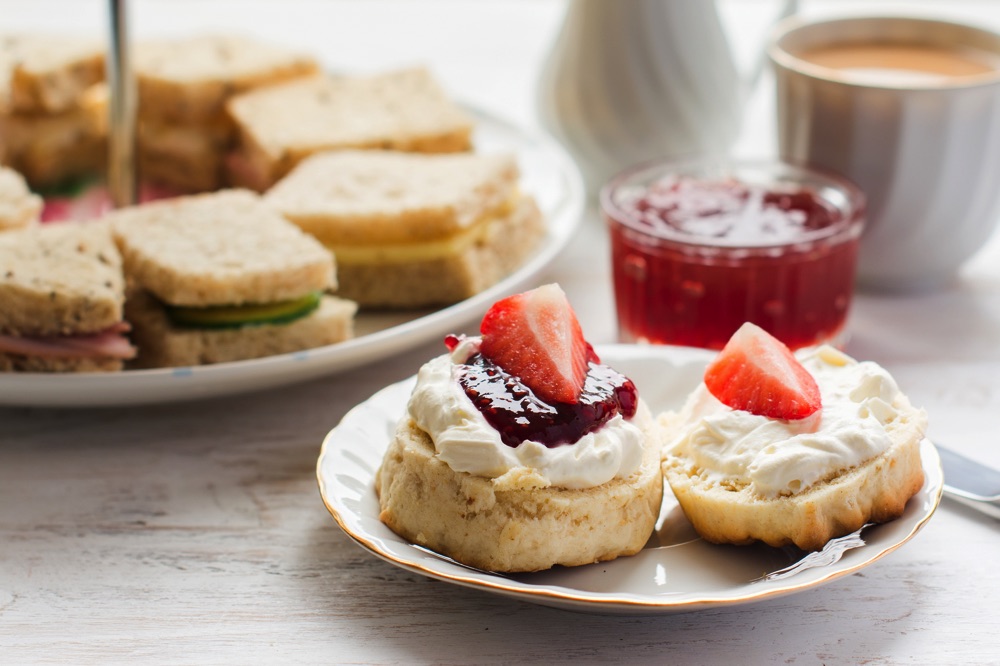 You'll find afternoon tea at some of the best places to stay in Dublin including the Shelbourne Hotel on St. Stephen's Green and the Merrion Hotel just across from Ireland's government buildings.
Afternoon Tea in Ireland comes with a healthy sprinkling of ambiance that you will pay for.
For example, Art Tea at the Merrion Hotel starts at 55 EUR per person. The price jumps if you decide to indulge in a glass of sparkling wine to accompany the experience. I highly recommend the splurge.
An Irish afternoon tea service typically comes with savory and sweet courses.
Enjoy ham, beef, or egg sandwiches with the crusts cut off. Save room for dessert and a delicate selection of pastries and petit fours with a decorative and artistic flair.
Afternoon Tea is the perfect way to spend a relaxing day in Ireland.
7. Irish Stew
Irish lamb is some of the best in the world. Enjoy Irish lamb as part of that favorite comforting winter warmer: Irish stew.
Davy Byrne's pub in Dublin serves one of the best Irish stews in Ireland.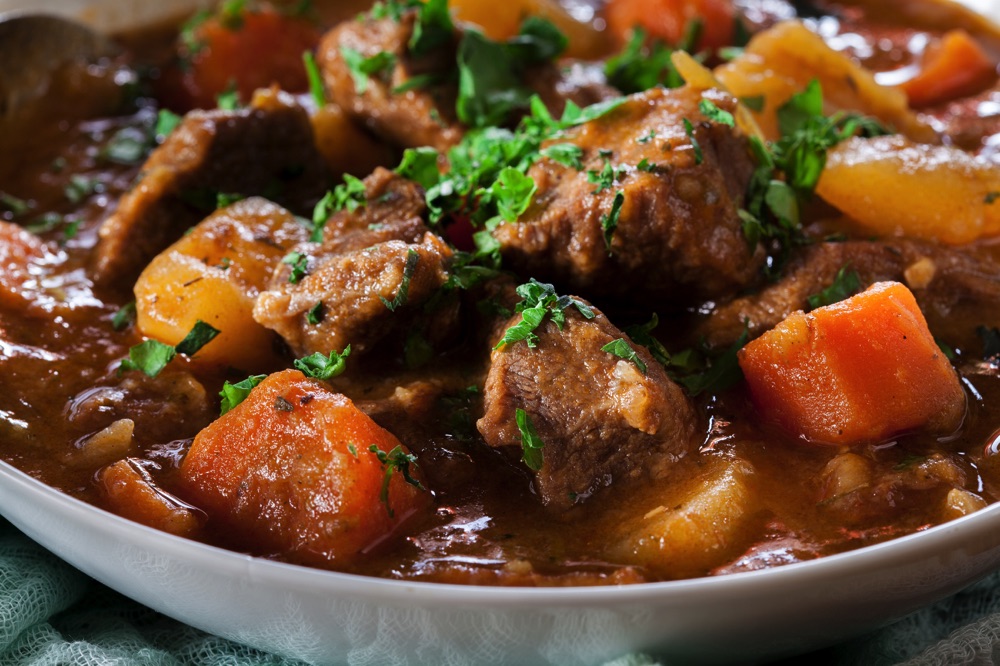 Rich with lamb, potatoes, onions, and carrots, Irish stew will fill you right up. Costs may vary but you can get Irish stew at your local pub for as little as 10 EUR.
Bonus points if your Irish stew is served with a slice of brown bread and delicious Irish butter to soak up the remaining sauce when you're done eating.
Beware: When traveling around Ireland, especially in the Spring, you'll often see baby lambs frolicking in the fields. I know that whenever I see this, it ruins Irish stew and other delicious lamb dishes for me, at least for a period of time.
8. Battered Sausage
Ireland is not big on street food the way that some countries are. The closest we get to Irish street food is the chipper.
While fish and chips is a staple of any fast food meal at the chipper, I recommend trying another unique dish, battered sausage, especially late at night after an evening of drinking.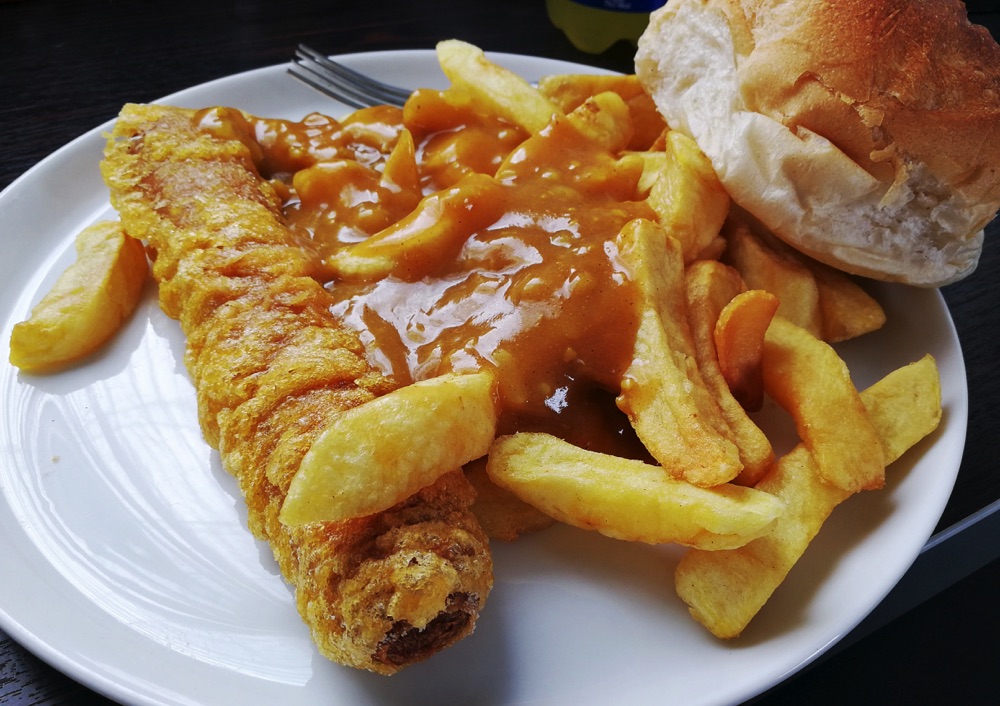 I was first introduced to battered sausage at a chipper near Slattery's pub in Dublin.
Take a hot dog and fry it up in fish and chip batter and you have a cheap and cheerful treat that will help soak up the alcohol in your system.
9. Murphy's Ice Cream
Ireland is a country with a deep farming tradition. Ireland boasts happy cows that graze on endless carpets of grass. Happy cows equate to delicious milk which in turn makes world-class dairy products like milk and butter.
It should come as no surprise then that Irish milk makes fantastic Irish ice cream.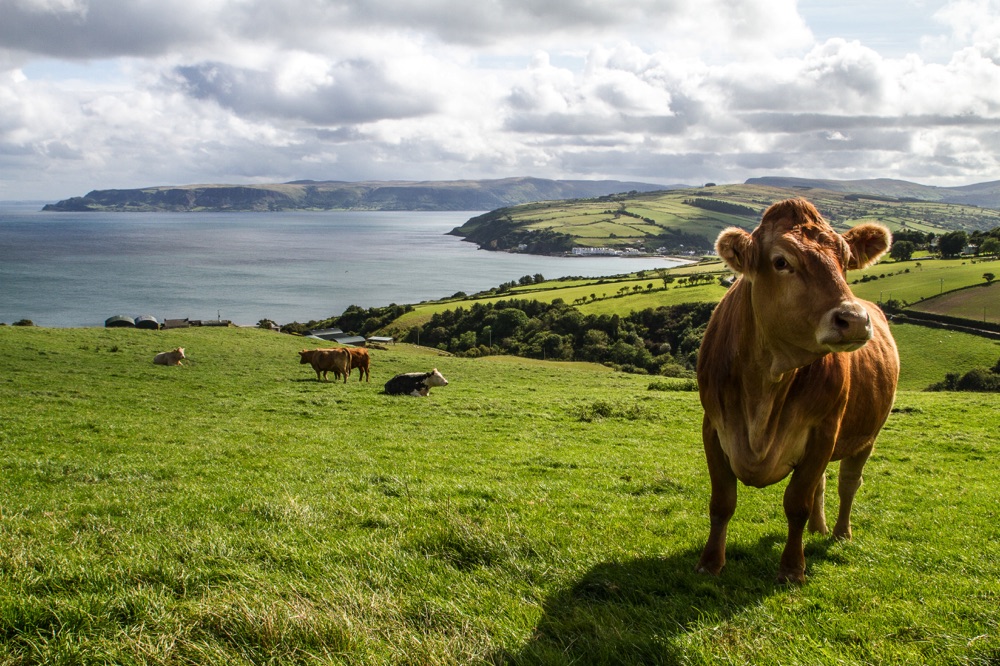 My ninth pick of what to eat in Ireland is all about ice cream.
Murphy's ice cream originated in County Kerry, home to some of the best dairy products in the world. Murphy's original storefront in Dingle Town has now expanded and you can even get Murphy's ice cream in Dublin City Centre.
Grab a couple scoops of uniquely Irish flavors including brown bread, whiskey, and sea salt.
You could even consider making an American-style ice cream float and add a scoop of Murphy's ice cream (Bailey's Irish cream flavor, perhaps?) to a pint of Guinness or namesake Murphy's Irish Stout.
10. Carrageen Moss Dessert
You may be wondering, what is Carrageen Moss?
Carrageen Moss is an Irish seaweed found along the south and west of Ireland. One of the most unique Irish foods we've tried is Carrageen moss pudding.
For a rich and creamy treat, sample Carrageen Moss as a thickener in panna cotta at Fenn's Quay in Cork City.
Carrageen moss adds a bit of salty flavor and is packed with nutrition, especially iodine and other trace elements. It's unique to Ireland and good for you too.
Best Food Tours in Ireland
Food tours are a great way to take the guesswork out of what to eat in Ireland.
Learn more about the history behind Ireland's signature dishes. Sample a wide variety of things to eat in Ireland without committing to one entree.
You can then pick your favorites and weave them throughout the rest of your trip.
1. Dublin Delicious Walking Food Tour
Counteract some of the extra calories you're bound to consume with a walking food tour of Dublin.
Learn about and taste amazing Irish food while you are regaled by stories told by a passionate local guide.
Try traditional and artisan dishes centered on the River Liffey and maybe even a wee dram of Irish whiskey to wash it all down.
The Dublin Delicious Walking Food Tour costs 65 EUR for a three-hour experience.
2. Galway Food Tour
If you are short on time, Galway Food Tour is a great option to sample some of Ireland's best cuisine.
Clocking in at a little over two hours, this tour focuses on the diversity of Galway's food scene.
You'll discover hidden gems including historic pubs and top restaurants. For those with a sweet tooth, save room for some delicious chocolate and baked goods.
Joining a food tour is one of the things to do in Galway that you won't want to miss.
3. Cork Fab Food Tasting Trail
Cork City is a mecca of foodie culture in Ireland. Embark on the Cork Fab Food Tasting Trail, a three-hour walk, and taste six different dishes at six different venues in Cork.
Cork is often referred to as "The People's Republic of Cork" so you just know the vibe and the people are a little different here.
Just dive right in. "Ah, go on so!" (as the locals are fond of saying), and embark on an Ireland food tour in Cork.
Must-Try Drinks in Ireland
Ireland is a country known for a love of drink and Irish whiskey is renowned the world over and fondly referred to in Irish as uisce beatha, water of life.
It's not uncommon for locals to start the day with tea or coffee and then throw back a few pints after work and on the weekends. If you're wondering what to drink in Ireland during your trip, here's a list of the top 3 musts (alcoholic, and non-alcoholic).
A Pint of Guinness
Guinness is the number one drink that visitors should try on a trip to Ireland.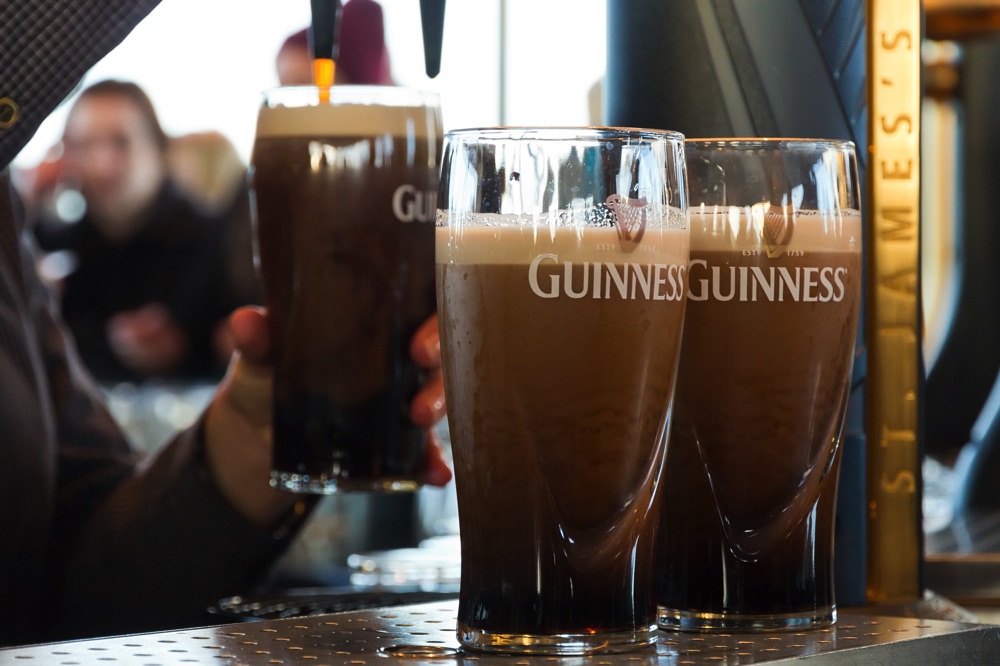 Many people have tried Guinness Stout at home and believe they don't like it.
That's because Guinness doesn't travel well.
The only way to know for sure if you like Guinness or not is to try it in Ireland at the source. You can find a pint of plain at pretty much any pub on the island with prices directly proportional to how touristy the pub is.
A pint of Guinness can cost anywhere from 4.50 EUR to 7.00 EUR.
I love a pint of Guinness at Beggar's Bush, a local boozer just outside Dublin City Centre in Ballsbridge.
Don't miss one of the top things to do in Dublin — A trip to the Guinness Storehouse to sample and learn all about Guinness!
Hot Whiskey
Hot whiskey is the Irish equivalent of a hot toddy and is the perfect winter warmer. Irish whiskey and hot water meet citrus and cloves for a bracing sinus-clearing experience.
Don't miss the Jameson Whiskey Distillery tour in Dublin.
Artisan Coffee
Drink in Ireland may sometimes feel synonymous with alcohol but Ireland also has some great options for teetotalers.
Ireland's coffee scene is one of the best in Europe, if not the world, with artisan roasters like 3fe, Badger and Dodo, and Silverskin Coffee Roasters leading the way to the freshest, most energizing morning beverages.
A 12 oz latte or cappuccino ranges between 2.70 EUR to 4.00 EUR depending on the cafe and whether you are drinking it there or taking it away.
Now You Know What To Eat in Ireland
I hope I've convinced you that Irish food is not just boiled and bland but flavorful, sometimes irreverent, and definitely something to savor.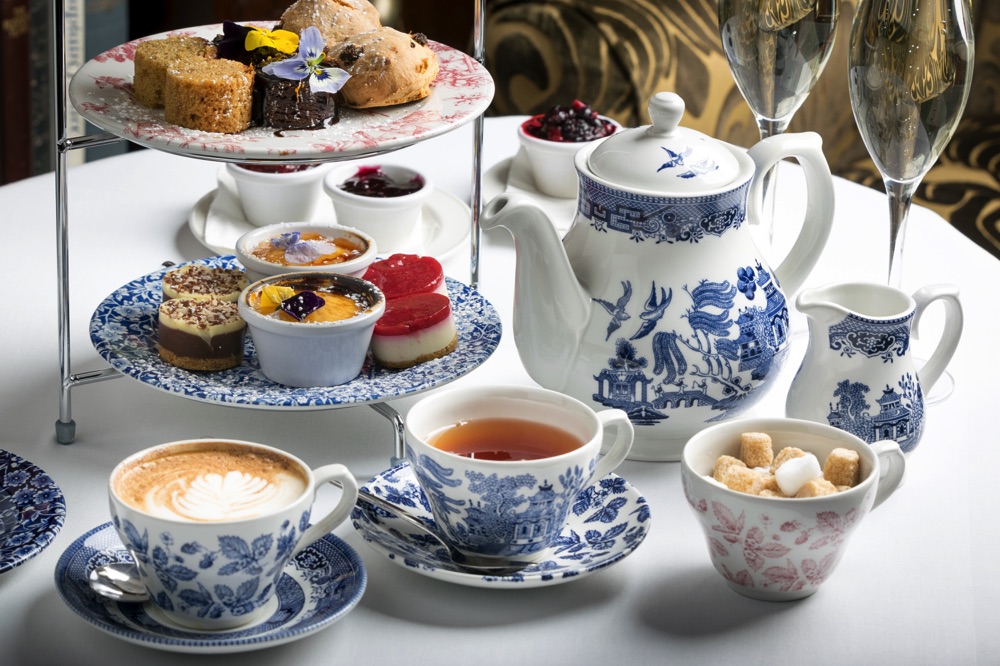 Whether you're in the mood for fresh seafood including smoked salmon on Irish brown bread, tender beef that is world-renowned (did you know that even McDonald's serves Irish beef across Europe?!), or that perfect artisanal cheese from a dairy farm in Tipperary, Ireland will leave your mouth watering.
What will you add to the list of what to eat in Ireland? Plan that bucket list-worthy trip that you've been thinking about and discover the best Irish dishes for yourself. Reading about Irish food is one thing, but tasting is believing.
Images in this article are courtesy of Shutterstock.com, a website for sourcing royalty-free images and videos.
Like This Article? Pin it!