Picturesque Irish towns, coastal viewpoints, and breathtaking natural landscapes. You can see all of this and more along the Ring of Kerry drive, which is one of the most remarkable routes in all of Ireland!
If you travel to Ireland and don't see a few towns or scenic sights along the Ring of Kerry, then you are genuinely missing out on some of the best places to see in the entire country.
While I studied in Dublin for a semester, I managed to make my way to Killarney where I then explored some of the best spots along the Ring of Kerry. After seeing it all myself, I can admit that it truly is as beautiful as photos depict it to be!
Here's my complete guide to exploring the Ring of Keey.
About The Ring Of Kerry
The Ring of Kerry drive is a loop located on Ireland's west coast that is most well-known for providing some of the best viewpoints. Here's a look at the Ring of Kerry map to get your bearings: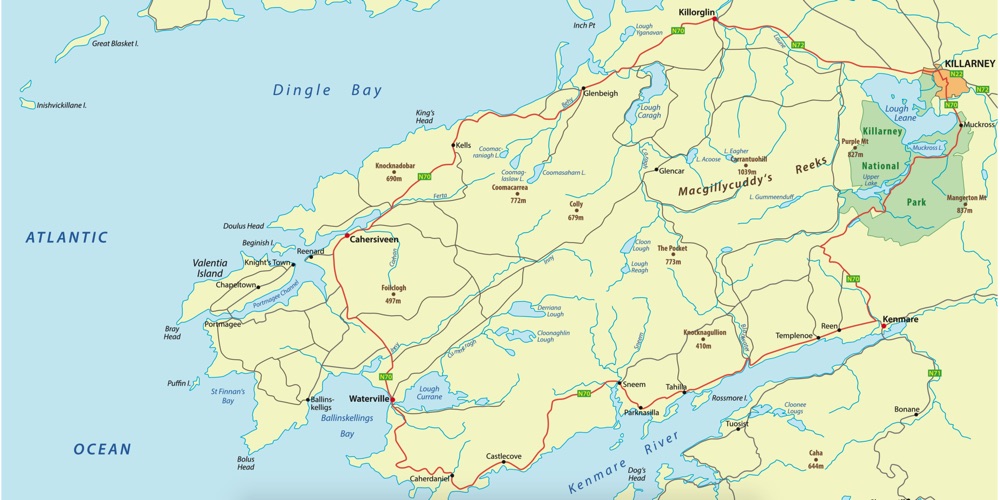 A lot of the natural landmarks are located along the coast, but some of them are a little bit further inland, such as Torc Waterfall and the Gap of Dunloe, which you won't want to miss.
The area along the road dates back thousands of years ago, as there are also many ancient sites located directly off the road, though many people will say that the true highlights are the natural landmarks.
Though this road has been here for many years, it has become a much more popular route to drive within the last 20 years, and frequent visitors will come to Ireland with the sole intention of driving the Ring of Kerry.
The Ring Of Kerry Drive
How long does it take to drive the Ring of Kerry?! Good question…
It's about 120 miles long and mostly goes along the southwestern coast, though some of the best towns to spend the night are located slightly off the coast and inland.
Even though you can drive the entire route in 3 hours, you really should opt to split this up between 3 to 4 days or more to experience the drive and all of its beauty.
Killarney is known to be the best place to start the Ring of Kerry because of its prime location. From here, you could either drive clockwise or counter-clockwise, but for the itinerary below, I suggest you drive counter-clockwise, but more on that later.
This is a great road trip idea when visiting Ireland because it truly does provide some of the most magnificent views of the whole country. Plus, there are lots of lovely towns and natural landmarks along the way, and you could easily do the Dingle peninsula drive directly after!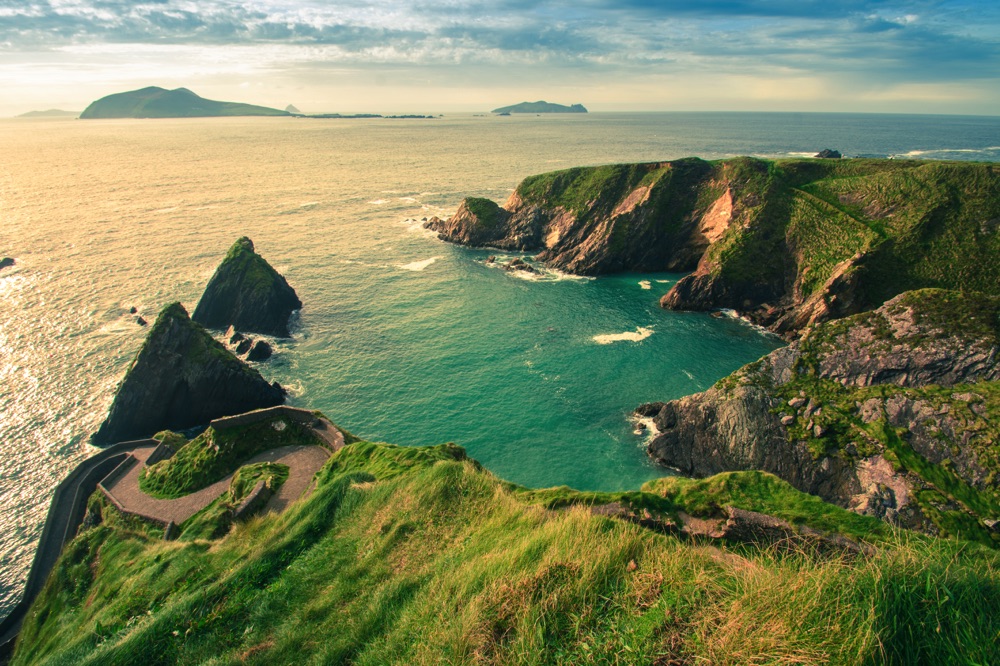 Ring Of Kerry Itinerary
Below, find a suggested itinerary for the Ring of Kerry. Of course, this can be done with different stops, but this itinerary includes some of the best towns to visit in Co. Kerry.
This Ring of Kerry drive itinerary, in particular, has trips that will take no longer than 1.5 hours of your time per day so that you can truly explore each spot that you visit along the way.
Day #1: Killarney to Kenmare
For the first day of the Ring of Kerry drive, spend the morning exploring Killarney and all that it has to offer.
Be sure to stop by some of the top sights here, including Ross Castle, Muckross House, and Torc Waterfall, which is considered one of the best highlights of the entire loop!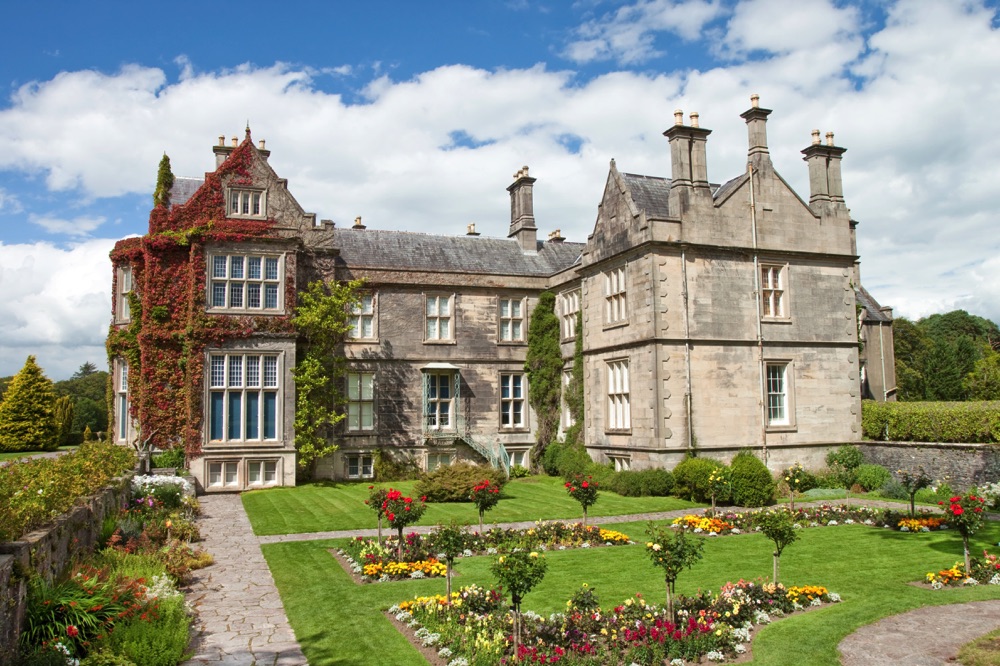 From Killarney, you're going to want to make your way to Kenmare, which is just about an hour away. However, be sure to go to the Gap of Dunloe on your way there, which is a super-narrow road known for its fantastic scenery right next to Killarney National Park.
While at the Gap of Dunloe, you may find that you'll want to pull over quite a few times to take in the view. Feel free to do this, because you have the rest of the day to make this short trip to Kenmare!
You'll also want to be sure to make your way to Ladies View, which is another one of the most popular spots along the Ring of Kerry. This is yet another scenic viewpoint, but this one is located directly inside Killarney National Park.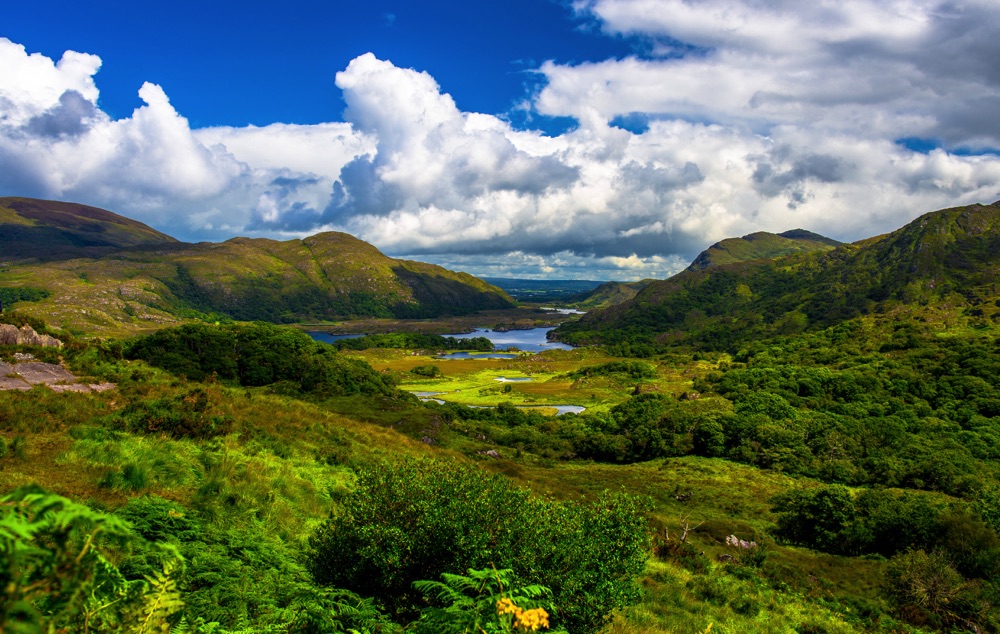 From Ladies View, drive to the last scenic viewpoint of the day, called Moll's Gap. Funnily enough, this area is named after a woman who illegally opened a pub here which unfortunately isn't here anymore.
Drive directly to Kenmare from Ladies View. Of course, you may find some other beautiful stops to pull off along the way — let the adventure carry you through your road trip!
Day #2: Kenmare to Portmagee (& Skellig Islands)
The next morning, make your way to Portmagee early in the morning, around 8 a.m. or earlier if you can. Portmagee is not that far from Kenmare, but try to get there early enough to hop on a ferry to go and explore the Skellig Islands off of the coast.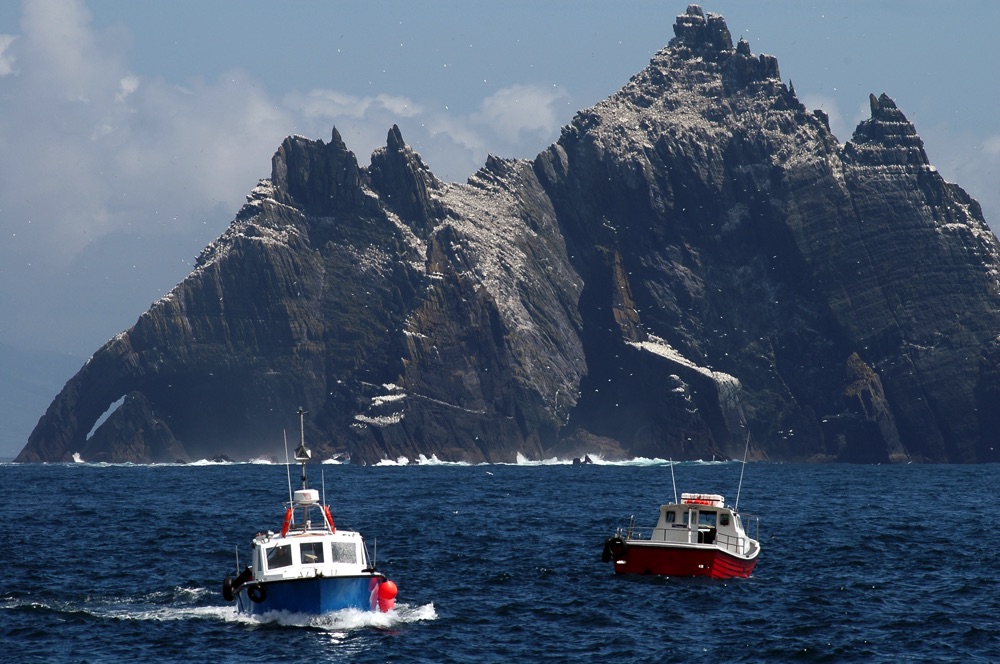 On your way to Portmagee, you'll drive by the breathtaking Kenmare Bay, which you might want to stop at to take a few photos, especially if you're lucky enough to be driving by around sunrise. The views here are stellar.
Another place that you'll pass by on this part of the drive is Catherdaniel, which is known for its iconic beaches on the Iveragh Peninsula. Derrynane Beach is the real highlight in this area, so be sure to stop if you have the time.
The Skellig Islands are most well-known for being featured in the Star Wars movies and are incredibly scenic. The only way to get there is by taking a ferry, usually from Portmagee.
If you are lucky enough to get one on of the earlier ferries, you'll be able to return to Portmagee and spend the rest of the day in town just enjoying small-town Irish life.
Portmagee is exceptionally scenic and is filled with lots of fun pubs and restaurants, so just relax during this afternoon while you get ready for another day of driving and sightseeing.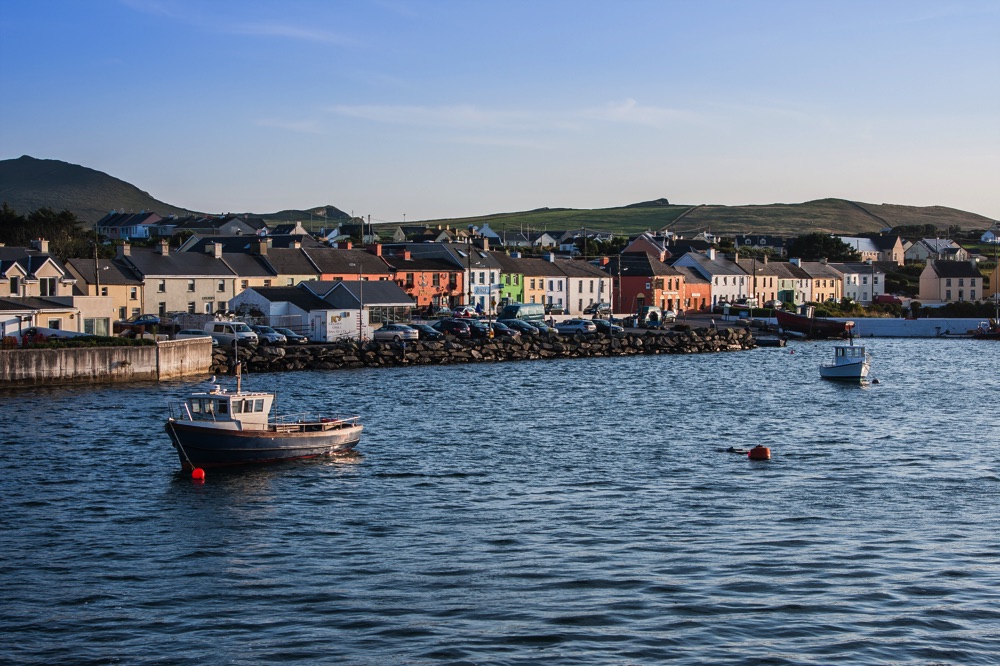 Day #3: Portmagee to Killorglin
On the third day, it's time to drive from Portmagee to Killorglin, as the Ring of Kerry route is almost finished. The most important stop of today is at Glenbeigh, a gorgeous village located next to a few lakes.
Right before you get to Glenbeigh though, you will drive through Kells, a seaside town where you can see Dingle Bay from! It's a fishing village known for its hikes, so you could even stop off and do a quick hike if you wanted to stretch your legs along the ride.
In Glenbeigh, be sure to check out Rossbeigh Strand, a beautiful beach that honestly can not be overlooked. You could come and relax here for a little bit before continuing to Killorglin to continue the Ring of Kerry drive.
Once you make it to Killorglin, you'll be in yet another fun Irish town. If you're lucky enough to be visiting in August, you may even find that you showed up right in the middle of the Puck Fair, which is the oldest festival in all of Ireland.
Day #4: Killorglin to Killarney
To fully complete the loop, wake up on your final day in Killorglin and make your way to Killarney. This is a rather short drive, but once you make it back to Killarney, you can either relax or go out and explore a bit more of Killarney National Park.
Once finishing the Ring of Kerry drive, you might even opt to then go and drive the Dingle peninsula, which is another famous coastal drive in this area of Ireland! These are the top 7 best places to stay in Dingle, and don't miss our guide to travelling Dingle.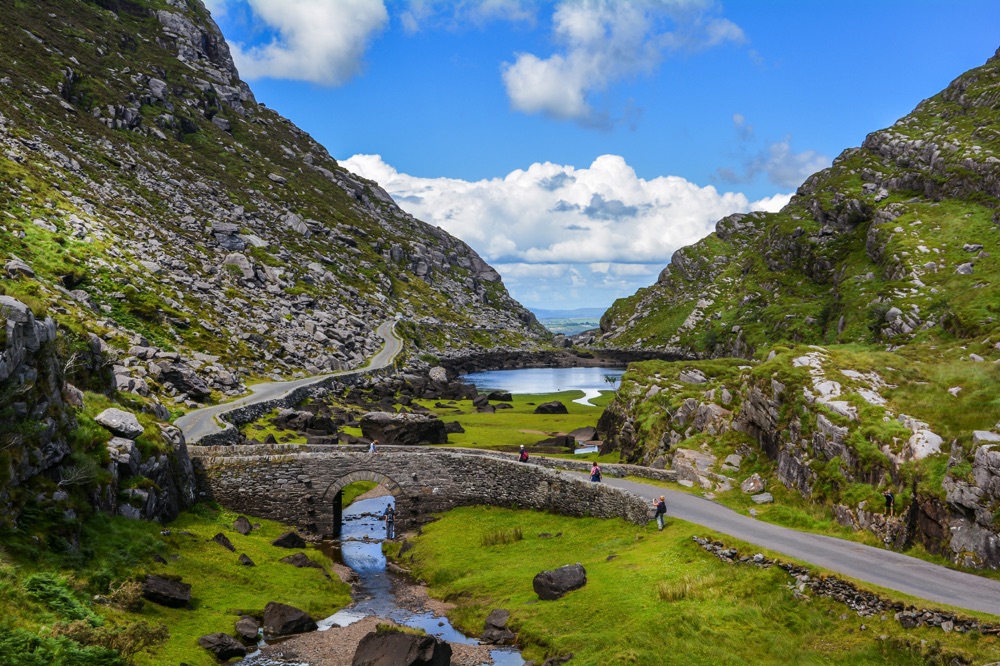 Ring Of Kerry Highlights
Though the Ring of Kerry is covered with many amazing spots, find some of the greatest highlights below!
1. Glenbeigh
Glenbeigh is a village located between Portmagee and Killorglin that has some of the best beaches along the Ring of Kerry. Though you don't necessarily need to stay overnight here, you'll want to be sure to stop at least and check out the sights along your Ring of Kerry road trip. Find it on the map, here.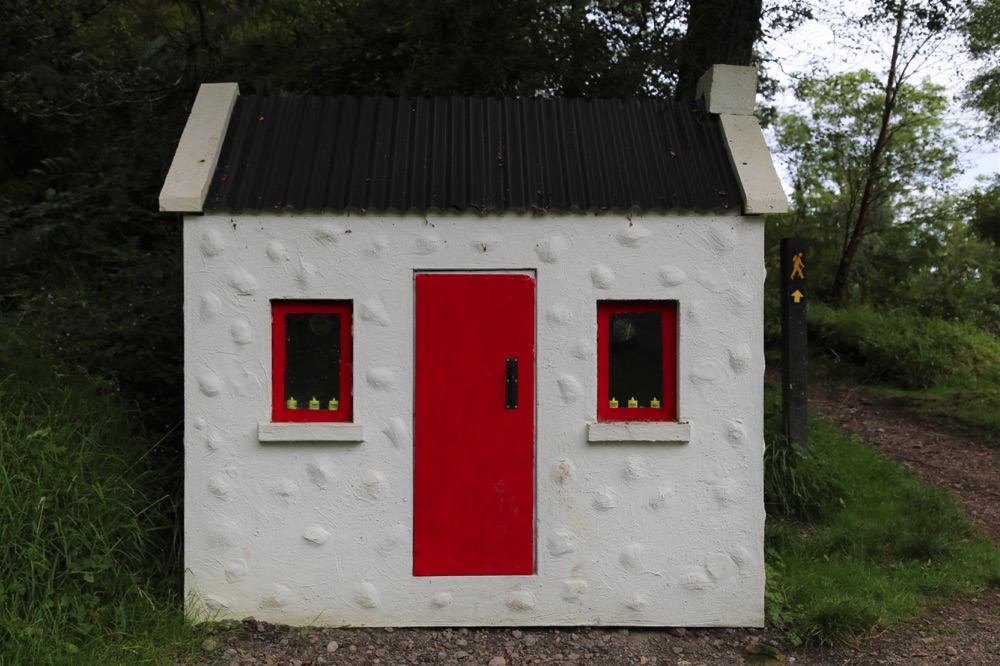 2. Ladies View
Ladies View is a popular landscape view inside Killarney National Park. It's famously named after Queen Victoria's ladies who adored the view when she visited back in the late 19th century. Find it on the map, here.
3. Torc Waterfall
Located directly in Killarney right at the beginning of the Ring of Kerry route, this waterfall is only a short hike up from its nearby parking lot. The forest that it's located in is exceptionally lush and green, and the waterfall is genuinely peaceful, especially if you can manage to visit earlier in the day before the tour groups get there. Find it here on the map.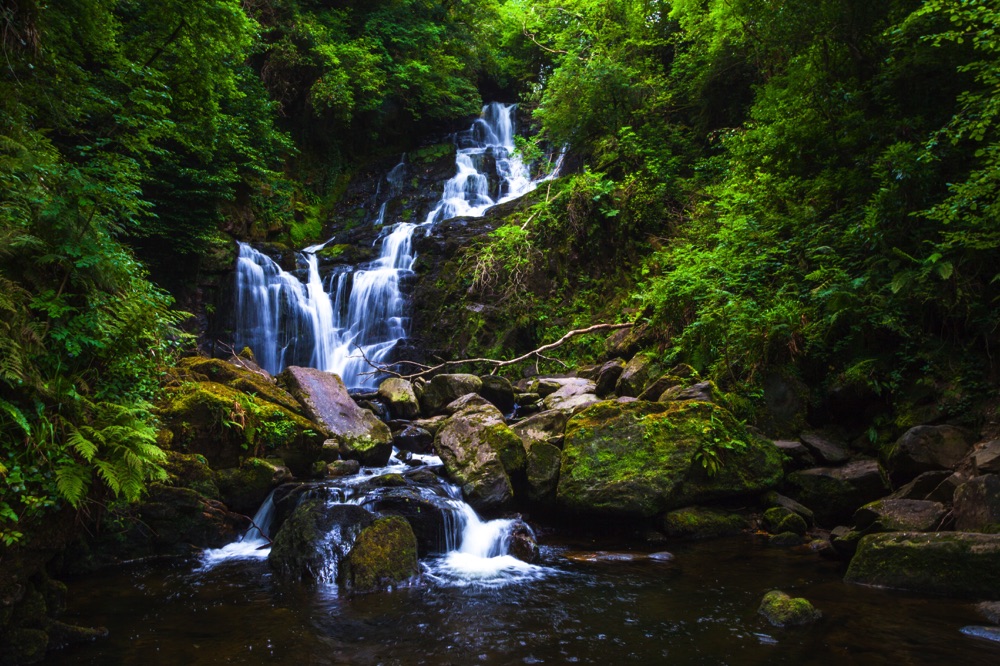 4. Gap of Dunloe
The Gap of Dunloe is a narrow road that features excellent views of Co. Kerry's natural landscape. It's located right outside of Killarney National Park and offers the best panoramic view of it from the outside. Find it on the map, here.
5. Moll's Gap
Moll's Gap is right along the drive from Killarney to Kenmare. It's another scenic driving area that will leave you loving the Irish countryside as you fall more and more in love with the Ring of Kerry. There are stopping points along the drive here so you can stop off and look at the views. Click here to find it on the map.
Where To Stay
Though you will drive through many different towns on your Ring of Kerry self-guided tour, some places are better to stay in than others.
Below, find some of the top towns to stay in along with recommended accommodations for each, including fun glamping options and hotels located directly on top of pubs! Search on Booking.com and Airbnb for the best deals.
Killarney
Killarney is the most popular starting point for the Ring of Kerry drive for good reason. The majority of the beautiful sights to see along the route are located close by and it's also the biggest town along the road.
Since the town is so big, there are lots of places to stay here, including bed and breakfasts, hotels, hostels, and even a few unique areas.
Best unique accommodation in Killarney: Killarney Glamping at the Grove
Best pub accommodation in Killarney: Tatler Jack
Kenmare
Kenmare is a quaint town located along the Ring of Kerry route, just a short drive away from Killarney. This town has some great views of the water and has rather affordable places to stay, especially just for one night.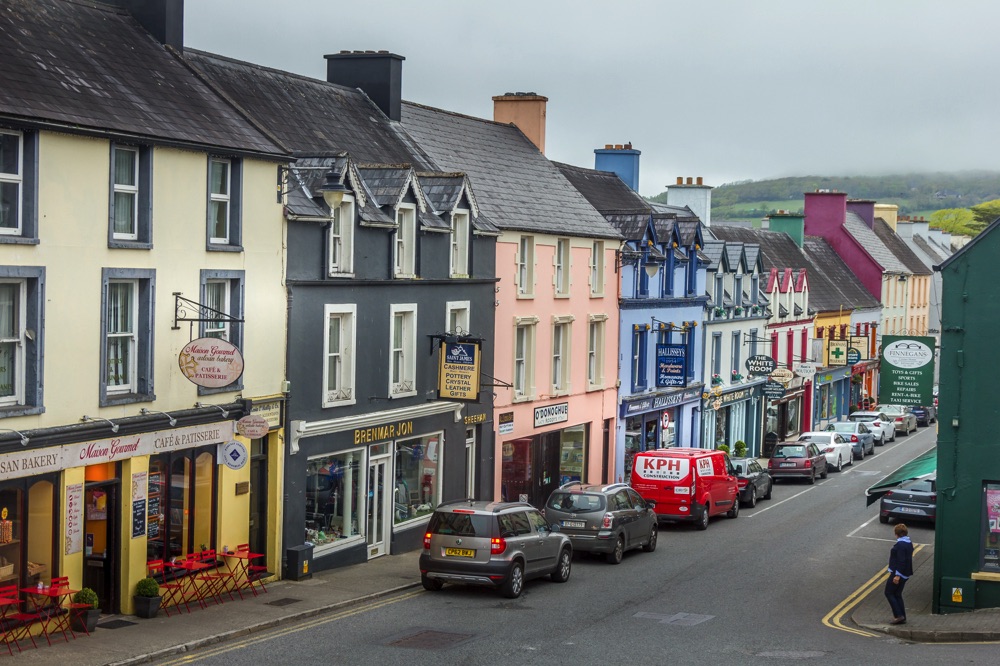 Best unique accommodation in Kenmare: Grenane Heights
Best pub accommodation in Kenmare: O'Donnabhain's Townhouse Accommodation
Portmagee
This coastal town is most well-known for being home to the ferry port that brings visitors to the Skellig Islands, but the town is also filled with loads of great restaurants and pubs. This is a beautiful place to stay along the Ring of Kerry.
Best unique accommodation near Portmagee: Glanleam House
Best pub accommodation in Portmagee: The Moorings Guesthouse
The Ring Of Kerry Tours
If you prefer to take a tour of the Ring of Kerry with a guide or you won't be able to drive on your own, don't worry, there are lots of great options that are highly rated.
These tours start from all over Ireland. Some of them last a day and some last longer, so try to choose whichever one most suits your needs.
1. Ireland 5 Day Escape to the Southwest
This is the most extended tour available that will cover the Ring of Kerry. However, it also includes numerous other famous sights throughout Ireland's southwest, including the dramatic Cliffs of Moher, the Burren, the Dingle peninsula, and Blarney Castle & Gardens.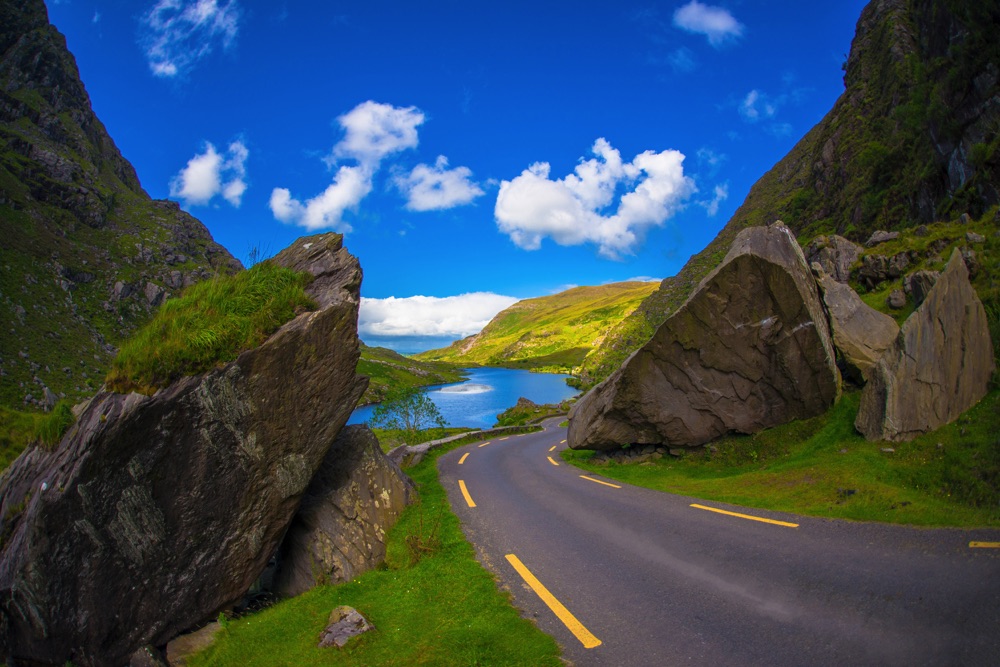 This tour leaves from Dublin and lasts five days. Keep in mind that only 16 people are allowed on this trip at a time, so you'll want to book your tickets well in advance.
The mode of transportation is a Mercedes mini-coach, and this tour is recommended for anyone over the age of 5 who is interested in learning more about this part of Ireland. Accommodation is included, but unfortunately, visitor attraction fees and food are not.
The Ireland 5 Day Escape to the Southwest tour costs €725/$872 and can be booked through Get Your Guide here.
2. Ring of Kerry Full-Day Tour from Killarney
This is a one-day tour that lasts approximately ten hours, but it covers most of the Ring of Kerry. On the trip, you'll go to Killarney National Park, Iveragh Peninsula, Waterville, Torc Waterfall, and more.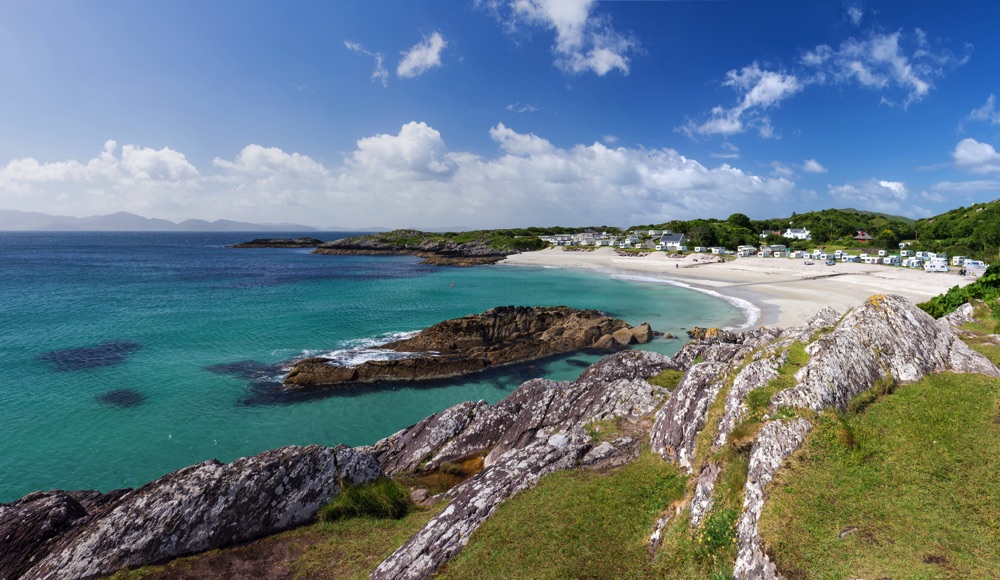 The tour leaves directly from Killarney, and it's great for families, solo travellers, and couples. The primary mode of transportation is the bus. The highly-rated tour costs only €30/$36 per person and can be booked on Get Your Guide at this link.
3. Rail Tour from Dublin: The Ring of Kerry
This is a one-day tour that starts in Dublin. The primary mode of transportation is the train to get to Killarney, though buses may be used to get to some of the places that are a bit harder to explore solely by train.
The tour and transfers are included in this tour, but you do have to buy your meals on the tour. Your tour guide will bring you to Ladies View, Moll's Gap, and more!
Anyone is welcome on this tour which costs €119/$143 per person. Tickets can be purchased here through Get Your Guide.
What To Pack
Since the Ring of Kerry is located on the unpredictable west coast, you are going to want to pack for all types of weather, no matter what time of year you are visiting Ireland.
This means that you'll want to pack lots of layers, comfortable walking shoes or hiking boots, and a good rain jacket. Also, be sure to bring bug spray and sunscreen if you plan on spending a lot of time outside.
You most likely won't need to pack food unless you plan on snacking a lot along the way, though there will be places for you to stop and grab food and drink in case you get hungry or thirsty while driving the Ring of Kerry.
Top Tips For Visiting The Ring Of Kerry
Just like when you visit anywhere else, some tips are worth following when you visit the Ring of Kerry. These can truly make your experience along the drive a lot better, so opt to follow them if you can!
1. Start Your Day Early
The biggest mistake that visitors make while driving the Ring of Kerry is getting a late start to the day. Don't do this because then you could end up making it to some attractions at the same time as tour buses, which makes a lot of places busier and not as fun!
2. Beware: The Roads Are Narrow
Keep in mind that the roads in this part of Ireland, in particular, can be extremely narrow, especially along the Gap of Dunloe. If you're not sure if you can handle driving on narrow roads, then you might be safer opting to go on a guided tour of the Ring of Kerry instead of driving on your own.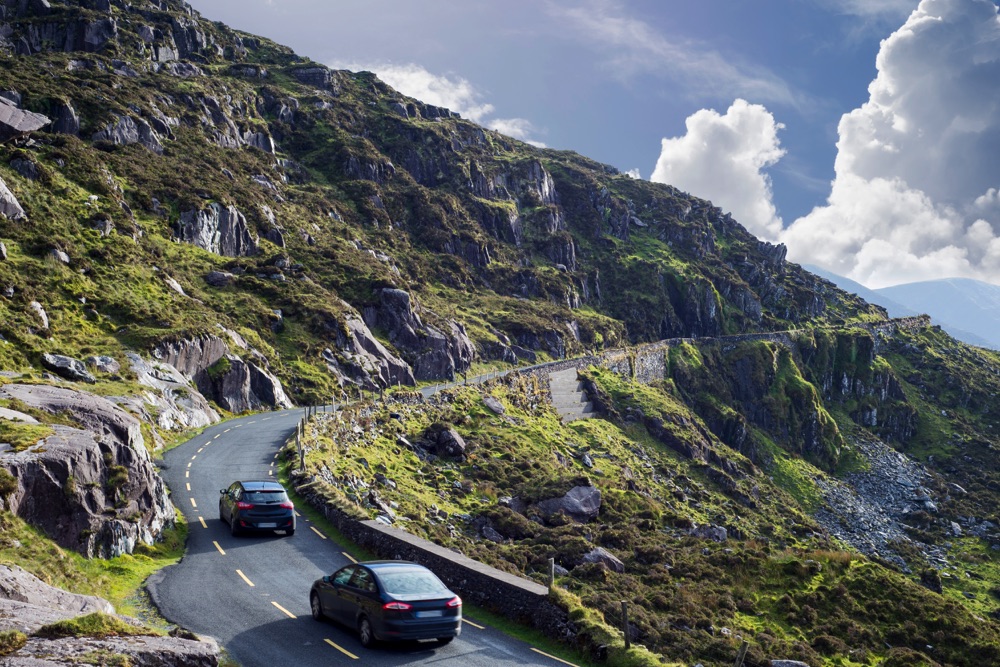 3. Be Okay With Stopping
There are so many great viewpoints that you will just stumble across, lots of which don't even have names. You have to be okay with the idea that though you want to have a plan, there will be times when you'll want to stop off and look through a quaint town or see a breathtaking view for a while.
Be prepared for having to possibly change your schedule slightly! Add extra time to each of your days along your Ring of Kerry itinerary.
4. Drive Clockwise
The best way to avoid getting stuck behind the tour buses is actually to drive the Ring of Kerry clockwise. Most tour buses will operate counterclockwise, so that's definitely something to consider.
5. Rent A Car (if you can)
Having a car along the Ring of Kerry provides a lot more freedom than a tour group can ensure. With your own vehicle, you can change up your itinerary last minute or drive entirely out of the way if you want or have to.
Enjoy The Ring Of Kerry
Now you are fully prepared to experience the Ring of Kerry firsthand. The key to doing the Ring of Kerry is planning and researching, so do your part, and you will have the time of your life along this scenic drive.
Images in this article were sourced on Shutterstock.
Like This Article? Pin it!