Killarney is a breathtaking scenic town that is often overlooked by visitors to the Emerald Isle. Most tourists just see it as a starting spot to the Ring of Kerry, but it's truly best to spend at least a whole weekend in Killarney!
The town of Killarney is the quintessential Irish town; it's picturesque almost everywhere you look, and you can mingle and speak with the locals a lot easier than you can in other bigger cities.
There are loads of fun activities here, especially if you're an adventure-seeker and you love the outdoors.
After spending a semester in Ireland, I can genuinely say that Killarney is my favourite place that I visited in the entire country. Yes, you read that right — this is one of the best places to visit in Ireland.
Killarney left that much of an impact on me, and it will stay with you after your visit too!
Here's how to spend the perfect 2 days in Killarney.
Day 1 in Killarney
The first day during your weekend in Killarney is the perfect time to get acquainted. I suggest you wear good walking shoes and comfortable clothing because you're going to be covering a lot of ground with this Killarney itinerary.
Morning
After waking up in your accommodation, make your way to Curious Cat Cafe to start your day off right. This great breakfast spot is located right in the middle of Killarney and should be quite accessible no matter where you're staying in the town.
The menu at Curious Cat Cafe covers everything from hot morning beverages to breakfast sandwiches and pancakes, so you're sure to find something to fill you up. Plus, the inside of the cafe is quirky and cosy, so it's the perfect way to start the morning.
There are many things to see in Killarney, so it's important to start your day with a hearty breakfast, and caffeine! The Curious Cat Cafe opens right at 9:00 a.m. on Saturday, so try to get there as early as possible to take full advantage of your day.
After eating a lovely breakfast, make your way to Ross Castle to catch the 10:30 a.m. 1-Hour Lakes of Killarney: Boat Cruise.
One of the best ways to learn more about a new place that you've never been is by going on a tour because it will show you around some of the town's best spots and most scenic areas. This way, when you go to explore the area more on your own later, you'll have a strong lay of the land.
On this tour, you'll cruise along Lough Léin which is the biggest lake in Killarney while inside a glass boat which offers panoramic views. The tour guide will help to accommodate you and provide insight into the history of the area.
When you get back from your boat trip, you'll be dropped off right at Ross Castle, which I recommend you explore. This castle was built in the 15th century by the O'Donoghue Clan.
Its excellent location right on the water makes it truly iconic and photogenic. You could quickly go in and explore this castle within 30 minutes to an hour maximum — by the time you're done exploring, you'll most likely be ready for lunch!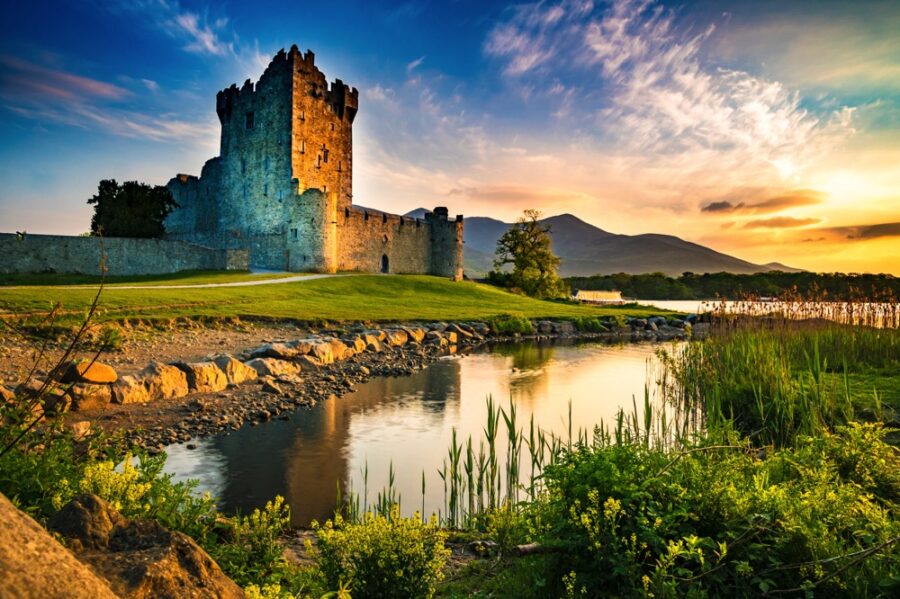 Afternoon
The best place to eat lunch on a Saturday in Killarney is Salvadors Restaurant. This homey, casual restaurant is right on High Street and usually is not super busy, so you most likely won't even have to wait for a table.
Their pizza is honestly some of the best in all of Ireland, so I recommend you try it. Everything on their menu is reasonably priced as well, and the food tends to come out rather quickly.
Once you finish lunch, be sure to explore the area that Salvadors Restaurant is located in. This area is right in the town centre, and there are lots of quaint tiny shops here that you don't want to miss out on.
Next, it's time to go out and visit some more of the best spots to explore in Killarney. First up is St. Mary's Church, which was built in the 19th century and is one of the best examples of Gothic architecture in the whole town.
After you finish exploring the church, make your way over to Muckross House, which is one of the highlights in Killarney. This 19th-century mansion is most well-known for being the very place where Queen Victoria stayed during one of her visits to this area of Ireland.
One fun tidbit about her visit is that the owners at the time completely remodelled the inside of the mansion so that Queen Victoria could have the best view from her room. Out her window was the gorgeous mountains and the lake in the backyard.
Spend an hour or two fully exploring Muckross House, because the mansion is stunning and it's located in such a breathtaking area. From Muckross House, I recommend hiking the Muckross Lake Loop, which is a scenic hike in the area.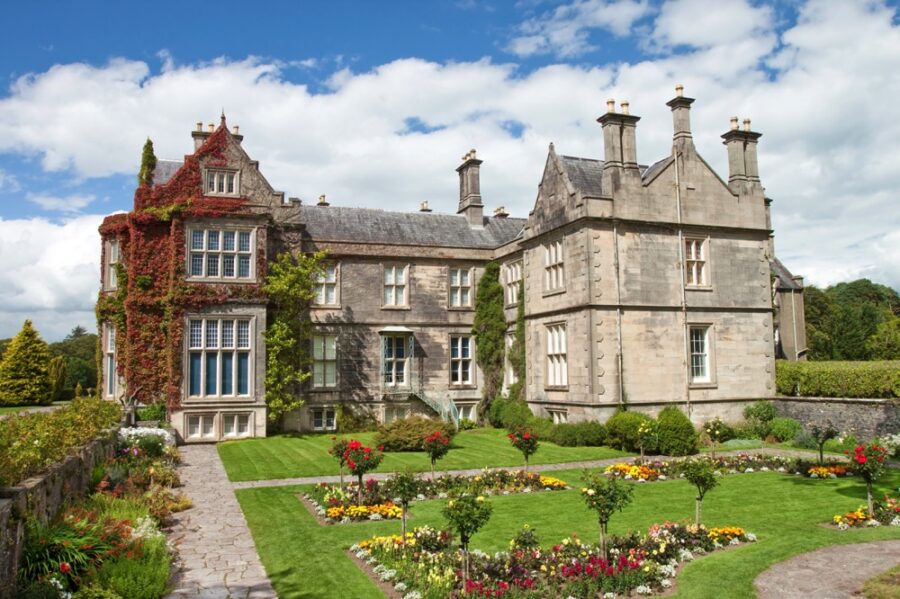 The real gem of the Muckross Lake Loop is the Torc Waterfall, which stands just shy of 70 feet tall! The trail is about 9 miles long and is quite easy, so it's perfect for travellers of any level, even those who haven't hiked before.
Just remember to bring your camera because you'll want to take lots of pictures along the way. The loop will bring you straight through some gorgeous spots in Killarney National Park.
Once you make your way back around the loop, it'll be dinner time.
Evening
The perfect place for dinner to end the very first day of your weekend in Killarney trip is The Shire! This restaurant/pub name might sound familiar if you're a Lord of the Rings or The Hobbit fan because it's themed around J.R.R. Tolkien's world!
Though this pub is a more recent addition to Killarney's town centre, it should not be overlooked. Inside the pub, there's this bright green lighting and a huge circular archway just like the doors in Hobbiton.
While you're there, be sure to try some of their fun local brews that are based on the world of Lord of the Rings. Some of their exciting flavours include The Shire Red, Ladies View, A Shire Surprise, and Golden Spear Blonde Ale.
Finish the first night off during your 2 days in Killarney by heading to the Killarney Grand, which is one of the best spots to experience nightlife in town. They have daily live music, whether it's a DJ or a trad band, so you're sure to have a lot of fun!
Just don't stay out too late; Sunday is filled with just as much fun, and you'll want to be able to get another early start to the day.
Day 2 in Killarney
To get the full experience of the area on day two, you're going to want to take a day trip from Killarney. But first: breakfast at one of the best restaurants in town.
Morning
For breakfast on Sunday, be sure to go to Underground Cafe, which has a beautiful minty blue exterior. This cafe opens right at 9 a.m., unlike most other restaurants and cafes in Killarney on a Sunday.
Underground Cafe is tiny and cosy and serves up a wide variety of breakfast options. They also serve a multitude of hot beverages, many of which even feature fun latte art!
As soon as you finish breakfast, make your way to the 10:45 a.m. pickup point to start the Ring of Kerry Full-Day Tour from Killarney. This is the perfect way to leave Killarney for a bit and explore what the area is most well-known for: the Ring of Kerry.
This is a full-day tour meaning that this tour will keep you occupied for all of Sunday, but it truly is a great way to see more of County Kerry without a car.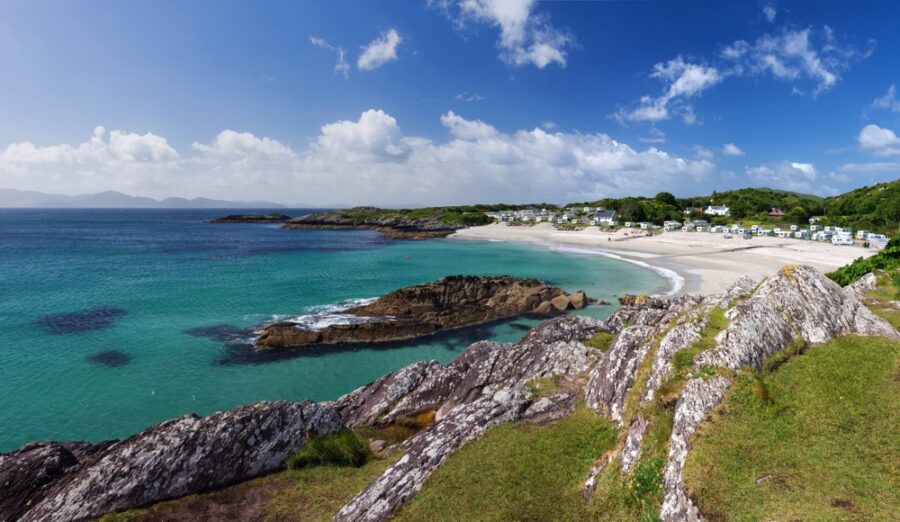 One thing to note is that this tour does not include lunch, so make sure you bring money with you to grab lunch wherever the bus ends up stopping.
You could also consider stopping at Tesco or another supermarket before you get on the bus in the morning to grab some snacks or a meal deal for your lunch.
Afternoon
The afternoon will be spent on the tour still, but you'll be visiting so many great sights along this tour. You'll be seeing the Iveragh Peninsula, more of Killarney National Park, the charming town of Waterville, Leprechaun Crossing, and more.
I can't recommend this tour enough; often, the tour guide will even stop off and find other panoramic viewpoints for you, especially if you happen to be with a talkative group.
Be sure to ask your tour guide lots of questions; you paid for the tour, and they truly know so much about the area, so take advantage of it!
Evening
The tour will bring you back to Killarney around 8:00 or 9:00 p.m., depending on traffic. By this time, you'll most likely be hungry, so what better way to end your last night in Killarney than by going out one last time?
Head to Tatler Jack, one of the most popular bar-restaurants in the whole town. It's right in Killarney's town centre and is run by a family.
Their menu features everything from steaks and burgers to salads, sandwiches, and wraps. The menu is pretty extensive, so you're sure to find at least something you like, even if you're a picky eater like me.
After you eat in their restaurant, be sure to go straight to the bar! Just like the Killarney Grand last night, Tatler Jack is known for having live daily music, so you can dance and drink the night away among the Irish.
Stay out as late as you'd like and head back to your accommodation to get some shut-eye to end your perfect weekend in Killarney, Ireland.
Insider's Tips for a Weekend in Killarney
To get the most out of your weekend, you're going to want to follow a few tips. Of course, these aren't necessary for weekend breaks in Killarney, but they truly can make your experience here a lot more memorable.
Here are a few of my insider tips from my trip to Killarney.
1. Rent a car if you can
If you have the option to rent a car, do it. It will make it a lot easier for you to get around the area, plus you could even make Sunday's day trip to the Ring of Kerry on your own if you prefer.
This isn't to say that public transportation in Killarney isn't good, because it is. You'll just have a lot more freedom when you visit if you have a car, which can help you personalize your weekend a lot more.
2. Stay at a bed and breakfast for a more local experience.
There are a lot of hotels and Airbnbs in Killarney, but to get to know locals more and to stay closer to the town centre, opt to stay in a bed and breakfast. There are a lot of great options right along High Street, which puts you within walking distance of a lot of the most magnificent sights in the town.
3. Spend time visiting the tiny shops in town.
Though the shops downtown may seem empty depending on the time of day, I can't recommend enough that you go inside them. The people in Killarney are some of the nicest Irish people I met, which is saying a lot because the Irish as a whole are so incredibly kind.
Talk with the workers; often they are the owner of the whole store and can provide a lot of insight into the area and more.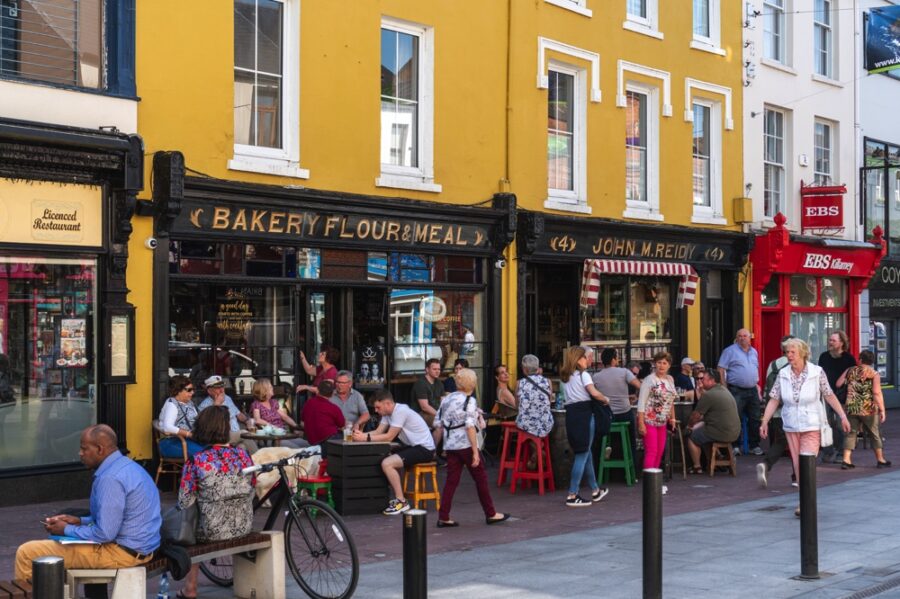 Getting Around Killarney
It's quite easy to get around Killarney, which is great news for visitors.
If you happen to be getting to Killarney by plane, you'll most likely be flying into Kerry Airport. The easiest way to get to the town centre from there is to hop on a bus which only costs €5.22 ($6) for one way.
Another popular way to get to Killarney is by train, straight to Killarney Railway Station. This drops you off right next to the town centre, so you won't have to worry about finding a way to get downtown from the train station.
The same can be said of the bus, which often will drop you off right in the town centre.
Below, find some of the methods of public transportation that can be utilized while travelling in Killarney.
By Bus
Unlike most other towns and cities in Ireland, Killarney isn't serviced by a huge bus company inside the town itself. It only has its shuttle bus system, which mostly is used to bring visitors between popular stops, including Torc Waterfall, Muckross House, and Ross Castle.
Each ticket costs €5.
By Metro
Killarney isn't serviced by the metro, so you won't be able to utilize any form of it while visiting, unfortunately.
By Train
Killarney has its train station, Killarney Railway Station, though this isn't used for travelling around the town itself. It connects the town to the rest of Ireland through the Irish Rail system and can be utilized to get to and from other parts of the country.
By Rideshare
Killarney doesn't utilize Lyft or Uber but does have taxis which can get you all over Killarney and the surrounding area as well. These usually won't cost more than €20 maximum, since Killarney is rather small.
To hail a taxi, you'll want to download an app called FREE NOW which lets you order taxis the same way that you'd typically order a Lyft or Uber through an app. It's super affordable and straightforward.
Best Place to Stay For a Weekend in Killarney
Killarney is filled with lots of great places to stay, so it can be hard to choose exactly where to call home base for a weekend. Below, find some of my top suggestions, most of which are around the town centre for easy accessibility during your two days in Killarney!
1. Plunkett Street
This street in Killarney is located right off of High Street and is a popular and great place to stay in the town if you're looking to be located within walking distance of everything, but you don't want it to be overly loud.
Best Plunkett Street Hotel: Failte Hotel
Best Killarney Town Centre Bed & Breakfast: Tatler Jack
2. High Street Area
High Street is the busiest area of Killarney. If you don't mind noise and you want to be able to walk right out your door to the top sights in the town for your weekend in Killarney, then this is the area for you.
Best High Street Hotel: Killarney Self-Catering – Haven Suites
Best High Street Hotel with Restaurant: Foley's Townhouse
3. Muckross
If you're looking to stay somewhat close to the town centre but would still like it to be quiet and a little more secluded, I suggest checking out the area by Muckross House.
It's a bit more scenic and tranquil up here, and there are quite a few cute bed and breakfasts and hotels in the area, but they cost a bit more usually.
Best Muckross Hotel: Victoria House Hotel
Best Muckross Bed & Breakfast: The Tower House B&B
READ MORE: WHERE TO STAY IN KILLARNEY
Enjoy your weekend in Killarney!
Now you know the best way to spend the perfect weekend in Killarney! You could easily spend 3 days in Killarney or even more, but two days is the ideal amount of time to dip your toes into this scenic part of Co. Kerry.
What are you waiting for? Book your next trip to Ireland and make sure Killarney is at the top of your list!
See More Killarney Articles:
Images in this article were sourced on Shutterstock — a website filled with royalty-free videos and articles. Click here to learn more.
Like This Article? Pin it!