Ireland is truly home to some of the most breathtaking hikes in the world. Hiking in Galway on Ireland's west coast is the perfect way to witness these beautiful views and trails firsthand.
Just like with most places in Ireland, the trails in Galway are perfect for all levels and range from easy walks to rigorous hikes that can take the whole day. Hiking near Galway is genuinely one of the best things to do in this county, and I can guarantee you won't be disappointed.
I was lucky enough to visit Galway during a 5-month stay in Dublin to study abroad one spring. It truly is filled with some of the best landscapes in the world.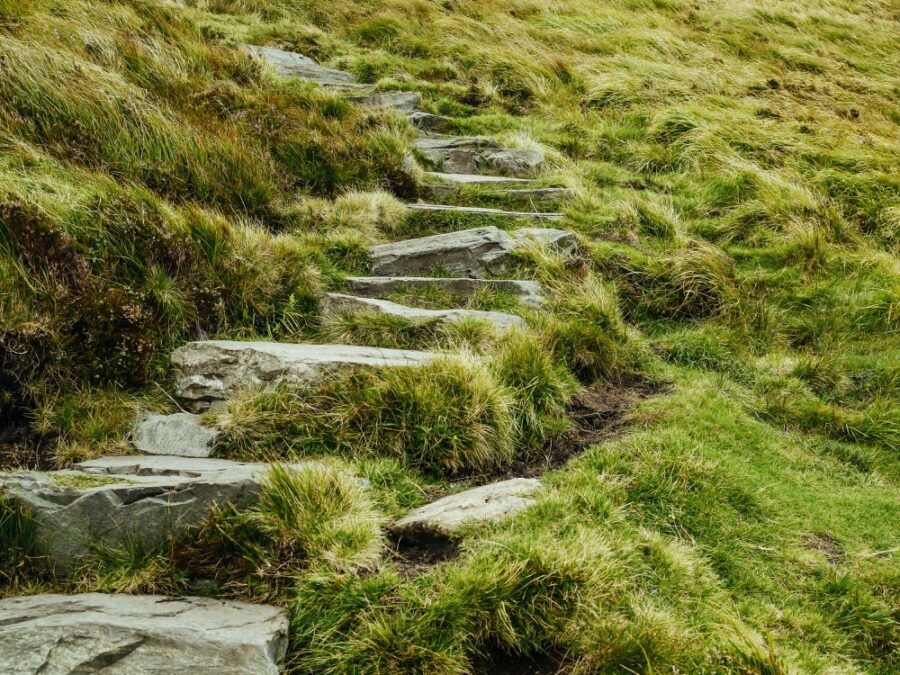 All of these hikes are around one hour or less from Galway City, though most of the trailheads can only be reached by car. Be sure to look into all rental car options and purchase car insurance if you're travelling to the country to get the best experience in Galway.
Hiking really is one of the best activities in Galway.
Here it goes! The 10 best hikes in Galway.
1. Lackavrea Mountain via Western Way
4.7 km long
3 hours to complete
53 minutes from Galway City
Moderate loop trail
The Lackavrea Mountain trail via Western Way is a scenic trail through the mountains and rocks and is one of the best spots for hiking in Galway. Because of this, it's best to wear sturdy hiking shoes, because the terrain can sometimes be uneven.
The real highlight of this trail is the very from the very top, which provides a lookout to the gorgeous mountain range and lakes in the surrounding area. One thing to be careful of is the trek back down the mountain; it's known for being quite slippery.
As is the best time to visit Ireland, this hike is best done between March and October, or on days when it's not rainy or foggy. There is a 1,194-foot elevation gain, so you're going to want to pack lots of snacks and water for the hike up to the top.
Click here to see where the train begins. It's the perfect spot for hiking Galway.
2. Slieve Carran Brown and Yellow Trails
4.7 km long
2.5 to 3 hours to complete
55 minutes from Galway City
Easy walking trail
The Slieve Carran Brown and Yellow Trails is a walking trail in County Clare that is best hiked from March to October. It is most popular among tourists and locals alike for its gorgeous wildflowers that can be seen along the trails in the spring and summertime.
Though the trail tends to be rocky, it's relatively flat and only gains 272 feet in elevation. It's an extremely kid-friendly trail that's part of the Burren National Park, so entire families are welcome to come and partake in this trek.
One of the best spots along the trek is the hermitage and cave which is surrounded by a lot of trees, so it's easily overlooked. Be sure to keep your eyes peeled and explore the area intimately because you won't want to miss out on it.
Most of the trail is very open, so plan on packing sunscreen and layers, mainly because you never really know what to expect with Irish weather in the west!
The trail starts here, and it's easiest to get here from Galway by driving. It truly is one of the best walks in Galway!
3. Cliffs of Moher Coastal Walk
18.3 km long
3.5 hours to complete
1 hour 19 minutes from Galway City
Moderate coastal walk
Though it's slightly farther out than some of the other hikes on this list, the Cliffs of Moher Coastal Walk is one of the most iconic hikes in all of Ireland. It's home to the best and most famous views in the whole country and is arguably one of the best Galway hiking trails.
The walk starts right at the Cliffs of Moher Visitor Center and ends at Liscannor. Along the way, you'll be rewarded with beautiful blue waters and endless coastal viewpoints, but be sure to not stray from the path for safety reasons.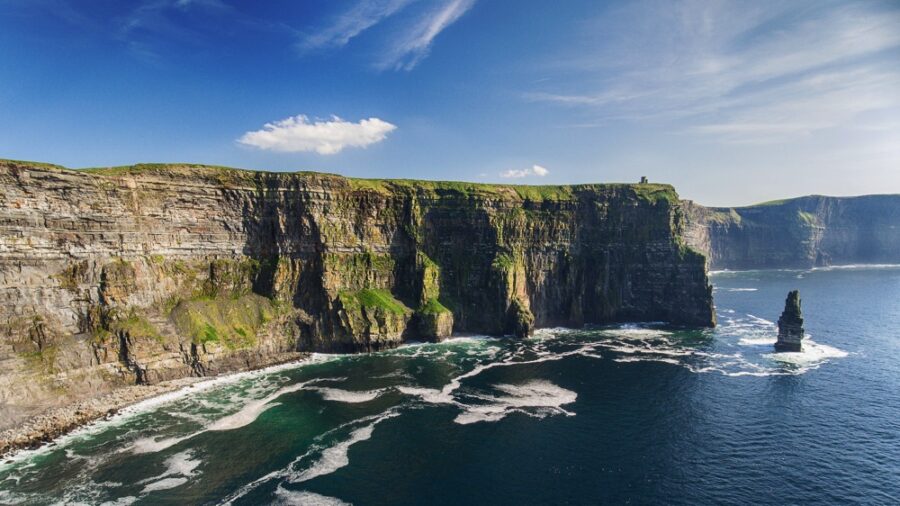 Since the walk starts at the Cliffs of Moher, you do have to pay the fee to enter the landmark. Be sure to pack your rain jacket and wear layers because the weather here can change extremely quickly and you'll want to be prepared.
You are truly missing out if you don't at least visit the Cliffs of Moher once during a stay in Galway, so what better way to explore the cliffs than to hike them?
However, this hike isn't best for kids, just because it is right next to some of the highest cliffs in the entire country. But, if you're looking for hikes around Galway, this is a great option.
The Cliffs of Moher Coastal Walk begins here. From Galway, you can either drive or take a bus to get to the trailhead. Find out more about the cliff walk from Doolin, and click here for our full guide to visiting the Cliffs of Moher.
4. Portumna Forest Park
15 km long
4 hours 23 minutes to complete
57 minutes from Galway City
Moderate loop trail
Portumna Forest Park is a breathtaking area that is filled with four different paths, though the loop trail is the most popular. The park was once owned by the Clanrickardes and features an abbey and castle, both from a few hundred years ago!
However, the park is most well-known for being home to so many different tree types, including the Douglas fir, Scots pine, Norway Spruce, and more. Also, the park is home to a lot of magnificent Irish wildlife, including badgers, deer, and foxes.
This is one of the perfect hikes near Galway City for families, just because there are so many different trail options. The terrain here is also incredibly unique compared to the grounds on the other hikes on this list!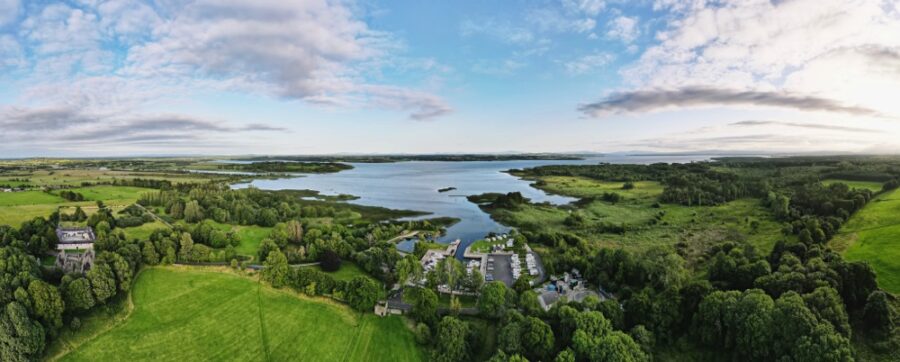 Portumna Forest Park is located here. If you are more of a beginner hiker, opt to do the 20-minute Forest Friendly Walking Trail instead, which is perfect for children.
5. Cúirt Literary Trail
10.6 km long
2 to 3 hours to complete
Located in Galway City
Easy walking trail
Any fan of literary history should walk along the Cúirt Literary Trail, which is famous for both walkers and runners in Galway. The path is easy and is perfect for hikers of all skill levels, as well as young children, as there's barely any elevation.
Along the hike, you'll pass by some of the most important literary plaques that the city has to offer which were created during a former Cúirt Literary Festival. Artists featured on the plaques include Seamus Heaney and Moya Cannon, among others.
This leisurely walk can be done no matter the time of year, but be prepared if you plan to hike during the spring because of possible rain showers.
The trail is also free to do, but if you want to have more of a structured hike, consider finding a tour guide or a self-guided walking tour map online.
For an even better experience, be sure to visit Galway City during the Cúirt Literary Festival, as mentioned before. This festival is held annually in April, and tickets should be purchased ahead of time.
The hike begins here at the National University of Galway's Quadrangle building.
6. Knockma Nature Reserve Trail
4.2 km long
1.5 hours to complete
34 minutes from Galway City
Moderate trail
The Knockma Nature Reserve Trail on Knockma Hill is a well-maintained walking trail that is the perfect afternoon getaway from Galway City. The hike is mostly through a forest, but the views at the top are divine.
Along the hike, be sure to try to search for the fairy doors that have been placed along the trees! They're genuinely the highlight of the entire trail, including the fantastic viewpoint at the top which is extremely picturesque.
Though the trail is moderate, kids will love hiking in Galway along the magical path in the forest trying to find the many different fairy doors. Be sure to pack some water for the hike, which is best done in the warmer months!
Knockma Hill is located here, only a short drive up from Galway City.
7. Rinville Park Loop
2.3 km long
1 hour or less to complete
Located in Galway City, near Oranmore
Easy trail
The Rinville Park Loop is the easiest walking trail on this list, but should not be overlooked because it's right in Galway City and provides excellent natural views. It is filled with gorgeous wildflowers and birds, which is what it is most well-known for.
This loop is perfect for hikers of all ages who just want a stroll to explore more of Galway City's natural landscape. If you're hiking in Galway during the warmer months, be sure to pack sunscreen because the trail is very exposed.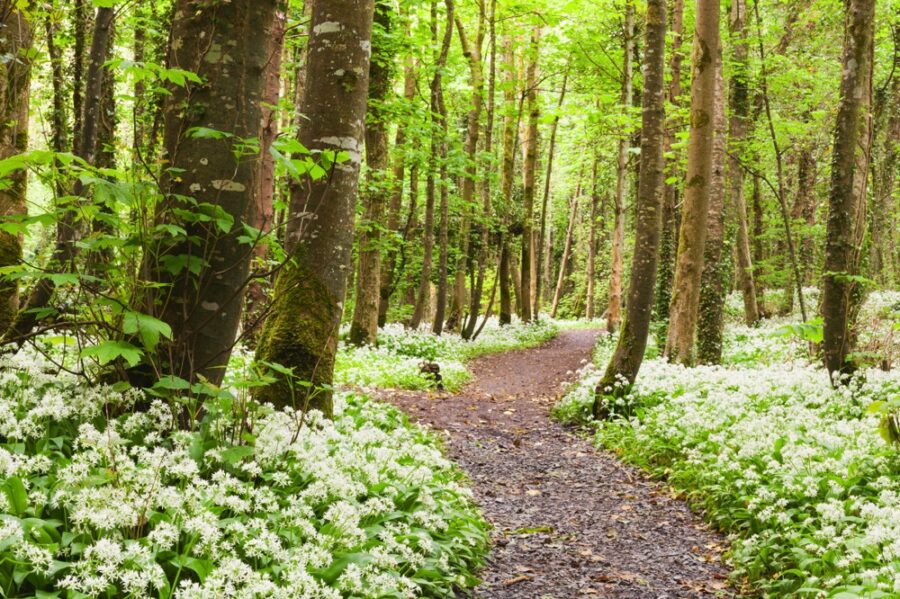 Luckily, most of the trail is very well-marked and is paved, except for a small part that goes through the forest. Nearby, there's even an excellent playground for the children, and there are usually fun food trucks as well.
The trail begins here, right in Rinville Park.
8. Caher River Loop
14.7 km long
4 hours to complete
1 hour from Galway City
Moderate loop trail
Though it's one of the quieter and lesser-known trails on this list, the Caher River Loop shouldn't be overlooked because it's filled with gorgeous wildlife and stunning views. The trail is exceptionally well-marked and has a magnificent view of Galway Bay from the summit.
The majority of the hike is along the rocks and through grass, with some great spots to stop along the way. Be on the lookout for a lot of unusual rock formations along the way in addition to the breathtaking viewpoints of the water.
Though the hike is said to be moderate, it's mostly because of its length. The Caher River Loop is great for hikers of pretty much all levels, as long as you know that you can walk 14.7 km for 4 hours straight with occasional breaks.
Because the hike is pretty long, be sure to pack snacks and drinks, along with some layers, just because it's western Ireland.
The car park to start the loop is located right on Fanore Beach, which you can see here. A great way to end the trail is to have fun at the beach.
9. Cahermurphy Loop Trail
9.7 km long
3 hours to complete
58 minutes from Galway City
Moderate loop trail
The Cahermurphy Loop Trail is a great hiking trek that goes through many different terrains, including along the river, along the lake, and through the forest! It truly offers so many different views, which makes the 3 hours of hiking go by extremely fast.
The highlights of the trail include Cahermurphy Forest, White Sands Beach, and the Bleach River. The area here was made famous because of a few writers, such as Arthur Knox and Brian Merriman, among others.
Because the trail goes through a few different terrains, sturdy hiking shoes are essential, as are sunscreen and layers, because some of the path is out in the open and some is covered. The trail is best hiked during the summer months for the best views!
The trail starts here, in Cahermurphy, which is best reached by driving.
10. Cashel Hill
4.8 km long
2 hours to complete
1 hour 3 minutes from Galway City
Moderate loop trail
The Cashel Hill trail is a scenic hiking and walking path that is famous for its wildlife, mountainscapes, and lakes that can be seen from the trail's summit. Once you get to the top, there's a stone monument that overlooks the Twelve Bens, making it one of the best hikes around Galway.
Most of the hike is rocky and right on the mountains, with only 974 feet of elevation on the way to the top. A lot of the trail is very open, so it's best to wear layers and hike during the warmer months so that you won't get stuck on the mountain in bad weather.
Because the trail takes around 2 hours to complete, be sure also to pack some water and snacks because you're sure to get hungry. You could even pack a lunch and have a picnic right at the top of the hill!
Cashel Hill is located here, but keep in mind that it's best to get here by driving.
Now You Know The Best Places to Go Hiking in Galway
Your trip to Galway indeed wouldn't be complete without doing at least one of the hikes on this list! The secret to having a successful hike is to plan ahead – specifically, pay close attention to the weather and make sure that you are doing a hike that you physically can do.
It's important to be properly prepared as the weather can change in an instant. Bring different layers of clothing, including a waterproof jacket and pants, plenty of water, and some snacks as well. Of course, a hat and sturdy shoes are a must. A great app for finding hikes in Galway is AllTrails.
So, what are you waiting for? Get planning your next hike near Galway and don't forget to pack your very best camera and all your layers! If you find yourself near the capital, don't miss these 7 hikes near Dublin, and for a full list, check out these best hikes in Ireland.
Looking For More Galway Articles?
All images in this article were found on Shutterstock.com, a website for sourcing royalty-free images and videos. Learn more about Shutterstock, here.
Like This Article? Pin it!