With its dramatic cliffs, crashing waves, and breathtaking views, the Doolin Cliff Walk is one of the most scenic coastal walks in Ireland.
If you're looking for an unforgettable Irish experience, you won't need to look much further than the walk from Doolin to The Cliffs of Moher.
This stunning trail winds its way along the coastline from the picturesque village of Doolin, to the world-famous Cliffs of Moher, and offers amazing ocean views at every turn.
It's the perfect activity for hikers of almost all levels and can be completed in just three hours – leaving you with enough time to get back to the village for a hearty lunch and pint of Guinness.
I've done this hike numerous times and it never seems to get old. Every time I go, I'm blown away by the natural beauty of the Irish coastline.
So, if you're looking for things to do in Doolin and you're up for a unique way to explore Ireland's dramatic landscape, put on your walking shoes, and head out on the Doolin Cliff Walk.
Here is the complete guide to walking from Doolin to the Cliffs Of Moher.
About The Cliffs Of Moher
The Cliffs of Moher are a UNESCO Global Geopark, located on the west coast of Ireland, along the Wild Atlantic Way.
Standing at a whopping 214m, (702ft), at their highest point, they're one of the most popular tourist attractions in the country, attracting over 1.5 million visitors from all over the world each year.
The cliffs stretch for 14km, (9 miles), from Hag's Head in the south, to the village of Doolin in the north, and offer spectacular views of the Atlantic Ocean, the Aran Islands, and Ireland's west coast along the way.
The plant life at the Cliffs of Moher is very interesting, with over 1000 different species of wildflowers and grasses growing in the areas where the land meets the sea, and along the cliff top.
Some of these unique plants include Sheep's Bit, Sea Pink, Oxeye Daisy, and Lichens. Not only is the flora nice to look at, but some are even said to have healing properties too.
In 1988, the Cliffs of Moher were designated a refuge for fauna, due to the 30,000 species of seabirds that make the cliffs their home; including Fulmars, Kittiwakes, Cormorants, and Razorbills. If you're into birdwatching, make sure to bring your binoculars!
Chances are, before you even visit the Cliffs of Moher, you'll have spotted them on TV, in movies, or in music videos.
They've been featured in TV shows such as Father Ted, the music videos of Westlife, and films such as Harry Potter and the Half Blood Prince, Far and Away, and The Princess Bride – remember the Cliffs of Insanity?
Tourism isn't exactly new to the Cliffs of Moher. In fact, going back as far as 1835, local entrepreneur, Cornelius O'Brien, built what's now known as O'Brien's Tower as a viewing point in an effort to boost tourism in the area.
And it seems to have worked, as almost 190 years later the Cliffs of Moher still remain one of Ireland's top tourist attractions.
☞ SEE ALSO: 10 Best Airbnbs in Doolin (Sea Views, Cottages and Glamping)
Where To Start The Doolin Cliff Walk?
The Doolin Cliff Walk typically starts in the village of Doolin in County Clare on the west coast of the country.
Doolin is a small village, with a big reputation. It's well known for its love of traditional Irish music, its friendly locals, and of course, its proximity to the Cliffs of Moher.
Doolin is the perfect base for exploring the west coast of Ireland and is within easy driving distance of some of the country's other top attractions, such as The Burren, Lahinch Beach, and the Ailwee Caves.
There are a few different ways to get to Doolin, but driving is the easiest and most direct way.
If you're coming from Dublin, it will take approximately 3 hours. From nearby Galway, the drive is around an hour and a half, and from Limerick it's just one hour.
If you don't have the flexibility of driving yourself, you can catch a train to Ennis, (the largest town in County Clare), and then take a bus to Doolin. Ireland is well served with train routes and you can generally get a direct route to Ennis from the major cities – check Irish Rail routes here.
Once you arrive in Doolin, head to the car park at the Russell Community Centre and then walk 10 minutes through the village as far as Fisher Street. There you'll start the Doolin Cliff Walk route.
Alternatively, you can start the Doolin Cliff Walk from the other end, at the Cliffs of Moher Visitor Centre, and walk back. I don't recommend this option, however, as you'll still have to pay the all-inclusive parking ticket, even if you don't fancy going into the Visitor Centre itself.
The walk is pretty straightforward and well signposted, so you shouldn't have any trouble finding your way.
Distance From Doolin to the Cliffs Of Moher
The Doolin Cliff Walk is 8km long, (5 miles)each way, so it's not too challenging and most people should be able to complete the trail without any problems.
I would recommend giving yourself at least 3 hours to complete the walk, even if you're a relatively experienced hiker. This will give you plenty of time to enjoy the scenery, and maybe even have a picnic lunch along the way.
If 8km isn't quite long enough for you, there's the option to continue on to Hag's Head, a little further south down the Cliffs of Moher. This route adds an additional 6km, (3.7 miles), and another 1.5 – 2 hours each way.
Difficulty Level of the Doolin Cliff Walk Route
The Doolin Cliff Walk is suitable for most people and it's not too taxing. There are a few uphill sections but nothing that should be too much of a problem, even for beginner hikers.
There's some loose stone and uneven ground in places, so you'll need to take care when walking.
The difficulty of this route, especially as you're hiking along a cliff edge, is that it can become more demanding depending on the weather. If it's been raining heavily, the path can become slippery, (first-hand experience here!), and more difficult to walk.
When it's wet and windy, (which, let's be honest, can be any time of year in Ireland), the Doolin Cliff Walk can be particularly challenging. If you plan on doing this walk during bad weather, make sure you're prepared for some tougher conditions.
The route is sadly not wheelchair accessible, as you need to climb over a stile at the beginning of the walk, close to Doolin, and the terrain is uneven in many parts.
Best Tour to Walk from Doolin to Cliffs Of Moher
It's worth considering taking a guided Doolin Cliff Walk tour if you're not confident in finding your way by yourself, or if you just want to learn more about the area as you go.
I've done the walk unguided myself and I found it pretty easy to follow, but I've also done guided tours and it's fascinating to learn more about the history and geography of the area from someone who knows it so well.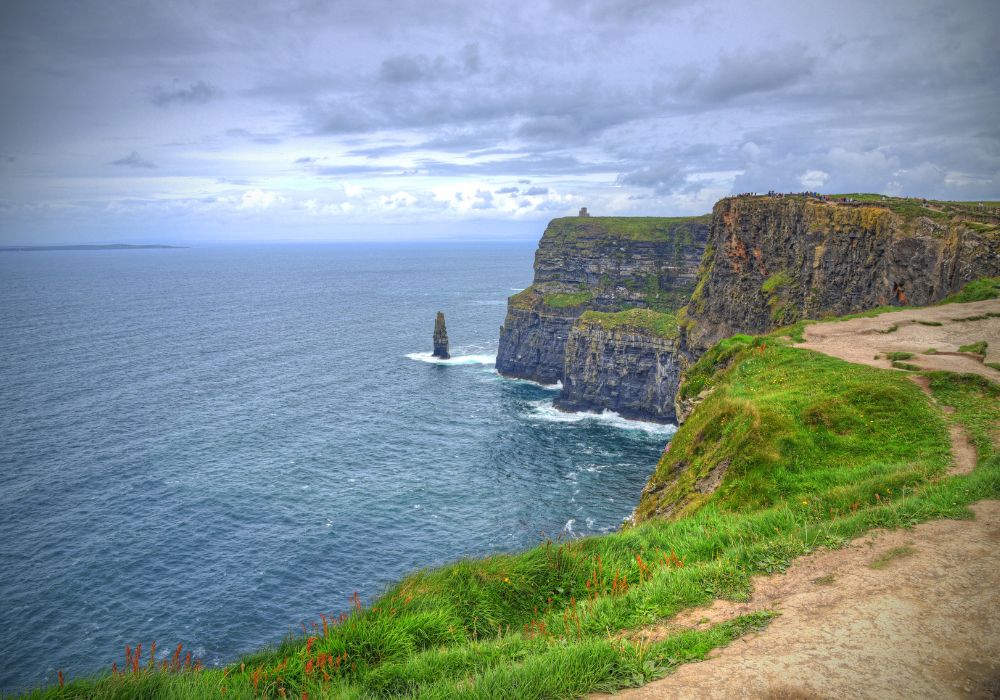 This guided tour is led by Ollie. A young but incredibly knowledgeable Co. Clare native. He knows the area like the back of his hand, and can tell you all sorts of interesting facts and stories about the Cliffs of Moher, Doolin, and the Burren.
The tour begins at the Fiddle & Bow Hotel in Doolin, and ends at the Visitor Centre at the Cliffs of Moher.
Don't worry, he won't leave you stranded there. The guide will arrange transportation via shuttle bus or taxi back to Doolin, or you can add to the adventure by walking back yourself.
Book your Doolin Cliff Walk guided tour with Ollie here.
Another fantastic guided hiking tour is this one, led by Ro, who has been guiding tourists from Doolin to the Cliffs of Moher for over 13 years.
Ro is extremely passionate about the area and her enthusiasm really rubs off on her guests.
This is a great option if you're worried about doing the walk on your own in bad weather.
Ro is an experienced hiker and also knows how to deal with all sorts of weather conditions. In fact, she provides you with all the gear you might need for your hike, including wet pants, backpack, binoculars, and snacks!
What I love about this tour is that you're taken away from the usual tourist traps and given a more authentic experience of the area.
Read more about Ro's guided cliff hike here.
How To Get From The Cliffs Back to Doolin?
Unless you keep walking as far as Hag's Head, you'll likely finish your walk at the Cliffs of Moher Visitor Center.
Here, you can use the facilities, grab a snack and drink, or buy some souvenirs before heading back to Doolin. Be aware that there's a charge to enter the Visitor Center.
There are a few ways you can get back from the Visitor Center at the Cliffs of Moher to Doolin.
You can walk, of course! If you're still feeling energetic after your hike there, this is clearly the most scenic and cost-effective option.
If you're not up for the walk, or if the weather takes a turn, you can take a local shuttle bus back to Doolin. The bus runs at various times throughout the day, depending on the time of year, and the journey takes around 15 minutes.
One thing to note is that if you just missed a bus you may have to wait a couple of hours before the next one. If you've taken a guided tour, they can arrange a separate bus to take you back to Doolin.
You can also take a taxi back to the village, which is faster, but will set you back more money. A one-way journey by taxi will cost you between €15 and €20 and takes around 10 minutes.
What to Wear and Bring for the Doolin Cliff Walk?
What you wear and bring with you on the Doolin Cliff Walk will depend a lot on the weather. However, as you may be aware, Ireland is famous for its unpredictable climate – you could have all 4 seasons in one day…
In general, I recommend wearing comfortable walking shoes or hiking boots, as the terrain is uneven in some spots. All the better if they're waterproof in case it rains.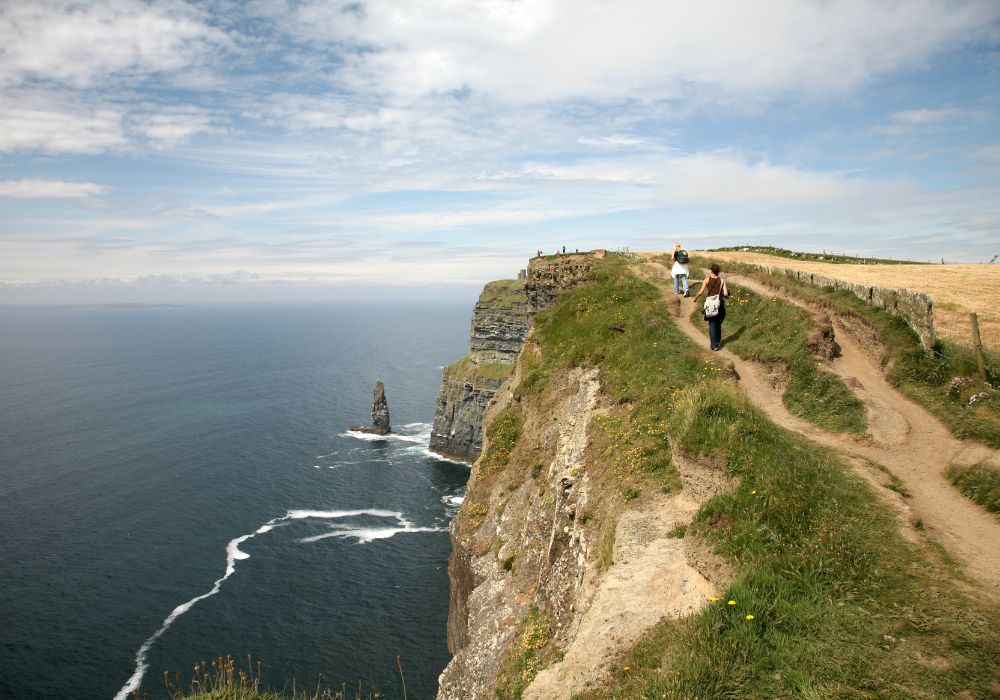 The best way to dress for the hike is to wear layers as the weather can change very quickly, and you'll need to be prepared. Most importantly, be sure to bring a rain jacket, even if the weather is clear and sunny when you leave Doolin.
Make sure to wear sunscreen, or at least bring it with you. Even if there's a breeze, it's really easy to get sunburnt up on the cliffs. And bring plenty of water with you – keep hydrated!
You might also want to pack a lunch with you if you're planning on spending a few hours on the walk, or stopping at one of the various viewpoints.
Alternatively, there are a few cafes and restaurants at the Visitor Centre where you can buy food. I highly recommend getting a 99 ice-cream with a chocolate flake before heading back to Doolin!
Top Tips for Walking From Doolin to The Cliffs Of Moher
Tip 1: Park in Doolin and not the Cliffs of Moher Visitor Centre
When driving to the Cliffs of Moher, it's important to remember that there's a charge of between €7 and €10 per person for parking at the Visitor Centre, (depending on the time of day).
If you only plan on doing the walk from Doolin to the Cliffs of Moher and back again, I recommend parking in Doolin and starting your walk from there.
You can park your car at any of these locations:
The Russell Community Centre, 10 minutes walk from Fisher Street
Gus O Connor's Pub on Main Street
In any of the other small car parks dotted around Doolin village
Tip 2: Start early to avoid the crowds
If you want to avoid the crowds, it's best to start your walk early in the morning. I would recommend getting to the start of the Doolin Cliff Walk before 9am – the earlier the better.
Keep in mind that the Cliffs of Moher are one of Ireland's most popular tourist attractions, so even though starting early will definitely help to avoid the worst of the crowds, it's likely that you'll still see a few people on the walk already.
Alternatively, go later in the evening and you might be able to catch the sun setting over the Atlantic Ocean behind the cliffs. Just make sure you have a flashlight or head torch for the walk back.
Tip 3: Bring your furry friend
My favourite thing about the Doolin Cliff Walk, (other than those spectacular views), is that you can bring your dog with you as the walk is pet-friendly.
Your dog will need to be kept on a leash at all times, and you'll need to clean up after them.
Be mindful that there are some steep cliffs along the walk, so use your best judgment as to whether your dog will be able to handle it. Keep them by your side with a short leash so they can't get close to the edge.
Tip 4: Continue on to Hag's Head for a longer hike
If you're feeling energetic and want to continue walking, you can extend your walk by continuing on to Hag's Head. From the Visitor Centre, it's about an hour and a half walk to Hag's Head.
Hag's Head is the southernmost point of the Cliffs of Moher and it's a great place to see the cliffs from a different perspective without the crowds who hang out at the Visitor Centre.
FAQs About the Walk From Doolin to the Cliffs Of Moher
Here are some answers to commonly asked questions about the coastal walk from Doolin to the Cliffs.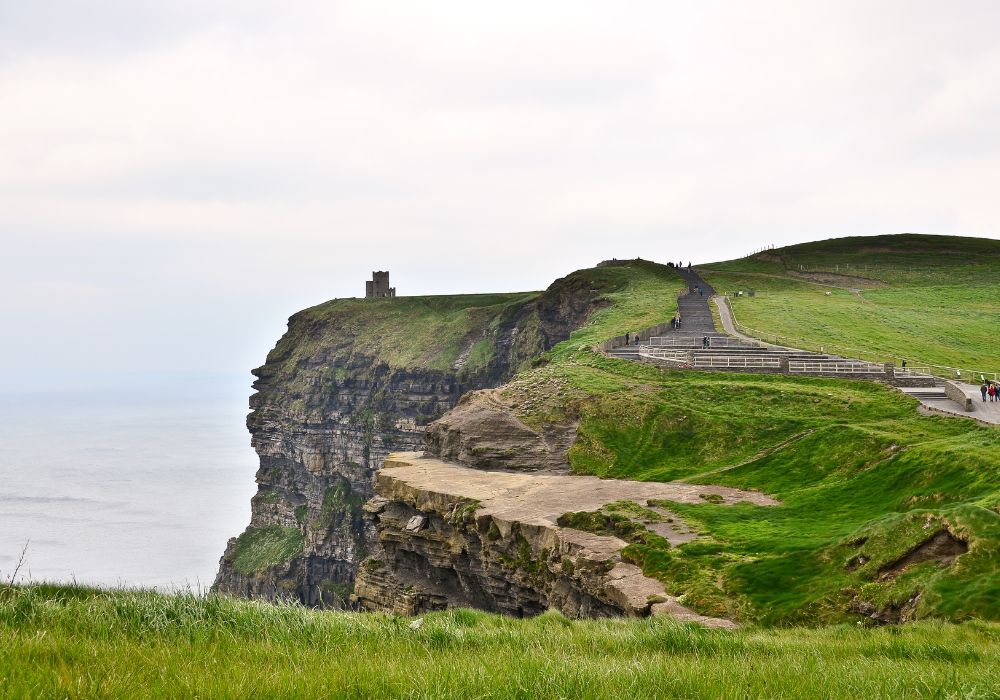 1. How long is the cliff walk from Doolin to the Cliffs Of Moher?
The cliff walk from Doolin to the Cliffs of Moher will take most people around 3 hours to complete, depending on how fast you walk, and how often you stop to take in the spectacular scenery.
2. Is the Doolin cliff walk hard?
The walk is of moderate difficulty. There are some slight inclines, but nothing too strenuous. The path is uneven in places and the strength of the wind can vary, making it a more difficult hike at times.
3. How far is Doolin from the Cliffs Of Moher?
Doolin is approximately 8km, (5 miles), from the Cliffs of Moher.
4. Is it safe to hike from Doolin to the Cliffs Of Moher?
Yes, the walk is considered safe as long as you take the necessary precautions. So long as you wear sturdy shoes, watch your step on uneven surfaces, and stay aware of strong winds that could blow you off course.
If you have any concerns about your safety, it's best to turn back and head towards Doolin.
In Conclusion
The Doolin Cliff Walk is a must do for any nature lover visiting Ireland. It's the perfect way to experience the wild and rugged beauty of the country's coastline.
Be sure to follow the tips in this guide to make the most of your experience. And, most importantly, have fun!