Headed to the west coast of Ireland and looking for an Airbnb in Doolin? I've got you covered with a list of the best places to stay in this delightful Co. Clare village.
Doolin is the epitome of Irish charm: a small, seaside village with traditional pubs, friendly locals, and a relaxed atmosphere. It's the perfect place to escape the hustle and bustle of nearby cities and enjoy some quality time in nature.
There are plenty of places to stay in Doolin, from cosy cottages, to luxury hotels and quirky Airbnbs. No matter what your budget or style, you're sure to find somewhere to suit your needs.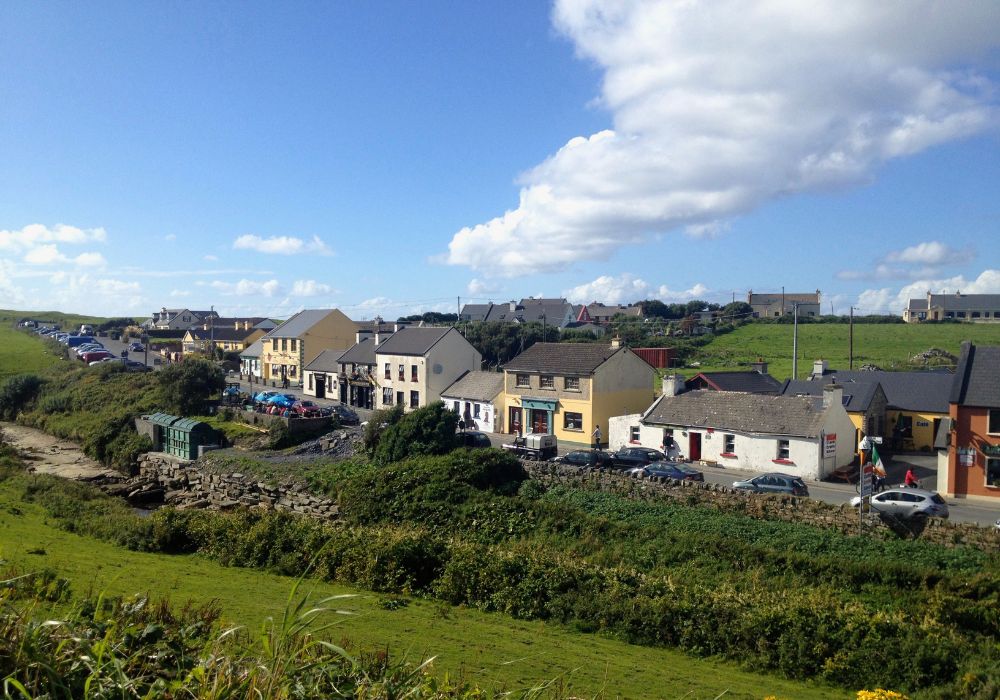 To help you decide where to stay in Doolin, I've put together a list of my top picks.
Having been to Doolin many times as a child, and more recently as an adult, I can honestly say there's no better view than waking up to the spectacular Cliffs of Moher and the crashing waves of the Atlantic Ocean – one of my favourite views in Ireland.
Whether you're looking for a romantic getaway or a family-friendly holiday, this guide will show you the best accommodation in Doolin for your upcoming stay.
Here are the 10 best Doolin Airbnbs.
1. The Blue Stonecutter's Cottage – Renovated 1800's Cottage
If it's a quiet, rural setting you're after, look no further than the Blue Stonecutter's Cottage. This beautiful cottage is set in the countryside, just outside of Doolin Village. This is one of the best Doolin Airbnbs.
With its wood burning stove and stone walls, it's the perfect place to cosy up in front of the fire on a chilly Irish evening.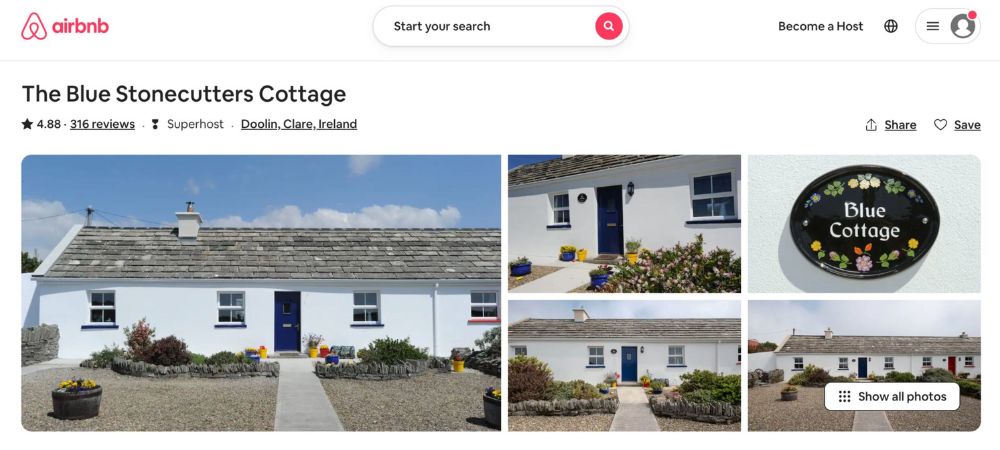 This newly renovated cottage, dating back to the time of the Great Famine of the 1840s, has been carefully restored to retain as many of its original features as possible, whilst also providing all the modern amenities you need for a comfortable stay.
You'll have use of a washer, dryer, coffee machine, WiFi, and fireplace, as well as central heating. The property accommodates two guests in one double bedroom.
There's a sweet bench and table outside in the garden where you can enjoy your morning coffee and take in the stunning views of the surrounding countryside.
The cottage is located just a few minutes' walk from Doolin Village, so you'll be able to enjoy all the pubs and restaurants the village has to offer.
Be sure to take a stroll down to Doonagore Castle, a 5-minute walk from the cottage, for some panoramic views of the cliffs and coastline.
If you need more space for others, or this particular cottage isn't available, the sister cottage next door – Red Stonecutter's Cottage – is also available to rent. Find out more about these cottages here.
☞ SEE ALSO: 15 Best Things To Do in Doolin, Ireland
2. Ocean View Lodge – A Touch of Luxury
A magnificent, luxury Airbnb in Doolin, the Ocean View Lodge is set near a cliff edge with uninterrupted panoramic ocean views. It's the perfect place to stay if you're looking to indulge a little on your holiday.
Situated in the heart of Doolin Village, where the breath-taking Cliffs of Moher coastal trail begins, Ocean View Lodge is a large three-storey home.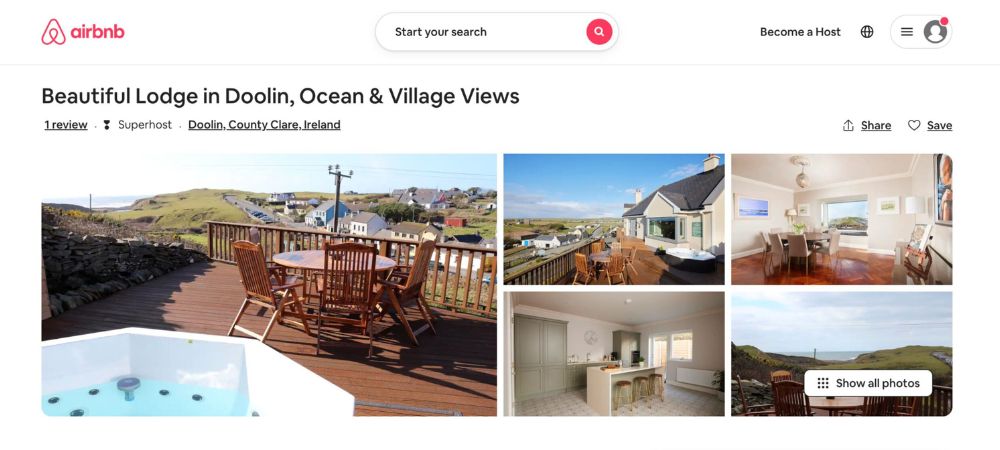 Perfect for a honeymooning couple looking for a romantic setting, and just as perfect for a group or family -although be aware that this property doesn't accommodate for children under 10.
The large open-plan kitchen and dining room is bright and airy and fully equipped with a dishwasher, fridge, freezer, coffee maker, stove, and all the basics for cooking. The first floor houses two lavish ensuite bedrooms – one king room and one twin room.
Probably the most impressive amenity this lodge has to offer is the hot tub on the decking, overlooking the village and the sea – the perfect spot to enjoy a glass of wine while watching the sun set over the Atlantic.
Hosts, Niall and Darra, will arrange as many or as little things to do in Doolin as you fancy during your stay. Click here to find out more about this luxury Airbnb in Doolin.
3. Cliffside Apartment – For the Best Views
This self-contained apartment is the closest accommodation in Doolin to the Cliffs of Moher Visitor Centre, making it a great choice for anyone who wants to make the most of their time admiring the views at the cliffs.
On a clear day, you can see the Aran Islands and the Burren from the apartment.
The apartment has its own private entrance and space outdoors to take a few chairs and watch the sunset, (or sunrise, if you're an early bird!).
Inside, there's a double room and a pull out sofa bed, meaning it can sleep up to 4 comfortably. Note that this property isn't suitable for children under 4 years.
A modern kitchenette complete with fridge, freezer, oven, hob and microwave, means you can prepare your own meals if you don't fancy venturing out into the village for every meal – although I do recommend heading down to McDermott's Pub to try the local cuisine at least once during your stay.
This property is particularly popular with walkers as it's right on the Doolin Cliff Walk – a 5 mile trail taking in stunning views of the coast.
If you want to find out more about this highly rated Airbnb in Doolin, click here.
4. Elfin Cottage – Modern Eco-House
One of the most unique Doolin Airbnbs has to be Elfin Cottage, a modern restored farmer's cottage.
In collaboration with local craftsmen, the owners of Elfin Cottage wanted to ensure that the renovations involved using as much organic, sustainable, and locally sourced materials as possible. The result is a beautifully designed, eco-friendly cottage.
The open plan living area is bright and airy with a wood burning stove and cosy seating area – perfect for curling up in front of after a day of exploring the nearby cliffs or caves.
The two double bedrooms boast luxury and comfort, and the fully stocked kitchen has all the mod-cons you could need, including a dishwasher and washing machine.
☞ SEE ALSO: Hiking the Doolin Cliff Walk (Doolin to the Cliffs Of Moher)
There's also an outdoor patio area where you can enjoy views of the surrounding area.
My favourite part of this cottage is the floor to ceiling windows, offering unbelievable scenes of the countryside and sea.
The master bedroom has an incredible copper bath tub situated right in front of more floor to ceiling windows – don't worry, it's not overlooked. It's such an idyllic place to relax and unwind.
If you're looking for somewhere different to stay in Doolin with a focus on sustainability, Elfin Cottage is the perfect choice. Read more about the eco-cottage in Doolin on Airbnb here.
5. Sea Breeze – Panoramic Ocean View (The Best Doolin Airbnb for Views)
Wake up to the sound of the Atlantic Ocean at Sea Breeze. A beautiful private suite located on a secluded country road just minutes from Doolin.
This is one of the best places to stay in Doolin if you want to explore the neighbouring areas along the Wild Atlantic Way.
The open-plan living/dining room has seating around a TV, whilst the kitchen is well equipped with a hob, oven, fridge, freezer and toaster, as well as the usual cooking necessities.
This suite sleeps four people, with a double bed in the bedroom and a double sofa bed in the living area. There's also an ensuite bathroom with a walk-in shower.
If you're a local just looking for a change of scenery to work for the week, this is an ideal spot as there's a designated work space and WiFi available.
With stunning uninterrupted views of the sea, this is the perfect Airbnb in Doolin if you want to watch the sun set over the water; there's a gorgeous deck outside to do just that.
This Doolin Airbnb has fantastic reviews, but don't just take my word for it – click here to read for yourself!
6. Fiddle & Bow Hotel – In the Heart of the Village
For those wanting to stay in a hotel rather than an Airbnb in Doolin, the Fiddle & Bow is a great option.
Situated right in the heart of the village, the hotel is just a minute's walk from all the best pubs and restaurants that Doolin has to offer.
The rooms are spacious and well-appointed, with many offering remarkable views. The on-site restaurant is also very popular. You must try the full Irish breakfast in the morning – it will set you up for any day ahead!
The hotel will help you to arrange any activities or tours that take your fancy during your stay. And after a long day of exploring, you can curl up beside the fireplace in the lounge for a drink of your choice – I recommend a Guinness.
Find out more about the Fiddle & Bow Hotel in Doolin here.
7. The Lodge – Perfect for Families & Friends
The Lodge is ideal for families or groups of friends travelling together, as it can accommodate up to six people in this beautifully decorated, quaint apartment.
There are three bedrooms: one double and two twin rooms. A crib is also available if travelling with a baby or small child.
The kitchen is well equipped for self-catering and the living room has plenty of comfortable seating. There's also WiFi available throughout the property.
Outside is a lovely patio where you can enjoy the abundant scenery.
The Lodge is situated just outside Doolin Village so you'll have peace and quiet, but still find yourself within easy reach of all the local amenities. Find out more about this Doolin Airbnb that's perfect for families and groups, here.
8. Emperor Bell Tent – Quirky Glamping
If quirky is what you're looking for in accommodation in Doolin, then the Emperor Bell Tent is all you need.
Picture a mixture between Bohemian and Moroccan style furnishings, tea light chandeliers and comfortable bedding, all set up in a beautiful tent in the middle of the Irish countryside. That's what makes this accommodation one of the most unique places to stay in Doolin.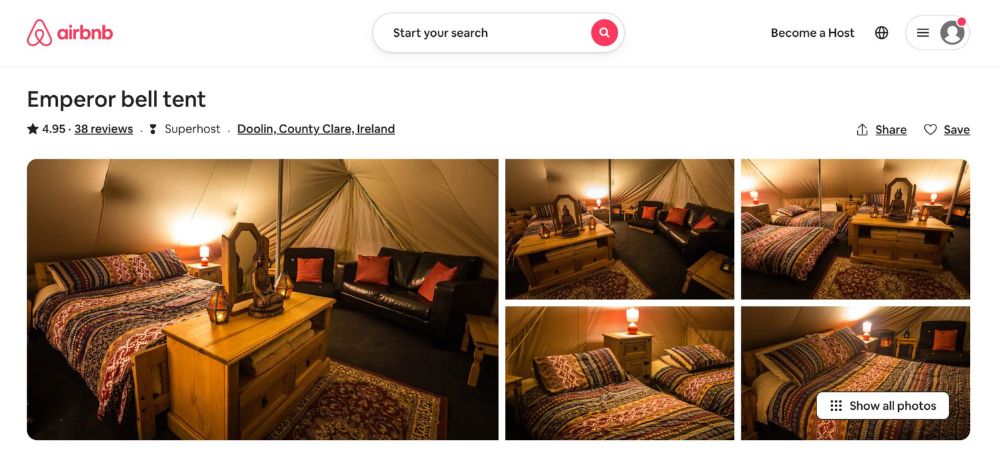 The Emperor Bell Tent can accommodate four people with its two double beds – perfect for families and friends travelling together.
Because you're staying in a tent, you won't find any ensuites here, but the shared bathrooms with hot showers are more than adequate, and the shared kitchen is fully equipped with all you need for the ultimate glamping experience.
Outside, there's a campfire where you can roast some marshmallows and enjoy some stargazing.
If this sounds like your kind of thing, check out this incredible Airbnb in Doolin here.
9. The Cuckoo's Nest – Cosy Cottage
The Cuckoo's Nest is a traditional Irish cottage that has been renovated to a very high standard.
Situated in the village of Doolin, the cottage is just a short walk away from local pubs and restaurants, as well as Doolin Pier.
The stylish décor and furnishings give the cottage a real 'home away from home' feel.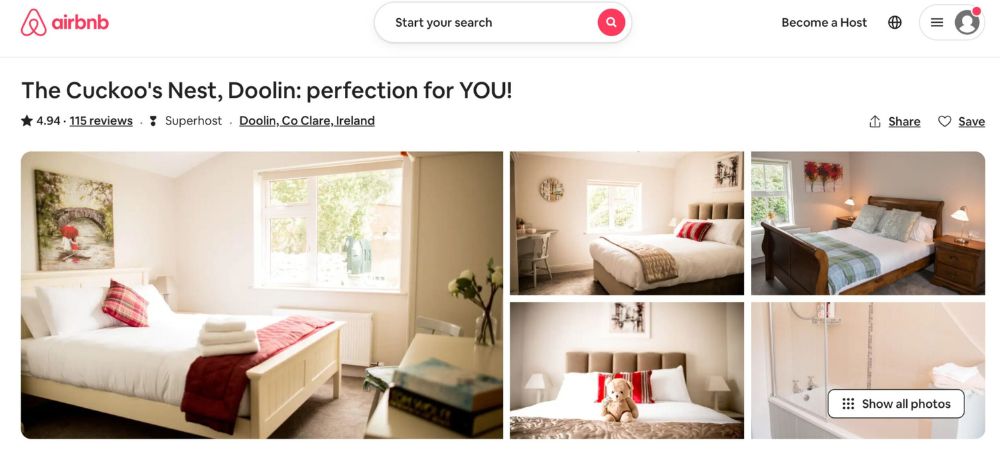 It can sleep up to six people in three double bedrooms, two of which are ensuite, and one which has its own separate bathroom. It makes for a perfect getaway for a young family or gathering of friends.
The open-plan kitchen, dining and living area is bright and airy with plenty of room to laze around, and has all the amenities you need for self-catering, including a huge fridge-freezer, a microwave, hob, and oven.
The property comes with a large outdoor space – perfect for al fresco dining during those warm summer evenings.
You need look no further than the Cuckoo's Nest for everything you need for your stay in Doolin. Click here to find out about availability.
10. Storyteller's Cottage – Authentic Thatch Hut
Charm and character oozes from each corner of Storyteller's Cottage; an authentic thatch cottage located just a short drive from Doolin Village. It really does tell a story.
From the outside, it looks like something out of a fairytale, whilst the inside is quaint and cosy.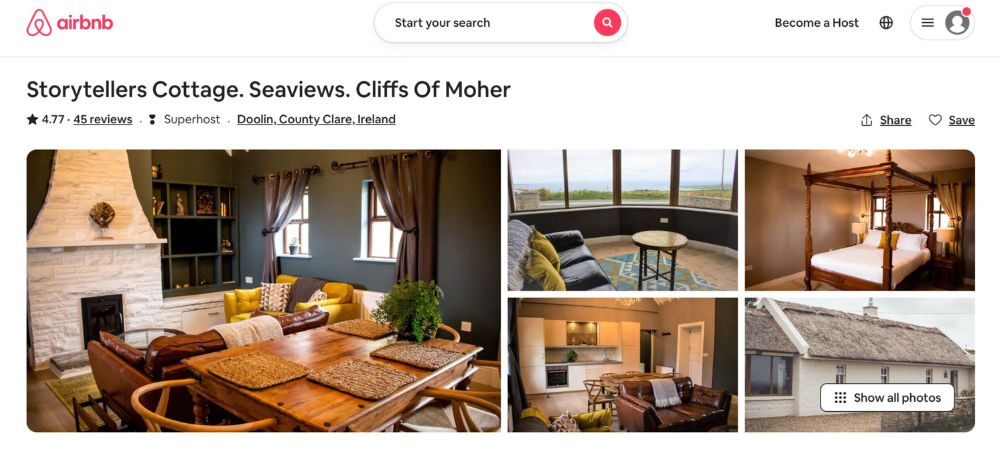 The cottage is warm and welcoming and has been lovingly restored, while still retaining some of its original features.
Inside, there are two double bedrooms, one of which has a four poster bed. Neither bedroom comes with its own ensuite but the main property bathroom is a good size and has been maintained very well.
The living area, with a stove and kitchenette, is small but cosy, and the thatched sunroom extension is perfect for gazing out across the Atlantic Ocean as far as the Aran Islands. You're spoilt for choice with views at this cottage.
This property is just right for small families, or two couples. For those who love walking, head out during the day and join the Doolin Cliff Walk, close to the property.
If you're looking for an authentic Irish experience, the Storyteller's Cottage is a very special place to stay in Doolin – it's remote and private, but still within easy reach of the village.
Find out more about this charming Doolin Airbnb here.
☞ SEE ALSO: 30 Best Things To Do in Ireland
FAQs About Doolin Airbnbs
Here are the answers to some frequently asked questions about where to stay in Doolin, Ireland.
What is the most unique accommodation in Doolin?
The most unique accommodation in Doolin has got to be the quirky, yet charming, Emperor Bell Tent.
What is the best hotel in Doolin?
The Fiddle & Bow Hotel in Doolin Village is the best hotel in Doolin.
Where is the best place to stay in Doolin?
The best overall place to stay in Doolin is Elfin Cottage, a beautifully restored eco-friendly property.
Now You Know the Top Doolin Airbnbs
With locals who are passionate about their music and culture, views that will take your breath away, and plenty of cosy places to stay, Doolin makes for a very special destination.
Whether you're interested in hiking around the Cliffs of Moher, or catching the ferry out to the Aran Islands, Doolin offers accommodation for all tastes and budgets.
Opt for traditional Irish experiences or unique glamping opportunities. Either way, you're spoilt for choice when it comes to places to stay in Doolin.
If you're looking for something different to what I've recommended, you can browse more Doolin Airbnbs here. Safe travels!