The Aran Islands are without a doubt some of the most stunning places to visit while travelling around Ireland. For Irish people and tourists alike, the islands offer an authentic, original version of Ireland that is difficult to find elsewhere.
This is also one of the only places in Ireland where you can still hear Irish people speaking their native language of Gaeilge (Irish)!
This Aran Islands travel guide has it all and will hopefully help you as you plan your trip!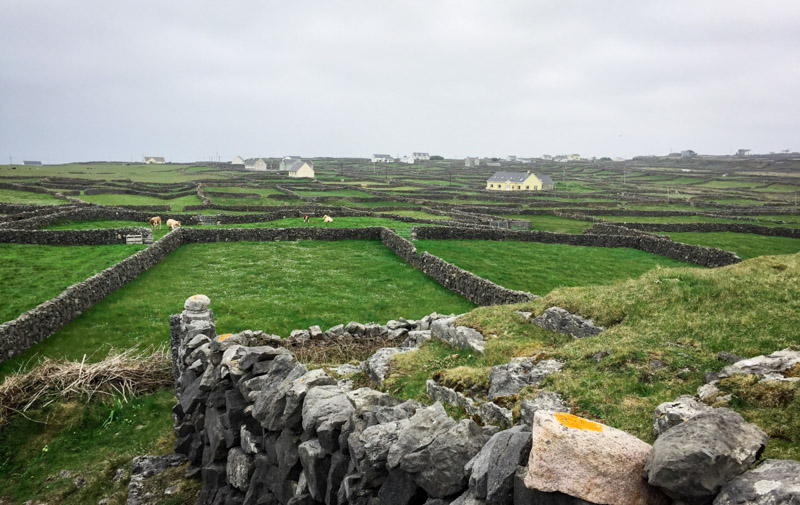 Here's our guide to the Aran Islands including how to get there, things to do and where to stay.
How To Get To The Aran Islands
There are two main ways to get to the Aran Islands: by ferry or travel by plane. Most people take the ferry because it is slightly more convenient and cheaper but the plane offers some absolutely stunning views of the islands!
The ferry departs from two places. You can get on in Doolin in County Clare, which is right beside the Cliffs of Moher. You can also get on the ferry at Rossaveal which is about 45 minutes away from Galway City. There is also a shuttle bus from Galway city if you are not travelling by car.
The Doolan departure is perfect if you want to visit the Cliffs first but otherwise, we'd recommend Rossaveal because it's slightly more convenient.
The ferry costs €25 for a return ticket and departs four times a day during the peak summer season. Some people even do a day trip from Galway and get the early morning ferry out and then the evening one home. But if you want to get the most out of the Islands we would recommend spending at least one night there!
At the Rossaveal ferry terminal, there is a car park where you can leave your car while on the islands. The rate is €5 per day and you can also buy your tickets there or collect them if you have ordered online.
You can see the full ferry schedule for Rossaveal here. For Doolin, click here.
If you want to fly to the Aran Islands then you can fly with Aer Arann. The airport is about 30 minutes outside of Galway City in Aer Arann Connemara Airport. A return ticket on the plane costs about €50. You can see their full schedule here.
Tours on the Aran Islands
The Aran Islands are actually three islands: Inis Mor, Inismaan and Inis Oirr.
Inis Mor literally means big island in English and is the biggest of the three islands, with a population of about 840 people and that is the most visited island of the three.
In this article, we will be mainly focusing on Inis Mor.
The ferry drops you off at Kilronan on Inis Mor which is the perfect base camp to exploring the island. If you fly, the airport is only a short distance from Kilronan as well.
You are not able to bring cars over but if you have a bike you can bring it with you. That being said, most people simply rent bikes on the island itself. If bikes aren't your thing then don't worry! You can do bus tours, rent a pony-and-cart or even hike around the island.
Most people opt for bikes as they are relatively cheap and you don't have to lock them anywhere, you can just park on the side of the road and go explore. Apparently, there is no thievery on the Aran Islands!
Renting a bike costs around €10 per day. The bikes aren't fancy but they are well-tuned and very hardy so they should be the perfect way to get around and explore.
If you'd rather take a bus tour, have a look at the ones on offer on Get Your Guide, here.
Things To Do On Inis Mor Island
For a small island, there are quite a few things to see and do to keep you busy. Here are a few of the best.
1. Dun Aonghasa Fort
Once you grab your bike then you are free to explore the island!
We decided to head up the main road and then took the first right turn after Spar. That brought us along a beautiful coastal road where we cycled the five miles to the most popular fort on the island, Dun Aonghasa Fort.
The fort sits out on the edge of the cliffs and is incredibly dramatic. I was completely blown away when I first saw it. Take a look for yourself: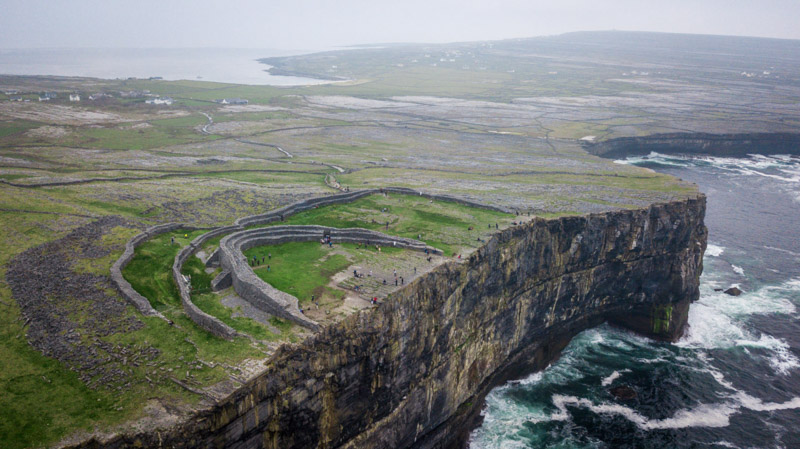 The fort itself was originally built around 1100BC making it older than the Egyptian pyramids. There are no safety railings anywhere and the drop is quite steep so be very confident of your footing if you plan on stepping near the edge.
It was by far one of the most stunning forts I've ever seen in Ireland… And I've seen a few! Admission costs €5 but you can get a free admission slip if you are staying overnight on the island from most hotels and B&Bs.
2. The Worm Hole
This is a good one to check out directly after Dun Aonghasa. It is a naturally formed rectangular 'pool' that looks incredibly man-made.
You aren't e able to cycle up to this so we cycled as close as we could before leaving out bikes and making the 30-minute walk to the pool. It's a rocky walk but very beautiful!
The pool is connected to the ocean by an underwater channel and you really get to see the power of the Atlantic Ocean up close. Someone had to be rescued from here a few years ago so please be careful if the waves are rough.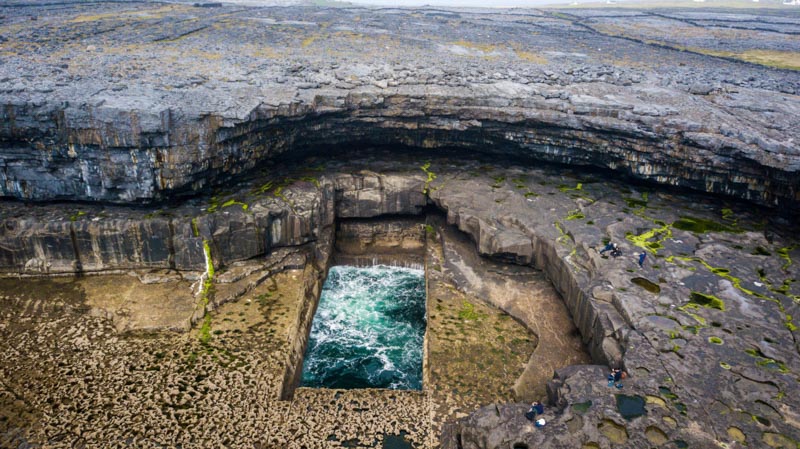 3. The Black Fort
The Black Fort is definitely less popular than Dun Aonghasa but it is by no means inferior. It's just that the tour vans can't take people there.
We actually preferred it because it was so quiet and we had the entire place to ourselves. You can walk there from Kilronan and it takes about an hour each way.
Along the way, you will be walking through the rugged landscape of which the Aran Islands are so well known for. Then you will arrive at the Black Fort which is perched out on its own peninsula. It is very striking!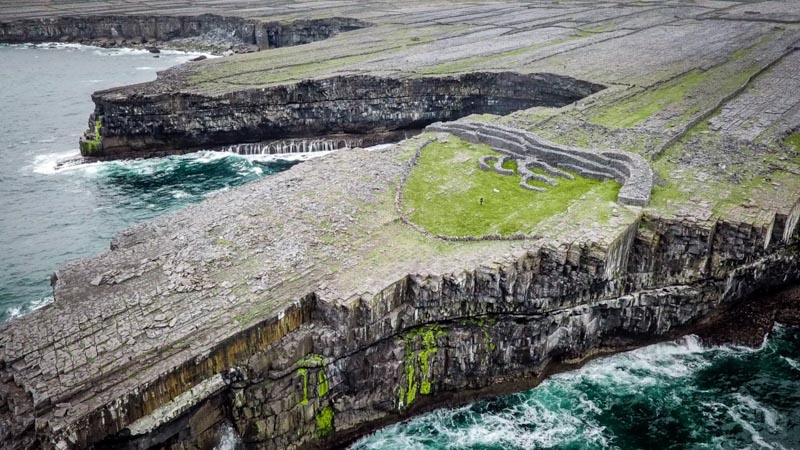 4. Dun Eoghanachta
This is an inland stone fort that is located a short cycle from Dun Aonghasa fort. It is believed to be an Iron Age fort with the remains of a number of settlements inside.
This is another one that is off the beaten track and well worth exploring.
5. More Ancient Ruins
If visiting old ruins are your thing then there will be plenty to enjoy on Inis Mor. You could check out The Church of Saint Eanna, The Seven Churches, the Beehive Hut or the Church of Four Saints. When it comes to old churches, you are spoilt for choice on the Aran Islands!
Inismaan
If you make it over to the other island of Inishmaan you will be able to see many of the places that inspired the playwright, J.M Synge, who wrote Playboy of the Western World. There are also a number of beehive huts, forts and old churches to explore while you're there.
Inis Oirr
Inis Oirr is the smallest of the three islands but there is still a lot to do. You can check out shipwrecks, sacred wells and even more ancient churches.
Pubs on the Aran Islands
After a hard day of cycling there was nothing I wanted more than a proper pint of Guinness and to relax in a nice pub. We had some delicious chowder in 'The Bar' and then walked up to Joe Watty's for a pint of Guinness.
Joe Watty's is an absolutely fantastic pub. It is everything you would want in a quaint Irish pub and so much more. Their food is delicious and in the evenings you can listen to some authentic Irish music.
I wasn't feeling great when I first went in so ordered a brandy and port which is an age-old Irish remedy for a sick stomach. It did the trick and I was back to myself in no time and ready for a pint of the black stuff.
If you're looking for somewhere else with delicious food then I would recommend dining in Bayview Restaurant. We had some great food there on our final day on the islands.
The only problem is that, as of writing, they do not have a liquor license and cannot serve booze. They told me that this would be fixed very soon though. Tigh Joe Mac is also another lovely spot for a quiet pint.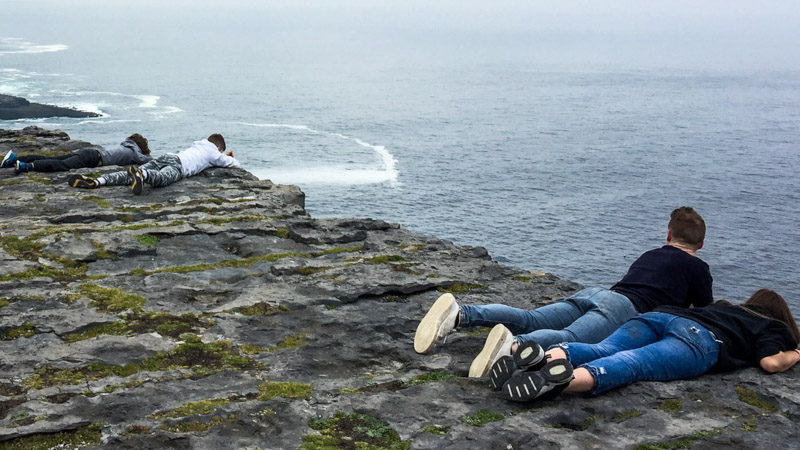 Aran Islands Accommodation
There are plenty of options when it comes to accommodation on the Aran Islands but we would definitely recommend booking in advance. During peak weekends you can certainly run out of options!
We really enjoyed our stay at the Radharc Na Ceibhe B&B. It is a no-frills B&B that offered a delicious Irish breakfast every morning and it's owner, Noreen, was extremely helpful and was always around to give us some advice or just for a general chat. It's also incredibly beautiful to hear the entire family speak fluent Irish.
If you're looking for something a bit more luxurious then you should check out the Aran Islands Hotel, it's a wonderful hotel with staff who are incredibly friendly and attentive.
If you want to get away from Kilronan, then we would recommend the Aran Walkers Lodge. They have private and semi-private rooms available and are in a very quiet and peaceful location, near Dun Aonghasa Fort.
Also definitely check out Airbnb! You can rent some incredibly beautiful cottages and have the entire place to yourself! How good would that be?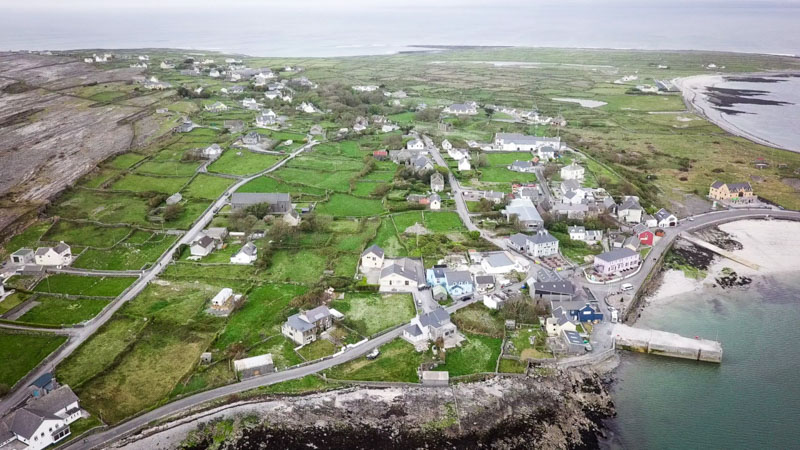 Enjoy The Aran Islands!
So that's it, we hope that this guide will be useful as you plan your trip and if you have any questions feel free to shoot us an email.
There is a lot to see on the Aran Islands but make sure you try some delicious local seafood and also snag some of the hand-knit Aran Island Sweaters — you won't get them anywhere else!
Ok, you can probably get them in Dublin but it's a lot more fun to buy them directly from the source. Also if you plan on visiting Galway city after, take a look at our Things To Do In Galway article for some more local recommendations!
Above all else though, enjoy your trip. Did we miss anything? Let us know in the comments.
Like This Article? Pin it!