There's no shortage of things to do in Howth, no matter what your interests are. From exploring stunning castles and hiking its picturesque trails to indulging in its delicious seafood cuisine or simply watching the sunset over the bay.
Nestled at the edge of Dublin Bay, around 15 kilometers from Dublin City, this charming peninsular village is known for its remarkable beauty. Its scenery is so stunning that it's been the backdrop of many films and TV shows, and is the perfect place to spend a summer's day, or even longer.
Whether you're taking a day trip from Dublin or hanging out in the village for a few days, Howth is sure to delight.
One of my favourite places to visit in Howth is Howth Summit early in the morning before the rush begins – the views are spectacular!
Here are the 15 best things to do in Howth.
1. Take a Hike
Howth has some of the best hiking trails in Dublin, with stunning views of the coast and the city. And there's no shortage of trails to follow either. Whether you're an experienced hiker or have never hiked before, there's a trail for you.
For the more skilled hikers, the Howth Cliff Paths are not to be missed. These paths will take you anywhere from 6km to 12km loops around the coast, with breathtaking views of Dublin Bay along the way.
If you're looking for an easier trail, the Baily Lighthouse and Nose of Howth Loop is a great option. This 6.5km loop will bring you through some of the most beautiful scenery Howth has to offer; including the picturesque Baily Lighthouse.
As mentioned before, one of my favourite things to do in Howth is to head off on an early morning hike before the crowds surface, but if you're a first-timer, I highly recommend joining a group hike.
This award-winning tour will take you on a 3.5-hour hike along the coast, where you'll hear stories of Norman and Viking invasions, and learn about the past of the 800-year-old Howth Castle.
If you're lucky, you might even spot some harbour seals and seabirds along the way.
If you love dogs but don't have your own furry friend with you, you're in for a treat. The guide for this tour brings along his dog Missy to join in on all the fun too.
Another popular group trek is this Coastal Trek, which will take you on a 4-hour hike along the Howth Cliff Paths. You'll get to hike along the ancient pathways of the Druids and Celts, and experience stunning views of the Irish coast, the city, and Ireland's Eye.
2. Explore Howth Castle
This 800-year-old castle has a rich history that dates back to the 12th century when it was built by the first Lord of Howth – visiting is definitely one of the top things to do in Howth, Ireland.
It was owned by the same family after being built – the Lawrence's – until it was sold in 2021 and plans were made to transform the castle into a hotel.
Because it's currently privately owned land, you're not able to just rock up for a tour, (as you would with other Irish castles). However, it's still a great stop for a stroll around the gardens or just to take pictures of the masterpiece that is the castle from the outside.
The enchanting estate grounds house a rhododendron garden and dolmens, (an ancient tomb-like structure made of two upright slabs of stone, with a third lying across the top).
Interestingly, there's also a cooking school on the grounds. Take a nosey around the castle grounds and maybe you'll come across some classes in session.
If all those scrumptious smells get your stomach rumbling, head back into Howth village to The Brass Monkey Restaurant and satisfy those cravings. I recommend the Monkey Burger, (don't worry, there are no actual monkeys involved).
3. Visit St. Mary's Abbey
A quick stop, but a must-visit Howth attraction, St. Mary's Abbey is one of the oldest buildings in Howth. It's perched on the Hill of Howth, not far from the harbour.
While it's mostly in ruins today, it's still worth taking a stroll around and imagining what it would have been like in its heyday.
The first church was built in 1042 and the ruins there today date back to the 14th and 15th centuries. It's definitely worth a visit if you're interested in Irish history or just want to see some beautiful architecture.
Stop by the Abbey Tavern after exploring St. Mary's Abbey. It's just a few steps away and is the perfect place for a pint or bite to eat.
4. Take a Boat Trip to Ireland's Eye
Ireland's Eye is a small uninhabited island located just 1.6km off the coast of Howth. It makes for a great day trip, especially if you love getting out on the water.
There are a few boat tour companies that operate daily trips to the island, (just be sure to take one that lets you get off the ferry and doesn't just cruise around the island). Ireland's Ferries is one of the companies on offer and I recommend starting with them when looking to plan your trip.
Once there, you'll be able to head up to the summit – don't worry, it's just a quick 20-minute trek, but wholly worth it for the views.
There aren't human inhabitants on the island, but keep an eye out for some of its furry residents. The island is home to grey seals, as well as guillemots, cormorants, and other seabirds.
There are also two prehistoric buildings on the island which are great for exploring – the Cill Mac Neasáin Church and the Martello Tower.
Unless you wish to spend the night with the seals, be sure to check when the last ferry leaves the island.
5. Stroll Down Howth Pier
Howth Pier is a great spot for a leisurely stroll, especially on a sunny day. It's also one of the best places in Howth to view the iconic lighthouse.
Fishing boats bob about in the harbour, locals fish off the end of the pier, and tourists admire the sights. If you watch closely, you'll spot seals lurking around in the water too, hoping a fish or two will make their way off the fishing boats into their mouths.
The pier is also a great spot for people, (and boat), watching. Howth is well known for being a yachting destination so you're likely to see some pretty impressive boats docked up.
Even if boats aren't really your thing, it's still fun to watch the world go by and take in the vibrant atmosphere.
If you're feeling peckish, there are plenty of seafood options at the end of the pier – just follow your nose. I recommend Octopussy's Seafood Tapas Bar. Make sure you have a reservation as it's pretty popular with locals and tourists alike.
6. Bike the Back Roads
Getting off the beaten path is one of the best ways to see Howth, and what better way to do that than on two wheels?
Even better, join a local guide to gain insights into Howth you wouldn't find in the guidebooks. Only the locals know the best spots for a clifftop picnic, the safest routes for biking, and where to find the best views.
This highly rated e-bike tour takes you on a leisurely spin around Howth, with plenty of stops along the way for photo opportunities. Enjoy learning about the history of the area and soak up the pretty scenery as you peddle away.
From Howth Harbour all the way up to Howth Head, and everything in between, a bike tour is a great way to see the best of Howth in just a few hours.
If you're feeling really adventurous, you could always hire a bike and explore on your own. Make sure you have an idea of where you're heading and be mindful of the weather when you set off as some of the routes can be challenging. Pack a picnic for lunch, explore at your own pace, and stop for pictures at your leisure.
7. Shop at Howth Market
Open every weekend and on Bank Holidays, the village market is one of the most popular Howth tourist attractions.
There are stalls selling everything from handmade jewelry, clothing, and antiques to fresh seafood, homemade jams, and fresh bread – there really is something for everyone.
If you don't happen to be in the area over the weekend, fear not. There are four permanent shops here that are open 7 days a week. I recommend grabbing some tasty churros and gelato from Amore before browsing the unique souvenirs in Gifts from Howth.
Howth Market is located right across from the DART train station on the right of Harbour Road.
8. Taste the Local Cuisine
Howth is famous for its seafood, so it would be rude not to indulge while you're visiting.
There are plenty of great seafood restaurants in Howth to choose from. I've already mentioned Octopussy's Seafood Tapas earlier but some other highly recommended restaurants are Aqua Restaurant and The Pier House Restaurant.
These local favourites are steps away from the harbour, meaning you can be sure your seafood is as fresh as possible.
I highly recommend taking part in a food tour while you're in Howth. Not only will it give you a chance to try some of the best seafood the city has to offer, but you'll also get a behind-the-scenes look into Howth's vibrant cuisine offerings.
This sought-after food tour takes you on a 3.5-hour wander around Howth and stops at the pier so you can learn all about the fishing history of the town.
You'll also stop at some of the best pubs in town to taste craft beer and, of course, some of the best restaurants too, so you can grab something satisfying after all of those steps. You'll get to try everything from fresh oysters to calamari, all washed down with a craft beer, (or two…).
9. Hang Out on a Beach
If you're lucky enough to catch a sunny day during your visit to Howth, make sure you head to one of the village's beaches.
There are a few to choose from, but my favourites have to be Red Rock Beach and Balscadden Bay Beach. The latter is the perfect place to go for a swim, spot the seals, or sit back and relax on the sand with a good book and soak up the views.
There's another beach – known as The Secret Beach – which I recommend visiting to take pictures from above only. It's not safe to actually go down onto the beach itself because of the tide, but it's incredibly Instagramable from the top.
10. Try Fish & Chips at Leo Burdocks
If you're looking for a classic fish and chips experience, look no further than Leo Burdocks.
The Dublin institution has been serving up delicious seafood dishes since 1913 and is one of the best places to go in Howth for a traditional fish and chips meal.
Going to Leo Burdocks as a kid, I always loved how the chips were wrapped in the previous day's newspaper. It's a small detail, but it's something that always made the experience feel a little more special and somewhat nostalgic.
The line can get long, especially on weekends, but it's worth the wait. And if you don't fancy sitting in, you can always take your fish and chips to go and enjoy them on the pier.
11. Try Sea Kayaking
If you're the outdoorsy kind who loves adventure, then you'll love this sea kayaking tour around Howth.
Head out on the Irish Sea with expert instructors and explore the coastline from a different perspective. This is a great activity for groups, families, or anyone who wants to get out on the water and try something a little different.
You'll paddle your way over to Ireland's Eye, encountering plenty of wildlife along the way, including seals, seabirds, and maybe even a dolphin or two. Once you reach the island, you'll have time to explore before heading back to Howth.
This is a wonderful experience for anyone who loves being outdoors and wants to explore the coast in a unique way.
12. See a Lighthouse
Howth has, not one, but two lighthouses. The first is Baily Lighthouse, which is located on the very edge of Howth Head. This is one of the most popular and picturesque places to see in Howth.
To get there, you can either walk one of the trails or drive up to Howth Head and walk down to the lighthouse to enjoy the spectacular views from the top.
The second lighthouse is Howth Lighthouse, located on the east pier of the harbour. You can't miss it – it's a great place to watch the fishing boats come in and out of the harbour.
13. Take a Coastal, Castles & Distillery Tour
If you don't have much time to see Howth and its surrounding areas, I suggest hopping on this bus tour which will take you around Howth, as well as neighboring villages of Malahide and Skerries.
You can expect a scenic drive around Howth Peninsula, a tour of Malahide Castle, a pass by of the charming seaside village of Skerries, a tour of Pearse Lyons Distillery, and a tour of Ardgillan Castle – a jam-packed adventure!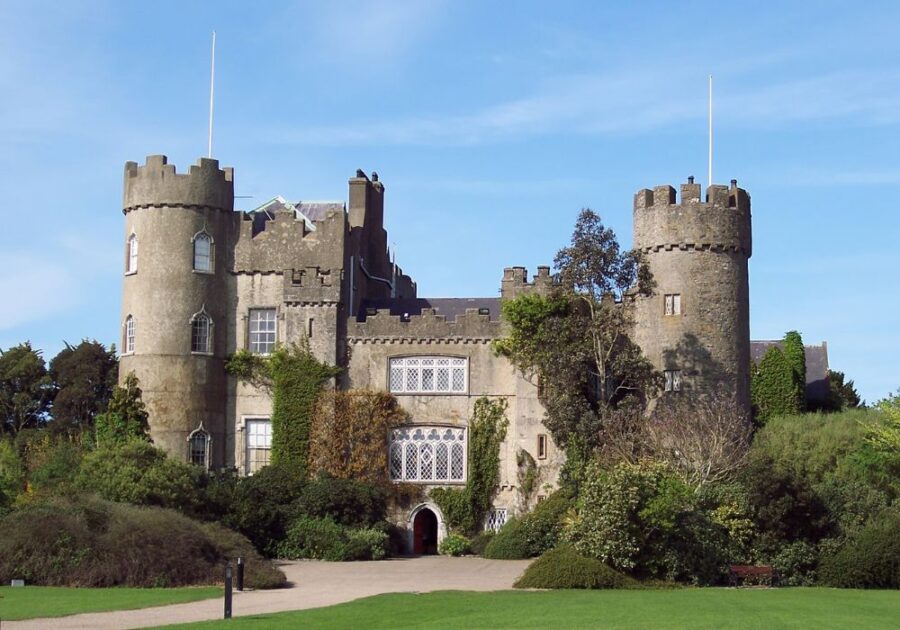 This is a great way to see some of the best sights in the area without having to do all the planning yourself.
14. Visit a Museum
Howth is home to some of the most interesting, (and quirky), museums in Dublin.
One I love to visit is the National Transport Museum, which is located close to Howth Castle. The museum has a display of vintage vehicles including buses, fire brigades, and trucks. It's a great place to visit if you want to see some cool old vehicles.
Another is Ye Olde Hurdy Gurdy Museum of Vintage Radio, (quite the mouthful but quite an experience!). This is one of the most fascinating museums in Dublin and it's definitely worth a visit.
This tiny museum has a collection of old radios, gramophones, telephones, and TVs. It's a fantastic place to learn about the history of technology and how it's evolved over the years.
After getting your fix of vintage vehicles and TV's, head down to the award winning House Restaurant, (just a couple of minutes' drive from the Museum of Vintage Radio), for some homemade soup and traditional Irish soda bread.
15. Watch the Sunset
I may be biased but Ireland has some of the best sunsets in the world and there's no better place to watch one than Howth.
There are a few great spots to catch the sunset, but my personal favourite is Howth Head. You'll have to walk for about an hour to get to the top, but you'll be thankful for every step once you see the views that await.
Another great spot to watch that sun go down is from Howth Pier. You can watch the sunset over the water while enjoying some delicious seafood and wine – you couldn't ask for much more than that.
Alternatively, you can take to the water and watch the sun setting over the cliffs from this sunset cruise. You'll get to hear all about the history of Howth while watching the sun dip below the horizon – it's the perfect end to a day of sightseeing in this charming village.
FAQs About Howth
Here are some answers to commonly asked questions about visiting Howth.
Is Howth Worth Visiting?
Howth is absolutely worth visiting. There are so many places to visit in Howth and activities to keep everyone entertained. Whether you're traveling alone, as a couple, or with the whole family, you'll find something to keep you happy in Howth.
Is Howth a Posh Area?
Howth is an affluent area, with properties being some of the most sought after in Dublin. However, it's still a relatively down-to-earth place with a village feel and you don't need to spend a fortune to visit.
What is Howth Known For?
Howth is most known for its stunning coastal scenery, delicious seafood, and friendly fishermen locals.
Do Celebrities Live in Howth?
Yes, some celebrities have been known to live in Howth over the years, such as U2's drummer Larry Mullen, actress Saoirse Ronan, Thin Lizzy's Phil Lynott, (during the 80s), and actor Stuart Townsend.
Where to Stay in Howth
The best place to stay in Howth is close to the harbour. You'll find the best views here and it's easily accessible to local restaurants and attractions. I recommend this spacious two bedroom apartment or this adorable waterfront studio.
Now You Know What to Do in Howth
With all these interesting things to do in Howth, there's no excuse not to visit this charming village. Whether you're looking for a romantic getaway, a family vacation, or just a place to relax and enjoy some picturesque scenery, Howth is the perfect coastal destination in Dublin.