Ireland has one of the most beautiful landscapes in the world, with some of it looking unlike anything else on earth. Many of the most scenic views can be witnessed firsthand from the hikes near Dublin!
The great thing about hiking in Dublin is that there truly are trails available for all levels and there is a wide variety of terrain options.
No matter your fitness level, you can find a perfect route for you that still offers great views. The best time to visit Ireland for hiking is during the late spring, summer, and early autumn.
While studying abroad in Dublin for five months, I managed to get out and do some of these hikes myself.
The days that I spent hiking around Dublin truly were some of the most memorable days of my study abroad experience and I ended up being blessed with sunny weather!
Add hiking to the list of things to do during your trip to Dublin, you won't be disappointed.
Lace-up your boots and enjoy these 7 best hikes near Dublin.
1. Dalkey & Killiney Hill
2 kilometers long
40 minutes from Dublin
Easy trail
This 2-kilometer trail near Dublin offers coastal and mountain views, plus there's even a monument at the top. The scenery truly is breathtaking and features wildflowers along the way. At just 40 minutes from the city, this is one of the best hikes near Dublin.
The Dalkey & Killiney Hill trail is relatively easy and short, so it's great for all ages and is even kid-friendly. The whole trek could be done in just a few hours, though you'll want to remember to wear solid hiking shoes and also pack a snack for the journey.
The main highlight of this hike is the Obelisk located at the very top of Killiney Hill which was built in 1741 and is commonly known as a great spot for marriage proposals in the area!
At the summit, you can also see Dalkey Island, the Wicklow Mountains, and Sugar Loaf Mountain.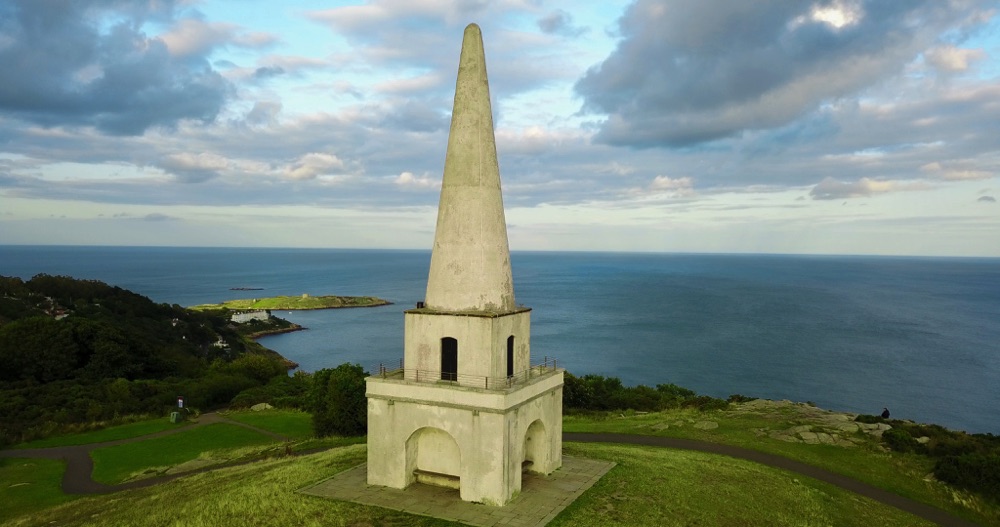 After the hike, be sure to visit Killiney Beach if you have time. Hawk Cliff and White Rock Beach are also in the area and are worth checking out just because they're so gorgeous, especially around sunset if you're lucky enough to be hiking around that time of day.
This Dublin hiking trail is free and can be hiked at all times of the year, but keep in mind that it does get especially busy on the weekends. Opt to visit during the middle of the week to avoid the crowds!
A popular spot to start the hike is Killiney Playground, which can be found on Google Maps here.
2. Djouce and War Hill Trail via Wicklow Way
11 kilometers long
1 hour from Dublin
Moderate trail
The Djouce and War Hill Trail is a beautiful mountainous trek that gives great views of Ireland's natural inland landscape. From the summit, you can see down below for what looks like miles — plus, there's also a breathtaking lake.
This hiking trail is moderate and is approximately 11 kilometers long, so it's best done in a day. For this hike, you'll want to bring some water, food, and a durable pair of hiking boots because this trail is known for being muddy.
Top sights to be on the lookout for along the hike include the Powerscourt Waterfall and the Liffey Head Bog. The waterfall is particularly a fun sight to see because it's the tallest waterfall in all of Ireland!
There are spots to stop and grab a snack along the hike, and most people prefer to stop by the coffin stones to eat. The hike is free to do though there may be a small fee for the car park.
Even though this hike can be done at all times of the year, try not to go when it's windy or rainy because of how open the area is. You would get drenched!
Click here to see where the car park near the trailhead is.
3. Howth Cliff Walk
6 kilometers long
40 minutes from Dublin
Easy (not for those who don't like heights)
The Howth Cliff walk is a 6-kilometer walk right along the sea coast in the gorgeous fishing village of Howth that serves as the perfect spot for hiking near Dublin. Apart from the great hiking, Howth is one of the best places to visit in all of Ireland!
The great thing about the Howth Cliff Walk is that while it's an easy hike to do, there are multiple routes with varying lengths.
One thing to keep in mind is that this hike can be quite rocky and rugged at times and you will have to climb up a few minor rock faces along the way, especially if you want to go higher up to get stunning views of the coast.
It's also not a good hike for those who don't like heights, as there is nothing between you and the cliff face.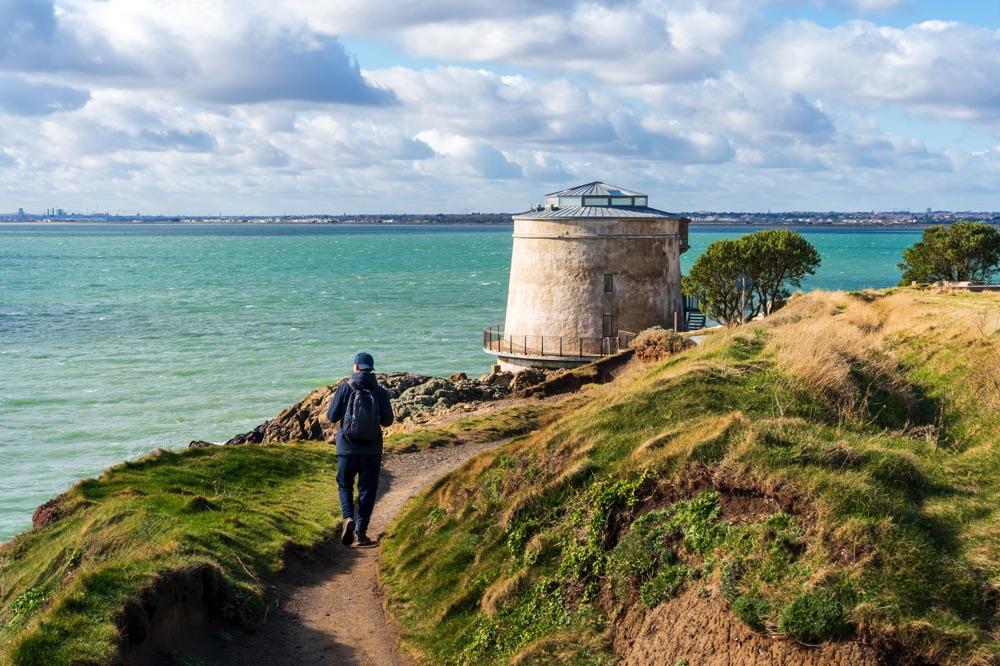 This hike is truly perfect for hikers of all ages, but if you bring kids, just be careful about them getting near the edge. For the hike, you'll want to pack a snack, water, and possibly a raincoat or sunscreen as well depending on the time of year since it's very open and there isn't any shade.
One of the highlights of the cliff walk is the Baily Lighthouse which you can see about partway through the hike in addition to County Wicklow. There is also a gorgeous stopping spot about 3/4 of the way through the hike that is a prime location for taking photos and lounging out while you eat your snack with a view.
If you forgot to bring food or had planned on grabbing something in Howth once you got there, be sure to check out Howth Market which is filled with quite a few stalls of locals selling a wide variety of food. You can find everything from candy to gelato to hot dogs here!
This hike is completely free to do, but be sure to go to the visitor centre near Howth Harbour right before you start your hike to grab a map, even though the hike is pretty well-marked. This hike is best done any time of year as long as it's not windy because it's so exposed.
Click here to see where the Howth car park is located since the trail starts only a short way from here. Of course, the Howth Cliff Walk is one of the Dublin hiking trails that can also be reached easily by Dublin Bus or Irish Rail.
4. Glendalough White Route
8.9 kilometers long
75 minutes from Dublin
Moderate trail
The Glendalough White Route is a popular trail in County Wicklow that is best-known for its views of the lake down below.
The white route is about 8.9 kilometers long, though Glendalough is filled with many other trails for varying levels of hikers. Some of the best hikes in Ireland can be found here.
This trail is mostly mountainous and at times can be rocky and foresty. The trail essentially brings you around the lake in a loop but your view just gets better as you gain up to 1,500 feet in elevation.
Hikers who can handle moderate-level trails will best succeed on this hike, as it's not too difficult but isn't as easy as a coastal cliff walk either. You'll want to bring layers because you can get quite exposed the higher up you go, and bug spray, rain gear, water, and a snack.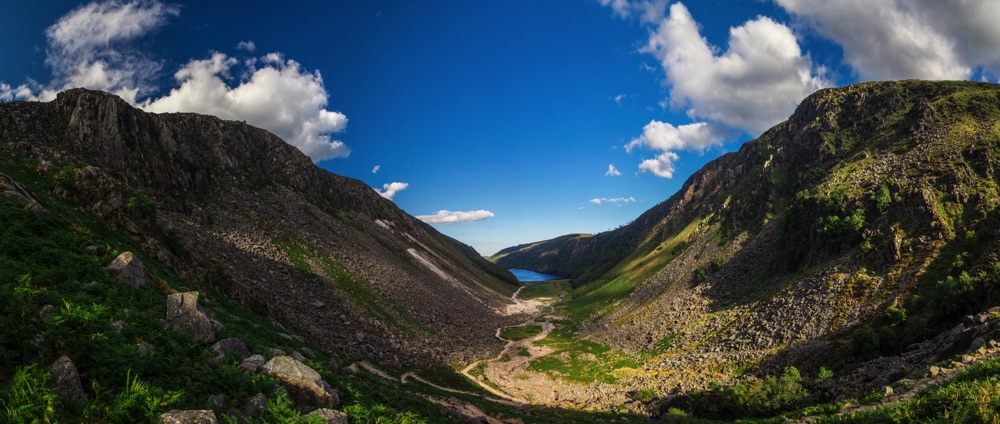 The true highlight of the hike is the lake which you can see at multiple different viewpoints around the hike. Be sure to also pay close attention to the wildlife along the hike, as you can find lots of interesting birds, lizards, and more!
You can, of course, find spots to stop and eat your snacks along the way. The hike itself is free but there is a small fee for the car park. Keep in mind that this hike is best done at times when the weather isn't super rainy because you are quite exposed.
Click here to see where the trail starts on Google Maps. At 1 hour and 15 minutes from the city, Glendalough is one of the most popular spots for hiking near Dublin. For more walks around Glendalough, click here.
5. Bray Head Cliff Walk
7 kilometers long
45 minutes from Dublin
Easy trail
The Bray Head Cliff Walk is exactly what it sounds like; a coastal walk along a gorgeous cliff face — around 45 minutes south of Dublin. It starts (or ends, you get to choose which side to begin) in Greystones, ends in Bray, and is truly one of the most scenic hikes around Dublin.
Though it's right on the water, this cliff walk is extremely easy to do and can be done by hikers of all levels, including kids and beginners.
Those who aren't big fans of heights will be happy to know that there is even a fence that stands between the hiking trail and the cliff face, so it's completely safe.
The route isn't very rugged and is quite easy to walk, as it's only 7 kilometers long. The trail is well marked and you won't get lost along the way, because it's nearly impossible to!
Just be sure to pack good walking shoes, water, and a snack to have along the way. Speaking of which, having good hiking boots with proper support is so important when hitting the trail. Have a look at this list of hiking gifts for — which lists many options from boots and backpacks to knives and power banks.
About halfway through the hike, there's a viewpoint that you won't want to miss. This is the one spot that doesn't have a fence for protection, but you can walk down a flattened area near the cliff face which serves as the perfect photo opportunity or break spot.
Right before the hike, if you forget to bring a snack, you can either grab one at the visitor centre near the hike's trailhead in Greystones or walk along the Bray Promenade to find a bite to bring with you. This hike is best done in spring or summer.
Click here to see right where the cliff walk normally starts in Bray. For a fun change of pace that most people don't choose to do, opt to start the hike in Greystones, which can be found here, instead, as it will end with the gorgeous sight of the Bray Promenade.
6. Dublin Mountains Loop Trail
19.6 kilometers long
30 minutes from Dublin
Moderate trail
The Dublin Mountains Loop Trail is a foresty and mountainous hike located right by Tallaght, a city 30 minutes southwest of Dublin. This hike is most well-known for its amazing monuments along the way, but more on that later.
This trail is approximately 19.6 km long and gains about 2,400 feet in elevation. It's a loop trail that could be done within a few hours, depending on your skillset and how fast you walk!
The loop trail is moderate and is best for hikers who at least have a few hikes under their belt. The trail, though well-marked, can get quite muddy at times, so you'll want to wear comfortable hiking boots and of course, bring some snacks and water in case you need an energy boost along the way.
Like mentioned earlier, this hike is filled with lots of historical monuments that are important to Ireland.
Along the way, you'll want to be on the lookout for wedge tombs, passage tombs, and chambered cairns that date back to the Stone Age and the Bronze Age. Do this hike with a guide to learn more about the history!
You can easily stop along the way to refuel. Keep in mind that you'll want to try to do this hike on days that aren't foggy, or your views could be highly skewed, unfortunately.
To see where the trail begins, click here. This is the most common starting point for the trail and is a great spot for hiking near Dublin.
7. Hellfire Club Walk (Montpelier Loop Trail)
5 kilometers long
30 minutes from Dublin
Easy trail
If you're looking for a creepy hike to do, you'll want to do the Hellfire Club Walk, which is also known as the Montpelier Loop Trail. It's truly more of a hike than a walk and is only about 5 km long, making it one of the easiest and best hikes in Dublin.
This hike is mainly mountainous but can get muddy at times. However, it is a short hike, so you won't need to pack much more than a bottle of water and a rain jacket in case it's raining.
The Hellfire Club Walk is a simple trail and can even be done with children. It's perfect for hikers of all levels who are interested in learning more about what the Hellfire Club was.
According to legend, the Hellfire Club was created in 1735 by Richard Parsons. The club was filled with people who practiced black magic and worshipped Satan. Be on the lookout for the ruins where they supposedly met!
Before the Hellfire Club met here, R.J. Connolly, a member of the House of Parliament, had a hunting lodge at the top of Montpelier Hill which is still partly there today in ruins.
The hike is free to do and there are a few ways to get to the top of the hill. Just choose an option from the car park; they're both good treks, though one will bring you through a forest.
Click here to see where the car park is located. The trailhead is right off the car park.
Now You Know The Best Places to Go Hiking Near Dublin
These hikes around Dublin will truly stick with you for the rest of your life. Every single one offers an amazing view, whether it's of the gorgeous coastline or something as interesting as the ruins of the Hellfire Club.
The majority of the hikes in this list are for easy and moderate trails — there really is something for everyone.
If you're looking for a unique way to feel closer to the country of Ireland and its beauty, be sure to plan on doing at least one hike during your trip to the Emerald Isle!
Thank you to Shutterstock for providing these great photos! Learn more about the royalty-free images and videos here.
Like This Article? Pin it!