Are you heading to Ireland's east coast and looking for things to do in Bray? I've put together a list of my top Bray activities to help you begin planning your trip.
Bray is a charming seaside town located in County Wicklow, Ireland. It's just a 50-minute drive or train ride from the Irish capital of Dublin.
The town is known for its stunning coastal views and visitors can enjoy a variety of attractions and activities in Bray. From water sports to castles, to nature trails and coastal walks, there's something for everyone in Bray.
One thing I love about this beautiful coastal town is that there are so many free things to do in Bray throughout the year, making it the perfect destination if you're trying to save some money.
I've spent summer evenings at many festivals, and whiled away days hiking and strolling along the seafront with an ice cream in hand. I think Bray really comes into its own during the warmer months.
Here are the 15 best things to do in Bray.
1. Climb Bray Head
For spectacular views of the coast, there's no better place than the top of Bray Head. On a clear day, this is one of the best things to do in Bray.
The walk up to the top only takes around 30 – 40 minutes. There are a few steps and inclines along the way, but it's not a very difficult walk so don't let that deter you.
To get to Bray Head, start off at the promenade and head up the hill. The terrain is mostly steps and dirt tracks, and you'll need to navigate some rocks as you get closer to the top.
Trust me, the views from the top of Bray Head are nothing short of spectacular. You can see all the way down the coast of Dublin and Wicklow, and on a clear day, you can even see as far as Wales – it's incredible!
2. Stroll Along the Promenade
The Bray Promenade is the perfect place to take a leisurely stroll, enjoy some people watching, or simply listen to the waves crashing against the shore, especially on a sunny day.
You'll find a plethora of restaurants and cafes along the promenade if you fancy cooling down, grabbing a bit to eat, or stopping for a refreshing drink.
During the summer months, there's often a lively atmosphere on the promenade with musicians performing along the seafront.
The Bray Head walk also begins at the promenade, so if you're feeling energetic you can always extend your stroll with a few more steps along this trail.
3. Indulge in Teddy's Ice Cream
This one is for the sweet-toothed amongst you. Teddy's ice cream shop is an institution in Bray and has been serving up delicious ice cream to locals and visitors for over 70 years.
Teddy is Edward Jacob, the man who established the chain of ice cream shops back in 1950. Today, there are three Teddy's shops: the original in Dun Laoghaire in Dublin, one in Glasthule, Co. Dublin, and of course the one in Bray.
If you ask any local where to get the best 99 whipped ice cream cone in Bray, you'll be pointed in the direction of Teddy's without a doubt.
And it's not just the tasty frozen dessert that Teddy's is famous for. Are you familiar with those old jars of boiled sweets that you can't seem to find anywhere these days? Teddy's still has them – think rhubarb and custard, lemon sherbert, and pear drops delight!
The ice cream shop is located on the seafront, so it's the perfect place to stop for a sweet treat after a walk along the promenade.
4. Visit the Mermaid Arts Centre
The Mermaid Arts Centre, just off the main street in Bray, is the town's leading arts venue, and it plays host to a whole range of events throughout the year; from theatre shows and live music, to art exhibitions and film screenings.
This is one of my favourite places to visit in Bray. Whether you're into comedy, dance, drama, or music, there's sure to be something on at the Mermaid Arts Centre that will pique your interest.
If you're visiting with kids, the centre often hosts a number of events and activities specifically for children, such as Halloween mask-making workshops, puppet shows, and storytelling.
It really is fun for all the family at Bray's Mermaid Arts Centre.
5. Kayak Around Bray Head
If you've already taken in the surrounding views from the top of Bray Head, then next on the agenda is to see it from down below.
There are a few companies that offer kayaking tours around Bray Head, but I recommend this one.
It's a great way to spend a couple of hours if you're looking for things to do in Bray on a sunny day – be mindful that the sea gets very choppy on wet and windy days.
Paddle your way around the headland, take in the amazing views of the coast, and keep a look out for some wildlife along the way.
Keep your eyes peeled for seabirds such as seagulls and cormorants, as well as some interesting sea life as you paddle.
Find out more about this sea kayaking tour here.
6. Attend a Festival
One of my favourite things to do in Bray during the summer is to attend one of its many festivals.
Bray is home to a number of different festivals throughout the year, so if you're visiting at the right time, you might be lucky enough to catch one.
Some of the most popular festivals include:
The Bray Jazz Festival – this event takes place each year over the May bank holiday weekend and showcases some of the best jazz talents from around Ireland, as well as internationally renowned acts.
Beach BBQ Festival – Bray's newest festival, Beach BBQ Festival, is one of the best things to do in Bray for families and friends alike. There's a funfair, food trucks, games, music – and of course, plenty of BBQ goodness.
The Comedy Festival – taking place in February, this festival has featured some of the biggest names in Irish comedy over the years.
The Bray Air Display – held each year in July, this festival sees some of the biggest names in aviation take to the sky to show off incredible aerial acrobatics, as well as a spectacular fireworks display to end the night.
This is one of the best free things to do in Bray each year and is perfect for a family day out.
7. Stop for a Guinness in The Harbour Bar
This traditional Irish pub was established in 1872 as both a bar and an undertakers, (which was curiously quite the norm back then).
Although the business model has changed since then, The Harbour Bar is still one of the best places in Bray to enjoy a pint of Guinness.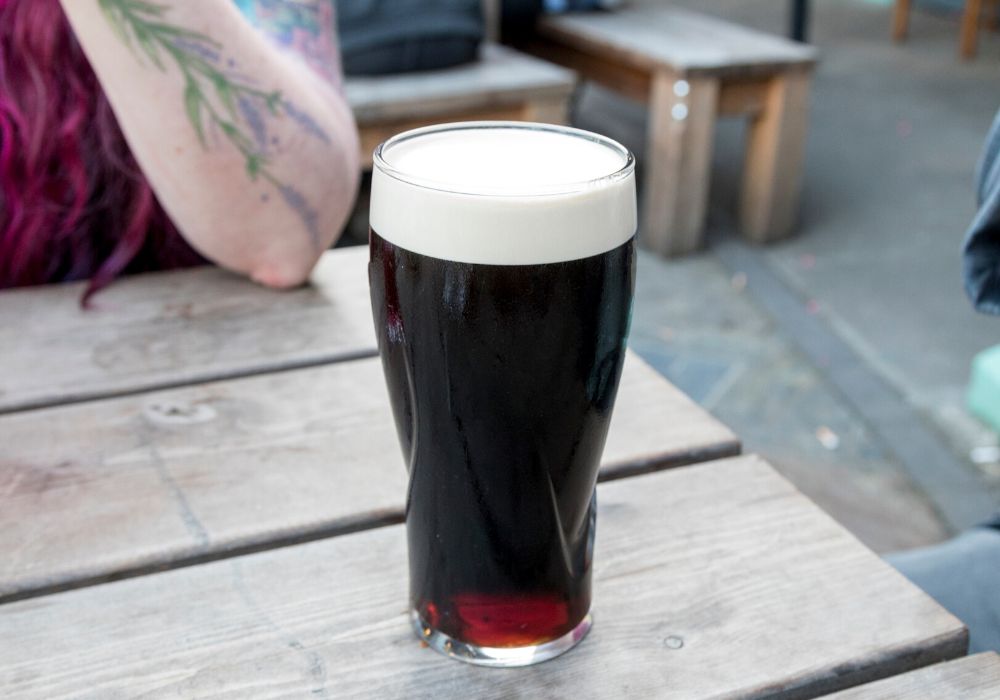 Originally a row of fisherman's houses, each 'room' offers a cosy and unique atmosphere, with 'The Snug' being one of the most popular spots in the pub.
The Harbour has a lovely old-world charm about it, and there's often live music playing. Be sure to pop in for a pint and a sing-song if you're looking for some fun things to do in Bray on a night out.
The best thing about this pub? It's pet friendly so you can bring your furry friends along too!
8. Get Active with Bray Adventures
If you're looking for some outdoor adventures during your visit to Bray, then look no further than Bray Adventures.
They offer a number of different activities, such as kayaking, coasteering, rock climbing, and abseiling, so there's sure to be something to suit everyone.
I recommend trying out coasteering, which is definitely a unique way to explore the coastline and get your heart racing at the same time.
If you're feeling brave, you can even jump into the sea from the cliffs above – be warned, it's usually VERY cold…
Whilst this is one of the more daring activities in Bray, it's also a really fun and quirky way to see the coastline from a different perspective.
Bray Adventures offers family-friendly fun, so this is the perfect option if you're looking for some of the best things to do in Bray with kids.
9. Relax on the Beach
Bray's seaside location means that it's blessed with a stunning coastline, and one of my favourite things to do in Bray is to relax on the beach and soak up the incredible views.
Whilst it may not be like the white sandy beaches of the Caribbean, Bray's South Promenade Beach is still beautiful in its own way and offers a great place to relax, swim, sunbathe, or take a walk.
10. Take a Day Trip to Powerscourt
Although Bray itself certainly has a lot to see and do, there are also some great things to do just outside of Bray if you want to explore further afield.
One of those options is to visit Powerscourt Estate, just a short drive from Bray.
Powerscourt is home to a number of different attractions, such as Powerscourt House and Gardens, the Avoca Store and Restaurant, and the Distillery.
It would be easy to spend an entire day exploring Powerscourt Estate.
The house and gardens are particularly lovely, and even if you're not a keen gardener, I'm sure you'll appreciate the beauty of these grounds.
Take a river walk or cycle around the estate, and visit the tallest waterfall in Ireland which stands at a staggering 398 feet.
The Avoca Store is the perfect place to pick up some local souvenirs or gifts to take back home with you.
11. Explore Wicklow Mountains National Park
If you're of a outdoorsy nature, a trip to the Wicklow Mountains National Park is a must.
At over 20,000 hectares, the Wicklow Mountains National Park is the largest of Ireland's six national parks, and it's one of the best places in the area to enjoy hiking. The park has nine trails which range from short 30-minute walks, to longer 4-hour hill climbs.
If you're feeling particularly energetic, I recommend walking St. Kevin's Way; a 30km pilgrim through the National Park.
The flora and fauna here is incredible and you're nearly always guaranteed to spot some of Ireland's native wildlife roaming about.
Red deer, badgers, squirrels, hares, foxes, and hedgehogs are just some of the animals you might see. As well as keeping your eyes open, be sure to keep your distance – these are wild animals after all.
With so much to see and do, Wicklow Mountains National Park is a wonderful way to spend a day exploring the Irish countryside and nature.
12. Head to Glendalough for a Day Trip
Glendalough makes for a fantastic trip from Bray, at just a 35-minute drive away.
This stunning glacial valley is home to two lakes – which you can take a quick dip in if you dare – as well as a number of historic sites, such as the 6th-century monastic city founded by St. Kevin.
The city is made up of building remains which include a church, gateway, tower, and priest's house.
There are walking trails and cycling routes through Glendalough, so you can explore the valley at your own pace.
One such trail is 'miner's way'; a 19km walk that takes you past the sites of the old lead, zinc, and silver mines.
Getting to some of these areas can be a little tricky if you're not driving, so I recommend taking a tour. That way, you can visit such places as Powerscourt, Glendalough, and the Wicklow Mountains all at once.
Here are some of the most popular tours:
13. Take a Tour of Dalkey Castle & Heritage Centre
Nestled atop a picturesque hill not far from Bray, Dalkey Castle & Heritage Centre offers visitors a unique opportunity to step back in time.
The castle, which dates back to the 14th century, has been lovingly restored to its former glory.
Visitors can explore the castle, go on a literary walk, or climb to the top of the battlements for incredible panoramic views of Dalkey, the Wicklow Mountains, and the Irish Sea.
The castle also has talented actors who bring the history of the castle to life with their interactive performances.
I recommend taking a guided tour of the castle so you don't miss anything.
Check out this tour which includes a scenic walk up Killiney Hill and a drink at Ireland's highest pub.
14. Walk the Bray to Greystones Coastal Trail
The Irish coastline is absolutely magnificent, and you can see for yourself when you walk the Bray to Greystones Coastal Trail.
The 8km cliff-top walk takes you on a 2.5-hour walk through the picturesque towns of Bray and Greystones, and offers breathtaking views of the Irish coastline and the Wicklow Mountains along the way.
The trail is relatively easy, with a few rough patches, but nothing that a good pair of walking shoes can't handle.
The trailhead begins at the bandstand on the Bray promenade and you'll make your way up to Bray Head before continuing on along the cliff edge as far as Greystones.
Once you get to Greystones, I highly recommend stopping for something to eat at one of the town's many quaint cafes. Try The Bear Paw Deli for homemade meals, mouth-watering pastries, sweet treats, and seriously yummy coffee, (note that they request you call ahead to order).
If you don't fancy hiking back to Bray, you can hop on the DART train in Greystones for a quick return to base.
Of course, if you're not confident completing the walk yourself, why not join this guided tour which starts in Greystones and makes its way back to Bray?
15. Visit Killruddery House
Just a short jaunt from Bray is this awe-inspiring 17th-century stately home set over 800 acres of land.
The owners of Killruddery House are passionate about keeping the estate well preserved and ensuring it's a sustainable and biodiverse haven.
The gardens are like something out of a fairytale; with blooming woodland, water features, and a walled garden.
It's quite romantic, and I'd say it's one of the best things to do in Bray for couples, (you can get married there too if you like!).
FAQs About Bray
Here are some answers to commonly asked questions about visiting Bray.
Is Bray Worth Visiting?
Yes! Bray is a lovely seaside town with plenty to see and do. It's great for a day trip from Dublin, or even a weekend away.
What is Bray Famous For?
Bray is most famous for its picturesque coastline, which offers beautiful views of the Irish Sea. The town is also a great base for exploring the Wicklow Mountains.
What County is Bray in?
Bray is located in County Wicklow.
How Do I Get to Bray from Dublin?
The easiest way to get to Bray from Dublin is by train. The journey takes around 50 minutes, and trains depart regularly from Dublin's Connolly Station. You can also drive to Bray from Dublin, which also takes approximately 50 minutes, depending on traffic.
How Many Days Do You Need in Bray?
You could easily spend a day or two exploring Bray and the surrounding areas.
When is the Best Time to Visit Bray?
The best time to visit Bray is during the summer months when the weather is warmer and there are more things to do, such as festivals and outdoor activities.
Now You Know What to Do in Bray
So, there you have it – the 15 best things to do in Bray.
Whether you're looking for a day of adventure or a leisurely stroll, there's something for everyone in and around this charming seaside town.