Wicklow is one of the most naturally beautiful areas in all of Ireland, known for its breathtaking national park and scenic coastal views. It's even said to be host to the Emerald Isle's best hiking locations since it's home to the gorgeous Glendalough, which is a must-visit for any Wicklow travel experience.
Wicklow is one of the country's oldest towns, dating back to the 8th century AD when the Vikings discovered it. A trip to Wicklow isn't complete without soaking up all of the history that this area has to offer.
This Wicklow travel guide will provide you with all the information necessary for you to have the best trip possible.
Best Time To Visit Wicklow
Wicklow travel is excellent no matter the time of year, but there are certain times worth visiting the area to get the best prices and experience it with the least amount of crowding. Below, find information on each of the seasons to help you decide what time is best for you to visit.
Peak Season
Wicklow's peak season is from June to August in the summer months. Everything is open during this time, but the business of the town makes it hard to fully enjoy all that there is to offer and experience here.
This is when the weather is the warmest, averaging around 18°C (65°F) and prices are the highest for accommodations.
Shoulder Season
The shoulder season in Wicklow, like with most Irish seaside towns, is the spring months (March to May) and the fall months (September to November). This is considered the best time to visit Wicklow because it's not super busy and prices are rather affordable.
For reference, the spring temperature averages 9°C (49°F) while the fall months average 11°C (51°F), which is the perfect weather for walking around Wicklow.
Off-Season
Wicklow's winter season is the off-season, as this is when the least amount of people visit the area and prices are at their lowest. The temperature averages 5°C (41°F), making it the coldest time to visit Wicklow.
Keep in mind that though prices are low, it's not the best time to visit because there's a chance that some top sights could have limited hours or could even be closed because of the lack of tourists.
Where to Stay in Wicklow
Wicklow is filled with tons of great neighbourhoods and suburbs so it can be hard deciding which one is worth staying in when you visit. Here are the top three areas to stay in during your trip to Wicklow.
Wicklow Town Centre
If you're the type of person that would like to be right in the middle of everything that's happening in Wicklow, then opt to stay in the town centre. It's located next to all of the best pubs and top sights and is also right along the River Vartry.
There are a few hotels and bed and breakfasts here, and they average around €101 ($120) per night depending on the time of year. The great thing about staying in the town centre is that you could genuinely walk around a lot and not rely on public transportation as much.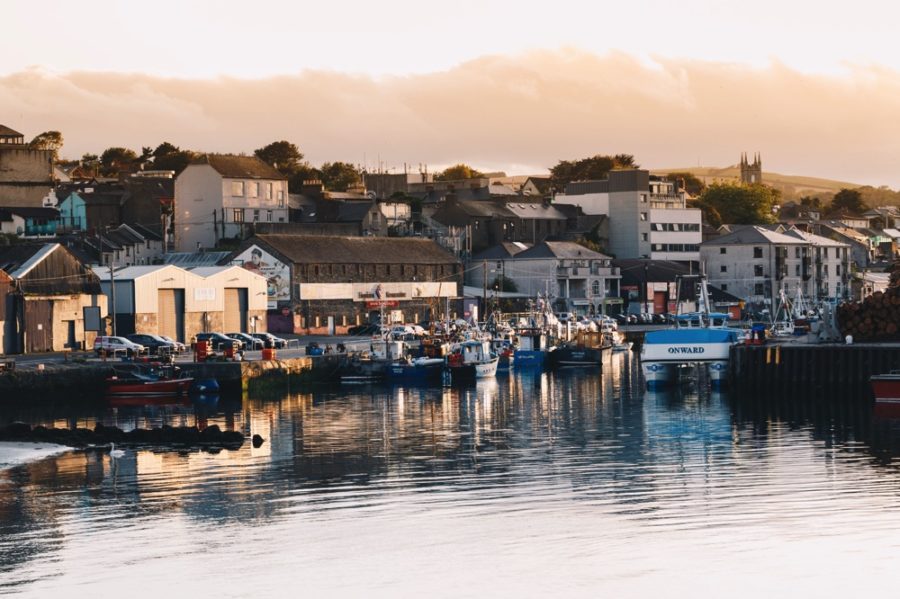 Rathnew
Rathnew is one of Wicklow town's suburbs that is a bit quieter than the town centre but is still only a short 5-minute ride away from downtown. There are a wide variety of accommodation types here, including bed and breakfasts, hotels, and even a glamping ground.
This area is a bit more pricey to stay in compared to Wicklow town, averaging around €152 ($180) a night, depending on where you choose to stay.
Ashford
The town of Ashford is another of Wicklow's suburbs, and it's only 8 minutes away from the town centre. It's a lot more town-like than Wicklow, filled with great areas to explore including Kent Downs, Victoria Park, and Godington House.
Often, this is where families choose to stay because it's quiet and tranquil. Accommodations average around €101 ($163) a night here, but if you book out sooner, it could be a lot cheaper.
Things To See & Do In Wicklow
Wicklow is filled with lots of fun activities no matter what type of activities you're interested in. If you have only a few short days in Wicklow, these are the things to do in Wicklow you must not miss out on.
1. Black Castle
Black Castle is an old ruin dating back to Ireland's Norman times in the 12th century. This castle was attacked multiple times for a few hundred years and now serves as one of Wicklow Town's most magnificent viewpoints.
2. Wicklow Gaol
The Wicklow Gaol is an 18th-century jailhouse that brings visitors straight through Ireland's history during the Irish War of Independence, the famine, and more. If you're a fan of spooky tours, try to hop on their Gates of Hell virtual reality tour that brings the jailhouse's ghosts to life!
3. Wicklow Head Lighthouse
The Wicklow Head Lighthouse was built in the 18th century and was one of two twin lighthouses that were made in this area. Though this octagonal lighthouse is now a unique accommodation in Wicklow, it's still one of the best places to visit in the area because of its beautiful views.
Best Day Trips From Wicklow
Wicklow's prime location on the east coast of Ireland makes it the perfect home base for exploring other areas in Ireland. Plus, a lot of the surrounding regions of Wicklow town are filled with gorgeous outdoor activities.
Below are some of the best day trips to take from Wicklow.
Dublin
Dublin, Ireland's capital city, is only a short 49-minute drive or 58-minute bus ride away from Wicklow. No trip to Ireland is complete without at least spending a little bit of time exploring Dublin, as its one of the most historically-rich destinations in the country.
If you visit Dublin, be sure to check out the Temple Bar area, relax at St. Stephen's Green, and have a pint at the gravity bar at the Guinness Storehouse. It's also a very walkable city because all the top sights are pretty close to each other.
Wexford
Wexford is a coastal town in Ireland filled with gorgeous beaches and historical sights. It's most easily reached by an hour-long car ride, but it can also be reached by public transportation which can take a bit longer.
Some of the most exciting spots in Wexford worth exploring include Selskar Abbey, the Irish National Heritage Park, and the Johnstown Castle Estate, Museum and Gardens. Be sure also to check out the beaches!
Bray
Bray is located a quick 24-minute drive north of Wexford or a 55-minute train ride. It's a lovely coastal town that was home to James Joyce, one of Ireland's most well-known authors, as well as Hozier, the famous singer.
The top thing to do in Bray is to hike the Bray Head Cliff Walk that leads straight to Greystones. This coastal cliff walk has some of the best views, and it's genuinely one of the best hikes near Dublin that are perfect for beginner and advanced hikers alike.
Cost Of Travel In Wicklow
Wicklow is a reasonably-priced travel destination in Ireland, especially in comparison to the larger cities, if you plan on sticking to a budget. Of course, the price can significantly vary depending on where you choose to stay and what you choose to do during your trip, so the costs outlined below can be used as a guideline.
Budget €86 ($102) / Day
With €86 a day, you could stay at one of Wicklow's budget accommodations and eat affordable food from cafes and small, local eateries.
Mid-Range €143 ($170) / Day
A mid-range budget of €143 would allow you to stay in Wicklow Town Centre and you'd also be able to enjoy some of the better pubs and restaurants downtown.
Top-End €228 ($270) / Day
With a luxury budget, you could stay at the most high-end accommodations and also not worry about price when eating out or taking day trips in the area.
What and Where to Eat in Wicklow
Wicklow, as a coastal town, is heavily influenced by its sea location. As you might guess, a lot of Wicklow's best dishes have to do with seafood, but there are also other great dishes if you're not a fan of fish.
Below, learn more about some of Wicklow's must-eat meals and best restaurants and pubs.
Must-Try Dishes:
Prawns: Prawns are similar to shrimp and are essentially a tiny fish. Though Co. Dublin is most well-known for its prawns, they're just as tasty in Co. Wicklow, specifically at Cassoni's, a fish and chip shop.
Irish stew: Irish Stew is one of Ireland's most well-known dishes and is made with meat, potatoes, and vegetables. They are best at Wicklow Heather Bar & Restaurant which has mid-range pricing around €10 to €12 ($12 to $14) for a dish.
Fish and chips: Wicklow locals love their fish and chips, which is essentially just fried fish with french fries. The best place to get these nearby is at the Fish Bar in Bray which costs around €9 ($11).
Best Restaurants in Wicklow
Wicklow Heather Bar & Restaurant: This cosy and casual restaurant is family-friendly and has midrange pricing. They serve a wide variety of Irish dishes, with their most popular being Irish stew.
Halpin's Bridge Cafe: The Halpin's Bridge Cafe is a budget-friendly restaurant that has a casual and laidback vibe. They serve a wide variety of coffee and other hot beverages in addition to sandwiches, breakfasts, and more.
Vital Health Cafe: Vital Health Cafe is a cheap healthy restaurant in Wicklow that has a lot of vegetarian and vegan-friendly dishes. Their menu includes items such as overnight oats, breakfast bowls, and burritos all for under €9.
3 Best Pubs in Wicklow
As with the rest of Ireland, pubs are the place to be in Wicklow whether you're a tourist or a local. Often, the pubs in Wicklow also have the best live music and food.
Here are three of the best pubs you'll want to try to visit while travelling in Wicklow.
Phil Healy's Pub:
Phil Healy's Pub has been serving Wicklow for the last 50 years. They have excellent craft beer and are a favourite among both locals and tourists alike.
The whole upstairs area of Phil Healy's was recently remodelled and now features a fun bar featuring a stage for live music. The inside is quite cosy yet modern, which adds to the pub's overall ambience.
The Brass Fox:
The Brass Fox is truly a highlight in Wicklow, having one the Best Newcomer Pub Award in Ireland back in 2018. This quirky little pub feels extremely upscale yet relaxed and laidback at the same time due to its lovely decorations.
They serve quite a few menus and are even open for breakfast. However, the pub truly comes to life in the evening when it has local live artists playing music.
The Bridge Tavern:
The Bridge Tavern opened in the 19th century by the Halpin family, though it was initially just an inn. Today, it doubles as an inn and one of the best pubs to eat at when you travel Wicklow.
It's located right on the Vartry River and has a very picturesque viewpoint. The Bridge Tavern has live music daily and serves a wide variety of different beverages in addition to its great dishes in its restaurant.
Best Live Music Venues in Wicklow
Wicklow is home to some of the best live music venues, and you must stop and enjoy the music at least once during your Wicklow travel experience. Below, find the top three places to listen to live music that this Wicklow guide wouldn't be complete without.
Ernie's Bar
Ernie's Bar in Wicklow is a mid-range restaurant that often has evenings with live traditional music. What better way is there to mingle with the locals than to stop and grab a pint while listening to great music?
Johnny Fox's Pub
Johnny Foxy's Pub was opened back in 1798 and has become one of the must-visit spots for listening to live music while travelling in Wicklow. They feature a performance called the Hooley Show which is what it's most well-known for, featuring Irish dancers and trad music while you get to enjoy a lovely dinner meal.
Fitzpatricks Bar & Lounge
Fitzpatricks Bar & Lounge is another great live music venue that doubles as a bar and restaurant. They have great live music every weekend, which can be listened to from their gorgeous historical lounge.
Top Beaches in Wicklow
Because Wicklow is right on the water, it is of course located only a short drive away from some of Ireland's greatest beaches. To have the best Wicklow travel trip possible, try to make time to visit at least one of the beaches nearby.
Here are a few of the most magnificent beaches located near Wicklow town.
Brittas Bay
Brittas Bay is located just 14 minutes south of Wicklow by car, but it's unfortunately not reachable by public transportation. The beach stretches on for 5 km, and it's incredibly sandy with beautiful blue, calm ways.
What makes Brittas Bay so unique is that it's the spot that St. Patrick first landed in Ireland, making it extremely rich with history. This is a great place to go swimming or walking along the beautiful seaside.
Bray Head
It takes just 30 minutes to drive to Bray Head, but it's also easily reachable by bus or train. Bray Head is home to a gorgeous beach that you can go swimming in, but most people come here to walk along the scenic Bray Promenade or to do the Bray to Greystones cliff walk.
Magheramore Beach
Similar to Brittas Bay, Magheramore Beach can only be reached by car, but it's only 13 minutes south of Wicklow town. It's arguably the best beach in all of the county, so it's an absolute must when you travel Wicklow.
Many people say that the beach looks a lot like the beaches in France's southern region because it's so peaceful and gorgeous. The beach is exceptionally laidback and secluded, so you're sure to find a stretch just for yourself.
Hiking Locations in Wicklow
Wicklow has the greatest national park in all of Ireland, so it is of course located near some of the country's best hiking spots. There are hikes for all levels, but below are a few of the very best hikes to check out during your trip to Wicklow.
Great Sugar Loaf Trail
This 2.7 km trail is a moderate level that is home to beautiful flowers and viewpoints in Wicklow. It's most well-known for the panoramic views that it offers at the top because you can see all the way out to Wales if the sky is clear!
What's incredible about the Great Sugar Loaf Trail is that it's family-friendly, though keep in mind that the hike does get a little rocky at the top. Be sure to bring water and snacks, in addition to layers in case it rains.
Lugnaquilla Ridge Trail
The Lugnaquilla Ridge Trail is a loop trail that has a distance of 11.7 km. It's a moderate trail that features a gorgeous waterfall that you honestly won't want to miss in addition to a bunch of other glorious natural sights.
This trail is also home to lots of Ireland's natural wildlife and wildflowers. Because this hike is a bit longer, be sure to pack water and snacks but also wear the sturdiest and most comfortable pair of hiking shoes you can find.
Wicklow Way Complete Trail
Wicklow Way is the most iconic and popular hiking trail in all of County Wicklow. It's a difficult trail meant for those who are more advanced that goes on for 129 km and gains almost 17,000 feet in elevation.
This point-to-point trail is popular among backpackers who wish to explore more of Ireland's exceptional nature. It can take anywhere from 4 to 7 days depending on your speed, so be sure to pack all the essentials you'll need to spend a few nights in the wilderness.
Top Tours in Wicklow
Because Wicklow is located in one of the most breathtaking regions of Ireland, all tours in the area have to do with the county's immense nature. Below are some of the top tours offered that you'll want to consider during your Wicklow travel experience.
Wicklow Harbour Kayak Tour
This lovely tour lasts approximately 2 hours and brings guests on a kayak through the beautiful Wicklow Harbour. Along the way, guests will learn more about the local history and ecology, and you'll even go right by the must-see Black Castle.
The Wicklow Harbour Kayak Tour is a smaller tour that is limited to just eight travellers. It's best for solo travellers, couples, and families with older children who can manage to kayak on their own for safety reasons.
Half-Day Fatbike Tour – Wicklow Ballinastoe
The Half-Day Fatbike Tour lasts around 2 to 3 hours and covers 18 km of the Ballinastoe Woods in County Wicklow. There are many great stops along the way, including the Guinness Lake, Wicklow Way, and Sally Gap.
Because this is a rather physical excursion, it's recommended for guests who will be able to keep up with the rest of the group. Any type of traveller is welcome on this tour but just be prepared by dressing for the weather.
Enniskerry: Powerscourt Distillery Whiskey Tour & Tasting
Enniskerry is located slightly outside of Wicklow town but is home to the great Powerscourt Distillery. During this 60-minute tour, guests will learn the ins and outs of how whiskey is made at the distillery and will also be able to taste test 3 whiskies at the end.
This tour is best for those who are of age, including parents, solo travellers, and couples, who are interested in learning more about Ireland's whiskey history.
Festivals in Wicklow
Wicklow holds a limited number of festivals every year, but it's still worth trying to visit and attend one! Below is the top-rated festival to check out during your Wicklow travels.
Wicklow Regatta Festival
The Wicklow Regatta Festival started over 140 years ago and is considered to be the most important festival in Wicklow Town. It occurs every summer, and it's recommended that tickets are purchased in advance because they are known for selling out quickly.
During the festival, guests can learn sailing, paddleboarding, rafting, and more. There are also a wide variety of fun events including bowling, bingo, dancing, treasure hunts, comedy nights, fireworks, and even a music festival!
Is Wicklow Safe?
Crime rates in Wicklow are relatively low, so it's a safe place to travel and explore. However, just because prices are low doesn't mean that crime is nonexistent, so it's a good idea always to practice standard safety precautions no matter where you're travelling.
Be sure to consult with your local travel advisories and check the current political climate before you plan your trip to Wicklow. It's a good idea to also check with your hotel's staff to learn more about the safety in the area that you're explicitly staying.
Getting Around Wicklow
Wicklow is reasonably easy to get around, but it's best to rent a car when exploring this area because then you'll have a lot more freedom. If you can't rent a car, then you can make use of Wicklow's public transportation services.
Learn more about the transportation options for Wicklow travel below!
Public Bus
Wicklow Town has its own bus service calls LocalLink though it runs on a strict schedule. An adult one-way ticket costs just €3 while a student ticket/under 18 ticket costs only €2.
The bus stops around Wicklow Town at the train station and Wicklow Gaol in addition to surrounding areas like Rathnew and Ashford. It also goes all the way out to Glendalough if you wanted to explore one of the most beautiful natural areas in the county.
Metro
Wicklow is unfortunately not serviced by any metro.
Uber
Uber doesn't work in Wicklow Town, but there are taxi services to utilize instead.
Taxi
Wicklow has a few taxi services, including Wicklow Kabs and 66100 Cabs, both of which are reputable. Prices for taxis vary depending on the time of day and length of your trip but tend to cost anywhere from €15 ($18) to €25 ($30).
Cycling
Wicklow is home to some of Ireland's best cycling routes, so it's entirely possible to explore the area by bike. A bike typically starts around €30 ($35) for a full day, but there can be deals if you prefer to rent it for longer.
Walking
Wicklow's town centre is very walkable, and it's even encouraged that you walk so that you can find other areas that you might not have found otherwise. However, some of the best tourist destinations in the area are better reached by car.
To & From The Airport
The closest airport when travelling to Wicklow is Dublin International Airport. This is most likely where you'll fly into, but there are luckily quite a few ways to get from the airport to the town centre.
The first option is to drive, which takes about 54 minutes or take a taxi, which can cost around €110 ($130). The most affordable option to get to Wicklow is to take the Route 700 Aircoach bus, which can be booked online in advance for around (€17) $20.
In Closing
Wicklow is genuinely one area of Ireland that you won't want to miss out on during your vacation. Now that you know all of the greatest must-visit places and information about Wicklow, get to planning your next adventure!