Visiting Ireland is a dream for many people, but since it has been listed as one of the most expensive countries in Europe, for many the Emerald Isle is just too expensive. However, there are a few tips and tricks that you can use to make visiting Ireland on a budget a little more tolerable!
We're going to look at some of the ways that people spend the most cash while on holidays in Ireland and we'll show you how you can slash your costs! We'll be tackling things like accommodation, food, and things to do!
Saving money while you're in Ireland doesn't mean that you're going to be missing out on all the Emerald Isle has to offer. As we all know, the best things in life are free and Ireland is no exception. We have an abundance of outdoor activities, public attractions and great pub conversation-ists that will fill your mind rather than empty your wallet!
With all that said, let's dig in and get saving!
General money-saving tips
Before we dig into the big-ticket items, I have a few things to keep in mind while you're trying to plan your Irish budget trip. In general, cities are more expensive than the countryside, and the bigger the city, the more expensive it is.
Also if places are built to accommodate tourists, the prices are going to be higher. As a general rule, if there's an American flag outside a pub, you better believe that the prices inside will be higher! This is something I have noticed over my years of living here in Dublin, and you'll see American flags all over Templebar in Dublin! We'll get to Templebar later though, don't worry!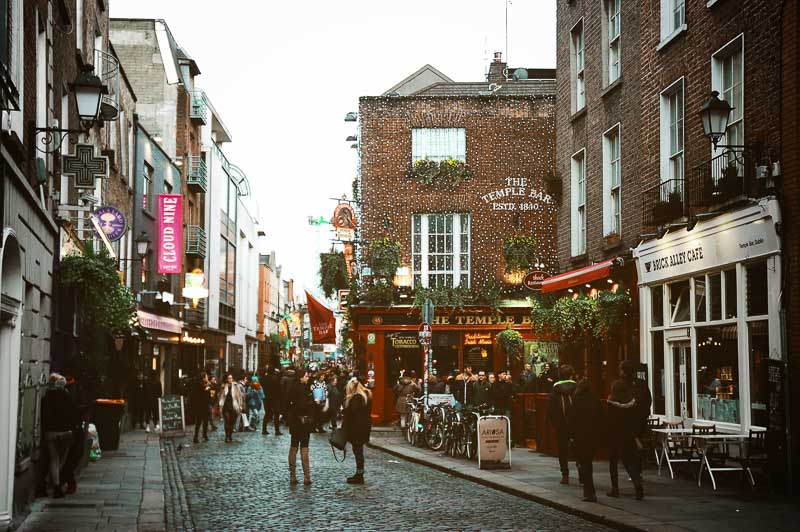 Cooking your own food will be far cheaper than eating out all the time! I'm not saying to never eat out since food is such a big part of visiting a new culture, but remember that you don't need to eat out three times a day! The other thing to keep in mind is that dinners are a lot more expensive than lunches, so a lot of people will eat lunch out, but cook for dinner!
Finally on general tips, remember to keep transport in mind, especially in cities. Check when public transport finishes! We don't have the luxury of a 24-hour system, so once it goes after 11, you're either walking home or getting a taxi. If you're planning a few late nights as part of your visit, maybe paying a little extra for a more central location will save you in the long run!
Finding Budget accommodation in Ireland
The biggest expense for most people visiting Ireland is accommodation. The average price for a hotel in Dublin is €160 per night, so if you spend a few nights in the capital, they add up!
This price is only based on hotels, so no BnBs or AirBnBs were included. With that in mind, let's look at my favourite way to save money when travelling; AirBnb!
Using filters to find the best deal on AirBnB
So you can search on AirBnB for Dublin for the dates you want, but how do you know which ones are relevant? Luckily AirBnB has a really great filter feature on their site that allows you to pick what you want.
The first thing I'd do is open Google Maps and familiarise yourself with the place you want to visit. Let's take Dublin for example. If you want to stay in the city centre, have a look at Google Maps and look for the centre. O' Connell Street is the main street, with Grafton street being the biggest pedestrianised shopping area, so you'll want to look around here.
You can use the map search on AirBnB to see where your accommodation is. This means you won't have any nasty surprises when you arrive!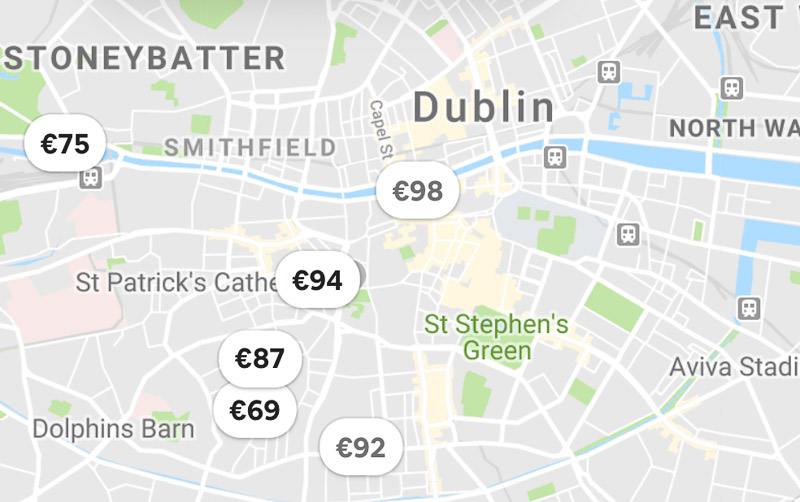 Set your budget
The next thing to use the price filter. Use the slider to set your top budget and the results will come in with a list of properties that fit your price range! If there are no places for that price, you're going to have to raise your budget, or start to look a little outside the city!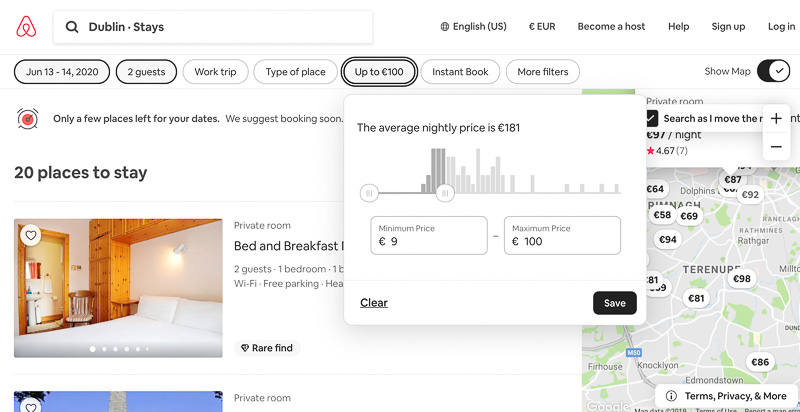 Use all the filters
The second filter you should add is a little hidden. You need to click the button that says "More Filters". In here look for the Amenities section and click "Kitchen". This will give you access to the kitchen in the AirBnb that you'll be calling home in Ireland!
This means that you can cook your own food while in Ireland, saving you a ton of money every day!
Embrace the experience
These cheaper AirBnBs are often just private rooms in a house. Some people don't enjoy this, but personally I love it. It gives you the opportunity to meet local people and get tips from them about the local area!
If your host is going to be around in the evening, you could offer to include them in your dinner plans too. You'll suddenly be in a conversation with a local person in their home! Some things money can't buy!
I recommend making sure there's a kitchen. Click here to search for Airbnbs in Ireland.
Hostels are a real alternative to hotels
The idea of a hostel might bring up images of a grotty, 12-bed dorm room, but hear me out! Yes, hostels do often have large dorms with 8, 12, or even 16 beds in them, but a bed in these can cost as little as €20 per night!
Hostels in Ireland are very common and really popular with solo travellers and backpackers. I've stayed in a few in my time, and there are some great ones all over Ireland, in particular, the hostels run by An Óige are of a high standard. These are primarily youth hostels but are cheap as chips and usually have huge kitchens that everyone uses in the evenings.
Private room in hostels
Hostels also have private rooms, generally a lot cheaper than hotel rooms as well, these can run anywhere from €90 to €200, depending on how many it sleeps and time of year.
For the best deals on Hostels, I recommend checking out HostelWorld where you can see prices, photos and reviews of hostels before booking!
Staying in hostels with kids
Hostels are a great way to meet fellow travellers, but they are generally used by younger people and can be a little bit rowdy, but more often than not, there's a really nice vibe in hostels in Ireland.
Although they are called Youth Hostels, people of all ages are welcome to stay, and when I was younger, my family stayed in a Youth Hostel in Kerry and I loved it. If you're bringing the family, double-check that kids are allowed, but a lot of hostels have family rooms that are very reasonable!
If you are planning on visiting Ireland on a budget, hostels might just be the highlight of your trip for kids. So many potential friends!
Camping life
Are hostels still a little too pricey, or do you just love being out in nature? Well, Ireland is an amazing place to go camping! Sure, it rains quite a lot, but with the right gear, you'll be fine!
Wild Camping in Ireland is tricky, unlike many of our surroundings countries, the "Right to Roam" does not extend to private land in Ireland. Only Ireland's National Parks have this right of passage, however, camping isn't permitted in the National Parks. The only sort of exception to this rule is the Wicklow Mountains National Park.
Camping in Glendalough
The only area that camping isn't permitted here is Glendalough. Its importance historically, religiously and for touristically means that it's important to preserve it. Wicklow is big enough so you don't need to go camp here anyway!
Ordnance Survey Ireland has created a lovely list of some great wild camping spots that are approved, so you won't need to worry about being moved on!
Wild Camping by its very nature is secluded so if you're discreet, especially up in the mountains, you should be fine. Just remember to leave no trace that you were there. That means no open fires!
Camping on private land in Ireland
When it comes to private land, you'll need to seek the permission of the landowner. This can mean knocking on some doors in the countryside to see if a farmer lives there. Don't be surprised if they say no though! Landowners have complete rights over their land, so in general, to avoid conflict, it's best to stick to the mountains or ask permission!
If you're camping in Ireland, chances are that you're planning on hiking a little while you're here. We've been putting together a list of our favourite hikes in Ireland so make sure you have a look!
Campsites in Ireland
If I go camping in Ireland, I like to mix it up a little, with a night wild camping and a night in a proper campsite. This means you still get the wild camping experience, but also you get to shower.
Rather than go through my favourite campsites in this article, we already have an article on that! So you can have a look at our guide to Ireland's Best Campsites if that's something you would be into!
There are also a ton of Glamping (Glamourous Camping) sites popping up all over the country, but these are usually more in line with Airbnb prices, and that's a great place to find them!
Eating out on a budget in Ireland
The second-largest expense for most of us while travelling is food! As I already mentioned earlier, getting a kitchen with your accommodation will slash your food costs, but you shouldn't feel restricted by this!
One advantage that hotels and B&Bs have over Airbnbs is that they usually come with a hearty breakfast. If you have a big breakfast, a few snacks during the day, and finish off with dinner, you'll be good to explore all day!
Shopping options
If you do decide to cook while in Ireland, you'll get the experience of seeing what it's like to live in Ireland, and who doesn't want that? I know a trip to the supermarket probably wasn't on your itinerary but it really will give you an insight into Irish life.
The best option to really meet local people and get the best produce is to look up online and see if there are any farmers markets on the days you arrive. If you're in Dublin, go to Moore street where you can get fruit and veg from street traders, if you're in Cork, go to The English Market and get some fresh-caught fish!
Don't buy your meat pre-packaged in a supermarket, but go to a local butcher and you'll usually spend less and get great advice on how best to prepare your food!
Budget Supermarkets
If you want to go even more budget, you can look towards budget supermarkets Lidl and Aldi. They're both German supermarket chains of but stock a lot of Irish produce as well. They are considerably cheaper than other supermarkets, and even if you're not planning on cooking, they're great to pick up snacks for the road!
You won't find too many brand names that you recognise here, but that's what keeps them cheap! Irish people will all have their preference of Aldi vs Lidl, it's a great conversation starter for sure! Whichever one is easier for you, just go for it! They do tend to be a little outside of towns, but in bigger towns and cities, they have at least one central shop. Again, google maps is your friend!
Early bird and pre-theatre meals
If you do find yourself coming to the end of a long day of exploring with no will to cook, fear not! Many restaurants do an early-bird menu. It's sometimes referred to as a pre-theatre dinner but they mean the same thing!
The Early Bird menu is available until 7 or 7.30 in the evening, and it's usually a set menu but for that, you get great value. It's common to be able to get a two, or even three-course meal for €30 or less!
Drinks aren't included, but make sure to ask for tap water rather than bottled water to avoid paying for water. Water in Ireland is safe and clean (sure doesn't it fall out of the sky!). Nearly everywhere will bring tap water for no extra charge. I'm yet to be charged for tap water in a restaurant in Ireland at least!
A lot of places will have a board out in front saying that they have an Early Bird menu, and you can usually go in without a booking. If there's no board, you can ask them directly, or take note of the restaurant and check their website to see the Early Bird menu before deciding!
Deli counter of dreams
The final thing I will say to you about eating on a budget in Ireland is to follow the most frugal of them all; college students! You'll see them early(ish) in the mornings, and throughout the day coming out of small stores holding paper-wrapped sandwiches and rolls.
What are they eating? Almost exclusively, they're tucking into a Chicken Fillet roll. These beautiful sandwiches are everything to a young Irish person. They're comfort food, they're cheap, and they're filling.
Almost every small shop like Centra, Londis, Applegreen, Texaco (basically shops similar to a 7/11 in the USA) will have a deli counter. They'll have a hot section and a cold section and here you can get reasonably priced food to go!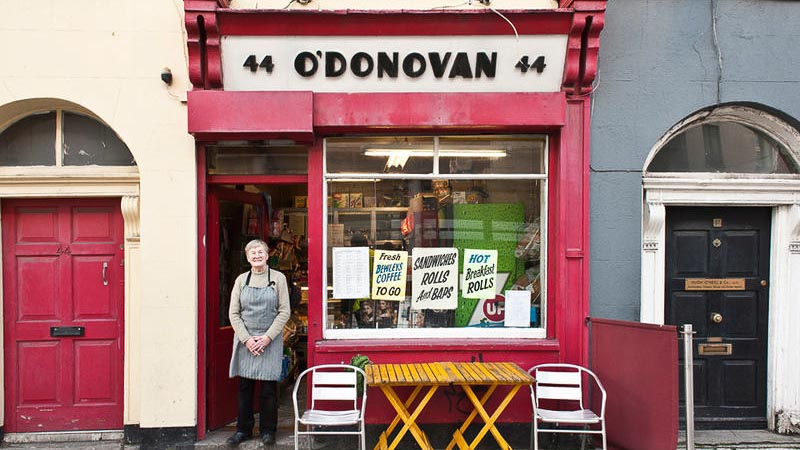 Order a chicken fillet roll like a pro
The chicken fillet roll is your standard go-to for most Irish people, where you'll get a 12-inch baguette filled with a chicken fillet (pronounced "fill-it" in Ireland) and usually up to three salads. You'll be asked if you want plain chicken or spicy chicken, but the spice is rarely anything more than black pepper.
I'm partial to a bit of coleslaw and cheese in my Chicken Fillet roll, but there are many that would call me a heathen for doing that, but luckily the men and women of the delis have seen and heard it all before. There's no judgement from these fine people, so you really can do no wrong!
One of these rolls will cost between 3 and 6 euro, not bad for what you're getting!
Drinking on the cheap
Let's get this out of the way now. Drinking in pubs in Ireland isn't cheap. That said, some places are a lot more reasonable than others.
Let's start with the Elephant in the room. Templebar. Simply put, if you're on a budget in Ireland, steer clear of this whole area. As a rule of thumb, in Dublin, if there are cobblestones on the street outside the pub, you're still in Templebar and the beer will be at least €6, but more likely €7 or €8.
It is a tourist trap, plain and simple. It's a lot of fun, and it will have a good atmosphere every night of the week, but it's a tourist trap. The main thing to notice in Templebar is the lack of Irish people there. Sure the musicians and bar staff will be, but none of the customers, so that's got to be telling you something!
I've already said in this article that the bigger the town or city, the more expensive it will be. Dublin is our largest city by a considerable distance, so it makes sense that it's the most expensive. However, we do have a guide to the cheapest pints in Dublin, you'll notice that none of them is in Templebar!
Getting around Ireland on a budget
Ireland does have a pretty great public transport system. Trains are fast but quite expensive. Buses are usually a pretty cheap way to get around, but they do have their limitations.
If you are travelling with one or two people, then public transport might just be the answer. If there's a few of you, then don't rule out hiring a car, since bus tickets all add up! We'll get to that later.
Travelling Ireland by bus
The good news is that getting from city to city is easy. Well, to be more precise, getting from Dublin to any city is easy. Bus Éireann is the national bus company, but that doesn't always make them the best option.
For Dublin to Belfast or Dublin to Cork, you should use Aircoach. They run several buses a day and you can go from Dublin city, or even Dublin Airport to Cork for €20 (€12 for kids).
If you're heading out west, you can look towards Citylink. Again, they have buses nearly every hour and it's only €12 (€9 for kids) from Dublin to Galway.
What about Bus Éireann?
These private companies are great since they run a few times a day and are direct. Bus Éireann's role in Ireland is to connect everyone to each other, so journeys go on slightly more meandering routes. This has the advantage that you can see the countryside rather than the motorways that the private companies take!
Tickets from Dublin to Cork and Galway are about €15 on Bus Éireann, so the private buses are generally better for city to city.
Travelling between small towns in Ireland by bus
This is where it gets tricky. The small countryside towns and villages are pretty badly served especially the more secluded ones. Bus Éireann do run services in a lot of small places, but it really depends on the area.
The best place to find out if there's a bus is on the Bus Éireann site where you can see what services they run. They break it down county by county, so you'll be able to find out your options there.
Cheap car rental in Ireland
Renting a car can seem expensive, but if you think about the fact that if there's 4 of you going to Cork from Dublin, that's €80 combined!
The problem is finding cheap car rental used to be difficult, but now you can check all car rental companies at once! I use Kayak.com to compare prices on cars. I did a test search for a car for a week in July and I found cars for as low as €109!
So the thing is these are VERY small cars, and unless you're a group of travelling contortionists, you're not going to fit too many in the back seat, never mind luggage. So I looked at the medium-size cars, and they came in at around €200-300. For a week, IN JULY! That's peak tourist season!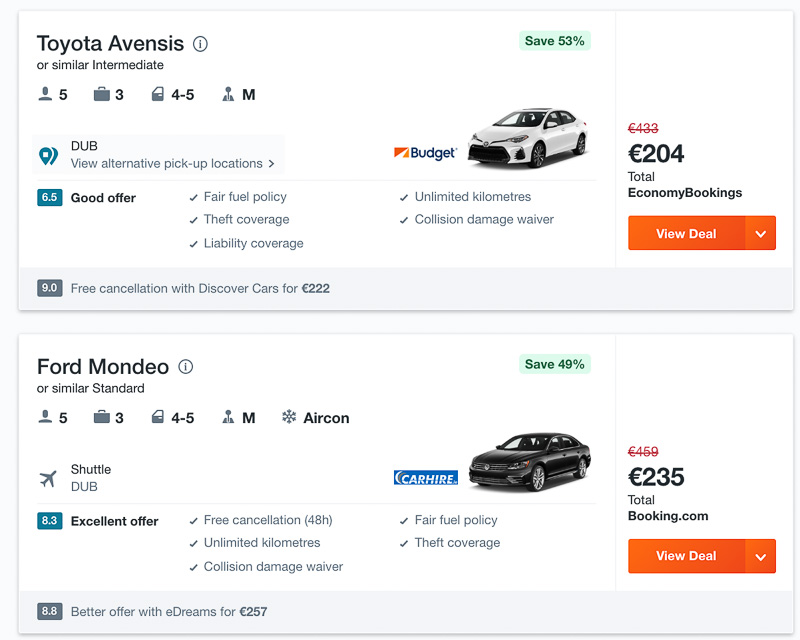 It all adds up
If you think about it, for 4 adults going from Dublin to Cork at €20 each means that's €80 already! Buses are great for solo travellers, but if there's 2 or more, then a car rental can be cheaper!
Also, this is based on personal experience, but I always rent with a company called Easirent and they have insanely cheap cars. We're not getting sponsored, and we don't get any commission for you using them, but they're nearly always the cheapest! The cars are great, within a year old too! Sometimes I question how they're making money! I've rented cars from them for as little as €4 per day, and I've never had any issues with them.
What about insurance?
I can already hear you shouting at your screen that I'm forgetting that's the base price and that they cram in so many extras! I've thought of this too! They're going to offer you all the insurance in the world, at crazy expensive rates per day.
I have insurance called "Excess insurance". This cost me around €80 for the year and basically it covers me if something happens to a rental car while I'm driving it. I'm with AIG, but I can't attest to how good they are yet since I haven't had to make a claim.
The downside with this insurance is that you have to pay for repairs out of your pocket, and the insurance company will reimburse you after the fact. That's some serious savings on the per-day premium that car insurers try to put on you!
Don't pay for GPS Units in rental cars!
Loads of rental companies will offer to rent you a GPS unit for the car. DON'T fall for this. I live in Ireland and I don't own a car, so I rent one every few weeks when I need one. Nearly every time there's a GPS unit built in!
Even if there isn't one built into the car, did you know that you can download Google Maps to your phone to use offline? Google themselves have a great guide on how to do this that you can see here.
This is extra useful because even if you have a data plan if you're in some of the more remote places in Ireland, you won't have signal anyway!
If you're looking for an itinerary for Ireland, we have a pretty great Wild Atlantic Way Itinerary that you can dig into for inspiration!
Having fun for free
So you've figured out where you're staying, how you're getting there, and what you're eating. Next up is what activities you're going to get up to! Luckily for you, Ireland has some seriously amazing free attractions!
For a start, state-owned museums are free! This means there's a ton even just in Dublin that are free! If it says "National" anywhere in the title, it's probably free! The National Museum, the National Museum of Archaeology, the National Art Museum. ALL FREE!
We're working hard on our free guides for all of Ireland, but for now, check out our Free Dublin guide and our Free Belfast Guide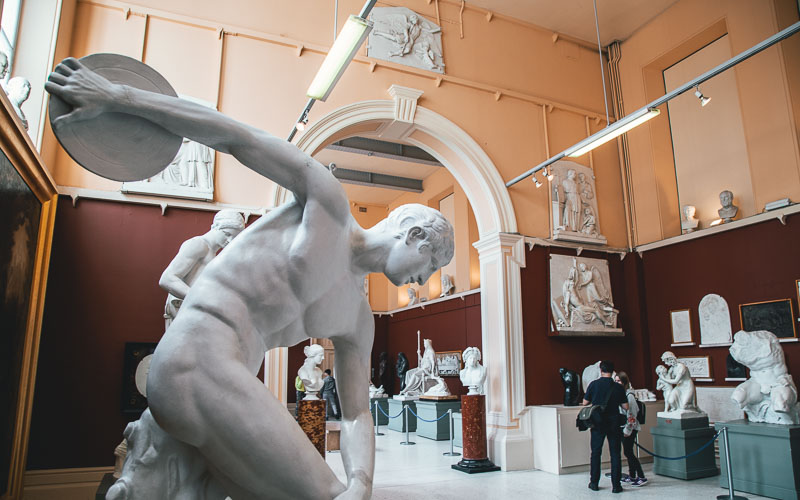 Follow the brown roadsigns
This is a slightly odd one, but a really fun one too! In Ireland, we mark historical sites and sites of interest with brown signs. As you're driving along the road, especially on the backroads, keep your eyes peeled.
Big attractions also use these brown signs, so if you're driving to the Cliffs of Moher or the Rock of Cashel, you'll be following them too! While these big attractions are amazing, you might stumble across some equally stunning locations by accident!
Off the beaten track
One such example of this is Castle Roche in County Louth. I followed the signs for it and ended up completely by myself at a stunning 13th Century castle!
Often these places of heritage are on private land, so if you do have to go into a field, please be respectful of the land, and seek permission if possible!
WARNING: This will significantly increase the duration of your drives! They may be down tiny roads with little or no parking, but that's all part of the adventure!
Airbnb experiences
While this is starting to seem like an ad for an Airbnb, I promise it's not! Airbnb experiences are a pretty new feature but it offers not only incredible opportunities but also great value.
You can take part in anything from normal guided tours to farm visits to cooking classes. There really is no standard price, but there's certainly something to fit every budget!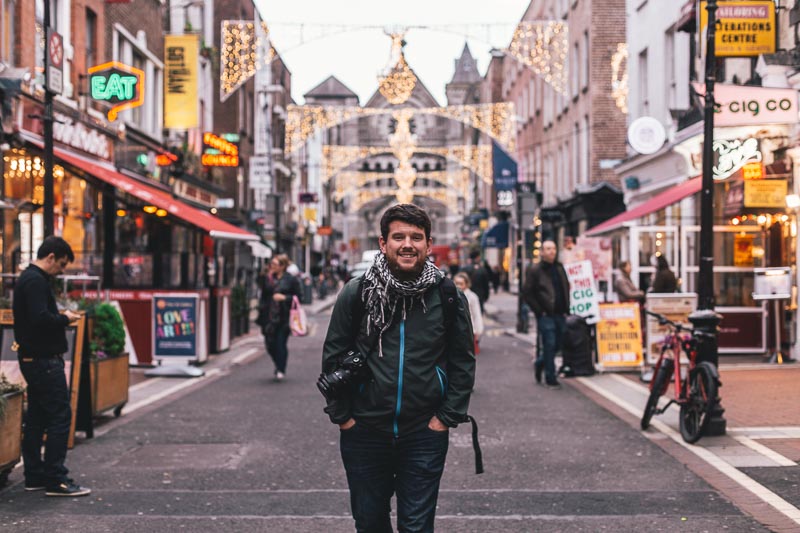 Your Irish Adventure tours
In fact, Your Irish Adventure's very own Oisin runs a few tours around Dublin, his most popular is where he will bring you around some of Dublin's finest pubs and take your photo while you do! You can have a look at his Pubs and Pictures tour here!
Discounted Entry
This one is a bit tricky, but if you do end up going to paid attractions, keep an eye on your ticket. Often there's a discount for another attraction on the back!
These change from time to time, so if someone tells you that you can get a discount from one place for another, take it with a pinch of salt. It might change by the time you get to it!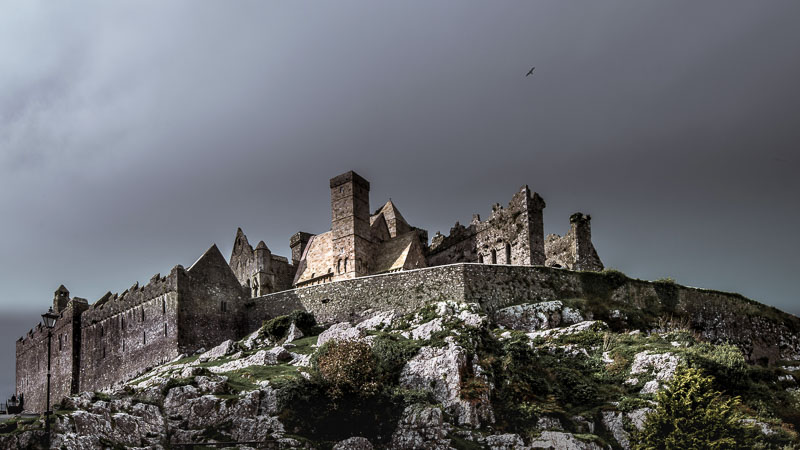 Support local business!
One thing that won't change and that I think is a great idea is what the town of Cashel do. If you want free entry into the Rock of Cashel, all you have to do is to spend €15 in the town beforehand! The idea is to encourage tourists to go into the lovely town of Cashel and not just the castle!
Tickets to the Rock are €8 for adults and €4 for kids, but if you grab lunch beforehand you can avoid this completely! You can get more information on this on the town's website.
Adding to our Ireland on a budget guide!
We're finally at the end of our guide to visiting Ireland on a budget! I hope it was useful to you in some way, but do let me know if you have any other tips for saving!
Like This Article? Pin it!