Enniskillen is an area of outstanding natural beauty, its rich heritage and stunning views make it a must see when visiting Northern Ireland. Discover the history of Enniskillen by visiting ancient castles, underground caves, and Victorian mansions. Does this not sound like the ideal adventure holiday? There are plenty of fun things to do in Enniskillen, but make sure you have your walking shoes on because this will definitely be an active trip!
Fun Things to Do in Enniskillen
Cuilcagh Legnabrocky Trail
This is surely becoming one of the most popular walks or should I say climbs in Northern Ireland. Often referred to as the 'Stairway to Heaven', climb the zig-zag steps to reach the summit, 550m higher than when you started. Take a break at the top; enjoy some food and the stunning scenery with views of Lough Atona.
You will be walking through fields with grazing cows and sheep but it's all part of the experience, embrace it. Yes, the scenery is amazing but let me tell you this is not an easy walk. The trail is around 4.6 miles, a lot of which is an uphill climb.
The hike up and back down to my car took roughly three hours and I would consider myself quite fit. We were not out for a leisurely stroll. This is not a climb for the faint hearted; I would advise bringing plenty of water and snacks because you are going to need them. Comfortable footwear is essential, wear either trainers or hiking boots. Meander through the bog land and appreciate the vast countryside of Fermanagh.
Remember you are crossing through bog so there are no toilet facilities available. This is an area of outstanding natural beauty, so get ready to take that picture-perfect Instagram you have been waiting for all year – totally worth a few blisters.
Looking for more adventure? Why not go on a mountain biking trip in Northern Ireland?
Marble Arch Caves
This is a brilliant activity enjoyed by all ages, kids and adults alike. On the Marble Arch Caves website, they describe the experience as a "fascinating natural underworld of rivers, waterfalls, winding passages and lofty chambers while stunningly beautiful cave formations glisten all around."
If that doesn't make you want to visit, then I don't know what would. The guided tours last around 75 minutes; the guides are enthusiastic and very informative, they really do help bring the history of the caves to life.
It is a great day out, who wouldn't love a boat ride through caves which date back hundreds of years. Again, I would recommend sensible footwear; there is a good bit of hiking at the end with over 150 steps to climb to get out of the caves. This is a popular place in Enniskillen so definitely book in advance to avoid long wait times or disappointment on the day.
Florence Court
This place is ABSOLUTELY STUNNING a phrase which I don't use lightly. Take a tour of the mansion which was the home of three successive generations of the Cole Family who were very powerful landowners in Fermanagh. Learn all about the Earls of Enniskillen and explore the vast Georgian mansion.
Wander into the working quarters of the house which bring to life the affluence of the landed gentry. There are a variety of walking routes around the estate, if you want to see everything Florence Court has to offer take the five-mile route to make sure you don't miss out on anything.
There are lots of picturesque places to sit, enjoy a picnic and appreciate the amazing surroundings. Visit the courtyard with its cobbled stone streets, wander through the quaint little area and step inside the book shop or café. The walled gardens are the selling point of Florence Court for me, they are something to be seen. It was 28 degrees when I was last visited, the meticulously kept gardens looked out of this world. It is unsurprising that Florence Court is part of the National Trust, you could easily spend the day here, I know I did.
Castle Coole
Built by the first Earl of Belmore between 1789- 97, this mansion is built for a king. Take a tour of the estate to experience the grandeur for yourself, you will not regret the visit. Knowledgeable tours guides will explore rich the historical past of the house and its occupants; from the lavish entertainment rooms to the servant quarters.
The interior and furniture throughout the house is exquisite, it is crazy to think of the luxury these people lived in. Take a walk along the lake trail or stroll around the estate, basking in it's opulence. Definitely put Castle Coole on your list when in Enniskillen.
Enniskillen Castle
Located on the banks of the River Erne, uncover the history of Enniskillen. In the 17th century Enniskillen Castle was used as an English garrison fort and subsequently became part of a military barracks. It was built over 600 years ago but has recently undergone a £3.5 million regeneration.
There are two museums onsite, Fermanagh County Museum and The Inniskillings Museum. Between the museums and the guided tours, you will leave the Castle as a walking encyclopaedia of Enniskillen. Enniskillen Castle is right in the heart of the town and is a perfect spot to enjoy a picnic along the river.
Buttermarket
Located in the heart of Enniskillen, take a walk around the 19th Century buildings in the old marketplace. There are a variety of studios, galleries, and craft shops to explore. Why not pick up some hand-made jewellery or ceramics to remember you trip to Enniskillen. The Buttermarket courtyard is a charming little area, soak up the surroundings and grab a quick bite to eat in Rebecca's Coffee Shop.
Ardhowen Theatre
Why not catch a show at the Ardowen Theatre while you are in Enniskillen. The theatre was opened in 1986 by the famous playwright Brian Friel. It has a jam-packed programme all year round ranging from drama, opera, ballet to jazz, comedy and puppet shows. My family are big drama fans and take regular trips to the theatre to see the productions.
The Enniskillen Drama Festival is a great time to visit and see wonderful productions from drama groups across the country. So treat yourself to a fancy night at the theatre, and avail of the bar and outdoor terrace.
Erneside shopping centre
For those who just can't seem to stay away from the shops, Erneside shopping centre is the place to visit. All your favourite high street stores are available under one roof, making it so much easier to put that bankcard to good use. Multi-story car parking facilities are available onsite.
Where to stay in Enniskillen
Lough Erne Resort
5* accommodation and winner of the 2017 Hotel of the Year Award, Lough Erne Resort is luxury at its finest. This is also one of the top golf resorts in Ireland, famous for its courses and is the perfect retreat for golf lovers. Come stay at the hotel or rent out one of the many lodges available on site. Choose from a two or three bedroom lodge, perfect for families or those coming for a golf trip in Ireland. Tee-off in one of the stunning courses, The Faldo Course was designed by Sir Nick Faldo, a 6-time major winner or try the championship parkland course of Castle Hume.
If you're new to the golfing scene why not try out some lessons in the Golf Academy, you'll be ready to go pro by the time you're heading home. After a tough day on the course, visit The Catalina restaurant, the 2017 Hotel Restaurant of the Year. A two course dinner costs £45.00 per person, very reasonable for top quality food. The Lough Erne Resort hosted the 39th G8 summit in 2013, so if it's good enough for Barack Obama it gets my seal of approval.
Killyhelvin Lakeside Hotel & Lodges
This hotel is situated in the most gorgeous location, overlooking scenic Lough Erne. This is 4* luxury accommodation, so pamper yourself in the Kalm Elemis Spa, a sanctuary of peace and tranquility. The spa offers an abundance of amazing treatments and packages. I had the Deep Tissue Back Massage and it was amazing, it helped to relieve tension and stress from back, neck and shoulders. Costing only £37 it is very reasonable!
You can also relax in the outdoor hot tub, the perfect opportunity to sit back and appreciate the stunning Enniskillen views. Enjoy a tasty meal in the Boathouse Grill and Bar or dine in the Kove Restaurant which serves fresh local produce. This hotel is recognized throughout Ireland, and with such breathtaking views and gardens its unsurprising why it is a popular wedding venue. Check out the Killyhelvin Lakeside Hotel & Lodges website for fantastic offers throughout the year. Click here to book.
Where to eat in Enniskillen
Franco's Restaurant
The food in this restaurant is exquisite, I could not fault anything about this place. Right in the town centre of Enniskillen, Franco's Restaurant is the perfect spot for lunch, dinner or date night. For starter I got the chicken spring rolls, they were amazing, I would go back solely for another portion. For my main I choose spinach and ricotta tortellini, again the taste was top notch and the presentation was stunning.
The food is on the expensive side but there is a more moderately priced early bird menu where you can get two courses for just £19.50 or three for £23.50. The garden room is the ideal place for some tasty food and some drinks on a lovely summer's day.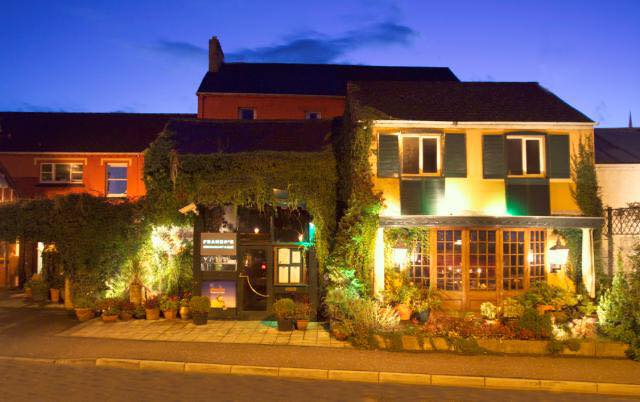 Café Merlot
This charming restaurant never disappoints, the food is delicious, and the setting is very picturesque, with lavish stonework and arched ceilings. I had the Rib-eye steak, I am quite picky about red meat but this was cooked to perfection. There are specials available throughout the week, with two courses starting at £15.95. Off to the Ardowen theatre, why not start off the night with some food and drinks from the pre-theatre menu.
This is a very busy restaurant, I would advise booking in advance to make sure you get a table. Nestled beside the well-known traditional bar, Blakes of Hollow. After your meal why not pop next door to experience an authentic old Irish pub.
There is so much culture to appreciate in Enniskillen and I think it's a town which is overlooked by so many people who are visiting Northern Ireland. Don't make that mistake and take a trip to Enniskillen to enjoy all that this historic town has to offer!
Like This Article? Pin it!