While the Ryder Cup between Europe and the USA was held at the K Club in County Kildare in 2006, it's Ireland's wonderful coastline that has provided the real gems in Irish golf. The golf courses in Ireland are attracting huge numbers — and rightly so.
One of my trips to Ireland took me right around the coastline, playing several of the best golf courses in Ireland (and the best courses in Northern Ireland), if not the world.
The 2019 Open Championship returned to Ireland for the first time since 1951 and the venue of Royal Portrush provided a stern yet fair challenge.
The famous names come at a price but with a little flexibility and planning, golfing in Ireland is not beyond the reach of keen golfers — with all budgets.
Ireland can rightly claim to match Scotland, the "home of golf," in terms of the quality of golfing it can provide.
Ireland Golf Courses
Northern Ireland is home to two of the best links courses you can imagine while if you are looking to visit a particular region for a few days, the northern provinces of the Republic, the Atlantic Coast, and the Greater Dublin Region are all good choices for your adventure.
It's worth remembering that links courses that are sand-based are usually in good condition all year round with water seldom lying. While winter weather can be poor, the discounts available at some of these courses in the shoulder, and low season are substantial.
If you are planning a trip to Ireland it's worth looking at the open competitions run by many golf clubs when green fees are reduced quite markedly.
The prices quoted in this article are for visitors who neither have any affiliation to the Irish Golf Union nor the opportunity to play with a member of a specific club.
Tourism Ireland in conjunction with Golf Ireland has details on the current list of passes available in most parts of Ireland. Examples that allow golfers to play a few courses for very competitive rates include the Kerry Link Golf Pass and the Shamrock Pass.
There are also many golf resorts in Ireland that can offer you better rates because they have negotiated discounts with nearby clubs, and they include many of the top golf courses in Ireland.
Here it goes! The 10 best golf courses in Ireland you won't want to miss.
1. Royal Portrush Golf Club
The Dunluce Course hosted the 2019 Open Championship, the latest of many competitions held on these famous links in County Antrim, Northeast Ulster.
It's a challenge and this famous course maintains strict rules about play and dress and bookings need to be made in advance.
It remains one of my favourite ever courses, but at £235 ($300) a round through April to September, it is costly and reflects the demand for tee times. March and October are £140 ($180) and winter £87 ($110) with caddies, club hire, and rental trolley all available to book.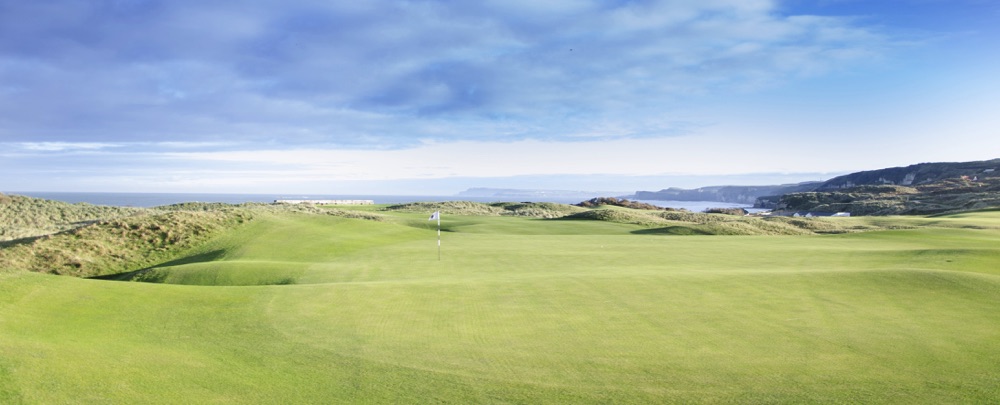 The hole "Calamity" is aptly named, a long par 4 early in the round while the long par 3 over a ravine at the beginning of the back nine tested the strongest of nerves.
The club's Valley Course is also excellent and two of its holes replaced the standard 17th and 18th when the Open was played. Two rounds in the day are £80 ($100) while the winter rate is below £32 ($40).
The Valley Course is part of the annual Causeway Coast Tournament each June along with Castle Rock, Ballycastle and Ballyliffin (Old) in Donegal. It's the largest amateur competition in Europe and can cater to 1,500 entrants at a cost of £277 ($350) for overseas visitors.
Click here to find Royal Portrush on the map, and click here for more information about the course. The Portrush Golflinks Hotel is located just a 10-minute walk from the club, making it a great accommodation option. Another solid option is the Royal Court Hotel which is just down the road but offers spectacular views over the sea.
Read our review article: Guide to Golfing Royal Portrush Golf Club
2. The Royal County Down Golf Club
Located in the South of Ulster near the border with the Republic, there are few better settings than this championship course set below the Mountains of Morne.
The Royal County Down (RCD) has held a number of major competitions including the Walker and Curtis Cups as well as the Amateur Championship.
It demands accuracy to keep out of the whin bushes while a few blind shots mean that local knowledge, or a caddie, is useful.
Few first-time visitors can expect to play to their handicap but that should not detract from the enjoyment RCD provides and my playing partners from Arizona and myself were certainly in that number.
The terrain means that there are no buggies but trolleys are available for hire.
It will cost you £275 ($350) to play here in the summer but winter rates are half of that. RCD's Annesley Course, by contrast, is just £47 ($60). The Championship Course is regularly rated among the Top 10 in the UK & Ireland and after playing it, I can see why.
Click here to find Royal County Down on the map, and click here for more information about the golf club. For accommodation, you really can't beat the highly-rated Slieve Donard Resort and Spa — with its 6-acre grounds leading to the clubhouse.
Read our review article: Guide to Golfing The Royal County Down
3. Holywood Golf Course
Rory McIlroy learnt his golf at Holywood which is a small town just northeast of Belfast. It is a parkland course with a welcoming clubhouse for visitors who will see reminders of McIlroy as they enjoy a pint.
Summer green fees are good value at £70 ($90) with lovely views across Belfast Lough an added bonus. Visitors playing the white tees will be playing a par 70 of just over 6000 yards.
Visitors should enquire about equipment hire and are welcome to use the pleasant restaurant after their round. Click here to find Holywood on the map, and click here for more information about the golf club. For accommodation, the highly-rated Rayanne House is located just 100m from the clubhouse and is a great option.
Read our review article: Guide to Golfing Holywood Golf Course
4. Ballyliffin Golf Club
Ballyliffin in the north of Donegal has two 18 hole courses both of which I enjoyed playing during my coastal circuit of Ireland. The Old and the Glashedy are both a challenge with Ballyliffin hosting the Irish Open in 2018.
The wind can be difficult and if it comes off the sea, it might have started in the Arctic as there is only Iceland between Donegal and the Arctic Circle — it's advised to have warm clothing on hand.
Clubs, buggies, and trolley can all be hired with the current green fee €175 ($200) per round.
The annual Donegal Links Classic offers a round at Ballyliffin as well as on nearby Portsalon and Rosapenna for that same €175 ($200). That is certainly an excellent value.
One of the two rounds I played here was in a Stableford better-ball competition that was open to visitors as well as members. After Ballyliffin, I headed south down the beautiful Irish West Coast to some of the best golfing in Ireland.
Find Ballyliffin (Old) on the map here. For more information about the clubhouse and to book a tee time, click here. And, for accommodation, the top-rated Ballyliffin Lodge and Spa is a great option and is just 1.5 kilometers from the golf course.
Read our review article: Guide to Golfing at Ballyliffin Golf Club
5. Ballybunion Golf Club
The Atlantic Coast of Ireland was a wonderful natural canvas for course designers with its huge sand dunes. My favourite on that stretch is Ballybunion in County Kerry.
One additional advantage is that there is a second course somewhat cheaper than the one which hosted the Irish Open last in 2000.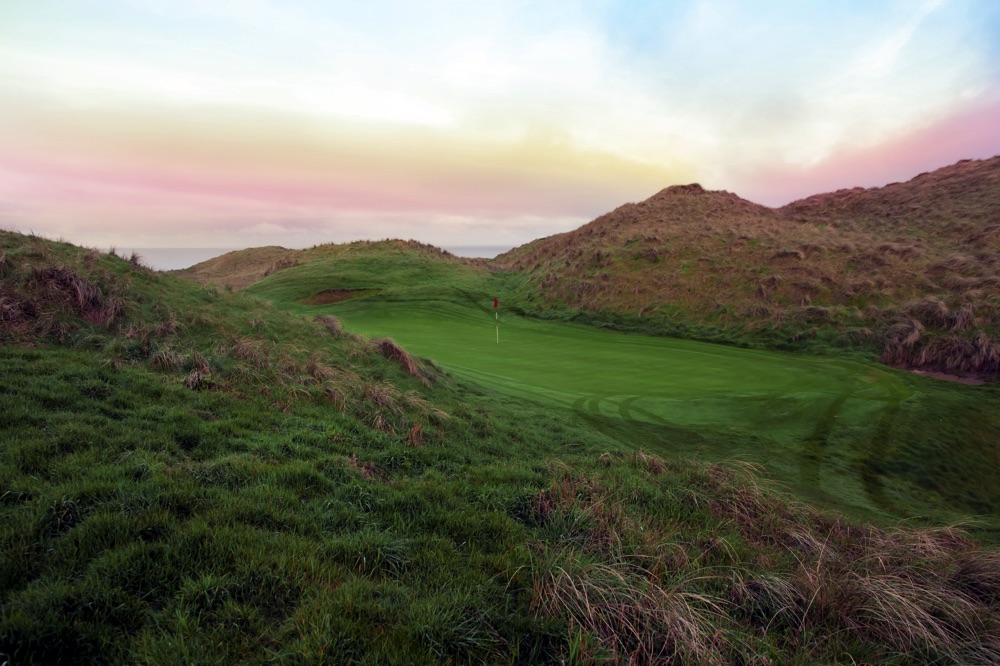 The old course (Ballybunion) will celebrate its centenary, while Cashen 18 was completed in 1984. It costs $300 to play the old course but just $100 to play the Cashen.
One of my partners that day, Tug, a great Japanese guy living in London went around the 18 holes in 84, playing off 15 handicap, a fine effort. My performance against handicap was not quite as good but I nevertheless enjoyed some good holes, especially on the long par 4s.
There is a fine clubhouse looking down the 18th, while clubs and trollies are available for hire. A limited number of buggies are available but only on the Cashen Course.
Find Ballybunion Golf Course on the map here. Click here to learn more about course and to book a tee time. For places to stay nearby, have a look at Teach de Broc which has been named Boutique Golf Hotel Of The Year by IGTOA. The hotel is located directly across from the golf course. A great choice.
6. Waterville Golf Links
The 120 mile drive around the Ring of Kerry is beautiful, starting in Killarney which is a great base for golfers in SW Ireland. Waterville sits on the extreme west of this peninsula and was the favourite course of the late Payne Stewart, a former Honorary Captain of the Club.
It's flatter than most of the classics in Ireland's west with the strong par 3s a test for anyone.
In the summer, the green fee is €265 ($300) but between November and March just €80 ($90); just an idea to think about because the course condition will remain good during those months!
The Clubhouse has been undergoing renovation with the Club offering excellent facilities including caddies, electric and pull trollies as well as club hire. Among the top Ireland golf courses — definitely!
Click here to find Waterville on the map. Learn more about golfing at Waterville and to make a tee time here. Overlooking the sea and the Waterville Links, you'll find Brookhaven House, a 5-star family-run B&B. This is a great accommodation option for those wanting to golf at Waterville.
7. Killarney Golf & Fishing Club
There is no better example of why this is strictly known as the Killarney Golf & Fishing Club than the framed clubhouse image of a trout with a golf ball in its mouth. Did that actually happen?
Sir Nick Faldo was one of the winners of the Irish Open when it has been held here four times, the last in 2011. There are two 18 hole courses with the Killeen (costing €130/$150, but just €55/$65 in winter) and Mahoney's Point (€75/$85 and €45/$50 in the winter).
The Academy Course is also available, which is a par 72, 9 hole course.
Buggies, caddies, trollies as well as clubs are available for hire. Keep an eye open for all the water that you will find on the Killeen because if you have been concentrating on the links courses, you will not have seen it before.
Find the Killarney Golf & Fishing club on the map here. To book a tee time and learn more about the club, visit their website. The best accommodation option near Killarney Golf and Fishing Club is The Europe Hotel and Resort. This highly rated place to stay is just next to the golf course, and offers spectacular views.
8. Tramore Golf Club
Michael Bowe who organised my Irish circuit invited me to play Tramore with him. Tramore is in Waterford in Ireland's south-east which offers good golf for those crossing into Ireland on the Fishguard – Rosslare Ferry.
Tramore is an undulating parkland course best played once the winter rains have gone. At €45/$50 a round, and only a little more at weekends, Tramore in great value.
Michael and I played in an 11-hole Stableford competition held each Wednesday with tee-off times early until late in the day and managed to finish third.
Bar and restaurant facilities are very good and golfers are able to hire clubs, buggies and trolleys which should be reserved in advance booking to avoid disappointment.
Click here to find Tramore golf on the map, and to book a tee time and learn more visit the Tramore Golf Club website. Find available hotels and accommodations in Tramore, here.
9. The European Club
Links courses have usually existed for a hundred years or more but the European in Wicklow, 30 miles south of Dublin on Ireland's East Coast, is a relatively recent creation.
Designed by Patrick Ruddy, Ruddy found a canvas in Brittas Bay just over 30 years ago and his creation has rocketed up the rankings of top Ireland golf courses.
Even top professionals are tested by its 7,500 yards off the championship tees, especially in a wind. Visitors are more likely to play either 6,200 or 6,800 depending upon their ability.
It has regularly hosted the Irish PGA Championship and Rory McIlroy who won the Irish Amateur Championship here in 2006 describes the European as the best links course he has ever played.
Remember that McIlroy has played them all and the European is recognised at the highest level.
Summer green fees are €245 ($280) but a second round in the same week €97 ($110) with winter rates €130 ($150) and €88 ($100) respectively. Clubs and trolleys are available for hire but caddies are not permitted.
Click here to find the course on the map. For more information, visit The European Club website. While there are a few options for accommodation near Brittas Bay, but a better option would be to stay in Wicklow, just 20 minutes away.
10. Portmarnock Golf Club
My game at Portmarnock was during a rugby trip to Ireland when I stayed south of Dublin in Bray. The DART transit system made the journey through Dublin easy — past the international ground, Landsdowne Road out to Portmarnock.
The barometer in the Clubhouse said "wind 46-55mph, strong to gale" so I was delighted to play bogey golf without losing a ball. There are 27 holes and the highlight of the 18 I played was a stretch of par 3 and short 4s in the second half.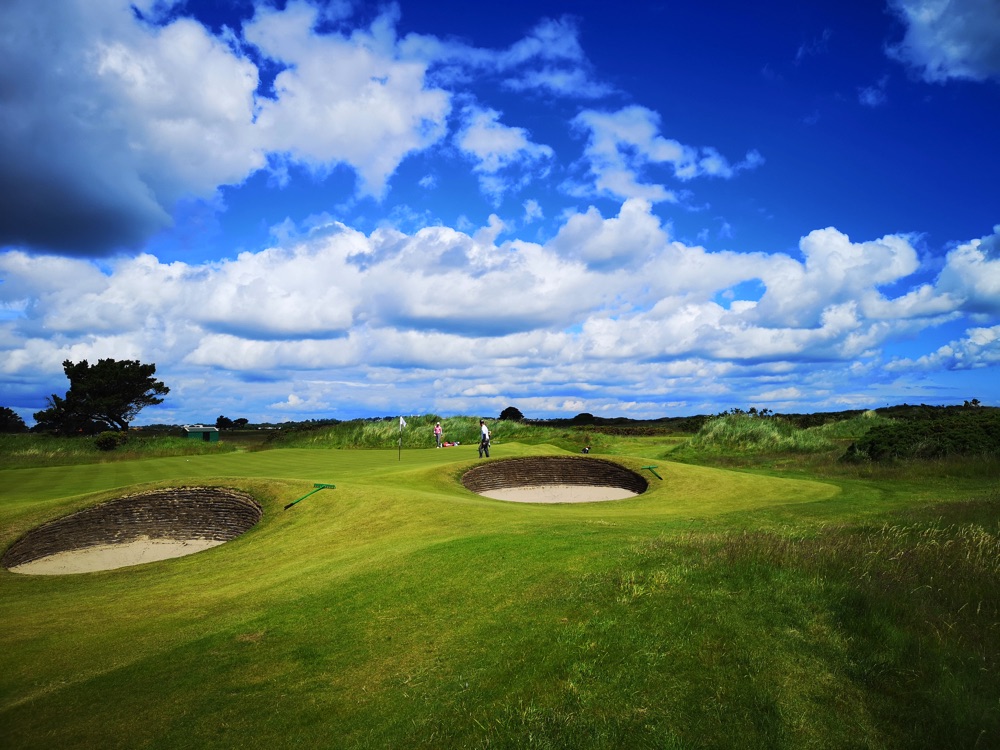 It was still the spring when I played and the visitors' bar was yet to open. The Members' Bar was strictly jacket and tie which was no problem as I was handed a suitable jacket and a Walker Cup tie to allow me in for a couple of pints of Guinness.
It is €265 ($300) for a round on the Championship layout and €155 ($175) between November and March. If you love rugby and golf as I do, March is a great time to play one of the best of Ireland's golf courses in the morning and watch rugby at Landsdowne Road in the afternoon.
Find Portmarnock on the map, here. To learn more about the course and clubhouse, visit their website. Stay at the lovely Portmarnock Hotel and Golf Links with views of the sea and quick access to the course.
Now You Know the Best Golf Courses in Ireland
My personal experience of golf in Ireland has been memorable. I found several of the courses a challenge, especially with the wind blowing off the Atlantic on to the West Coast making good club selection and course management imperative.
One of the beauties of playing golf is that you can play courses where the world's best continue to compete. But, don't worry, you'll be able to play from forward yellow tees!
You need to plan to get the best out of your Irish golf experience. Make sure to phone well ahead to arrange tee times, book accommodation in close proximity to the course, and enjoy your trip.
Images in this article are courtesy of Shutterstock.com.
Like This Article? Pin it!