Ireland's Wild Atlantic Way is one of the biggest tourist attractions our small island has to offer. Not only is it a destination in its own right, but the west coast is home to some of the best campsites in Ireland.
The west coast has charmed Hollywood directors with the Skellig Islands; it has the country's tallest peak – 3,406ft-high Carrauntoohil in County Kerry, and some of the best waves around Donegal and Lahinch if you don't mind getting wet.
To really feel that you're staying in the wilderness, you need to camp so we thought that a list of the best campsites in Ireland would be useful for both locals and visitors.
Here is my list that is inclusive of campsites that I've visited over the years as it's exclusive of others. Some were more glamorous than others, some simply more convenient. It is by no means the definitive 'must-sees' but it sure is a good place to start.
I have focused mainly on the West Coast, but there are you'll be able to find campsites all over Ireland, these are simply the ones I know and can recommend with confidence.
The 5 Best Campsites in Ireland
1. Eagle Point Camping – Bantry, Co Cork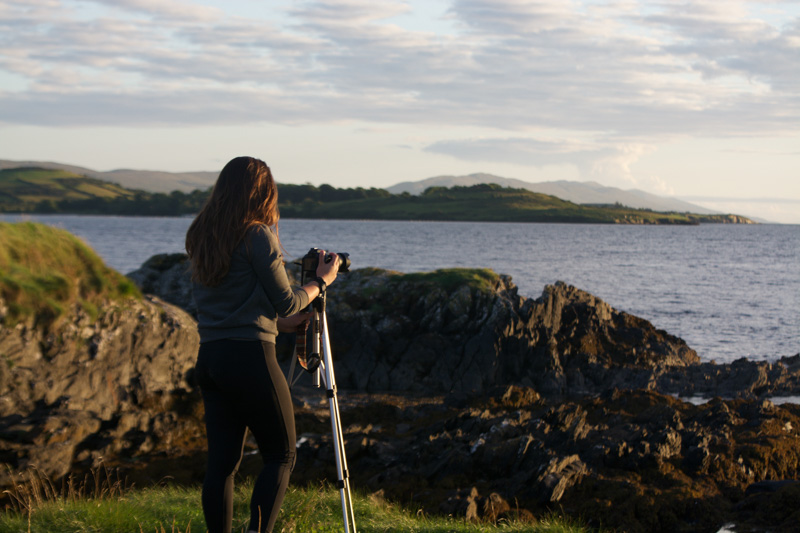 This is probably my favourite campsite in Ireland and being that I'm from the South East, it is usually my starting point. If this is your first time camping and want a taste of how utterly amazing an experience it can be; start here.
It is roughly 10 minutes by car (6.9km) from the quaint and coastal town, Bantry, where you'll find a thriving little community full of pubs and restaurants and plenty of parking.
The campsite has ample facilities that go above and beyond what most minimalist campers will need, which makes it ideal for first-timers or campers looking for somewhere to recharge their batteries (quite literally).
The pitching ground is ideal and home to one of the best views you can get from a tent. Just bear in mind the pitch site is at the furthest part of the grounds (roughly a seven-minute walk from the bathrooms depending on how urgent it is) so make sure you use the bathroom before crawling into your tent.
There is a small beach you can swim in and from my experience the site is quiet and the staff are extremely friendly and helpful.
Contact details
Phone: (+353) 2750630
Email: [email protected]
2. Nagles Camping & Caravan Park – Doolin, Co. Clare

This campsite is one of the most convenient campsites for a whole host of reasons (not exclusively because it is a short skip and a hop from the best trad session bars in Ireland).
Located on the sparsely populated edge of Co. Clare, this campsite is an amazing 'base camp' for any traveller looking to get out to the Aran Islands, have a session in their local trad bars (of which you have three to choose from, McGann's, McDermotts and Fitzpatrick's bar) and is only a short drive away from the Cliffs of Moher and Lahinch.
The campsite is also home to some of the nicest showers I've been inside on a campsite. A necessary tip for this site is to pitch next to the stone walls because Doolin really is a part of Ireland's 'Wild West' and high winds blow day and night so any cover your little nylon home can get is welcome.
Contact details
Phone +353 65 707 4458
Email: [email protected]
3. Keel Sandybanks Caravan & Camping Park – Achill Island, Co. Mayo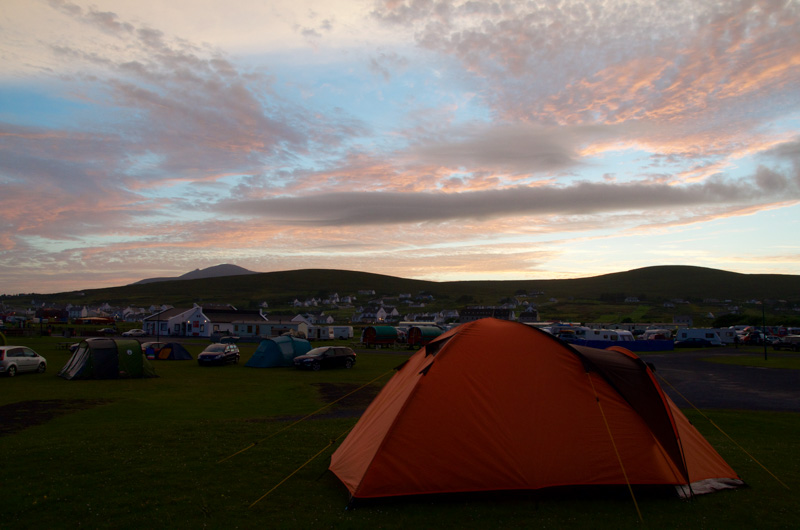 One of the most remote campsites I've pitched in. Keel is a mystical and alluring destination for a few reasons.
From this site, you are a one-and-a-half-minute walk from one of the most chilled out surf spots along the west coast. Keel beach isn't necessarily famous for its surf but it usually has a nice little 3/4 foot swell. You can also rent longboards and take surfing lessons if that is your thing.
If you take the car and carry on for 13 minutes (8km) down the main road you will most certainly arrive at the quaint and stunning vista that is Keem bay. A view you could see every day without getting bored of; it looks back across at Keel Beach and the surrounding mountain-scape.
The two main mountain ranges are Slievemore and Croaghaun. Both stand at 672 and 688 meters respectively with Slievemore being home to the Deserted Village of Achill, which is well worth a visit.
There are also two pubs close to the campsite; one of which offers a very Irish experience where a Guinness cost me €3:80 (don't quote me on that though) and a little café which you can get a heart-warming bowl of soup and good barista styled coffee.
Lastly, the site itself is great. There is an amusement park next door which makes it one of the best campsites in Ireland for anyone travelling with kids, the ground is great for pitching and there is plenty of space so you're never crowded beside someone.
My only tip for Achill is to stock up on all the supplies you might need because the grocery stores only have the basics and the closest supermarket is a bit of a trek.
Phone: (+353) 9843211
Email: [email protected]
4. Renvyle Caravan & Camping Park – Renvyle Peninsula, Co. Galway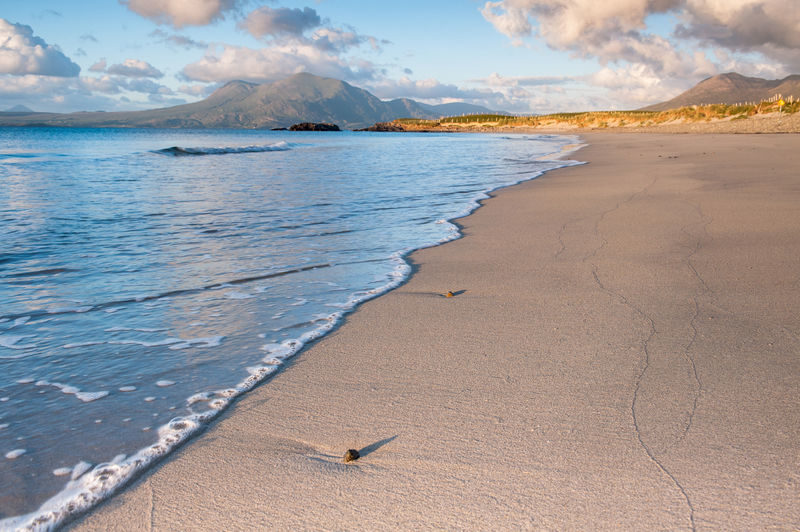 This campsite is an absolute gem. A serine little peninsula tucked down from some of the most beautiful roads in Ireland, as I am sure anyone who has driven through Connemara will agree.
There really isn't much to say about this site. It isn't conveniently placed beside anything, nor the easiest spot to find.
It is however a quiet, peaceful place where one can really and truly rest and feel rested. You can pitch your tent facing right out on the water, giving your small nylon shell a view that no money in the world could buy.
Bring everything you need for food, there are no restaurants or pubs that I found close by. Instead, barbeque, socialize and make sure you head down to the beach to watch the sunset.
Phone (+353) 95 43462
Email: [email protected]
Renvyle Caravan & Camping Park Website
5. Cronins Yard – Killarney, Co. Kerry
This site is purely for convenience. Located right at the foot of the hulking Carrauntoohil, this is the perfect base camp for your assault on the summit.
I stayed here last year and much to my dismay, it was the night a storm blew in and blew us out. Eight restless hours of galling wind and horizontal rain led to a snapped porch pole, a completely uprooted tent (if it wasn't for us inside it would have been blown away) and a burst zipper on the rain sheath. You should have seen the other peoples' tents though!
The site is small and has a stunning view of the tallest mountain in Ireland. The owner is friendly and offers information, but most importantly packed lunches for your ascent. This was the cheapest campsite I stayed at but it is Spartan in its facilities.
Well, not exactly, there are still showers and a 'sort of' kitchen. If you are staying it more than likely won't be for long so there is no real need to worry. It is about a 36-minute drive from Kerry town so bring everything you need and enjoy the being the closest you'll get to wild camping in a campsite.
Phone: (+353) 64 622 4044
Email: [email protected]
Last-Minute Tips For Camping in Ireland
If this is your first-time camping make sure to call ahead to make sure there is space (there usually is for tents). Adhere to campground rules. Don't put disposable BBQs on the grass as they will leave scorch marks and above all, bring a bug repellent.
I hope you've enjoyed this list of my favourite campsites in Ireland, and for a comprehensive guide on what to bring on your camping trip to Ireland, have a look at our guide.
If you're looking to get a little wilder with your camping, we found this book on Wild Camping in the UK and Ireland to be a great starting point. You can wild camp in Ireland, but just make sure you follow the laws and guidelines on staying safe and not causing any damage to the area you stay in.
Happy Camping!
Like This Article? Pin it!