The Skellig Michael Puffins and where to find them
I think I might be one of the luckiest people in Ireland. No, I didn't win the lotto, but something much better happened. On the day I planned to visit Skellig Michael in Kerry, we experienced the most incredibly beautiful weather Ireland has seen in years and saw more puffins on Skellig Michael in one day than I ever dreamed of seeing in my lifetime. 
I swear the entire population of puffins in Ireland must have been having a party as they were everywhere! This little island has seen a huge boost in popularity recently because Star Wars filmed some scenes there. Tours are still restricted so you can still experience the island without droves of tourists.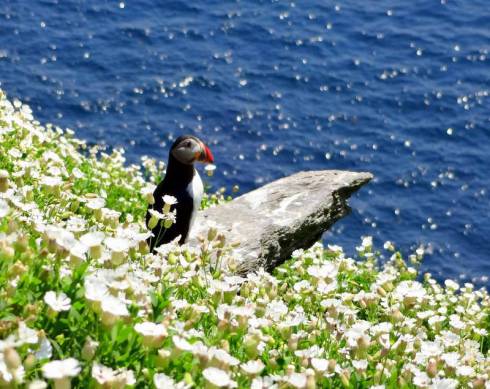 Just as well the weather was nice, considering Skellig Michael is extremely hard to get to…what with it being an island located in the Atlantic Ocean, 11 km off the West Coast of Ireland!
Skellig Michael, while not known to a lot of people (thankfully – that's what makes it a hidden gem!), is, in fact, a UNESCO World Heritage site and home to one of the oldest Christian Monastic settlements in the world – founded sometime between the 6th and 8th century.
If you want to know more about getting there, you can have a look at our guide to the Skellig Islands. We've included all the information you need to know about getting out there and what to do, even if the Skellig Micheal Puffins aren't there when you visit!
Puffins, Seagulls and Gannets on the Skelligs!
The Skelligs home to a vast range of wildlife, including Puffins, Seagulls and Gannets. You can see over 50,000 birds on the nearby Little Skellig (shown in pictures below). Not bad for a tiny island off the coast of Kerry.
Thanks to its status as a world heritage site, and its obscure and exposed location, only 13 boat licenses are granted each year and these tour operators are only allowed to run a single trip to Skellig Michael each day during the summer season. This means that only a lucky few get to see this magical place each year. If you happen to land while the sun is shining, as we did, you can consider yourself truly blessed! 
The boat trip to the island took about an hour, and we had nearly 3 hours to explore the island. This was the perfect length of time to climb the 618 slippery steps to the monastery that perches on top.
Explore the Skellig Beehive Huts
We explored the expertly built beehive huts that the monks would have lived and slept in. They have remained intact and untouched for hundreds of years. They really are one of the most incredible things to see in all of Ireland. 
Although seeing the puffins was the highlight, spectacular views and scenery are incredible to deserve a trip out! 
It's hard to believe such a piece of paradise, a tiny bit of history frozen in time, exists right on our doorstep. If you live in Ireland, I think you should do everything you can to visit this very special place. My only regret is that it took me 27 years to discover it.
When are the Skellig Micheal Puffins on the island?
If you want to follow in my footsteps to see the famous Skellig Michael Puffins, you will need to book a boat trip between April and the start of August! Otherwise, these beautiful birds will have disappeared to warmer shore.
It's always good to have a few days to spare either side of the day you're supposed to go out to the island. The Skelligs are on the section of Ireland called the Wild Atlantic Way. This means that the sea can be choppy, or the weather can be awful, so your boat might be rescheduled or even cancelled completely!
More photos of the Skellig Michael Puffins!
We figured that you didn't come here to read about the puffins, but rather to see them! Here's a collection of the best photos I took on that glorious day! Have a look for yourself and see what you're missing!
Are you interested in seeing other Irish Wildlife on your visit? Have a look at our guide to Finding the Wild Deer in the Phoenix Park!
Like This Article? Pin it!