If you're travelling to Ireland and planning to spend more than just a quick weekend drinking Guinness in Dublin, then you need to visit beautiful County Kerry.
Although I'm from neighbouring Cork and will probably be banned from the Rebel County for life for writing these words, there really is no denying that Kerry is one of the most beautiful places to visit in Ireland, if not the world.
Having travelled around the kingdom countless times throughout my childhood and adult life, here's my pick of the top things to do in Kerry Ireland!
I've tried my best to include some super local places as well as the top tourist destinations that, while touristy, are popular for a reason and well worth a visit. If I've forgotten any major attractions, please leave a comment.
"There is a curvature of the landscape, a color and shape that constantly frustrate the eye anxious for symmetry or linear simplicity." – John O'Donohue, Irish poet and philosopher
Here are the Best 21 Things To Do in Kerry:
1. View the Puffins on Skellig Michael
I have to start this list with my favourite place to visit in Ireland; Skellig Michael. Made popular in recent years thanks to the island's appearance in a recent Star Wars movie, this otherworldly island captured my heart about 5 years ago when I was greeted off the boat by thousands of Atlantic Puffins!
You will only be treated to such a magical welcome if visiting between April and early August, however, as the Puffins travel to far-flung shores such as Canada once the breeding season ends.
Apart from these beautiful wonders of nature, Skellig Michael is an incredible place to visit. It is rich in history, with the island declared a UNESCO World Heritage Site in 1996, and the stone monastery on the island dating back 6th century.
2. Stay the Night in An Irish Castle
If you're happy to visit a castle you can stop off at somewhere like the historic Ross Castle just outside of Killarney, but if you actually want to sleep the night in one you only one choice but boy is it a good one.
By far the most beautiful and luxurious castle hotels in Ireland, Ballyseede Castle is set on 30 acres of land and has just 23 luxurious bedrooms.
Think stand-alone baths, incredible views, fine dining and a chance to play with their resident Irish wolfhound – a night you won't be forgetting anytime soon.
3. Drive the Ring of Kerry
While this is definitely one of the more touristy things to do, it's an absolute MUST.
The Ring of Kerry road trip is said by many to be one of the most beautiful driving routes in the world and although driving on the wrong side of the road might give you heart palpitations, it's well worth the fear.
In fact, seeing as pretty much every Irish person I know has driven this route, I would say as many locals drive it as tourists.
4. Visit the Most Westerly Point in Europe
Want to visit the most Westerly point in all of Europe? Then you'll need to take the ferry out to Great Blasket Island. Besides its unique geographical location, this island and its neighbours are famous for their wild ruggedness and natural beauty.
You will feel as if you have travelled back in time, and can spend your days walking, reading or simply watching the wild Atlantic waves crash against the cliffs and beaches that make up this remote island.
Keep your eyes peeled on the boat ride as dolphins are often spotted here. Quite challenging but definitely one of the more unique things to do in Kerry.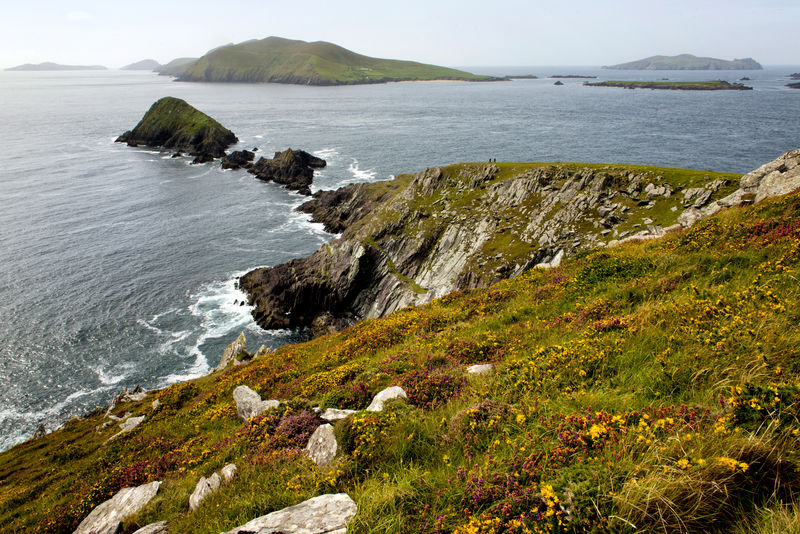 5. Have a Pint in a Grocery Store
If it's one thing Kerry knows how to do better than anywhere else in Ireland, it creates a unique cultural experience…by accident.
You can find a few of these unique "pub come grocery store" establishments, but my favourite, Reidys Sweetshop, can be found in Killarney. Even if you just have a weekend in Killarney, make sure to pop in here!
It looks like an old-fashioned grocery and sweet store from the front, but if you walk through the store and out the back you can sit with some chatty locals and enjoy a pint out of a can!
6. Go Camping on Valentia Island
There are lots of amazing camping spots in Kerry, from campsites to wild camping locations overlooking the ocean. One of my personal favourites is Valentia Island, probably because you can wake up to views of the Skelligs and fall asleep under the most amazing night sky free from light pollution.
You can check into the Valentia Island Camping and Caravan park if you don't fancy wild camping. For events in the area, including food and music festivals in the summer, a full schedule can be found here.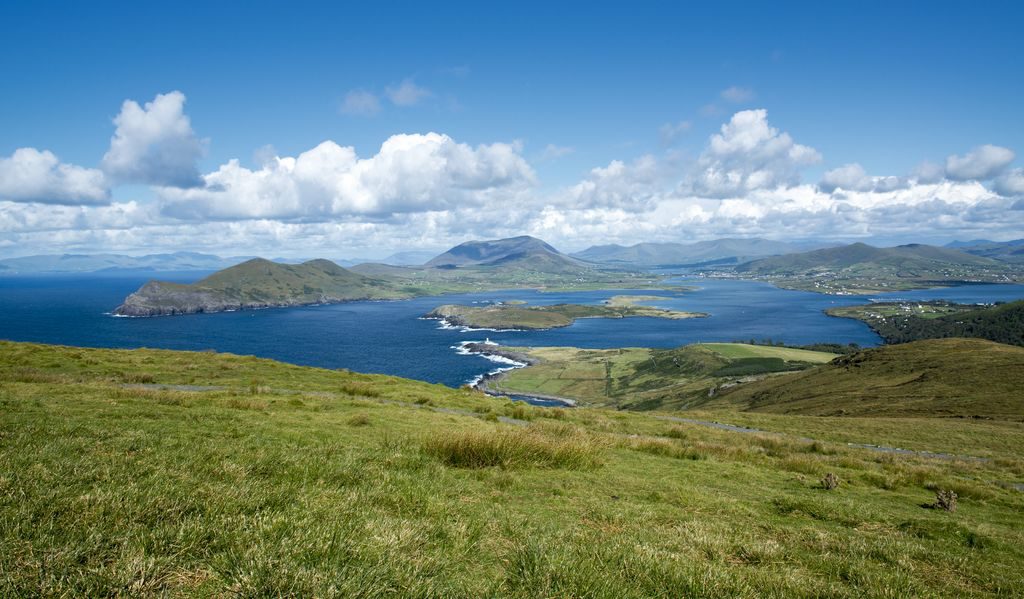 7. Enjoy an Outdoor Hot Tub
Parknasilla Resort and Spa outside of Kenmare is by far one of my favourite hotels in Ireland. I've only stayed there twice (if I was a millionaire I'd buy it and make it my home base) but it stole my heart both times and is a real unique Irish hotel experience.
The location is nothing short of magical, overlooking the lakes and with incredible wooden walkways across the property perfect for exploring.
The best part of all? There are TWO outdoor hot tubs to sit in and watch the sunset from after a long day of exploring. One of the more luxurious things to do in Kerry!
8. Explore Killarney National Park
Killarney National Park is one of the top tourist attractions in Ireland and by far one of the top things to do in Kerry. There are lots of ways to get around, depending on the weather and how adventurous you're feeling.
You can walk, hike or drive or you can pay to have a jaunting car (sort of like a Kerry-style horse and carriage but less grand) take you around the park.
A boat trip on the lake can also easily be arranged. Some must stop places inside the park include Muckross Lake, Muckross House and the beautiful Torc Waterfall, just a short hike through the woods from the main road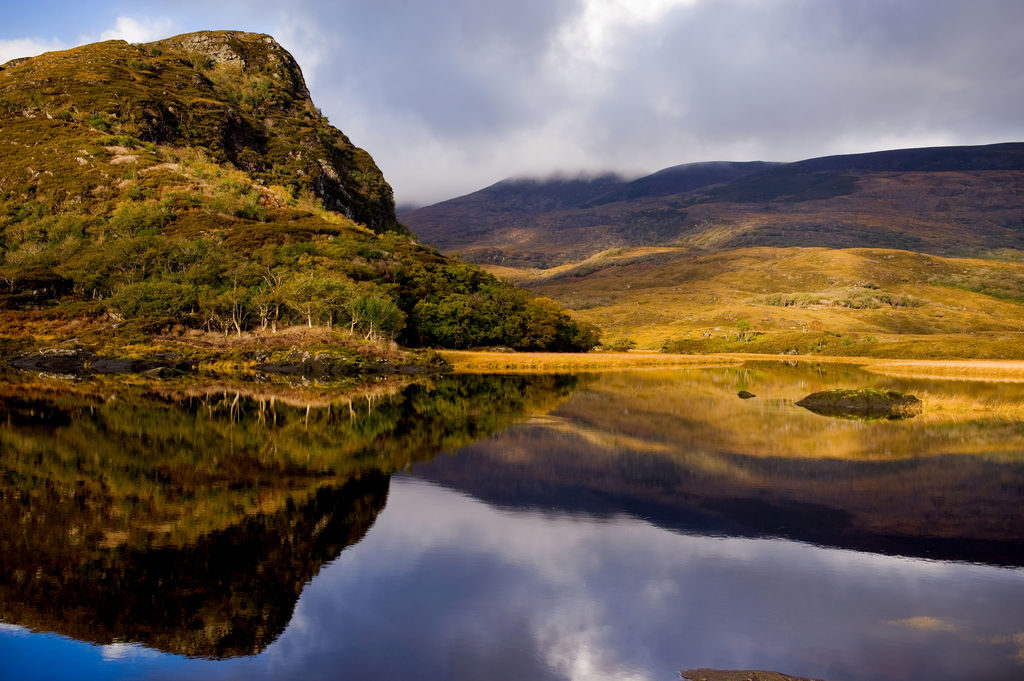 9. Eat Some Fresh Mussels in Portmagee
If you plan on camping on Valentia island or anywhere nearby, head over to Portmagee for lunch. This is one of the most picturesque villages in Ireland, and there some great pub restaurants with beer gardens making it the perfect stop for some lunch.
My favourite is The Moorings and Bridge Bar which has some colourful picnic tables outside the pub, ideal if the sun decides to make an appearance. Eat the mussels with a pint of Guinness and you'll be sorted for the day.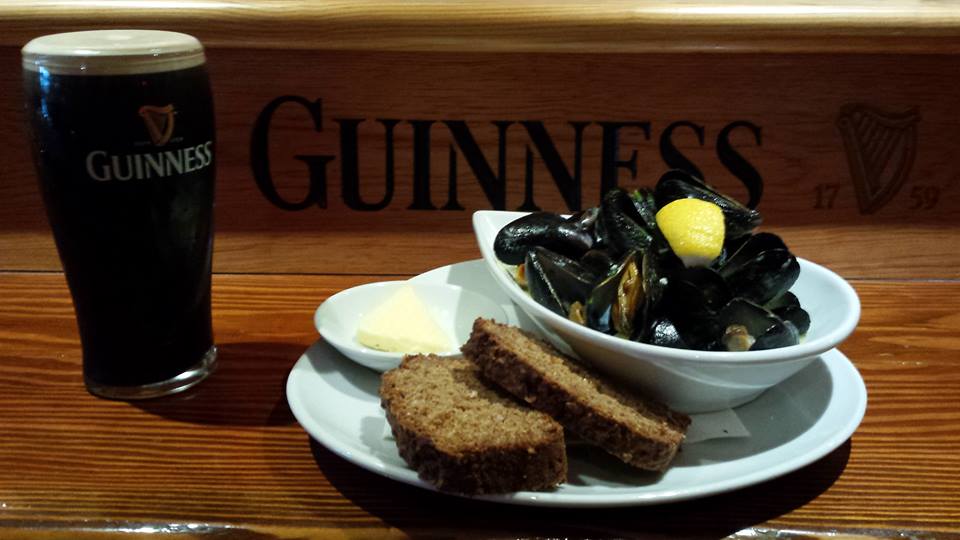 10. Attend a Uniquely Irish Festival
Kerry sure knows how to do mad festivals. If you really want a taste of Irish culture, and to see what "the craic" actually means, then you need to attend a quirky Irish festival in Kerry.
If you're around in August (10th – 12th), Puck Fair in Killorglin is a pretty mad one to attend. They crown a goat (yes…a GOAT) king of the festival and mayhem ensures in the typical Irish style.
Another unique festival in Kerry is The Rose of Tralee, which is essentially a "lovely girls competition" where girls are rated on their personality and skill rather than their looks and you must have Irish heritage to enter. It takes place in Tralee and is watched by the entire nation!
11. Spend the Night Stargazing
Did you know Kerry is one of the best places in Europe to go stargazing? The night sky in certain parts of the county is so dark and free from light pollution, that they have actually set up a special Dark Sky Reserve, which stretches between Kells Bay and Caherdaniel.
The stars here light up the entire sky and it's possible to photograph the milky way on a clear moonless night. Pure magic. Need help and a place to stay? The Moorings Guest House in Portmagee do Dark Sky Packages.
12. Have a Pint at Ireland's Highest Pub
Forget what them Dubliners told you, the highest pub in Ireland is Top of Coom and can be found up in the mountains near the Cork / Kerry border.
I didn't understand a word anyone said when visiting, and my friends from South Africa half wondered if the old men sitting at the bar were speaking Irish (they weren't) but if you'll looking for a traditional Irish pub experience and the highest in Ireland, this needs to be seen to be believed.
13. Hit the Waves on Inch Beach
Forget the rain (because there WILL be rain) and try your hand at surfing on the absolutely stunning Inch beach, which is in fact miles long.
One of the most beautiful stretches of coastline in Ireland, surfing here will be an experience you'll never forget. Beginners can sign up for once-off surf lesson or even week-long surf camps with Offshore Surf School.
14. Climb Ireland's Highest Mountain
Feeling adventurous? Ireland's highest mountain (and probably the most misspelt word in the nation), Carrauntoohil, is located in Kerry and affords adventure seekers with spectacular views of The Kingdom.
It's a tough hike and should not be done alone. If you're not an experienced hiker, I recommend doing a tour with a local guide such as with Kerry Climbing.
15. Eat at The Pantri in Dingle
Looking for an amazing cafe for breakfast or lunch while visiting Dingle? Then you need to visit the newly opened Pantrí Dingle. This cute cafe located on Lower Main Street is already getting rave reviews for their friendly staff and tasty menu.
The Eggs Benedict for breakfast is a must – as is the locally sourced Jack McCarthy Black Pudding – yum. For the vegetarians out there, there are lots of equally delicious choices. The cafe is small and easily missed, so make it your mission to find it.
16. Join a Session at Dick Macks in Dingle
Ahh Dick Macks. Pretty much an institution in Dingle, people from all over Ireland and abroad love these traditional Irish music pub. One of the top-rated pubs in Kerry, and a firm favourite in Dingle, you can't travel here and not stop off for a pint or three.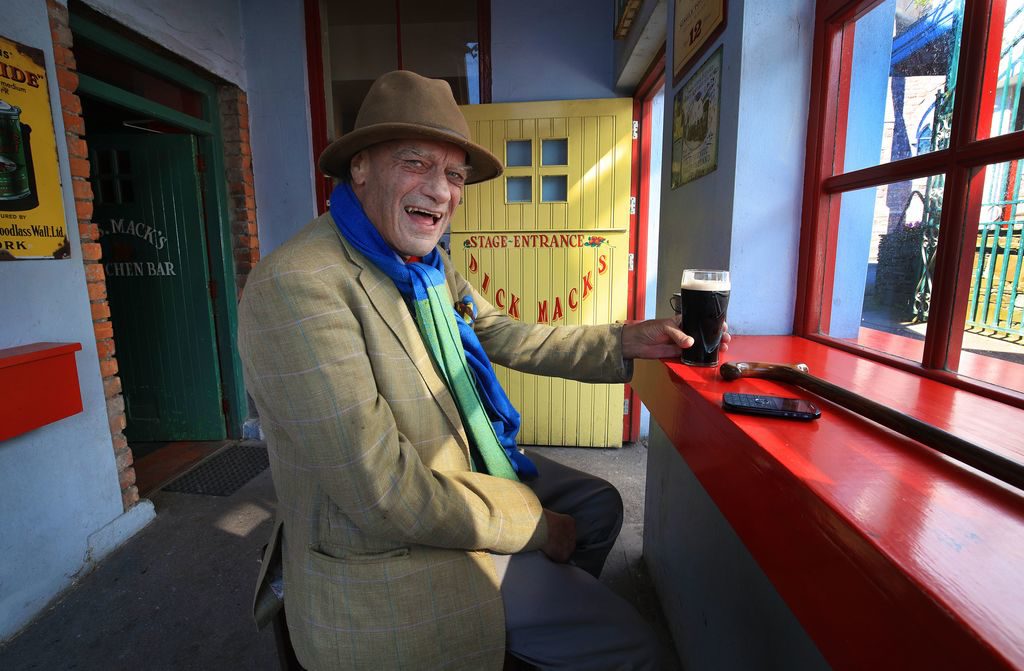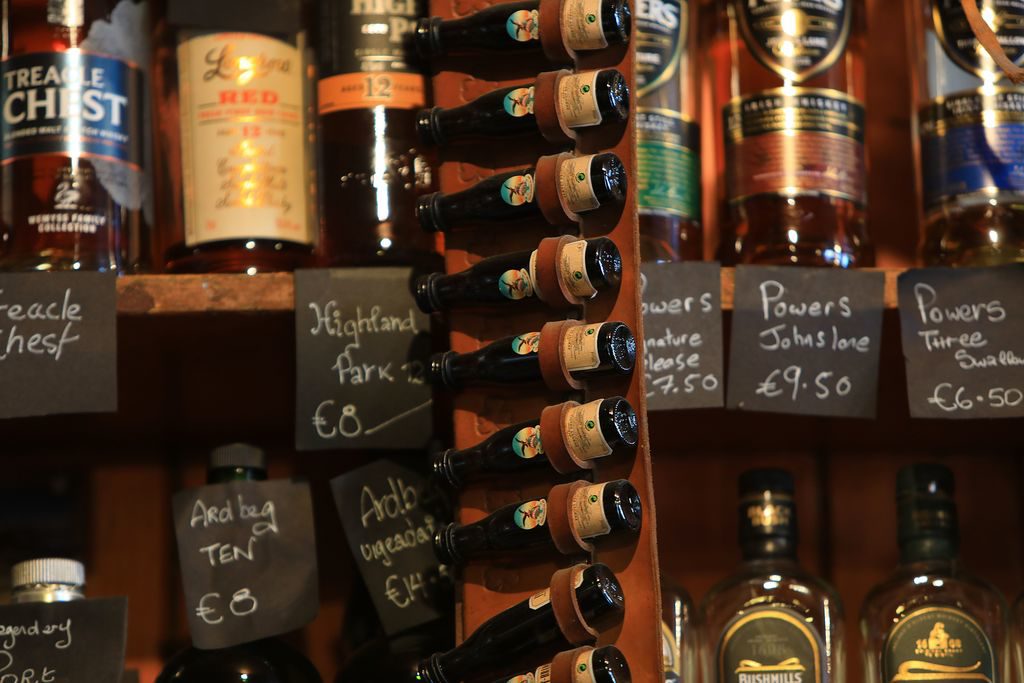 17. Do a Pub Crawl in Kenmare
There's this off phenomenon in recent years in Ireland, where a select few towns and villages across the country have been declared designated "Stag and Hen do destinations".
Kenmare seems to be one of those towns which resulted in the pubs and bars around town being invaded by outsiders each weekend and next level mayhem taking over. If you're looking for a guaranteed mad night out and fancy doing a pub crawl in an Irish town, Kenmare is the place to go.
18. Swim with Fungie The Dolphin
What do you mean you haven't heard of Ireland's most famous and friendly dolphin?! Fungie the dolphin is the pride of Dingle harbour and has been attracting tourists to this picturesque town for many decades.
Taking a trip out to the harbour with a local fisherman or tour guide and having Fungie either swim alongside the boat or do flips over you is reason enough to come to Dingle or even Ireland.
19. Spend a Rainy Day in the Aquadome
Ireland isn't exactly known for its world-famous theme parks or water parks but what we do have is the Aquadome. It's a small, indoor water world outside of Tralee and is the perfect places to spend a rainy afternoon when touring Kerry. Great for kids, there are slides or varying sizes, a massive pool and a lazy river.
20. Photograph Dunquin Harbour
Probably one of the most photographed harbours in Ireland, this tiny harbour on the west coast of Ireland was first made famous on postcards and recently made more famous thanks to Instagram.
The picturesque harbour is particularly unique as the extremely narrow road winds its way down to the water and traffic jams here normally involve a single car getting stuck behind a herd of sheep!
21. Spend Some Lazy Days in Caherdaniel
Looking for picture-postcard Ireland? Greenfields as far as the eye can see, a rugged coastline, old stone walls and sheep traffic jams? Then you'll want to spend a few days in sleep Caherdaniel.
Home to some of the most spectacular Atlantic views in Ireland, the stunning Derrynane Beach as well as Derrynane House, once home to Irish freedom fighter and political leader Daniel O'Connell. It's a popular holiday destination for locals from other parts of Ireland looking to escape the cities.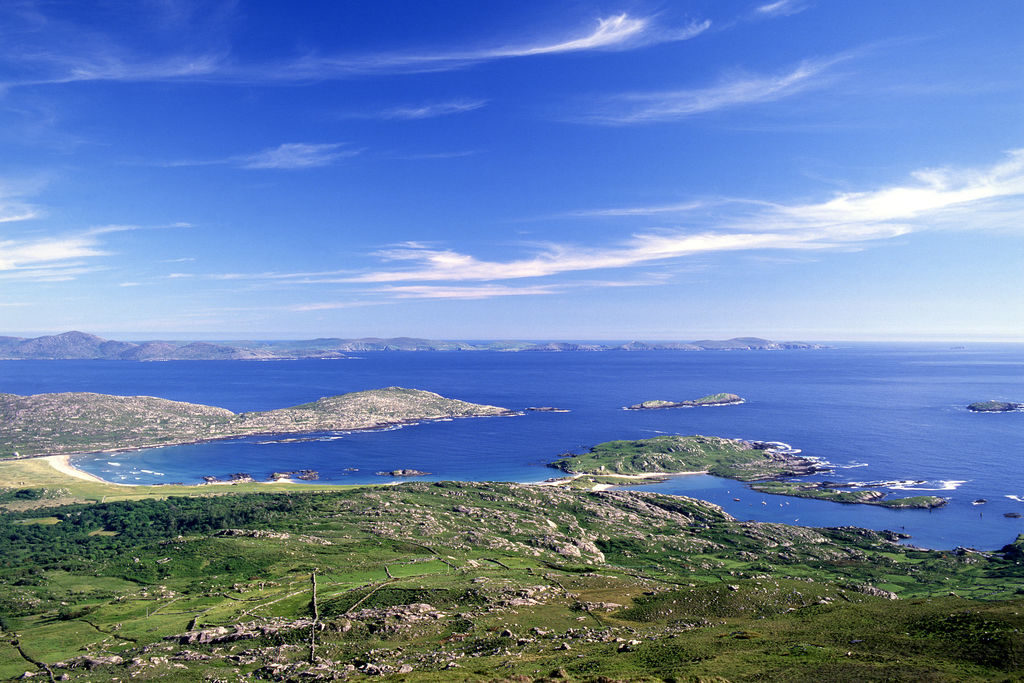 Like This Article? Pin it!