There are many unique things to do in Meath. It's a county that is steeped in Irish history and lore and it is here that you can find some of the most famous historic landmarks in the country.
Meath is also a short distance from Dublin (read about our top things to do for free) so is a great place to day-trip out to before returning to the city.
Meath is known as 'The Royal County' because it was once the seat of the High King of Ireland and you can still visit the 'seat' to this very day.
I was born in Meath and spent a lot of my life touring around the beautiful historic ruins and castles. There really is so much to do in the county, this list is only scratching the surface!
Here is our list of unique things to do in Meath — some you will have definitely heard of before but others are absolute hidden gems. This is one of the places to visit in Ireland you won't want to miss.
17 Top Things To Do in Meath
1. Walk along the Boyne river in Slane
The Ramparts walk is a fantastic choice if you want to be out in the middle of nature. To start the walk you can park your car beside the beautiful Slane Bridge. From there you can follow an old path that was once used to tow boats up around Slane Castle, one of the most amazing castles in Ireland.
If you're feeling adventurous you could even walk the entire way from Slane to Navan on this path but be warned, it is a long day's walk.
2. Visit Mrs O's pub from the Guinness Ads
Skyrne is a tiny town in Meath that is home to an iconic pub called J O'Connell's pub. It became widely known around the county after being featured in an advertisement for the iconic stout, Guinness.
If it even made it into a Guinness ad then you can be certain that it is one of the most unique things to do in Meath! It is more commonly known as Mrs O's and is a pub that hasn't changed its interior in over a hundred years.
You won't find any TV's in this pub and it is about as traditional as a pub can get. With a fire lit and a pint of Guinness in your hand, it is the perfect thing to do in Meath on a rainy day!
There's also the ruins of a church opposite the pub if you want to do a bit of exploring too.


3. Trim Castle
Trim Castle is one of the most impressive castles in Ireland. Period. It is the largest Cambro-Norman castle in Ireland and was built in the 12th century. The castle also played a part in the movie, Braveheart.

The castle is remarkably well preserved and you can take a 45-minute long guided tour around the grounds which will give you the chance to appreciate just how impressive the castle is. If you want to educate yourself about the history of Ireland then you should absolutely stop by this castle!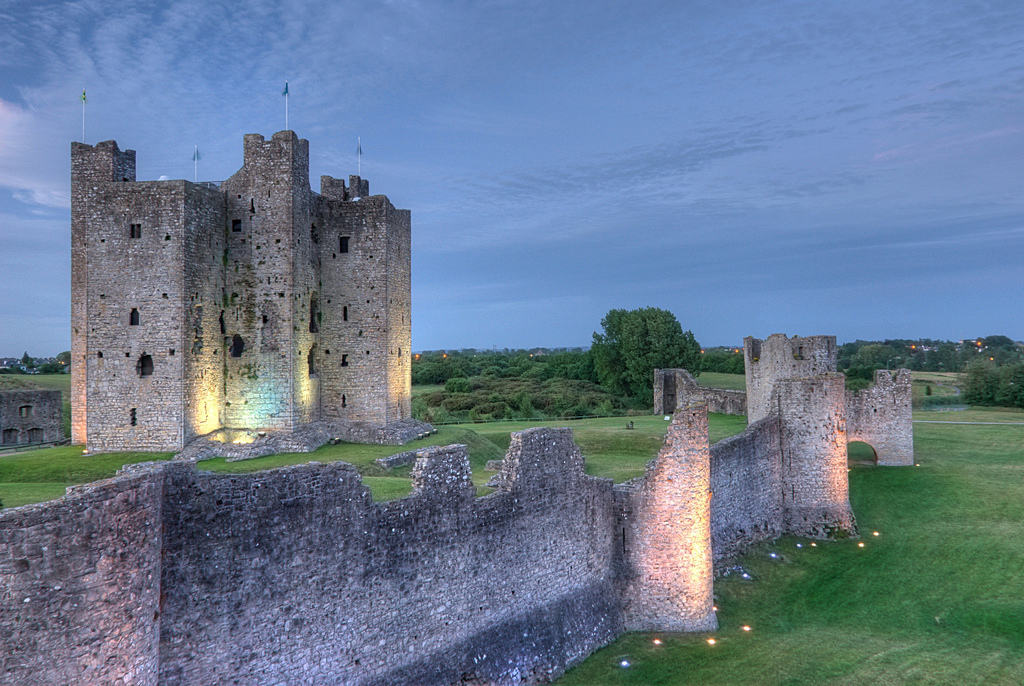 4. Check out Ireland's only Amusement Park
Ireland has exactly one amusement park and it is located in Meath. Tayto is a famous brand in Ireland and has been Ireland's favourite crisp (chips for our American readers) manufacturers for years.
They decided to open up their own amusement park called Tayto Park and it's amazing!
The park has Ireland's only wooden roller coaster, called the Cú Chulainn Coaster. There are loads of other attractions in the park including a factory tours, zip lines and much, much more. It's a great park to spend a few hours.
For pricing and opening hours, have a look at their website.
5. Explore Bective Abbey
Bective Abbey is one of my favourite places to go in Meath. If you want to get away from long queues and tour buses then this is the perfect site to visit. It is a Cistercian abbey located in Bective, Meath.
Some scenes from the movie Braveheart were also filmed here. To get there you will drive down smaller and smaller roads until the beautiful abbey finally reveals itself to you. You usually have the entire place to yourself and it's a beautiful abbey filled with nooks and crannies to explore
6. Touch the Stone of Destiny at the Hill of Tara
The Hill of Tara is an archaeological complex that is filled with ancient monuments and stone structures. It also was the seat of the High King of Ireland and it's not hard to see why. The Hill of Tara is surrounded by lush, green countryside and on clear days you can see for miles in every direction.
There are a number of ancient mounds around the site as well as a beautiful church to explore on the site. At the centre of the hill stands a standing stone called 'Lia Fáil' aka the Stone of Destiny.
It was here that the kings were crowned and there is a legend that says that the stone would scream with joy if the rightful king put his feet on him. It would also bestow him with rejuvenation and a long rein.
There is also a beautiful cafe at the entrance to the Hill of Tara that is well worth checking out if you find yourself peckish while visiting all the sights.

7. Take a look at the largest baseball cap collection in Ireland at The Snailbox
The Snailbox is a family run business in Ashbourne, Meath. They are known for a number of things but the first thing you will see when you walk in is their massive baseball cap collection that covers every part of the ceiling.
They have over 5,000 baseball caps and you can add yours to the collections in exchange for a Snailbox hat.
As well that, the Snailbox offers some award-winning pub grub and even has live traditional Irish music in the evenings. As well as that there are some amazing views of the Meath countryside and it is right next to some of the bigger attractions such as Newgrange. This place really is a hidden gem!
Click here to check out their website.

8. Look at the artwork on the walls of Newgrange
Newgrange is probably the most well-known prehistoric monument in all of Ireland. It was built around 3200BC, making it older than Stonehenge and even the Egyptian pyramids!
Archaeologist, Colin Renfrew thinks that Newgrange is: "unhesitatingly regarded by the prehistorian as the great national monument of Ireland" and as one of the most important megalithic structures in Europe"
Newgrange is definitely one of the most popular things to do in Meath but it's easy to see why when you finally come face to face with the magnificent tomb.
It's outside is surrounded by white quartz stones and there is a passage into the tomb in the centre which the sun shines through only once a year, at the winter solstice. It is a huge event and people from all over the world come to Newgrange to celebrate the winter solstice in style.
The walls at the entrance of Newgrange are filled with Megalithic carvings which are incredibly beautiful. To find out more information, and to book tickets, click here.
9. Knowth and Dowth
Many people know about Newgrange but Knowth and Dowth are two lesser-known but equally as interesting megalithic tombs that are located near Newgrange.
Knowth is the smallest of the megalithic tombs that can be seen while visiting Newgrange. Though Newgrange looks fantastic, Knowth is surrounded by a number of smaller tombs and is very beautiful to explore.
The rocks in the tomb are covered with ancient megalithic art which and you can also get a guided tour of the ancient Irish tomb.
Dowth is lesser developed as a tourist attraction so if you want to see one of the least touristy ancient tombs then Dowth is the place for you! It is located smack bang in the middle of a field full of sheep and is less decorated than the other two but this could be because it was looted by the Vikings and other hordes of people throughout the ages.
Dowth also has its own special solar celebration. Every year, during the winter solstice, the sun creeps along the entrance to the tomb before lighting up three stones in the centre of the tomb.
Be careful if visiting Dowth though and don't leave any valuables visible in your car… Thieves are known to operate in the area.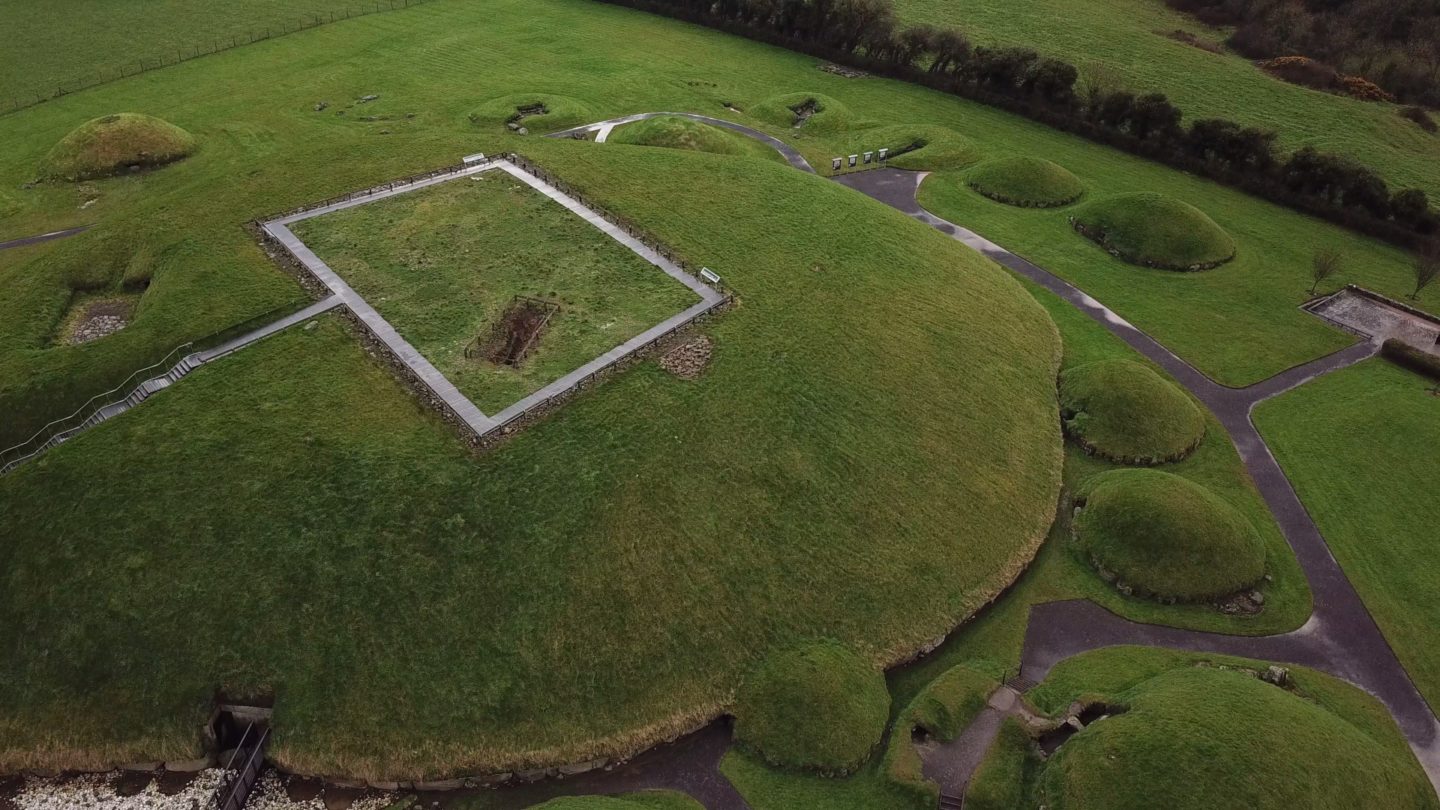 10. Watch Horse Racing on the beach at Laytown
Irish people love everything to do with horses and horse racing. A very small part of Meath lies on the coast of Ireland which is where the town of Laytown is situated.
For one day each year in September jockeys take to the beach and race each other down beside the ocean. The races have been going on for over a hundred years and are steeped in Irish tradition. Definitely worth the trip if you're over on the right date.


11. Donaghmore Round Tower
Ireland is famous for its round towers that were built hundreds of years ago. It's commonly thought that these towers were built so that monks could defend themselves against raiding Vikings who were coming to plunder their wealth. Donaghmore Round Tower stands at 27 meters tall and is a great place to stop and unwind.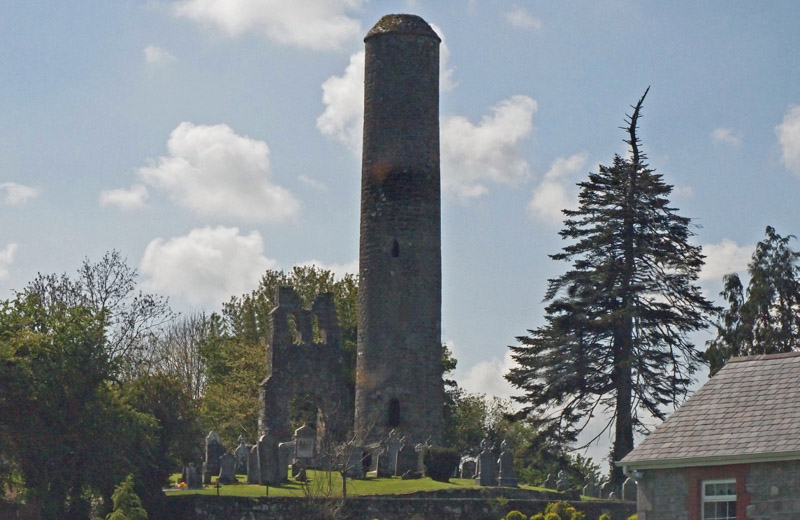 12. Slane Castle
Slane Castle is another magnificent castle in Meath that is well known amongst Irish people today. The castle is still in use today and the grounds of the castle act as a natural amphitheatre so every couple of years they host some of the most famous musicians in the world.
Guns and Roses, U2, Red Hot Chilli Peppers, Queen, Bowie, Neil Young, Bob Dylan… You name it, they've probably played in Slane Castle! Some tourists even plan their trip around going to one of these epic shows.
If you want to get into the castle you can take a guided tour of the grounds or you can have a tour of their distillery where they make Slane Irish Whiskey.
Click here for more info.
13. Have a pint of Guinness in Bradys pub, Dunboyne
This pub was built in 1870 and very little has changed today. Bradys pub is one of the best traditional Irish pubs in Meath and many of the locals say that they have the best-tasting pint of Guinness around.
The pub consists of 7 small rooms where you can squeeze in beside your friends and drink in the atmosphere. They have traditional Irish music on Thursdays and a turf fire is usually burning in nearly every room to keep you cool when the weather is cold.
The craft beer scene has absolutely exploded in Ireland over the past few years. Brú is one of the newest contenders to the market and they make some absolutely gorgeous beers.
Their beers and stouts have won them awards and the pub itself offers some fantastic pub grub and an amazing selection of craft Irish beers. It's the perfect way to spend an afternoon in Navan.


15. Newgrange falconry
If you've ever wanted to get up close and personal with owls, eagles and hawks then look no further than the Newgrange Falconry.
It's an extremely informative and interactive experience where you get to learn about these beautiful creatures while also getting some hands-on interaction with the birds. This is a hugely popular experience for locals and tourists alike and not to be missed… It is one of the most popular things to do in Meath.
Click here for more info.
16. Drive a tank at the Irish Military War Museum
This is a great one for the history buffs out there. Ireland has been involved in a number of different wars and struggles and this museum offers the chance to peek into history and see how the Irish fought and what vehicles and weapons they used.
The museum is privately owned by William Sullivan who has been fascinated with collecting since he was 8 years old. The museum is a bit different from other museums in the sense that you can touch and handle most of the exhibits. You can even go for a spin in a tank if you have ever wanted to know what it was like.
Click here for more.




17. See a traditional Irish farm at Causey Farm
Causey farm is extremely well known amongst locals as one of the most interesting things to do in Meath. It's a fully working farm that offers a range of activities to take part in. At Christmas, the entire farm transforms into Santa's workshop and you can bring your little ones on an unforgettable experience.
You can also have your own hen parties here and they do a range of team-building corporate events. If you have a group and are looking for something fun to do then a visit to Causey Farm is a must!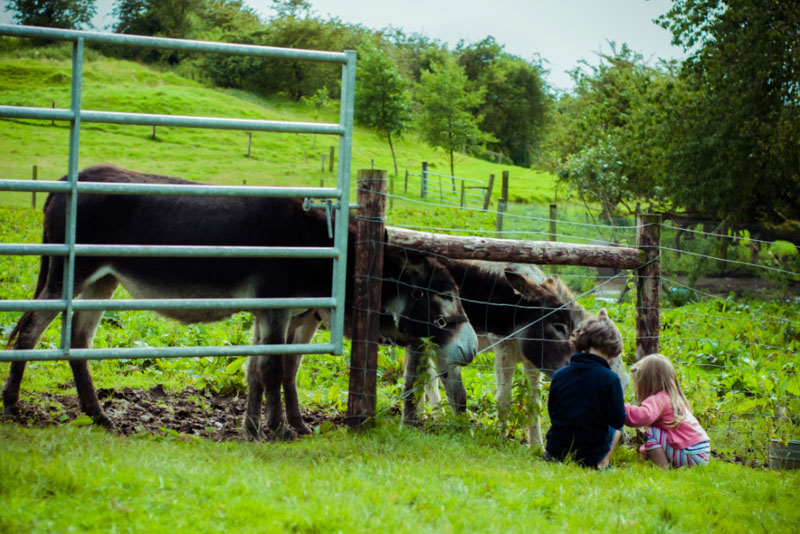 READ NEXT: Unique Things To Do in Galway – Ireland Cultural Capital
Like This Article? Pin it!