It breaks my heart knowing that the majority of visitors to Ireland leave home without getting to fully immerse themselves with locals amidst the atmosphere of a true "Irish pub".
Yes, our culture is rife with Irish mythology, but a decent, non-extortionate pub doesn't have to be an urban legend. Buying affordable beers doesn't mean you have to compromise on taste, but finding the elusive cheapest pint in Dublin can be difficult.
For a country that celebrates its drinking culture, visitors to Dublin are often stunned by the price, and rightfully so. It's a given that the further you travel out from the central tourist spots (ahem, Temple Bar) that the price of pints decreases.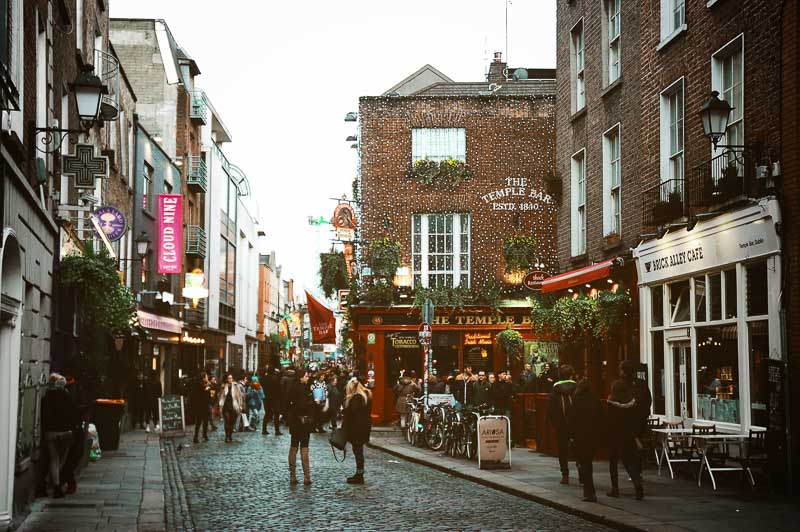 In this post, I'll let you in on the most affordable pints in Dublin.
Where to find the cheapest pint in Dublin
I've learned €6 is the maximum you should ever need to pay for a drink in Dublin, and that's because I'm a sucker for trying the most recent infused IPAs.
Chances are that if you're coming to Ireland, you're not going to be drinking imported beers. You're going to want to have Irish beers, and luckily for us, Guinness is usually the cheapest beer available.
A lot of Irish people start drinking Guinness when they're in college because of this very reason! A lot of the pubs we'll mention here are known for their good Guinness (yes, there are places that do it better than others).
Keep in mind that Dublin will be one of the most expensive places to get a drink in Ireland, but it is, of course, doable on a budget!
If you follow our guide, you won't be spending next month's rent for a decent pint, and you won't just be another tourist in the trap. To help you navigate the minefield that is the Dublin pubscape, I've put together a list of 9 places that have the cheapest pints in Dublin.
1. Peggy Kelly's
Peggy Kelly's is strangely situated between a Cemetery and a park that was once a Gallows. This might not sound like the ideal location for a pub, but once you're inside you won't care!
On a regular day, this pub has reasonable prices, but the best time to pop in is on Thursdays for €4 Craft Beers. This includes a range of beers from Kinnegar and Rascals. These are some of the best Irish Craft beers, which we also have a guide about!
On many winter days, I've found myself back here again and again, pulling up a seat next to their fireplace and taking a novel from down off their bookshelves. During the warmer months, you'll find it's punters in its heated beer garden out back.
You can get to this cozy pub by hopping on a short bus journey from the City Centre. You can take Route 16 or 9, just make sure you're going south since the 9 and 16 go the whole way through the city!
If you're more of a walker, it's only half an hour from Christchurch Cathedral! It's a nice walk through a pretty old part of the city too, so you'll feel like you've earned your pint. Click here to find it on the map.
2. Vaughan's Eagle House
This spot in Terenure is the birthplace of Mary 'May' Joyce, mother of literary genius James Joyce. This refurbished tavern's décor is fitted with photos of the historical Terenure village.
This Dublin 6 watering hole is only a stone's throw away from Bushy Park. This park has a lovely weekend market on a Saturday, so you can get some food at the market and then head into Vaughan's to quench that thirst.
Vaughan's Guinness is priced at €4.80, but why not go even cheaper and go for a €4 Beamish Stout? Beamish is the stout of choice in Cork, you'll have to compare both to see which you prefer!
Enquire about their house wine, a glass shouldn't set you back more than a fiver either. There's something for everyone here!
If you're getting Dublin Bus, the 15 or the 16 (again going south) will bring you to the doors of this pub! You'll be getting off in the middle of Terenure, which is a great part of Dublin to explore. You'll most likely be the only tourists there. Click here to find the pub on the map.
3. Corrigan's
I reeled in the 2017 New Year here at the quaint Mountpleasant Inn with a couple of pints that didn't leave me penniless on January 1st.
Seek South of the Portobello Canal to discover this modest spot on the corner just behind Rathmines Main Street. It runs a close second as one of Dublin's best-kept secrets to our next contender.
It's one of those places where you order two drinks, give a €10 note, and get change back. Sadly this is a sight we don't see as often as we used to. Luckily we have bastions of good value like Corrigan's fighting the good fight!
The easiest way to get there is to take the Green Line Luas (tram) from Stephen's Green to Ranelagh and it's a 5-minute walk from there. Click here to find this cheap pub on the map.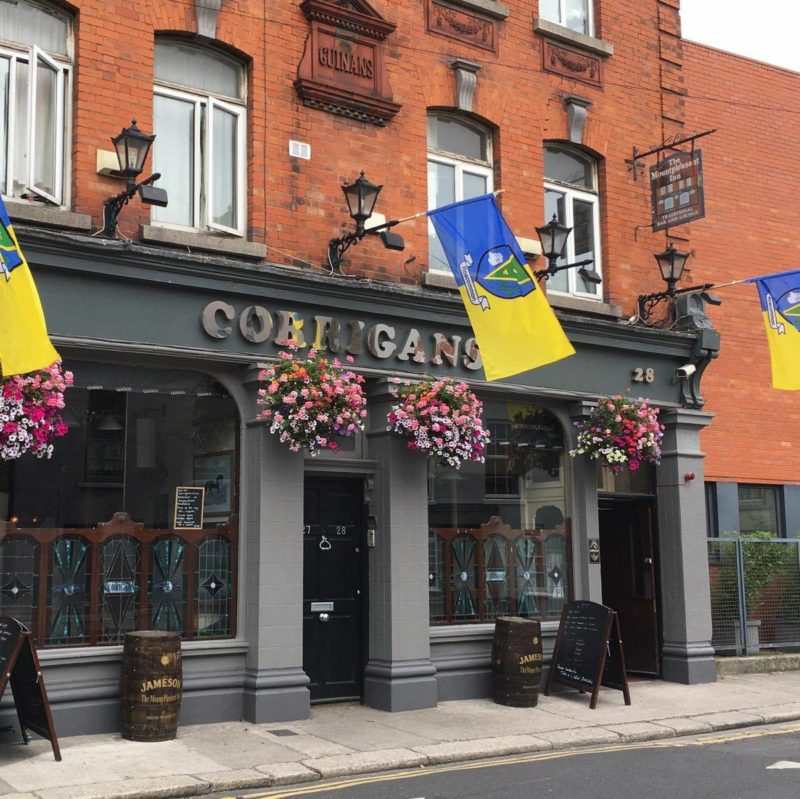 4. The Old Royal Oak
This spot has earned my award for the best-hidden gem on the list, and one of my most frequently visited when I lived along the Camac Canal in Dublin 8.
It feels like an 'off the beaten track' part of rural Ireland and neighbours one of the most historic and significant museums in Dublin; the Kilmainham Gaol. You'll need tickets if you want to go into that attraction, you can get them here.
It's also just on the other side of the hedge to IMMA (The Irish Museum of Modern Art). Soak up some culture then slurp up some black stuff for a cheap pint in a great setting. It's especially great on a sunny day with their beer garden!
The number 40 bus will bring you there in about 30 minutes from the city centre. This is a great rainy day activity with the gaol and the museum so close by. Click here to find this affordable pub on the map.
5. McCann's
You may have already checked the Guinness Storehouse off on your bucket list, and perhaps even paid a visit to their newly opened Pearse Lyons Whiskey Distillery all in the same day.
If the evening is still young, you needn't turn back to the city centre just yet. Right in the centre of Liberties, keep an eye out for McCanns Bar.
Their weekly specials board sits just outside, luring you in with pints as low as €3.50 for their excellent Fox's Rock range.
This is maybe the cheapest pint in Dublin that isn't a bland pint of weak lager. Also, only €4 for Guinness and all whiskeys is not to be sniffed at. Dublin's famous James' Gate brewery may be what brought you here, but it's the little pubs that'll keep you here. Click here to find McCanns Bar on the map.
6. The Gravediggers
John Kavanagh's, more commonly known as The Gravediggers is a time capsule from the 1950s in North Dublin. You'll find it in the shadow of the walls of Glasnevin Cemetery, the resting place to a number of Irish revolutionaries, writers, and poets.
There's no better place to take the weight off your feet after an afternoon at the Botanical Gardens that borders the cemetery than this appropriately nicknamed drinking spot that's both dog-friendly and wallet-friendly. Find it on the map, here.
7. The Porterhouse
You can take your pick between one of Porterhouse's three locations; Temple Bar, Nassau Street, and Bray.
Their menu is so intimidatingly comprehensive, with beers, spirits and ciders from all over the world listed.
They have beer all priced around €5, but you can opt for their Beer of the Day for only €4.50! This beer rotates between 7 of their home-brews on draught or one selected from any of their bottled beer from around the globe.
Given how they're sitting in the middle of Temple Bar and they have live music every night, it's a pretty great deal! If you like your small-batch, The Porterhouse probably sells the cheapest pint in Dublin for craft beers, not a bad accolade. Find it on the map here.
8. J.D. Wetherspoons
Ok, I'm cheating on this one. The UK chain that has infiltrated Ireland has to be commended for its consistency in cheap pints. Plus, it's the locals that make an Irish pub Irish, right?
You won't find a pint of the black stuff here mind you, but I'm all for encouraging trying new beers. They rotate the beers on tap on a regular basis so you'll always find something new to try!
Their pub is on Abbey Street so it's a pretty central location, a great place to spend a while if you've time to kill. Find this cheap pub spot on the map here.
9. The Snug
I said earlier that under €6 is good, under €5 is ideal, so under €4 would be ridiculous, right? WRONG.
The Snug Bar sells Guinness for an astonishing €3.70! It's a great bar but as the name implies, it's pretty small so don't be surprised if you can't get a seat.
This might actually be the cheapest pint in Dublin, at least the cheapest I've found for sure.
When I first heard about this bar, I expected it to be miles outside the city, but this is almost as central as you can get. It's just off Aungier street on Stephen Street Upper.
It's cash only though, so your credit card is no use here! It makes sense, the old school vibe of the bar means that any technology from after 1950 feels out of place. Find The Snug on the map here.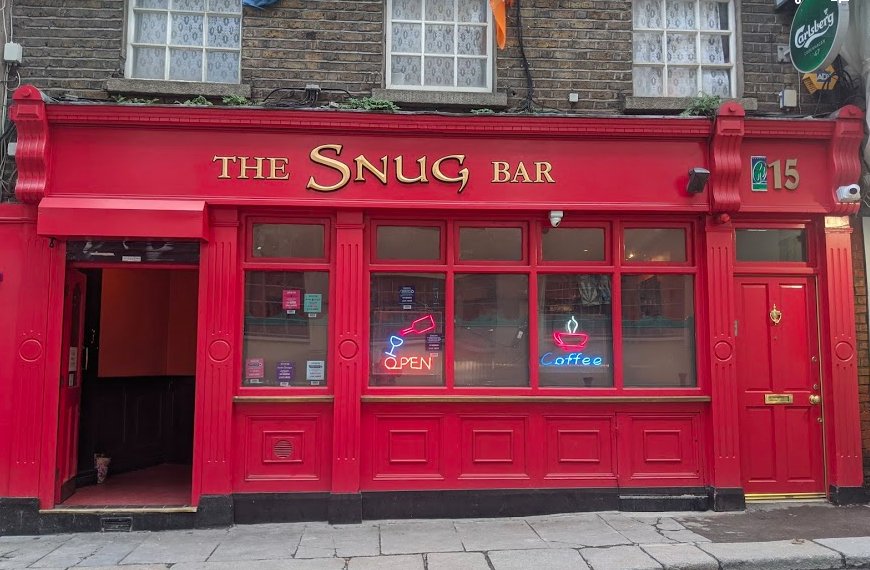 Your guide to the cheapest pubs in Dublin!
There you have it! This guide is by no means definitive, but it does give you a solid roadmap of well-priced pubs in Dublin.
If you're more about the music than the beer, we have a list of the best music venues in Dublin, and also a list of some of the most quirky bars in Dublin for you.
Like This Article? Pin it!