Visiting Dublin and it starts to rain? Welcome to Ireland, we are famous for our rain. It makes us who we are and gives us the green fields that we are so well known for!
So, here's our list of things to do in Dublin when it rains and hopefully these water-proof ideas to keep you dry & entertained during your trip to Dublin.
Things To Do In Dublin When It Rains
1. Take Shelter in a Pub
The most Irish thing you will hear on your trip! Pubs in Ireland are extremely special and waiting to be explored. As Dublin has over 751 pubs, filled with live music, pints of Guinness, and craic you'll be in good company.
Every street in Dublin is filled with pubs, and perhaps the most famous is The Temple Bar. There are also some other gorgeous ones worth seeing including The Foggy Dew, The Palace and Grogans.
The oldest pub in Ireland, The Brazen Head has a hidden library, as well as traditional music and storytelling 7 nights a week.
If you are in an adventurous mood, then you could always head over to the highest pub in Ireland, just outside Dublin in the Wicklow Mountains; Jonnie Foxes. If it is rainy a day, nursing a pint out here would be perfect.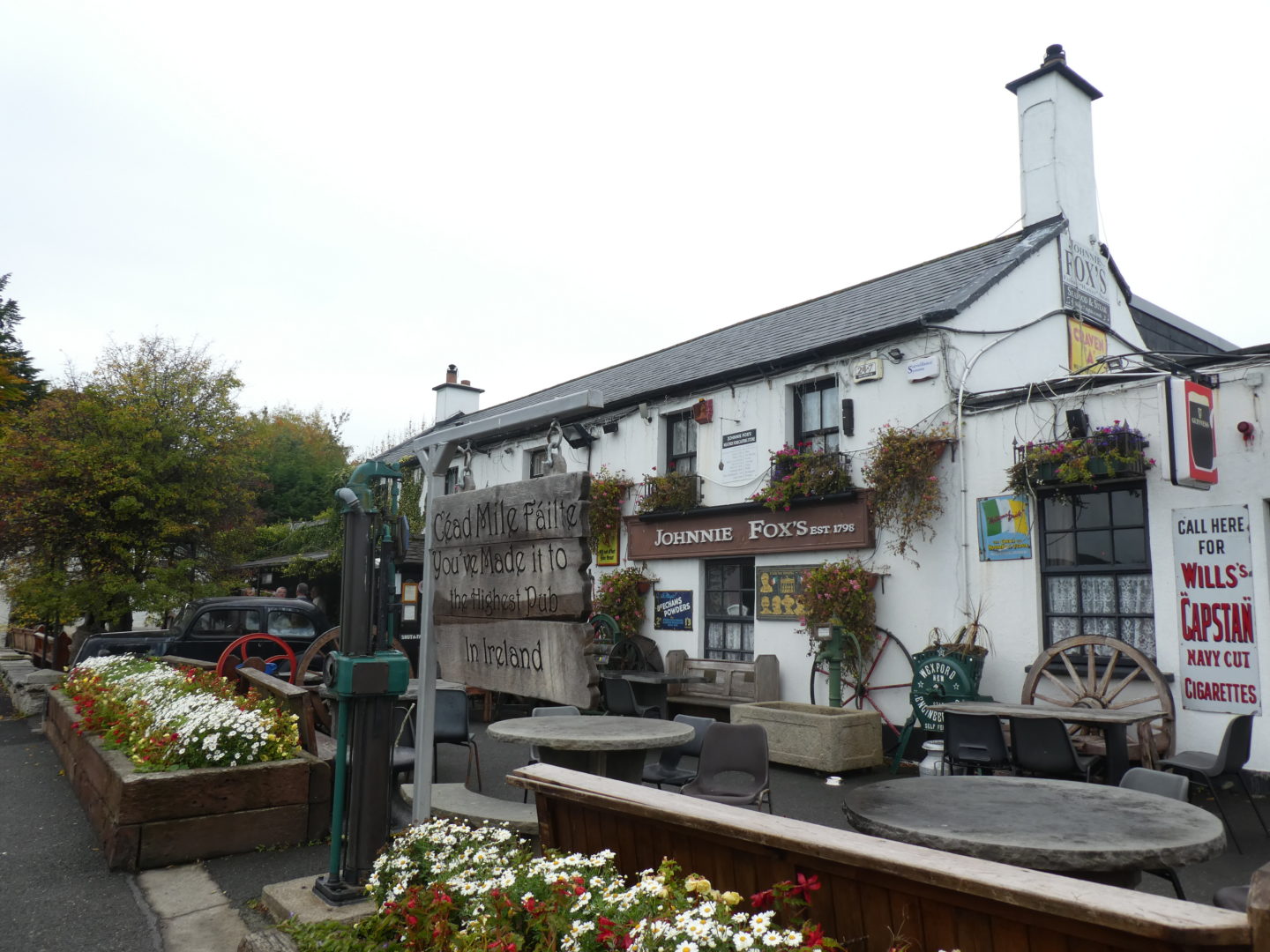 Also, make sure to visit one of the most famous breweries on the planet… the home of the black stuff. Take the Guinness Storehouse tour to dive into the history of the pint, which includes a 360o roof-top bar over-looking Dublin City.
2. Warm-Up with a Cup Of Tea
If the pub isn't for you, we are just as well known for our tea.
You could always drive around Dublin on a double-decker bus with a cup of tea in your hand with Vintage Tea tours. Stay cosy inside with afternoon-tea at one of Dublin's luxury hotels. Try The Westbury or The Shelbourne Hotel. Having Afternoon Tea is a must during your trip to Dublin.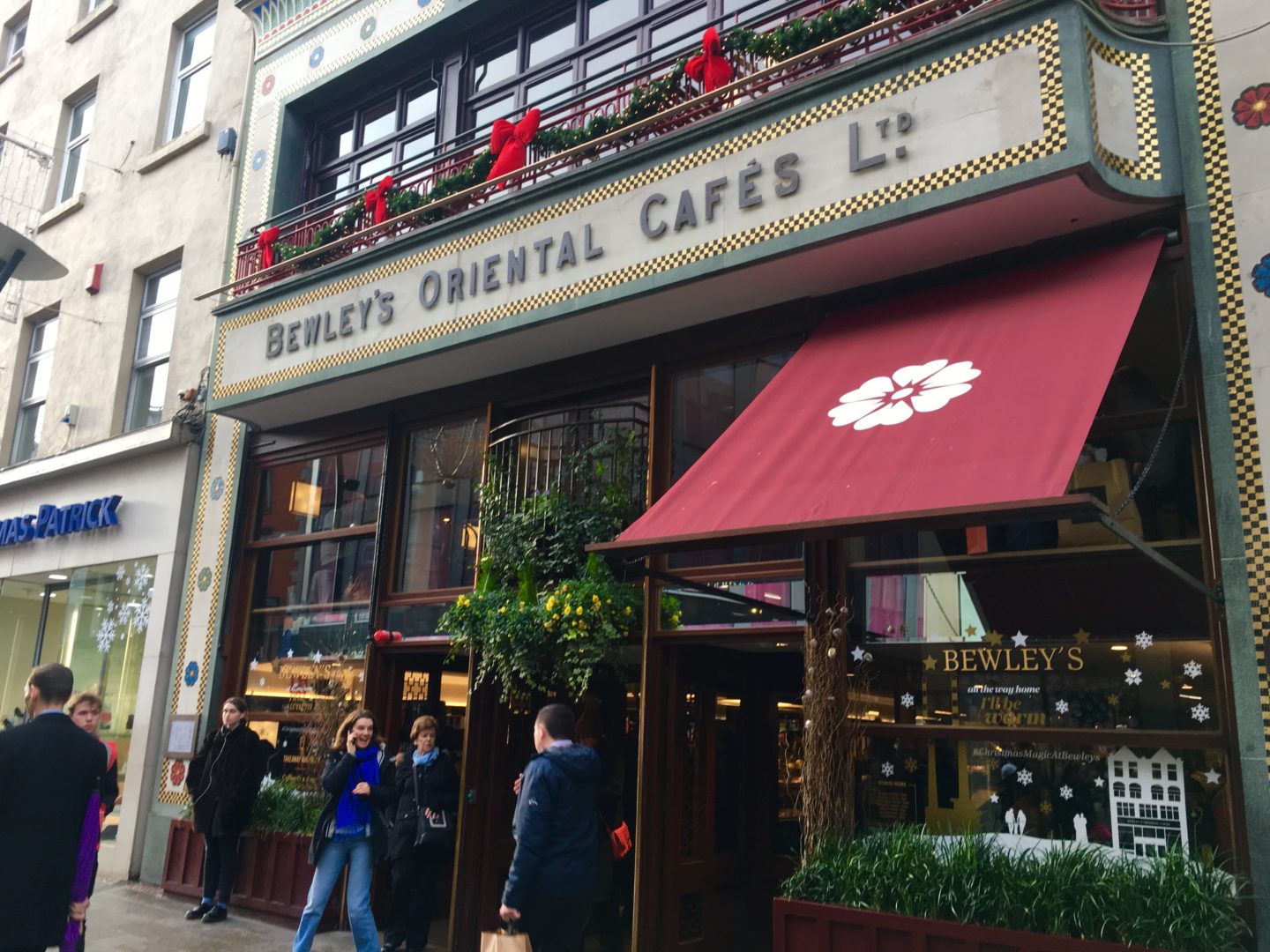 The famous Bewley's Oriental Café on Grafton Street has arguably the best hot chocolate in Dublin with its own personalized toppings. Bewleys are chocolatier specialists serving handmade sweets. Around Christmas in Dublin, the fire is lit and you will not want to leave!
You could also take a drive out to Bull island to see two Dublin icons: Poolbeg lighthouse & Chimneys. Enjoy looking out at the rain with a coffee on Bull Island resident's cafe Happy Out.
3. Get to Know Ireland Better
The best thing about Dublin is that it's filled with history and so much to learn about Ireland.
Many a rainy day, my sister and I would visit art galleries, followed by the library and many museums of Dublin! My favourites are the National Gallery of Ireland beside Merrion Square & the Natural History Museum, both of which have no admission fee.
If you're looking to do Dublin on a budget then check out our list of Free Things To Do In Dublin.
the Dublin Writers Museum, previously owned by a very famous whiskey owner. (There is a fee here but you can buy the Dublin visitors booklet for discounts.)
Many of them offer free admission; such as EPIC The Irish Emigration Museum, The Little Museum of Dublin, National Museum, Chester Beatty Library, Trinity College & Little Museum of Dublin.
Take shelter from the rain at Kilmainham Gaol, where you will dive straight into Irish history.
Sport fanatics should take this chance to take a tour of Croke Park GAA or the Aviva Stadium.
Make your day more interesting by visiting our many Irish distilleries, such as Jameson Distillery Bow St. (you can get the Luas out from the city to the distillery), Teeling Whiskey Distillery or a Pearse Lyons Whiskey Distillery, which is a refurbished old Church!
4. Do A Little Bit of Irish Shopping
My favourite place to buy Irish products is The Kilkenny Shop. Ireland's Largest supplier of Irish Craft and Design, where you can meet the maker, and personalise your product. A very unique shopping experience.
Also, enjoy in-door shopping around the City such as Powerscourt Shopping Centre to shop antiques, or George's Street Arcade for Irish crafts, or wander under the glass-roof at St. Stephens Green Shopping Centre.
5. Be Entertained
When it's raining in Dublin, why not take shelter by visiting some unique Irish cinemas?
Stella Cinema was previously an intimate theatre draped in red seats, side-lamps and table service. The theatre now shows both new and classic movies, just check the movie times.
The Lighthouse Cinema, Smithfield is an art cinema home to Dublin's International Film Festival & you will find movies here no-where else in Ireland. It can rain all it wants for the rest of the day now.
A night at the theatre will make you forget about the rain outside with numerous theatres throughout Dublin a show will have you dancing & dazzling the night-through! Check out the Gaiety Theatre, Olympia Theatre or Abbey Theatre, The Helix or the Bord Gáis Energy Theatre.
6. See the City
When visiting Ireland, it may be raining for a few days so I would highly recommend just getting on with the sightseeing. Take the City's hop-on-hop-off bus tours. You can pick these up all around town and they will give you the chance to see Dublin's famous landmarks, with or without the rain.
The bus tour will also take you to Europe's biggest city park, The Phoenix Park which is where the President of Ireland lives. It's also here where you will see the resident deer wandering the fields.
7. Get Out Of Dublin
Take a day tour out of the city and view the green fields in the rain from the comfort of the bus window. I would highly recommend taking Greyline Day Tour to Wicklow. The views are amazing and the trip ends with a lit fire in a pub.
Belfast is only a stone's throw from Dublin if you take the train and if you plan on visiting there are plenty of Things to do in Belfast!
Don't Let a Rainy Day in Dublin Ruin Your Trip!
Regardless of rain, there are numerous things to keep you warm and dry in Dublin. Whatever you decide to do, don't let a little drizzle dampen your spirits!
Like This Article? Pin it!