If you visit the Wild Atlantic Way, then you're going to be spending quite a lot of time in County Clare. Its steeped in history and there are many beautiful castle ruins, some of which have been restored to allow visitors to imagine what it was all like way back when. Some of these castles in Clare are a bit off the beaten track, but they're really worth the trek, and there's a good chance you'll be one of the few visitors to the castle.
My favourite thing about all the different Clare castles is that they all offer something for every type of visitor. Medieval dining, interactive experiences, luxury overnight hotel stays, quick stops while you're driving to get a quick photo! Keep reading to find out more. Heading south on your trip around Ireland? Check out our guide to the best castles in Cork!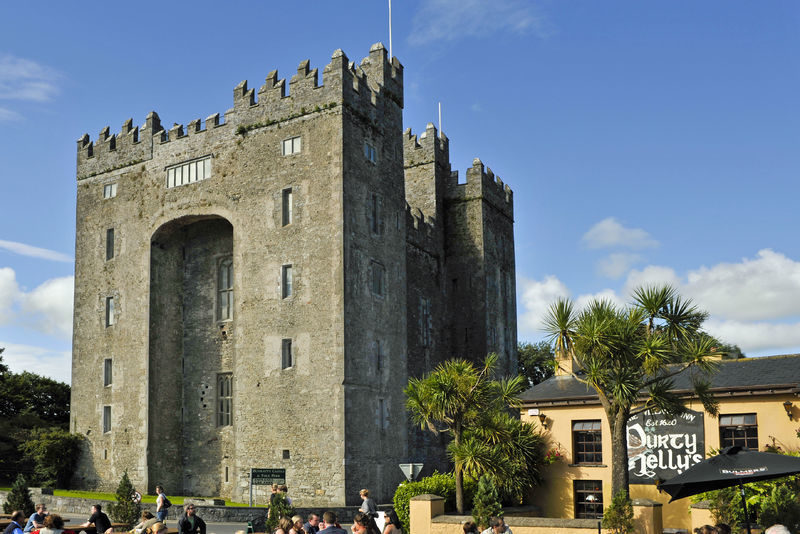 Best Castles in Clare
Ballynagowan/Smithstown Castle
Ballynagowan Castle was more recently renamed Smithstown Castle and its history goes back – well a good few years! The first mention of the castle in historical records is in 1551 when the last King of Munster, Murrough O'Brien left the castle in his will to his son Teige before he died.
The famous Irish rebel Hugh O'Donnell stayed in the castle with his men when they attacked the northern part of Clare at the beginning of the 17th century. The castle was later attacked by Oliver Cromwell in 1649 as his army ruthlessly swept through Clare bringing nothing but terror to the locals.
The castle is home to many other stories and tales over the years since and was last inhabited in the middle of the 19th century until it was recently restored.
Today the castle offers self-catering accommodation which is suitable for small groups or families. The castle offers tranquillity and solitude and is set on almost 5 acres of beautiful grounds overlooking a river valley. Prices for a one week stay at the castle starts at 1200euro.
Bunratty Castle and Folk Park
Bunratty Castle is an absolute must on the list of castles in Clare to visit. The site on which the beautiful Bunratty Castle lies was a Viking trading camp way back in the days of 970.
Viscount Lord Gort purchased the castle in the 1950s and restoration works began to take place thanks to him and with help from various agencies. It was then opened to the public in 1962.
The folk park on the site enables visitors to feel like they've been transported back in time (no time machine needed Bill and Ted!) as they walk around and experience a living reconstruction of the homes and living conditions of Ireland of more than 100 years ago! Pretty cool!
Walk down the old village street and think about stopping at the school, doctor's house, post office or pub! The experience is made all the more real as it involves enactments from the fantastic costumed characters including the Bean an Ti (woman of the house), schoolteacher and policeman (note these characters are only on site from mid-April to mid-September as I don't want you to be disappointed!).
Fairies also play an important part in the myth and legend of Ireland and you can also visit Bunratty Fairy Village to experience this aspect. At Bunratty Walled Garden marvel at the beautiful gardens based on the model from the original Regency period which has been refurbished in beautiful Victorian style.
Lastly (wow there's a lot to do here right!) you can have a look at the Bunratty Collection of medieval furniture. There's even the opportunity to enjoy a medieval banquet! The castle is open all year round.
Leamaneh Castle
Leameneh Castle is a ruined castle which consists of a 15th-century tower house and 17th-century mansion. You can't go in and can only view from the outside. If you're in the region of The Burren it's worth passing by to get a glimpse. It makes for a beautiful photo on a sunny day!
Knappogue Castle
Knappogue Castle is closed for tours but you can peek a glimpse of the outside, and there are options to take part in the medieval banquet or stay overnight.
The medieval banquet is a top recommendation and I believe it may very well exceed your expectations. The food is truly delicious, the atmosphere outstanding and the costumes are impressive. The entertainment is also fab and includes Irish dancing, singing and music (great harp and violin playing!). If you're lucky you might very well be selected to dine at the head table and get to dress up yourself with cloaks and crowns. Make sure to book in advance as it's super fun and does get booked up. You can book your ticket HERE
It's possible to stay in the castle overnight enabling you to explore the grounds at dark and find all the great little secret passages – incredible! A bit pricey at 499euro a night but well worth it if you can afford to splurge!
Doonagore Castle
Doonagore Castle is a 16th-century round tower house with a small walled enclosure situated in the beautiful coastal village of Doolin. The name of the castle may come from the Gaelic Dun na Gabhair which means the fort of the rounded hills or the fort of the goats. Although it's currently closed to the public as it's a private home it's definitely worth passing by and viewing from the outside at sunset with the ocean in the background.
Dromoland Castle Hotel
If you're looking to treat yourself to a five-star experience while having the whole castle experience in Clare then I couldn't recommend Dromoland Castle Hotel more. The castle, like all those on our list, has an interesting history and is the ancestral home of the O'Brien's of Dromoland whose lineage dates back to Brian Boru who was one of the last High Kings of Ireland.
At Dromoland Castle Hotel you can take a walk on the 150-acre estate enjoying the views of the castle grounds, play golf, relax in the spa, go horseback riding or just enjoy delicious food. I would recommend a minimum of a two-night stay if at all possible so you can truly enjoy the experience and get to see it all.
You can book it HERE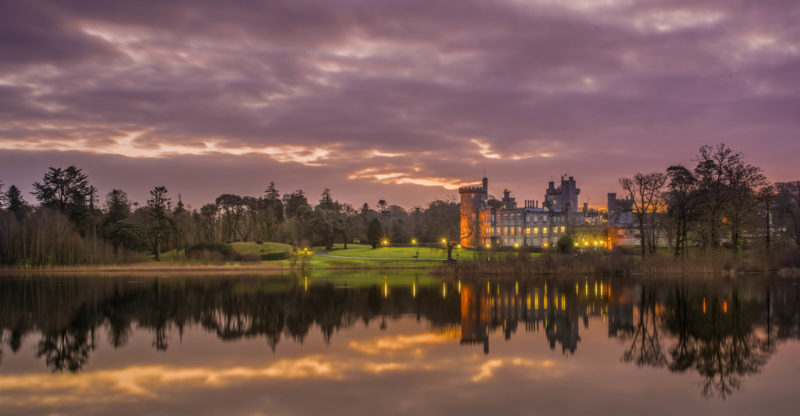 Dysert O'Dea Castle and Archaeology Centre
Last on our list of castles in Clare you have to visit is the Dysert O'Dea castle which dates all the way back to the 15th century and is authentically restored today having been opened in 1986 to the public. There are 25 original archaeological field monuments surrounding the castle and it's possible to walk or drive down its 4km Archeology Trail to admire these monuments which date from 1000BC to 1850AD. That's right – some of them are pretty old! These monuments include holy wells, landlords houses and medieval roads.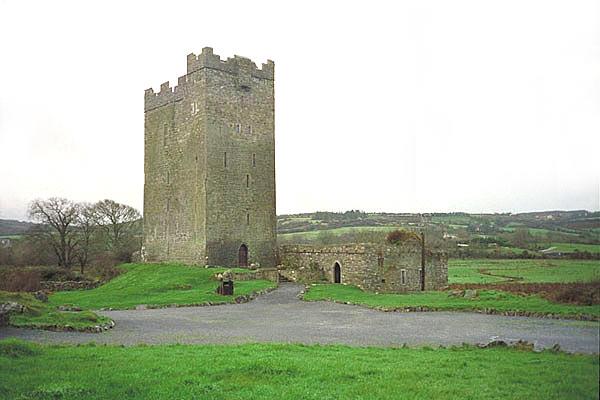 If you enjoyed this post about the best castles in Clare, then you might want to consider including a castle stay while in Ireland. We put together a list of amazing castles where you can spend the night in luxury. Have a look at our list HERE
Like This Article? Pin it!