As someone who lives here, I've got a pretty good handle on the best day trips from Dublin. Luckily, Ireland is pretty small, so you can get to a surprising amount of places in a day.
It's also got a huge amount to do without even leaving the city, but we're not here to talk about that!
Don't miss our latest posts on how to spend an epic weekend in Dublin, and the best neighbourhoods to stay in.

If you look at Ireland on a map, you'll notice that all the main motorways and railways radiate out of the capital city. Using Dublin as a base for your travels is a great way to see a lot without constantly packing and repacking.
Often people will tell you not to stay in Dublin and to base yourself somewhere else on the Emerald Isle, but no other city in Ireland has as much going on in the evening as Dublin. Sure the nightlife in Galway, Belfast and Cork is great on the weekend, but only Dublin pubs are humming 7 days a week.
You have the option to drive, take public transport, or go on a tour bus, depending on what suits you best. Driving obviously offers the most freedom to take detours and explore Ireland, but there are advantages to the others.
I've written out a few different options for you, so you should find something here that will suit your style of travel. Remember, there's no wrong way to see Ireland, just the right one for you!
Here are some easy day trips from Dublin you'll l.ove
1. Glendalough
Glendalough is one of the most popular day trips with both tourists and locals. It's an old monastic settlement, and you can spend time exploring the crumbling stone buildings, the graveyard and the iconic 30m high round tower.
This settlement is easily accessed from the carpark, which costs €4 per day. If you're going at the weekend, go early, or you'll struggle for a parking space. The Visitor Centre offers guided tours of the settlement, but you need to phone them in advance on +353 404 45325 to book.
If you want someone else to organise your whole Glendalough Tour, you can book an amazing tour here. All you have to worry about is meeting the bus in Dublin city centre and they'll whip you through Glendalough and the surrounding areas.
What to do in Glendalough
If you venture a little further past the graveyard, there is a beautiful walk toward the Upper Lake. It's a flat walk on a paved path that only takes about 15 minutes. When you get to the lake, the views of the valley are simply stunning.
There are many incredible hikes near Dublin, with this area being home to some of the best trails.
On a sunny day, this area is the perfect place to have a picnic or to read a book. There is a carpark at the Upper Lake, but it gets full early. There usually is a food truck and an ice-cream van in this carpark too, but they don't have set hours, so they might be closed when you're there so don't depend on it!
My favourite thing to do in Glendalough is to hike the Spinc Loop Trail. It's a stunning route that takes between 3-4 hours to walk the whole way up and around the lake. I actually included it in my list of the best hikes in Ireland where I give full instructions on this amazing trek.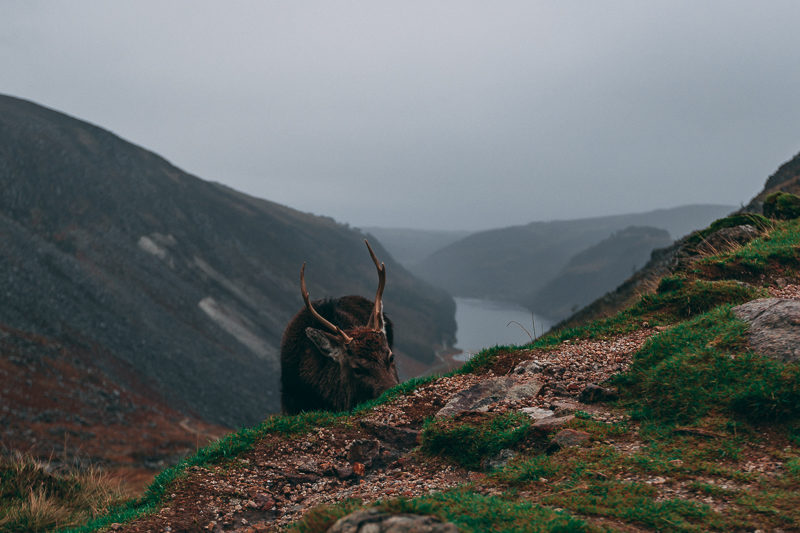 How to get to Glendalough
Driving to Glendalough is pretty straightforward. Head south from Dublin on the N11 and keep an eye out for the Glendalough turnoff sign. The road is pretty narrow as you get closer but it's very manageable.
If you're there in winter, be careful as it's prone to black ice. To be sure of where you're going, put "Glendalough Visitor Centre" into Google Maps and it'll bring you right there.
If you're getting the bus, you're a little bit limited as there seems to only be one bus that goes there in the morning. It leaves from St. Stephen's Green at 11.30am, which gets you to Glendalough at 12.50pm.
The return times vary between summer and winter schedules, so from October to February, the bus returns to Dublin at 4.30pm but between March and September, it leaves at 5.40pm. Keep an eye on the timetable to make sure times don't change. A round trip is €20 per person.
There's no train to Glendalough but you could get a train from Connolly station in Dublin to Rathdrum for about €20 return. From there you would have to order a taxi to bring you to Glendalough. This should cost about €30 each way and you would have to order your taxi in advance.
The only advantage to doing this would be that you can arrive earlier and leave later. Realistically, this isn't a great option.
2. Maynooth
You may not have heard too much about Maynooth, but this is a town steeped in history. It's home to Maynooth University, which is one of the oldest universities in Ireland. Maynooth is referred to as Ireland's only university town, as it's the only university that isn't in a city.
If you've visited Trinity College in Dublin and wished it wasn't as crowded, then Maynooth University might just be for you. It is divided into two campuses; North and South.
North Campus is a modern university and while it is pretty, it can't hold a candle to the architecture of the South Campus. The main square that looks like something out of a Harry Potter Book was built in 1824.
If you wander around the back of the square there are huge fields lined with tall trees and hedgerows. University sports teams often train on the fields, locals walk dogs, and during the summer students take their reading outside.
If you're there during the week, you can get a great lunch between 12 and 2 in Pugin Hall. If you dreamed of eating in a grand hall, this is exactly what you're looking for.
Outside the University, there is a castle which belonged to the powerful Fitzgerald's. The castle was damaged in a ten-day siege during the rebellion of Silken Thomas. However, the castle was recently restored and there's a good chance you'll be there by yourself. It's only open from the end of May until the end of September, Wednesday-Sunday.

Getting to Maynooth
The easiest way to get to Maynooth is the train. There are several trains a day all week, so check the Irish Rail site and you'll find times that suit you.
3. Newgrange Stone Age Passage Tomb
Newgrange is one of the must-sees on a trip to Dublin, and at only an hour north of the city, it's easily within reach of a Dublin day trip. Sitting pretty in the Boyne Valley, Newgrange is one of the most incredible feats of architecture in the world. It's older than both Stonehenge and the Great Pyramids.
The best time to visit Newgrange is for sunrise on the winter solstice, but as Newgrange only fits a small number of people in the chamber at one time, you have to enter a lottery to be there on the day.
On this magical day, the sun rises in exactly the right place to shine light through a small gap and illuminates the 19-metre long passage to the crowded chamber at the end.
Luckily, they have installed lights on the passage to replicate what it looks like on that amazing December morning. The visitor centre is very interactive and does a great job of explaining what an incredible feat Newgrange is.
If you're visiting between March and September, you should take the time to drop into Newgrange Farm. This is amazing for kids, who can try feeding lambs, holding chickens and petting all kinds of livestock!
I could go on about the whole Boyne Valley area, but we actually did a whole article on what to do in the Boyne Valley
Getting to Newgrange
This one isn't possible with public transport, so if you're not driving, it's best to book a tour of the area. We found an amazing full-day tour that not only takes in Newgrange but also The Hill of Tara and Monasterboice. On this tour, there won't be any more than 14 people, so it's a nice size group, perfect if you're travelling by yourself too!
If you're driving from Dublin, it's easy. If you take the N2 North towards Derry and keep an eye out for the brown tourist signs that will point you toward Newgrange.
4. Carlingford
At this stage, I think I should be an ambassador for Carlingford. In my opinion, it's the most underrated place in Ireland. It has a stunning coastline, a mountain that overlooks the town, a castle, amazing food, and enough activities to fill a week!
My favourite thing to do in this seaside town is to climb Slieve Foy. The mountain towers over the town and basically invites you to climb it. This is again one of my favourite hikes in Ireland, and I included it in my list of Best Hikes in Ireland.
As for other activities, they have an amazing high ropes complex called Skypark which has a huge course around, as well as football golf, frisbee golf, laser tag, and archery. It's perfect for any age, so it's ideal for a family day out.
I love this town so much that I wrote a big article on all the best things to do in Carlingford, and remember, it's not my fault if you want to stay for more than a day trip after reading it!
How to get to Carlingford
Driving to Carlingford is simple and less than an hour and a half from Dublin City Centre. You take the M1 North towards Belfast and take Exit 18 towards Carlingford. Take a right on the roundabout and drive for about 15 minutes and you'll see a sign for Carlingford on the left. Take that and you're there!
Using public transport is a little more tricky, but definitely possible. You'll need to get a bus or a train to Dundalk and then the 161 bus from the Long Walk Shopping Centre to Carlingford. This costs €12 return and you pay on the bus. Keep in mind that the last bus is at 6:50 pm to get back to Dundalk. You can check the timetable for yourself here.
The quickest way to Dundalk is the train, and the first one leaves Dublin Connolly around 7 am, and the last one returns to Dublin around 9 pm, which gives you loads of options and time to explore Dundalk. You can pre-book your tickets on the Irish Rail website, which will save you quite a lot.
Best Bus Day Trips from Dublin
There are some day trips that are doable but they are long days, so driving to them really isn't recommended. I've been on several of these bus tours and I have come home completely exhausted after them.
Had I driven, I would've struggled to stay awake at the wheel. If you are thinking about driving for hours and back in a day, why not let someone else do the driving, while you enjoy the view (and maybe a pint or two?).
If you go on a tour with one of the tour companies we mention here then they also include entry into the attractions. This means that's it's nearly always cheaper to go on a tour rather than driving.
5. Cliffs of Moher and Galway
One of the most iconic places in Ireland, maybe even the world! The sheer size of the cliffs is amazing to see and they really are a bucket list item. Even if you visit the Cliffs of Moher during the summer, you're not guaranteed good weather so make sure you wrap up.
It does tend to get very windy at the cliffs, so please be careful getting too near the edge. There have been some tragic cases of visitors getting too close and the wind changing direction.
Most tours include a stop-off in Galway city and offer a little walking tour too. You might be able to squeeze in a few things from our article on the best things to do in Galway. Honestly, Galway city alone would make a great day trip from Dublin too!
If you're going all the way from Dublin to Galway, you may as well do a tour that includes a few different things. This day tour to the Cliffs of Moher includes a tour of Galway city and time to explore the stunning Burren landscape.
The Cliffs of Moher is always one of the most popular day trips from Dublin, and when you look at how beautiful the cliffs are, you'll understand why.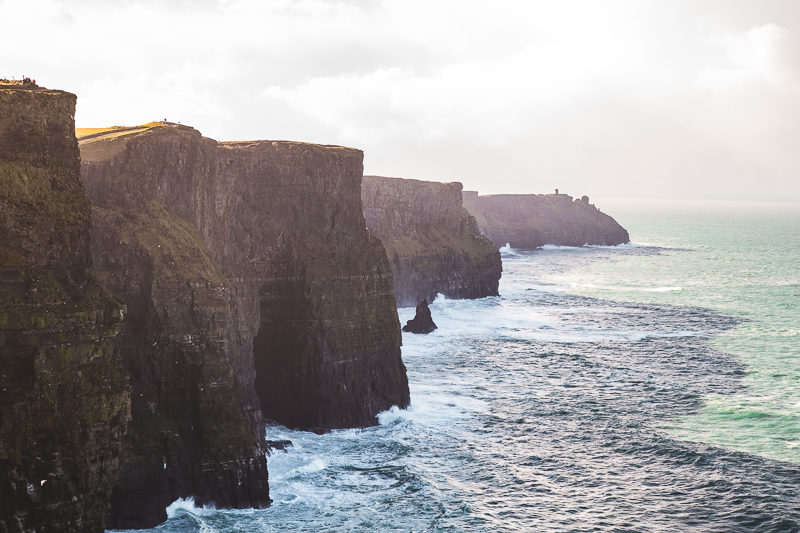 ☞ SEE ALSO: Hiking from Doolin to the Cliffs of Moher (How-To Guide)
6. Giant's Causeway and Belfast
I strongly encourage visitors to Ireland not to forget about Northern Ireland. It's full of gorgeous little towns, amazing whiskey in Bushmills, and one of my favourite cities in the world, Belfast.
I know that time is a major limiting factor when visiting Ireland. All too often people push Northern Ireland to the side so a day trip from Dublin could suit. One place that you simply cannot leave Ireland without visiting is the Giant's Causeway. Luckily most day trips that go "up North" call in to see the Giant's Causeway.
The causeway is everything you would expect from an Irish coastline; rugged, harsh, and unrelentingly beautiful. If you do take this tour, make sure the tour includes a visit to the Carrick-a-Rede rope bridge. It's right beside the causeway and there's a stunning cliffside walk to the bridge. From my experience, I can tell you that walking over the bridge is an experience.
If you really want value for your money, this tour brings you to Belfast includes a Black Cab tour, a Titanic tour, a Carrick-a-rede rope bridge AND the Giant's Causeway! Make sure you bring snacks for this action-packed day.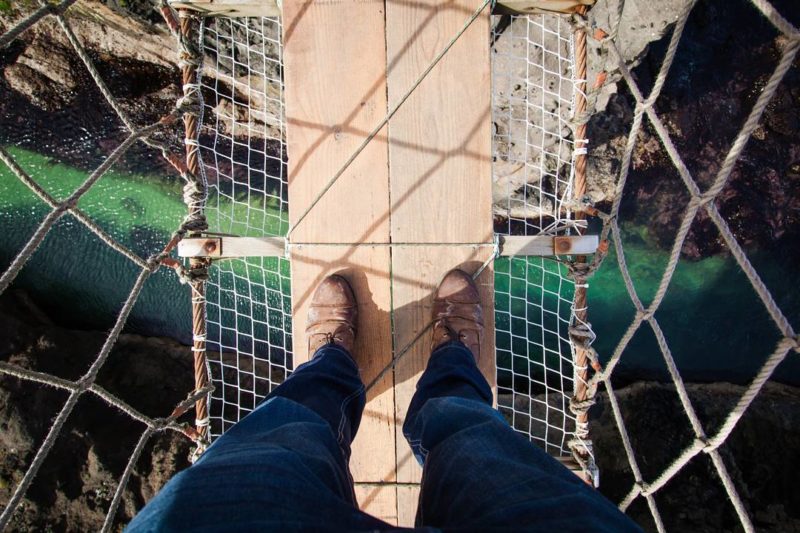 7. Game of Thrones Tours
Did you know that lots of Game of Thrones were filmed in Northern Ireland? Winterfell, the Iron Islands, the Kingsroad, Slaver's Bay, and several other locations are there for you to visit.
We wrote a post with all the Northern Ireland Game of Thrones locations on it, but because of CGI magic, a lot of the locations are pretty underwhelming if you go visit them. On a tour, they bring you to filming locations, share photos of the filming, and let you wear capes!
I went on a Game of Thrones day trip from Dublin and I loved it. In between each location they played behind-the-scenes videos from GOT and the day flew by.
They are crazy busy during the summer months, so I would book as far in advance as you can. You can book in on the Game of Thrones Tours website.
If you want to combine your Giant's Causeway tour and your Game of Thrones tours, you can. Not everyone is a Game of Thrones fanatic, so this could be a great compromise. This Game of Thrones and Giant's Causeway Tour from Dublin might just save you from a few fights.
Private Day Trips From Dublin
Maybe you want the freedom of driving, but don't want to drive yourself. A lot of people are now booking private tours where they can dictate the itinerary. It's more expensive than a bus, but you not only get someone to drive but also a unique local guide.
One guy who will absolutely make your Dublin day trip is Matt Feeney. He has more stories than you can imagine and knows the best place to get food and drinks pretty much anywhere in Ireland. He can help you figure out the best itinerary for your trips, be they day trips or multi-day trips.
See about booking your private tour on Matt's website.
These are just a few of the many day trips from Dublin. Let us know if you have other suggestions that you went on! If you're going to be staying in Belfast, we have an article on the best day trips from Belfast.
Like This Article? Pin it!