I grew up only a 40-minute drive from the little seaside town of Carlingford, and I can say that this town is what made me fall in love with hiking.
Weekends away with the scouts, staying in the Carlingford Adventure Centre, hiking up Slieve Foye and jumping off the pier into the Lough are some of my favourite memories of this town.
Every time I go here, I'm thrown back to all the days I spent there. It's a very popular weekend spot for Irish people, but I don't think it sees the number of international visitors that it deserves.
I've put together this list of things to do in Carlingford so you can enjoy it as much as I have!
Top Things To Do in Carlingford, Ireland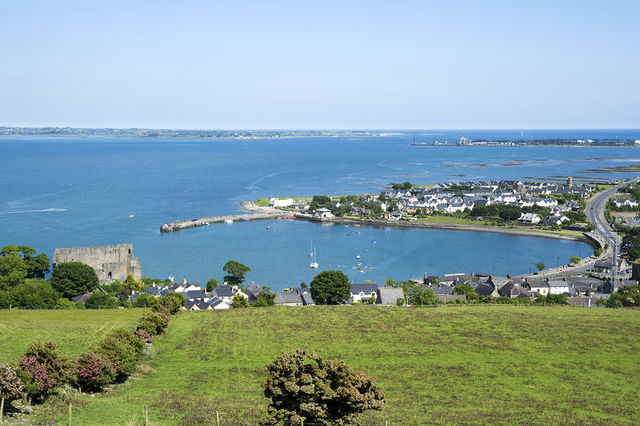 1. Hike Slieve Foye
This hike will always be the first thing I think of when talking about things to do in Carlingford. I talk about this hike in my Best Hikes in Ireland article, and for good reason.
This hike offers so many different routes, that it can easily accommodate all levels of fitness. This is a great hike for kids, I think the first time I hiked up it, I was 8 years old. You will need a route map and good hiking shoes as the hike takes you up through a stream at the very start.
Wet socks might just be the worst feeling in the world so waterproof shoes and maybe spare socks are a great idea. You can get route maps and loads of information in the Carlingford tourist information centre, as well as several other ideas and advice.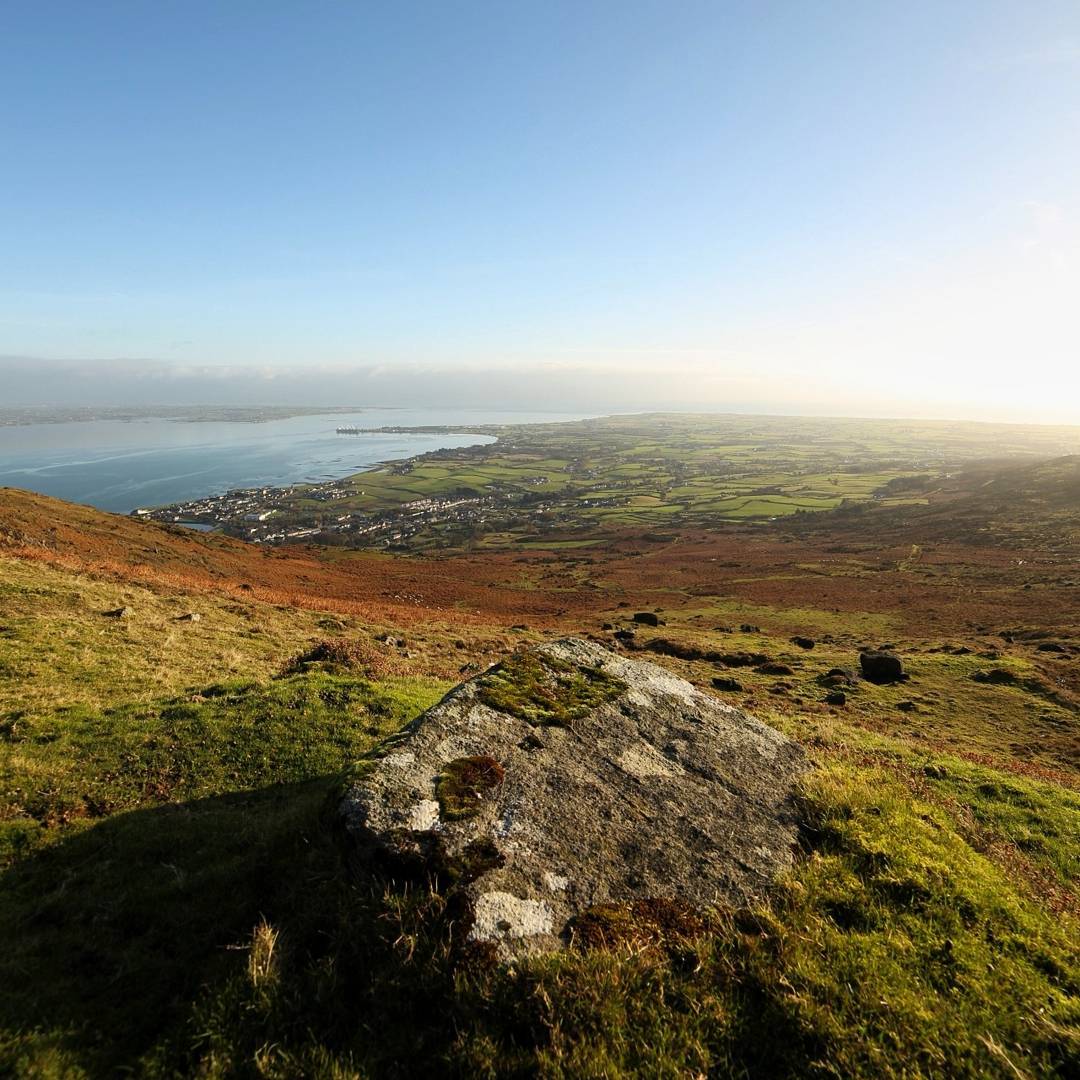 2.
King John's Castle
Does a town in Ireland really count if it doesn't have a castle? This castle is particularly stunning, sitting right on the edge of the harbour and looking out into Carlingford Lough.
It was built just after the Norman invasion of Ireland by Hugh de Lacy who went on to be the Viceroy of Ireland. Carlingford isn't a big town, so you can't miss it, it pretty much dominates the coastline, and you can go inside and wander around the castle. It was renovated in 2017, so it is in pristine condition and you'll get some amazing views here!
If you're in Carlingford, you're probably heading up towards Northern Ireland, so if castles are your thing, you can see a list of Castles in Northern Ireland that we put together for you!
3.
Leprechaun and Fairy Cavern
This is one for the kids (or the big kids) and is a lot of fun. Learn the story of leprechaun's in Ireland, and hear it all from the owner Kevin, who has to be up there with the best storytellers.
This really is one of the best things to do in Carlingford, and who doesn't want to learn more about Leprechauns? Their website seems to be having some difficulty right now, but you can read more about it on the Discover Ireland site.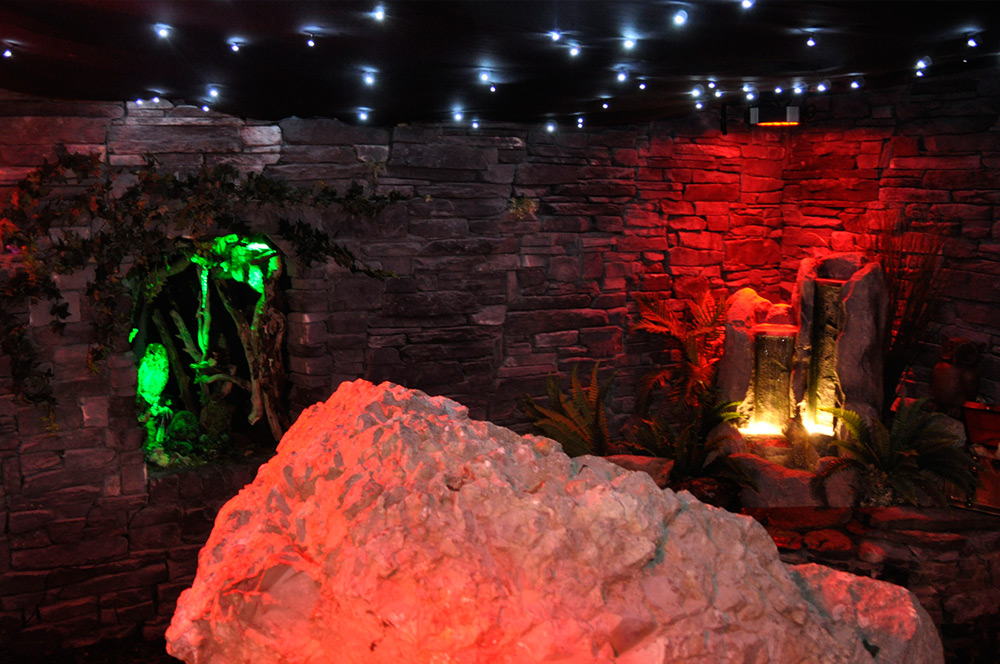 4. Walk or Cycle along the Greenway
There has been a wonderful trend in Ireland of converting our old railway lines to Greenways to walk and cycle along. The Carlingford to Omeath Greenway hugs the Carlingford Lough, and in the near future it will be continued all the way to Newry.
For now, the path stretches for 7km, which takes about 2 hours to walk, or less than an hour to cycle. You can rent bikes from the amazingly named On Yer Bike bike hire, who will rent you a bike, and give you the makings of a picnic to enjoy for €30 per person!
If you really want an even more relaxed option, you can rent an electric bike for €35 for the day, with the option to add a picnic for €13 extra per person with Escape HQ. You're not limited to the Greenway, you can take on some of the more hilly routes around the area and really explore. Both rental places will be able to give you advice on routes and things to see when you're there.
5. Escape Room
If you thought that Escape HQ was a strange name for a bike hire company, you'd be right. They also offer really fun and challenging games for kids and adults, but kids under 16 have to be accompanied by an adult. Escape rooms are pretty common in Ireland now, and it's the perfect thing for a rainy day.
You can take on their challenges for around €20 each, and you can go with 2-7 people, in my experience, the bigger the group the better. The premise is simple, you're put in a room and you have 60 minutes to figure out how to escape!
6. Skypark
Do you have a head for heights? Skypark might just be what you're looking for. This outdoor climbing centre is amazing. It's perfectly safe, you're fully strapped in, but when you're that high up, it's hard to remember that!
They have a mix of courses, from one that 5-year-olds can use all the way up to one they call "Stratosphere", which is not for the faint-hearted. This is a great way to spend a few hours with a few friends.
If you're not into heights, you can sit and enjoy the view of the Lough and the surrounding mountains while the rest of your group test their head for heights.
If you're looking for even more active things to do in Carlingford, they also have frisbee golf, football golf, and mini-golf. Watching my friends fall over and over again is my favourite thing to do, add the amazing Carlingford scenery, and you've got yourself some good memories.
7. Flagstaff Viewpoint
Ok, this isn't in Carlingford (Or even the Republic of Ireland), but it is a short 20-minute drive up to this amazing viewpoint. I went up here for a sunrise a few years back, and it's simply stunning!
Really worth the early start, or even just during the day. There's a carpark right at the top, with loads of parking so this can be just a little stop off if the weather holds up.
Be careful on the roads around here though, they are just big enough for one car, so if you meet someone, you'll have to find a place to pull in! Here's the location on Google maps to make it easy for you!
8.
Carlingford Oyster Festival
This four day festival is a must if you're in Ireland in early August. Even if you're not a huge fan of Oysters, there's so much happening that you'll find something to do!
The date changes from year to year, so check their website to find out the dates and all the events for this year. They have magic shows, kayaking, and even a Teddy Bear's Picnic. I'm always on board with food-based festivals.
Best places to eat in Carlingford
One of the main things that Carlingford is known for is the sheer amount of amazing places to eat. At the weekends the quaint little cafes and restaurants are packed, but luckily there are so many that finding a place to eat isn't hard
1. Dan's Stonewall Cafe
A personal morning favourite. The full Irish fry in here is honestly the best cure for the night before. The cafe embraces the fact that Carlingford is a medieval town, and the bare stone walls just add a huge amount of character.
It's just the right amount of old-timey vibes, without being overly twee, and the constant refilling of coffee is just the icing on a pretty amazing cake. Add to the mix that the owner Dan seems to always be there and somehow manages to take the time to chat to everyone, but also get food out quickly.
*edit* I just found out that Dan's Cafe has just closed down. It's a real loss to Carlingford, but if you want to see what I was talking about, go have a look at their Facebook page to see the most lovely message from the owner Dan, and all the comments from people who ate there over the years. I guess I'm at a loss for breakfast in Carlingford, I'll have to make a return trip and find a new place, I'm open to any and all suggestions.
2. PJ O Hare's
This is a place you'll struggle to get a seat in at the weekends, and for good reason. I think one of the best pints of Guinness I've ever had was in here, not something I say lightly.
The chowder here is my favourite, and they also have fresh mussels and oysters taken from Carlingford Lough just outside the door. In the winter, they have a lovely big fire so you can get really cosy on those cold days.
3.
Kingfisher
Bistro
A great place for an evening meal, the only problem I have with their menu here is that I want everything on it. If you are going on the weekend, it is a good idea to make a reservation as it's not the biggest place.
Lovely atmosphere here, and they now do takeaway pizzas for only €10. Pretty great shout if it's a nice day, take a pizza down to the wall at the edge of the Lough. I can't think of a better way to eat! Their special is Thai Spiced Pork and it's amazing, just look at it!
4.
McKevitt's Hotel and Bar
This place is my go-to after I come down from hiking Slieve Foye. It's right at the bottom of the beginning of the hike, and it's a big pub where there's never a problem getting seats.
The food is like a levelled up pub grub, and it looks as good on a plate as it tastes. It's really the perfect place to go after a hike, especially on colder days when all you want is to get warm, dry and full. Last time I was there I had the Lamb Shank drenched in gravy, a great shout all round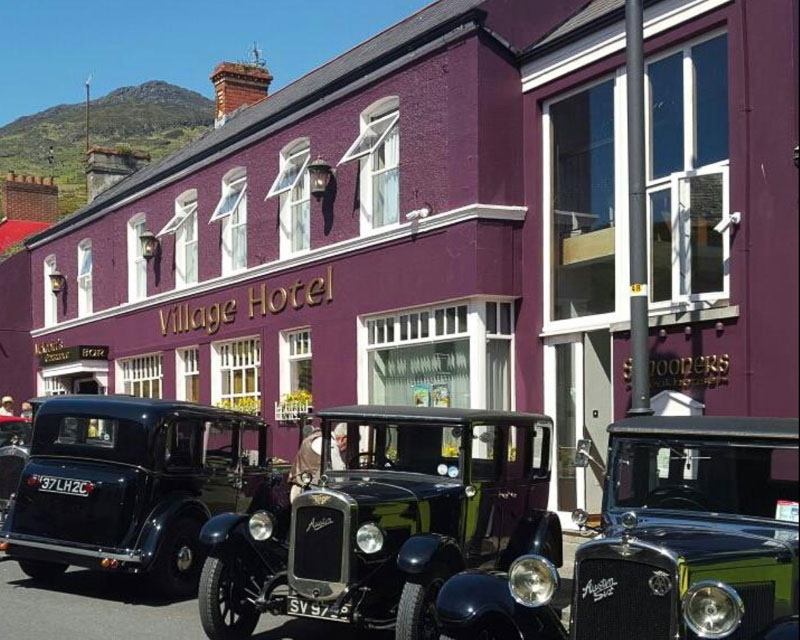 5. Fitzpatrick's – Rockmarshall
This place isn't in Carlingford, but it is a real treat. It's halfway between Dundalk and Carlingford, and well worth a visit. You'll spend almost as much time outside the pub taking photos and exploring as you will inside enjoying the atmosphere.
If you are in Ireland in October, Fitzpatricks has to be a top priority. They go all out, the whole place becomes a haunted house, I honestly don't know any other place that does it as well as they do. Once you do make it inside, you'll find a busy and beautiful restaurant.
The steak here is amazing, and their burgers are huge with big thick cut chips. This isn't just a place to eat, the walls are covered with old photos, posters, signposts and anything else you could think of.
Where to stay in Carlingford
You can do Carlingford as a day trip, but I really encourage everyone to stay a night or two so you can really make full use of this wonderful town. Here are some of the best places to stay.
Carlingford Adventure Centre
This is one of my favourite hostels in Ireland. Again, I am biased because of how often I stayed here in with the scouts, but seriously, how many hostels have a volleyball court?
There's a huge kitchen area, so cooking space isn't ever really an issue and a big games room to hang out and meet other people in. You can stay in private rooms or standard hostel dorm. They also rent out full cottages for around 10 people, which work out really cheap between everyone!
The staff can also help you book any and all activities in Carlingford. During the summer they tend to get really busy, so you're best off giving them a call on +353429373100 to check if they have space.
The Four Seasons
I mean, it's the Four Seasons. You know what you're getting if you stay here. Lovely big rooms, all the creature comforts and an amazing restaurant.
It's right in the centre of Carlingford too, so you can walk to pretty much everything in the town. The thought of coming back to a swimming pool and spa after a day of hiking or exploring sounds pretty perfect to me. Also, look how good their food is
MourneView Bed & Breakfast
If you're looking for a peaceful place you can feel at home in, you're looking for MourneView Bed & Breakfast. It's about 2km outside Carlingford, and the views are just stunning. They have a lovely little deck with a picnic table looking out over the lough and towards the Mourne Mountains. Pure bliss.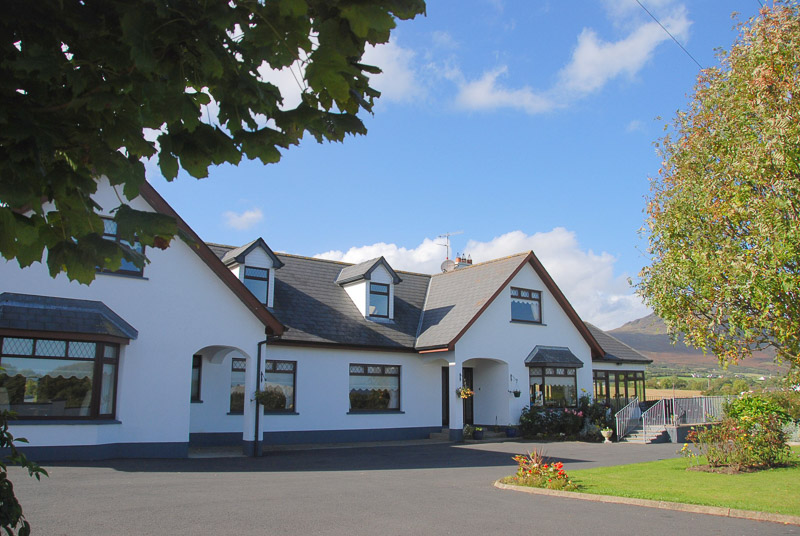 So that's my round up of my favourite things to do in Carlingford, have I missed anything? Please let me know, I'll take any excuse to go back!
Like This Article? Pin it!