A small city with a lot to offer, from traditional Irish cultural bars, to classic cocktail bars, Belfast has it all. As a huge bonus, most of the bars in Belfast are within walking distance from each other and there is always a class atmosphere to be found.
The capital of Northern Ireland is one of the best places to visit for travellers. There are endless things to do in the city of Belfast, with visiting a pub being a top choice!
As a student in the city, I've seen my fair share of the nightlife. Here's my pick of the best bars and pubs to check out when you're visiting Belfast.
10 Best Bars in Belfast For a Fun Night Out
1. The Points
If it's culture you are looking for, The Points offers a traditional Irish experience and is by far one of the best bars in Belfast. Situated on the Dublin Road, it is one of Belfast's newest pubs.
It offers live traditional music seven nights a week from bands across the country. With a beer garden out front, it is the perfect spot to enjoy a selection of whiskeys or ales, drinks which the bar prides itself on.
A very lively spot to visit any day of the week. Find this Belfast pub on the map, here.
2. Filthy McNastys – one of the best bars in Belfast for students
Located just across the road from The Points, Filthy McNastys has a lot to offer. Enjoy a drink at Filthy Chic, the minimalist cocktail and wine bar, or dance the night away in the Gypsy Lounge nightclub upstairs.
The Secret Garden is the perfect spot to enjoy a drink any time of year, you will stay warm thanks to the blankets and heaters positioned around the outdoor area. The bar hosts a weekly open mic night and cocktail making masterclasses are available on request.
This quirky bar has something for everyone. Filthy's is very popular with students and is within walking distance from Queen's Quarter. One of the best bars for students in Belfast! Find this pub on the map, here.
3. Lavery's
This is the perfect place to enjoy a sociable drink. It is a very large pub, there are four bars, outdoor terraces and at weekends the upstairs transforms into a popular club.
A short distance from both Queen's Quarter and Belfast City Centre, the atmosphere in Lavery's is friendly and relaxed. There are pool tables to practice your skills on and live sporting events shown weekly.
It is the perfect chilled spot to catch up with some friends. The chicken wings are a must if you are eating in Lavery's. This is probably one of the best bars in Belfast for pool lovers! Find the bar on the map, here.
4. Kelly's Cellars
A hidden gem right in the city centre, built in 1720 it is Belfast's oldest traditional pub. The low ceilings, whitewashed walls and uneven concrete ground are all part of its charm.
Enjoy a pint of its famous Guinness in front of the open fire while listening to live Irish traditional music. This Belfast pub is warm, welcoming and utterly Irish.
Their summer garden sessions are very popular, with live music, bands and dancing – and an incredible atmosphere – out the back when the sun shines. Find directions to the pub, here.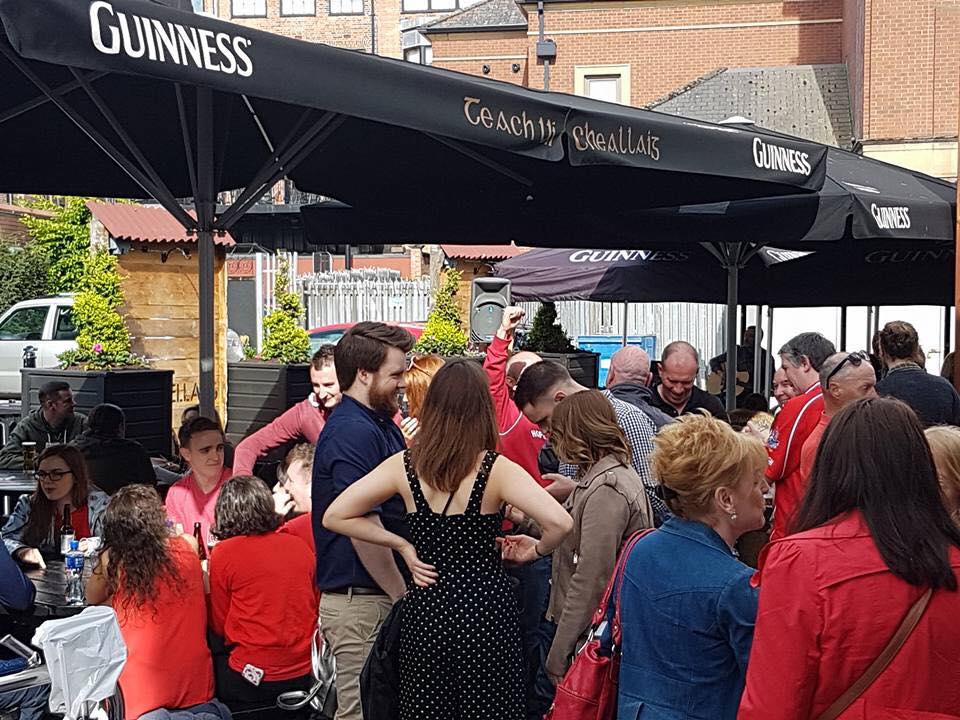 5. Crown Liquor Saloon
The most famous bar in Belfast, its cosy snugs and brightly coloured tiled interior attract visitors from all over the world. Prince Harry and Meghan Markle are one of the recent guests who enjoyed some great pub grub and a pint of Guinness at The Crown.
This historic pub located opposite the well-known Europa Hotel, is a must-see if visiting Belfast. Find this highly-rated bar on the map, here.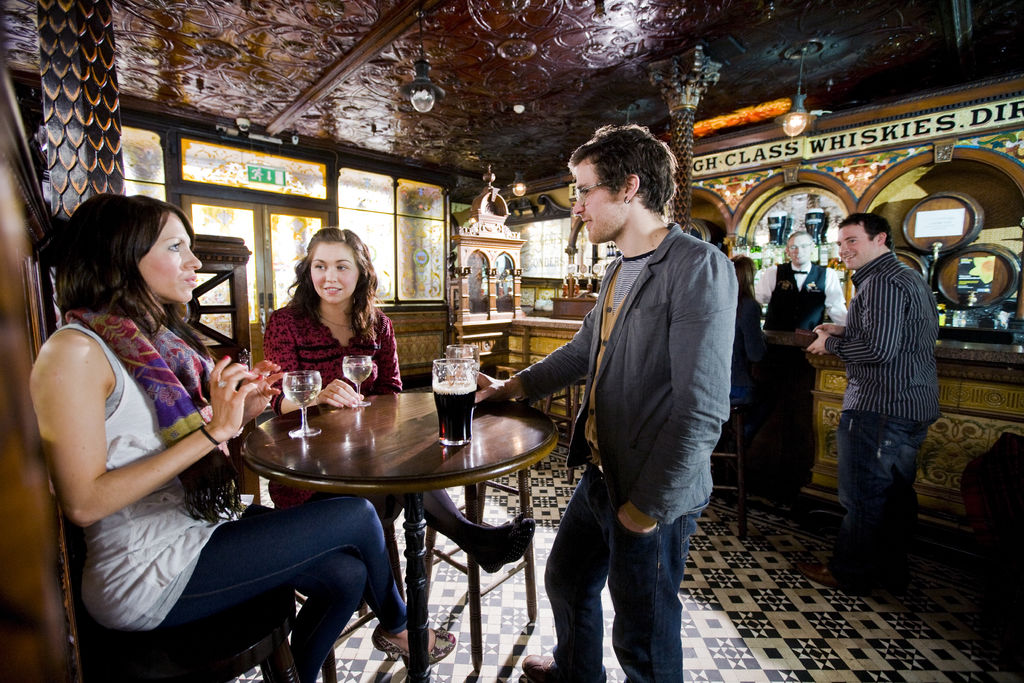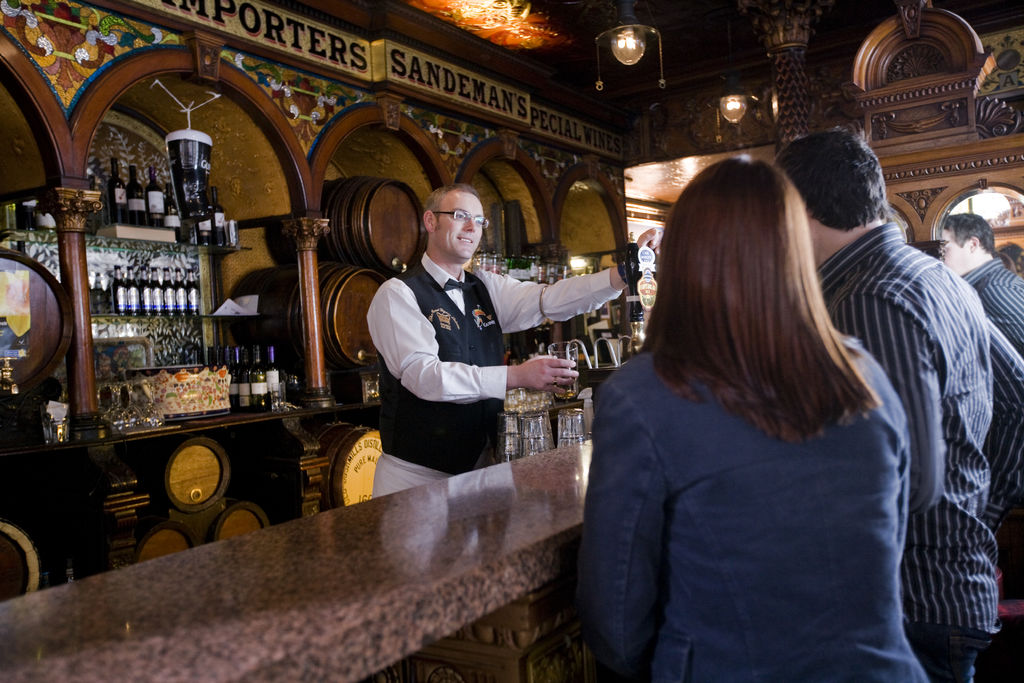 6. The Harp Bar
Located in Belfast's historic Cathedral Quarter, it is a bar that can be enjoyed by all ages. Don't let the outside deceive you, this lively bar has plenty of seats and with live music played daily it can be a very busy place.
There is an abundance of friendly staff which means you are never waiting long for a drink, always important especially during busy hours. This trendy bar is filled with energy, and is definitely worth a visit when in Belfast. Click here for directions.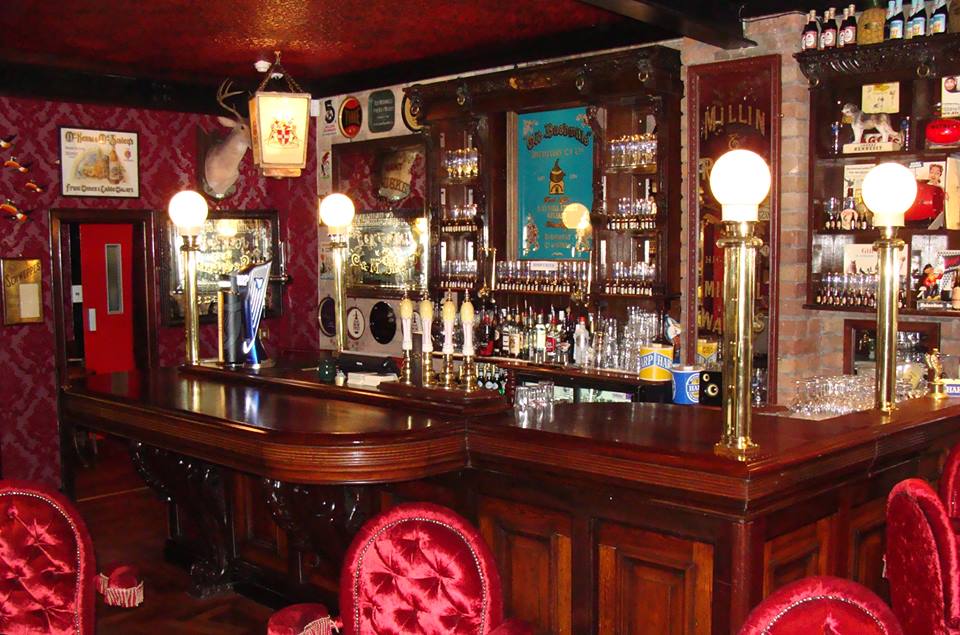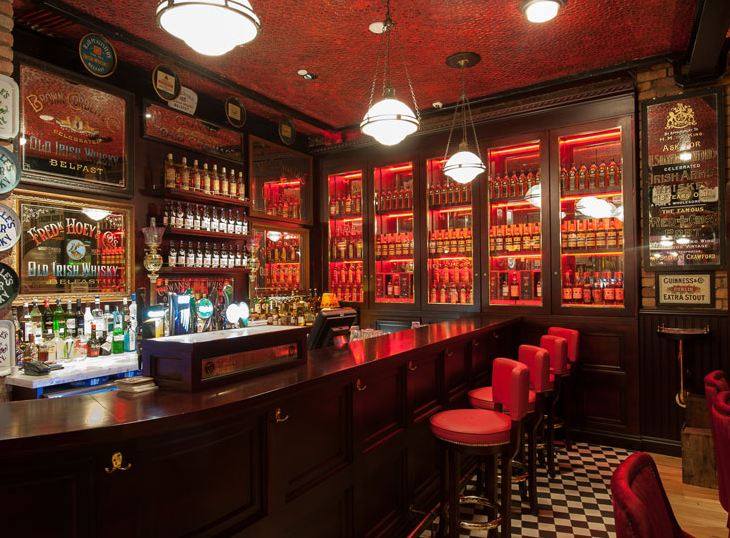 7. The Duke of York
Nestled along the cobblestone streets of the Cathedral Quarter, this is a bar with plenty of character. There are murals, memorabilia and typical Belfast phrases painted all over its walls, capturing the true essence of Belfast.
Soak up the culture of old Ireland and choose from an excellent selection of craft beers. Find Duke Of York on the map, here.
8. Bert's Jazz Bar
Connected to the 5* Merchant hotel in the Cathedral Quarter, it is perfect for those on a higher budget. It is themed after 1930's New York, and is Belfast's only dedicated Jazz bar.
Enjoy brunch or an all-day dinner menu while listening to the cool melodies of a live jazz pianist. Soak up the sophisticated atmosphere with a selection of handpicked cocktails or choose from a long list of delicious wines. Click here for directions.
9. The Dirty Onion
This is an ideal summer spot, an authentic Irish pub with a modern twist. Sit outside and enjoy a selection of craft beers and whiskeys while listening to live music every night of the week.
If you're feeling hungry, Yardbird, a restaurant specializing in rotisserie chicken is just upstairs. A pub with a lot of charm can be enjoyed by the whole family, and it is dog friendly. Click here for direction to The Dirty Onion.
10. Muriels Café Bar
For those who are after something quirky, Muriel's is just that. The ceiling of the Parisian style bar is decorated with underwear and lingerie, a cosy spot with a lot of character.
This is the perfect place for gin lovers due to its very impressive list to choose from. The friendly bar staff are on hand to find the best drink to suit everyone. A quaint bar that goes unnoticed by many. Find it here on the map.
11. The Tipsy Bird
There are too many amazing pubs in Belfast, so we had to add a bonus bar! If it is cocktails you are after this is the place to go. Located on Anne Street, this is a modern chic bar with a lot of character. Specializing in cocktails, the extensive menu is sure to have something to suit everyone.
Enjoy a cocktail in the stylish indoor bar or outside in the new Tipsy Garden. This is the perfect place to kick-start your weekend. Click here for directions.
Now You Know The Best Bars in Belfast!
There you have it, the best pubs in Belfast for a night out. No matter what sort of scene or vibe you're looking for, there's a bar for you in the city. Belfast is a fun place to visit, and the bars offer a great Irish experience — especially in the evenings and on the weekends. Enjoy your trip.
Like This Article? Pin it!