Belfast is a great hub to base yourself out of to explore Northern Ireland and beyond. While there enough things to do in Belfast to keep you busy, there are many amazing day trips nearby.
We've put together a list of the best day trips from Belfast so you can explore from the city to make your visit a memorable one!
1. Portstewart
Portstewart is the town of choice when the sun comes out. This seaside town is flooded with people on sunny days, and for good reason!
The long seaside pathway and harbour are a great place for walking, while the Atlantic beach offers soft sand for sunbathing and waves for surfing. Here's all you need to know to make the day trip from Belfast.
Getting There By Train
The beautiful seaside town of Portstewart is easily accessible by train from Great Victoria Street station or Belfast Lanyon Place, trains from both stations depart every hour.
Hop on the train marked for Derry and get off at Coleraine after a 1-hour 40-minute journey, from Coleraine grab a taxi and you'll be at Portstewart within minutes.
The train costs £19 for an adult return, but £12.70 if you travel at off-peak times (after 9.30am) You can use this handy fare calculator to see how much all rail travel will cost you.
Getting There By Car
If you would prefer to travel by car then you can take the M2 North and follow the signs, directions are straightforward enough.
Just remember, if you are planning to check out some of Portstewart's bars then leave the car at home and hop on the train! Drinking and driving is taken seriously here, and they have similar laws to the Republic so be smart.
Things To Do in Portstewart
As this is a hugely popular day trip from Belfast for locals, there's no shortage of things to do. My suggestions aren't exhaustive, but if you're only here for a day, you can't miss these things.
Portstewart is so popular that we have a whole article about what to do there too!
1. Shopping on the Promenade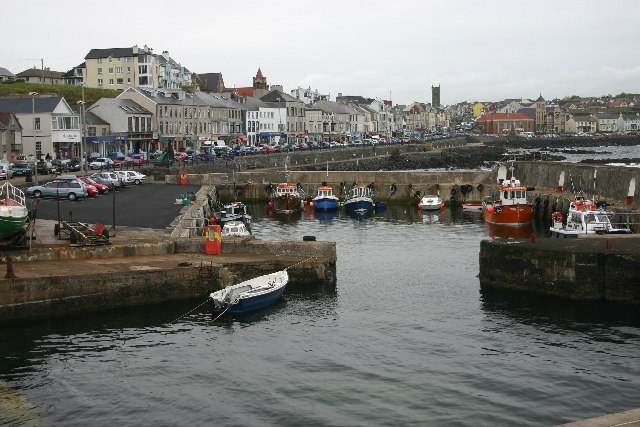 There's a great selection of shops along the promenade so be sure to check them out and maybe even pick up a souvenir or two. I'd recommend the little second-hand bookshop ran by an adorable elderly couple.
Named 'The Book Shop' this store has a wide range of books and I often find myself spending a lot longer than expected to browse each section. You can also shop for jewellery that's been handcrafted in Portstewart or pick up a cute bag from a local retailer.
2. Explore The Strand
The Strand is a great place for walking and it has some of the most spectacular views. With beautiful golden sand for miles and clear blue waters, it is a popular tourist attraction.
The beach is home to 6,000-year-old sand dunes which you can learn more about if you take a guided walk. Taking a tour of sand dunes mightn't sound the most exciting thing in the world, but these have been designated an area of scientific interest.
Exploring the dunes is worth the time, you'll feel as though you have stepped into another world! Go to the beach visitor centre to find out more about getting a tour.
Where to Eat and Drink in Portstewart
My favourite part of any trip is trying out the local Irish food and lots of it! Here are a few of my personal recommendations which I hope you'll love.
The Anchor
The Anchor is probably the most popular bar in Portstewart and it's always packed with locals. For food, you can dine in the tastefully decorated restaurant or you can grab a menu and sit in the bar area.
There is plenty to choose from on the menu but that doesn't stop me from ordering the lasagne every single time. Honestly, it's amazing.
However, if you want something lighter I would suggest the chowder, it comes with delicious wheaten bread. I always order a bottle of Orchard Thieves to have with my meal. What better way to wash down your food than with a cold bottle of cider?
Morelli's
I love lunch followed by ice-cream at Morellis. They offer something for everyone, the menu has burgers, pizza, sandwiches, soups, salads and the list goes on.
In my opinion, you can't beat the Mexican chicken panini and a nice coffee. Afterwards, if you fancy a blast from the past order a knickerbocker glory!
2. Newry
Just south of Belfast lies the little city of Newry. It's a busy shopping town, but has so much more to offer than that!
The bus from Belfast departs from Europa bus station and the journey takes around 45 minutes. The bus you want to get is number 238, it will leave you off at Newry bus centre which is in a great and very central location.
Things To Do in Newry
1. Slieve Gullion Walk
Slieve Gullion Forest Park offers stunning views of the Mourne Mountains, Cooley Peninsula and more. Take one of the trails and get lost in the beauty of the forest while enjoying the calm that can only be found when you're surrounded by nature.
There is a café that opens from 8 am to 6 pm if you fancy a coffee and a bite to eat during your visit, picnic tables can be found throughout the park if you would prefer to bring a packed lunch.
2. Buttercrane Shopping Centre And The Quays
If a shopping trip is what you're after, then these two shopping centres are ideal! They both offer a variety of retailers and are a short distance from the bus centre. For an afternoon of shopping at your leisure Newry is the place to go.
Where To Eat And Drink in Newry
Even though it's a pretty small city, you're not short of places to eat here, but in my opinion, there's only one place to go if you're there for one day.
Bellini's is in a great location, it's lively and the cocktails are amazing! It is a great place to go for a meal and a drink and definitely my favourite place to eat out in Newry.
They have a "midweek madness" offer on Monday to Thursday giving you the choice of 3 courses for £15 or 2 for £12.
Try the Chicken Giovanni, it's a delicious combination of chicken breast, champ and crispy onion rings soaked in Bushmills sauce. It's the perfect meal to have with one (or three) of their signature cocktails.
3. Dublin
Dublin is typically a destination on its own but it's only two hours down the road from Belfast. As it's a great walking city, a lot of the main attractions can be seen in just a day!
Ireland's capital is filled with history, restaurants, lots of pubs, city parks, and of course, great hospitality.
Getting From Belfast to Dublin
If you want to travel to Dublin, the bus from Belfast to Dublin departs from Glengall Street, right beside the Europa Hotel and brings you right on to O'Connell Street. There are a few bus companies, but I've found the Aircoach to be the easiest.
The bus goes via Dublin Airport, and depart every hour pretty much all day, but check their website for the exact times. Tickets are cheaper from their website, but you can buy a ticket on the bus.
It's £20 return if you buy in cash, or £16 if you book online. It's often really busy so booking ahead of time is advised, especially for weekend trips.
Things To Do in Dublin
With so much to do in Dublin, it's hard to narrow it down, but here are the choice things to do if you're on a day trip from Belfast.
1. Kilmainham Gaol
My favourite thing to do when I visit Dublin is to immerse myself in the history of Ireland, which I feel is fitting with it being the capital and the largest city on the island. The perfect way to do this is to start your trip with a tour of Kilmainham Gaol.
The events of the 1916 rebellion lead to Kilmainham Gaol are one of the most important places in the foundation of the Irish Republic.
Jump on a bus at O'Connell street, either the number 13 or 40, it will take you straight to the gaol. You can take a tour for 8 euro which is a bargain for the amount of information you get on the tour.
From Henry Joy McCracken to the War of Independence, the tour will give you an in-depth knowledge of Ireland's political past. The tour groups are small so you need to book tickets in advance. You can get tickets here.
2. O'Connell Street
O'Connell Street is a great place for shopping with a huge variety of stores to choose from. Of course any Irish shopper, the fact that there is a Penneys will be enough to attract them!
Penny's is the place to go if you want to pick up some clothes for next to nothing. I can't tell you how often I've run in and bought a cheap pair of socks when I was caught out in the rain in soaking shoes!
Before you go shopping though I recommend looking for the O'Connell monument at the south end of the street a tribute to the great orator Daniel O'Connell. On O'Connell street also is the GPO a landmark best known for its role in the 1916 Easter Rising. Look closely at the column and you'll find them still pocked with bullet marks.
They also opened a museum inside the GPO, and it's well worth a visit. It's only €12 to enter and you can easily spend a few hours looking around.
3. The Temple Bar
There are tons of pubs to choose from in Dublin, especially in the Temple Bar Area — this is the most popular area of Dublin for tourists to stay.
Grab a drink at The Temple Bar, even though it's a bit pricey, their sandwiches are so worth it! They also have a huge range of seafood on offer.
4. Giant's Causeway & Game of Thrones
Anyone coming to Northern Ireland has to be aware that loads of HBO's Game of Thrones series was filmed here. You can take some amazing tours of the locations and relive your favourite character's best moments!
I recommend this tour as it covers a lot of the North's beauty in one trip. If you are a Game of Thrones fan, then it's a double bonus as you get to follow in the footsteps of the much-loved characters, but even if you're not, you'll still appreciate the sights.
This tour allows you to visit the impressive Giant's Causeway otherwise known and the "8th Wonder of the World".
You'll also explore the famous Dark Hedges, Ballintoy Harbor, and Larrybane Quarry before continuing on the coastal route back to Belfast. This journey boasts some spectacular views.
This is easily one of the best tours you can do from Belfast, even if you're not a Game of Thrones fan, the locations are truly stunning. Find out more about the tour here.
If you want to go for a few drinks after you arrive back in Belfast, then check out our post on the best bars in Belfast for a memorable night out! You have plenty to choose from.
5. Derry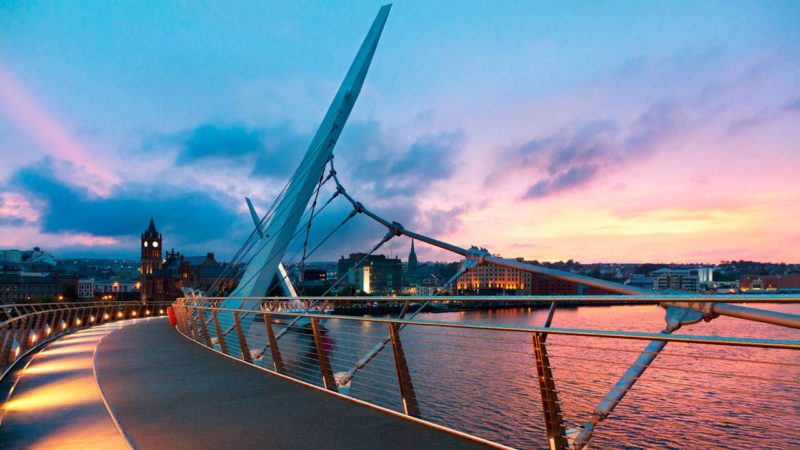 Right up in the very north of the north, Derry is a city that should not be missed when visiting Northern Ireland.
Getting From Belfast to Derry
From Belfast, the city of Derry is only a train journey away! As mentioned previously in this post the two main train stations are Great Victoria Street and Belfast Lanyon Place. This train is the same one you would take to get to Portstewart with Derry being the last stop.
Things To Do in Derry
Derry is an ancient city, and walking up and down the hills here is certainly a workout. The walk around the city walls is really stunning and worth the uphill battle. There are numerous things to do in Derry, here are a few standouts.
1. Derry City Tours
This walking tour will tell you the story of Derry and its famous 17th-century walls and their purpose. It also highlights the North's troubled past and how the city was affected, this tour is informative and will educate the visitor about several events.
2. Museum Of Free Derry
This museum should no doubt be on the list of things to do during your visit. You can learn about Derry's Bloody Sunday in a raw and emotional way as you listen to real-life recordings and look at artefacts from that day and the days that followed.
It is such an emotional experience so prepare yourself, no matter how much you know about Bloody Sunday nothing prepares you for the museum and what it offers.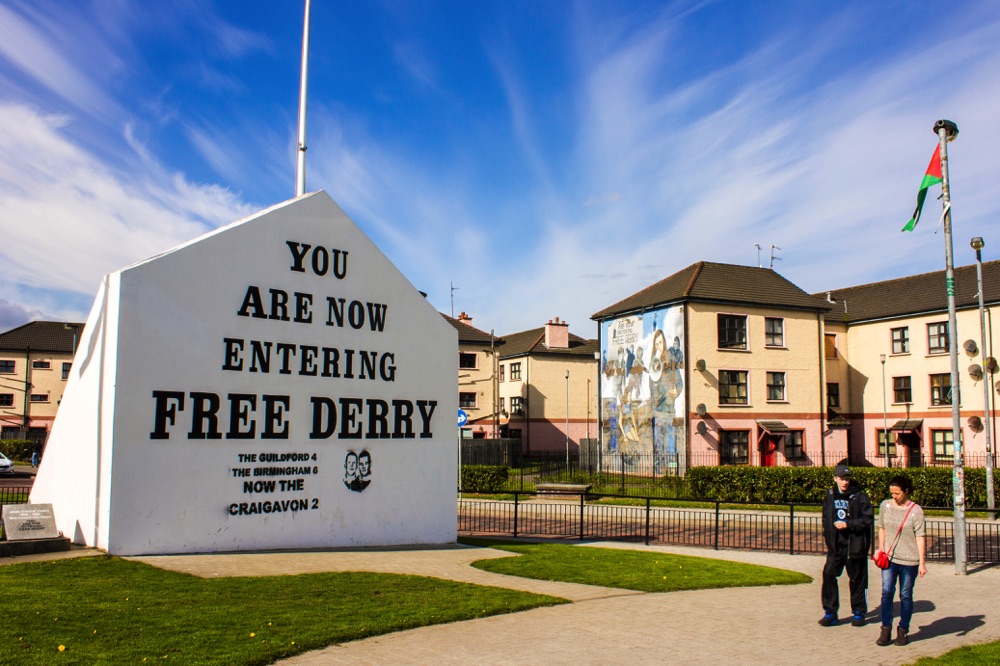 Where To Eat and Drink in Derry
After all that walking and learning, you'll have built up an appetite for sure. Again you have so many options, but these are my default places when I'm in Derry.
Granny Annie's:
On my first visit to Granny Annie's I scanned the menu and to my delight, there was plenty to choose from. Try the delightful melt-in-the-mouth salt and chili chicken, which is a wonderful pairing to the wok vegetables and spicy sauce.
If you aren't a fan of spices then try a pasta dish or one of their huge beef or chicken burgers. You are bound to find something perfect for you as there's quite a range on offer.
The Gweedore Bar:
The Gweedore bar is usually packed with locals and I can see why, it's in a central location, it's modern and it's lively. There is usually live music and a great atmosphere, I would definitely recommend going here for a few before heading back to Belfast.
Enjoy These Day Trips From Belfast
Belfast really is a great place to base yourself if you want to explore Northern Ireland, but with so many things to see and do, don't forget to enjoy the city of Belfast too!
Like This Article? Pin it!