As soon as the sun comes out in Northern Ireland, Portstewart seems to be the top destination on everybody's list. The beach town is situated between Coleraine town and the beautiful coastal town of Portrush. The location is central to a lot of tourist landmarks around the area such as the Giants Causeway, Carrick-A-Rede rope bridge, Dunluce Castle, and so much more!
Up North is also home to many Game of Thrones locations. I highly recommend taking a long trip up to the North Coast as there is an endless list of landmarks and attractions, but for now here are my top picks things to do and see as well as the top places to wine and dine in and around beautiful Portstewart!
Top Things To Do in Portstewart
Portstewart Strand 
 Miles of golden sands protected by the National Trust are a must see for any visitor! The strand is a drive on beach so if you would prefer to stay in the car, you can drive onto the golden sands but grab a poke before you go! The strand is extremely popular amongst tourists in the summer months, but it also attracts keen walkers all year round with breath-taking views and glistening waters.
Mussenden Temple
The historic temple was built in 1785 and overlooks the Downhill Strand near Castlerock. The temple sits on the edge of a cliff which overlooks the beach below, making for some very photogenic Instagram photos. The whole location and work of the temple is an absolute must see and is simply amazing.
The Promenade
The very heart of Portstewart. The 'Prom' as most people call it, is a little strip of seaside shops, cafes, and ice cream parlours all overlooking the sea. Most of the shops are little local stores with some cute keepsakes and of course there are always buckets and spades on sale. It is also home to some of the best bars and treats which we will get to!
Barry's Amusements
 Barry's has been established for over 70 years and I don't know anyone in Northern Ireland who hasn't been there! The amusements are just a short drive down the road to Portrush but if you are travelling as a family or just have a young spirit Barry's is a must visit! The amusements sit on the main road in Portush just overlooking the harbour. They have rides both indoors and outdoors and you can't visit the North Coast without riding the famous 'big dipper' coaster.
Where to eat and drink in Portstewart
The Tides
This one is my top pick! The Tides, is located just 5 minutes outside Portstewart on the road into Portrush. They regularly have a deal on were you get three courses and only pay for your main – fantastic! If you can't stomach all three you can substitute a course for a drink instead, so it really suits everyone. The food is also of great quality, and if you are a steak lover, like myself, get the rump steak and thank me later! The Tides is also in the perfect location with beautiful greens, cliffs and blue waters, so stand outside after your meal and snap that Instagram photo before you leave.
Shenanigans
This is the top spot for both food and a drink. The venue offers great food and is also a very good bar. They offer a student menu where every main is only £5 and Tuesday night is steak and ribs night. It is a brilliant bar with regular live music events. Every Thursday is 2 for 1 on cocktails, so this bar and restaurant is worth a visit if your in the town. It is also located on the Promenade which is very central in Portstewart.
Morellis
 The famous Morellis on the Promenade. The whole set up of this ice cream parlour is a great experience. The inside has American diner vibes but it is also very sweet and bright. Morellis overlooks the ocean so you can sit and eat your ice cream whilst taking in the view. Morellis also offers food and a section of cakes and tray bakes if you are in the mood for something extra. This spot is famous for its ice cream, as most people grab a cone then head outside to take in the views of the 'prom'.
Anchor Bar
 Where the pints are good and the craic is mighty! Anchor is such a well known bar in Portstewart and it is where you would find most of the locals every night. The award winning bar was established in 1898 and has a traditional Irish atmosphere. The venue is also a great place to watch the sports as they show all live sporting events on their 6 TV screens. The bar has some themed nights such as karaoke Mondays, quiz night on Wednesdays and traditional Irish music on a Thursday! The bar also has a nightclub upstairs so it really is a venue for everyone.
Where to stay in Portstewart
Did you know there's an adult only resort in Portstewart? Perfect if you're looking for a quiet or romantic escape. Saltwater House is luxury Bed and Breakfast as well as a beautiful beach retreat, perfect for a weekend away. It's right on the beach and you can enjoy stunning breakfast views from the privacy of their terrace.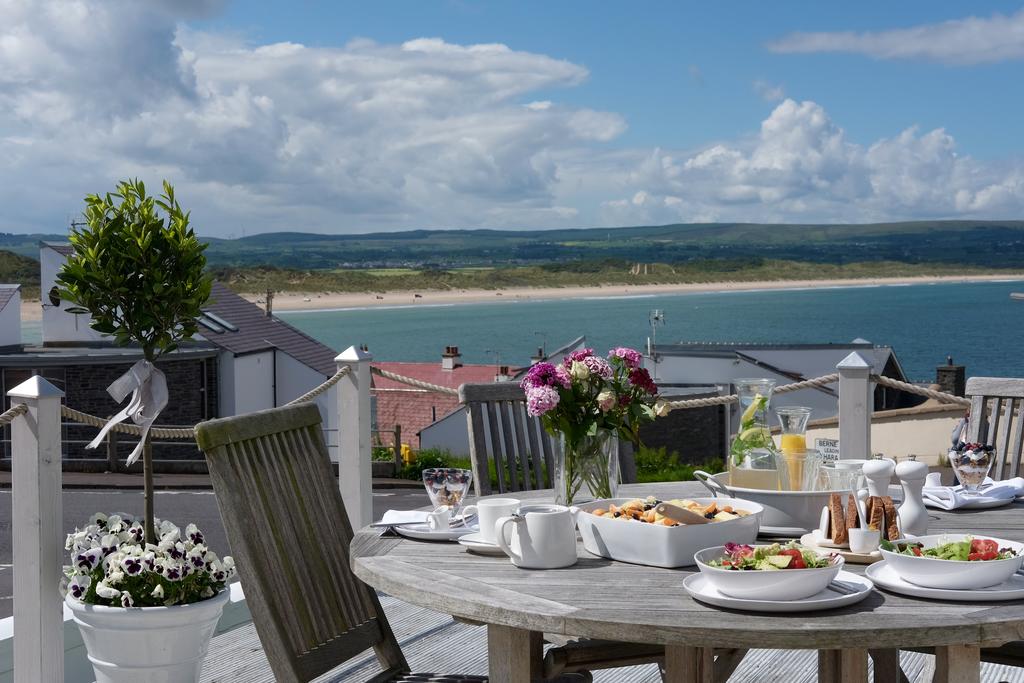 I have only scratched the surface of how amazing Portstewart is and there are so many great places to discover. This beautiful seaside town is worth a visit as it will certainly not disappoint.
Author Bio
Lauren Wilson is a freelance journalist from Belfast, currently studying MA Journalism at University of Coleraine. She is a keen traveller and is passionate about sharing her experiences with others. 
Like This Article? Pin it!