The largest city in Northern Ireland, Belfast is a bustling metropolis full of culture, beautiful architecture, lively bars and a big arts scene.
If you're looking to save your pennies this summer, here are the best free things to do in Belfast for the budget-conscious traveller. For those with pockets full of change, check out these luxe hotels!
Free Things To Do in Belfast This Summer
Visit the Ulster Museum
The Ulster Museum offers a variety of exhibitions each one informative and fascinating. It holds a huge collection of art, science and history so there truly is something for everyone.
The mummified body of Takabuti the mistress of a great house in Egypt, is an intriguing sight. You can immerse yourself in the past as you explore the lives of those from the North of Ireland, from long ago right through to the present day. Learn about Ireland's deep history, from the plantation of Ulster to the famine.
The museum also has photography from the Northern Irish Troubles on display providing insight into the conflict. Also on show is Game of Thrones tapestry, which is something to be admired. The Ulster Museum has many displays of cultural importance and is definitely one of the top free things to do in Belfast.
Walk around the Botanic Gardens
While visiting the Ulster Museum it's essential that you take a stroll around Belfast's botanical gardens, it is quite literally on the Museum's doorstep. With floral displays everywhere and an impressive greenhouse in the middle, the gardens honestly are a thing of beauty.
A popular meeting point for people, they are usually quite busy. Take a seat and admire the view, it's worth it. One of the most relaxing things to do in Belfast for free.
See The Peace Wall
The peace wall separating the Falls Road and the Shankill Road in Belfast has proven to be a popular tourist spot. Both culturally and historically significant, the wall is one that divides nationalist and unionist neighbourhoods. There is wall art on the peace lines and many political murals close by.
Although you can take a guided tour it's a good idea to do some of your own research and take a trip at your own pace. Absorb the post-conflict society of West Belfast and learn a bit about the cultural divide. When you're visiting Belfast, the Peace Wall should be high on your list of things to do — luckily, it's free.
Hike Divis and Black Mountain
The Divis and Black Mountain has a number of routes you can take and each one rewards you with a breath-taking sight. A personal favourite of mine is the new Ridge trail, a specially designed walk that gives you access to some amazing views of Belfast and beyond.
Spanning across 4.2 miles this walk is wonderfully refreshing. If you feel like it, you can stop off at the Divis Coffee Barn after for a light lunch, something sweet or maybe just a cup of coffee. Everyone likes to treat themselves after some exercise!
Drive to Cave Hill Country Park
Cave Hill Country Park is the ideal place to visit if you want to embrace some of Belfast's wonderful natural beauty. Make your visit a day trip, climb the hills and explore the amazing views of Belfast city. The hills are distinguished by 'Napoleon's nose', a landmark said to have inspired Jonathan Swift's novel, Gulliver's Travels. For any bookworm this is reason enough to make a trip.
If you want to experience some of the more remarkable views of the city, you'll need to take a more challenging route. However, there are walks for all abilities. You can take a trip to Belfast Castle after and admire its striking architecture. Wander round the gardens and be sure to go to the Visitor Centre in the castle's basement. Here you can learn about the history and since its free you may as well! If you're an outdoor enthusiast, this is one of the best free things to do in Belfast!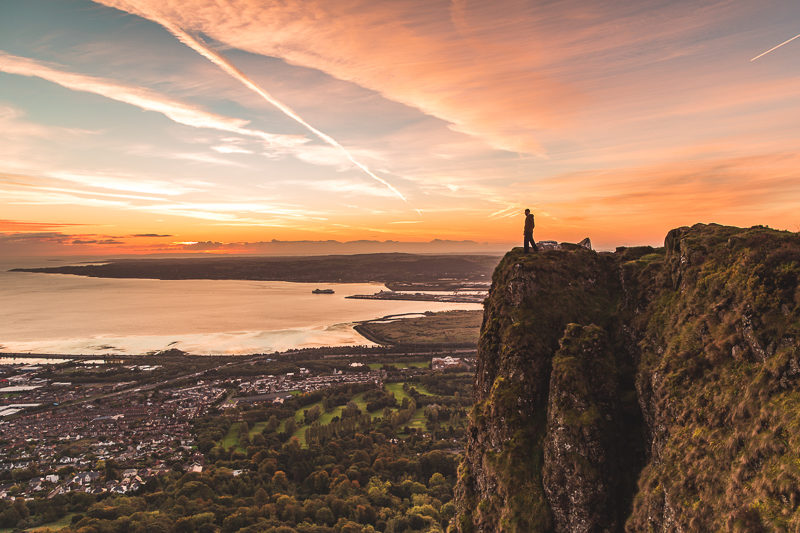 Linen Hall Library
Out of all of the libraries I have visited worldwide this little gem is my favourite. Situated in Belfast City Centre, Linen Hall library is easily accessible. Home to an impressive political collection, there is enough material in the building to learn about the city's history without having to pay for a tour.
If you don't want a history lesson, you can explore the marvellous assortment of books. Take one to a seat and relax as you read with a view of the busy streets of Belfast city centre and its City Hall. The library frequently holds free exhibitions each one as interesting as the last. Do some research prior to your visit and you could be in for an added treat!
Colin Glen Forest Park's Gruffalo Trail
The Gruffalo Trail at Colin Glen Forest Park will awaken the child in all of us. The characters from Julia Donaldson's 'The Gruffalo' have been recreated within the confines of this gorgeous forest park. Bring the story to life as you meet the books iconic characters, such as the silly old fox. The eight-foot-tall Gruffalo is impressive and although the walk only takes about 30 minutes, it is great fun.
(Window) Shopping at St George's Market
A trip to St George's Market is one of my favourite things to do on a Saturday. Take a walk around each of the stalls and admire the quirky things on offer. The beauty of the market is that you don't have to purchase anything and 'window shopping' is just as fun. There is live music to enjoy as you roam the place and take in the diversity. Whilst I'm here I like to get chatting to strangers, it passes time and you meet some extremely interesting individuals.
Need a drink after you day of adventure? Check out our pick of the best bars in Belfast.
Like This Article? Pin it!