You may not have paid Northern Ireland a visit just yet but chances are, you've already seen a lot of it. There are loads of Game of Thrones filming locations in Northern Ireland and here we'll show you how to find them. We've also gone and made a map with all the locations that we mention in this article. You can find it at the bottom of the page.
First thing's first- SPOILER ALERT! I can't do this without throwing in some details of scenes; so go call in sick to work and binge until you are fully caught up and then come back and read this.
Northern Ireland has been a favoured shooting location for the HBO series since its inception back in 2010, and now the entire country is littered with famous filming locations of our favourite scenes.
Whether you are taking one of the local tours or hiring a car to explore the Kingdom yourself; I'm here to tell you where you need to visit.
Game of Thrones Filming Locations in Northern Ireland
County Antrim.
Antrim is full of places to visit for the Game of Thrones fanatic and you can spend a few days in Antrim alone. Location scouts struck gold when they came across an ancient country road lined with lurching beech trees planted by the Stuart family in the eighteenth century. The trees were originally planted to impress visitors to their mansion on approach, but centuries later and they are known to the world as The Dark Hedges on King's Road. It is this track near Armoy in Antrim where Arya disguised herself as a boy, travelling North alongside others bound to join the Night's Watch.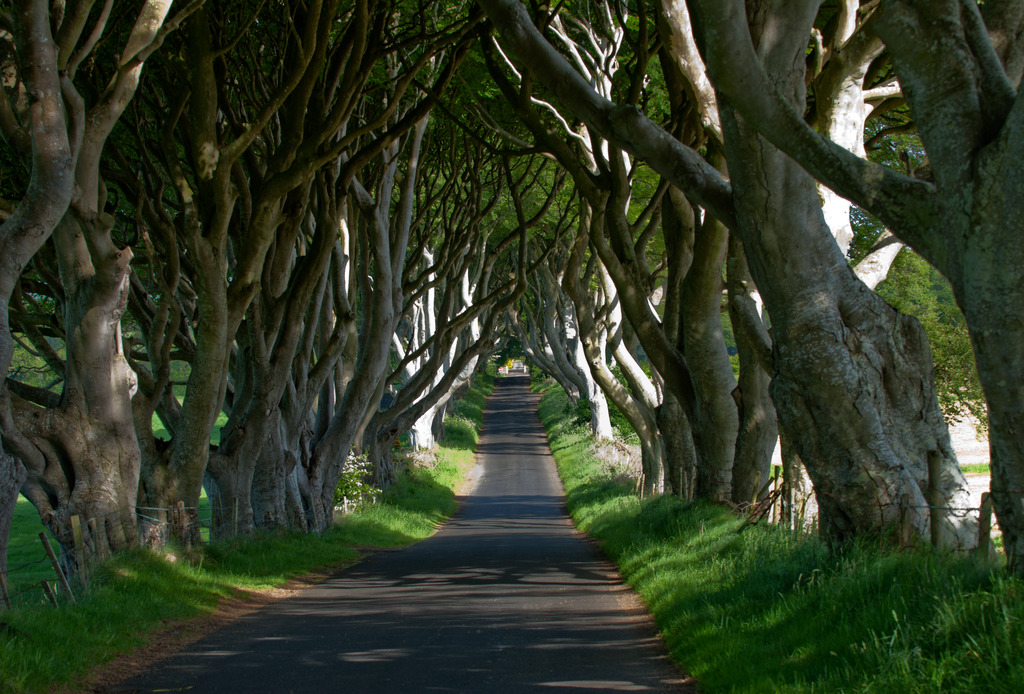 When Storm Gertrude ripped through the road, it felled a number of the ancient trees. Making the best out of the situation, it was decided to make a series of 10 doors from the wood, each depicting the events of season 6. The Doors of Thrones demonstrate incredible carpentry and you can visit them around various parts of Northern Ireland (see the link above). The final door which depicts events from across the Seven Kingdoms can be found in The Dark Horse, a coffee shop and bar in the heart of Belfast's historic Cathedral Quarter.
Shillanavogy Valley at the foot of Slemish Mountain is supposedly the area where St. Patrick tended sheep after his abduction by pirates- but in the Game of Thrones world, it is a vast grassland in Essos. Having being sold into marriage with Khal Drogo, Daenerys Targaryen rides with the Dothraki Khalasar to Vaes Dothrak. As they approach the Dothraki Sea, it is here in the valley where they make camp.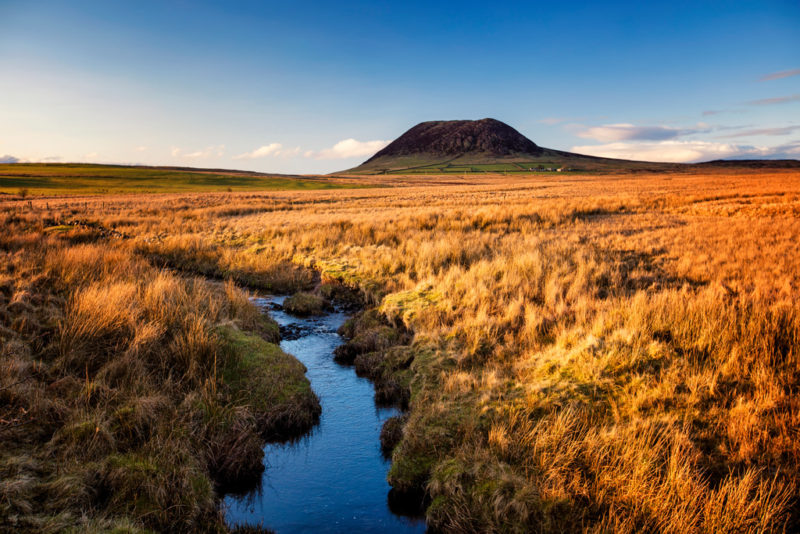 Glenariff is known locally as the 'Queen of the Glens of Antrim' and is a stunning sight to see on the Antrim coast. It is a plunging valley with beautiful walks and scattered waterfalls. The glen definitely has the wow factor as it appears around the curving road as you take the Causeway Coastal Route along the coast. It's also close to a whole host of towns to stop in for a bite to eat or a scenic photo.
It is here in Glenariff that Littlefinger brings Sansa, then thought to be the last of the Stark children and so the key to claiming power in the North and beyond following the assassination of King Joffrey. The site is situated on a plateau under dominant basalt cliffs and was used as a practice ground in Runestone in the Vale of Arryn.
The location, however, can only be accessed by willing and capable hikers and with landowners permission; but the nearby Glenariff Forest Park will offer equally stunning views and trails and is definitely worth a stopover.
Located high in the Glens of Antrim you'll find Cairncastle. Above the village is Knock Dhu (Irish for Black Hill), a bronze age fort and settlement. This site was one of the first seen in season 1. Battered by usual glens winds,, it is here that Ned Stark swung his sword in the execution of a Night's Watch deserter who came to Winterfell to warn him of the White Walker threat.
It is also another famous stop in the plan of Lord Baelish. Used as Moat Cailin under the rule of House Bolton; here Sansa learns of Baelish's plan to have her marry the then Warden of the North- the Bastard Bolton- shudders.
Although you can't actually visit the castle, you can still get a good view for a photo from the road- you know, for the gram.
Remember the scene where Gregor Clegane beheaded the horse? Of course you do! This was filmed on location at Shane's Castle. The 14th-century ruins on the cusp of Lough Neagh were the backdrop to the jousting tournament.
Murlough Bay is an area of spectacular beauty; with views of Rathlin Island, Scotland and islands in between; steep stone walls and wild headlands; it's easy to see why the HBO team decided to spend some of their time here.
Ser Davos was pulled from the Atlantic water off the bay following the Battle of Blackwater, and the site also doubled up as Slaver's Bay, where Tyrion and Jorah are confronted by slavers on arrival.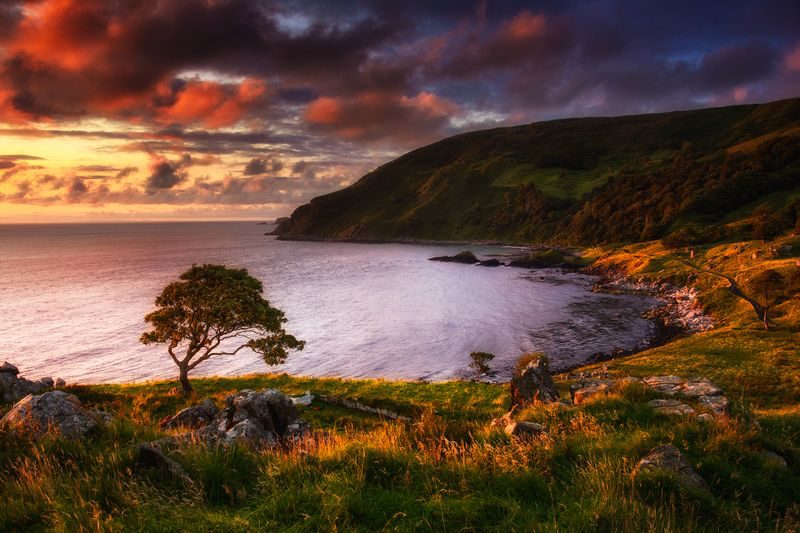 It took over 400 million years to form Cushendun Caves in Antrim, yet I would still bet good money that Melisandre giving birth to the shadow assassin is the creepiest thing that has happened within them.
The port of the Iron Islands is actually the rather tranquil Ballintoy Harbour. It is still a working harbour for local boats and fishermen; but it is here that Euron Greyjoy rather dampened Theon's upturn by taking his place as king of the Iron Islands, thus forcing Theon and Yara to flee. It is in these waters that Euron is drowned and reborn, as is custom for the new king.
County Down
When searching for Game of Thrones locations in Northern Ireland there are plenty of forests and parks to explore. Covering 1600 acres and traversed by the constant rush of the River Shima Tollymore Forest Park must have been a no-brainer when it came to finding the Haunted Forest. Filled with ancient redwoods, old stone walls and fragments of an 18th century estate- there is no need to create the forest's character.
This forest is home of Ramsay Bolton's hunt of Theon and the Stark's finding and adopting their Direwolves, a symbol of House Stark, before taking them home to Winterfell. Perhaps most significantly, however, is that it is Tollymore, where the White Walkers begin their march to the Seven Kingdoms, threatening life as all of our favourite characters (who are still alive) know it.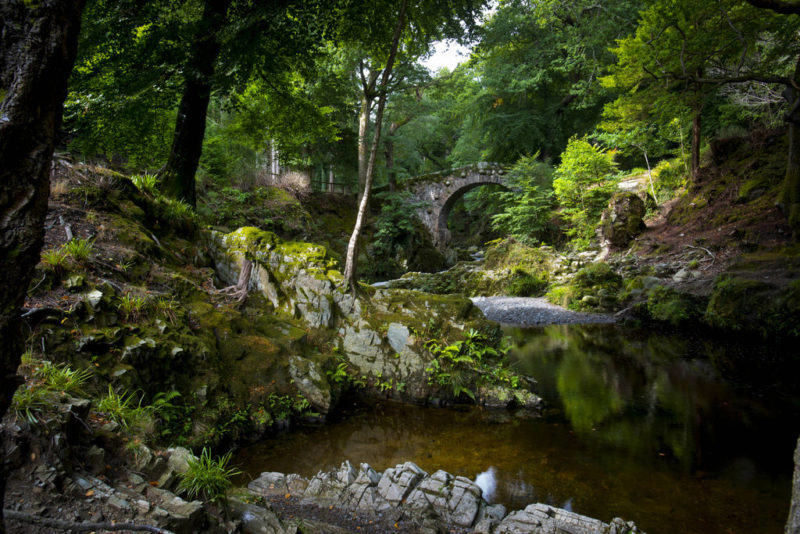 The Mourne Mountains are breathtaking and magical- so magical in fact, that they were credited with inspiring CS Lewis to create Narnia! In this world, however, or the Game of Thrones world for that matter, they are the entrance to Vaes Dothrak.
Leitrim Lodge in the foothills of the Mournes acts as the land north of Winterfell, where Bran meets Jojen and Meera in the forest; and where, following their escape from Winterfell following attacks by Theon and Ramsay, a group including Bran and Hodor make their way north in search of Jon Snow.
Castle Ward is the original Winterfell and the location most synonymous with the home of the Stark's, despite only being used for season 1. The 16th century ruins were brought to life for the HBO series and witnessed Bran, Robb and Jon practice archery with their father, before eventually, Arya grew bored of her tasks and privately picks up a bow for the first time, beginning her long journey to becoming a badass.
The importance of the location to the series cannot be underestimated. Robert Baratheon and his escorts arrived her to make Ned Stark Hand of the King; what followed changed all of the Seven Kingdoms and gripped us all.
A short walk along the trail by the lake at Castle Ward is Audley's Castle, and in season two, Robb Stark's army camps in the castle grounds.
Quintin Bay, located on the Ards Penninsula about 2 miles east of a small fishing town Portaferry (also home to Northern Ireland's only aquarium Exploris), it is the area near Castle Stokeworth in the Crownlands where Jaime Lannister finds Ser Bronn of the Blackwater to ask him to travel to Dorne with him to retrieve Myrcella and bring her back to King's Landing under the orders of Cersei. The location is also home to Quintin Castle, built in 1184 by John de Courcy and anglo-norman knight.
County Derry
Portstewart Strand has long been a favoured beach for locals, with miles of golden sands and the sound of Atlantic waves crashing; it's perfect for a walk or a swim, or better still- a surf. That said, you won't see any borders paddling out to sea but instead, Jaime and Bronn in Martell soldier disguises, fight and kill some Dornish at the gates of the Water Garden in their quest to bring Myrcella home.
The strand at Portstewart and Downhill Strand are separated by the epically instagramable 18th century ruins of Mussenden Temple, which is built high above the Atlantic ocean on a cliff edge. Downhill Strand is where Melisandre, known as the Red Woman, server of the Lord of Light and counsellor to Stannis Baratheon, burned the old gods of Dragonstone. Creepy woman, she is…
Binevenagh Mountain was formed around 60 million years ago by molten lava and offers panoramic views that stretch for miles. No wonder Drogon decided to build a homely layer on Binevenagh. It is here that her faithful dragon brought Daenerys following her rescue from the fighting pits in Meereen.
After Daenerys is taken by a Dothraki khalasar, it is here that Daario Naharis and Jorah Mormont discover hoofprints and a ring and realise she has been taken.
Part of the Marble Arch Caves system Pollnagollum Cave is the hideout to the Brotherhood without banners who capture Arya, Gendry and Hot Pie as they try to reach Riverrun. Meaning hole of the doves in Irish, the cave is fed by a waterfall and can flood during harsher spells of weather; you can, however, follow the Belmore Forest Walk which will take you to a viewing point of the cave.
Covering over 150 square miles, Lough Neagh has shores on 5 of the 6 counties in Northern Ireland. You might know it as the Summer Sea where Jorah Mormont takes Tyrion prisoner on a stolen boat and sets sail for Daenerys in Meereen. Not long after taking to the waters, they are attacked by the Stone Men infected by greyscale and Mormont gets some bad news.
So there you have it, this is a pretty extensive list and there are plenty of excellent tour companies to choose from so take your pick! Or you could always try roughing it and driving around them yourselves.
Whatever way you want to do it, make sure you have a lovely time, and here's the map we promised you at the top! Make sure to save it in your Google Maps so you can use it when you're exploring Northern Ireland!
Author Bio:
This article was written by Darren McCullins who describes himself as a 'twenty-something, freelance journalist born in Belfast who loves travelling and people-meeting at home and abroad.'
Like This Article? Pin it!