Being an island, Ireland has no shortage of coastline. Many of the cities and towns scattered all around our Emerald Isle were Viking settlements and old fishing villages.
These seaside towns in Ireland have long and storied histories, as well as being absolutely stunning. This list will take you all over Ireland, in no particular order, but each of these places makes for incredible stop-offs on your trip!
Here's our list of the 15 best seaside towns in Ireland you won't want to miss.
1. Bray & Greystones – County Wicklow
Just a quick train ride from Dublin, Bray is a popular seaside getaway for people from the capital. The beach here isn't really one for lounging around on, as it's covered in smooth stones.
The best thing to do in Bray is to walk along the cliff edge to Greystones. The walk is about 2 hours long and on a sunny day, it's stunning.
You'll suck in all the sea air you can hope for, and the walk is pretty flat apart from the initial climb, so it's good for all levels and ages.
Once you've finished your walk in Greystones you can get the train right back to Dublin from there. If you're looking for food in Greystones, The Happy Pear is a vegan restaurant that is simply incredible. It's the exact food you'll want after your walk!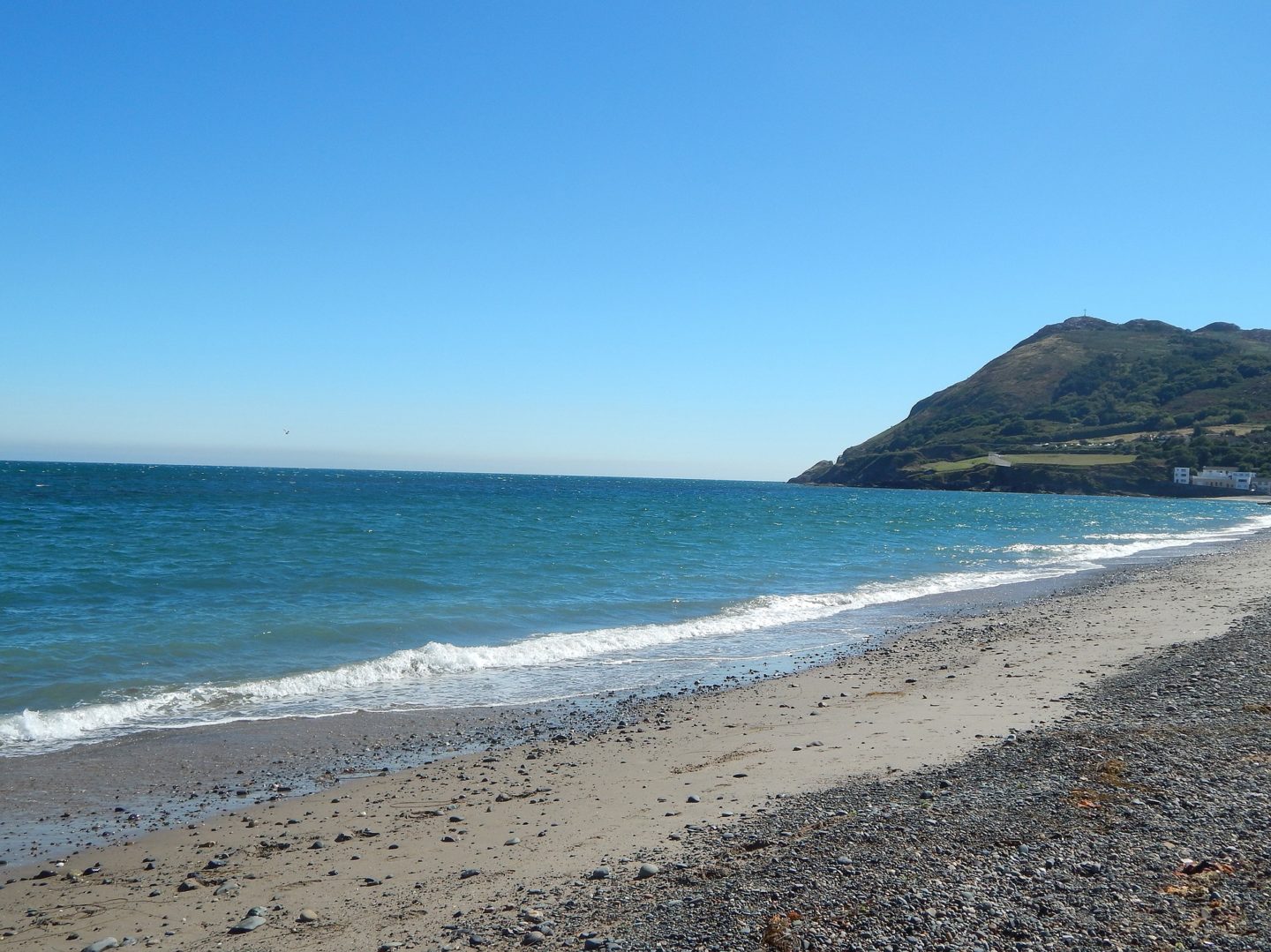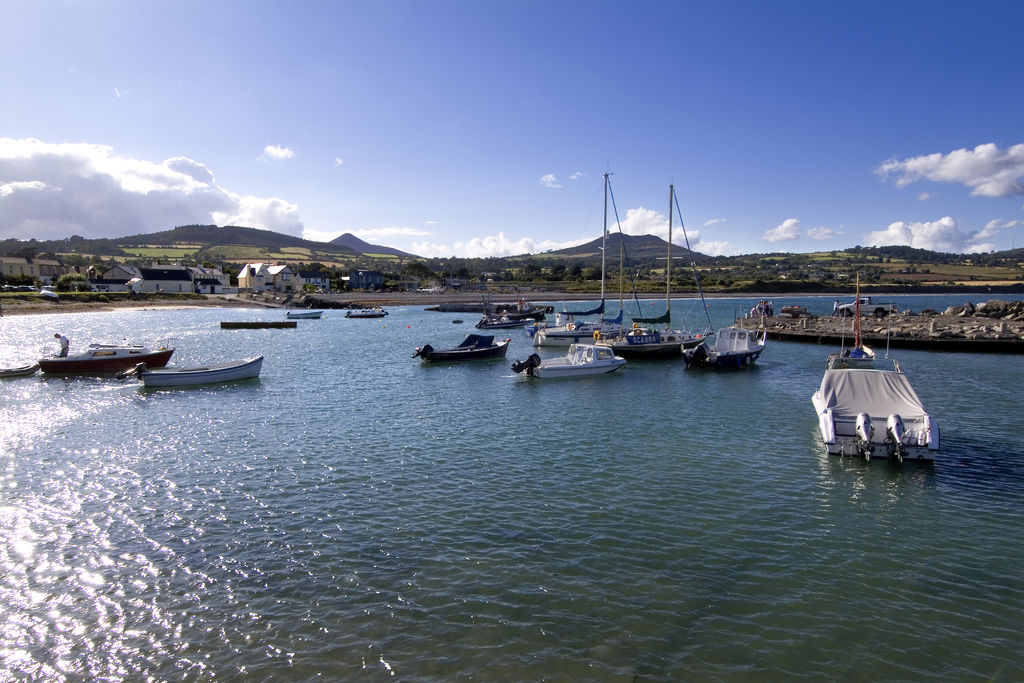 2. Wexford Town County Wexford
The medieval town of Wexford is easily one of the best seaside towns on the Emerald Isle.
The town itself has so much history. It was founded by the Vikings, and almost destroyed by Cromwell when he came here in 1649.
The main reason I've included this town is because of Curracloe beach, which is located outside the town, but it's gorgeous and easy to get to.
It's also where they filmed the D-Day landings for Saving Private Ryan! Also, look how pretty it is at night with the boats just sitting the harbour.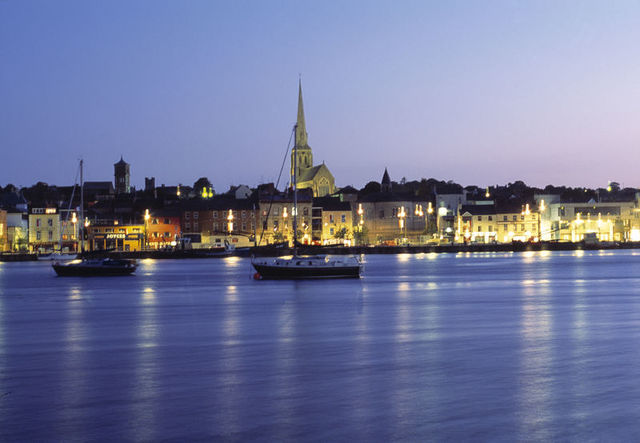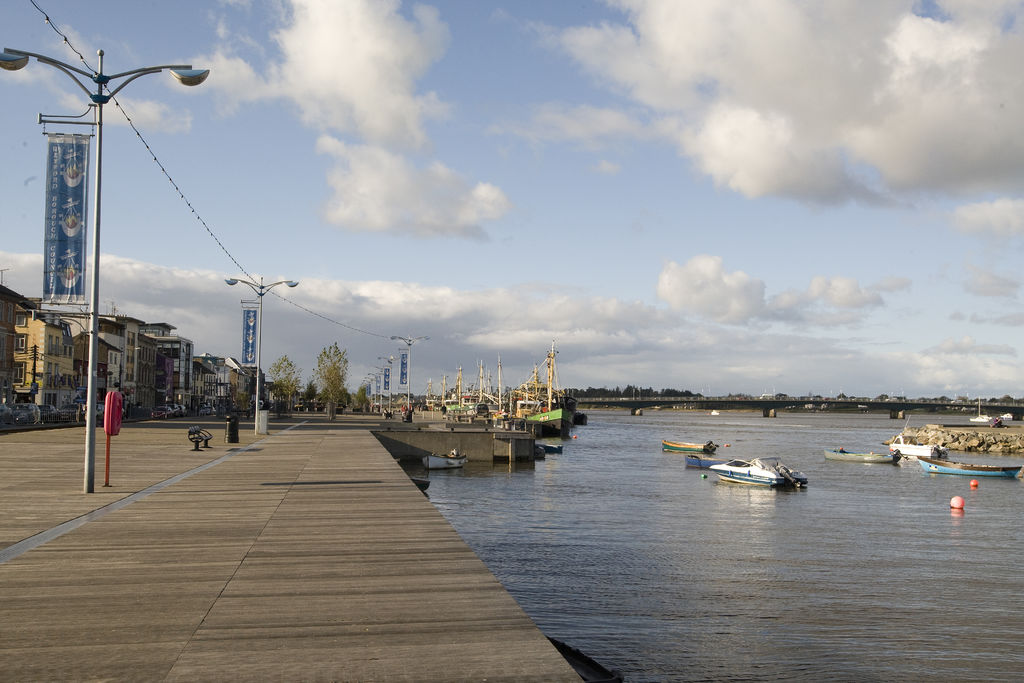 3. Spiddal – County Galway
This one is a little nostalgic for me, every time I go here it brings me back to the summers I spent out here learning Irish.
This is a small Irish-speaking town in the West of Galway and it is right on the sea. It's a beautiful walk along the shore, and also make sure you check out the colourful craft village right in the heart of Spiddal.
4. Clare Island – County Mayo
Ok, I know we said Seaside towns, but this island is basically the size of a small town, and being an island, it's completely surrounded by the sea!
This is the home of the legendary Pirate Queen Gráinne Mhaol and you can still visit her castle there.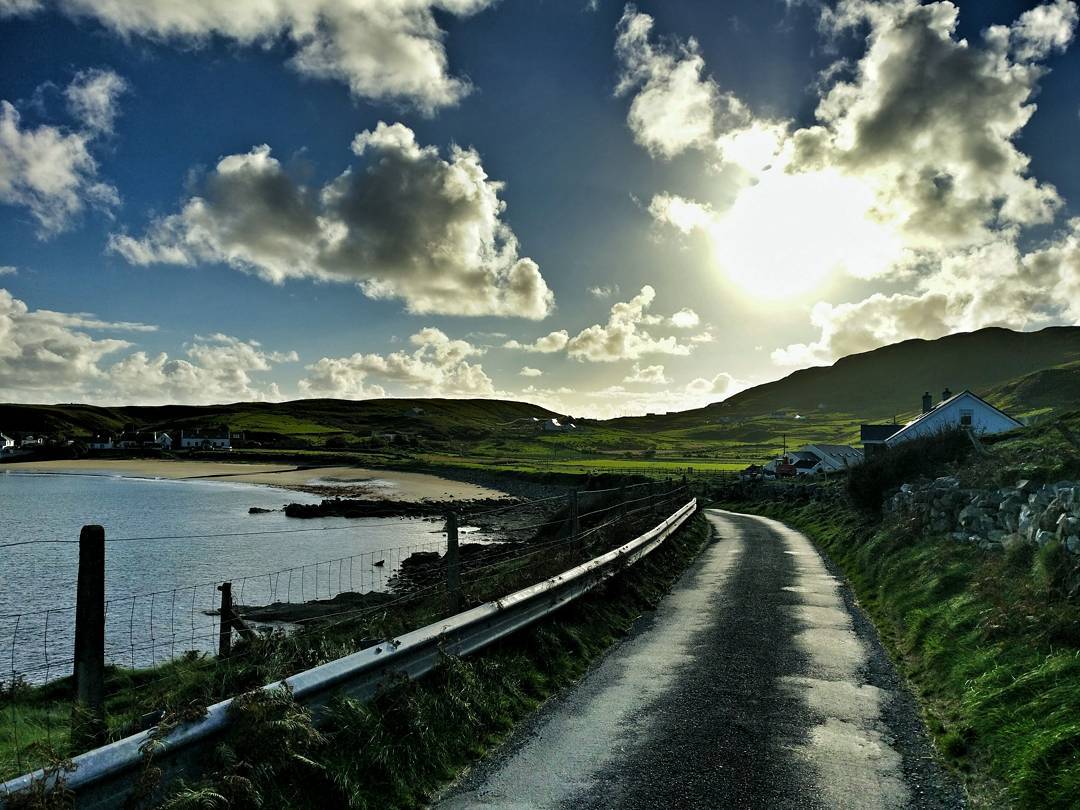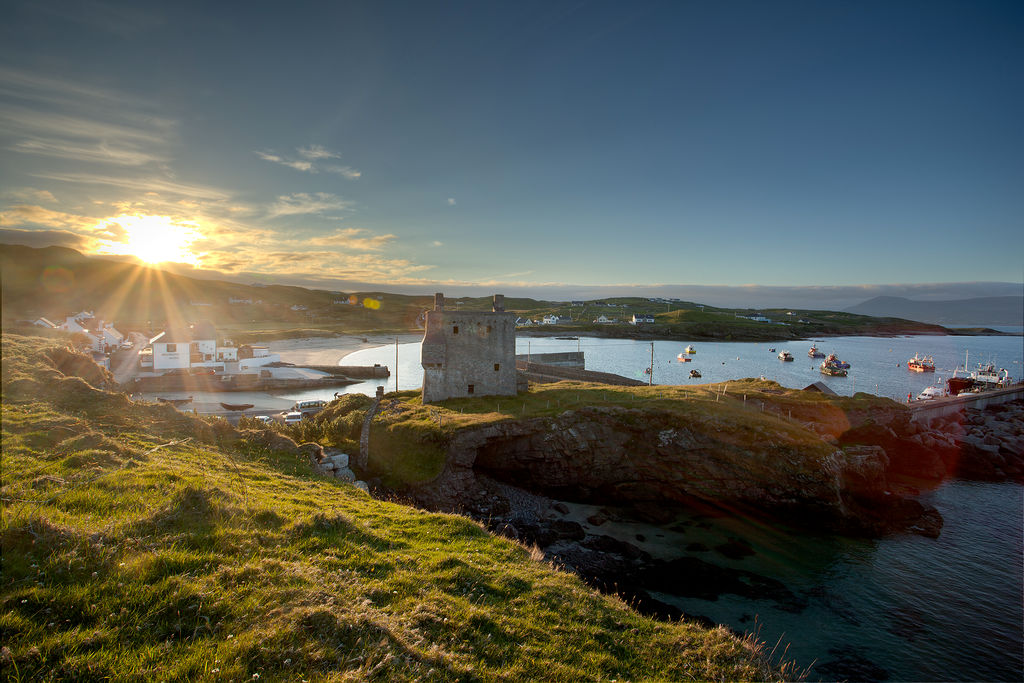 5. Enniscrone – County Sligo
This town in the Northwest corner of Ireland is the place to go if you want to be pampered. They have a tradition of seaweed baths, and you can see the Cliff Bathhouse right on the coastline.
This structure was built around 1950 but was pretty badly damaged by a storm once it opened. However, they also cut out a rectangular pool so you can swim at low tide, but it is known locally as Crab pool, so look out for little pincers!
If you want to relax you'll need to check out The Enniscrone Seaweed Baths, which are supposedly great for hangovers too! One of our writers, Conor, actually cycled through here on his epically failed plan to cycle the length of the Wild Atlantic Way.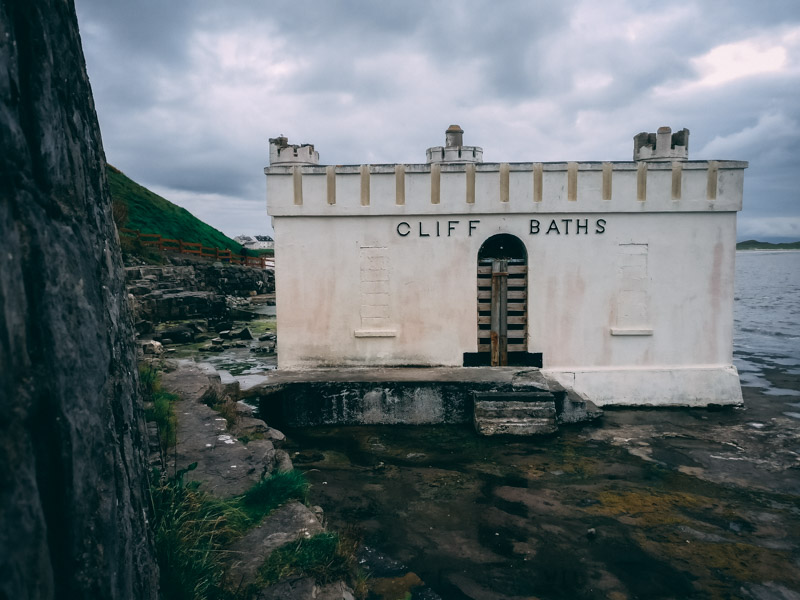 6. Dingle – County Kerry
One of the greatest seaside towns in Ireland. It's famous for its award-winning gin, the stunning views, and most importantly, Fungie the Dolphin. Dingle is one of the top places to go in Ireland!
You can take a tour of the harbor for €16 for adults and €8 for under 12s. The great thing about this is that if you don't see Fungie, you get your money back! Click here to learn more about this tour.
This will be an amazing memory of your trip to Dingle, especially if you're travelling with kids. If you want to make a trip to Dingle even more memorable, you should look to stay in Dingle Skellig Hotel & Peninsula Spa
7. Baltimore – County Cork
This town has an incredible history, and really is a place that you won't want to leave once you get there.
Baltimore offers amazing hikes, Dún na Séad Castle (built in the 1200s), and even scuba diving! This seaside town is one of many amazing little towns in West Cork, why not check out a few more while you're here?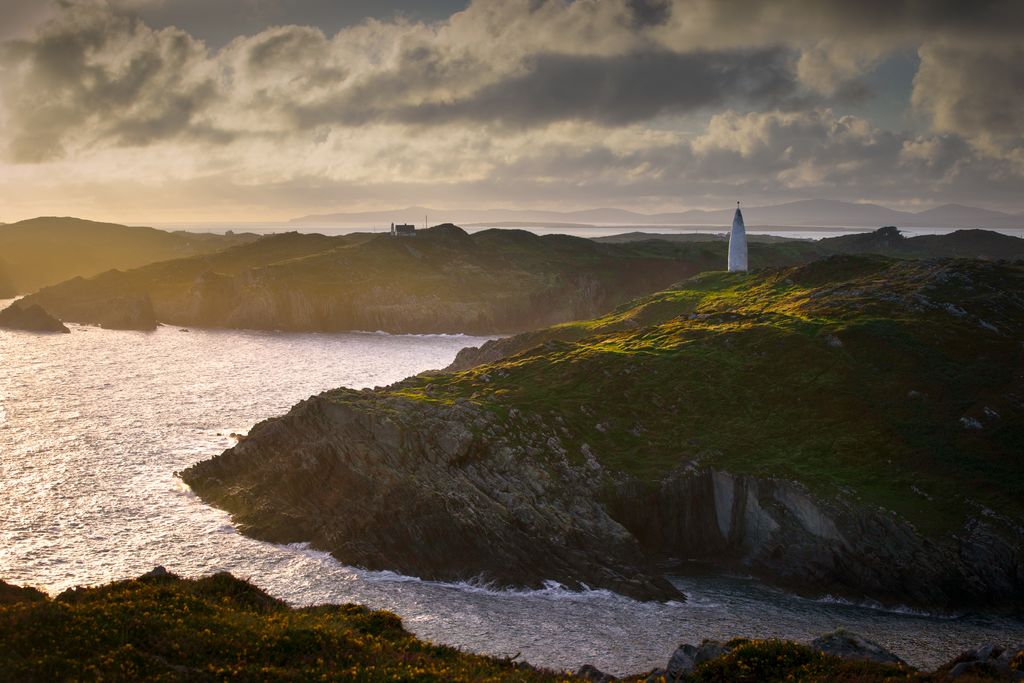 8. Bundoran – County Donegal
Bundoran one of the most popular surfing towns in Ireland, and it helps that there are also amazing pubs and restaurants here.
This town is where I learned to surf, and often the swell is around 3-5 feet, which is perfect to learn on.
You'll want to check out packages from The Bundoran Surf Company which offer amazing value. The trip includes pick up and drop off in Dublin, accommodation for two nights and two days of surfing, and it's only €120.
If you want to organize your own transport, you're only looking at €99. I've stayed with these guys a few times, and they're honestly one of the most fun and easy-going companies to work with, especially if you're going with a group!
9. Portrush – County Antrim
The ratio of beach to town in Portrush is incredible. Their three beaches have been a popular seaside resort town for years, and for good reason.
It's great to visit at any time, but in late August or early September, they hold the Airwaves Portrush. It's an amazing airshow and certainly not something you'll see every day!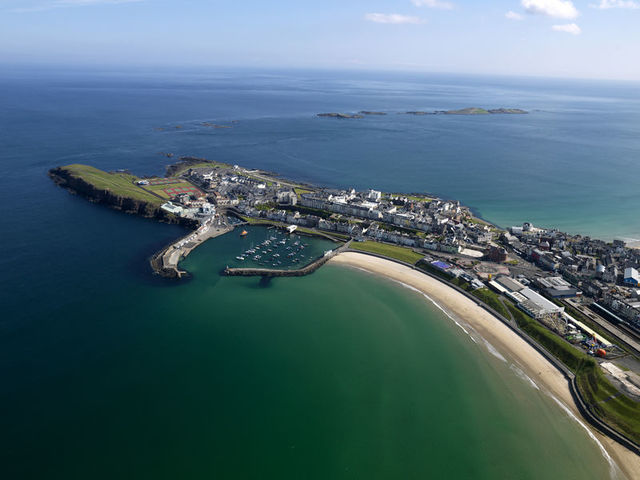 10. Lahinch – County Clare
Another great surfing town, and if you're looking for a great surf school, check out Lahinch Surf Experience.
The town itself is lively, and I've stayed in the Shamrock Inn Hotel and it was incredible. It's a quick walk to the beach, and the pub underneath is a lovely little cozy place.
Lahinch town is a great place to base yourself out of if you want to visit the Cliffs of Moher which are only a 15-minute drive away! There's also a stunning golf course here, which has an amazing view.

11. Dún Laoghaire – County Dublin
The perfect day trip out if you're in Dublin. You can get the DART train out of the city centre and enjoy the Harbour.
Make sure you bring your swimming stuff with you, get to the Forty Foot and go for a chilly swim!
If that's a little too much, you can always just walk along the harbour and watch people out sailing. Make sure you grab an outrageous ice cream from Scrumdiddly's while you're here.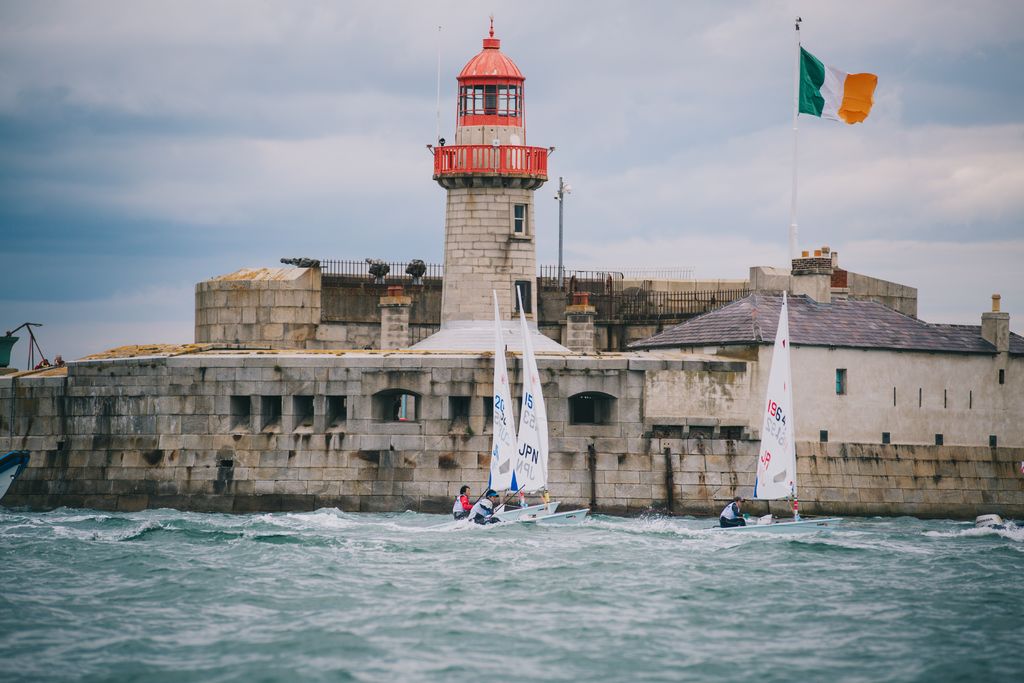 12. Dunmore East – County Waterford
We already spoke about Dunmore East in as one of the best places to see in Waterford, but it's also one of the best seaside towns in Ireland.
It's especially great for those who love to get active in the water, and kids will love it!
Also, right beside Dunmore East in Waterford City is Waterford Castle. It's an amazing place to stay if you want to explore Dunmore East!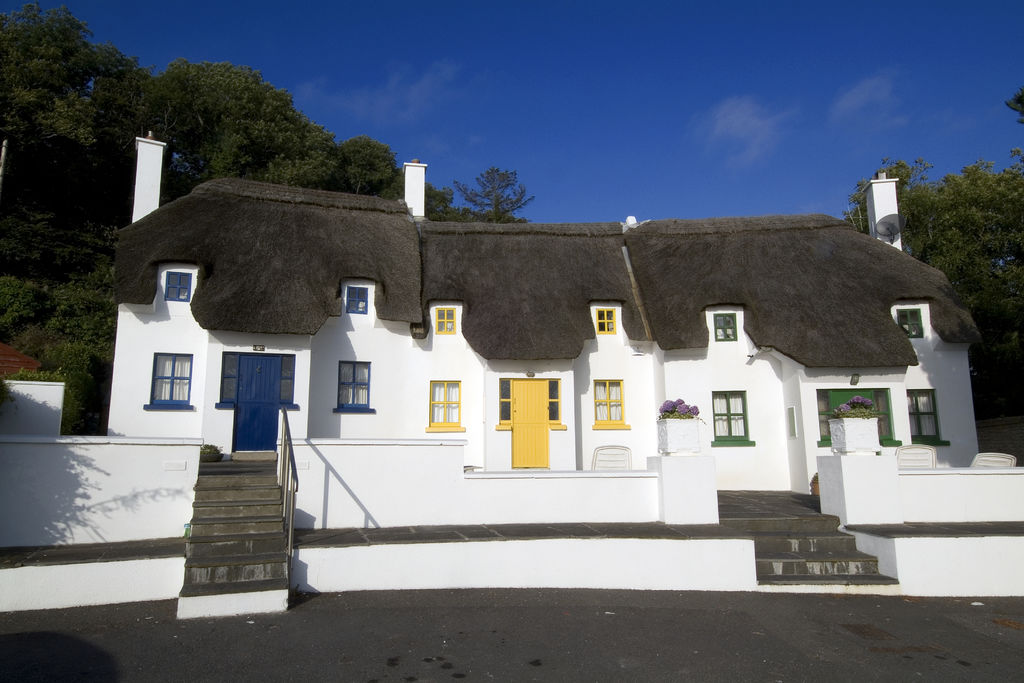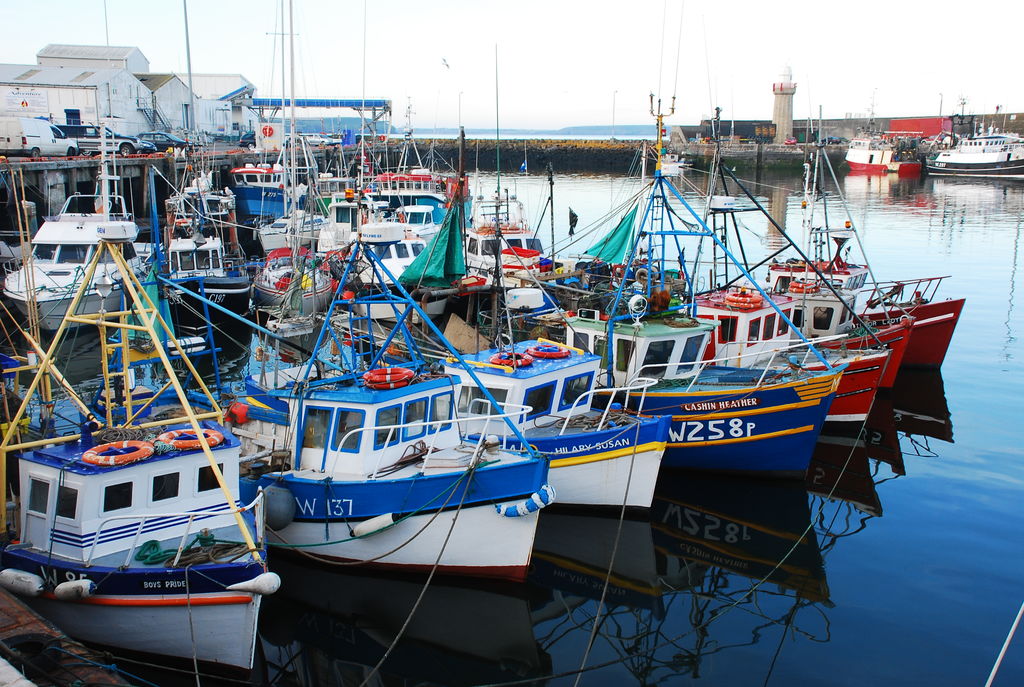 13. Carlingford – County Louth
One of my favourite seaside towns in Ireland, and in my mind, it's one of the best adventure towns here.
Hiking, cycling and high ropes courses are just some of the things you can get up to here. There are numerous things to do in Carlingford, click here to learn more.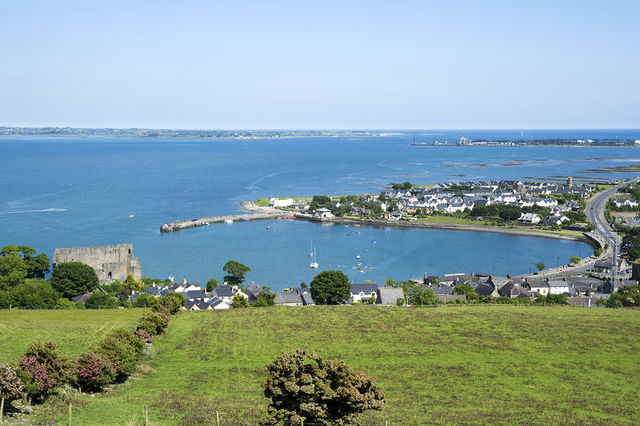 14. Kinsale – County Cork
This colourful little town in Cork is a pack leader of seaside towns in Ireland. There are many things to see in Kinsale, you'll want to spend a while slowly exploring here.
The town itself is simply stunning, all brightly painted and inviting, even on the greyest of days. It's known for its amazing seafood, but there is all manner of restaurants, pubs and an amazing trad session in The Folkhouse Bar.
Seaside town or not, this is one of the best places to visit in all of Ireland.
15. Salthill – County Galway
The Salthill Prom has been immortalized by the Galway Girl lyrics, which go:
"And I knew right then I'd be takin' a whirl
'Round the Salthill Prom with a Galway girl"
So why not take these steps yourself and see if you can get your very own Galway Girl to walk with? Salthill is right at the edge of Galway city, so have a look at our Top Things to do in Galway post and make sure to add Salthill to your list.
If you have just a weekend in Galway, a stroll around Salthill area is recommended.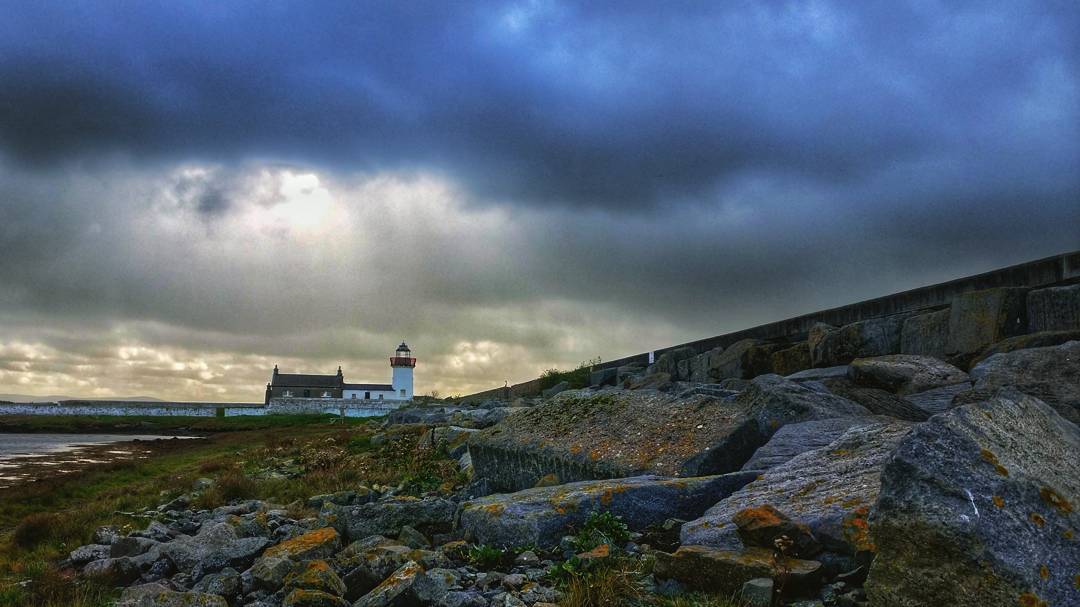 Bonus! 16. Bushmills – County Antrim
A town that is equally famous for its whiskey, the Giant's Causeway and Dunluce Castle, this is a town you're going to want to stay in to fully enjoy.
It's a little place, so you'll get acquainted with it quickly but you won't want to leave. There are so many options on places to stay here, so have a look at our guide to the best hotels in Bushmills to help you decide.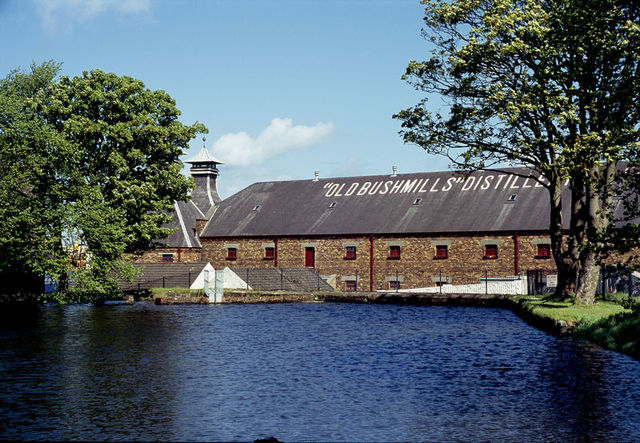 Enjoy the Coastal Towns!
So that's our guide to the best seaside towns in Ireland, but we know there are so many more we haven't included. Let us know where your favourite town in Ireland is!
Getting to these coastal towns can be a little bit of a struggle, so driving is usually the best way to enjoy your trip around our little island.
We have made a guide to driving in Ireland which will help you navigate our roads safely. If you're looking for interesting roads to drive on while you're here, this guide to the best Irish roads is available on Amazon.
Like This Article? Pin it!