Ireland is steeped in history and mythology, and where there's history, local legends and stories of ghost sightings are surely guaranteed. Here are some of our favourite haunted places in Ireland. For a full list of places to visit and things to do, this Ireland guide is best.
The Hellfire Club
Arguably one of Ireland's most popular haunted places, the Hellfire Club is located in the Dublin Mountains and is said to have hosted occult practices from 1735 to 1741. The members apparently dressed up as Satan, drank whiskey and butter from a cauldron. According to rumours, their satanic leanings led them to eat a servant girl alive. It's said that members always left a seat empty in the hopes that the Devil himself would show up. One day a cloven-hoofed stranger showed up and the building was burned to the ground.
The Hellfire Club is only about half an hour from Dublin City Centre, and if you want to visit, you should check out our guide on how to get there in our post about The Best Hikes in Ireland. The hike isn't very long, it's a steep forest path, but you can reach the top in less than half an hour!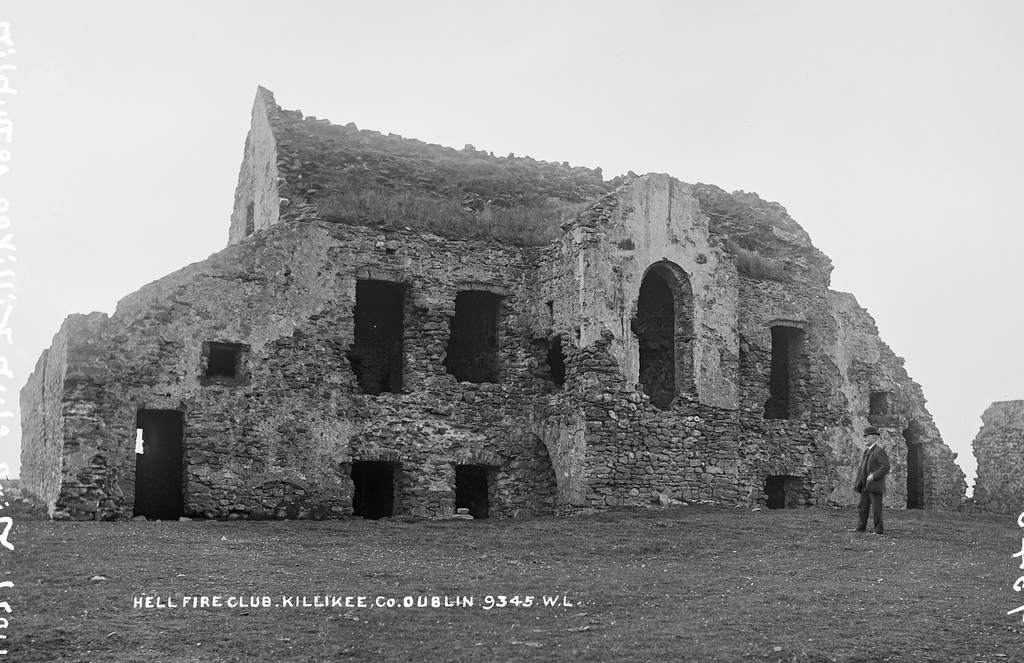 Malahide Castle
As beautiful as this castle is, it is said to be haunted by the Puck of Malahide, who fell in love with a prisoner, Lady Eleonora Fitzgerald. The Puck was then stabbed to death outside the castle, and with his dying breath, vowed to haunt the castle forever.
You can reach Malahide Castle easily on by rail from Dublin by getting the train from Connolly station. You can see the train times on the Irish Rail site.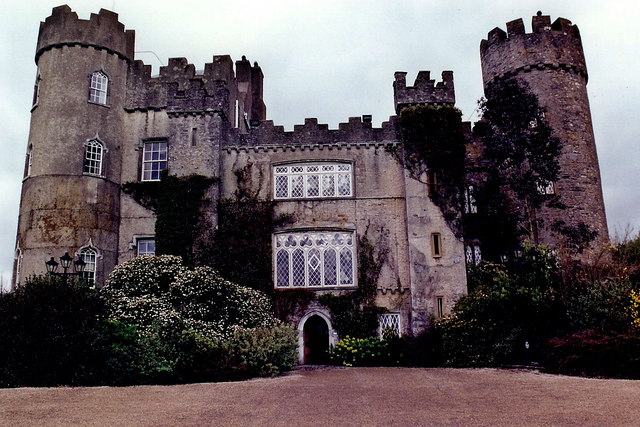 Charles Fort
Charles Fort is said to be haunted by a ghost known as the "White Lady," who committed suicide on her wedding night when her husband-to-be was murdered by her own father. The father then reportedly shot himself after the death of his daughter.
You can find Charles Fort just outside the beautiful town of Kinsale in Cork, which we included in our list of Cutest Seaside Towns in Ireland.
Belvelly Castle
This castle is said to be haunted by the ghost of Lady Margaret Hodnett who was apparently, in equal measures, both beautiful and vain. One of her suitors, Clon de Courcy, got tired of waiting and starved Lady Margaret and her family into submission. The Hodnetts surrendered after a year, but Lady Margaret has lost much of her beauty. She was then rejected by Clon de Courcy, and her ghost is often seen wandering the castle, faceless and rubbing the walls until they gleam like mirrors.
Again if you're spending some time in Cork, this is a great stop off place. It's right beside Fota Island wildlife park, which should be on your Cork trip itinerary!
Cork District Lunatic Asylum
This asylum was established in 1798 by William Saunders-Hallaran, the infamous inventor of the Hallaran's Chair, a device that spun a hysterical patient at 100 revolutions per minute. With the cruelty of this invention, one can only imagine the types of torture that were used on the patients when the asylum functioning. The voices of these patients can still be heard and they have even been recorded by paranormal investigators.
You won't be able to visit as the building shut down years ago, and had a fire gut the building in 2017. The ruins are a harrowing reminder of the horrors faced by patients in there.
Aughrim Battlefield
The Aughrim Battlefield in Galway was the site of a bloody massacre carried out towards a Jacobite army, which Thomas Moore wrote about in his poem, Forget Not The Field. The dead soldiers were left bloody and unburied on the site until only their bones were left. One area is called the Bloody Hollow, where large pools of blood gathered.
Leamaneh Castle
A ghost who goes by the name Red Mary haunts this castle in County Clare. Red Mary married 25 men during her lifetime, and each of them met their end at her hands. She also disguised young men as maidservants and tortured her female maids. The villagers eventually took matters into their own hands and sealed Red Mary inside a hollow tree trunk where she starved to death, and her ghost can now be seen and heard within the castle.
Loftus Hall
Billed as Ireland's most haunted house, legend has it that the Loftus Hall is haunted by both the devil and the ghost of the young lady Anne Tottenham. This stunning but haunting building is in Wexford and does amazing tours. One stormy night, a stranger paid the house a visit, seeking for shelter. Anne Tottenham immediately fell head over heels for the stranger, but while playing cards, she noticed that the stranger had cloven hooves. When the stranger realised what Anne saw, he shot through the roof in a ball of flame, leaving a hole in the ceiling that can still be seen today. The event traumatised Anne and left her completely mad. She died in the house nine years later, but her ghost is still present there today.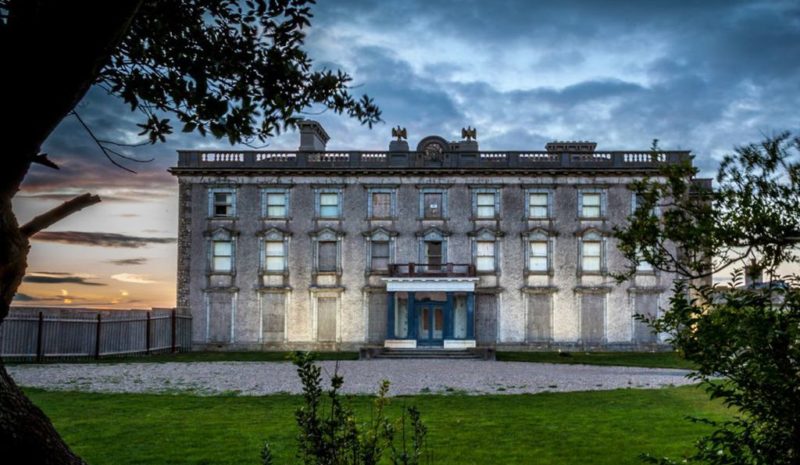 Wicklow Gaol
The Wicklow Gaol has seen many acts of injustice and suffering. From penning in thousands of prisoners during the Great Famine to jailing and torturing rebels during the 1798 Rebellion and the War of Independence. Thousands of prisoners died here from starvation and disease, leading to it being known as the "gates of hell," by those who found themselves on the wrong side of the wall.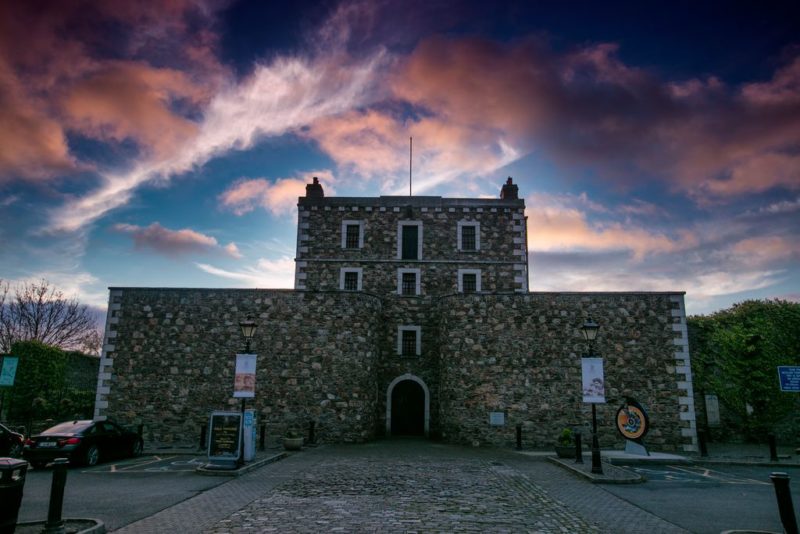 Ballinagarde House
If you're from Munster, you likely have heard of the saying, "As sure as the devil was in Ballinagarde." Ballinagarde House stands tall but overgrown in County Limerick and is a surefire way to get that shaky feeling you only get in haunted places. This house marks another instance of the devil himself visiting Ireland; a mysterious dark rider was apparently invited to lunch by the residents of the house, but as soon as he took off his boots, his cloven feet were exposed, leaving hoof-marks seared on the floor.
Coolbawn House
Built in the 19th century, the halls of the Coolbawn House is haunted by the figure of a servant girl. Legend has it that the servant was standing close to a window when she was struck dead by a lightning in a freak accident. Her electrified body was burnt into the glass panes until the house was abandoned fell into disrepair. But there are still reports that the young girl can be seen staring through the house's glassless windows.
This ominous building is only an hour's drive north of Loftus Hall, it seems that the Devil himself can't resist the Sunny South-East.
Charleville Castle
Charleville Castle in County Offaly is apparently haunted by the ghost of a young girl, who is the youngest daughter of the third Earl of Charleville, Harriet. The young girl died after falling off the bannister as she was sliding down the staircase, and today there have been many sightings of her ghost skipping past, which some even claim to have been caught on camera.
Like This Article? Pin it!